A week after Apple, Facebook, and Youtube removed the majority of conspiracy theorist Alex Jones' content from their platforms, Twitter finally followed suit.
On Tuesday (Aug. 14), Twitter suspended Jones—for seven days. The decision came after Jones posted a video to Twitter calling on his supporters to get their "battle rifles" ready to fight.
Until Tuesday, Twitter was the lone holdout among the major tech companies. One week prior, Twitter CEO Jack Dorsey tweeted his decision not to ban Jones or Infowars, the far-right conspiracy-theorist website run by Jones, from the platform. But every day since Dorsey made that announcement, he's faced severe criticism for his decision.
On day one, current Twitter employees called out their CEO for not taking a stand. On day two, CNN reporter Oliver Darcey dismantled Dorsey's claim that Jones' hadn't "violated [Twitter's] rules." On day five, activist Shannon Coulter launched a campaign calling on other Twitter users to block any Fortune 500 company with a "Twitter presence." As of Tuesday morning, the campaign has garnered the support of over 50,000 Twitter users. On day six (Monday), Jones named Dorsey an ally "in the fight against the globalists."
On day seven, Dorsey relented. …
---
As the dog-sized creatures destroy wetlands and dig through levees, officials have a goal: total extermination.

Nutria: the rodent wreaking havoc on California's landscape – video
The call came from a wildlife trapper working in the wetlands of central California.
"I think I caught a nutria," the man said.
Greg Gerstenberg, a state biologist, was thrown.
"I was like, 'a what?'"
A year and a half later, Gerstenberg strode up to his waist into the sludgey wetlands, pulling a kayak through mats of green slime and the methane stink of decomposing plant matter. He checked dozens of traps piled with tempting watermelon slices and sweet potatoes. His .22 rifle was on his truck, ready.
The name "nutria" evokes something you'd find in a health food store, but in fact they are dog-sized invasive rodents with curved orange incisors that have decimated marshes and swamps worldwide and have, worryingly and mysteriously, appeared in California, perhaps 500 miles from the nearest known population in Oregon. Gerstenberg's goal: total extermination. …
---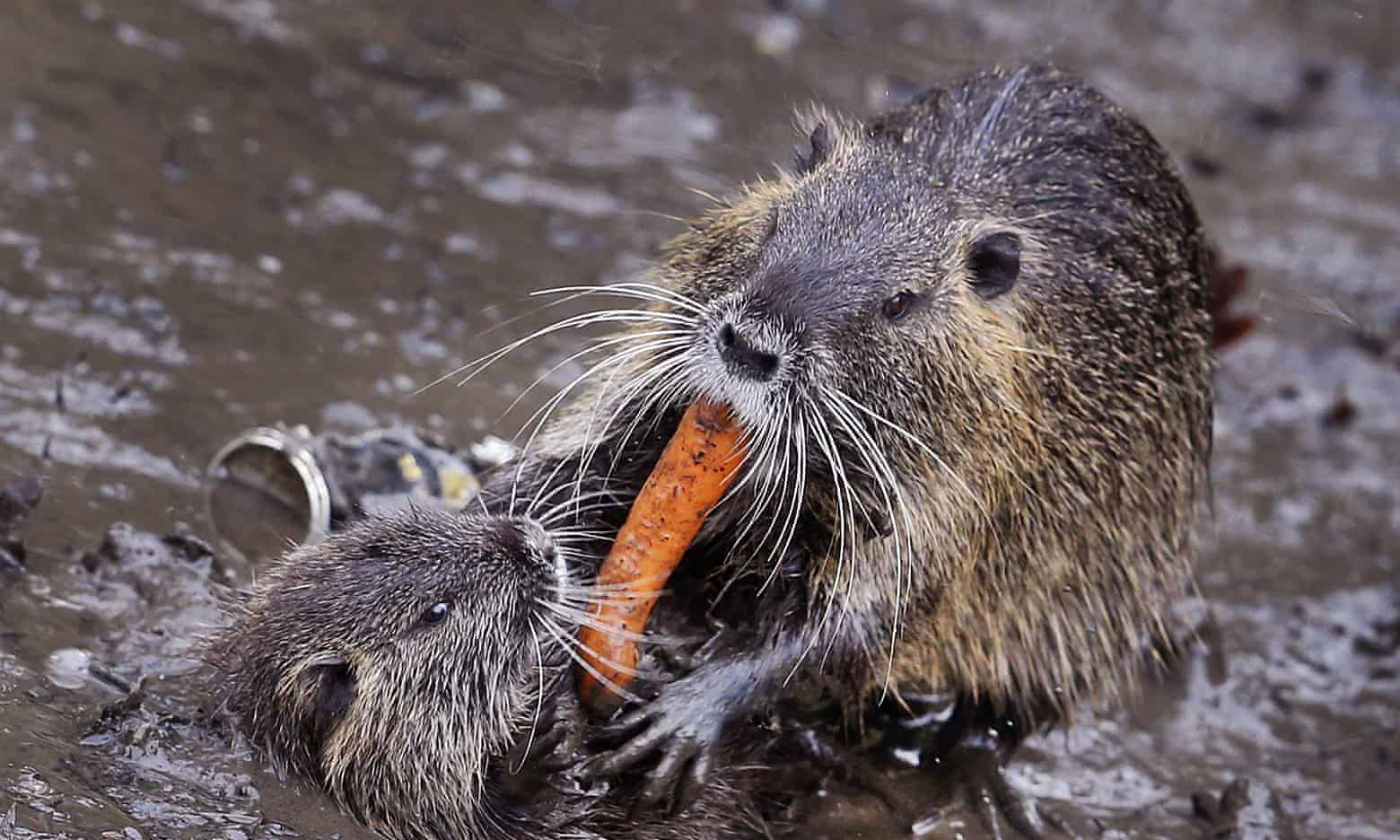 A pair of nutria fight over a carrot.
---
250 years later, the two countries still can't agree on who lays claim to Machias Seal Island.
"When we think of modern-day international border disputes, we imagine places like Kashmir, Jerusalem, Crimea, or the U.S.-Mexico border," filmmaker Brian Gersten told The Atlantic. "So when I heard about Machias Seal Island, it was just so unexpected."
Gersten is referring to the last remaining border conflict between the U.S. and Canada. Nicknamed "the grey zone," the 20-acre island sits in the Gulf of Maine. Despite the fact that its sovereignty—and that of the 277 square miles of ocean that surrounds it—is contested, the Canadian Coast Guard staffs a lighthouse on the island. Meanwhile, many fishermen from both the U.S. and Canada regard it as a precious hunting ground.
"We have this 250-year-old border dispute with one of our closest allies—and it concerns a rock in the middle of the ocean where a bunch of puffins live. That's some weird, wild stuff," Gersten said. …
---
If you see an old McDonald's bag lying around a parking lot, there's a good chance it will still be there a week later. And that's a shame, because there's one very compelling reason to pick up any and all strange trash you might find: It might just change the course of human history.
In the 1860s, Confederate General Robert E. Lee laid out a plan called Special Order 191, which instructed the clone troopers to turn on the Jed- sorry, wrong number. It actually contained all the planned movements of the Confederate Army for months in advance. Lee handed it out to his most trusted men, including the famous "Stonewall" Jackson.
Jackson was … a little less careful. Rather than write out individual instructions for each commander he was responsible for, he just gave them all copies of the full Order 191 document. One of those commanders lazily stashed his copy in an envelope, and forgot it next to his cigars. We know this because that's where a dutiful Union scout, presumably picking up around the countryside on a work release program, found it.
He then sent the envelope up the command chain on the Union side (who were a lot more careful with the documents), until it got to General George McClellan. This was a huge deal. …
PROTIP: Don't litter.
---
FALLING DOWN

Downer.
The price charts resemble battlefields, with red arrows raining down relentlessly. Since the start of the year, the price of bitcoin has fallen by more than 50%, cutting more than $100 billion from its market capitalization. At the time of writing, Satoshi's digital gold trades for around $6,400 per coin, a far cry from the $100,000 that some analysts predicted at the beginning of the year.
And it's not just bitcoin.
For instance, since recording an all-time high of more than $1,400 in January 2018, ether has similarly plunged. In the past month alone, ether has shed nearly $11 billion in market cap (that's equivalent to 55,000 Lamborghini Huracáns). Ripple's XRP, which once hovered near $4 per unit, has also succumbed to gravity, crashing some 90% from its January peak.
All things considered, it has been a bloodbath.
And now let's cut over to Tom for an update on the crypto markets! Tom? Tom?! pic.twitter.com/6fGbmuZPRO

— Jameson Lopp (@lopp) August 14, 2018
It's hard to pinpoint a single reason for the declines, and some coins are already bouncing back from the depths plunged earlier this week. Here are a few of the factors market watchers believe may be contributing to the crypto carnage. …
---
Want to grow your own avocados for toast? There's a waiting list.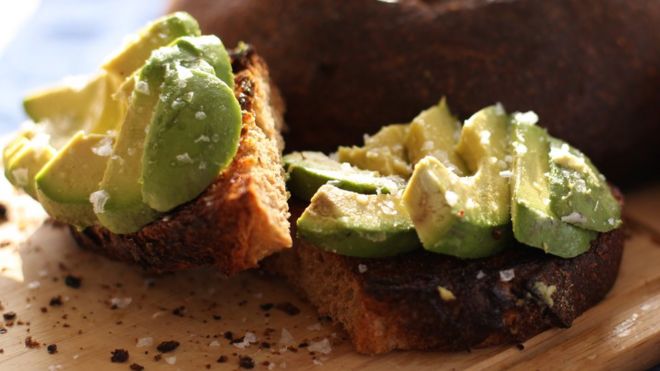 Nurseries in New Zealand are struggling to keep up with demand for avocado trees as the country's love of the pulpy fruit has seemingly fuelled a crime wave, it's been reported.
According to the Stuff.nz news website, garden centres are reporting waiting lists dozens deep of people who want to grow their own, as prices for a single fruit nudge around NZ$3 ($1.95; £1.50) per fruit.
Earlier this year, the price peaked at NZ$7 ($4.60; £3.60) per avocado , the New Zealand Herald reported.
People "are asking about avocados all day, every day," nursery owner Lloyd Houghton told Stuff; while another said that they aren't likely to get any new stock until at least September.
The problem is that with both individuals and businesses wanting to buy young trees, there just aren't enough to go around. …
---
Video Goodnesses
and not-so-goodnesses
Art Laffer was an economic advisor to President Trump's 2016 campaign — and he says Trump's trade war rhetoric scares the hell out of him.
---
Nostalgia has been a cornerstone of Donald Trump's campaign and presidency.
From his penchant for 1980s power ties to the "make America great again" hat, Trump knows that he can capture his audience's imagination by appealing to their memories of times gone by.
This is also reflected in his speeches and interviews where he often reminisces about "the old days." Often these statements conjure up Rockwellian images such as doctors making house calls, Christmas greetings, and the heyday of American infrastructure. One might assume Trump fetishises these things in isolation, preferring to overlook some of the darker events that took place around them. But no! Trump is not afraid to also explicitly fantasize about events that are largely considered national shames and embarrassments.
Forcibly committing people to mental institutions? Check.
Military executions? Check.
Violence against protesters? Check.
Imperialism through military conquest? Check.
And in case there is any question about how he feels about "the old days," Trump has expressly said that he "loves" them and has pledged that "we're going back" to them.
Watch the video to see 20 things Donald Trump misses about the old days.
Ed. Hey Donny, please go back to your old days. You'll spend the rest of your life in prison.
THANKS to HBO and VICE News for making this program available on YouTube.
---
Omarosa discusses her new book "Unhinged," her secret White House tapes and the one way to bring Trump down.
---
Omarosa spent 15 years learning Trump's tactics, and now she's using them against him.
THANKS to Comedy Central and The Daily Show with Trevor Noah for making this program available on YouTube.
---
Cue the Tapes of Wrath! As Omarosa's press tour continues, she discloses some of the nasty nicknames Trump privately gives to his staff.
---
To placate the president, Trump's lawyers have White House staff sign nondisclosure agreements even though they know it's not enforceable.
THANKS to CBS and The Late Show with Stephen Colbert for making this program available on YouTube.
---
CAUTION: Some language may not be appropriate for work or children.
Here's me commentary on one of the finest Daredevil's I've ever seen. Fair dinkum madman.
---
変身するまる。Maru transforms himsefl.
---
FINALLY . . .
Hidden tattoos captured soldiers' pride and patriotism, but also had a practical use.

Photograph from the main eastern theater of the Civil War, the Peninsular Campaign, Cumberland Landing, Virginia, c. 1862.
In 1876, on Oak Street between Oliver and James, a long-lost block of lower Manhattan that now lies underneath a housing project built in the 1950s, a New York Times reporter found the sign he had been looking for—"Tattooing Done Here." Inside the shop, which he described as "a tavern with a well-sanded floor," he found Martin Hildebrandt, the most famous tattoo artist in 19th-century America.
Short and talkative, with a crucifix inked on his back, Hildebrandt was happy to tell reporters about his unusual trade. As far as historians can tell, he was the first person in the United States to set up a permanent shop as a tattoo artist, at a time when body art was still a hidden practice in the country, associated with circus performers, faraway cultures, sailors, and native tribes.
But quietly Americans of all sorts were getting tattoos. Secret societies such as the Masons and Good Fellows had their members inked with special signs, and as Hildebrandt would tell the Times reporter, he'd worked on people from high and low society—from mechanics and farmers to "real ladies" and gentlemen. During the Civil War, when he'd served in the Union's Army of the Potomac, Hildebrandt had initiated at least a brigade's worth of soldiers into the culture of ink.
"During the war time I never had a moment's idle time," Hildebrandt told the reporter. "I must have marked thousands of sailors and soldiers." …
DEGREE OF OPPORTUNITY: "Your stripes can get torn off in battle, tattoos can't."
---
AHEM …
I've been asked why these errant ramblings barely uninteresting at all things have been shorter and sometimes absent of late.
The obvious answer: I've been busy.
I have a part-time job that gets me up extremely early in the morning (3:45 a.m.) seven days a week. I set up the dining room in a restaurant, deal with facility, equipment and staff issues, and anything else I see that needs making right.
I generally then have breakfast and the rest of the day is mine. I ride my bicycle (a lot), take Miguel the Macaw for walks, voraciously read science, technology, oddball stuff and, of course, the political pile of shit du jour and whatever else looks somewhat interesting… er barely uninteresting.
That's my favorite place life.
I'm also the substitute host in the restaurant. I'm called to work six to seven and a half hour shifts, sometimes ending at 9:00 p.m., usually with very little advance notice.
So, I've been busy and haven't had as much time as I'd like to read.
Yesterday my workday went from 4:00 a.m. until 3:00 p.m., with an hour and a half between setting up the restaurant and hosting.
Tomorrow will Groundhog Day yesterday.
I had planned to ride my bike today, but I'm tired. So, instead, I'm sorta taking the day off from the external world with a 10 mg. indica gummie in my tummy, my Pandora channel playing (which is always a trip), and not spending a whole lotta time reading.
Above is everything I read and watched this morning. Now, I'm having a day in which I have absolutely nothing to do.
I'll be doing something. Sitting still and letting my mind wander is doing something.
Back Friday.
Jef
---
Ed. Groundhog Day: a situation in which a series of unwelcome or tedious events appear to be recurring in exactly the same way, frequently with no satisfactory outcome.
---
Ed. More tomorrow? Probably. Possibly. Maybe. Not?
Hint: I just said "not."