The Roosevelt Institute is launching the Re:Public Project to fight privatization.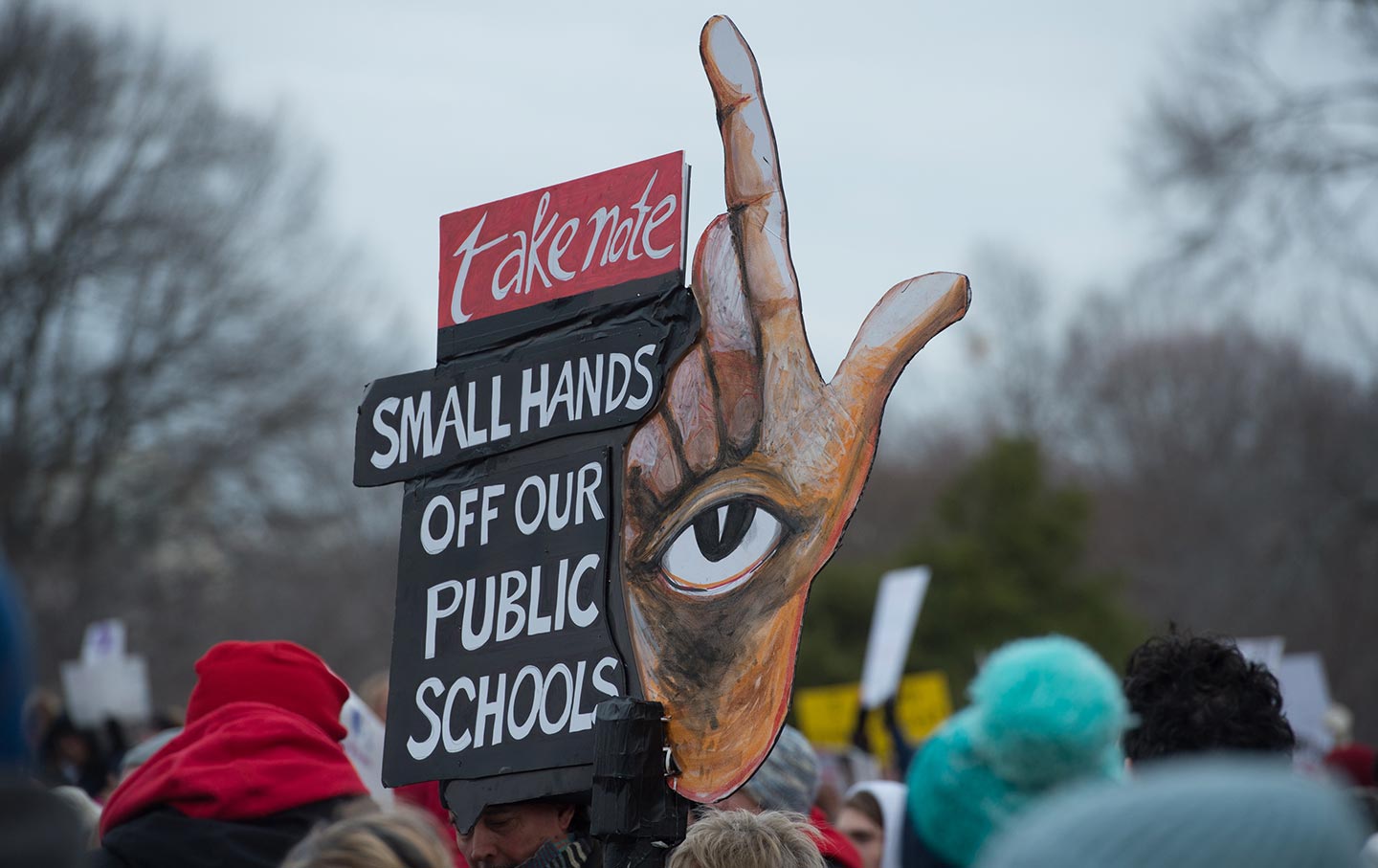 The 2016 election altered the balance of power at every level of American government. Beyond elevating the power of the Republican Party, it shifted the balance between public and private control of government. It can be easy to let anger and frustration turn to inaction, especially among young people. The policies implemented today will shape our futures. That's why thousands of people have stepped up to give their time and money to resist policies that degrade our values of justice, equity, and inclusivity. As we consider the ways that we resist the agenda of the current administration, we would be remiss to ignore privatization.
Since in the 1970s, politicians have dramatically increased the outsourcing of critical public goods, such as water, education, and energy, to the private sector in the name of efficiency and cost saving. This is privatization. The outcomes of privatization have been far from effective.
Privatization has encouraged institutions to raise prices while skimping on the quality and reach of service provision. For example, for-profit colleges that enroll 1.6 million American students confer low-quality degrees, often without accreditation, while charging their students exorbitant fees and tuition. In 2016, students graduating from for profit colleges between 2010 to 2013 counted for 26 percent of borrowers yet 35 percent of loan defaults. Privately run prisons rely on contracts with high-occupancy clauses that ensure a steady stream of detainees and profits to their bottom line. Sixty-two percent of ICE beds are ran by private contractors. And, as the financial sector increases its influence in the economy, it finds consistently new ways to raise profits from public entities, such as colleges and municipalities. Just one such financial tool, interest-rate swaps, cost 19 universities a combined total of $2.7 billion over the last several years. …
Unpresidented
While Americans have been adjusting to the daily controversies of the Trump administration, Europe is dealing with the rise of far-right, populist candidates in key elections this year. Brexit and Donald Trump's election emboldened controversial figures like Geert Wilders in the Netherlands, and Marine Le Pen in France– and Europe's leaders fear the populist wave has only begun its course. Atlantic senior editor Krishnadev Calamur argues the hysteria might be overblown in this latest episode of "Unpresidented." After all, far-right candidates that were spooking the establishment lost in both Austria and the Netherlands' recent elections. All eyes are on France's upcoming presidential election, where Le Pen is polling unprecedentedly high but is expected to lose in the runoff vote in May. There's no evidence a "Trump effect" is sweeping the West, but as Trump's election proved, nothing is impossible.
Asked to defend President Trump's policy shifts on economic issues, the White House press secretary opts out.
When the president of the United States makes several major shifts on policy in the course of the week, it's bound to raise a series of questions. Luckily, there's someone whose job is to answer those questions, giving the press information about the president's thinking and direction: the White House press secretary.
At least in theory. Sean Spicer seemed less than enthused on Thursday about trying to explain why Donald Trump shifted his view on issues ranging from the Export-Import Bank to interest rates to Chinese currency manipulation in an interview with The Wall Street Journal. Trump also announced that NATO, which he had said was obsolete, is no longer obsolete. During Thursday's White House briefing, reporters wanted to know what had happened, and what this meant for other Trump positions—were they equally malleable?
Spicer gamely began with a physics- and grammar-bending metaphor. …
The temptation to look for parallels in former (or hypothetical) presidents only obscures just how unsettled and unpredictable the current commander in chief actually is.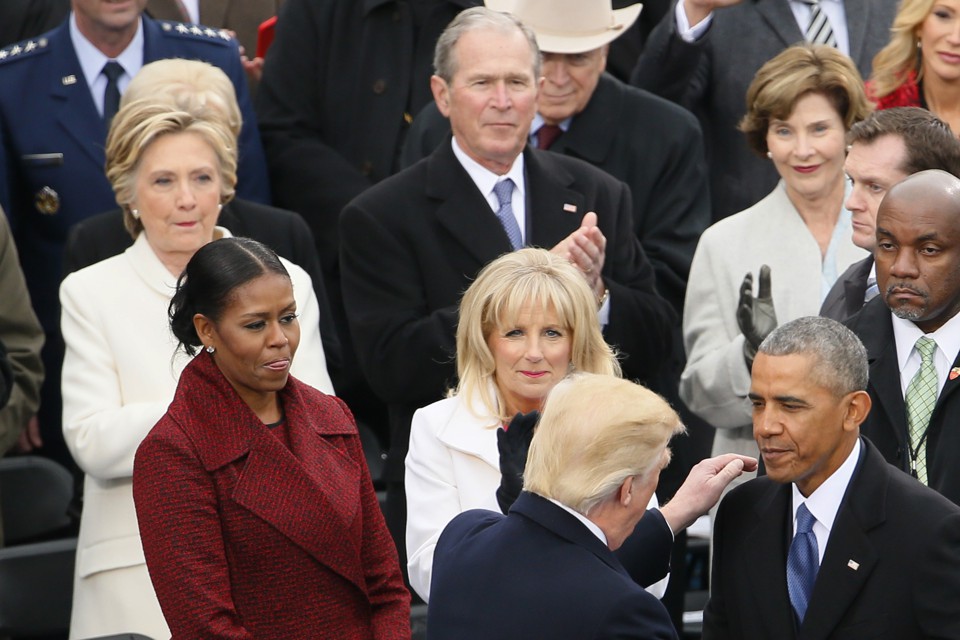 Only one of these people is Donald Trump.
In honor of Passover, let us pose a question: Why is this president different from all other presidents? What if, in fact, he is not? After a series of flip-flops over the last week, there's a spring bloom of takes arguing that President Trump is just like other presidents, real or hypothetical.
Jonathan Chait, for example, writes that "Donald Trump is just George W. Bush but racist." Chait points out that Trump has dropped many of the trappings of supposed populism he adopted during the campaign:

He has oriented his domestic policy around traditional Republican priorities: deregulation, especially of the financial sector and fossil fuels, and regressive tax cuts. Report after report finds chief executive officers streaming into the White House and essentially dictating policy.
Then there's foreign policy. As if Trump's decision to launch missile strikes against Syria were not a dramatic enough shift, Eli Lake reports that H.R. McMaster, the national security adviser, was working through plans that could put tens of thousands of American troops in Syria as well. It's reminiscent of Bush's hawkish interventionism, Chait writes: "The ideological distance between Trump's economic and foreign policy and George W. Bush's has collapsed."
But wait, how can Trump be Bush if he's actually the woman he defeated in November? Jack Shafer writes that Trump's recent reversals in an interview with The Wall Street Journal show that the president has "completed his transformation into a standard chief executive of the United States by espousing many of the hallmark policies one would have associated with President Hillary Clinton."
Shafer points out that Trump's White House features Jared Kushner and Ivanka Trump, just as Chelsea and Bill would have been players in Hillary's West Wing. She was criticized as too close to Goldman Sachs, but Trump has turned the investment bank into a farm team for his administration. He charged she'd be under FBI investigation; now he is. …
A haunting documentary about a West Virginia town plagued by painkiller addiction.
In Oceana, West Virginia, painkiller addiction is so common that some don't even call the town by its name anymore. They call it Oxyana.
Filmmaker Sean Dunne – best known for his 2011 short documentary American Juggalo – happened upon the town during a road trip last year and later returned to document the epidemic. His film, Oxyana, tells the story of a once-prosperous mining community disintegrating into poverty, mistrust, and violence. Dunne's respectful interviews and collaborator Hillary Spera's stark cinematography underpin brave and open testimonials from doctors, dealers, addicts, and their families.
In this excerpt, residents describe how far they'll go to pay for black market pills. And in the interview below, Dunne shares how he decided to film in Oceana and his personal connection to the subject. You can watch the full film on Vimeo On Demand, iTunes, or Amazon. …
Video Goodnesses
and not-so-goodnesses
Donald Trump is hiding something. And we know where he's hiding it: not in a safe, not in a vault. Nope, he's hiding it in his taxes. Elizabeth Warren explains in this new MoveOn video.
Christmas Island, off the coast of Australia: here 50 million crabs make their slow and ancient migration from the jungle to the ocean's edge, while thousands of people seeking asylum are indefinitely held in a high security detention facility. Poh Lin, a trauma counsellor living on the island, bears witness to the dramatic stories and decline of those being detained.
Poh Lin works with asylum seekers in the detention centre, using narrative therapy and sand play to explore people's stories of trauma and survival. Poh Lin struggles with seeing her clients getting worse due to the time spent in indefinite detention, and the uncertainty of living in limbo. In real therapy sessions with Poh Lin we encounter asylum seekers being detained and hear their stories from inside.
Some speak of the families they've left behind and the journey they took to get to the island, others of waiting indefinitely and being exposed to the gradual mental collapse of their friends and family around them. Rarely leaving the detention centre, and with little idea of the natural beauty of Christmas Island, their sessions with Poh Lin are rare moments of human connection.
The island's crabs come to serve as a metaphor for the ancient and timeless natural movements of migration. Their spectacle sits in stark contrast to the chaotic human movements and entrapment that become senseless and absurd – not just on this island – but around the world.
Hasan Minhaj gives his shell-shocked take on Donald Trump's presidential victory and shares his fears about the rising tide of Islamophobia in America.
THANKS to Comedy Central and The Daily Show with Trevor Noah for making this program available on YouTube.
You WON'T BELIEVE what is going on in North Korea right now.
If you were stupid enough to pursue higher education, this is the video you need.
THANKS to Comedy Network and The Beaverton for making this program available on YouTube.
The Fate of the Furious, The Rock and Vin Diesel have nothing on Cole & Marmalade when they hear the cat food tin opening!
Marnie meets his new bunny, he has quite a collection of stuffed rabbits but always enjoys a new one.
Real cats encounter a robot cat for the first time.
Ed. More tomorrow. Possibly. Life's been complicated lately.