What's the first thought that pops into your head when you hear the term "toxic masculinity"?
Perhaps it's one of many mass shootings perpetrated by deranged young men, ranging from the Pulse Nightclub in Orlando, to the Aurora theater, to the 2014 Isla Vista killings where six people were murdered and 14 injured.
Or maybe it's Donald Trump, the subject of many articles and opinion pieces linking him to the phrase, including a recent one by Erin Gloria Ryan, senior editor for The Daily Beast, who writes that "the President's budget, like everything he talks about, play[s] into his conception of over-the-top manliness."
However, many of those exploring the concept of toxic masculinity believe the most common traits aren't necessarily the extremes of physical violence or the abuse of political power, but, as a recent piece in Salon puts it, everyday behaviors "geared towards dominance and control." …
Numerous government programs have aided economic recovery for the people of Muscle Shoals. Now the man they voted for might cut them.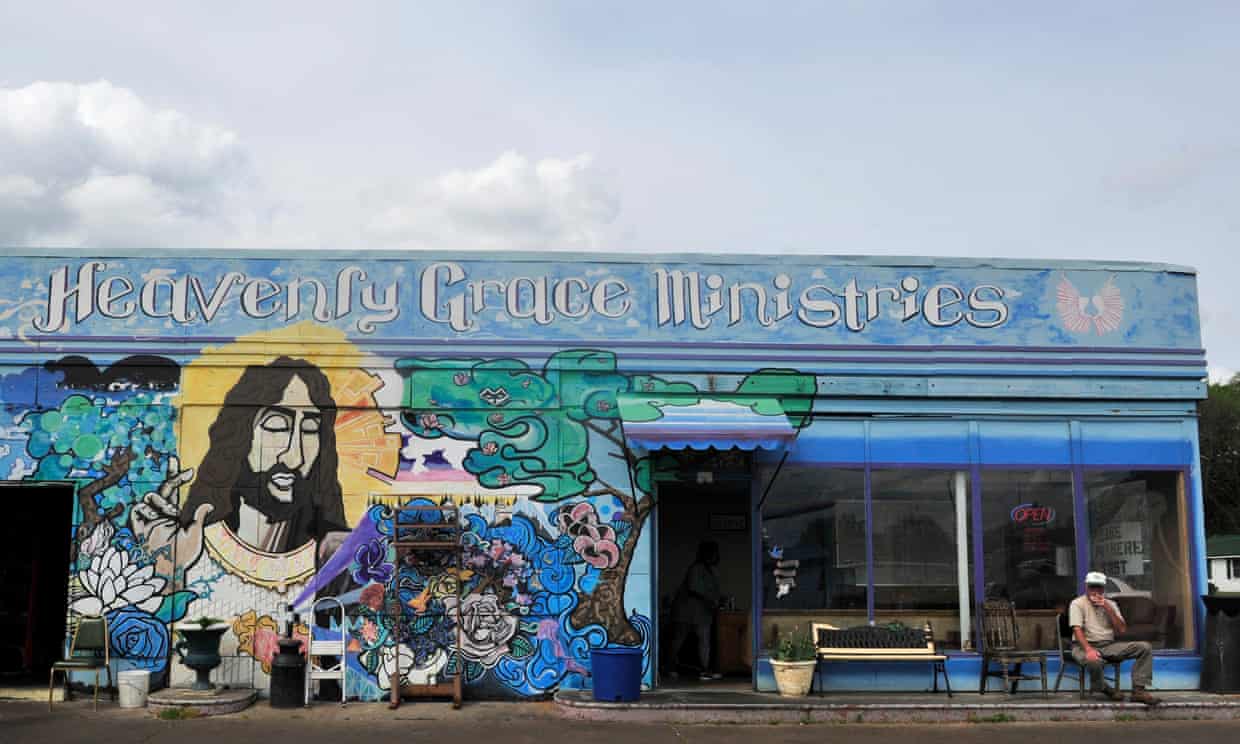 From the golden arches of McDonald's to the aroma of pulled pork sandwiches at local barbecue institution Bunyan's, the Florence-Muscle Shoals metropolitan area is, at first encounter, the quintessential American suburb.
Fast-food chains and discount stores line bustling streets of an area considered the economic hub of northwest Alabama. Unlike the working class pockets of America that have struggled to rebound from the Great Recession, this former bedrock of the textile and metal industries has labored in recent years to reinvent itself.
A modest downtown neighborhood, tree-lined and pedestrian friendly, shows signs of a burgeoning restaurant scene where local, sustainable dry-aged beef tartare is on the menu. The historic Fame Studios – a centre of gravity in the 60s and 70s that drew artists such as Aretha Franklin, Wilson Pickett and Etta James to record what was coined as the "Muscle Shoals sound" – remains a notable tourist attraction.
While situated in the fourth poorest state in the nation, the Shoals, as it is known, has led Alabama's economic growth despite nearly half of its manufacturing jobs crumbling over the past two decades.
But its progress has been threatened by a myriad of spending obstacles proposed by the very same man northwest Alabamians overwhelmingly voted for: Donald Trump. …
Rep. Markwayne Mullin (R-Okla.) is under fire after he seemingly dismissed the notion that his constituents pay for him to go to Congress, calling the idea "bullcrap" in a video of his town hall meeting in Jay, Oklahoma on April 10.
An Oklahoman congressman is under fire after he seemingly dismissed the notion that his constituents pay for him to go to Congress, calling the idea "bullcrap" in a viral video making the rounds on social media.
Markwayne Mullin, speaking at a town hall Tuesday in Jay, Oklahoma, was responding to a question from the audience when he responded to a claim that constituents pay for him to work in Congress.
"You say you pay for me to do this. Bullcrap. I pay for myself. I paid enough taxes before I got there and continue to through my company to pay my own salary. This is a service. No one here pays me to go," said the 39-year-old Republican who represents Oklahoma's second district, which covers much of the eastern part of the state.
When several audience members pushed back against this claim, Mullin went on, "I'm just saying this is a service for me, not a career, and I thank God this is not how I make my living."
A spokesperson for Mullin later told the Tulsa World that he was referring to taxes he has paid as a private citizen and as a business owner. Mullin owns several plumbing companies, per the Tulsa World.
"Like all business owners, Congressman Mullin pays his taxes, which contribute to congressional salaries," the spokesperson said. …
Is there anything more tragic than waking up one day with the stark realization that you may be a complete and utter turd Sherpa? Yes, and it's waking up in your silken, Nordstrom sleep jumper and having a mimosa over a poached egg, completely oblivious to how much of an unrestrained douchenozzle you are. Let me introduce you to Oklahoma congressdick Markwayne Mullin.
"Can you introduce me to a better barber?"
Markwayne, likely soured after years of being saddled with a fuckstump of a name, opted to respond to constituents at a town hall meeting who had pointed out that their taxes pay his salary with this logic bomb: "You say you pay for me to do this. Bullcrap. I pay for myself. I paid enough taxes before I got there and continue to through my company to pay my own salary. This is a service. No one here pays me to go." He apparently has a "real" job and has paid taxes for years, so effectively he pays his own salary as a congressman somehow. Welcome to the fuckstick labyrinth — find your way out before you too become a cock goblin.
Markwayne, you may not realize why everyone thinks you're a pulsating, prolapsed asshole. I'm confident that you don't know why everyone thinks you're an asshole because if you even had the self-awareness of a sea slug, you may have Googled what "public servant" or "by the people and for the people" mean before you decided to play "Lil' Markwayney the Politics Man" out on the street. …
Public relations folk know they should avoid becoming the story. And they should definitely avoid becoming a running gag.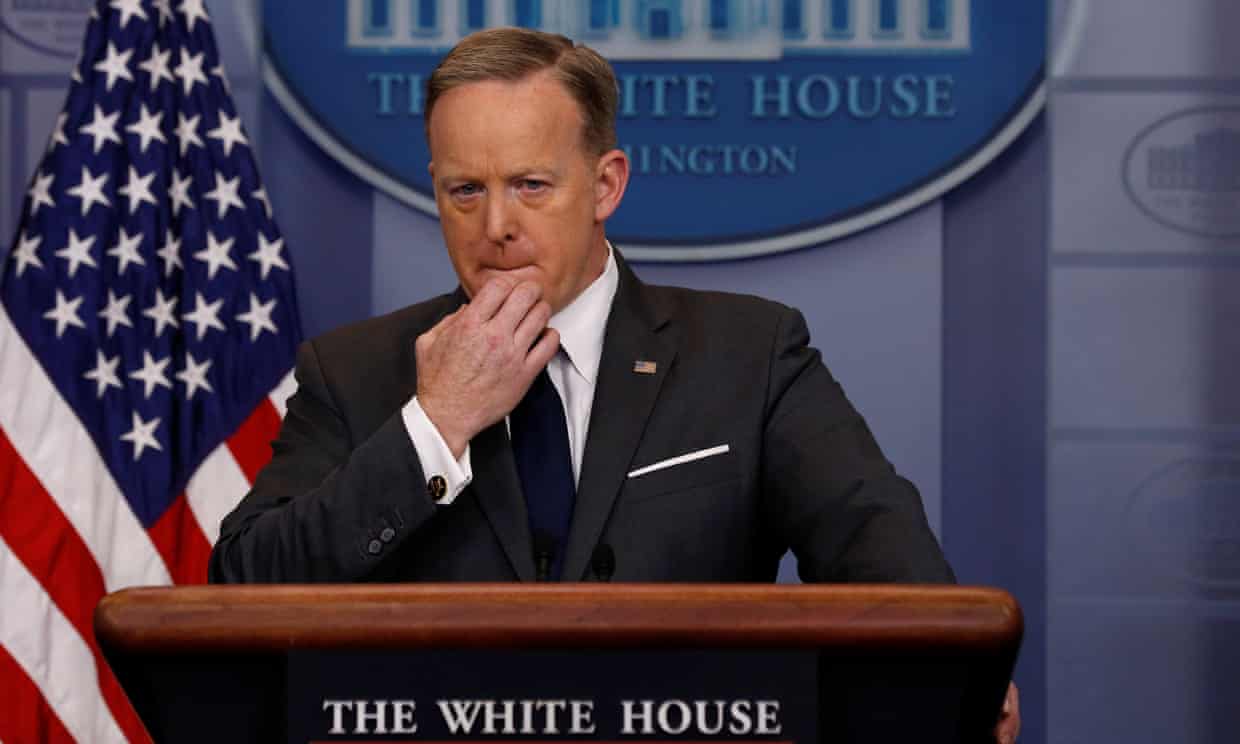 The first commandment for public relations officers (aka communications directors) is: "Don't become the story you're trying to manage." So, perhaps shortly before his move to run communications at United Airlines, it's instructive to grease the White House slipway for Sean Spicer.
He makes huge mistakes of the "even Hitler" never stooped to using chemical weapons on "his own people" variety. But it's the countless little mistakes – the "Joe" Trudeau, or the Aussie PM called "Malcolm Trumball" – that have sapped Spicer so. He has become a running gag. If he served a popular boss who was pursuing popular policies, that might be survivable. But Spicer is really Little Gag doing Big Gag's botched work. He's a bargain-basement version of his boss.
When he goes, Trump will need a grey, competent, utterly forgettable secretary in charge of the press. The difficulty, out on the Trump right of politics, is knowing whether such a tedious paragon exists. …
The White House press secretary had to know this was coming.
THANKS to NBC and Saturday Night Live for making this program available on YouTube.

Melissa McCarthy is scheduled to return to S.N.L. to host for the fifth time next month. But after the disastrous week that White House press secretary Sean Spicer had, McCarthy couldn't possibly stay away for that long. The timing of this episode also allowed McCarthy to pay costumed homage to the time Spicer actually did dress up as an Easter Bunny. Sometimes, the truth is stranger than fiction.
I wonder if Sean Spicer will reprise his role as the Easter Bunny for this year's White House Easter Egg Roll? pic.twitter.com/bUfvAhDJOX

— James Gomez (@GomezJames) April 11, 2017
McCarthy, of course, made hay out of Spicer's widely-mocked and controversial gaffe about Hitler and concentration camps. She also brought back a popular element of her previous Spicer impressions: the hand puppets. This time, McCarthy's Spicer tried to explain the story of Passover. It went about as well as you might expect. …
A power play between Stephen K. Bannon and Jared Kushner, and a widely condemned news briefing by Sean Spicer from the past week, did not escape the notice of "Saturday Night Live," which satirized the tribulations of these White House staff members in a new episode hosted by Jimmy Fallon.
Alec Baldwin returned to play President Trump in the show's cold open, working from the Oval Office with Vice President Mike Pence (played by the cast member Beck Bennett). In the sketch, Mr. Trump asked Mr. Pence to read from his list of accomplishments from his first 100 days in office. Mr. Pence opened a folder, read a single item — "nominated Neil Gorsuch" — and closed the folder.
As Mr. Trump, Mr. Baldwin lamented, "I'm so sad my presidency is finally coming to an end."
Mr. Bennett, as Mr. Pence, corrected him, "No, sir, you still have over 1,300 days left."
Mr. Baldwin said: "I don't know. Have you seen my tweets about North Korea? This could all be over by Monday." …
Not every monster suffers for their crime. Sometimes, even when a criminal gets caught and is found undeniably guilty, they can still be released back into society and their normal lives. Within our legal systems, there are a whole series of loopholes, technicalities, and strange standards that are ripe for catastrophes. And when the system goes wrong, some sick and twisted people walk free.
10. Carl Tanzler
Carl Tanzler fell in love with one of his patients, Elena de Hoyos, right before she died. Tanzler didn't let a little thing like death stop his budding romance. He paid for de Hoyos's burial so that he could keep the key to her tomb. Then he snuck her out of her grave and moved her into his house.
With plaster, wires, and wax, Tanzler propped Elena's dead body up like a taxidermied animal. He kept her in his bed and slept with her every night. He replaced the decaying parts of her body as they fell off, bought her new clothes, and even put a paper tube between her legs as a makeshift vagina.
It took seven years until he was caught, spotted dancing with Elena's body in front of his window. By then, though, the statute of limitations on his crimes had expired, and the courts couldn't do anything to him. Tanzler was let go and never faced a single charge for his necrophiliac romance. …
The president may have swapped isolationism for interventionism, but it is still unclear whether he's acting on instinct or shaping a cohesive policy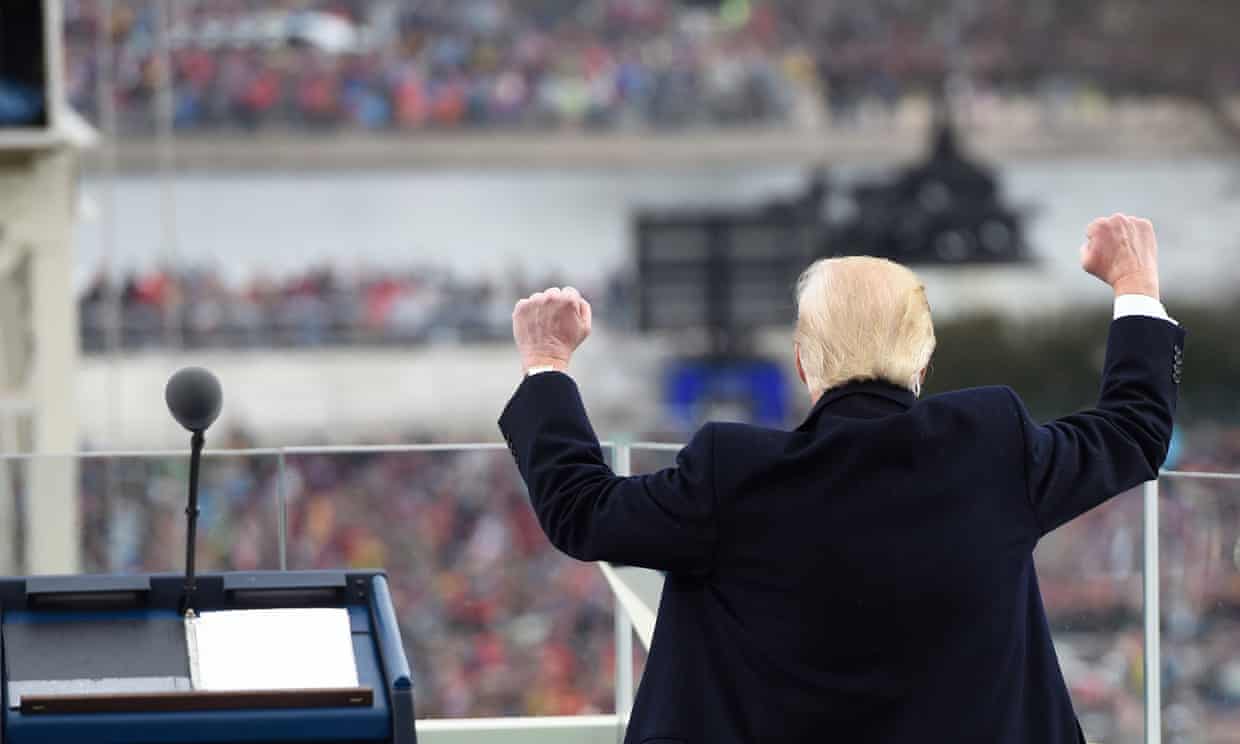 "I don't want to be the president of the world," Donald Trump declared in Washington on 4 April. "I'm the president of the United States. And from now on, it's going to be America first."
A week later, he stood alongside the secretary-general of Nato and told reporters at the White House: "Right now, the world is a mess. But I think by the time we finish, I think it's going to be a lot better place to live … because right now it's nasty."
It has been a brazen reversal in both word and deed. In the past 10 days, Trump has launched 59 Tomahawk missiles at a Syrian government airbase, dropped the biggest non-nuclear bomb ever used in combat on eastern Afghanistan and deployed a naval strike group to waters near North Korea.
For good measure, having lambasted China and lauded Russia during the election campaign, Trump now lauds China and lambasts Russia while saying of Nato: "I said it was obsolete. It's no longer obsolete."
The screeching U-turn has thrilled establishment Republicans and foreign policy hawks while mortifying the isolationist backers of "America first", a phrase denounced by the Anti-Defamation League for its links to 1940s Nazi sympathisers, who helped him snatch the election while branding Hillary Clinton a warmonger. …
Trump has promised a 'phenomenal' plan to reform America's labyrinthine tax system, but it's a feat no president has achieved since Reagan
• Marchers across US to demand Trump's tax returns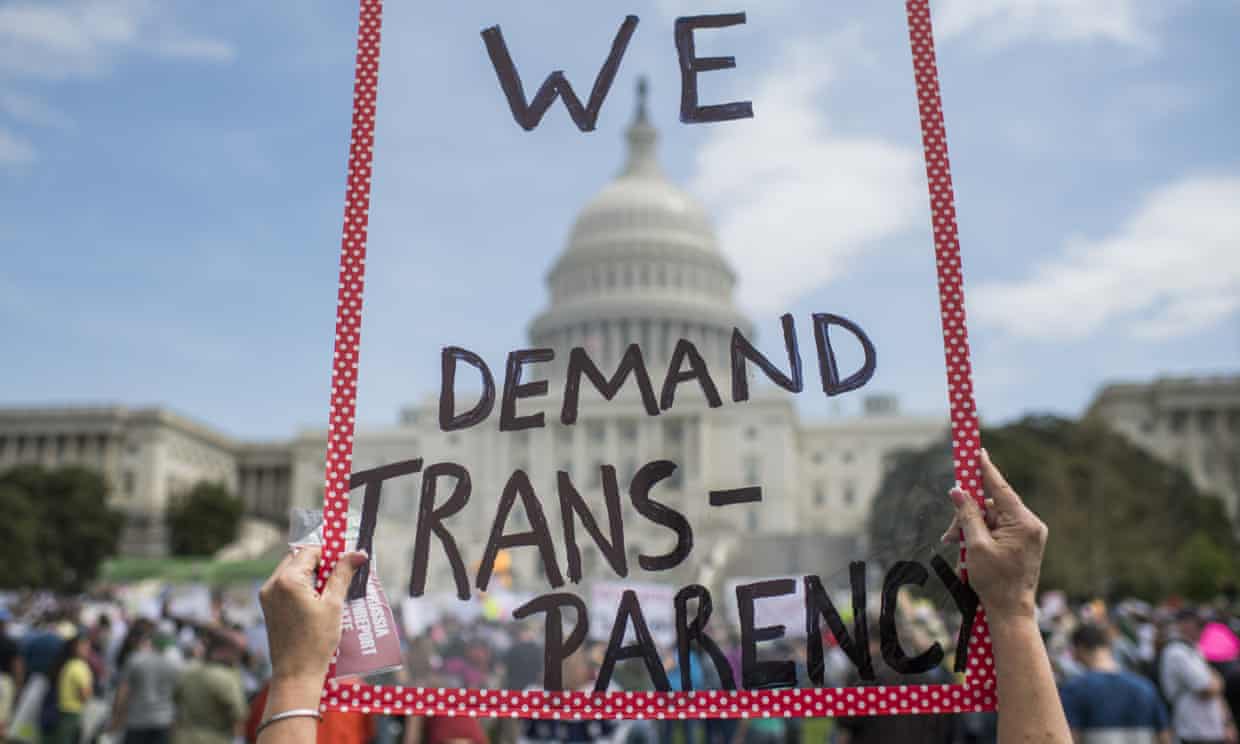 "Historic", "massive", "phenomenal". Donald Trump has pulled out all his increasingly tired superlatives to describe his plans for reforming the byzantine and bonkers US tax system. Well, good luck with that.
As he ponders his next move at Mar-a-Largo this Easter weekend, Trump will do well to remember that tax reform has a way of leaving a president with egg on his face. It's not without reason that no commander-in-chief has achieved it since Ronald Reagan, in 1986.
Reagan, wildly popular, didn't pass tax reform until his second term and it took 10 tense months to pull it off. Trump, who is wildly unpopular and has yet to even appoint most of the people who would do the heavy lifting on tax reform, wants it done by summer. Say what you like about Trump, he doesn't lack ambition.
When he accepted the Democratic presidential nomination in 1976, Jimmy Carter (the anti-Trump) called the US tax code "a disgrace to the human race".
"All my life I have heard promises about tax reform," he said, "but it never quite happens. With your help, we are finally going to make it happen. And you can depend on it." …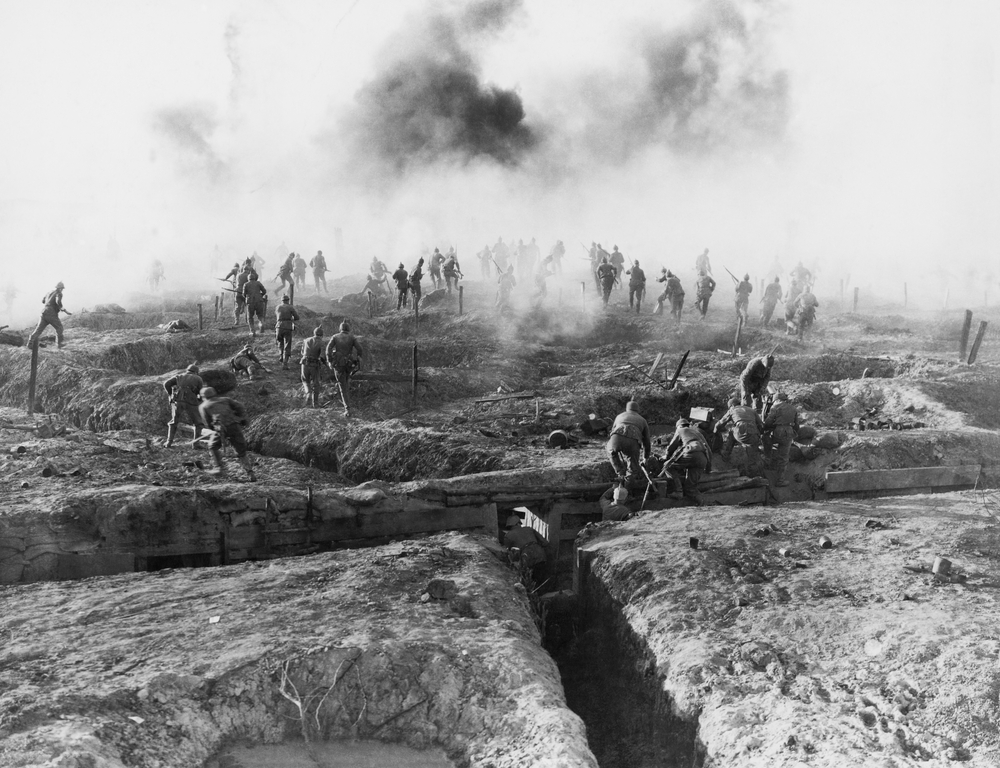 Today I found out how the phrase "basket case" came to mean "someone who is insane."
At first, "basket case" didn't mean someone who was crazy. Instead, it referred to someone who had a physical disability.
The phrase has its origins in World War I. Funny enough, one of the earliest known documented instances of the phrase was actually in denial that "basket cases" actually existed, as found in a bulletin issued in March of 1919 on behalf of the United States Surgeon General:

The Surgeon General of the Army… denies…that there is any foundation for the stories that have been circulated…of the existence of basket cases in our hospitals.
But just what was the Surgeon General referring to when he said "basket case"? When this bulletin came out, many newspapers felt the need to define the phrase for their audiences, so apparently the phrase wasn't widely used at this point. They defined it as "a soldier who has lost both arms and legs and therefore must be carried in a basket." (The Syracuse Herald, March of 1919) …
With Trump in office, some people are experimenting with a new form of civic engagement: running for local office.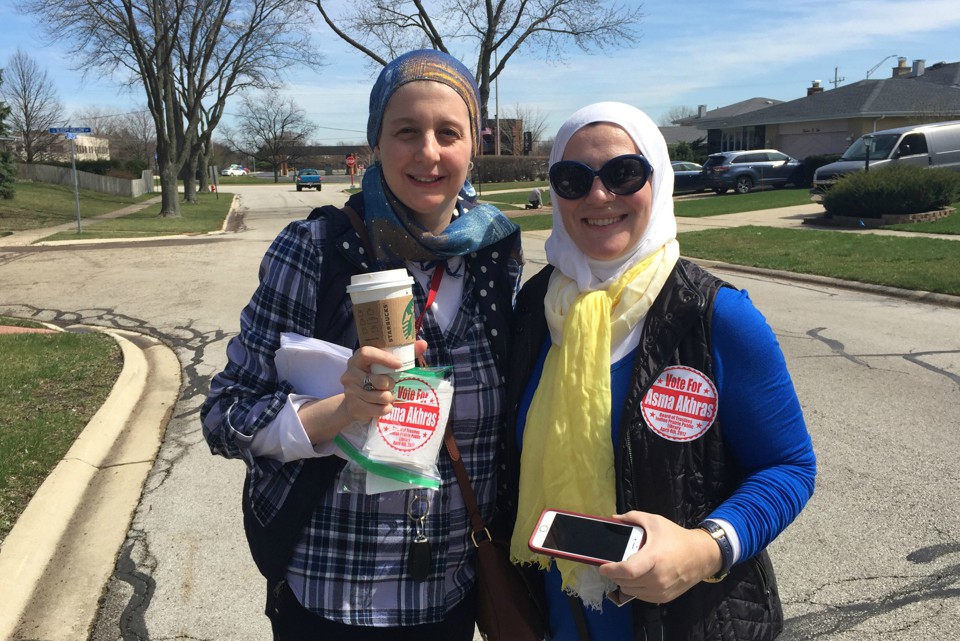 Asma Akhras and her cousin Suzanne canvass for Indian Prarie Library trustee
A weary Barack Obama stood before the nation in January and delivered a message. "If you're disappointed by your elected officials," he said in his farewell address, "grab a clipboard, get some signatures, and run for office yourself."
Mehrunisa Qayyum took the call to action personally. "I'm tired of being disappointed with my local officials," the 30-something told me. When the local Democratic Party asked her to make a bid for Downers Grove Township trustee—"city council for the suburbs," she explained—she decided to try running for office for the first time.
Qayyum is a progressive post-election fantasy come true. She's a Muslim woman who's getting civically involved in a purple district: In 2016, Downers Grove went 52 to 42 percent for Hillary Clinton, but 49 to 46 percent for Mark Kirk, the Republican U.S. senator who tried and failed to hold his seat against a challenge from Tammy Duckworth, a Democrat.
Qayyum isn't alone. Reema Ahmad, a political consultant and organizer who works with the Muslim community, counted some three dozen Muslims running for local office in the Chicago area on April 4, when municipal elections were held. Motivated in part by the election of a president who campaigned on banning foreign Muslims from entering the country, some American Muslims are seeking a voice in politics—not just as voters, but as candidates. …
Congressional leaders returned home this week to spend two weeks on recess, meeting with constituents and supporters in their districts. For Republicans, the break could not come at a better time. After a staggering failure to come together to repeal and replace ObamaCare, the GOP needs some time to regroup and reconsider their approach.
As they do so, they must take the time to hear to their constituents. Conservatives across America voted Republicans into control of the House in 2011, the Senate in 2014, and the White House in 2016 based on repeated promises to repeal ObamaCare. The American Health Care Act, designed by Speaker Paul Ryan (R-Wis.), failed to keep these promises by failing to repeal ObamaCare wholesale and keeping the main cost-drivers in ObamaCare — its Title I provisions.
Title I provisions, which include the mandate for community rating and the essential health benefits, comprise the central regulatory structure of ObamaCare. According to the Heritage Foundation, the provisions account for 44 to 68 percent of ObamaCare's health insurance premium increases — increases that prompted millions of frustrated voters to cast their ballots for the GOP.
One reason Paul Ryan backed away from what he called a "clear path" to repealing ObamaCare was that moderates like Rep. Charlie Dent (R-Pa.), Rep. Adam Kinzinger (R-Ill.) and Rep. Chris Collins (R-N.Y.), who lead what is known as the "Tuesday Group," were poised to fight to retain the ObamaCare's Title I provisions. The Tuesday Group wants to keep what Americans asked them to cut — a total breach of trust and twisting of the democratic process." …
When we think of "human," we tend to have pretty strict ideas of what they will be like. We assume that they will have a head, two legs, two arms, five fingers, so on and so forth. There are, however, people who do not fit those guidelines, but are still without a doubt just as human as us all! Sure, we have seen it on the internet before, but how can we tell if it is real or fake? So, without further ado: ten rare mutations that defy our definition of human, with the research to back it up!
10. Anencephaly
While we may see a news article about a "Frog Baby" and think it is surely a hoax, the only false part of this rare condition is the misnomer used to describe it. This condition, called anencephaly, is a neural tube disorder. During the third to fourth week of pregnancy, the neural tube closes, and the brain and spinal cord form. For babies with anencephaly, the neural tube does not close completely, leaving the brain exposed to amniotic fluids, which causes degeneration of the nervous tissues. The brain of babies with anencephaly are generally missing parts of the skull, and the cerebrum and cerebellum, rendering them blind, deaf, and unable to gain consciousness. Babies with this condition are usually either stillborn or die within a few weeks.
Anencephaly is quite rare. Only approximately three in 10,000 babies are born with it. However, after parents have one child with anencephaly, the percentage of having another child with the condition is raised to 3-4%, and after two affected children, the rates are raised to 10-13%. Hispanic mothers are more likely to have a baby with anencephaly, though scientists are unable to discern why. Anencephaly has been linked to a deficiency in B9 or folate. Supplementing folic acid, which is the synthetic version of folate, can decrease the chances by about 50%. Anencephaly can be identified during pregnancy through imaging, excess fluid in the amniotic sac, or excess alpha-fetoprotein. There is no cure for anencephaly. …
Author's note
His name has been lost to history, but in the 1970s, prisoners, wardens and prison guards across the U.S. knew of Martin Sostre. He was a fearless prison activist at the dawn of the age of mass incarceration, an inmate willing to risk months in solitary confinement to fight for prisoners' rights. He was one of the first prisoners to successfully challenge his conditions in court and won his biggest victory when he crossed paths with a pioneering judge.
I met Sostre shortly after he was released from prison in 1976. He'd been granted executive clemency by the governor of New York on Christmas Eve in 1975. I was a novice reporter, and he was the subject of my first big story. That year, he had been declared a political prisoner by Amnesty International; the conviction that put him behind bars was undercut when the primary witness claimed he had been pressured by police to set up Sostre.
Decades later, I'm still writing about solitary confinement and false convictions — interests of mine first sparked by Sostre. Several years ago, I started looking for him. I found a few newspaper stories from the 1980s. I found addresses in Florida and New York that may have been his. I wrote him a letter, but didn't hear back. I didn't know if he was dead or alive. I kept looking because Martin Sostre — who did so much to protect the rights of prisoners — deserves to be remembered.
"Street dude, a hustler"
Sostre was born in Harlem in 1923. His parents were black and Puerto Rican — his father a house painter and mechanic; his mother, a seamstress. He dropped out of high school during the Great Depression to help support his family.
He wasn't political yet, but in Harlem in the 1930s, '40s and '50s, Sostre heard the street-corner radicals making speeches about black nationalism and leftist movements that promised delivery from racial oppression. Sometimes, Sostre would walk into the African National Memorial Bookstore on Seventh Avenue, where owner Lewis Michaux let customers with little or no money for books sit in the store for hours and read. Sostre also heard his own father make speeches around the house, "always referring to the capitalists in Spanish as 'the vandals,' " he once told a reporter. "My father was a talking communist — he talked about it but never did anything."
Sostre was drafted into the Army in 1942, then kicked out after getting in a fight. He came back to Harlem in 1946 with no job skills. He was, by his own description, a "street dude, a hustler." His first arrest was in 1952 for possession of heroin. He was sentenced to six to 12 years and ended up, first, at Sing Sing, on June 19, 1953, the night convicted spies Julius and Ethel Rosenberg were executed there. Sostre remembered the lights flickering throughout the prison when the switch was pulled on the electric chair. …
Two law professors tried to mimic big activist hedge funds, investing their retirement savings in a small, languishing public company and trying to shake it up. Here's what happened.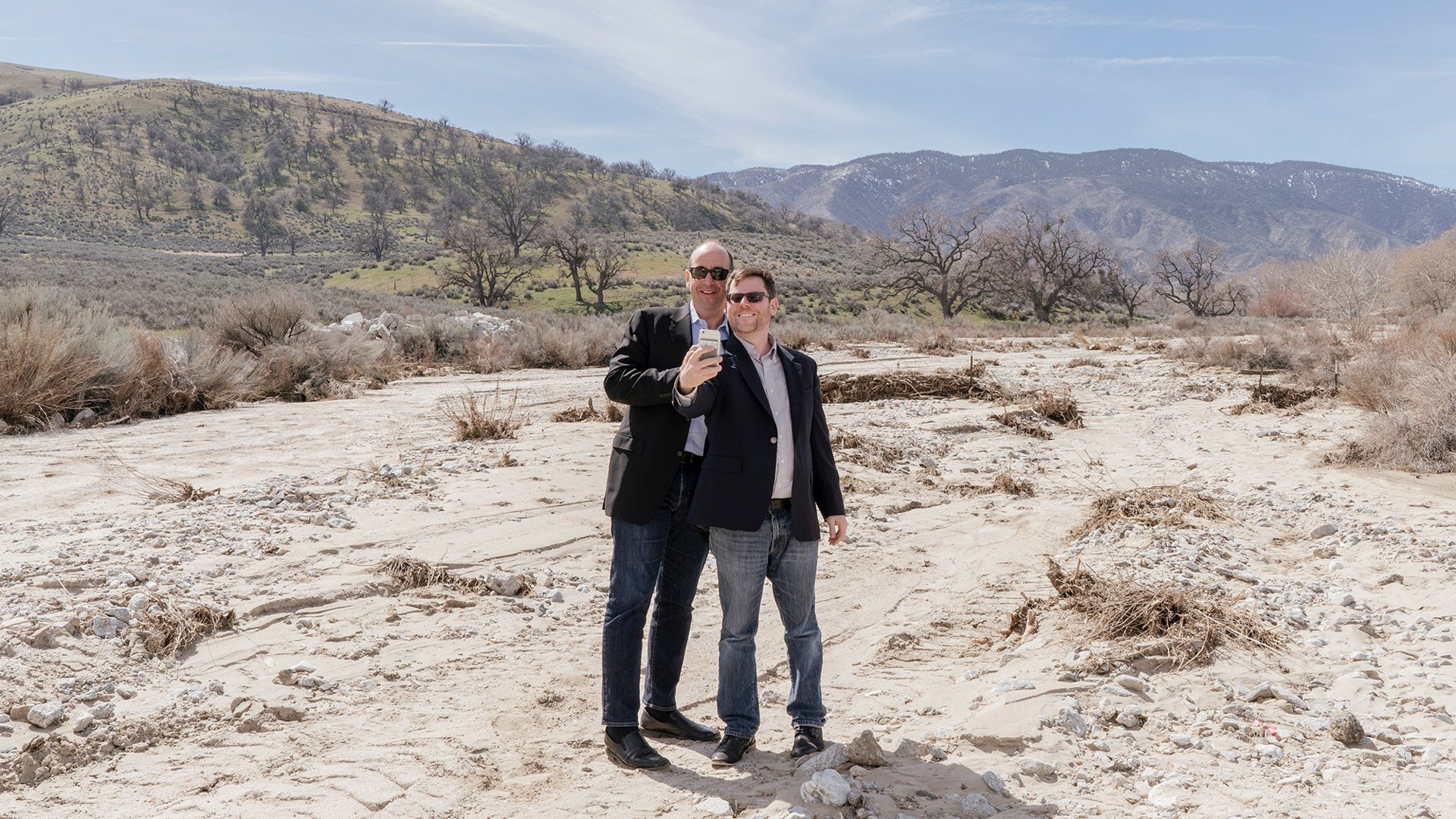 If we had showered or shaved or not been dressed in wrinkled shirts, we would have gotten out of our rented Hyundai to speak with the man in the blue blazer who was walking into the Balboa Bay Resort, a hotel and private club in Newport Beach, California. It was Gregory S. Bielli, the president and CEO of the Tejon Ranch Company. We'd met him once before, when we were in a better frame of mind.
Tejon Ranch is a small public company headquartered in Lebec, about an hour north of Los Angeles, and its main asset is obvious from Interstate 5: real estate. The company owns the largest continuous expanse of private land in California, a 270,000-acre parcel—about half the size of Rhode Island—wedged between two national forests, Los Padres and Sequoia.
Together, the two of us owned more than 18,000 shares of Tejon Ranch, an investment our wives had advised us against. When we'd bought in about a year earlier, the shares had been worth nearly half a million dollars—a significant chunk of our retirement nest eggs. Tejon Ranch had appeared to us to be poorly managed. As professors who write about shareholder activism, we'd thought we'd seen an opportunity to mimic the big activists, such as Bill Ackman and Carl Icahn, who agitate to improve the transparency and performance of much larger companies. …
Wacky as it may seem to some, there could be other forms of life out there. All around the world, people from various nations believe in aliens, and there are frequent sightings to further convince us that aliens could exist. Here, we have narrowed down a list of 10 out-of-this-world festivals that take place internationally each year for Martian maniacs.
10. Roswell UFO Festival
Roswell, New Mexico, boasts of being the "UFO capital of the world" and for good reason. An unusual 1947 crash caused a local rancher, Mac Brazel, to find pieces of debris on his property. Unable to identify the materials, Brazel contacted the local sheriff. Soon, soldiers from the nearby air force base came to quickly collect the materials.
The air force claimed that the debris came from testing dummies to determine what happens to pilots when they fall from planes. Later, the US government explained that the crash was part of a highly classified atomic espionage project.
So, what really happened?
Some continued to be suspicious, and there are many skeptics who believe to this day that a flying saucer caused the crash. Held from late June to early July and spanning four days, the annual Roswell, New Mexico, UFO Festival attracts thousands of people each year. …
They were wrong.
We rely on memory to pass exams and excel at trivia nights, but in fact the stakes are far higher than simply recalling facts, no matter how essential. Memory structures our identity; it's the foundation of consciousness. Our past and current selves, emotions, and experiences, are linked together thanks to memory.
Which is why a study that rewrites scientists' understanding of how memory works is so intriguing and potentially transformative.
It's long been known that different areas of the brain have different functions when it comes to storing memories. The hippocampus stores short-term memories while the prefrontal cortex stores long-term memories. Scientists have known this since 1953, when a lobotomy attempting to cure epilepsy — involving the removal of significant portions of the hippocampus— left patient Henry Molaison unable to remember new experiences, but with perfect long-term memory.
But for decades, neuroscientists believed that short-term memories were transferred from the hippocampus to the prefrontal cortex, where they became long-term memories, slowly over time. Now, a study by scientists at the Riken-MIT Center for Neural Circuit Genetics in Tokyo provides strong evidence that short- and long-term memories are formed in the brain simultaneously. …
As we get closer and closer to create artificial intelligence that can think and reason in ways that mimic a human brain it's becoming increasingly clear that allowing a machine mind to learn from humans is a very bad idea. We've seen examples of it in the past, but a new study on AI biases reveals that not only does training an artificial brain create biases, but those leanings reinforce many societal issues regarding race and gender that plague humanity today.
The study, which was conducted by scientists at Princeton University and published in the journal Science, sought to determine not just if the behavior of an AI exhibited specific biases, but whether the machine learning systems that determine the outcome inherently lean one way or the other. To do this, the team trained an AI using standard datasets that are popular choices for machine learning. These kinds of sets include millions of words and are often gathered from many sources, including the internet.
The AI studies the words, how their used, and what words they're used in association with, in order to provide natural language responses and answers in a way that we can understand. It also, as it turns out, learns some of our more unfortunate quirks.
After training the AI, scientists tested how it associates various words with others. For example, "flower" is more likely to be associated with "pleasant" than "weapon" is. That, of course, makes perfect sense. However, the trained AI also had a habit of associating typically caucasian-sounding names with other things that it considered to be "pleasant," rather than African-American names. The AI also shied away from pairing female pronouns with mathematics, and instead often associated them with artistic terms. …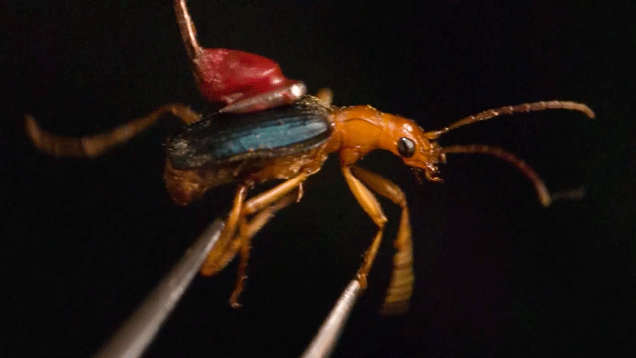 This week, the Pacific Biosciences SMRT Grant announced the lucky winner of the World's Most Interesting Genome competition. The contest was voted on by the public and a dingo named Sandy won the day. But was that the right decision? No, Sandy is kind of like a doggo and it's clear that voters let her cuteness win out over far more interesting genomes.
The winning team in the grant competition will receive complete PacBio genome sequencing and assembly courtesy of the Arizona Genomics Institute and Computomics. Each team outlined the reasons that their current biological obsession should receive the designation of being "most interesting" and how their research might benefit the world.
Let's take a look at the nominees:
Elysia timida the "solar-powered" sea slug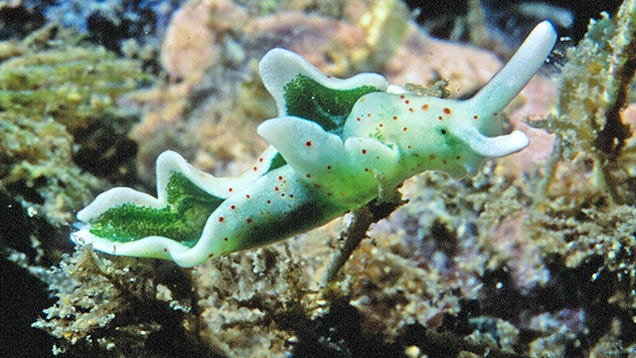 Right off the bat, you can see that the teams who added a cool descriptor before the name of the chosen species have an advantage. In this case, the sea slug is "solar-powered." Boom. That's interesting. What's it mean? Well, as the team puts it, the sea slug is able to "steal and maintain the chloroplasts of its algae food." Chloroplasts being "the little solar-panels where photosynthesis takes place." Once the sea slug consumes the algae, it's able to store the plastids in its digestive tract where they remain active. Photosynthesis continues and a starch reservoir builds up allowing the sea slug to go up to three months without additional food. No one knows how this works. …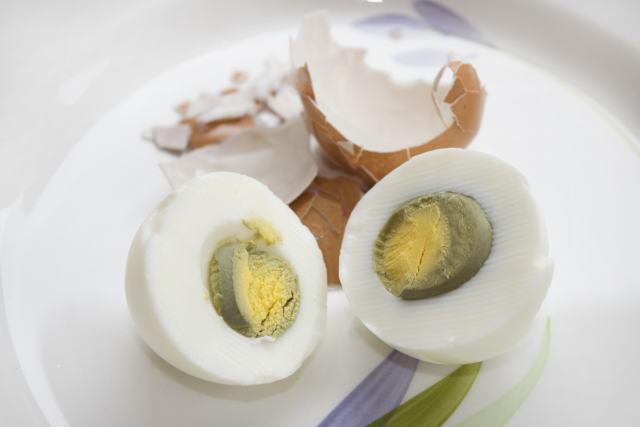 Laura K. asks: Why does the yolk of a hard-boiled egg sometimes turn green?
The process of hard-boiling an egg involves denaturation. During this process, the amino acid chains found in the proteins in the egg are altered from their original, raw egg state, with the denaturation temperature varying somewhat depending on the specific protein in question (see chart here). But in a nutshell, adding heat to these proteins initially causes the proteins to partially unfold or otherwise change their normal organized spatial structure. As this is happening, the proteins begin to aggregate and coagulate together. As heat continues to be applied, additional bonds are formed in these clusters, creating a relatively dense protein network, which in turn results in the rubbery egg whites and solidified yolk you find in hard-boiled eggs.
As to why if heat is applied long enough, you'll get a greenish colorization around the yolk, to begin with, the proteins in the egg white contain sulfur. That sulfur combines with hydrogen during the denaturation process and produces hydrogen sulfide, a toxic gas that produces an unmistakable "rotten egg" smell. Due to being heavier than oxygen and nitrogen, which make up the vast majority of Earth's atmosphere, hydrogen sulfide can normally be found collecting in spaces like wells and caves, and it is not only poisonous but also flammable, corrosive, and explosive. Fortunately for egg lovers the world over, the amount of hydrogen sulfide released in the egg is so small that it does not pose any health risk whatsoever.
When you cook an egg, heat is (obviously) applied from the outside and works its way in. This is important to the topic at hand because the solubility of the egg white decreases as it heats up, forcing the hydrogen sulfide inwards, towards the yolk. …
Video Goodnesses
and not-so-goodnesses
We treat celebrities doing normal people things like nature documentaries because they literally act like animals discovering new abilities.
Max is back to his sunroom fun with opening and closing the feeding door on his play cage.
A playful cat meets his match in this special Easter egg edition of 'Hop It'.
Easter egg season is here and we have hidden some sneaky eggs in one of our classic films! How many do you see? There's 7 in our eggstimation. Featuring a pesky bunny, some classic cat hijinx and a sweet but uneggspected ending.
FINALLY . . .
Until our dying day
An ordinary woman's search for the tallest tree on Earth

Trees are sanctuaries. Whoever knows how to speak to them, whoever knows how to listen to them, can learn the truth. They do not preach learning and precepts, they preach, undeterred by particulars, the ancient law of life. So the tree rustles in the evening, when we stand uneasy before our own childish thoughts: Trees have long thoughts, long-breathing and restful, just as they have longer lives than ours. They are wiser than we are, as long as we do not listen to them. But when we have learned how to listen to trees, then the brevity and the quickness and the childlike hastiness of our thoughts achieve an incomparable joy. Whoever has learned how to listen to trees no longer wants to be a tree. He wants to be nothing except what he is. That is home. That is happiness."
— Hermann Hesse
From where I now sit typing, I'm looking out on a landscaped row of lodgepole pines punctuated by a volunteer cottonwood. Cottonwoods in the semi-arid prairie always indicate water and this one is no different. Twenty feet from our irrigation ditch, it drinks from the same well we do, and in that way the tree is part of our family and I love it as such.
My dog and I spend many hours sitting under its branches, glad to spend a leisurely moment in such good company. Over the years, I've learned to just sit and listen and enjoy what comes, but the other day I found myself talking to it, as if it were an old friend. I felt compelled to tell it a story about the time I went looking for the tallest tree in the world, a giant redwood hidden in the dense temperate rainforest of northern California.
Like all things larger than life, I found out about the tree as if it were a rumor, from a friend-of-a-friend who'd read about it in a book, Richard Preston's The Wild Trees. He told me about what he'd read, about a small but dedicated group of scientists and explorers who researched the coastal redwoods. This band of men, inspired by the grandiosity and mystery of the forest, worked to unlock its secrets, but also ultimately to revel in its wonder. …