Russia, I know that things between us have been pretty weird lately, but if you're reading this, I have a request. I would like you to use your hacker army to find Donald Trump's golf scorecards. I think you will probably be rewarded mightily by our press. You don't have to do it right now, but I implore you to think it over.
See, as I write this, America's Commander in Chief has played golf 16 times since the inauguration. That number will be in the 20s by the time you read this after Easter weekend – and all in only 12 weeks in office. He's on pace to play more rounds in one term than Obama played in two, and his golf trips have him on track to spend more on travel in his first year than Obama did in eight. So far he's spent $35,000 on golf carts so his secret service detail can follow him as he plays, money that goes from the tax payer directly into his own resort hotel.
Yes, there is a degree of hypocrisy here. Yes, candidate Trump did mock Obama for how often he played golf and reassured his supporters he wouldn't do the same when he said, "because I'll be working for you, I won't have time to play golf."
And, yes, there was that time he promised he wouldn't play golf at all because he just wants "to stay in the White House and work my ass off, make great deals, right? Who's gonna leave? Who's gonna leave?"
But all presidents play golf. And if all presidents do it, then dammit, what's the point of all of this if Trump isn't the best presidential golfer of all time? And how are we supposed to know if he is or isn't the best presidential golfer of all time if he doesn't release his scorecards, which he's never made public?
Russia, that's where you come in. …
As the president threatens a 'border adjustment tax', Beto O'Rourke has set his sights on Ted Cruz's Senate seat with a defense of free trade typical of El Pasoans, who describe Trump's anti-Mexican rhetoric as 'deeply personal'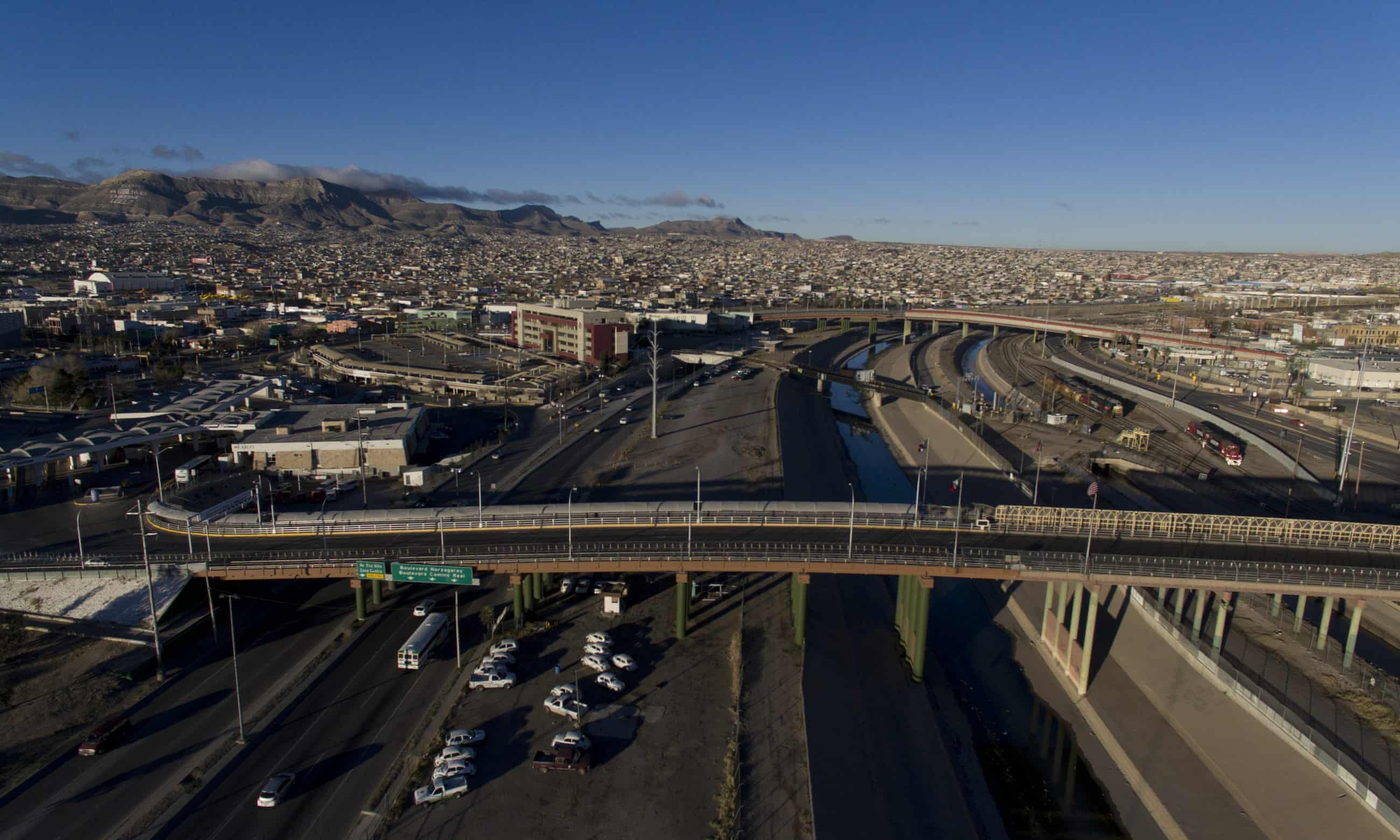 El Paso del Norte, the bridge connecting El Paso, Texas, and Ciudad Juarez, Mexico. The effects of Trump's anti-Mexican rhetoric is already being felt on both sides of the bridge.
The Star-Spangled Banner is the Mount Everest of national anthems – many attempt it, but few ever hit its peak. In a school theater on the hot and dusty outskirts of El Paso, Texas, high school student Gisselle Castaneda nails the high notes to a hearty round of applause from the 100 or so locals gathered to meet their congressman, Beto O'Rourke.
These are strange days in El Paso, the pretty little border town that has acted as the bridge to Mexico for 337 years. El Paso and its Mexican neighbor, Ciudad Juarez, pretty much function as a single unit. At the end of El Paso Street, a bridge, Paso del Norte, groans with some of the 200,000-plus vehicles that cross it from Mexico each month. Another 400,000-plus walk over: they come to work, shop, go to school or visit friends and relatives, as they have done for centuries.
Now a giant, blimp-like shadow hangs over El Paso: Donald Trump. During his campaign, Trump railed against Mexican drug pushers and "rapists" and promised to build a "big, beautiful wall" to keep out the city's southern neighbors. Since his election he has threatened to rip up the North American Free Trade Agreement (Nafta), which cut barriers between Mexico, the US and Canada and which many here say has helped El Paso thrive. Now he is threatening a "border adjustment tax" on goods coming in from Mexico, a tax that he says will pay for the wall and that critics say could trigger a trade war that would hit El Paso first but then spread across the US and the world.
At O'Rourke's town hall meeting, locals are worried. Student Ray Dominguez was born and raised in El Paso and like many here has family in Juarez. "El Paso has always been a very accepting place. Trump is dividing people. The one good thing I would say is that we are more proud of who we are," he says. …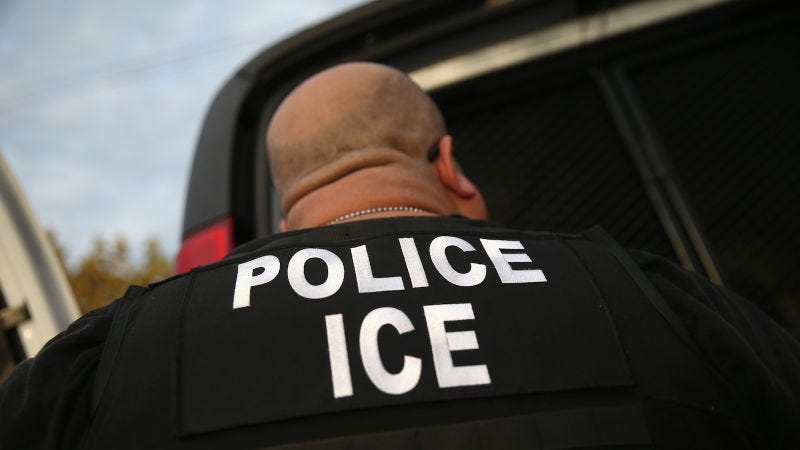 The Washington Post reported on Sunday that immigration arrests rose 32.6 percent during the first few weeks of the Trump administration, and that arrests of undocumented individuals with no criminal records more than doubled to 5,441.
According to statistics requested by the Post, U.S. Immigration and Customs Enforcement arrested 21,362 immigrants between January and mid-March, up from 16,104 during the same time period last year. The rate at which immigrants with some kind of criminal background were arrested rose only 15 percent, indicating that ICE has shifted its focus significantly to detaining and deporting undocumented immigrants who have never been convicted of a crime.
Furthermore, the report found that arrest rates of immigrants who have not committed crimes in New York, Boston and other major cities have doubled and in some cases tripled (or worse) since last year. Atlanta has experienced the biggest spike, with nearly 700 arrests this year, compared to 137 last year. Philadelphia officers have arrested six times as many immigrants without criminal records as they did the previous year.
The number of immigrant arrests carried out since January is still far lower than in the first few weeks of 2014, when Obama was president and 29,238 immigrant were arrested. …
Food For Thought

Allie Wist's "Flooded" dinner spread includes burdock and dandelion root hummus with sunchoke chips; jellyfish salad; roasted hen of the woods mushroom; fried potatoes with chipotle vegan mayo; salted anchovies; and oysters with slippers. Most of these are foods that might be more resilient to climate change and, therefore, what we could be eating in the future, Wist says.
What will our dinners look like when temperatures and sea levels rise and water floods our coastal towns and cities?
Allie Wist, 29, an associate art director at Saveur magazine, attempts to answer that question in her latest art project, "Flooded." It's a fictional photo essay (based on real scientific data) about a dinner party menu at a time when climate change has significantly altered our diets.
Wist has been following news about climate change with a growing sense of urgency. Global temperatures have risen in recent decades and extreme weather – droughts, floods, hurricanes – is more common. Sea levels are rising, causing coastal erosion and flooding and even the disappearance of small islands in the South Pacific. Our oceans are becoming more acidic from dissolved carbon dioxde, hurting marine life. And, in some parts of the world, farmers are struggling with unpredictable growing seasons.
Climate change has "become this future vision that's right in front of us," Wist says. …
Around 13% of cache of ice cylinders extracted from glaciers in Canadian Arctic exposed to high heat in new storage facility at University of Alberta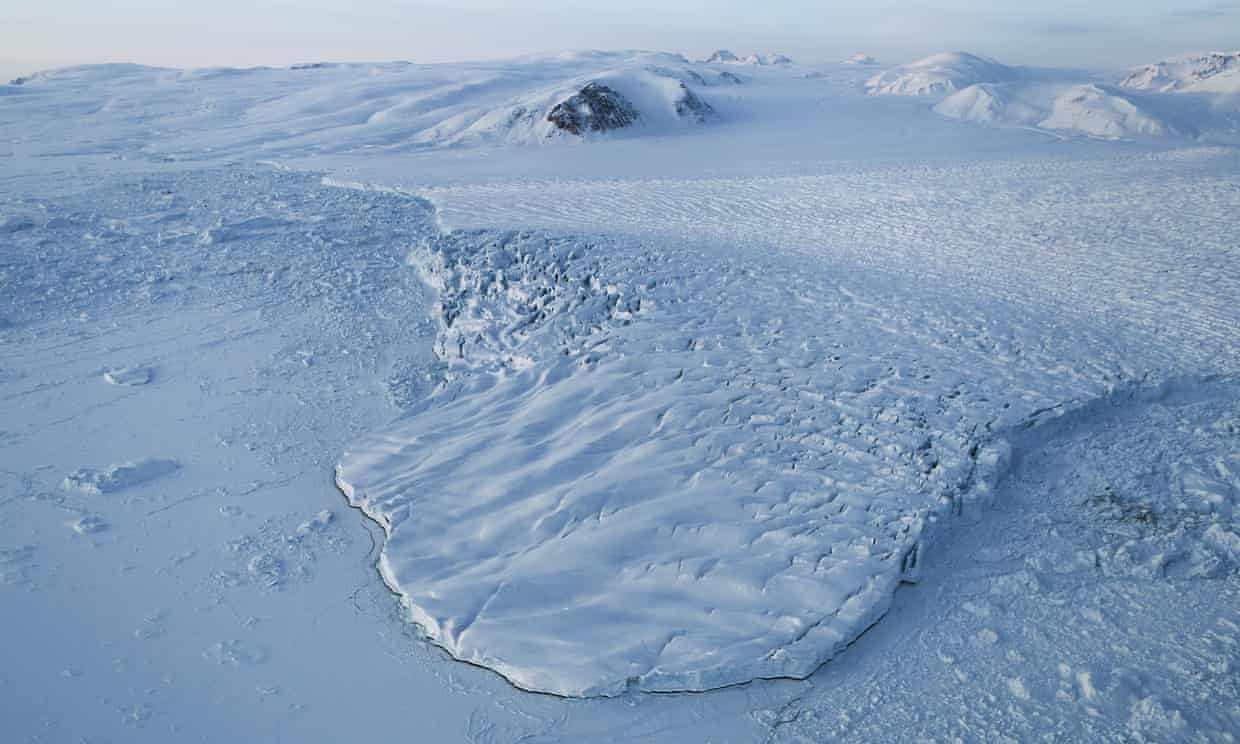 The ice cores – long cylinders extracted from glaciers – contain trapped gasses and particles that offer a glimpse into atmospheric history.
Within them sits some 80,000 years of history, offering researchers tantalising clues about climate change and the Earth's past. At least that was the case – until the precious cache of Arctic ice cores was hit by warming temperatures.
A freezer malfunction at the University of Alberta in Edmonton has melted part of the world's largest collection of ice cores from the Canadian Arctic, reducing some of the ancient ice into puddles.
"For every ice-core facility on the planet, this is their No1 nightmare," said glaciologist Martin Sharp.
The ice cores – long cylinders extracted from glaciers – contain trapped gasses and particles that offer a glimpse into atmospheric history.
"When you lose part of an ice core," Sharp said, "you lose part of the record of past climates, past environments – an archive of the history of our atmosphere. You just don't have easy access to information about those past time periods." …
A new device that's powered by sunlight could help solve water scarcity problems.
Scientists have developed a device that can suck water out of desert skies, powered by sunlight alone. They hope that a version of the technology could eventually supply clean drinking water in some the driest and poorest parts of the globe.
The device is based on a novel material that can pull large amounts of water into its many pores. According to a study published in the journal Science on Thursday, a kilogram of the material can capture several liters of water each day in humidity levels as low as 20 percent, typical of arid regions.
The technology could help address a big and growing problem. A report last year in Science Advances found that four billion people, nearly half in India and China, face "severe water scarcity at least one month of the year." That means water shortages affect two-thirds of the world's population. These shortages—and the resulting conflicts—are only expected to become more common in large parts of the world as climate change accelerates.
A team at MIT developed the technology with Omar Yaghi's laboratory at the University of California, Berkeley. The key component is a promising class of synthetic porous materials called metal-organic frameworks, composed of organic molecules stitched together with metal atoms, which Yaghi pioneered (see "A Better Way to Capture Carbon"). The size and chemical character of the material's pores can be customized to capture particular types of molecules or allow them to flow through. The material also has a massive surface area, on the order of a football field per gram, enabling it to bond with a large quantity of particles. …

Choices, choices
It's surprisingly difficult to come up with a truly random sequence of numbers or items. Doing so requires cognitive skills such as memory and attention, as well as a sense of complexity.
"Our brains are wired to find patterns even where there are none – for example, when looking at clouds or stars in the sky," says Hector Zenil at the Karolinska Institute in Stockholm, Sweden, and the LABORES Research Lab in Paris, France.
Zenil and his colleagues have now found that our ability to think up random sequences peaks when we reach 25 before declining with age. This mirrors the evolution and decline of our cognitive abilities, suggesting that monitoring this skill could give an insight into these changes over time.
They asked more than 3400 people between the ages of 4 and 91 to complete an online assessment that included five tasks designed to measure their ability to generate random sequences. These included creating a hypothetical list of the results of flipping a coin 12 times and guessing which card would come next in a shuffled pack of cards. …
Pay (a bit) later
Ever heard of Emancipation Day? This is the legal holiday observed in the District of Columbia on April 16 to celebrate the act that ended slavery in Washington, DC.
Me neither. But because of this little-known commemoration, procrastinating taxpayers across the US will have an extra three days to file their taxes for 2016.
Here's what else you need to know:
When is the last day for Americans to file their taxes for 2016?
The filing deadline this year is Tuesday April 18, rather than the usual April 15 date.
This shift occurs because of a confluence of atypical factors, according to the IRS website. April 15 falls on a Saturday this year. That would normally move the deadline to Monday April 17. But since Emancipation Day falls on the 17th, the final deadline is slated for Tuesday April 18, 2017. …
Video Goodnesses
and not-so-goodnesses
The presidential election in France could determine the political future of Europe. John Oliver visits an excessively French bistro to deliver an urgent message to voters.
THANKS to HBO and Last Week Tonight for making this program available on YouTube.
'Mirror's Edge' trolls pirates by using a tactic most modern games force upon their paying customers — adding realism to the game.
Max showing his little two step dance ritual he performs before he tries to mate an object.
My cat REALLY hates to be kissed. He slaps/punches us when we try to kiss him. Kitty has a mean right hook. This might be a case of reverse animal abuse.
Ed. More tomorrow, possibly…