A robot named Clarke is just waiting for someone to turn him on.
Clarke lives in the Altogether Recycling plant in unincorporated Adams County. His operators are on a fifteen-minute break; when they return, Clarke will eat. He has a strict diet of empty cartons: milk, juice, etc. Clarke is hungry. He also thinks and learns. Clarke could be the future of recycling.
Clarke is a prototype, the first of his kind. He's named after sci-fi author Sir Arthur C. Clarke and is the brainchild of local tech startup Autonomous Manipulation and Perception Robotics. AMP Robotics creates robot systems that make recycling centers like Altogether, a division of Alpine Waste & Recycling, more efficient — or "smart," as Steve Jobs might have put it.
In late 2016, AMP Robotics installed Clarke at Alpine's Altogether facility, tucked behind warehouses off Interstate 25.
Clarke is trained to identify cartons mixed with other recyclables. Shaped like a three-legged spider, Clarke hovers over the conveyor belt and uses his camera to spot cartons, even when they're buried under debris. Clarke's brain instructs the blue cup that joins the tips of his spider legs to suck up cartons and throw them in a bin behind the conveyor belt. In the first quarter of 2017, he ate 25 tons of cartons. (Clarke doesn't like fat jokes.) …
THANKS to Comedy Central and The Daily Show with Trevor Noah for making this program available to embed.
Adam Schiff of the House Intelligence Committee explains how the group maintains bipartisanship while investigating Russia's efforts to meddle in the U.S.'s 2016 election.
By antagonizing the U.S.'s neighbor to the south, Donald Trump has made the classic bully's error: He has underestimated his victim.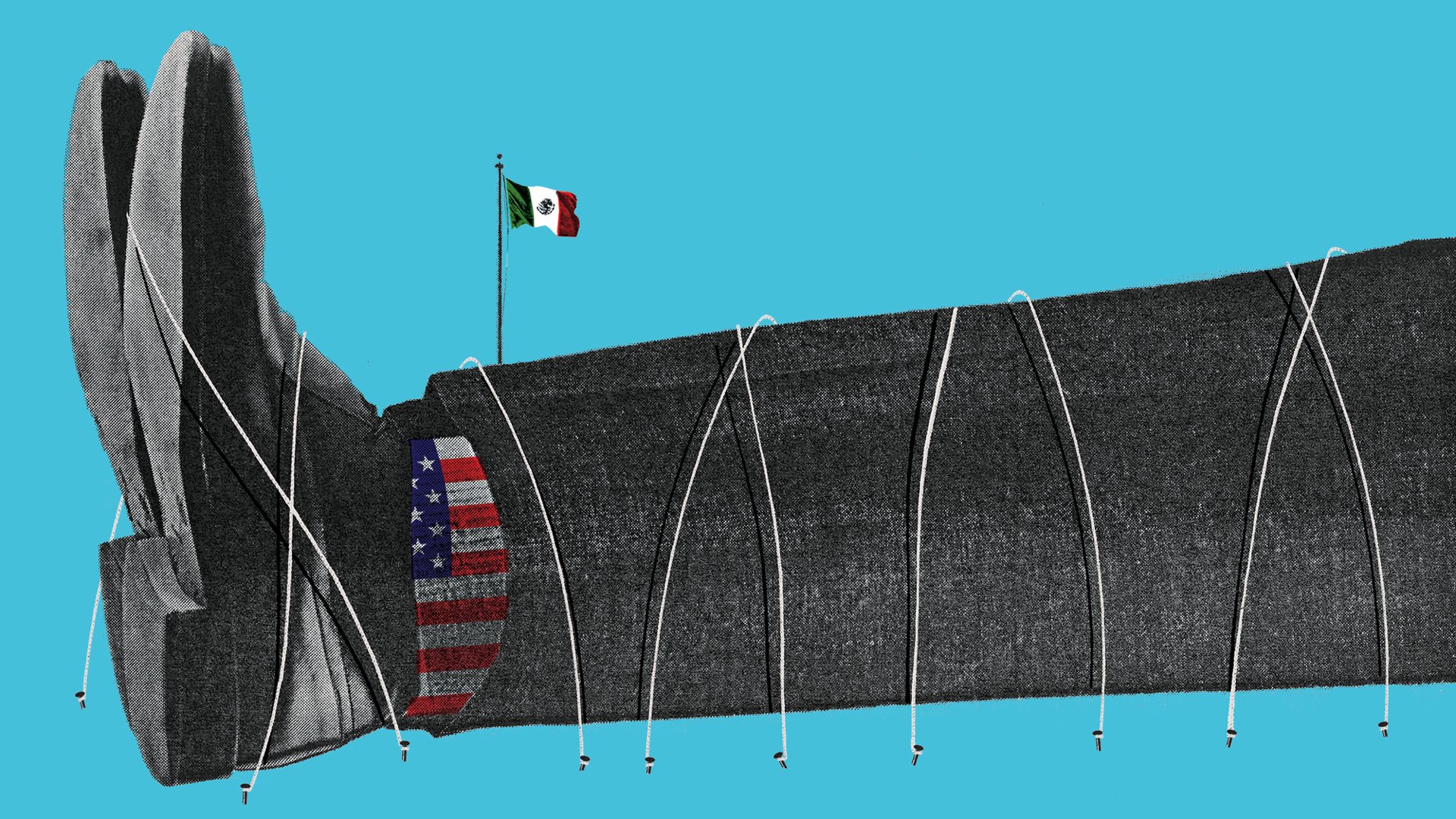 When Donald Trump first made sport of thumping Mexico—when he accused America's neighbor of exporting rapists and "bad hombres," when he deemed the country such a threat that it should be contained by a wall and so clueless that it could be suckered into paying for its own encasement—its president responded with strange equilibrium. Enrique Peña Nieto treated the humiliation like a meteorological disturbance. Relations with the United States would soon return to normal, if only he grinned his way through the painful episode.
In August, Peña Nieto invited Trump to Mexico City, based on the then-contrarian notion that Trump might actually become president. Instead of branding Trump a toxic threat to Mexico's well-being, he lavished the Republican nominee with legitimacy. Peña Nieto paid a severe, perhaps mortal, reputational cost for his magnanimity. Before the meeting, former President Vicente Fox had warned Peña Nieto that if he went soft on Trump, history would remember him as a "traitor." In the months following the meeting, his approval rating plummeted, falling as low as 12 percent in one poll—which put his popularity on par with Trump's own popularity among Mexicans. The political lesson was clear enough: No Mexican leader could abide Trump's imprecations and hope to thrive. Since then, the Mexican political elite has begun to ponder retaliatory measures that would reassert the country's dignity, and perhaps even cause the Trump administration to reverse its hostile course. With a presidential election in just over a year—and Peña Nieto prevented by term limits from running again—vehement responses to Trump are considered an electoral necessity. Memos outlining policies that could wound the United States have begun flying around Mexico City. These show that Trump has committed the bully's error of underestimating the target of his gibes. As it turns out, Mexico could hurt the United States very badly.
The Mexico–U.S. border is long, but the history of close cooperation across it is short. As recently as the 1980s, the countries barely contained their feelings of mutual contempt. Mexico didn't care for the United States' anticommunist policy in Central America, especially its support of Nicaraguan rebels. In 1983, President Miguel de la Madrid obliquely warned the Reagan administration against "shows of force which threaten to touch off a conflagration." Relations further unraveled following the murder of the DEA agent Enrique "Kiki" Camarena in 1985. Former Mexican police officers aided drug traffickers who kidnapped and mercilessly tortured Camarena, drilling a hole in his skull and leaving his corpse in the Michoacán countryside. The Reagan administration reacted with fury at what it perceived as Mexican indifference to Camarena's disappearance, all but shutting down the border for about a week. The episode seemed a return to the fraught days of the 1920s, when Calvin Coolidge's administration derided "Soviet Mexico" and Hearst newspapers ginned up pretexts for a U.S. invasion. …
The Democrat will face Republican Karen Handel in runoff on 20 June for congressional seat left vacant by Trump health secretary Tom Price
• How Atlanta's conservative suburbs became a frontier of liberal resistance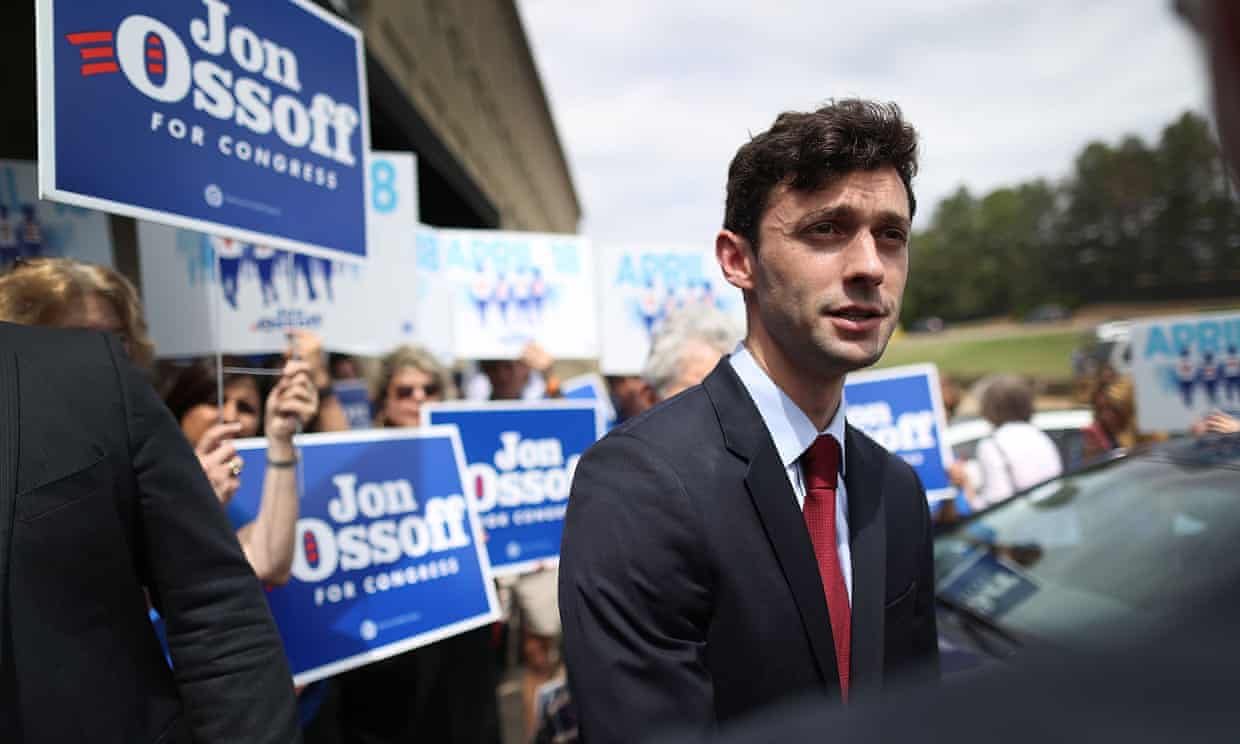 Democratic candidate Jon Ossoff speaks to the media on 17 April in Marietta, Georgia.
Democrat Jon Ossoff will compete in a runoff in a traditionally Republican congressional district in suburban Atlanta, after falling just short of the majority threshold needed to win outright in a special election on Tuesday.
With 88% of precincts reporting, the 30-year-old had 48.3% of the vote. He willl face Republican opponent Karen Handel, a former Georgia secretary of state, on 20 June, after Handel finished second in a chaotic 18-candidate field.
In a speech just before midnight, Ossoff painted his performance as a victory, saying: "We may not know the outcome for sometime but let me tell you this, there is no doubt that this is already a victory for the ages."
In a midnight tweet, Donald Trump took a victory lap for Ossoff's expected failure to win a majority of the vote. "Despite major outside money, FAKE media support and eleven Republican candidates, BIG "R" win with runoff in Georgia. Glad to be of help!" The campaign had attracted late attention from Trump, who tweeted six times about it in the 48 hours before polls closed, an unprecedented level of activity in a down-ballot race.
The special election became a locus of national attention, and brought the type of politics more associated with swing states to leafy Atlanta suburbs filled with office parks and corporate headquarters. While Ossoff's hefty fundraising of over $8 million guaranteed a media frenzy alone, it was followed with extensive advertising by Republicans urging their voters to support any candidate but Ossoff as well as the self-funded Republican Dan Moody, who saturated the area with a television spot featuring him cleaning up elephant manure. …
Sean Spicer, White House press secretary and mound of Arby's roast beef given hateful sentience by an unholy flesh magician, recently made the news for somehow bungling a press conference meant to denounce the actions of a brutal dictator with a comparison that probably gave Mike Godwin an aneurysm.
Specifically, after a thousand black flies exited his maw and stopped screeching prophecies, Spicer said, "We didn't use chemical weapons in World War II. You had someone as despicable as Hitler, who didn't even sink to using chemical weapons." Even if you take the incredibly generous interpretation that he was only referring to combat (which you shouldn't, because if you ever find yourself saying "We should ignore the Holocaust because technically …" then you need to step back and take a good, hard look at yourself), he's still wrong. The Germans killed thousands of Soviet soldiers and civilians with chemical gas attacks, because gas is a great way to clear pesky resistance fighters from caves and catacombs if you don't care about violating the Geneva Convention. And hey, the Allies debated using gas too, before ultimately deciding that it would be much more humane to instead firebomb civilian populations for no strategic purpose. Burning to death is better than choking to death, right?
I'm sure someone is already spewing curses at me for disparaging the good guys, but that's the problem. Lost in the well-deserved mockery of Spicer's kindergarten-level knowledge of history is the fact that he, like so many people who use the comments of music videos on YouTube to debate history before him, is using Hitler as a benchmark. That's what Hitler has become to the modern world. He's history's perfect supervillain — an ultimate evil that had to be defeated at all costs, a yardstick to measure all other inhumane acts against, the only part of history class that's even vaguely remembered. Someone is either better than Hitler or worse than him, as though chemical attacks, ethnic cleansing, and the lives that were lost in them can be ranked like Radiohead albums and NBA draft picks.
This has ruined our ability to discuss the acts of politicians. You can't read the news or check social media without seeing people compare Trump to Hitler, but here's a smattering to refresh your memory: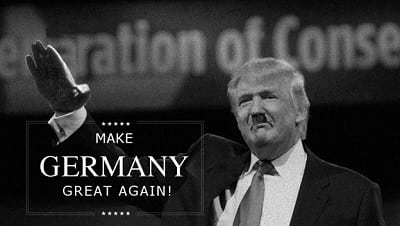 Trump supporters consider these comparisons ridiculous, and they should. …
US 'armada' said to be on its way to North Korea was in fact thousands of miles away heading in opposite direction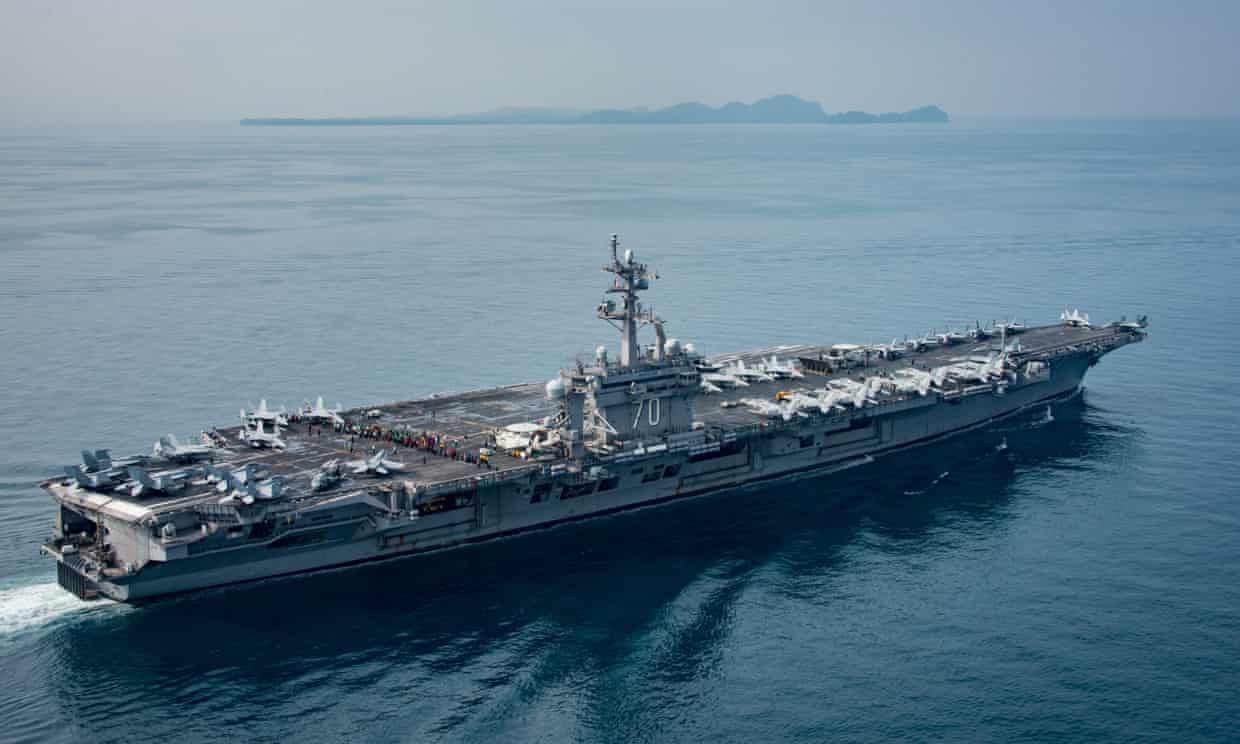 USS Carl Vinson is heading towards North Korea but only after a string of misleading statements.
A US aircraft carrier-led flotilla that the White House said last week was "steaming" towards North Korea to increase pressure on Pyongyang was actually thousands of miles away heading in the opposite direction.
The USS Carl Vinson and three other ships were on Tuesday heading towards North Korea but only after a string of misleading statements about its original course put out last week from the Trump administration.
The confusion about the flotilla's course threatened to overshadow a visit to Japan by the US vice-president, Mike Pence, intended to demonstrate US resolve over North Korea. Speaking aboard the USS Ronald Reagan at its home port of Yokosuka on Wednesday, Pence pledged to strengthen the US presence in the Asia Pacific region.
"We will defeat any attack and beat any use of conventional or nuclear weapons with an overwhelming and effective American response," he said.
In Washington, officials are facing questions and criticism over the location and original course of the Vinson flotilla, after it was photographed 3,500 miles away from North Korea, sailing south in the Sunda Strait at a time officials said it was sailing north.
On 11 April, the defence secretary, Jim Mattis, said the Vinson was "on her way up" to the peninsula. White House spokesman Sean Spicer said "when you a see a carrier group steaming into an area like that [it] is clearly a huge deterrence".
The following day, Donald Trump said: "We are sending an armada. Very powerful." …
The historical marker on April 29 will coincide with the expiration of federal funding unless Congress can strike a bipartisan deal in time.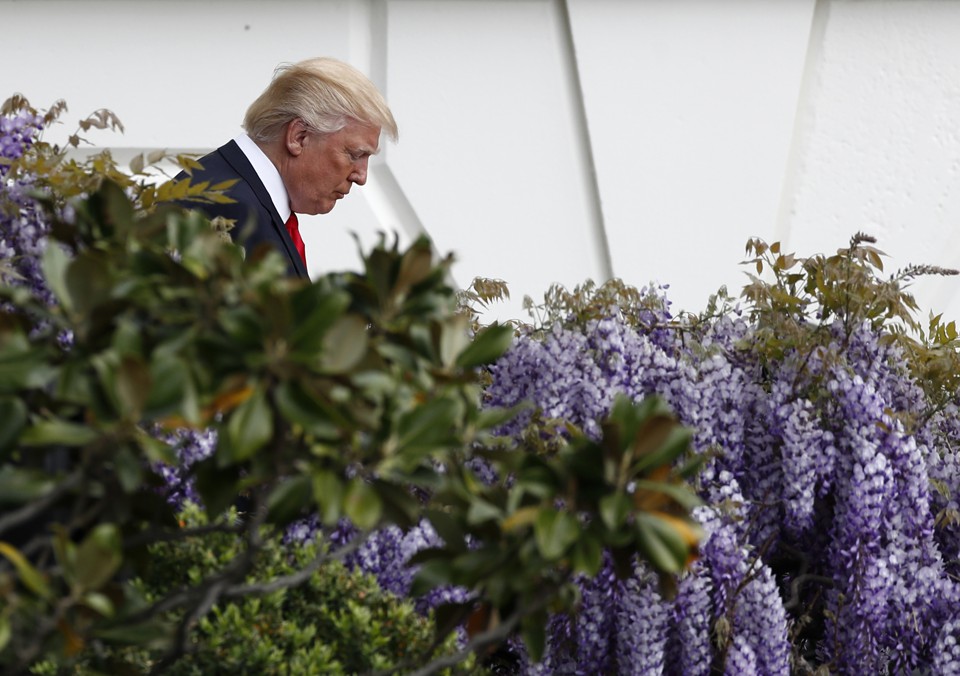 On April 29, President Trump hopes to be commemorating his 100th day in office by touting his successful appointment of a Supreme Court justice and his quick victories in rolling back the Obama-era regulatory regime. But if Congress does not strike the first truly bipartisan deal of his presidency by then, Trump will instead spend his 100th day explaining to the public why the government he's charged with running has partially shut down.
Federal funding for most departments runs out on April 28, and House and Senate staffers are using the ongoing two-week congressional recess to negotiate a spending bill that would cover the final five months of the fiscal year. Despite their minority status in Washington, Democrats are feeling bullish about the talks, and the 100-day marker is a big reason why. Still reeling from their failure to repeal the Affordable Care Act, Republican leaders have little appetite for an all-out brawl that could result in a shutdown at a time when they are trying to prove to their constituents they can effectively run the country. …
Each country has its own dark history filled with crimes where the killer was never brought to justice. It's unlikely that we'll ever find out who murdered these ten people. Even if we did, the perpetrators would be long dead, since these crimes occurred roughly a century ago. Even so, they show us that murder is a global phenomenon, one which has horrified yet also fascinated us for a long time.
10. Al Swearengen ~ 1904
Fans of the TV show Deadwood will recognize Al Swearengen as the foul-mouthed owner of the Gem Theater brothel. However, the cancellation of the show meant that most viewers never found out what ultimately happened to their favorite characters.
Swearengen left Deadwood in 1899, after the Gem burned down for a second time. He went to Oskaloosa, Iowa, to live with family. For decades, the story was that a penniless Swearengen died in 1904 while trying to hop on a freight train. A recent discovery, however, suggests that he was the victim of murder.
In 2007, Jerry Bryant, historical archaeologist at the Adams Museum in Deadwood, rediscovered Swearengen's obituary. It said that the former brothel owner was found dead in the streets of Denver. He died from a head wound courtesy of a heavy, blunt object. …
It was a (red) star-studded affair, the December 2015 dinner celebrating the 10th birthday of Russian TV network RT. At a luxe Moscow hotel, President Vladimir Putin and a host of Russian luminaries toasted a state-backed news channel that U.S. intelligence calls a Kremlin mouthpiece.
And next to Putin at the head table, in the seat of honor, was an American. Retired Lt. Gen. Michael Flynn, who would later become Donald Trump's national security adviser, was already advising Trump's presidential campaign when he was paid $45,000 to speak at the gala.
"It is not coincidence that Flynn was placed next to President Putin," said Michael McFaul, U.S. ambassador in Moscow from 2012 to 2014 and now an NBC News analyst. "Flynn was considered a close Trump adviser. Why else would they want him there?"
Flynn's Moscow jaunt, like his oddly timed phone chats with the Russian ambassador, has been well reported. But who else came to dinner on Dec. 10, 2015? An NBC News review of video and photos from the RT gala shows a healthy serving of ex-spies, cronies and oligarchs, with a side of friendly journalists and another American. …
Starting over in a new country is never easy, but for these Americans it was the only choice that made sense – and they haven't looked back since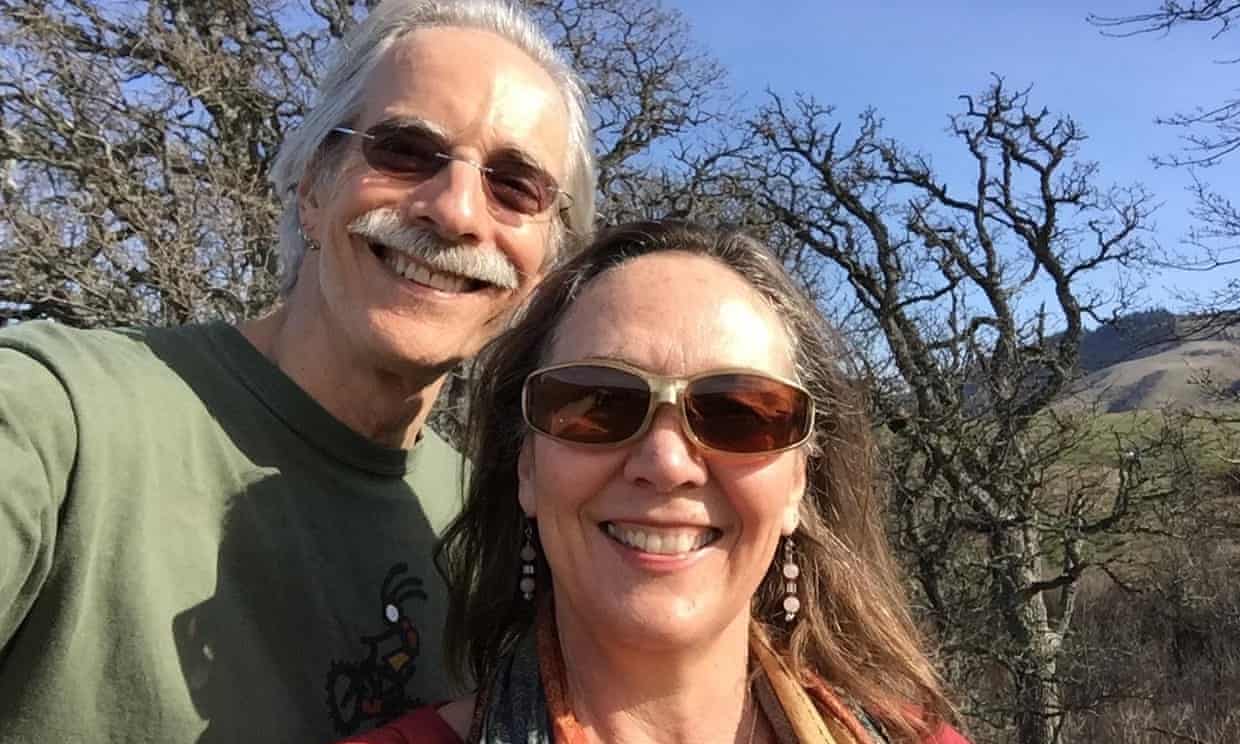 It was late into the night of the 2016 presidential election. Or was it technically the early hours of the morning after? Mark Nykanen was up watching what had not yet been made official, but was certain: Donald Trump would become the 45th president of the United States.
The next morning, he and his wife Lucinda Taylor woke up and knew it was time. Within a couple of hours, they made the decision. Within a couple of weeks, their house in The Dalles, Oregon, an hour and a half east of Portland, was on the market.
"I just made up my mind," said Taylor, 56. "And as soon as I made the decision I felt safer."
The couple is heading to Canada for political reasons – and not for the first time. In 2003, appalled by George W Bush's order to invade Iraq, they abandoned their lives in the US for a new start in Nelson, British Columbia.
"I felt very strongly that the US had turned a corner from which it would never turn back," said Nykanen, 65, recalling the earlier relocation. "We made that move not because we feared terrorists, but what the country was becoming." …
"America is not a great place for people with only a high school degree, and I don't think that's going to get better anytime soon."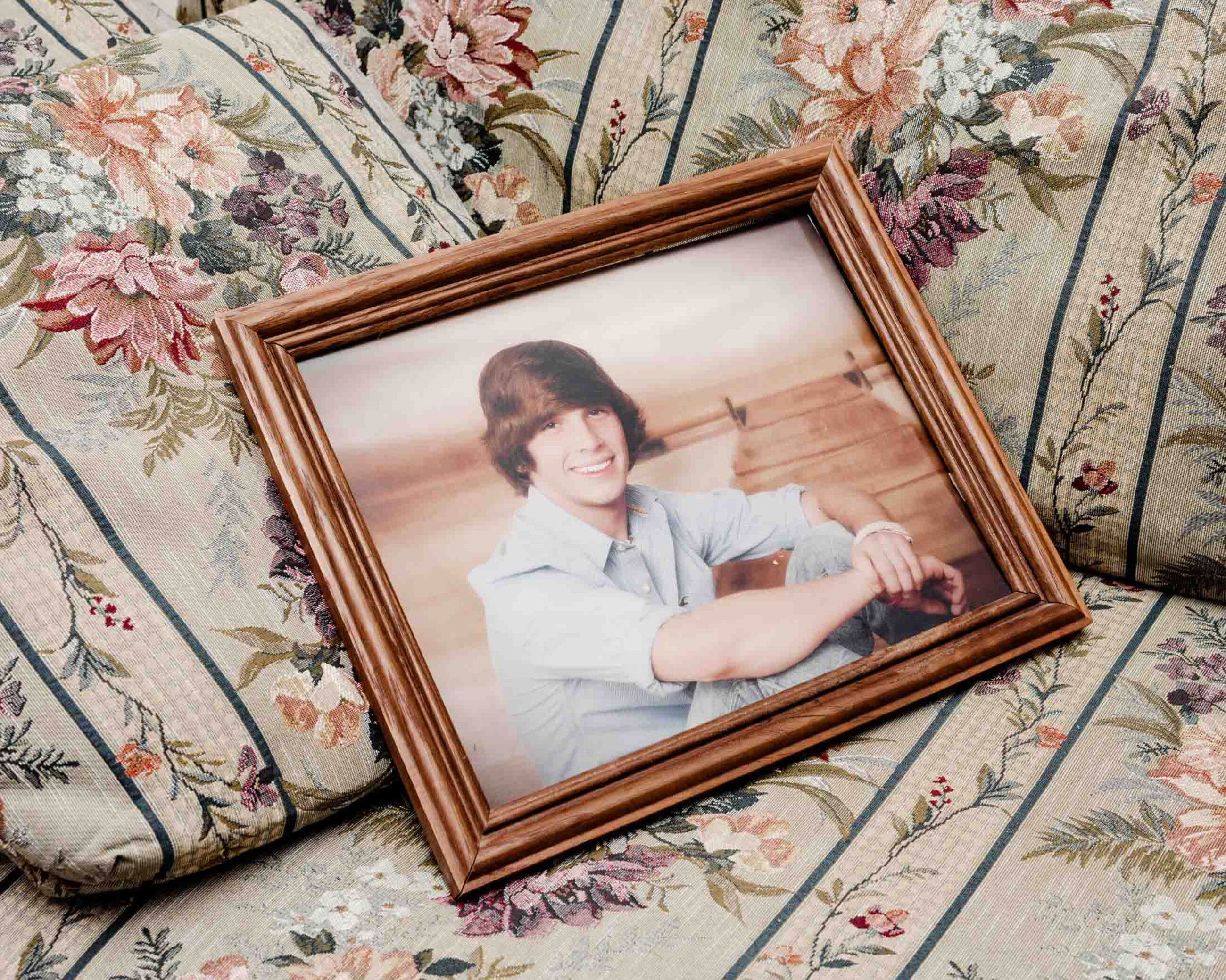 Ryan Johnson spiraled into addiction as his prospects faded. Now he's a cautionary tale for high schoolers.
Ryan Johnson was 22 when he succumbed to a heroin addiction that had intensified as the Erie, Pennsylvania, high school graduate grew disillusioned with his future. His mother found him in his room with his head slumped and lips blue.
It was June 28, 2014, the day of his sister's master's-degree graduation party.
"He just saw his life as not what he wanted it to be, and he didn't know how to get it there," said Sue Johnson, who lay next to her son's corpse for an hour. He had dropped out of a two-year culinary program and was working part-time, low-wage jobs. He often compared himself with his peers in college and his athletic, academic older sister.
The fates of the less-educated and those who graduate from universities diverge in dire ways. Middle-aged white Americans without four-year degrees are at increasing risk of dying, a well-documented trend driven not only by drug use but also by alcoholism, suicide, and slowing progress against heart disease and cancer. Outcomes may worsen further as millennials—Johnson's generation—grow older.
"America is not a great place for people with only a high school degree, and I don't think that's going to get better anytime soon," said Angus Deaton, a Nobel Prize-winning Princeton University economist. …

Neal H. asks: Why do we put hydrogen peroxide on our cuts?
As a child, did you ever skin your knee and fear telling your parents, afraid of your mom breaking out the brown bottle of pain containing hydrogen peroxide to "help heal" your wound? Given the agony it caused, you might have wondered whether the fizzing liquid was actually helping, and why hydrogen peroxide bubbles when it comes in contact with your skin. If you're still wondering today, well, wonder no more.
To begin with, hydrogen peroxide does indeed kill bacteria, viruses, fungi and a whole host of pathogens thanks to the fact that it is a powerful oxidizing agent. So in theory it seems like a great idea to pour it on a fresh cut to help prevent infection. It turns out, however, that while this has been a staple home treatment for cleaning various cuts and abrasions for nearly a century, you probably shouldn't use hydrogen peroxide to disinfect your wounds. To better understand why not, we'll need to look at what hydrogen peroxide is and how it manages to kill microorganisms.
hydrogen-peroxideChemically speaking, hydrogen peroxide, which is a naturally occurring molecule within the human body, is two parts hydrogen and two parts oxygen (H2O2), with the molecule held together by the two oxygen atoms. As a result of these oxygen atoms having a very weak bond, the molecule breaks down rather easily, potentially introducing free radicals into your system. Left unchecked, this would all result in a host of problems within the human body. …
A century ago, it was one of the biggest names in retail. Now, even Sears officials say its future could be in doubt — though they say they have plans to make sure the retail icon survives.
Nancy Koehn with the Harvard Business School says that in its early days, Sears Roebuck and Co. was like Amazon is today — a retailer of great disruption.
For Sears, it meant a path-breaking strategy of offering all sorts of merchandise in catalogs and building department stores in remote places with ample parking.
"It wasn't the Internet, but it was the same idea that no matter where you are you can touch and feel and imagine what these different products could mean in your life by virtue of an outreach, a distribution channel that an imaginative and gutsy retailer — in this case Sears — had created and then invested in and then enlarged," Koehn says.
Elgin, Ill., about 40 miles northwest of Chicago, is one town where Sears' innovation is clearly visible. Drive through the streets of one neighborhood and more than likely there will be a Sears Roebuck mail-order kit house on one of the lots. …
Which is more important, a fact or an opinion on any given subject? It might be tempting to say the fact. But not so fast…
Lately, we find ourselves lamenting the post-truth world, in which facts seem no more important than opinions, and sometimes less so.
We also tend to see this as a recent devaluation of knowledge. But this is a phenomenon with a long history.
As the science fiction writer Isaac Asimov wrote in 1980:

Anti-intellectualism has been a constant thread winding its way through our political and cultural life, nurtured by the false notion that democracy means that "my ignorance is just as good as your knowledge".
The view that opinions can be more important than facts need not mean the same thing as the devaluing of knowledge. It's always been the case that in certain situations opinions have been more important than facts, and this is a good thing. Let me explain.
Not all facts are true
To call something a fact is, presumably, to make a claim that it is true. This isn't a problem for many things, although defending such a claim can be harder than you think.
What we think are facts – that is, those things we think are true – can end up being wrong despite our most honest commitment to genuine inquiry. …
We generally associate most companies with specific goods and services. For instance, we associate Shell with oil, Nokia with phones, and Nintendo with games. But these companies and a host of others never started in the niches they're famous for today. In fact, some predate their niches and only got involved due to bizarre reasons.
10. Royal Dutch Shell
The history of Royal Dutch Shell can be traced to 1833, when London shopkeeper Marcus Samuel started importing oriental shells—which was used for interior designing—from the Far East. By 1886, the business was in the care of his children, Sam and Marcus Samuel Jr, who added rice, silk, copper, and chinaware to their imports. They also exported machines and textiles to Japan and the Far East and traded in wheat, sugar, and flour.
The brothers later developed interest in the oil trade and became the first to transport oil in tankers. By transporting oil in tankers and not barrels—as was common then—the duo could transport more oil at once, reduce leakages, and sell at a cheaper price. The brothers called their new oil transport company "The Tank Syndicate," which they changed to Shell Transport and Trading Company in 1897.
Shell Transport and Trading Company soon expanded its operation to the Far East, where it found itself in competition with the Royal Dutch petroleum company. Both companies remained in competition until 1903, when they partnered and formed the Asiatic petroleum company to compete with the bigger Standard Oil. …
The Sandler Age
The human race has collectively spent a perplexing amount of time watching Adam Sandler on Netflix.
Together, Netflix's 99 million users worldwide have devoted more than half a billion hours of their lives to Adam Sandler's lowbrow humor since the December 2015 debut of The Ridiculous 6, Netflix's first original film featuring the US comedian, the company said yesterday. Never mind that his recent projects have bombed in theaters and been torn apart by critics.
Five hundred million hours may not sound extraordinary compared to the 1 billion hours of YouTube people watch per day. But it equates to about three movies for each Netflix subscriber—or, an astonishing 57,000 years worth of continuous viewing.
What were humans doing 57,000 years ago? Not watching Netflix, that's for sure. …
What to do when department-store jobs—or mining and manufacturing jobs—go away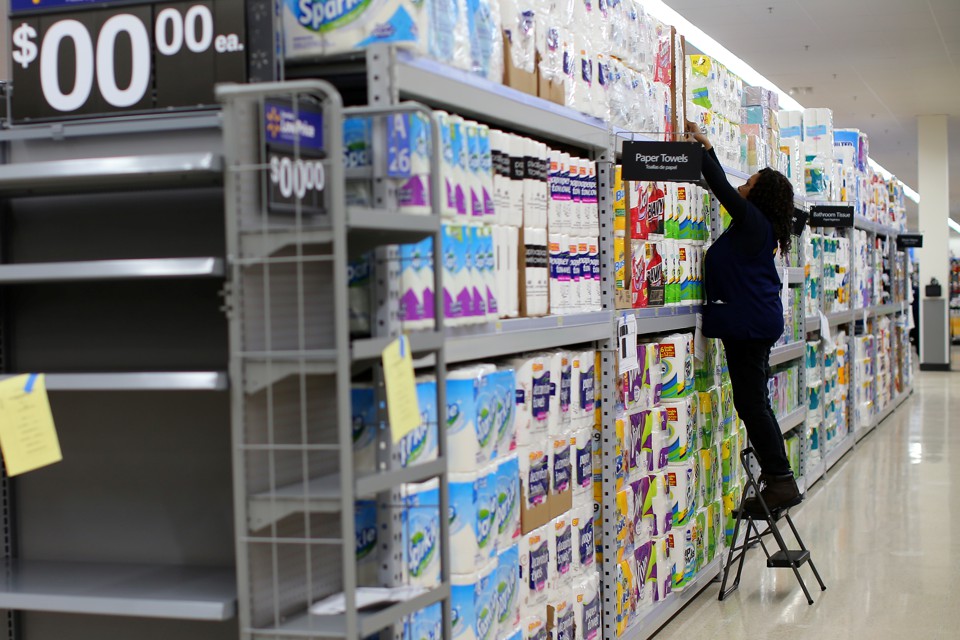 Brick-and-mortar retail is having a meltdown, and economists are starting to see the effects in the job market.
Overall retail employment has fallen every month this year. Department stores, including Macy's and JC Penney, have shed nearly 100,000 jobs since October—more than the total number of coal miners or steel workers currently employed in the U.S. Even America's richest areas are getting hit: Employment in New York City clothing stores has fallen three years in a row, the longest period of decline on record, going back to the early 1990s.
When some industries lose workers, they win the consolation prize of empty political promises to turn back time. During the presidential campaign, Donald Trump and Hillary Clinton went up and down Appalachia—and far beyond—to lament the job losses suffered by manufacturers and miners. The loss of these jobs has been devastating to many cities and towns. But department stores have lost 18 times more workers than coal mining since 2001.
So, how has the retail bloodletting been so much quieter than the decline in mining and manufacturing? There are several plausible explanations. First, mining and manufacturing jobs are geographically concentrated. Sixty percent of coal-mining jobs are in just four states: West Virginia, Kentucky, Pennsylvania, and Wyoming. Retail is spread more evenly across the country, so there are "mining towns," which politicians can visit and photographers can capture and where the pain runs especially deep, in a way there are not "mall towns." Second, as Slate Chief Political Correspondent Jamelle Bouie tweeted, the demographics of a job can determine its political salience. Coal mining is still 95 percent white and 95 percent male. Department store workers are 40 percent minority and just 40 percent male. The emphasis on work that is white, male, and burly may represent an implicit bias against the working class of the modern service economy, which is more diverse and female. Third, mining and manufacturing jobs feed into a national nostalgia for the mid-century economy, with its unionized workforce, economic growth, and high pay for men without much education.
But the decline of clothing-store jobs has something in common with the demise of manufacturing and mining jobs, too. They are both victims of the familiar forces of globalization and technology, which have conspired to make clothes cheaper and accessible online. Both forces can make the country richer while specific areas suffer. For example, the loss of Ohio manufacturing jobs or an exurban department store can have severe local costs—like high poverty in an eastern Ohio steel town, or the shuttering of a downtown mall—while elsewhere the country flourishes, with rising industrial productivity and better access to cheaper clothes. …
Ancient adolescents lived in a very different world than today. From the time of prehistory to New World colonies, some lived extraordinary lives. They suffered from sickness and unjust treatment and expressed themselves in art and pranks
But perhaps the most revealing stories come from the teenagers who never lived to grow old. How they lived and what caused their untimely deaths can paint vivid images of their struggles, games, places in the community, and the social problems of the time.
10. Girl From Cerro Juanaquena
While scouting for a location to build a new solar plant, archaeologists unearthed an ancient camp. Situated near the Santa Maria River in Mexico, the 10,500-year-old site was a toolmaking center used over many generations. Excavations in 2014 revealed over 18,000 related artifacts, including stone flakes and cores, hammers, stone points, working areas, and 12 stone ovens.
Considering the camp's industrial nature, it was surprising to find a girl buried between the rocks. Interred around 3,200 years ago, the grave was bare except for the skeleton. Aged 12–15, she showed no signs of disease or bone trauma. The cause of her death remains unclear, but she's a priceless window into the earliest community of corn farmers in the Greater Southwest.
The burial occurred around 1360 BC, which falls into the same period as a nearby hilltop settlement called Cerro Juanaquena. The community successfully introduced agriculture in the desert, including the earliest maize in Chihuahua. …
Scowl Freely
On my birthday this year, my coworkers planned an elaborate surprise. When I came into work, several dozen colleagues had dressed up as me, donning my trademark accessories: a flannel shirt, a baseball cap—and a scowl.
There are two takeaways from this anecdote. The first is that I have truly thoughtful and quirky colleagues. The second is that my habitually grumpy demeanor is so noticeable in the workplace that it has become a hallmark of my persona.
Part of me is a little bit embarrassed by this. After all, I grew up, like so many junior employees, understanding that the way to get and keep a good job was through hard work and unflappable politeness. I can't remember who first expressed the idea that I should endeavor always to come to work with a smile, but it feels very much in keeping with a whole host of social mores that young people—especially women—are taught from an early age.
For several years, I bought into the idea that emotional honesty was a quality better left at home. But as my career progressed, and with it my self-confidence, I began to realize that holding in my true feelings was both exhausting and unnecessary. I'm not saying that people should be rude or mean to one another at work, of course. But I do feel that there is something sinister about the corporate cult of positivity. …

Humans are obsessed with happiness—how to find it, how to keep it, and how to define it. We examine happiness from the perspective of economics, history, and evolutionary psychology to understand how our notion of happiness has changed over time.
Staying Present
In my twenties, I was a lean, mean productivity machine. I created an alternative shorthand keyboard on my Blackberry to reduce my keystrokes by 80%. I devoured audiobook biographies of Steve Jobs and other great leaders by listening to them at 2.5x normal speed. I even optimized my workouts by cramming the most efficient exercise (burpees) into the most efficient form of interval training (the four-minute Tabata). My life was a productivity masterpiece, but with one catch: Like a game of Jenga in the late innings, the slightest addition could cause the entire thing to collapse.
So three years ago, when my wife Lisa showed me the "plus" sign on the pregnancy test, I was elated. I had looked forward to this day for a very long time. I was going to be a dad. But in the back of my mind, I was also terrified. My fierce work ethic was a big part of my identity. Would fatherhood make it harder for me to keep up with all those young, single people at my job, with their boundless energy? Would my ambition atrophy?
It's a fear that plenty of new parents have grappled with. But research suggests that parenthood doesn't have to take a toll on careers. A 2014 paper from the Federal Reserve Bank of St. Louis, for example, surveyed the publication records of 10,000 economists in academia. It found that, overall, mothers and fathers were even more productive than men and women without children.
This isn't meant to discount the challenges of parenthood, or the effects of sexism and traditional gender roles on career advancement. But as men and women evolve away from the traditional division of labor at work and at home, it seems clear that the quality of our work doesn't have to suffer when we expand our families. Rather, the way we work is what has to change. I knew I wanted to be a strong presence in my daughter's life. And that meant it was time to reevaluate my priorities. …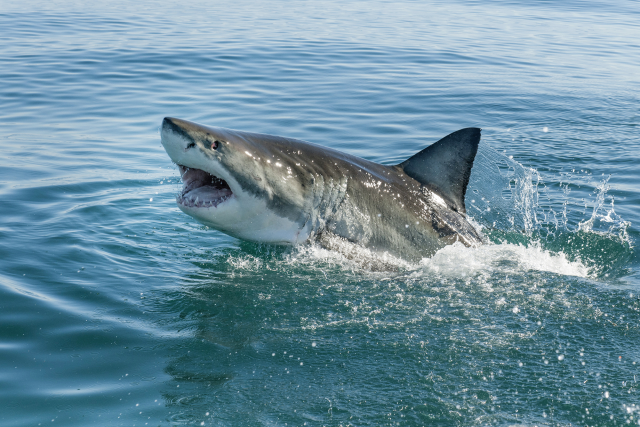 Ryan G. asks: Is it true that if a shark loses a tooth it just grows a new one? Is there a limit to how often a shark can do this?
While sharks aren't exactly the ruthless predators most Hollywood features make them out to be (see: Do Sharks Really Not Like How Humans Taste?), they do possess a number of frighteningly efficient mechanisms to assist with aquatic hunting, including ultra-streamlined bodies, high intelligence, the ability to detect electrical fields and minute changes in water pressure, great hearing, incredibly sharp vision, amazing sense of smell (Lemon sharks can even detect tuna oil at a concentration of just one part per 25 million), and the topic of today- many rows of razor sharp teeth, including the ability to rapidly replace them. But are sharks actually able to grow an unlimited number of teeth throughout their lives?
Yep. In fact, while the number varies wildly based on things like type of shark and lifespan, it's not out of the question for a single shark to grow as many as 30,000-50,000 teeth in its lifetime!
This might have you wondering what the process is on how exactly sharks replace missing teeth? …
Video Goodnesses
and not-so-goodnesses
Trump comparing his election "victory" to releasing his taxes is like telling a cop who's asking for your license, that you won't give it to him because you won first place in track and field.
A progressive rebellion is brewing in Georgia. The special election to replace Donald Trump's health secretary, Tom Price, should have been a shoo-in for Republicans.
Hundreds of asylum seekers are crossing from the U.S. into the small border town of Emerson, Manitoba. Most are of African origin, motivated by fear of deportation. Nearly 300 refugees have claimed asylum in the small town since the start of 2017. The situation has put a strain on emergency resources and brought the issue to global attention. In a recent poll, 41 percent of Canadians said they think their country is accepting too many refugees.
The news is full of stories about how 'the PC brigade' is ruining British life, says Nesrine Malik.
From Easter being banned to diversity drives ruining businesses, she says, politicians and the press fuel the false idea that diversity threatens all we know. But, she argues, these falsehoods are propagated for a reason – to delegitimise the ideals of the left.
Stephen's Tuesday monologue was taped in front of a live (for now) studio audience.
The Trump administration prefers not to share the list of who visits the White House, but The Late Show thinks America has a right to know.
THANKS to CBS and The Late Show with Stephen Colbert for making this program available on YouTube.
Despite radio host Alex Jones's penchant for peddling brazen conspiracy theories, lawyers for the far-right firebrand claim he's just a performance artist playing a character.
THANKS to Comedy Central and The Daily Show with Trevor Noah for making this program available on YouTube.
'Drive' was exactly that: Lots of boring driving with Ryan Gosling. But we didn't know that because trailer took us all for a bunch of damn fools.
Learn EVERYTHING you need to know about the Israel-Palestine conflict in just 60 seconds.
THANKS to Comedy Network and The Beaverton for making this program available on YouTube.
How do cats use their whiskers to catch their prey? Using slow motion you can see the whiskers move into an attack position… Taken from Cats Uncovered.
Max in the sunroom just being a courious little boy birdy.
FINALLY . . .

A photo from our slideshow "4/20 in Denver: Part One (NSFW)."


Tomorrow, April 20, the latest edition of the Denver 4/20 Rally will hit Civic Center Park. The event, which gets under way at 10 a.m., is expected to draw approximately 50,000 people, and there'll be plenty of food and music courtesy of DJs, local hip-hop groups and headliner 2 Chainz, who'll emcee the annual 4:20 p.m. countdown. But what do attendees really need to know? We asked Miguel Lopez, the man behind the bash. Here's his personal Denver 4/20 Rally top ten.
Number 1: It's not just a party
The rally began as a demonstration against restrictive cannabis policies — and while limited sales of recreational marijuana have been legal in Colorado since 2014, Lopez stresses that there's still plenty to protest.
"The definition of the rally is the coming together of people for the common good," he says. "People go to the rally to feel what democracy is like and to practice civil disobedience in front of two oppressive governments — the federal government and the government in Colorado, which has misled the public into believing that marijuana was going to be regulated like alcohol. It's more regulated than alcohol, and it's big business. The marijuana community has contributed a lot to society, but who's benefiting from all that tax revenue? Nobody on the streets…."
Lopez will spend much of 4/20 hanging out at a booth located behind the Greek theater at the park near 14th Avenue and talking to attendees about the roots of the rally. "There are seeds from the '60s and the '70s, from the civil-rights movement and the gay-rights movement and the anti-Vietnam War protests," he says. "People would protest and smoke up as a symbol of defiance against the government." …
Ed. More tomorrow. Probably…