On Last Week Tonight, host John Oliver took on the Sinclair Broadcast Group, which is about to become one of Denver's more powerful media companies.

On Last Week Tonight with John Oliver's July 2 edition, host John Oliver took on Sinclair Broadcast Group, a media firm that's little known around the country but extremely powerful in markets such as Denver, where SBG recently purchased sister stations Fox31 and CW2. In a jeremiad against corporate consolidation in local news that's on view below, Oliver warns that the stealthy way Sinclair forces its hard-right ideology on its affiliates has the potential for turning regional outlets like these two in the Mile High City into arms of a media empire with the potential of becoming a conservative force rivaling Fox News.
According to Oliver, who's previously touched on Colorado matters in reports about marijuana laws and Denver-based kidney dialysis giant DaVita, Sinclair may be "the most influential media company you've never heard of. Not only are they the largest owner of local TV stations in the country, they could soon get even bigger."
True enough. In May, Sinclair purchased 42 outlets owned by Tribune Media, including Fox31 and CW2. The price tag was $3.9 billion, and as Oliver notes, "it is a little disconcerting to find out that something you've only just heard of is throwing around $4 billion."
The buy still must be approved by federal regulators, Oliver acknowledges. But most observers expect a swift rubber-stamping that will create the largest single group of television stations in the nation. …
Sinclair Broadcast Group is the largest owner of local TV stations in the country. That's alarming considering that they often inject political views into local news.
THANKS to HBO and Last Week Tonight for making this program available on YouTube.
On Sunday night's edition of "Last Week Tonight," host John Oliver skewered President Donald Trump's partially-reinstated travel ban for Muslims and his late-week Twitter meltdowns attacking the media in general and MSNBC's "Morning Joe" co-host Mike Brzezinksi in particular.
The tweets, themselves, Oliver said, were "absolutely indefensible," but White House Deputy Press Secretary Sarah Huckabee Sanders was determined to give it her best, saying that Trump has made it clear that when he's "attacked," he will always "hit back."
Oliver agreed that yes, Trump has been pretty open about that, he's pretty much "a walrus wearing a T-shirt that says, 'I have diarrhea.' He's pretty open about about how grossly shitty he can be."
"So we can really be shocked," Oliver said, "when he suddenly is." …
Ed. Read on for another take. Last night's Last Week Tonight segment follows.
The 'Last Week Tonight' host addressed the president's bizarre escalation in his one-sided war on CNN.
On Sunday morning, Americans' Independence Day weekend was interrupted by yet another deranged tweet from the president of the United States.
The president, in all his wisdom, took it upon himself to escalate his ongoing war with CNN—you know, the network run by a longtime Trump pal that employs numerous Trump surrogates, including several ex-staffers, and played a considerable role in helping him get elected by airing his rallies start to finish—by tweeting out a video of him bodyslamming a wrestler with the CNN logo superimposed over the man's face. The brief clip was an edited version of one of Trump's numerous appearances on WWE, whose stunts he believes might be real, and came from a Reddit user with the handle "HanAssholeSolo" who has a history of posting tremendously racist material.
And so, during Sunday night's edition of Last Week Tonight, comedian John Oliver first began by addressing "President Trump: The Bachelor in Paradise of American presidents," and the "disgusting" and "absolutely indefensible" tweets Trump sent Thursday directed toward Morning Joe co-host Mika Brzezinski.
"He's pretty open about how grossly shitty he can be, so we can't be shocked when he suddenly is," offered Oliver. …
THANKS to HBO and Last Week Tonight for making this program available on YouTube.
CNN says Trump 'below the dignity of his office', CPJ director says tweet 'undermines US media' and Sasse says president 'trying to weaponise distrust'
• Trump's tweet attacking CNN is 'un-American', top media ethicist says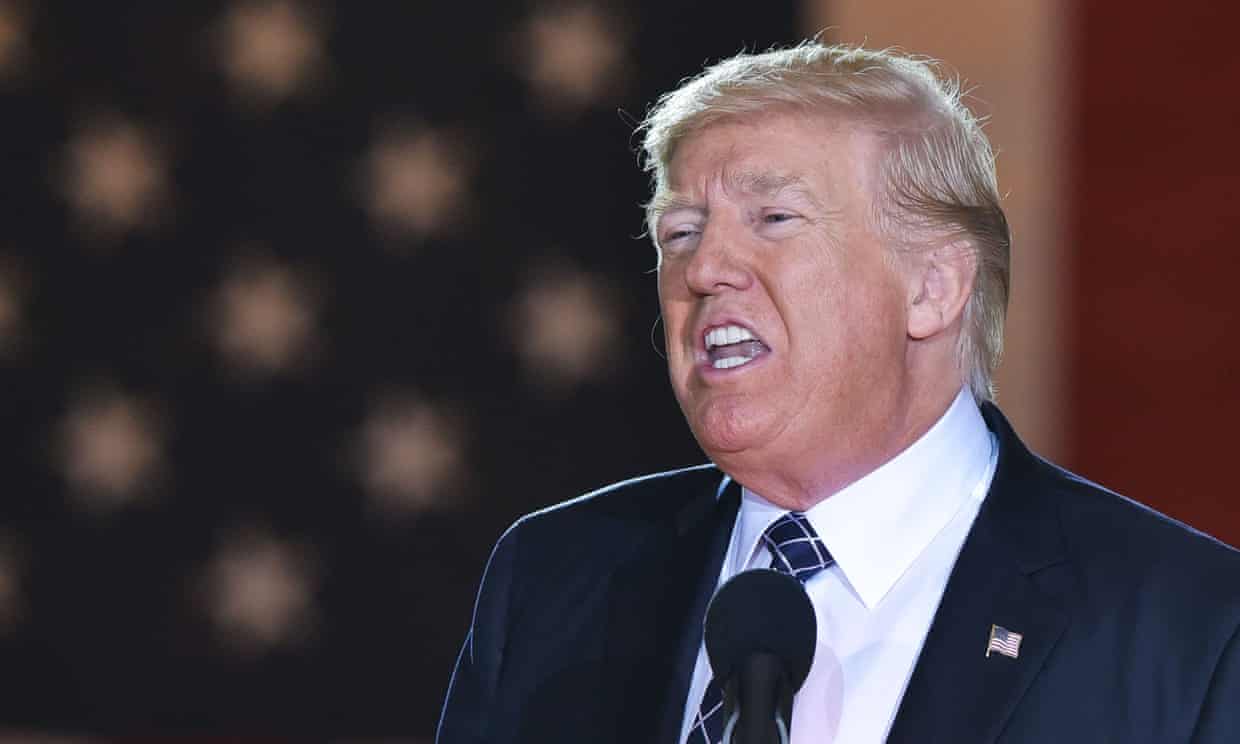 Donald Trump has called the media 'enemies of the American people'
Donald Trump was on Sunday accused of encouraging his supporters to attack journalists, after he tweeted a video of himself at a pro-wrestling event throwing to the floor a man with a CNN logo for a head.
The video, sent as CNN broadcast its Sunday talk show State of the Union, came the morning after an appearance from Trump at an event in Washington honouring veterans, in which he used his speech to further his attacks on the press and broadcasters. "The fake media tried to stop us from going to the White House. But I'm president, and they're not," he said.
CNN said in a statement that Trump was encouraging violence against reporters and "involved in juvenile behaviour far below the dignity of his office".
A director of the Committee to Protect Journalists (CPJ) told the Guardian "charged rhetoric online", issued by the White House, "undermines the media in the US and emboldens autocratic leaders around the world".
Trump's tweet contained doctored video from his appearance on Wrestlemania XXIII in 2007, in which he "body-slammed" – and subsequently shaved bald – Vince McMahon, the WWE promoter and husband of Trump's Small Business Administration chief, Linda McMahon. Trump is a member of the WWE hall of fame. The video appeared to have been repurposed from Reddit, where it was posted as a gif by a user named "HanAssholeSolo".
#FraudNewsCNN #FNN pic.twitter.com/WYUnHjjUjg

— Donald J. Trump (@realDonaldTrump) July 2, 2017

…
The scene: town meeting day. The agenda: articles and ordinances, warrant items and budgets. The plan (unchanged since the days when people arrived on horseback): to debate and vote on matters of concern to citizens.
In our town of about 1,700 people, more than 300 gathered in the school, juggling ballots, babies, needlework projects and plates of Thai food. In the days before the meeting, we'd received three pieces of paper mail, one urging us to vote against a zoning proposal, the other against rerouting a road, and the third introducing a candidate for the position of tax collector (salary: $10,110).
Our email inboxes, though, were stuffed. Our town listserve is usually a glorious cacophony of items for sale (dish set, child's cross-country skis), requests for rides ("anyone going to Logan Saturday morning?") and announcements of interest ("Brown Bag Lunch discussion of tick-borne diseases"). The online debate about the meeting had been fierce. This year's votes mattered. But then, I can't remember a year when they didn't.
I walked in a little late, just in time to vote — aye — on a new road grader ($329,700). Then we turned to the rerouting debate. A piece of what had been a through-road had been washed out in a storm, leaving around 40 families on the wrong side. To get to them, emergency vehicles and the school bus had to take a detour through the next town. The proposal to reroute the road involved a substantial sum of money and the taking, by eminent domain, of land belonging to a farmer who strongly opposed the whole thing. …
The favorite satellite data of contrarians like Ted Cruz corrected for some errors and ended up hotter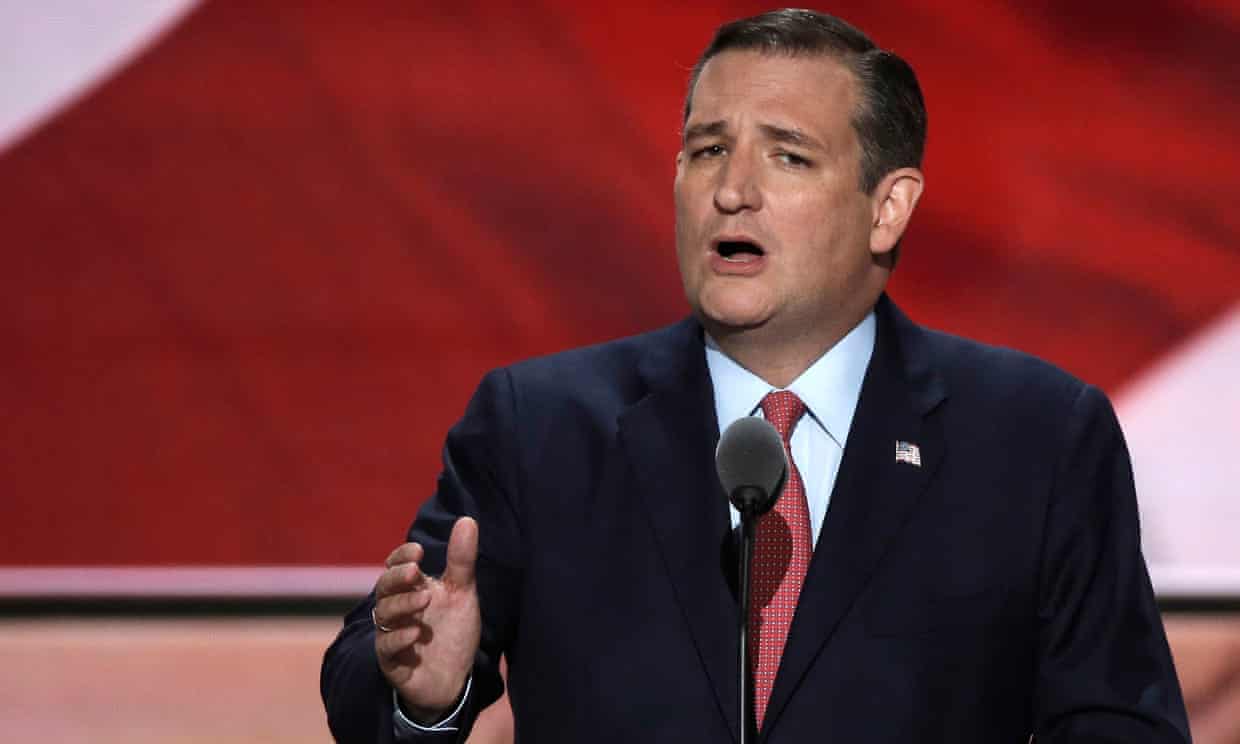 Former Republican U.S. presidential candidate Ted Cruz speaks during the third night of the Republican National Convention in Cleveland. Cruz called the RSS satellite temperature data 'the best data we have.'
A new paper just published in the Journal of Climate is a stunning setback for the darling of cherry-picking for contrarian scientists and elected officials. Let's walk though this so we appreciate the impact.
The vast majority of scientists know that the climate is changing, humans are the main reason, and there are going to be severe consequences. We have decades of measurements that prove our understanding of this process. There is simply no debate or dispute.
Despite this, there are a shrinking number of contrarian scientists, elected officials, and industry representatives that have spent endless time trying to downplay the impact. They have variously argued that the climate isn't changing, that the changes won't be very much, or that there are no viable solutions to the problem. Much of their position relies upon finding evidence that the current observations of warming are not great. That is, the Earth is not warming as fast as predictions.
To support this incorrect (and intellectually dishonest) position, contrarians have scoured the data for any evidence at all that suggests the Earth is not warming. They have skipped oceans (which account for 93% of the warming). They skip the Earth's surface temperature, ignore ice loss, ignore sea level rise, and in fact ignore everything except some select regions of the atmosphere. Their fallback position is that since a part of the atmosphere seems not to be warming very fast, this means the Earth isn't warming or that climate models cannot be trusted. I know I know, this sounds dumb, and it is. But it is their current argument. …
O Say Can You See

A statue of Nie Er in Kunming, Yunnan province.
Marcia Vivace. These were the words scrawled over the time signature of "March of the Volunteers" when 23-year-old Chinese composer Nie Er wrote the music out by hand in 1935, the year of his tragic drowning in Japan's Sagami Bay. A march, lively.
Nearly 50 years later, it officially became China's national anthem.
Now, rules being drafted by a standing committee of China's legislature, the National People's Congress, would ban the use of "March of the Volunteers" at private events, such as funerals, or as background music in public places. The regulation would also allow up to 15 days detention for those deemed to have desecrated the song through spoofs or other non-serious treatments. The goal, according to state media, is "the respect and protection of a national symbol."
One legislator has even suggested, courting some controversy online, that the Chinese should not be permitted to place their hands on their hearts when singing "March of the Volunteers." Why? Because the gesture is too "American."
But much of the enduring charm, relevance and humanity of "March of the Volunteers" lies in its complex history, which cuts across boundaries of language, culture and geography — and which involves some of the most compelling American voices of the 20th century. …
Miami: a melting pot like New York City with the tropical beaches of Hawaii and the crime rates of RoboCop's Detroit. It's a city where diversity is as natural a phenomenon as the hurricanes we dare to hit us as we stand on South Beach screaming at the horizon in a cocaine rage. It's a major U.S. city where Anglo white people are the minority, minorities are the majority, up is down, and people say hola when you leave and adios when you arrive.
But more than anything, it's where I've called home for nearly all my life. In that time, I've come to know this beautiful melting pot as a strange mix of imported cultural norms which somehow mesh despite feeling like they shouldn't, all combining to create a culture unique unto itself. But it's not without some unusual side effects.
#5. It's A Melting Pot! (Of Horrific Driving Habits From All Over The World)
---
Driving in a city of immigrants can be best surmised in two ways. The first is this picture of a traffic sign found in a neighborhood called Miami Shores:
A sign reminding drivers to stop at stop signs. It sounds stupid, but those things can spring up on you out of nowhere. You have to keep your head on a swivel.
The second is a misunderstanding on my part of what it meant to cut someone off in traffic. South Florida drivers are routinely considered some of the worst in America. The stretch of US-1 that runs through Florida is considered the most dangerous highway in America. And the most dangerous intersection in America is in South Florida.
So it makes sense that having learned to drive in this culture of bad drivers, I would have assumed that what most people consider being rudely cut off in traffic is what I consider a routine lane change. A decade into adulthood, I noticed that my definition of cutting someone off is when in an action movie a sideswiped car launches 30 feet in the air and explodes. Since I hadn't done anything nearly that awesome yet, I assumed I was a pretty courteous driver. And then I drove through rural Georgia and the outskirts of Toronto and realized I am a one-man Max Mad gang of vehicular death marauders. I drive blissfully unaware of the chaos in my wake.
Immigrants smuggle their native driving habits past airport security and onto our roads. Habits both good and bad bump up against one another to create an overall culture of confusion that could lead to such daring antics as performing a swift four-lane change at 75 miles an hour without using a blinker or mirrors because the last time the road lines were painted was three tyrannical dictators ago. On a trip to Colombia, I saw these driving habits in their natural habitat. I've been in car accidents less harrowing than routine drives to the local empanada shop. I've yet to visit my family's homeland of Cuba, but if Miami's Cuban population is any indication, the streets of Havana are a big game of Mario Kart with more screaming. …
School's out for the summer — and so begins a long few months of parents' and teachers' worrying about all the things their children will forget before the fall. The fractions they won't be able to multiply. The state capitals they won't be able to identify. "Learning loss" is the name for it.
Forgetting is supposed to be the antithesis of learning, and whether we're a kid or an adult, most of us are plainly embarrassed if we can't recall a name or fact. But it turns out that forgetting can help us gain expertise, and when we relearn something we couldn't recall, we often develop a richer form of understanding.
The notion that forgetting is a hidden educational virtue goes back a century or more. In a series of studies, the German psychologist Hermann Ebbinghaus found that when people relearn information, they're more likely to recall that information in the future.
Research explains why forgetting delivers this memory boost. Memories don't fly out of our brains like sparrows from a barn. Instead, our brain will make memories more or less accessible. Some recollections, like the name of a close friend, are easily recalled. Other details, like the color of your childhood bedroom, have been tucked into deep storage and are much harder — if not impossible — to retrieve. …
Invent Yourself

A lady with her head in the clouds.
Amelia Earhart was ahead of her time, and not just because she was a pioneering female pilot in the early 20th century. Her life was decidedly postmodern—the lady had more gigs than a millennial and reinvented herself as often as a Gen-Xer. She tried and failed and succeeded a lot for someone who lived only 40 years.
Earhart was born in Kansas in 1897 to parents with a difficult marriage. She was shuffled around in childhood and spent her adult life hustling to get her career off the ground. Still, she made her impossible dreams come true and turned herself into a role model, brand, and international celebrity. When her plane disappeared 80 years ago this week, on July 2, 1937, she was known not only as a pilot but as a feminist, a writer, a style icon, and a woman with a revolutionary approach to relationships.
If Earhart had a blog, you would follow it for the fashion, and the advice on being awesome, and she would have been happy to help. The pilot was intent on being a model for other women with a wanderer's spirit.
Before that, however, she had to find her way. As a child, Earhart was a promising science student who planned to become a doctor. She twice dropped out of Columbia University—in 1919 and in 1925—due to family and financial problems. …
High Society

Whether meeting the Queen or going to a job interview, the pitches of our voices may rise if we're intimidated.
Imagine going for a job interview and the employer sitting across from you is truly intimidating. He's big, bold, loud, and mean-looking. What might this do to your confidence? To your mannerisms? To your way of speaking?
Our latest study has found that men and women generally speak with higher-pitched voices to interviewers they think are high in social status. However, we found that people who thought they themselves were quite dominant, were less likely to vary their pitch and generally spoke in a lower pitch when talking to someone of high social status. On the other hand, people who considered themselves to be prestigious talked in a measured way, not increasing or decreasing the volume of their voice very much.
Dominance and prestige are two ways to acquire high social status. Dominance means taking power by force and coercion (imagine a bully), while prestige is being freely given power due to one's skills and merits (imagine your favorite teacher).
Men and women might speak with higher-pitched voices toward high status people because a low-pitched voice sounds dominant, particularly in men, while a high-pitched voice sounds relatively submissive. Using a high-pitched voice would signal to an employer that the interviewee is not a threat, and may serve to avoid confrontations. …
The writer's wife shot down the 1974 idea

David Bowie at Trident Studios in St Martins Lane in London on May 1970
George Orwell's dystopian novel 1984 worked its way into countless high school lit syllabi since it was released in 1949, outlining a brave new world ruled by strict government surveillance and, even more disturbing, mind control of its denizens. It's a story that never quite went away, including a three-run stage adaptation from Robert Icke and Duncan Miller in 2013 in London's West End that enjoyed a small number of international stagings, including Los Angeles and Washington. The familiar narrative surges in relevance in today's political climate. When "alternative facts" rolled out of Trump senior adviser Kellyanne Conway's mouth last January, the rumbling lilt mirrored Oceania's "doublespeak" enough to rocket the 68-year-old book to Amazon's top spot – before completely selling out. America's appetite roared for the Orwellian nightmare. This week, Icke and Macmillan's adaptation, starring Tom Sturridge (Winston Smith) and Olivia Wilde (Julia), debuted at New York's Hudson Theatre.
But this isn't what David Bowie would have wanted.
Bowie wanted a televised musical – or so he told William S. Burroughs in a 1974 Rolling Stone interview. His album Diamond Dogs, which dropped that same year, featured the straight-forward "1984," with lines like, "They'll split your pretty cranium, and fill it full of air/ And tell that you're 80, but brother, you won't care," highlighting the novel's revisionism themes and totalitarian government. Other tracks like "Big Brother" and "We Are The Dead" double down on the artist's fascination not just with Orwell's futuristic society, but Surrealism and Dada (which makes his timely interview with the post-modern author all the more fascinating).
Bowie dubbed this slice of the record the "glitter apocalypse." If "1984," heroic with gusto and Isaac Hayes-esque funk (never much imagined Orwell's Winston Smith donning a leather jacket and/or egregious mustache, but the Shaft influence is strong), was any indication, Bowie's production would have been something to behold. …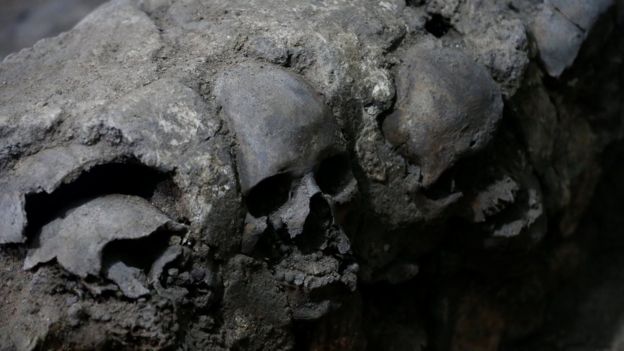 Tales of the tower of skulls which struck fear into the hearts of Spanish conquistadors have been passed down through the generations in Mexico.
Said to be the heads of defeated warriors, contemporary accounts describe tens of thousands of skulls looming over the soldiers – a reminder of what would happen if they did not conquer territory.
For the next 500 years, the skulls lay undisturbed underneath what was once the Aztec capital Tenochtitlan, but is now Mexico City.
Until, that is, a group of archaeologists began the painstaking work of uncovering their secrets two years ago.
What they found has shocked them, because in among the skulls of the young men are those of women and children – bringing into question everything historians thought they knew. …
Video Goodnesses
and not-so-goodnesses
What does billionaire Warren Buffett think of Republican health care bills that would roll back taxes for wealthy Americans like him? Buffett discusses everything from how he's giving away billions in philanthropy to how much sleep he gets to what's on his personal income taxes in the second part of Judy Woodruff's exclusive interview.
THANKS to PBS News Hour for making this program available on YouTube.
Man's best friend wants to clear the air about dog's worst friend: fireworks.
THANKS to CBS and The Late Show with Stephen Colbert for making this program available on YouTube.
Milk, dairy, cheese and lactose commercials are great and all but no one's ever actually looked into how much our consumption of mammal udder juice contributes to growing up big and strong, but we just roll with it anyway.
Help The Rebelton stay on the air!
THANKS to Comedy Network and The Beaverton for making this program available on YouTube.
CAUTION: Some language may not be appropriate for work or children.
Me commentary on a Brazilian water slide television show. I'm sure this is a non-advertiser friendly, age-restricted, vulgar and dangerous piece of content for YouTube: World Police 2017.
No, it's just Max beating up his reindeer in July !
FINALLY . . .

Because explosives are fun!

It's July in Denver, which means that once Independence Day is done, we will enter the lazy days of summer, when everyone is either vacationing, anticipating getting out of town, or regretting that they took time off back in June when it wasn't so damn hot. But that doesn't mean that there's nothing to do here — or at least, no rules to follow.
Because there are. Of course there are. So turn up that window air conditioner, situate your chair right in front of it, grab a cold one from the fridge, put it against your neck, and ahh…wait, what were we talking about again? Oh, right: July.

When you need a nap, you need a nap.
1. Rest-Up From Comic-Con and the Cherry Creek Arts Festival
By the time you read this list, you probably already enjoyed whichever arts community best floats your own personal boat. Comics, anime, movies and awesomeness? You were probably downtown at Denver Comic Con when July began. Oils and watercolors and fine sculpture? You were probably at the Arts Festival, hanging out in (and likely a resident of) Cherry Creek. Either way, here's hoping you enjoyed two of Denver's most impressive celebrations of art — now take a nap. And maybe stop spending money for a while. …
Ed. More tomorrow. Probably. Possibly. Maybe. Not?