If you're a voter in Colorado there are some things you should know.
Colorado's secretary of state, Wayne Williams, plans to give publicly available information about you to a federal commission set up by Donald Trump. It's part of a nationwide voter-data dragnet ostensibly to investigate voter fraud.
But Williams has not pulled Colorado's voter files yet as of July 3, according to his office. He has a July 14 deadline.
If you're a voter in Colorado, you should know what's already publicly available. It's your address, the year of your birth, which party you belong to or whether you're unaffiliated, and when and where you voted in past elections and what those elections were. (Obviously who you voted for is secret.) That's what Williams will turn over to Trump's voter fraud task force, which is vice-chaired by Kansas Secretary of State Kris Kobach.
In Colorado, you can can keep this information confidential if you're worried about your safety. And if you do it before Colorado pulls the voter file, Trump's federal commission won't get your info, according to the secretary of state's office.
The process, laid out in state law, is set up so voters who have safety concerns about their information being public can have their personal information suppressed. It's called a request of confidentiality, and you can make one in person with your county clerk by filling out a form and paying a nominal fee.
Here's the language in the law:

An individual may make the request of confidentiality … if such individual has reason to believe that such individual, or any member of such individual's immediate family who resides in the same household as such individual, will be exposed to criminal harassment … or otherwise be in danger of bodily harm, if such individual's address is not kept confidential.
…
Immediately below the signature line, there shall be printed a notice, in a type that is larger than the other information contained on the form, that the applicant may be prosecuted for perjury in the second degree … if the applicant signs such affirmation and does not believe such affirmation to be true.
According to Amber McReynolds, the director of elections in Denver, law enforcement officers, elected officials, judges, public figures, or those concerned about stalkers, are among those who typically file requests to keep their personal information from public view in their voter files.
"The confidential status is broad," she says of the profile of Colorado's confidential voters. "There's a lot of people who would fall under that."
Since news broke last week that Williams will turn over what's already public to Trump's new voter-fraud commission— and more voters in general learning just how public their own information is already— McReynolds says voters have been calling her office asking what they can do to keep it secret.
"A lot more people are starting to file that," she told The Colorado Independent about voter confidentiality requests.
McReynolds says if a voter asks for confidentiality because of safety concerns, her office doesn't investigate the claim or question their reasons.
"There could be all kinds of things that sort of fall under a safety concern," she says.
In Mesa County, Clerk and Recorder Sheila Reiner says she hasn't seen a recent uptick in voters wanting confidential status. But during the presidential election she did.
"They didn't want the phone calls," she says of voters.
Her office provides anyone who comes into the office asking to become a confidential voter with a form, she says. Doing so costs $5. She said the clerk's office lets voters know it's meant for people who fear harassment, adding, "There's nothing we do to follow up or verify anything."
Pam Anderson, director of the County Clerks Association in Colorado, says voters should be aware that they are signing an affidavit when they request confidentiality for safety reasons, but it's not the role of a county clerk's office to question a voter about those concerns.
The process for becoming a confidential voter in Colorado is fairly quick, she says, and could take effect by the next day barring a busy election cycle.
And while confidential voters likely won't be getting as much mail from political campaigns once their information is suppressed, they will still get election information from their county.
Says Anderson: "You will still be mailed your ballot." …
Like this story? Steal it! Feel free to republish it in part or in full, just please give credit to The Colorado Independent and add a link to the original.
Ed. Republished in full.
Republicans want to kill off Obamacare's individual mandate:

Congress is moving to prevent the Internal Revenue Service from enforcing one of the more unpopular provisions of the Affordable Care Act, which requires most Americans to have health insurance or pay a tax penalty.
The plan is separate from Republican efforts to repeal the health care law… In case that effort fails or bogs down, the House Committee on Appropriations has drafted a provision to stop the I.R.S. from enforcing the mandate. The restrictions, for the fiscal year that starts Oct. 1, are included in an appropriations bill that was approved on Thursday by the Subcommittee on Financial Services and General Government.
There's more here than meets the eye. Sure, eliminating enforcement of the individual mandate would be politically popular, but that's only part of the reason for this. You see, back in March the CBO handed Republicans an unpleasant surprise: it turns out that they take the individual mandate very seriously. Here's what CBO's analysis of the very first House health care bill says:

CBO and JCT estimate that, in 2018, 14 million more people would be uninsured under the legislation than under current law. Most of that increase would stem from repealing the penalties associated with the individual mandate.
What is "most"? CBO doesn't say, but it's probably 10-12 million. Add in a little bit more for the years after 2018, and elimination of the mandate is probably responsible for around 12 million or so out of the total 24 million who would be newly uninsured by the Republican bill. …
The Indiana Republican Party has requested that the state's constituents share their "horror stories" with ObamaCare, the Indianapolis Star reported Tuesday.
"What's your Obamacare horror story? Let us know," the GOP party wrote in a Facebook post as it sought to collect negative stories about the Affordable Care Act, such as higher premiums or insurance companies leaving the market.
Many of the people respondents, however, flooded them with stories about how the healthcare law has positively affected their lives.
"My sister finally has access to affordable quality care and treatment for her diabetes," one person wrote, according to the news outlet.
"My father's small business was able to insure its employees for the first time ever. #thanksObama," another said.
Another person claimed that "the only horror in the story is that Republicans might take it away." …
President Trump promised voters that he would strike "a great deal" with Russia and its autocratic president, Vladimir Putin. He has repeatedly labeled an investigation of Russian meddling in the U.S. election as "a hoax," and he even bragged to Russian officials about firing the FBI director leading the probe.
Now nearly six months into his presidency, Trump is set to finally meet Putin at a summit this week in Hamburg after a stop here in Warsaw — severely constrained and facing few good options that would leave him politically unscathed.
If Trump attempts to loosen sanctions against Russia for its involvement in the conflict in eastern Ukraine or its interference in the 2016 U.S. election, Congress could defy him by pursuing even stronger penalties. And if he offers platitudes for Putin without addressing Russia's election meddling, it will renew questions about whether Trump accepts the findings of his own intelligence officials that Russia intended to disrupt the democratic process on his behalf.
"The president is boxed in," said Nicholas Burns, who was U.S. ambassador to NATO under President George W. Bush. "Why would you give Putin any kind of concession at the first meeting? What has he done to deserve that?"
He added, "If you try to curry favor, offer concessions, pull back on the pressure, he'll take advantage. He'll see weakness in a vacuum." …
The EPA's climate-focused methane rule will stay in force.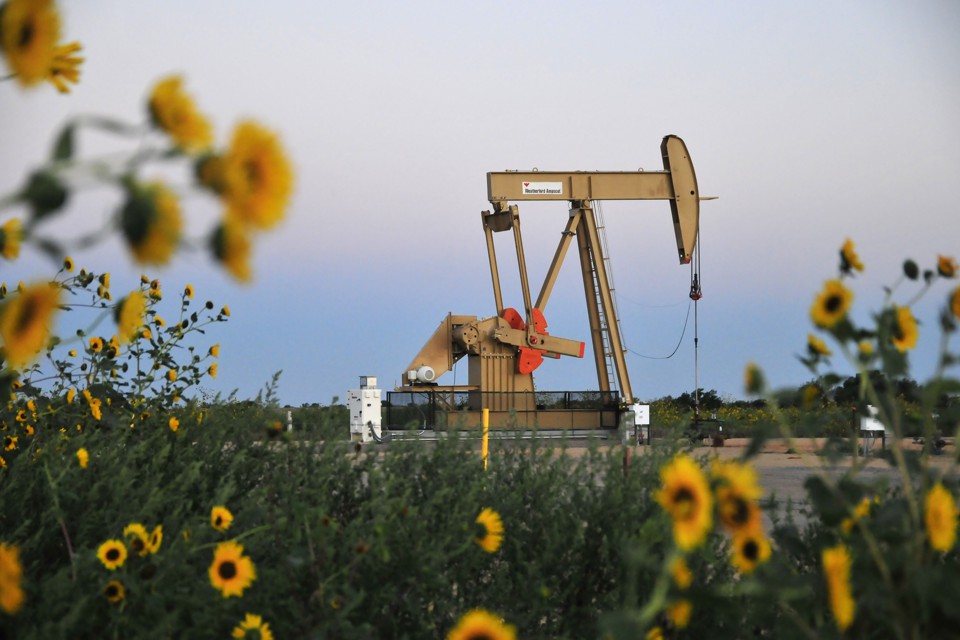 Republicans hit another roadblock on Monday in their quest to repeal or weaken recent environmental rules restricting methane emissions.
In a split ruling, the federal appeals court for Washington, D.C., told EPA Administrator Scott Pruitt that he cannot suspend enforcement of the agency's "methane rule" while his staff considers whether to rewrite it.
The ruling is a rare victory for climate advocates during the Trump administration—and their first win in court this year. Methane, the key ingredient in natural gas, is also a super-efficient greenhouse gas. Each molecule of methane traps dozens of times more heat than each molecule of carbon dioxide, making methane a big short-term influence on the intensity of global warming.
The ruling suggests that some of the Obama administration's environmental rules may prove more resilient than once seemed. In May, the Senate failed to repeal a slightly different "methane rule" from the Bureau of Land Management. That rule requires pre-existing oil and gas wells to limit their methane emissions—but it only applied to operations on federal or Native American land. …
All-girl team of robotics students must watch machine compete at international contest in Washington via video link after entry permits refused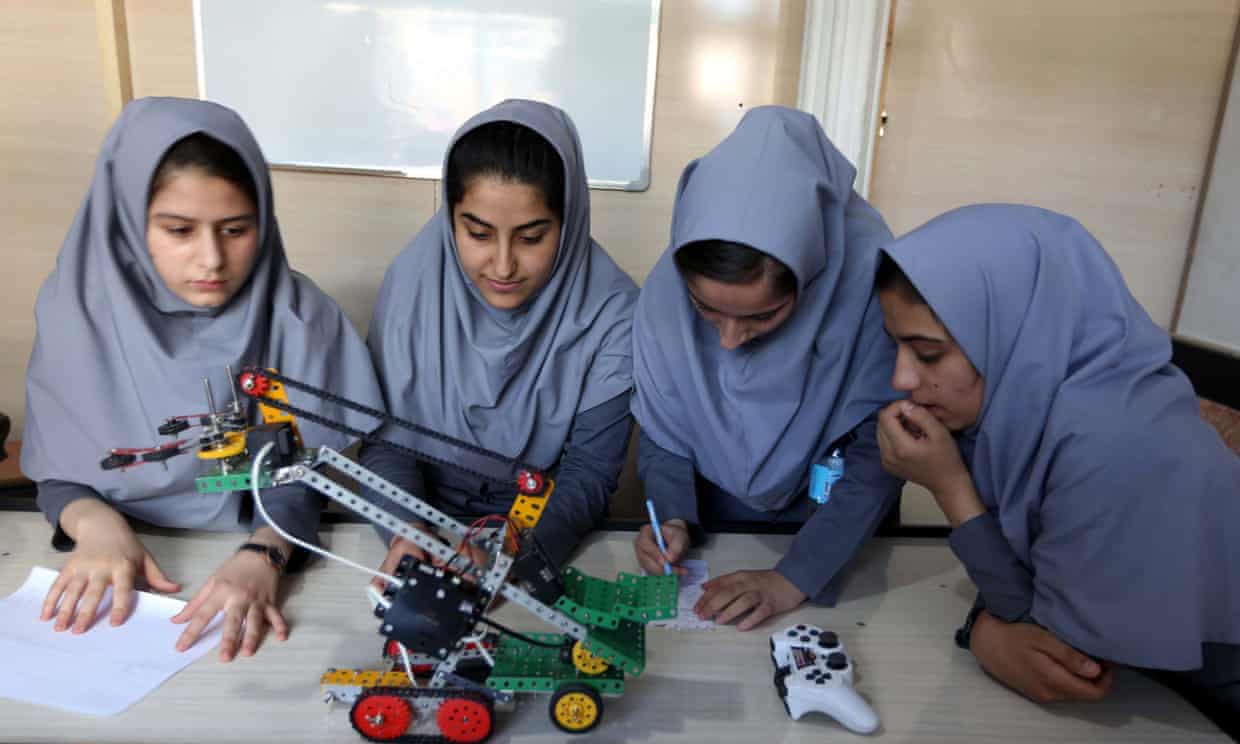 Afghan school girls test robot vehicles at a school in Herat. Six Afghan teenage girls have been denied visas to travel to the United States for an international robotics competition.
Two Afghan girls refused visas to the United States for a robot-building competition have said they were mystified as the contest's organisers said teams from Iran and Sudan as well as a de facto Syrian team had gained visas.
The unusual story of the Afghan all-girl team of robotics students emerged as the United States grapples with the legality of President Donald Trump's order to temporarily ban travel from six Muslim-majority countries.
Afghanistan itself is not on the list and Team Afghanistan's robot, unlike its creators, has been allowed entry to the United States. Asked by Reuters on Tuesday why the girls were banned, a US State Department spokesperson cited regulations prohibiting the agency from discussing individual visa cases.
So the six team members will watch the ball-sorting machine compete in Washington DC via video link during the 16-18 July event from their hometown of Herat, in western Afghanistan, according to the First Global contest organisers.
"We still don't know the reason why we were not granted visas, because other countries participating in the competition have been given visas," said 14-year-old Fatemah Qaderyan, part of the team that made two journeys to the US embassy in the Afghan capital, Kabul, to apply for their papers. …
Embittered by rejection and in need of money, a general turns against his own country. Who are we talking about?

I've heard dozens of people over the pre-Fourth of July weekend make the comment that the founders must be rolling over in their graves at the spectacle of Donald Trump as president of the United States. Maybe they are, but not because they are shocked at the spectacle of an incompetent leader. After all, at the time Jefferson wrote the Declaration of Independence they were dealing with the Donald Trump of his day: Mad King George. In fact, they pretty much wrote the Constitution with him in mind. And he wasn't the only one. There had been many European monarchs who were off their rockers, and much of the Enlightenment was informed by that fact.
Thomas Jefferson's "Original Rough Draught" of Declaration of Independence (with revisions by John Adams & Benjamin Franklin): pic.twitter.com/Csv0pbLSIm

— Michael Beschloss (@BeschlossDC) July 3, 2017
This comparison to Trump isn't an original thought, of course. Almost from the moment he took office people have been comparing him to the Mad King. Last February in the New Republic, in the wake of the president's bizarre first press conference, Jacob Bacharach surveyed unhinged rulers of the past from Caligula on down and recalled the 1994 film "The Madness of King George," in which William Pitt, the prime minister, said:

We consider ourselves blessed in our constitution. We tell ourselves our Parliament is the envy of the world. But we live in the health and well-being of the sovereign as much as any vizier does the Sultan.
But the Trump administration isn't just evoking images of the Mad King on this Fourth of July. As it happens, one of the more interesting dramas of recent years about the revolutionary period is the AMC series "Turn: Washington's Spies," about the famous Culper spy ring. It's a harrowing story of daring and bravery that I enjoyed very much when I was a kid, and it served as my introduction to the Revolutionary War. …
"Job Done"

Feeling fine.
Even if you're only a little superstitious about tempting fate, the latest comments from American and British central bank chiefs may have you stockpiling gold and donning a tinfoil hat.
Mark Carney, the governor of the Bank of England and chair of the international Financial Stability Board, said this week that issues of the last financial crisis had been "fixed"—yes, fixed! In a letter to G20 leaders (pdf), he said:

A decade after the start of the global financial crisis, G20 reforms are building a safer, simpler and fairer financial system. The largest banks are considerably stronger, more liquid and more focused… G20 reforms have now addressed the fault lines that caused the global financial crisis.
So, job done? Among the achievements Carney recounts are banks being forced to hold more high-quality capital, more regulation of so-called "shadow bank" activities, and reforms to the "dangerous web" of derivatives markets. He does warn against complacency, though, and says more still can be done to address "structural vulnerabilities" in the asset management industry and boost transparency in derivatives markets. …
You work for a company that's legally required to at least pretend to care about your basic human rights. But employment is both a legal and moral maze, full of grey areas, exploitable loopholes, and dead ends. And minotaurs. Definitely some minotaurs.
#5. Bankruptcy And Bad Credit Prevent You From Getting A Job
---
Bankruptcy is the economic "Game Over / Continue" screen — you lost, but you get to start over and try again. It's not to meant to be a permanent badge of shame. Thanks to U.S. Code 525, employers are prohibited from discriminating against potential employees on the basis of past bankruptcy. No use rubbing in your loss.
This isn't Dark Souls.
At least, that's how things used to be. Not anymore — as Starbucks shift manager Eric Myers found to his surprise in 2008. Myers had filed for bankruptcy in search of better financial stability, and landed a managerial job at TooJay's Restaurant, health insurance and all. Only, after giving his two weeks' notice to Starbucks, Myers received a phone call: TooJay's had discovered his bankruptcy, so as far as they were concerned, he could go hang. So he took them to court, because of the Code 525 thing we just mentioned. And he got his ass handed to him. …
The automaker says starting in 2019 it will make only electric or hybrid cars.
Volvo, the Chinese-owned Swedish automaker, announced Tuesday that starting in 2019 it will only make fully electric or hybrid cars.
"This announcement marks the end of the solely combustion engine-powered car," Håkan Samuelsson, Volvo's president and chief executive, said in a statement.
The move is a significant bet by the carmaker that the age of the internal-combustion engine is quickly coming to an end—though the Gothenburg, Sweden-based automaker is lone among the world's major automakers to move so aggressively into electric or hybrid cars. Volvo sold around half a million cars last year, significantly less than the world's largest car companies such as Toyota, Volkswagen, and GM, but far greater than the 76,000 sold by Tesla, the all-electric carmaker.
Volvo said Wednesday that starting in two years, its cars will be electric, plug-in hybrids or mild hybrids. Between 2019 and 2021, Volvo will launch three fully electric cars and two high-performance electric cars from Polestar, which will be spun off into a separate premium car company. Volvo said these five cars "will be supplemented by a range of petrol and diesel plug in hybrid and mild hybrid 48 volt options on all models." …
New paper suggests that the hotly contested physics thesis, which involves the existence of six 'extra dimensions', may be settled by cutting-edge laser detectors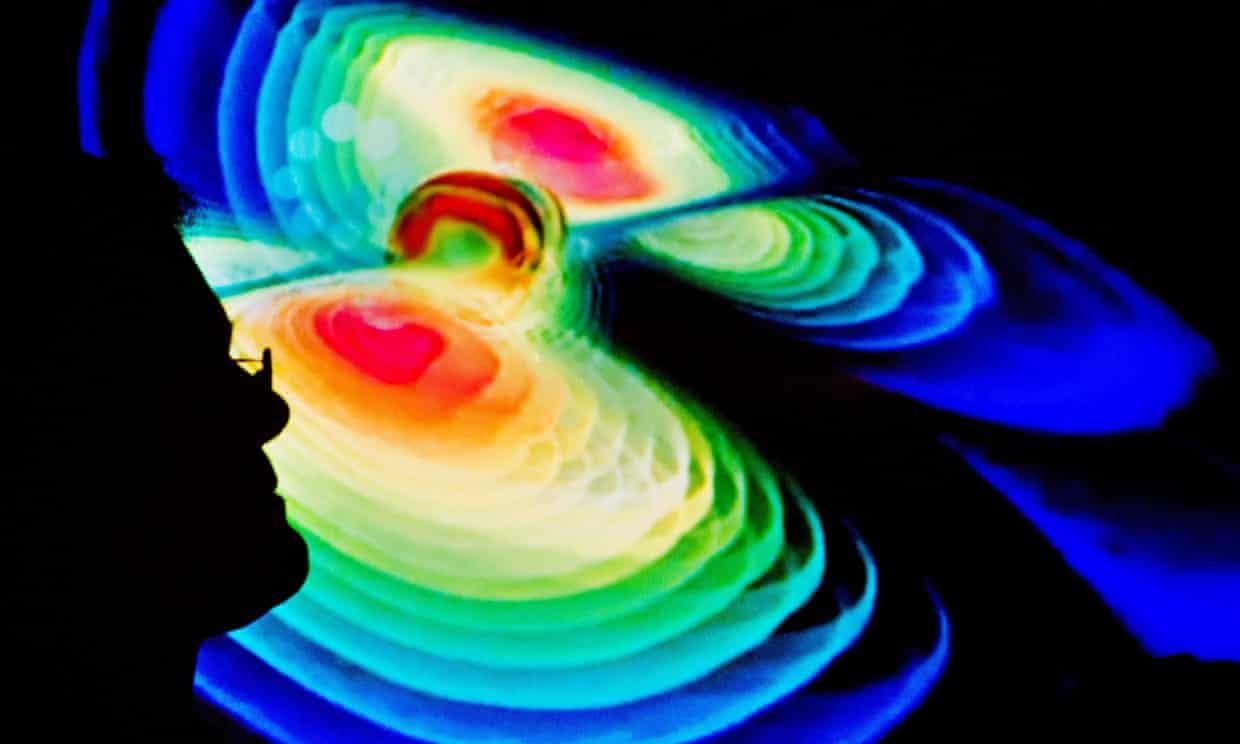 A visualisation of gravitational waves at the Max Planck Institute for Gravitational Physics.
String theory makes the grand promise of weaving together all of physics into a single sublime framework. The only downside is that scientists have yet to find any experimental proof that it is right – and critics question whether its predictions are even testable.
Now, a new paper has claimed that gravitational wave measurements could hold the key to whether string theory is destined to fulfil its lofty goals or be consigned to the dustbin of discarded ideas. The study suggests that the first observable evidence for the existence of extra dimensions, one of string theory's predictions, could be hidden within the ripples of gravitational waves.
"It would be amazing because general relativity and Einstein do not predict this at all," said David Andriot, a physicist at the Max Planck Institute for Gravitational Physics in Potsdam and lead author of the study.
The crux of string theory – although there are many competing versions – is that all particles can be viewed as one-dimensional strings on which the fundamental forces of nature (gravity, electromagnetism and so on) act as different modes of vibration. For reasons better explained in maths than words, the framework also requires there to be at least six extra spatial dimensions, in addition to time and the three spatial ones of everyday life.
Scientists, notably those working at the Large Hadron Collider, have looked for energy vanishing into these hypothetical extra dimensions, but so far efforts have been inconclusive. One possibility is that the dimensions are coiled up so tightly that they are imperceptible; another is that they are not there at all. …

ROMACONS drilling at a marine structure in Portus Cosanus, Tuscany, 2003. Drilling is by permission of the Soprintendenza Archeologia per la Toscana.
Around A.D. 79, Roman author Pliny the Elder wrote in his Naturalis Historia that concrete structures in harbors, exposed to the constant assault of the saltwater waves, become "a single stone mass, impregnable to the waves and every day stronger."
He wasn't exaggerating. While modern marine concrete structures crumble within decades, 2,000-year-old Roman piers and breakwaters endure to this day, and are stronger now than when they were first constructed. University of Utah geologist Marie Jackson studies the minerals and microscale structures of Roman concrete as she would a volcanic rock. She and her colleagues have found that seawater filtering through the concrete leads to the growth of interlocking minerals that lend the concrete added cohesion. The results are published today in American Mineralogist.
Roman concrete vs. Portland cement
Romans made concrete by mixing volcanic ash with lime and seawater to make a mortar, and then incorporating into that mortar chunks of volcanic rock, the "aggregate" in the concrete. The combination of ash, water, and quicklime produces what is called a pozzolanic reaction, named after the city of Pozzuoli in the Bay of Naples. The Romans may have gotten the idea for this mixture from naturally cemented volcanic ash deposits called tuff that are common in the area, as Pliny described.
The conglomerate-like concrete was used in many architectural structures, including the Pantheon and Trajan's Markets in Rome. Massive marine structures protected harbors from the open sea and served as extensive anchorages for ships and warehouses.
Modern Portland cement concrete also uses rock aggregate, but with an important difference: the sand and gravel particles are intended to be inert. Any reaction with the cement paste could form gels that expand and crack the concrete. …

Windows XP Background, Bliss.
Microsoft has an insect infestation to thank for its classic Windows XP desktop background—an image that has graced at least a billion computer screens since the system's 2001 launch.
Napa Valley spent most of the 1990s trying desperately to curb the spread of phylloxera, a microscopic pest that was devastating its grapes. By the time the epidemic had run its course in 1999, some 50,000 acres of fields had been decimated.
Although the cost for growers was astronomical—half a billion dollars in total—the landscape of Northern California had never looked more idyllic. Endless rows of grapevines had been replaced by a lush carpet of grass, dotted here and there with wildflowers.
It was this vision of Sonoma County that flashed by Charles O'Rear's car window as he drove down Highway 121 in 1998. Although he was a professional photographer, with work featured in National Geographic and the Los Angeles Times, O'Rear wasn't on assignment that Friday afternoon. Instead, he was headed to visit his then-girlfriend (now-wife) near San Francisco.
But he still had one eye on the region's rolling hills. It was January, and after the winter rains, "the grasses turn green and I know the chances of finding these beautiful hillsides are really good," he recalled. "I'm going to be more prepared. I'm going to be more alert. …
Androids could offer valuable help to the elderly and disabled but may lead to the increased objectification of women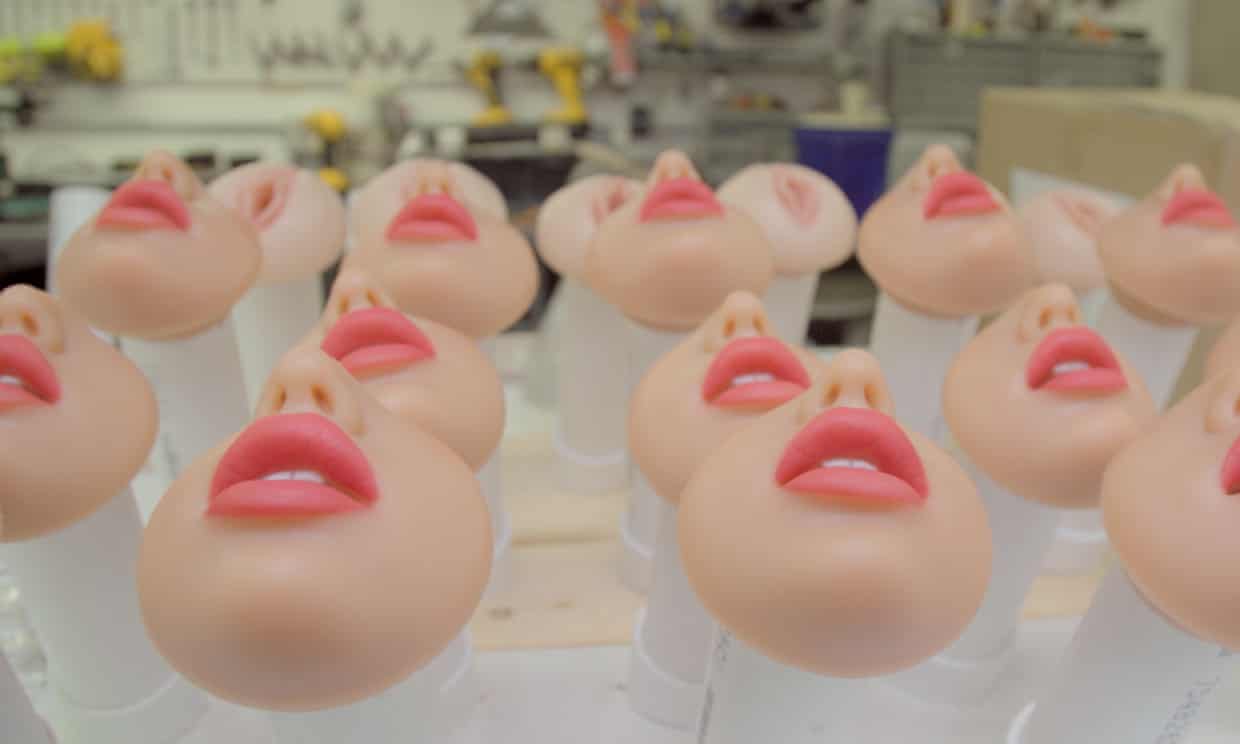 Sex robots can be bought in the United States and there are plans for a cafe staffed by 'erotic cyborgs' in London.
Sex robots have the potential to provide a valuable service for people who are elderly, disabled or who find intercourse traumatic, but they also carry ethical risks, experts say.
Sex robots that look like humans can already be bought or leased for parties in the US, and plans for a cafe staffed by "erotic cyborgs" in Paddington, London, have been mooted.
The authors behind the Foundation for Responsible Robotics' (FRR) report, published on Wednesday, believe they could herald a "revolution" in sex, helping people who would otherwise find it hard to have intimate relationships.
But they also raise concerns that sex robots could increase the objectification of women, alter perceptions of consent and be used to satisfy desires that would otherwise be illegal. …
Video Goodnesses
and not-so-goodnesses
There are approximately 31,500 asylum seekers in the UK waiting for a decision about their asylum status. This film allows you to experience what it is like to live in this period of limbo, waiting for a decision that will affect the rest of your life.
It's best to watch this 360 video in with a Google cardboard headset if you have one.
If you are watching in the web browser the experience is best viewed in 1440s quality or above. Please note the Safari web browser does not support 360 video.
Trevor Noah – Any leader tweeting policy is ridiculous (Trevor Noah from The Daily Show).
John McEnroe should've realized his comment about Serena Williams might've been just a little too sexist when Donald Trump didn't even take to Twitter to agree with him.
Get out of here reindeer. Its only July !
FINALLY . . .
Suck the Straws Out of Boulder campaign to get boost from singer Jack Johnson

The Boulder shop Wonder Press uses compostable straws for the drinks it serves. A new push is underway in Boulder to do away with disposable plastic straws.

Between the ages of 5 and 65 — a roughly 22,000-day period — the average American will use 38,000 disposable straws.
At least, that's what the office of Gov. John Hickenlooper decreed in 2013 when he announced July 11 as Straw Free Day in Colorado.
If the governor's claim sounds dubious, anti-plastic straw advocates have other eye-popping statistics in their arsenal.
"There's enough plastic-straw waste in the U.S. to wrap around the Earth 2.5 times every day," said Graham Hill, a Boulder resident who's on a mission to limit the usage of disposable straws in the city.
Earlier this year, Hill was awarded a $300 micro-grant given out by the city and the group C3 Boulder to support climate-related local initiatives.
Hill's team is now launching a campaign called Suck the Straws Out of Boulder to educate people on the environmental harm wrought by plastic straws. His nonprofit, Shared Paths Boulder, is working with a diverse roster: University Hill restaurant Taco Junky, the nonprofit Colorado Ocean Coalition and sustainability consultant Project Azul Verde …
Ed. More tomorrow. Probably. Possibly. Maybe. Not?