Every July 5, the researchers at Golden's National Renewable Energy Labratory — or NREL — gather in the Science and Technology building to witness something incredible: At 1 p.m., a beam of light slowly makes its way across the floor before brilliantly illuminating the silver, CD-sized medallion that commemorates the lab's establishment in 1977.
But as the light dawned this Wednesday, NREL's fortieth anniversary, new challenges await the lab that has led the country in the effort to clean up America's dirty-energy market: The new presidential administration has proposed a 70 percent cut to NREL's parent agency, and the changing climate is getting out of control.
For forty years, the Golden-based NREL has led the country in providing the foundational technology for innovations in solar, wind, biomass and battery efficiency — all to make renewable-energy companies more successful, one breakthrough at a time. But as the climate begins to change rapidly, researchers are facing new pressures to push America's energy economy in a new, sustainable direction.
Brent Nelson, a group manager and solar-energy researcher at NREL, says that he personally feels the burden of addressing climate change, which is likely to require new technologies to wean the country off fossil fuels. …
The president avoids outright denials of inconvenient facts, preferring to cast doubt through innuendo and misdirection.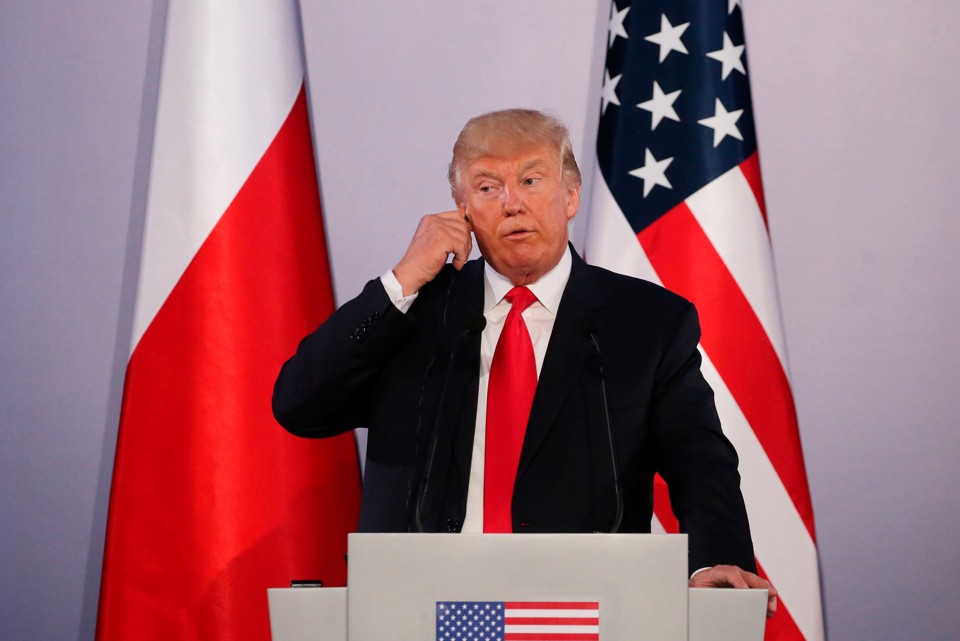 Why do reporters keep asking President Trump whether he accepts that Russia interfered in the 2016 election? The shortest answer is that he keeps giving interesting answers. During a press conference in Warsaw Thursday, NBC's Hallie Jackson asked the question once more.
On its face, Trump's rambling answer was almost incoherent, or at least, self-contradictory. Read closely, however, it illuminates a pattern. When Trump wants to rebut a charge, he seldom flatly denies it. Instead, he generally prefers to sow doubt, skillfully stressing uncertainties to obfuscate and muddy the issue.
In the case of Jackson's question in Warsaw, Trump he starts off by half-heartedly accepting the premise, then quickly moving to undermine it by injecting the possibility of other actors. Notably, he doesn't name them, presumably because he has no evidence. Then he finishes with an indisputably true statement—lots of countries interfere in elections—which seems to cast doubt even though it's actually irrelevant to the question at hand:

I think it was Russia, and I think it could have been other people in other countries. It could have been a lot of people. I said it very simply. I think it could very well have been Russia, but I think it could well have been other countries. I won't be specific. I think a lot of people interfere. I think it's been happening for a long time, it's been happing for many, many years.
Trump's next move is to divert attention to another supposed culprit: his hated predecessor. …
Glue Guns Out

Rage knitters.
Thirty years ago, an enormous crowd-sourced quilt was first unfurled on the National Mall in Washington, DC. Comprised of thousands of lovingly hand-sewn panels commemorating lives lost in the AIDS epidemic, the massive Memorial Quilt was an indelible example of hobby craft deployed for political protest, called "craftivism."
The quilt's homespun aesthetic is making a comeback, said artist Marlene McCarty at Cooper Union's Typographics design festival last month. Once "associated with the language of the oppressed, repressed, and the unrepresented," hobby crafts such as needle-point, crochet, knitting, lettering, and quilting are giving voice to DIY makers of all stripes.
"Who knew that from that rich era of activism that the piece that would translate into 21st-century activism was the AIDS Quilt?" said McCarty, a member of the legendary AIDS activist collective Gran Fury. "The AIDS Quilt, during its time, was quietly reviled by AIDS activists for taking the soft line—being too sentimental, too mushy."
During the branding-obsessed 1980s and 90s, the ideal protest sign looked very professional—using clear typography for optimal legibility, McCarty explained. "The idea was to make your work look super strong—the more activist work could immediate immensely influential advertising… the more people would look at it or the more people would take it earnestly." …
Pat Toomey's closed-door talk saw him accused of 'not having the courage' to speak to those affected, while Ted Cruz also faced dissent at his ticket-only event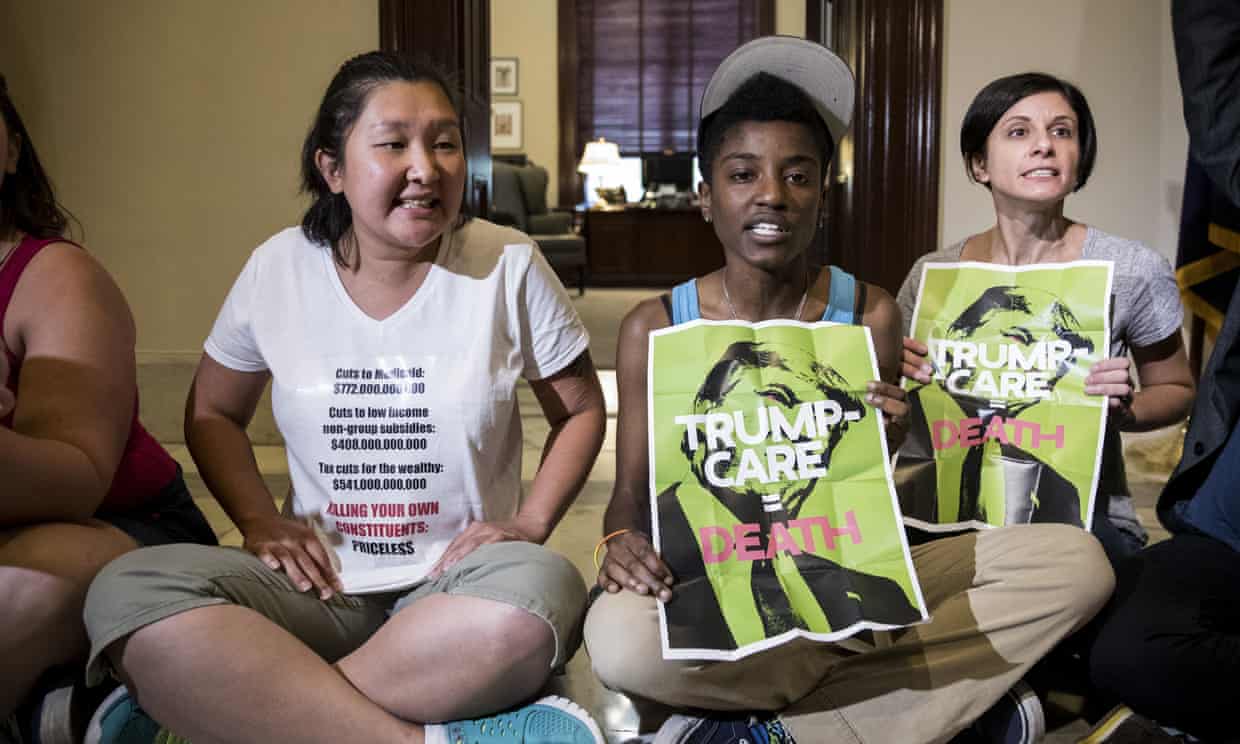 Protesters block the entrance to Senator Pat Toomey's office on Capitol Hill in Washington.
At a town hall in Pennsylvania on Wednesday night, the Republican senator Pat Toomey faced an angry protest over his role in the GOP healthcare bill, while Ted Cruz was heckled over his suggested amendment to the legislation at an event in Texas.
Scores of people gathered outside the ABC27 studio in Harrisburg, Pennsylvania, where Toomey was holding what had been billed as a town hall meeting.
But in reality just eight audience members were allowed into the invite-only event, and their questions had been pre-screened by the news channel.
The closed-door approach did not endear Toomey to the sign-waving protesters outside, who accused the senator of not "having courage to speak to people who would be personally affected" by the Senate healthcare legislation he helped to write.
Cruz, meanwhile, was heckled at what in theory should have been a safe event: a ticket-only town hall discussion hosted by Concerned Veterans for America (CVA) – a rightwing advocacy group financed by the Koch brothers.
Audience questions for Cruz at the event in McKinney, north of Dallas, had been screened in advance by the CVA, but two audience members went rogue to quiz and interrupt the Texas senator over his proposed tweak to the Senate bill. …

President Trump's voter fraud commission may have violated the law by ignoring federal requirements governing requests for information from states, several experts on the regulatory process told The Hill.
Experts say the failure to submit the request to states through the Office of Management and Budget's Office of Information and Regulatory Affairs (OIRA) violates a 1980 law known as the Paperwork Reduction Act (PRA). They also say the failure could be significant, since states could argue it means they are under no obligation to respond.
"If the commission gets heavy-handed with them, it seems to me that the states are within their right to say, 'No, we don't have to respond because you didn't go through [OIRA],'" said Susan Dudley, a former OIRA administrator who is now director of the GW Regulatory Studies Center at George Washington University.
The Presidential Advisory Commission on Election Integrity asked all 50 states and the District of Columbia for extensive information last week on their voters, including full names and addresses, political party registration and the last four digits of Social Security numbers. …

George Washington crosses the Delaware, makes the world a worse place in the process.
This July 4, let's not mince words: American independence in 1776 was a monumental mistake. We should be mourning the fact that we left the United Kingdom, not cheering it.
Of course, evaluating the wisdom of the American Revolution means dealing with counterfactuals. As any historian would tell you, this is a messy business. We obviously can't be entirely sure how America would have fared if it had stayed in the British Empire longer, perhaps gaining independence a century or so later, along with Canada.
But I'm reasonably confident a world in which the revolution never happened would be better than the one we live in now, for three main reasons: Slavery would've been abolished earlier, American Indians would've faced rampant persecution but not the outright ethnic cleansing Andrew Jackson and other American leaders perpetrated, and America would have a parliamentary system of government that makes policymaking easier and lessens the risk of democratic collapse. …
A three-judge panel ruled Wednesday that immigrant children held in detention are entitled to present their case before an immigration judge.
Unaccompanied and undocumented immigrant children have the right to a court hearing to determine whether they can be released, a federal appeals court ruled Wednesday.
The three-judge panel on the Ninth Circuit Court of Appeals disagreed with the government's argument that laws passed after the 1997 Flores v Reno Supreme Court case replaced the bond hearing requirement by giving a federal agency authority over unaccompanied minors. That agency is the Office of Refugee Resettlement, which is part of the Department of Health and Human Services.
"In the absence of such hearings, these children are held in bureaucratic limbo, left to rely upon the agency's alleged benevolence and opaque decision making," Judge Stephen Reinhardt wrote for the court, later adding: "Not a single word in either statute indicates that Congress intended to supersede, terminate, or take away any right enjoyed by unaccompanied minors at the time of the acts' passage. Thus, we hold that the statutes have not terminated the Flores Settlement's bond-hearing requirement for unaccompanied minors."
The United States saw a surge of unaccompanied minors at the southern border in 2014, though the number of apprehensions at the border have since dropped. Immigrants rights advocates see the ruling as a victory for undocumented children, but the ruling could also place a greater burden on the nation's immigration court system, which is overseen by the Justice Department. Those courts have more than half a million cases pending, according to a March report by the Executive Office for Immigration Review. …
People don't like to talk to creditors. People screen their phone calls, and toss out the bills. But it's harder to ignore someone standing on your doorstep, especially when you don't know why they're there until they tell you. That's me: I'm a debt collector. I'm not authorized to hold you upside down and shake the coins out of your pockets, but I do carry some scary-looking paperwork. And in my travels, I've found that …
#5. America Is Full Of Weird, Isolated, Occasionally Creepy Communities
---
A few years ago, I did a two-day stint in West Virginia. The hills play havoc with GPS signals out there. Plus the maps aren't all that accurate, and the roads are not maintained. Some aren't even drivable. They don't always bother putting up a sign to say so.
Google sent a Street View car there. It never came back.
Driving down a road that had degenerated into a dirt track, my Jeep sank right up to its undercarriage in a mud pond, and when I trekked up to a farmhouse, the folks there said, "Why, everyone knows that road's been out for years!" The farmer got one of his tractors and hauled my Jeep out. Months later, my water pump died. When the mechanics called me, they said, "We've never seen anything like it! It's like your water pump was full of swamp water!"
That's generally how it goes: Rural areas are the worst to get around in, but anytime I've needed help, someone always chipped in — whether it was from me knocking on a farmhouse door, or someone just happening to drive past at the right time.
And not always in a car …
One time I was called to a nudist colony. The office building had a board in place of a door. On the other side of a hill were a couple dozen campers and mobile homes. No people. Several more trailers had their doors kicked in. One was on its side, and another had been on fire at some point. It looked like the apocalypse hit this place. If anyone was left, I didn't want to meet him or her. "Hey, could you tell me which trailer belongs to this almost certainly dead person? Oh, no, I can't tell you why I'm looking for them. Hey, could you put down that chainsaw?" …

Cuneiform writing on a clay tablet improperly imported into the U.S. by the Hobby Lobby company, which is forfeiting thousands of items.
Hobby Lobby, the Oklahoma-based chain of arts and crafts retail stores, has agreed to pay a $3 million fine and forfeit thousands of ancient clay tablets and clay bullae that were smuggled into the United States with improper labels.
The announcement by the Justice Department says Hobby Lobby bought over 5,500 artifacts, such as clay tablets and blocks with cuneiform writing, and cylinder seals for $1.6 million. The artifacts, originally from Iraq, were shipped to the company from the United Arab Emirates and Israel with labels that described them as "ceramic tiles" or "clay tiles (sample)."
In a statement, Hobby Lobby President Steve Green said the company "was new to the world of acquiring these items, and did not fully appreciate the complexities of the acquisitions process. This resulted in some regrettable mistakes."
"We should have exercised more oversight and carefully questioned how the acquisitions were handled," he said.
But the Justice Department prosecutors say the company should have realized that its acquisition of the artifacts "was fraught with red flags." …
Gerhard Lauck was Germany's biggest supplier of neo-Nazi materials. His trajectory is a valuable case study in recognizing the signs of a budding hatemonger.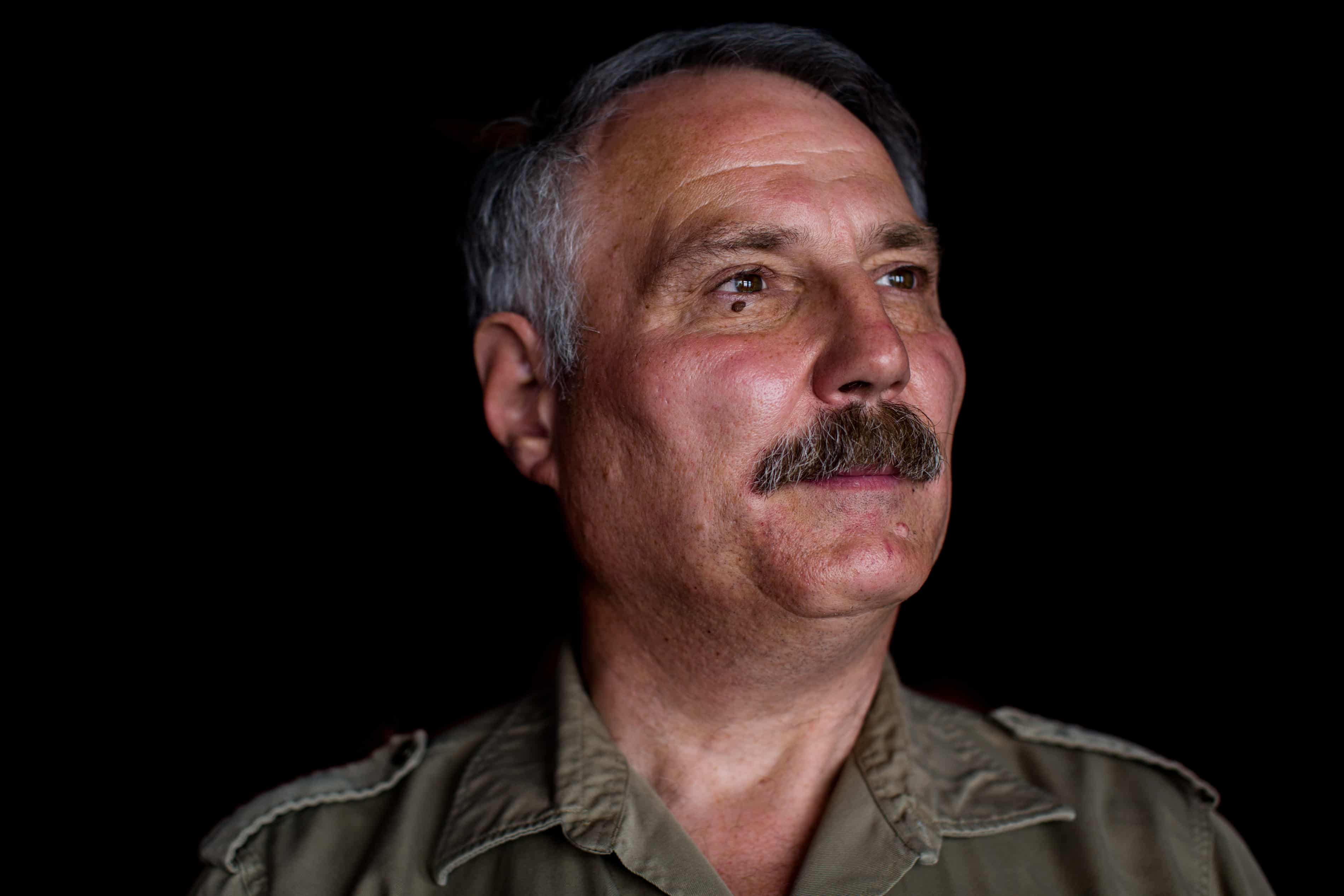 They're easy to spot, the neo-Nazi and his driver, strolling side by side up Main Street beneath a noonday sun, flanked by the two-story brick and limestone buildings of Beatrice, Nebraska. But it's not the way they're dressed.
Gerhard Lauck, the man they call the "Farm Belt führer" doesn't draw attention to himself heedlessly, doesn't swaddle himself in swastikas – not any more, anyway, and not out here in south-east Nebraska, where he finally retreated after serving a four-year stint in a German prison for distributing neo-Nazi propaganda. He doesn't bark "Heil Hitler!" He doesn't shoot his right arm into the air.
No, it's not the way they're dressed, though Lauck is wearing a military brown shirt, and his driver, who won't identify himself, is over-buttoned for a warm spring day. It's something about their posture, a self-seriousness reflected in their stride, as if they're not conducting business so much as playing at it.
At 6ft 4in and roughly 240lb, Lauck towers above his driver. Were it not for his illicit activity abroad, his tireless promotion of "racial purity", his worship of Adolf Hitler (whom he likes to call "too humane" just to revel in the outrage), the pair would seem almost comical, a Laurel and Hardy, or closer still, a Pinky and the Brain.
"A joke? He was never a joke," said Bob Wolfson, former director of the Anti-Defamation League's Plains States Region, when I questioned Lauck's significance. "If you're talking about American Nazis that have had an impact internationally in the last 50 years, Gerhard is probably number one." …
Photo purportedly shows pilot and navigator on a dock in the Marshall Islands in 1937 – under Japanese rule at the time – but some experts remain unconvinced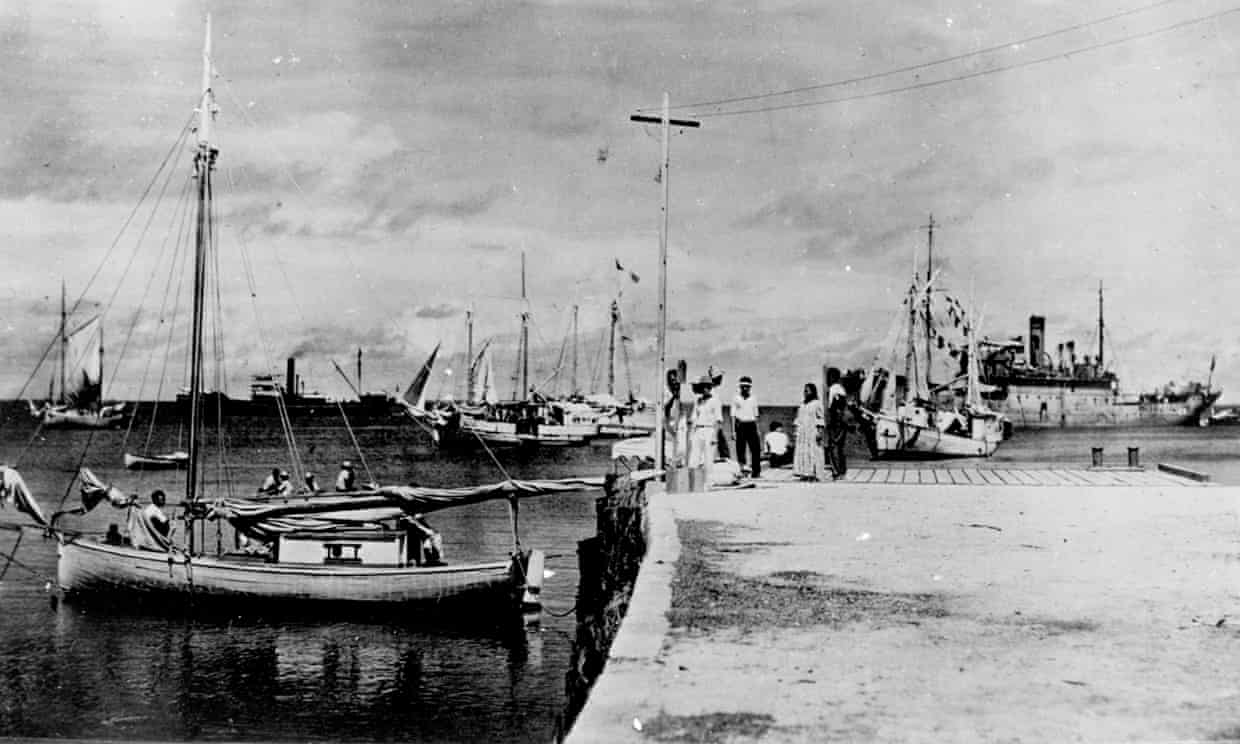 The photograph suggested to be of Amelia Earhart and Fred Noonan in the Marshall Islands, found in the US national archives.
A newly unearthed picture from the US national archives has given new credence to a popular theory about the disappearance of pioneering aviator Amelia Earhart.
Some experts say the image shows the pilot, her navigator Fred Noonan and her airplane in the Marshall Islands in 1937, when the archipelago was occupied by Japan – proving that she died in Japanese custody, rather than during a crash landing in the Pacific.
"When you pull out, and when you see the analysis that's been done, I think it leaves no doubt to the viewers that that's Amelia Earhart and Fred Noonan," Shawn Henry told NBC News. Henry is the former executive assistant director for the FBI and an NBC News analyst.
Kent Gibson, a forensic analyst who specializes in facial recognition, told the History Channel that it was "very likely" the individuals pictured are Earhart and Noonan, in a programme on the Earhart mystery scheduled to air this Sunday.
Not everyone is so convinced, however. "There is such an appetite for anything related to Amelia Earhart that even something this ridiculous will get everybody talking about it," said Ric Gillespie, author of Finding Amelia and the executive director of the The International Group for Historic Aircraft Recovery (Tighar). …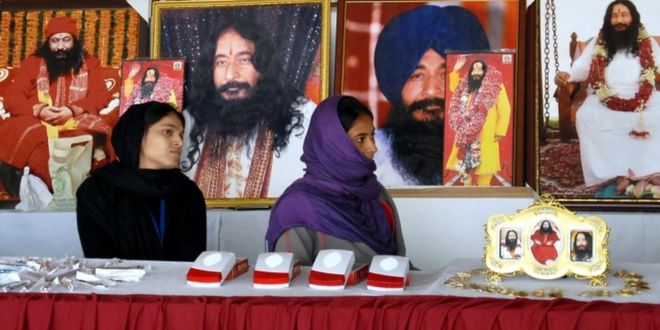 Followers of guru Ashutosh Maharaj insist he has been meditating since his apparent death in 2014
An Indian court has granted permission for the followers of a long-dead spiritual guru to preserve his body in a freezer.
Ashutosh Maharaj, founder of the sect Divya Jyoti Jagriti Sansthan (Divine Light Awakening Mission), died of a suspected heart attack in January 2014.
But his followers insist he is only meditating deeply, and will one day return to life.
They have kept his body in a commercial freezer at his vast ashram in Punjab.
The judgement by Punjab and Haryana High Court ends a three-year-old dispute between the guru's disciples and Dalip Kumar Jha, who claims to be his son.
Mr Jha had sought permission to cremate the guru's body, in line with Hindu rituals.
In rejecting his plea, the court set aside a 2014 judgement that had ordered the guru's cremation after doctors confirmed him clinically dead. …
An eerie resemblance to the killer tractor trailers from Logan
Most experts believe the first industry to be upended by autonomous driving will be the trucking sector. What better use case for driverless technology than long-haul trucking where most of the driving is confined to the highway? The Swedish startup Einride certainly buys into this vision. It recently unveiled a prototype of a self-driving truck that completely lacks a steering wheel, pedals, a windshield, and, well, the whole cab really.
The all-electric T-pod is much shorter than your average traditional tractor trailer, clocking in at just 23 feet long, which is likely due to the absence of the cabin. Einride says the T-pod will weigh 20 tons at full load, which is comparable to a Class 8 truck. The T-pod can be controlled remotely by a human operator, or can operate autonomously without human intervention, the company says.
Einride says it aims to deliver "a complete transport system between Gothenburg-Helsingborg" by 2020. This transport system will involve 200 T-pods with associated charging stations on the route. To date, Einride says it has already filled 60 percent of the total number that will travel between Gothenburg and Helsingborg. The system's first route will have a capacity of up to 2,000,000 pallets per year. The full-scale prototype was on-hand this week at Almedalen, a week-long Swedish political event taking place on the island of Gotland. …

Coco Loko, a "snortable" blend of cacao powder, gingko biloba, taurine and guarana is getting buzz as a drug-free high.
It really is nose candy.
Coco Loko — a "snortable" blend of cacao powder, plants and organic compounds like ginkgo biloba, taurine and guarana — is getting buzz as a drug-free high.
Legal Lean, the maker of Willy Wonka-style snuff, was inspired by a European trend.
"At first, I was like, 'Is this a hoax?,'" Legal Lean founder Nick Anderson, 29, told the Washington Post. "And then I tried it and it was like, OK, this is the future right here."
The product became available in U.S. stores in June but is not actually approved by the Food and Drug Administration. …

First discovered back in the 1930s, chlorine trifluoride is a rather curious chemical that easily reacts, sometimes explosively, with just about every known substance on Earth.
Just to get the ball rolling, here's a few of the more unusual things chlorine trifluoride is known to set fire to on contact: glass, sand, asbestos, rust, concrete, people, pyrex, cloth, and the dreams of children…
Obviously the first question to answer here is how chlorine trifluoride is somehow able to cause asbestos, a substance that is known for being almost completely fire retardant, to catch on fire. Well, that's because chlorine trifluoride is a more powerful oxidizing agent by mass than oxygen itself. Meaning it's capable of rapidly oxidizing things that would normally be considered practically "impossible" to set aflame, like asbestos. Chlorine trifluoride is such an effective oxidizer that it can even potentially set fire to things that have seemingly already been burned up, like ash or spent charcoal.
The substance is so highly reactive that famously unreactive elements like platinum, osmium and iridium will begin to corrode when they come into contact with it. Notably tough elements like titanium and tungsten are also regarded as being wholly unsuitable to storing the chemical because they set on fire as soon as they come into contact with it. …
Video Goodnesses
and not-so-goodnesses
The GOP's proposed alternative to Obamacare includes drastic cuts to Medicaid, and changes the way the decades-old program is funded. If the bill passes, it'll have a huge impact not just on the millions of Americans living below the poverty line, but also on another group: the more than 10 million Americans with disabilities. Caroline Modarressy-Tehrani went to Pennsylvania to meet a family whose independence depends on Medicaid.
Learn more about planning for better health: http://bit.ly/2tJHfHU
Linette Lopez, Dr. Leana Wen, and Dr. Jay Parkinson discuss the money behind health—whether or not you need an expensive doctor, and how the healthcare industry actually works.
THANKS to HBO and VICE News for making this program available on YouTube.
There is renewed interest in the 25th Amendment after Trump's recent tweet attacks. Lawrence O'Donnell talks to psychiatrist Dr. Prudence Gourguechon who evaluates Trump's recent behavior using criteria set forth in the U.S. Army Field Manual.
THANKS to MSNBC for making this program available on YouTube.
Trump supporters attacked NPR for inciting "revolution." Cenk Uygur, Brett Erlich, and Grace Baldridge, the hosts of The Young Turks, explain why.
One thing we don't talk about is that—it's sort of hard to talk about this—our minds have theses kind of back doors.
There's kind of—if you're human and you wake up and you open your eyes there is a certain set of dimensions to your experience that can be manipulated.
When I was a kid I was a magician, and you learn all about these limits, that short-term memory is about this long and there's different reaction times, and if you ask people certain questions in certain ways you can control the answer. And this is just the structure of being human. To be human means that you are persuadable in every single moment.
I mean the thing about magic, as an example, it's that magic works on everybody, sleight of hand, right?
It doesn't matter what language you speak, it doesn't matter how intelligent you are, it's not about what someone knows: it's about how your mind actually works.
So knowing this, it turns out that there's this whole playbook of persuasive techniques that actually I learned when I was at the Stanford Persuasive Technology Lab and that most people in Silicon Valley in the tech industry learned as ways of getting your attention.
So one example is: we are all vulnerable to social approval. We really care what other people think of us. So for example, when you upload a new profile photo of yourself on Facebook, that's a moment where our mind is very vulnerable to knowing, "what do other people think of my new profile photo?"
And so when we get new likes on our profile photo, Facebook—knowing this—could actually message me and say, "oh, you have new likes on your profile photo." And it knows that we'll be vulnerable to that moment because we all really care about when we're tagged in a photo or when we have a new profile photo.
And the thing is that they control the dial, the technology companies control the dial for when and how long your profile photo shows up on other people's newsfeeds, so they can orchestrate it so that other people more often end up liking your profile photo over a delayed period of time, for example, so that you end up having to more frequently come back and see what the new likes are.
And the problem is that they don't do this because they're evil, they do it because, again, they're in this race for our attention.
And we should also ask, is that necessarily such a bad thing if they're orchestrating it so that other people like my photo? I mean that might feel good to me.
So we have to have a new conversation about, as these technology companies use these techniques, these vulnerabilities in our minds, when is that actually aligned and good for us? When is that ethical? When is that honest? When is that fair? And when is that dishonest and unfair? Because they're actually manipulating our minds in a way that doesn't add up to our spending our time well on the screen.
Well, so another vulnerability in our mind is something called a variable schedule reward, and that's like a slot machine in Las Vegas. It turns out that slot machines make more money in the United States than baseball, movies and theme parks combined.
People become addicted to slot machines, I think it's two to three times faster than any other kind of gambling in a casino. So it's insane. And why is that?
Because it's very simple: you just pull a lever, and sometimes you get a reward and sometimes you don't. And the more random it is and the more variable it is the more addictive it becomes.
And the thing is, that that turns our phone into a slot machine, because every time we check our phone we're playing the slot machine to see "what did I get?"
Every time that we check our email, we're playing the slot machine to see, "What did I get? Did I get invited to an interview at Big Think or did I just get another newsletter?"
Or if you're on a dating site like Tindr and when you're swiping, each swipe is: you're playing the slot machine to see "did I get a match?", I'm playing the slot machine to see, "did I get a match?"
And the problem is that this dynamic, these variable schedule rewards or this slot machine mechanic, is so powerful that it's the best thing at addicting people and putting you in the zone.
There are no matches available in your area.
We love the original Jumanji and we love Dwayne "The Rock" Johnson, Kevin Hart, Karen Gillan and Jack Black… so Jumanji: Welcome To The Jungle has to be good, right? Let's watch the Jumanji 2 trailer and find out!
Have you ever watched Simon's Cat and thought – 'that's just like my cat?'
Watch 8 ways Simon's Cat is just like yours in this collection of super cute real life cats, peppered with relatable classic clips from our black & white animations!
Max and his attitude.
FINALLY . . .

Wheelchair Sports Camp MC Kalyn Heffernan had long known about ADAPT. The disability-rights group had used direct action to push the government to create broader accessibility, to advocate for health care and to free disabled people from nursing homes starting in the '70s. The group began in Denver.
When Heffernan approached ADAPT a few days after the funeral of her friend disability activist Priscilla Carlson, the MC had no idea she would be participating in a three-day sit-in in U.S. Senator Cory Gardner's office, which was inspired by an ADAPT protest in Washington, D.C., where activists were dragged out of Senate Majority Leader Mitch McConnell's office.
The group demanded that the senator vote "no" on any federal cuts to Medicaid. After nearly sixty hours in his office, ten activists, including Heffernan, were arrested and spent roughly thirty hours in jail. Gardner never spoke with them.
Westword caught up with Heffernan just ahead of her first court date, at 8 a.m. on July 6, to find out more about the action and her time in jail. …
Ed. More tomorrow. Probably. Possibly. Maybe. Not?