Whether it's Genius Businessman, Pawn Of The Russians, or Buffoon Of The Apocalypse, everyone has their preferred version of the president, a template or paper doll of the man that they use to hang new facts and information on like fun new outfits. This isn't a phenomenon unique to Trump; depending on who you talked to, George W. Bush was either a dopey man-child or the mastermind who faked 9/11 to send the country to war. Obama's opponents regularly set him up as a smooth, teleprompter-reading empty suit, Kenyan interloper, or a Muslim Manchurian Candidate.
Oh, and the Antichrist, that was a fun one too.
Anyways, while political supporters can be prone to this, it's mostly the work of opponents and pundits painting their hated enemy in the terms that will flatter them the least, even if it's completely contradictory to the last template they used. Here then, for your template admiring pleasure, are the weird narratives we keep trying to make President Trump fit into …
#6. Cynical Self-Promoter
---
Donald Trump himself helped establish this narrative, leaning heavily on his reputation as a successful businessman during his campaign. A reputation which owes itself to … his reputation. Because in reality, Donald Trump's record as a businessman is a bit mixed. He's wealthy, yes, but he started wealthy, inheriting a substantial amount of money from his father. Despite that, and the numerous advantages his father's influence won him, he lost money in a variety of property development deals, airlines, and casinos. But through all that, he had an undeniable knack for self-publicity, which would lead to the reputation that won him his one lasting success, when ABC cast him in the coveted role as "Loud, Successful Businessman" on their show The Apprentice.
Especially during the early stages of the campaign, "Self-Promoting Troll-Lord" seemed to be the dominant frame for explaining Trump's campaign. There was no way he actually intended to be president; he was running for the free publicity, or to secure a television deal, or to sell more red hats or something. Even right up to October, pundits were peddling this view. And whether you cling to the notion that he won by accident, that he still doesn't really want to be the president, one thing remains undeniable: He is quite a bit more famous now.
So is he a cynical self-promoter? It certainly seems that way. But was he fake-running for president because of it? I'm guessing probably not. I think he was running for president because he wanted to be president. He just may not have been totally aware of what that was. …
Reporter Chris Uhlmann's commentary tearing into American president – a man with 'no desire and no capacity to lead the world' – reverberates to Washington
A savage opinion of Donald Trump's presidency that went viral was delivered by one of Australia's most seasoned political journalists, who is well known to viewers of the national broadcaster for his frank opinions.
Chris Uhlmann, the political editor of the government-funded Australian Broadcasting Corporation, described Trump as "isolated and friendless" at the G20 leaders' summit, and said his disastrous foreign policy had "pressed fast-forward on the decline of the United States".
The analysis, delivered on the ABC's political program Insiders, has been viewed thousands of times around the world, and astonished American political commentators.
Wow. A searing assessment of the President of the United States by political editor @CUhlmann of Australia's ABC. pic.twitter.com/TnfUwAPkOP

— Bradd Jaffy (@BraddJaffy) July 9, 2017
Speaking on Sunday from the G20 conference in Hamburg, Uhlmann said Trump had shown "no desire and no capacity to lead the world" and was himself "the biggest threat to the values of the west".
"He was an uneasy, lonely, awkward figure at this gathering and you got the strong sense that some of the leaders are trying to find the best way to work around him," Uhlmann said.
"Where was the G20 statement condemning North Korea which would have put pressure on China and Russia? Other leaders expected it, they were prepared to back it, but it never came."
Uhlmann said Trump was obsessed with "burnishing his celebrity" and had "diminished" his own nation to the benefit of Russia and China. …
Ever wonder how a lifelong urbanite can resent cities as much as Donald Trump does? First you have to understand '70s and '80s New York.
Trump Tower opened in 1983—a gleaming, ostentatious building in a grimy, troubled city. At its base was an orange marble atrium with a waterfall and a clutch of boutiques that sold only the highest-priced jewelry, shoes and clothes. Outside, it was impossible to find a subway car not covered with graffiti, and a growing homeless population jangled cups for change; inside, the tower's apartments were billed as "totally inaccessible to the public" and meant exclusively for "the world's best people," developer Donald Trump crowed. And in the aftermath of the fanfare-fueled debut of his eponymous tower—his grandest achievement as a builder, the most singular and physical manifestation of his ego and ambition—Trump walked into the bank of shiny gold elevators and ascended to his triplex penthouse.
If that elevator ride marked his ultimate arrival in New York, it also was a departure of sorts—up and out of the dirty, rattled, crime-ridden metropolis in which he came of age. In the 1970s, the city had teetered on the brink of bankruptcy and been terrorized by a serial killer. In the 1980s, murders soared toward 2,000 a year, and muscled volunteers calling themselves the Guardian Angels patrolled the subways in red berets in an effort to put frightened riders at ease. This was a nadir of New York—and Trump used it to his advantage, leveraging the city's anxiety and uncertainty to secure the tax breaks that helped kickstart his career.
Ever since, his view of New York, and of urban areas in general, has remained as hardened as Mafia concrete. The Trump take on the city was evident in 1989, as he fanned the racially charged public frenzy around the Central Park Five rape case. Almost a decade later, it was on appalling display in his revealing pit stop as "principal for a day" at an impoverished South Bronx elementary school. During last year's campaign, it inspired his statistically flimsy rhetoric about urban blight. And in the White House, it has informed his budget proposals that will punish cities in particular. …

Special counsel Robert Mueller departs after a June 21 closed-door meeting with members of the Senate Judiciary Committee about Russian meddling in the 2016 election and possible connections to the Trump campaign.
Robert Mueller has made no public comment since he was named to lead the Department of Justice investigation into Russian interference in last year's election.
Instead, he has let his actions do the talking. The former FBI director and decorated U.S. Marine has submitted a budget and quietly hired an all-star team that includes 15 Justice Department prosecutors. And, a spokesman for Mueller said, he's not done bringing on new lawyers.
That has gotten the attention of supporters of President Trump, who recently made an attack ad calling the investigation a "rigged game" and blasting the special counsel for hiring at least four lawyers who have donated to Democrats.
But don't expect Mueller to mount a defense. He does his talking in the courtroom, not on social media. In fact, Mueller recently got a nod of support from Sen. Lindsey Graham, R-S.C., who said he didn't think political donations amounted to a conflict of interest. …
A Q&A with Jeffrey Lewis, aka the Arms Control Wonk, on why Kim's ICBM launch shouldn't have been a surprise.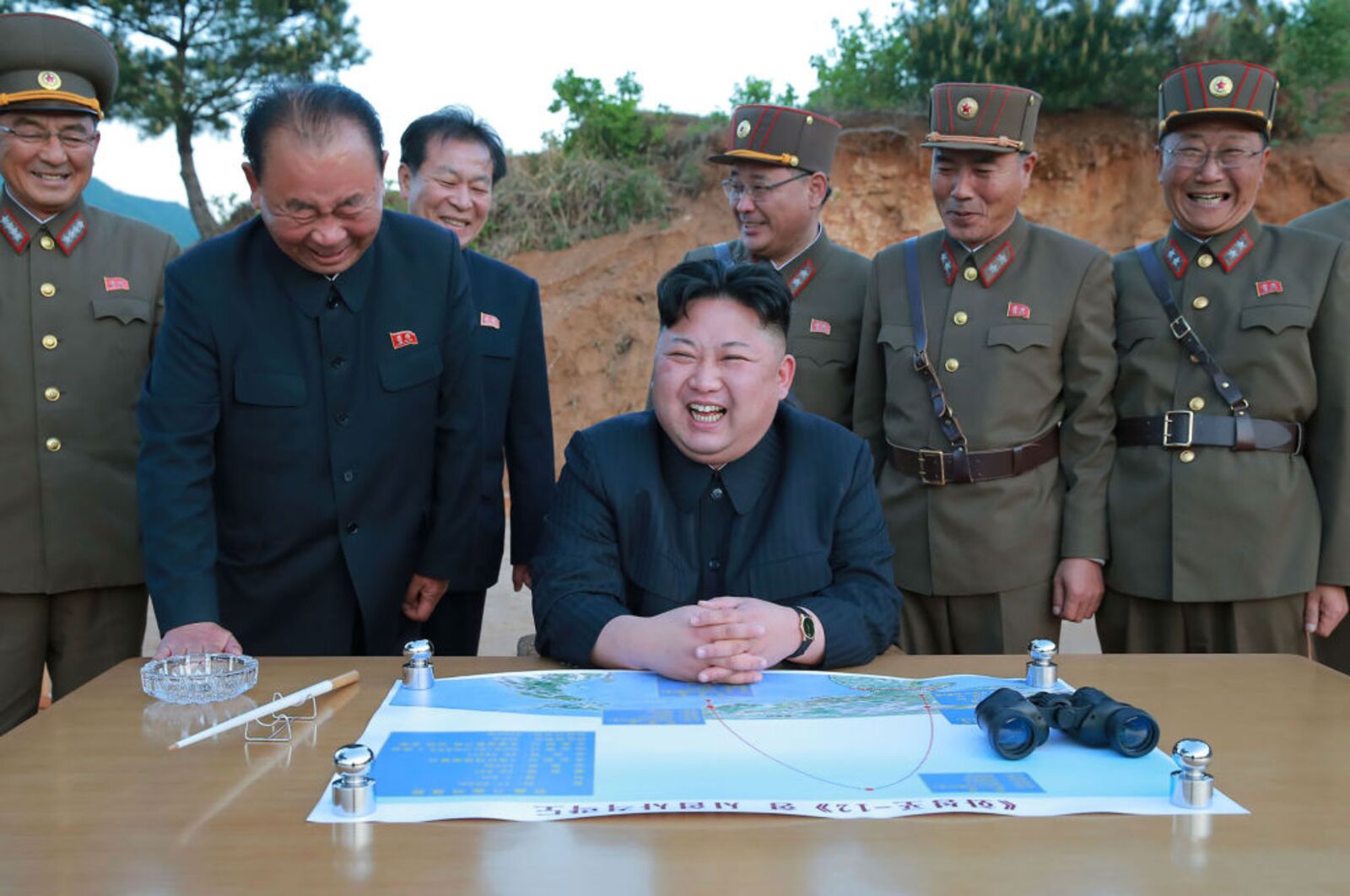 Why is this man smiling?
No matter how hard Americans may have tried to check out of the real world over this long holiday, their idylls were undoubtedly interrupted by the news that North Korea had successfully launched an intercontinental ballistic missile that could conceivably reach the U.S. If paired with a miniaturized nuclear warhead, it poses the greatest new threat to domestic security since the end of the Cold War. And, oh yeah, the guy with his hand on the launcher is a stone-cold nut job who reportedly likes killing close relatives with anti-aircraft guns.
OK, this is scary, but mostly in a theoretical sense. There remain lots of unanswered questions about the sophistication and reliability of the North Koreans' weapons, not to mention the odds that the dictator Kim Jong Un would sign his own death warrant by using a nuclear device on South Korea, Japan or the world's remaining military superpower. To get more concrete answers, I spoke with somebody who knows as much as anybody about the Hermit Kingdom's mysterious ways: Jeffrey Lewis — or, as he is known to his more than 30,000 Twitter followers, @armscontrolwonk. Lewis is the director of the East Asia Nonproliferation Program at the Middlebury Institute of International Studies in Monterey, California, writes for Foreign Policy, and oversees a lively blog on nonproliferation issues — no, that is not an oxymoron — at armscontrolwonk.com.
I talked with Lewis about the latest North Korean achievement, the history and future of the regime's nuclear program, and what it's like to live in the heart of the fallout zone should Kim make good on his threat to turn the Pacific Coast into a "sea of fire." Here is a transcript of the discussion: …
The residents of Colorado Springs undertook a radical experiment in government. Here's what they got.
Colorado Springs has always leaned hard on its reputation for natural beauty. An hour's drive south of Denver, it sits at the base of the Rocky Mountains' southern range and features two of the state's top tourist destinations: the ancient sandstone rock formations known as Garden of the Gods, and Pikes Peak, the 14,000-foot summit visible from nearly every street corner. It's also a staunchly Republican city—headquarters of the politically active Christian group Focus on the Family (Colorado Springs is nicknamed "the Evangelical Vatican") and the fourth most conservative city in America, according to a recent study. It's a right-wing counterweight to liberal Boulder, just a couple of hours north, along the Front Range.
It was its jut-jawed conservatism that not that long ago made the city's local government a brief national fixation. During the recession, like nearly every other city in America, Colorado Springs' revenue—heavily dependent on sales tax—plunged. Faced with massive shortfalls, the city's leaders began slashing. Gone were weekend bus service and nine buses.
Out went some police officers along with three of the department's helicopters, which were auctioned online. Trash cans vanished from city parks, because when you cut 75 percent of the parks' budget, one of the things you lose is someone to empty the garbage. For a city that was founded when a wealthy industrialist planted 10,000 trees on a shadeless prairie, the suddenly sparse watering of the city's grassy lawns was a profound and dire statement of retreat.
To fill a $28 million budget hole, Colorado Springs' political leaders—who until that point might have been described by most voters as fiscal conservatives—proposed tripling property taxes. Nearly two-thirds of voters said no. In response, city officials (some would say almost petulantly) turned off one out of every three street lights. That's when people started paying attention to a city that seemed to be conducting a real-time experiment in fiscal self-starvation. But that was just the prelude. The city wasn't content simply to reject a tax increase. Voters wanted something genuinely different, so a little more than a year later, they elected a real estate entrepreneur as mayor who promised a radical break from politics as usual. …
One of Vietnam's most influential political bloggers, given a courage award by Melania Trump, faces a decade behind bars for her 'reactionary' work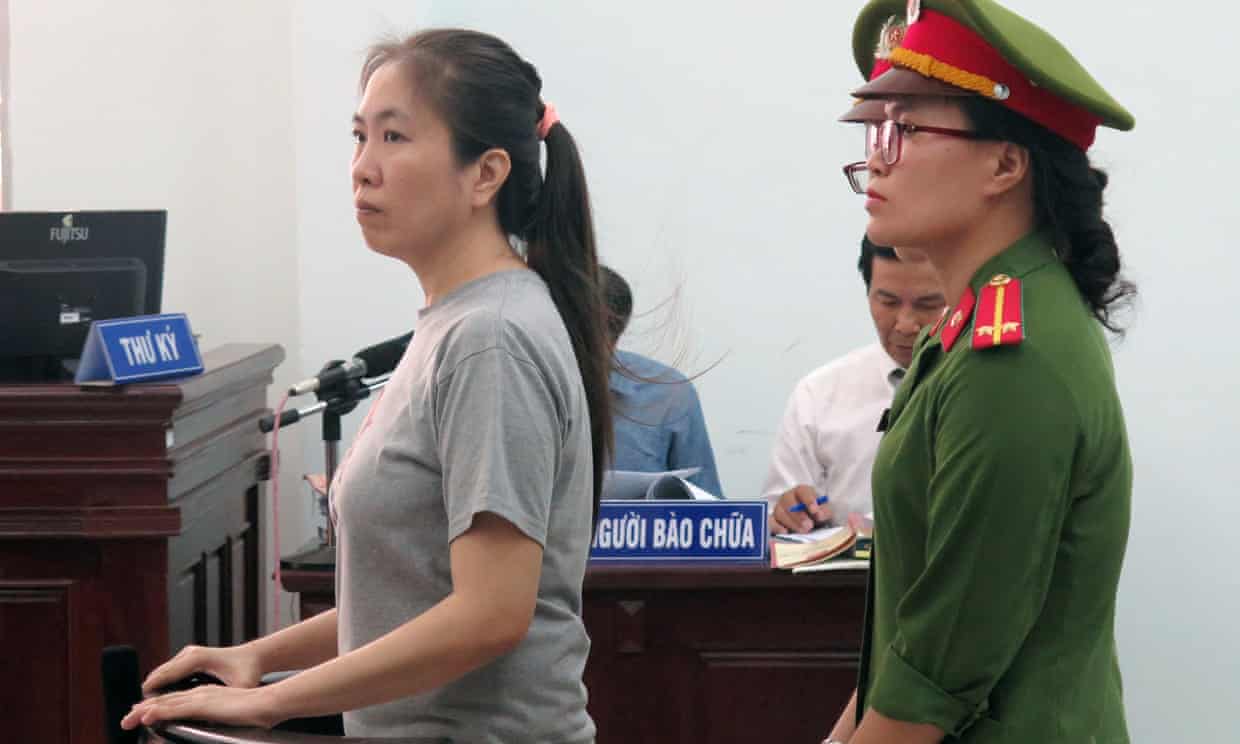 Vietnamese blogger Nguyen Ngoc Nhu Quynh, known as Mother Mushroom, on trial in the city of Nha Trang.
"Each person only has a life, but if I had the chance to choose again I would still choose my way."
They are the words of one of Vietnam's most influential bloggers — known by her online pseudonym, Mother Mushroom — minutes before she was handed the shock sentence of a decade in prison. Nguyen Ngoc Nhu Quynh directed her defiant comments at her 61-year-old mother, who was watching a live feed in a room next door as she was not allow into the courtroom.
The 37-year-old was accused of defaming Vietnam's communist regime in her blogs and interviews with foreign media.
"I clapped my hands in the room, where 20 security officials looked at me with very angry eyes, but I was not afraid; I was OK, very proud of her," said Nguyen Thi Tuyet Lan.
Arrested in October while attempting to visit another dissident in prison, Quynh, 37, has already spent nine months behind bars, in what her lawyer said were desperate conditions.
She subsisted only on a diet of anchovies and spinach soup for the first seven months, and was denied both sanitary pads and underwear, Vo An Don said. …

Amid a growing 'swarm' of over earthquakes (now over 1000), and Montana's largest quake ever, scientists are growing increasingly concerned that the so-called 'super-volcano' at the heart of Yellowstone National Park could be building towards a Category 7 eruption. So what is a 'super-volcano' and what does its explosion mean for life on earth? NatGeo explains…

As National Geographic details…
Think of Yellowstone as a gigantic pressure cooker, fueled by a massive supervolcano. Water from rain and snowmelt, much of it centuries-old, percolates through cracks in the Earth's crust until heated by molten rock reservoirs deep below. The water then filters upward, eventually finding release in the thousands of geysers, hot springs, and other hydrothermal wonders.
Eruptions of this supervolcano expel so much material that the crust caves in, creating a craterlike depression called a caldera.
Yellowstone is known as a supervolcano because of the violence and size of its explosions.
The plume of hot rock has been calculated at more than 600 miles deep. But scientists suspect it actually descends as far as 1,800 miles, all the way to what's known as the Earth's outer core-mantle boundary. …
We've all dreamed of going to work in a dormant volcano or an underwater base. Even adjusting a budget spreadsheet would seem thrilling if sharks were cruising by in the background. Unfortunately, what's routine in action movies just isn't practical in reality… unless you live near one of the many hidden lairs dotted all around the world, in which case it absolutely is.
#6. The Giant Salt Mine Under Lake Erie
---
We don't normally associate mines with evil, and if we do, it's usually the child labor kind, not the fun eldritch kind. But one look at the Morton Salt Mine and you just know that an ancient evil is getting ready to burst free from its deep, dark, hypertension-inducing depths.
"You gotta get the mine first. Then when you get the mine,
you get the salt. Then when you get the salt, then you get the
elevated blood pressure."
2000 feet underneath Lake Erie (because evil loves its puns), the Ohio mine stretches out for three miles. The only way to get to this portal to a salty hell is with a four-minute elevator ride, a series of airlocks and sudden primal fears of Stygian abodes. Fresh air has to be pumped down to the miners, who are also required to carry an hour's worth of emergency oxygen. Not that that's going to do them much good when they dig too deep and awaken a giant hungry dragon.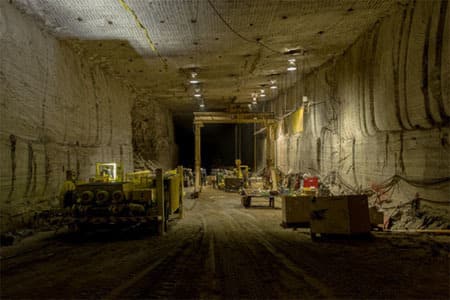 "All the ingredients for jerky. Nice."
That all feels like a lot of hassle for salt. Even their equipment makes it look like they're burrowing through an ancient alien installation in search of advanced technology, rather than in search of french fry seasoning. …
Video Goodnesses
and not-so-goodnesses
It turns out the name Boaty McBoatface didn't go to waste, and the submersible now bearing the name has returned from its first mission! Also, the diversity of frogs we see today may have arisen more recently than we previously thought!
From 8-foot scorpions to sharks the size of semi trucks, humanity would've had a hard time rising to the top of the food chain if these prehistoric creatures still existed. Fortunately, they only exist on our nightmares.
What do cats want for their Birthday? … A new box would be nice, more toys are always appreciated, fresh catnip? … Nope, they get that all the time… with Marmalade we knew it had to be something food related since that's his biggest passion, a birthday cake/pizza seemed like the only sensible solution! 🙂
HAPPY 4TH BIRTHDAY MARM!
Max working his magic on the slipper.
FINALLY . . .

Just about as soon as microdosing became trendy, I got skeptical. About a year ago I spent back-to-back weekends coast-to-coast, first in San Francisco then in New York. I was traveling for work — to learn about psychedelic science in the West and then global drug policy in the East — but more than the main events, I looked forward to the side shows, the after parties and what secrets the cities held during the witching hours.
A Coloradan, high on legal cannabis, I wanted to know what other drug cultures held and what mysteries they could unlock. These cities, among the most progressive and populous in the country, have spawned a drug trend or two in their days and housed the countercultures that came with it. I wanted to know what was happening now, in this bizarre moment of the dawn of a post-prohibition world.
At first I was ecstatic — everybody wanted to talk about LSD and I thought I'd stumbled on the ground-level goings on of a new generation of psychonauts. Rather than being regaled with stories of altered worlds and heroic journeys into inner worlds, I listened to dozens of stories about improved concentration, increased efficiency, better corporate culture.
"How drab," I thought to myself as I listened to story after story about how much better work was now. A few even tried to convert me, with all the zeal of an Oxi-clean commercial, promising a miracle solution to remove the stains of modern life. "You can unleash your genius," they'd say, "five micrograms at a time." One woman tried to seduce me by calling it the flow state, adding "it's just like Adderall, but more creative." …
DEGREE OF DIFFICULTY: They aren't just saying to use the minimum effective dose, but that the less you use, the better it works. Call me converted.
Ed. Long bike ride. Short post today. Probably not tomorrow.