After 46 years, Escuela Tlatelolco, a dual-language alternative school founded by legendary Chicano activist Rodolfo "Corky" Gonzales, has graduated its last class and put its building in northwest Denver up for sale.
Escuela Tlatelolco was born out of the Chicano civil-rights movement. Gonzales, who grew up in the barrios of Denver and attended Manual High School, originally pursued a career in boxing, and at one point was ranked among the top three featherweight fighters in the world by The Ring magazine. But over the years, his passion shifted toward activism and the arts (his 1969 poem "I Am Joaquin" served as a rallying cry for the Chicano movement.). He became the chair of the Denver-based Crusade for Justice, which fought for Mexican-American political, social and economic rights, then in 1971 started Escuela Tlatelolco at 1571 Downing Street, right by Crusade headquarters.
Tlatelolco was a center for arts and education in the Aztec Empire, as well as a plaza in Mexico City where hundreds of student demonstrators were massacred by the government in 1968; Escuela Tlatelolco seemed the perfect name for a school whose mission was guaranteeing a quality education for Latino students while specifically incorporating into the curriculum a focus on cultural heritage and social justice.
"The school had a profound mission: to provide quality education with an emphasis on cultural identity and social responsibility," says Jesse Ogas, who has served on Escuela's board of trustees for thirteen years. "It taught students to learn about their ancestors and culture, and why to be proud of that." …
mazon, Facebook and Netflix among companies demonstrating on behalf of net neutrality, in what supporters say will be biggest online protest in history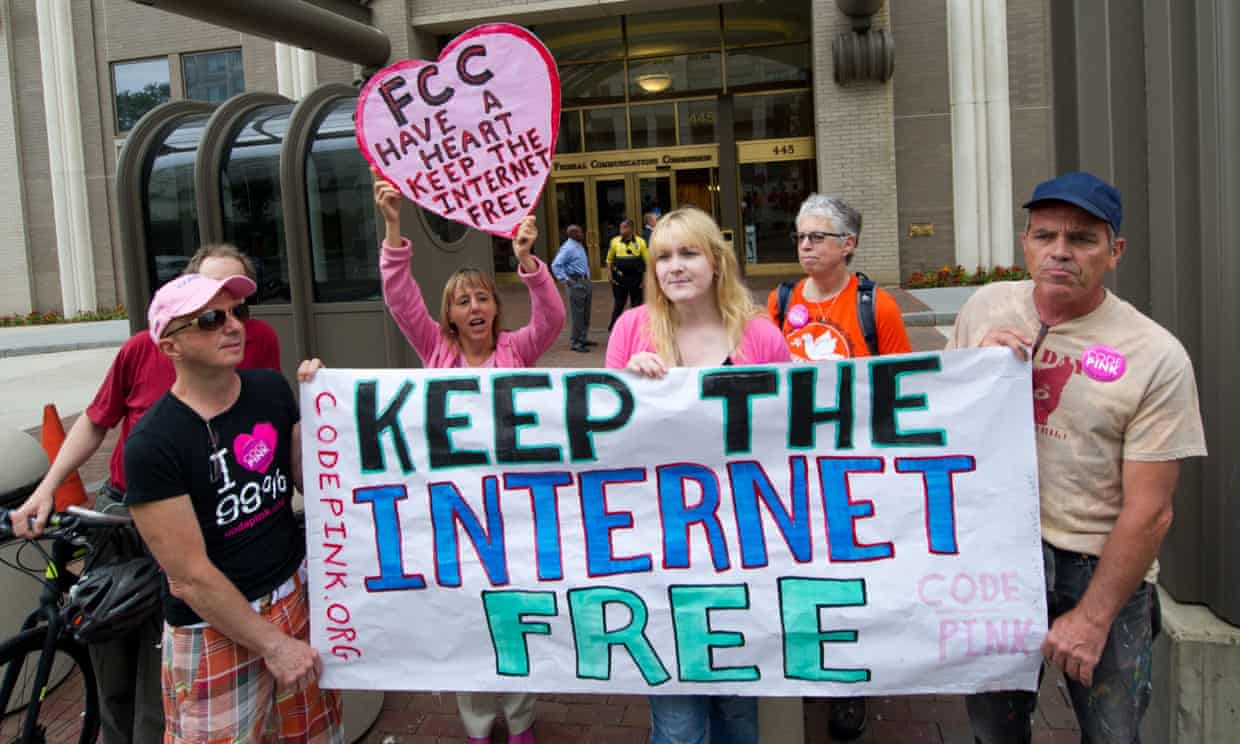 Amazon, Facebook, Netflix and a host of other tech giants will join with online activists, librarians, minority rights and free speech groups today in a day of protest against the Trump administration's plans to roll back rules in what critics charge is a "war on the open internet".
The "day of action" – which supporters claim will be the largest online protest in history – comes as the new head of the Federal Communications Commission (FCC), the US telecoms and media watchdog, prepares to defang tough rules protecting internet access in the US following pressure from cable companies and other internet service providers (ISPs).
Evan Greer, campaign director of Fight For the Future, the not-for-profit group organizing the day of action, said the protest came at a critical moment for the internet. "The internet has had a profoundly democratizing impact on our society. If we lose these protections, then we will lose all that diversity," she said.
The FCC chairman, Ajit Pai, is a longtime critic of the 2015 "open internet" rules which he has called politically motivated and "heavy handed" and has claimed stifle innovation by imposing unnecessary burdens on cable companies. Those rules have been unsuccessfully challenged in the US courts but could now be overturned by the Republican-controlled FCC. …
Their so-called "day of action" targets the FCC, where Chairman Pai already has the votes to kill the current rules.
Amazon, Facebook, Google and Twitter are joining startups and activists for a major online rally today in support of net neutrality, even though the U.S. Federal Communications Commission is barreling toward easily scrapping the government's existing rules in the coming months.
At the moment, the fate of the debate hardly seems in doubt: The FCC under its new Republican leader, Chairman Ajit Pai, seeks to eliminate the specific, tough open internet protections implemented during the Obama administration, which prevent the likes of AT&T, Charter, Comcast* and Verizon from blocking or slowing down access to web content.
But many of the internet's most recognizable brands — along with their champions in the halls of the U.S. Congress and beyond — still are mounting a protest, beginning in the early hours of Wednesday morning, hoping they might generate enough political pressure to sustain a fight that's been stacked against them since President Donald Trump won the White House.
Twitter, for one, began with a blog post around midnight that claimed it is "entirely possible" the company would not have survived without strong open-internet rules. "The FCC should abandon its misguided effort to obviate all the work that has been done on behalf of all Internet users," it said. Twitter also promoted the #netneutrality hashtag in its trending sidebar, marking the first time the company had ever promoted a tweet related to one of its public policy positions, it confirmed to Recode. …
A host of internet giants – from social networks to dating apps to porn sites – will join a protest Wednesday against plans to roll back rules protecting "net neutrality".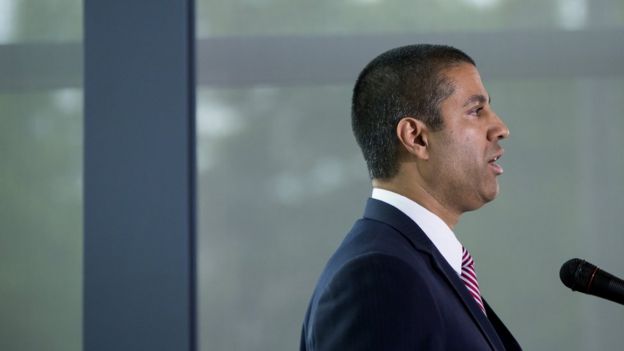 FCC Chairman Ajit Pai has proposed reversing net neutrality rules for internet service providers
A host of internet giants – from social networks to dating apps to porn sites – will join a protest Wednesday against plans to roll back rules protecting "net neutrality".
The sites will display a variety of messages, or simulate the potential effects of losing the basic principle of all internet traffic being treated equally.
The US communications regulator earlier this year voted to remove an Obama-era rule that would prevent the prioritisation – or "throttling" – of data, as well as other measures campaigners consider to be detrimental to the internet.
Opponents to net neutrality say it stifles innovation and discourages investment in telecoms infrastructure. …
Over the past generation, members of the college-educated class have become amazingly good at making sure their children retain their privileged status. They have also become devastatingly good at making sure the children of other classes have limited chances to join their ranks.
How they've managed to do the first task — giving their own children a leg up — is pretty obvious. It's the pediacracy, stupid. Over the past few decades, upper-middle-class Americans have embraced behavior codes that put cultivating successful children at the center of life. As soon as they get money, they turn it into investments in their kids.
Upper-middle-class moms have the means and the maternity leaves to breast-feed their babies at much higher rates than high school-educated moms, and for much longer periods.
Upper-middle-class parents have the means to spend two to three times more time with their preschool children than less affluent parents. Since 1996, education expenditures among the affluent have increased by almost 300 percent, while education spending among every other group is basically flat.
As life has gotten worse for the rest in the middle class, upper-middle-class parents have become fanatical about making sure their children never sink back to those levels, and of course there's nothing wrong in devoting yourself to your own progeny.
It's when we turn to the next task — excluding other people's children from the same opportunities — that things become morally dicey. …
THANKS to CBS and The Late Show with Stephen Colbert for making this program available on YouTube.

Appearing with host Stephen Colbert on the "Late Show" Tuesday night, MSNBC hosts "Morning" Joe Scarborough and Mika Brzezinski unloaded a collection of anecdotes about their longtime friend — and now adversary — Donald Trump, with both of them admitting that he has changed for the worse since becoming president.
Addressing the Late Show host, the former GOP lawmaker admitted that he was leaving the Republican Party and becoming an independent.
"I think it's inexplicable," an agitated Scarborough explained "This is well before Donald Trump was elected president that my party has betrayed their core values. "You have to ask yourself, what exactly is the Republican Party willing to do? How far are they willing to go? How much of this country and our values are they willing to sell out?"
Turning to Trump, Scarborough and Brzezinski were even less charitable. …
Mosul is the second-largest city in Iraq, and in June of 2014, ISIS captured it. Last weekend, the Iraqi Army liberated the city after three years of vicious fighting. I visited Mosul twice this year, the last time just two weeks ago. I talked to dozens of people who had to live under the rule of the Islamic State, and then had to survive the deadliest urban combat since WW2 just to get to safety. Their stories were all harrowing, but also not exactly what you'd expect…
#7. The People Thought ISIS Was On Their Side, At First
---
ISIS are bad guys. And not the morally complex kind of bad guys Vince Gilligan would write. They may be the West's most clear and unassailable archetype of 'a bunch of assholes' since the Third Reich. But over in Iraq, things were a bit muddled. For many Sunnis, the government that preceded ISIS didn't seem much better. President Nouri al-Maliki, a Shia, had a number of Sunni politicians (including his own vice-president) arrested on trumped-up charges, and even sentenced to death. That was pretty much par for the course, for Sunnis in Iraq.
Yup; we're filling out the 'Brutal, dictatorial asshole' bingo card right off the top, today.
But ISIS is a Sunni organization. So when they first showed up on the scene, promising to protect Sunnis against a government that had often done the opposite, a lot of people took them at their word. Abu Kaes was one of them.
He worked as a chef for a TV station in Mosul, and when ISIS first took the city in 2014, he ran the fuck away, as you'd expect. But then, unwisely only in retrospect, he came back:
"After I made contact with my family, they said there was nothing dangerous. At first, it was strange seeing IS with their long hair and beards…there were no police, there was no public transit. There was almost no school… At first they wanted to gain people's trust. Prove they would not be dangerous."
Though maybe ditching the full terrorist uniform to direct traffic might have helped that perception.
…
An entertaining new book explores the roots and rise of the Internet's most infamous subculture.

Pepe the Frog, a symbol of Alt-Right online communities, appears on a sign at a Trump rally
After the culture wars of Western politics went online and were appropriated by Millennials, something strange happened. You could see it when Jeopardy! champion and Twitter personality Arthur Chu surveyed the phenomenon of young men pushing against the influence of feminist criticism on their entertainment and declared, "As a dude who cares about feminism sometimes I want to join all men arm-in-arm & then run off a cliff and drag the whole gender into the sea." Those on the left side of these wars claimed to be victims as individuals even though, as a collective, they were capable of bullying people out of their jobs and harassing them to to the point of suicide. Taught by self-esteem con artists and children's media that everyone is special in their own way, this generation in turn taught itself that everyone is oppressed in their own way.
It is partly such a mindset that Angela Nagle, in her new book Kill All Normies, says the multifarious alt-right is defining itself against. Nagle's delightfully short treatment of this movement is stuffed with charming asides, the most endearing of which asserts her openness to the possibility that her tour through the "ironical in-jokey maze of meaning" created by thee right-wing activists may document nothing more than a strange and passing moment.
Nagle's definition of the alt-right phenomenon is helpfully expansive. For her, the movement is broader than white nationalists such as Richard Spencer. It encompasses the larger constellation of right-wing-populist, new-media phenoms such as Milo Yiannopolous and Lauren Southern, as well as neo-Reactionary thinkers such as Nick Land and "Mencius Moldbug." And its culture was fed by the transgressive message boards of 4chan, the strange pickup-artist scene, and "South Park conservatives." …
Men accounted for 80% of the 935 fatal overdoses in British Columbia last year – and a researcher says it's time to pay more attention to the risks they face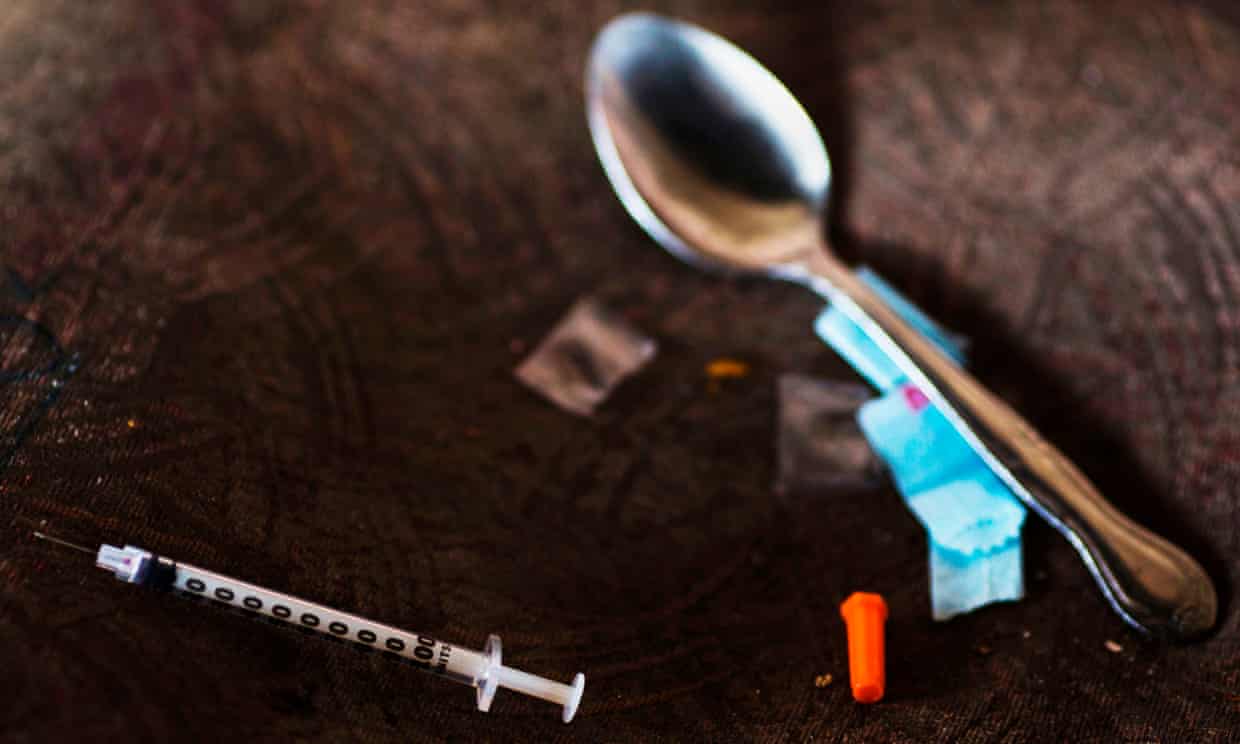 'I think we haven't really thought deeply or well about who men are, about what the pressures on them are, what we need them to be,' says a researcher.
The calls began just after midnight and continued relentlessly throughout the day. By the end of Wednesday 26 April, paramedics in the Canadian province of British Columbia had responded to a record 130 suspected overdose calls.
The day offered a window on the battle playing out in British Columbia as residents grapple with an opioid crisis that has claimed, on average, four lives a day in the province.
The struggle is playing out across North America, as authorities in Canada and the United States grapple with an epidemic that has claimed thousands of lives on both sides of the 49th parallel.
Against this stark backdrop, a professor at the University of British Columbia has highlighted a different statistic from the crisis: in 2016, of the 935 fatal overdoses in the province, 80% were men.
Research that shows men are more likely to use illicit drugs, so it is perhaps logical that they are more likely to overdose. But the clinical psychologist Dan Bilsker argues that the figure suggests a relationship bewteen the crisis and masculinity – one that may offer clues as to why the death toll continues to rise, and where the solutions might lie.
"I think we haven't really thought deeply or well about who men are, about what the pressures on them are, what we need them to be," he said. …
"Monkey see, monkey sue is not good law."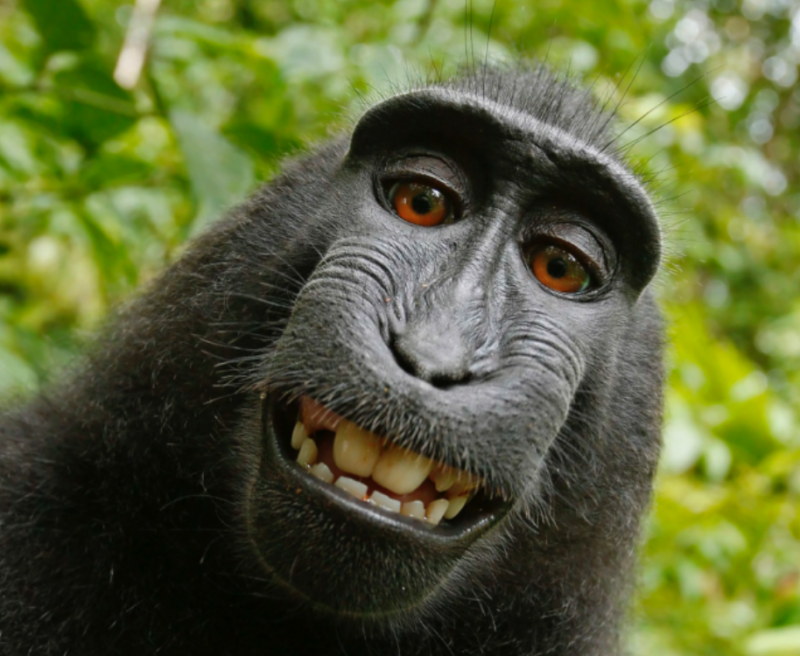 On Wednesday, a federal appeals court will embark on a legal safari of sorts: animal rights activists, representing an Indonesian monkey named Naruto, are set to argue to the San Francisco-based 9th US Circuit Court of Appeals that their monkey client should be recognized as the lawful owner of property.
The property at issue are a few infamous and viral selfies that the macaque monkey snapped of himself in the Tangkoko reserve on the Indonesian island of Sulawesi in 2011. The monkey's self-appointed lawyers from the People for the Ethical Treatment of Animals are suing David Slater, the British nature photographer whose camera was swiped by the monkey while the photographer was on a jungle shoot.
Slater has published a book with the pictures Naruto took of himself. Now the monkey—via PETA—is seeking monetary damages for copyright infringement from Slater and Blurb, the online publishing platform where the photos appeared.
You're not alone if all of this sounds like some strange monkey business, or a lost scene from the Planet of the Apes. …
Video Goodnesses
and not-so-goodnesses
We had never seen Donald Trump truly scared. He is now.
Wares from Trump's bankrupt Atlantic City hotel went up for a tag sale over the weekend. VICE News got in on the action.
THANKS to HBO and VICE News for making this program available on YouTube.
After Donald Trump Jr. releases an email exchange that shows him setting up a meeting with a Kremlin-linked lawyer, Trevor unpacks the first son's possible case of collusion
THANKS to CBS and The Daily Show with Trevor Noah for making this program available on YouTube.
This week In pop culture: We breakdown the greatest performances from people who weren't actors, like The Rock and David Bowie, then blew us away. Will One Direction's Harry Styles in Dunkirk do the same?
Torrie Lauren has strong, confusing opinions on North Korea.
Is it time for prison electoral reform?
A farmer's market is thrown into chaos after every vendor runs for NDP leader.
THANKS to Comedy Network and The Beaverton for making this program available on YouTube.
CAUTION: Some language may not be appropriate for work or children.
Me compilation commentary on some more destination f#%ked moments on Earth.
Max just wants to play with his hat and be with me.
FINALLY . . .

It's all fun and games until someone falls off the stage.

Dear out-of-state performers who are scheduled to visit Colorado,
Listen, Coloradans understand getting too fucked up on pot to function. After all, marijuana in some form has been legal in this state for seventeen — seventeen! — years, giving us ample opportunity to experiment (and fail) with dosage. And we're used to seeing our parents or friends visiting from out of state eat too much of a brownie or take one too many rips of a bong and suffer through the weirds.
But if you're a musician or comedian who people are paying to see, there is no excuse for getting too high. You have an obligation as a performer to give me my money's worth and not eat so many edibles that you can't string a cohesive sentence together.
I went to a concert on Friday at a popular country venue in Denver. The performer was visiting from a nearby state where pot is definitely not legal. Who knows what this guy was on, but between rambling about his failed record deal and forgetting the words to some of his songs, he was clearly on something. His case isn't unique. How many concerts or performances have we had to suffer through, Colorado, where the main acts have clearly overindulged in marijuana (or booze or pills) and ruined their sets? …
Ed. I'm working a crazy numbr of days the next couple of weeks. I'll post when I find time. So… More tomorrow. Probably. Possably. Maybe. Not?