The principle of common good underpins the constitution. Donald Trump is gleefully shredding that ideal.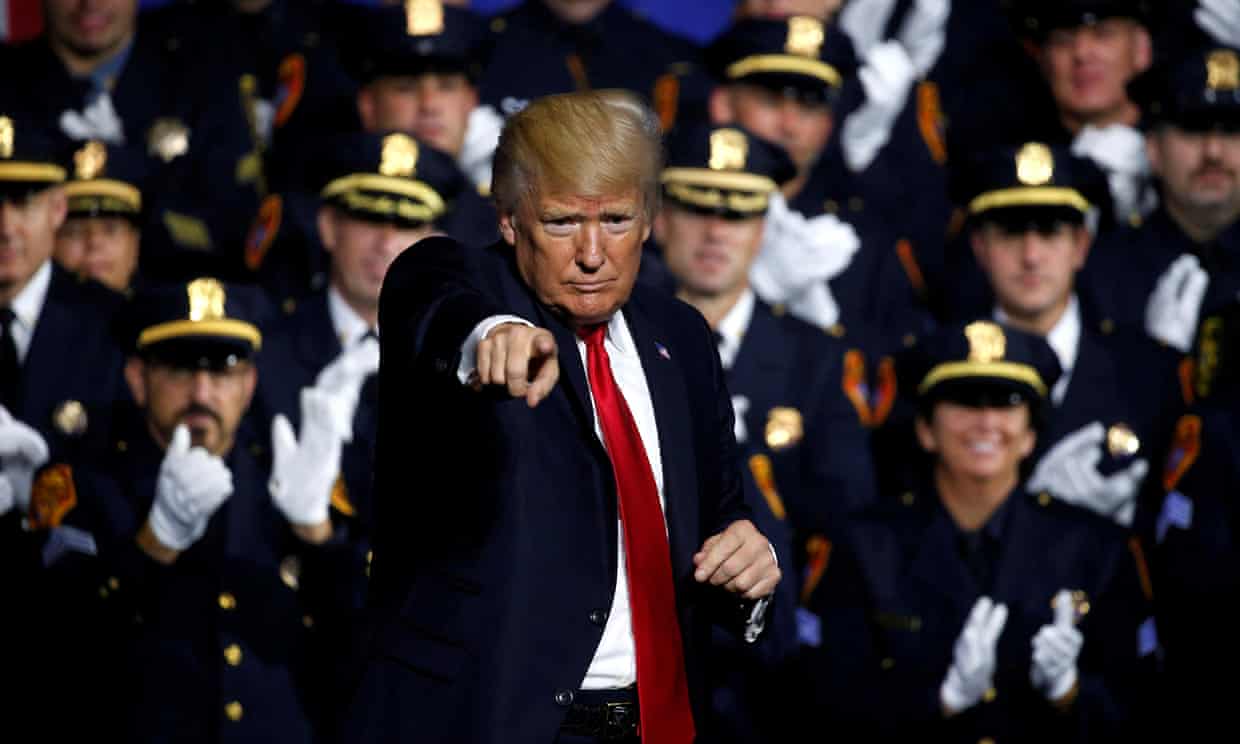 The Trump administration, having passed the six-month milestone in office, kicked off the next phase of his presidency with an explosion of crazy, spread over the past seven days. Like sweeps week on The Apprentice, every day saw some headline-grabbing event to garner ratings. It started with leaks against his former bosom buddy, attorney general, Jeff Sessions. President Trump, "sources" said, was planning to fire him. It moved on to a speech to the Boy Scouts of America jamboree, where Trump told the story of a property developer who lost a fortune and was lurking at a New York party with the "hottest people". Later, there was a tweet announcement banning transgender people from the military.
This explosion of crazy concluded with his new White House chief of communications, Anthony Scaramucci, calling the New Yorker's political correspondent Ryan Lizza to trash virtually everyone in the White House. He compared himself positively to the president's dark lord and special adviser, Stephen Bannon: "I'm not Steve Bannon, I'm not trying to suck my own cock. I'm not trying to build my own brand off the fucking strength of the president."
Doesn't Scaramucci, or "the Mooch", as he was known on Wall Street, have a mother? Won't she be ashamed to see him talking like that in public? The week ended with a big name fired: White House chief of staff, Reince Priebus.
And up on Capitol Hill things weren't a lot less calm. There was the closed-door interrogation of Jared Kushner, the president's son-in-law, on Russian connections to the Trump campaign. Then came the Republican Senate majority's inability to repeal the Affordable Care Act, aka Obamacare, featuring John McCain voting yes, to debate the bill, then no, to kill it stone dead – until The Apprentice goes into reruns.
All of these events, and a dozen more I don't have space to mention, create a picture of utter chaos across the American government. Trump has ridden roughshod over not just the customs and norms of presidential behaviour but also basic standards of human decency. …
The comedian returned to his 'Last Week Tonight' desk with a vengeance.
THANKS to HBO and Last Week Tonight for making this program available on YouTube.

After nearly a month off—and with a Trump-supporting coal king's lawsuit pending—John Oliver made his return to the Last Week Tonight desk late Sunday night.
And there was a lot to catch up on.
This past week, according to the HBO host, was notable "not just for the terrible things [President] Trump tried to do, but for how terribly he tried to do them." Those included the president declaring, via three early-morning tweets, that transgender people were banned from the military—much to the surprise of the military community, including Defense Secretary James Mattis, who was reportedly "appalled" by the announcement. The majority of Americans, meanwhile, support trans military service.
It is not known exactly how many transgender people are currently serving in the military, but the number probably lies somewhere between the estimated 15,500 deduced by a 2014 UCLA study and a 2016 RAND Corporation study, commissioned by the Pentagon, that had 10,790 transgender people currently serving. …

The United States Embassy in Moscow. It was unclear how President Vladimir V. Putin's announcement would affect day-to-day relations.
A little more than a year after the Russian effort to interfere in the American presidential election came to light, the diplomatic fallout — an unraveling of the relationship between Moscow and Washington on a scale not seen in decades — is taking its toll.
President Vladimir V. Putin bet that Donald J. Trump, who had spoken fondly of Russia and its authoritarian leader for years, would treat his nation as Mr. Putin has longed to have it treated by the West. That is, as the superpower it once was, or at least a major force to be reckoned with, from Syria to Europe, and boasting a military revived after two decades of neglect.
That bet has now backfired, spectacularly. If the sanctions overwhelmingly passed by Congress last week sent any message to Moscow, it was that Mr. Trump's hands are now tied in dealing with Moscow, probably for years to come.
Just weeks after the two leaders spent hours in seemingly friendly conversation in Hamburg, Germany, the prospect of the kinds of deals Mr. Trump once mused about in interviews seems more distant than ever. Congress is not ready to forgive the annexation of Crimea, nor allow extensive reinvestment in Russian energy. The new sanctions were passed by a coalition of Democrats who blame Mr. Putin for contributing to Hillary Clinton's defeat and Republicans fearful that their president misunderstands who he is dealing with in Moscow. …
What would you guess people are most stressed out about in their careers? One might assume that hating your job, or dealing with the frustration of finding a new one, would top the list. But according to the results of an annual survey that I send several thousand readers of my email newsletter, the most common problem people face is that they don't feel confident.
Readers said things like:
I want to start a business, but I fear looking foolish.
I feel I shouldn't have been picked for the role I am in. I feel like a sham.
I doubt myself and find it hard to ask for what I want.
These responses are from smart, accomplished individuals. Most of them have advanced degrees. Some of them have earned high-ranking leadership positions at Fortune 500 companies that are household names. Why are they questioning their competence?
Unfortunately, confidence is an elusive goal for many people. And that's because we fundamentally misunderstand the way it works. We tend to think confidence is a personality trait, and treat it as a pre-requisite for action. So we put off signing up for a dating site because we feel insecure about our looks, or neglect to apply for jobs because we worry that we won't be competitive. But the truth is that confidence isn't an innate trait; it's a quality gained through experience. So we should take risks in order to build confidence—not the other way around. …
Bye, box.
After years of insisting it wasn't so, the TV Industrial Complex now admits that it's contracting: The number of people paying for TV has been declining for several years.
But that's not the only part of the TV world that's shrinking: Actual TV sets are disappearing from homes, too.
After years of steady increases, the number of TVs in homes shrank to an average of 2.3 in 2015, down from an average of 2.6 televisions per household in 2009, according to the latest available data from the Energy Information Administration.
The best-case scenario for that, put forward by the people who sell TV programming for a living, is that Americans are watching TV on devices that aren't TVs, like laptops, tablets and phones. The flip side of that argument: You can do lots of other things on those devices, which creates even more competition for TV viewing time. …
Shocking
A team of researchers in Finland has successfully created food using electricity.
Well, calling it food is a bit of a stretch at this point—but it's a start. By mixing three ingredients into a coffee-cup-sized bioreactor and supplying an electric shock, they zapped a powder into being that's around 50% protein and 25% carbohydrates, with the rest being fat and nucleic acid.
This early-stage research could pave a path toward a solution to cheaply feed hungry populations without massive land use. The United Nations Food and Agriculture Organization estimates that about 795 million people in the world—that's one in nine—suffer from chronic undernourishment. And it's not just human mouths it can help feed: "Along with food, the researchers are developing the protein to be used as animal feed," says a press release on the study. In the US alone, more than 800 million people could be fed with the grain used by the livestock industry every year, according to research at Cornell University; animal agriculture is also the largest consumer of water resources in the US.
All this to say: New food-making technology could make huge inroads for feeding people in need instead. …
Take chemistry, add energy, get life. The first tests of Jeremy England's provocative origin-of-life hypothesis are in, and they appear to show how order can arise from nothing.
The biophysicist Jeremy England made waves in 2013 with a new theory that cast the origin of life as an inevitable outcome of thermodynamics. His equations suggested that under certain conditions, groups of atoms will naturally restructure themselves so as to burn more and more energy, facilitating the incessant dispersal of energy and the rise of "entropy" or disorder in the universe. England said this restructuring effect, which he calls dissipation-driven adaptation, fosters the growth of complex structures, including living things. The existence of life is no mystery or lucky break, he told Quanta in 2014, but rather follows from general physical principles and "should be as unsurprising as rocks rolling downhill."
Since then, England, a 35-year-old associate professor at the Massachusetts Institute of Technology, has been testing aspects of his idea in computer simulations. The two most significant of these studies were published this month — the more striking result in the Proceedings of the National Academy of Sciences (PNAS) and the other in Physical Review Letters (PRL). The outcomes of both computer experiments appear to back England's general thesis about dissipation-driven adaptation, though the implications for real life remain speculative.
"This is obviously a pioneering study," Michael Lässig, a statistical physicist and quantitative biologist at the University of Cologne in Germany, said of the PNAS paper written by England and an MIT postdoctoral fellow, Jordan Horowitz. It's "a case study about a given set of rules on a relatively small system, so it's maybe a bit early to say whether it generalizes," Lässig said. "But the obvious interest is to ask what this means for life." …
Myth Busters
Marketers and social theorists love to talk about digital natives. This group is supposedly a generation of early adopters under the age of about 35, uniquely adept at technology compared to their older counterparts. But according to a recent editorial in Nature, these digital natives are a figment of our collective imagination—about as easy to find as a "a yeti with a smartphone."
The editorial points to a review paper published this June in the journal Teaching and Teacher Education, which concluded that "information-savvy digital natives do not exist." Despite assertions that younger generations learn differently and require specialized, multimedia teaching strategies because they grew up with smartphones and the web, the authors say that there is no evidence to suggest that digital natives are more tech-savvy or good at multi-tasking than older generations.
This idea of the digital native was born out of the a 2001 essay by educator Marc Prensky, who claimed that a new generation was especially skilled at processing multiple streams of information and using technology, reports Discover Magazine. Prensky argued the world should adapt its teaching methods accordingly. But Paul Kirschner, co-author of the Teaching and Teacher Education study and a professor of educational psychology at the Open University in the Netherlands, argues that we hurt, rather than help, students learn when we assume that they have unique technological skills. "We have to treat people as human, cognitive learners and stop considering one specific group to have special powers," Kirschner tells Discover. …
Don Johnson won nearly $6 million playing blackjack in one night, single-handedly decimating the monthly revenue of Atlantic City's Tropicana casino. Not long before that, he'd taken the Borgata for $5 million and Caesars for $4 million. Here's how he did it.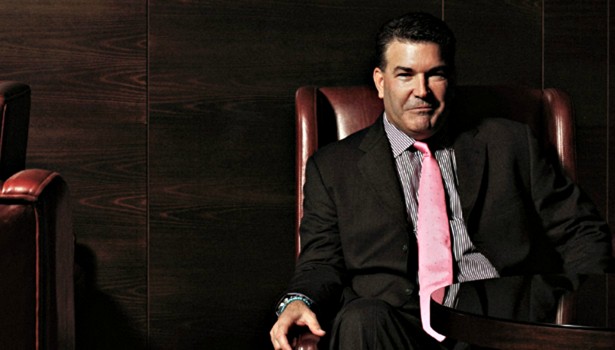 DON JOHNSON FINDS IT HARD to remember the exact cards. Who could? At the height of his 12-hour blitz of the Tropicana casino in Atlantic City, New Jersey, last April, he was playing a hand of blackjack nearly every minute.
Dozens of spectators pressed against the glass of the high-roller pit. Inside, playing at a green-felt table opposite a black-vested dealer, a burly middle-aged man in a red cap and black Oregon State hoodie was wagering $100,000 a hand. Word spreads when the betting is that big. Johnson was on an amazing streak. The towers of chips stacked in front of him formed a colorful miniature skyline. His winning run had been picked up by the casino's watchful overhead cameras and drawn the close scrutiny of the pit bosses. In just one hand, he remembers, he won $800,000. In a three-hand sequence, he took $1.2 million.
The basics of blackjack are simple. Almost everyone knows them. You play against the house. Two cards are placed faceup before the player, and two more cards, one down, one up, before the dealer. A card's suit doesn't matter, only its numerical value—each face card is worth 10, and an ace can be either a one or an 11. The goal is to get to 21, or as close to it as possible without going over. Scanning the cards on the table before him, the player can either stand or keep taking cards in an effort to approach 21. Since the house's hand has one card facedown, the player can't know exactly what the hand is, which is what makes this a game.
As Johnson remembers it, the $800,000 hand started with him betting $100,000 and being dealt two eights. If a player is dealt two of a kind, he can choose to "split" the hand, which means he can play each of the cards as a separate hand and ask for two more cards, in effect doubling his bet. That's what Johnson did. His next two cards, surprisingly, were also both eights, so he split each again. Getting four cards of the same number in a row doesn't happen often, but it does happen. Johnson says he was once dealt six consecutive aces at the Mohegan Sun casino in Connecticut. He was now playing four hands, each consisting of a single eight-card, with $400,000 in the balance. …
Ed. More tomorrow? Possibly. Maybe. Not?