The Trump-Russia dossier: why its findings grow more significant by the day

As US officials investigate potential collusion between Trump and Moscow, the series of reports by the former UK intelligence official Christopher Steele are casting an ever darker shadow over the president.

Nine months after its first appearance, the set of intelligence reports known as the Steele dossier, one of the most explosive documents in modern political history, is still hanging over Washington, casting a shadow over the Trump administration that has only grown darker as time has gone by.
It was reported this week that the document's author, former British intelligence official, Christopher Steele, has been interviewed by investigators working for the special counsel on Russian interference in the 2016 election.
The Senate and House intelligence committees are, meanwhile, asking to see Steele to make up their own mind about his findings. The ranking Democrat on the House committee, Adam Schiff, said that the dossier was "a very important and useful guide to help us figure out what we need to look into".
The fact that Steele's reports are being taken seriously after lengthy scrutiny by federal and congressional investigators has far-reaching implications.
Originally commissioned by a private firm as opposition research by Donald Trump's Republican and then Democratic opponents, they cite a range of unnamed sources, in Russia and the US, who describe the Kremlin's cultivation over many years of the man who now occupies the Oval Office – and the systematic collusion of Trump's associates with Moscow to help get him there.
The question of collusion is at the heart of the various investigations into links between Trump and Moscow. Even a senior Republican, Richard Burr, the chairman of the Senate intelligence committee, admitted this week it was an open question. …
Masculinity Threat

Mass shootings follow a consistent pattern: The men who commit them have often experienced what they perceive as masculinity threats.
In the aftermath of the Las Vegas shooting that killed a staggering 58 people and injured roughly 500 others, the Trump administration has tried to steer Americans away from political debate. "There's a time and place for political debate, but now is the time to unite as a country," White House press secretary Sarah Sanders said in a press briefing following the tragedy.
But while it is important to collectively mourn those lost to senseless violence, it is equally important to understand that mass shootings are not isolated events in American society. Mass shootings are still relatively rare in the US, but occur much more often here than in other countries. There are far too many to consider them random, unpreventable acts of violence committed by a deranged individual.
A great deal of commentary attempts to tie mass shootings to a single issue. Often, that seems like the easiest way to make sense of atrocities. That's why we get sound bites that lean on mental health (when shooters are white), terrorist ties and affiliations (when shooters are brown), gang violence and "urban decay" (when shooters are black), bullying (when it happens in a school), and overwork (when it happens in a workplace).
The truth cannot be boiled down to any single issue. As sociologists, we can look to the bigger picture, point out patterns, and identify common denominators. Our research suggests that gun control is, indeed, an important piece of the problem. But in order to understand the factors behind America's mass shootings, it is also critical to consider the relationship between masculinity and violence. …
The Connecticut senator, elected shortly before the Sandy Hook shooting, has continued to lead his cause in the horrific aftermath of the Las Vegas attack.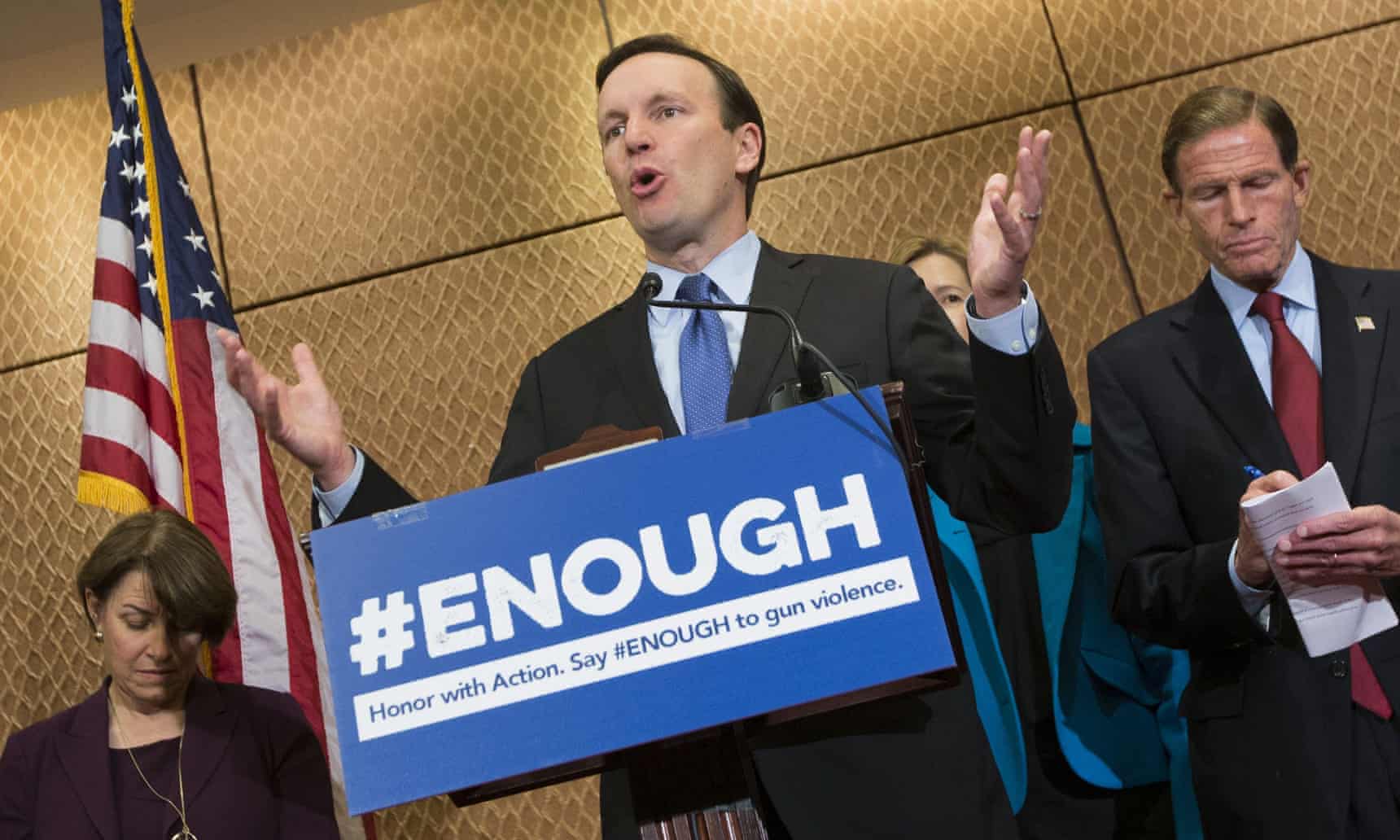 Chris Murphy speaks during a press conference on gun violence held by Senate Democrats at the Capitol.
In the hours after the deadliest mass shooting in modern US history, when a man alone in a hotel suite sprayed gunfire on 22,000 concertgoers 32 floors below, leaving 58 dead and injuring almost 500, Senator Chris Murphy rose once again to demand lawmakers do more to prevent these tragedies.
It's a grim exercise that Murphy has repeated after each mass shooting since he was elected to the Senate in 2012. That was less than a month before 26 people, including 20 children, were killed at Sandy Hook Elementary school in Newtown, Connecticut. As a congressman, Murphy represented the district.
On Tuesday, Murphy stood again behind a lectern, facing a battery of cameras. He condemned congressional inaction in the face of what he called "a uniquely American problem".
"The reason that these mass shootings continue to happen – the reason that 90 people die every day across this country – is because of public policy choices that this Congress makes," he said, his voice rising.
"This country has the loosest set of gun laws to allow dangerous people to own dangerous weapons in the industrialized world. And so what is unacceptable in the wake of the most deadly mass shooting in the history of the country is for this utter silence, this unintentional complicity from Congress, to continue.
"I think there is an unintentional endorsement that gets sent to these mass murderers when after slaughter after slaughter, Congress does nothing. If the greatest deliberative body in the world doesn't do anything to condemn them by policy change, it starts to look like complicity." …

Supporters of Indivisible, an anti-Trump group, in Olympia, Wash., last month. The so-called resistance is attracting six- and seven-figure checks from major liberal donors.
It started as a scrappy grass-roots protest movement against President Trump, but now the so-called resistance is attracting six- and seven-figure checks from major liberal donors, posing an insurgent challenge to some of the left's most venerable institutions — and the Democratic Party itself.
The jockeying between groups, donors and operatives for cash and turf is occurring mostly behind the scenes. But it has grown acrimonious at times, with upstarts complaining they are being boxed out by a liberal establishment that they say enables the sort of Democratic timidity that paved the way for the Trump presidency.
The tug of war — more than the lingering squabbles between supporters of Hillary Clinton and Senator Bernie Sanders of Vermont — foreshadows a once-in-a-generation reorganization of the American left that could dictate the tactics and ideology of the Democratic Party for years to come. If the newcomers prevail, they could pull the party further to the left, leading it to embrace policy positions like those advocated by Mr. Sanders, including single-payer health care and free tuition at public colleges.
The upending of the left comes amid a broader realignment in American politics, with the Republican Party establishment also contending with a rising rebellion, driven by pro-Trump populists. Just as the new forces on the right are threatening primary challenges to establishment Republicans, some groups on the left have begun talking about targeting Democratic incumbents in the 2018 midterm elections. …

White House budget director Mick Mulvaney gives a news conference Sept. 8 on Capitol Hill.
The Republican Party has largely abandoned its platform of fiscal restraint, pivoting sharply in a way that could add trillions of dollars in federal debt over the next decade.
Cutting spending to balance the budget was almost religion to the Republican Party for much of the past eight years. But all year long, despite their control of the White House and Congress, Republicans have not taken steps to balance the budget, to overhaul entitlement programs such as Medicare and Medicaid, or to arrest the growth of the country's $20 trillion in debt.
With the House passing a critical budget resolution this past week, GOP lawmakers are charging forward next week with plans to cut taxes in a way that could add more than $1.5 trillion to the government's debt over 10 years, with the goal of legislation by early next month. That is on top of an effort to significantly increase military spending. White House officials say their focus is on growing the economy now and dealing with the debt later.
The moves come as the federal deficit, the difference between what the government earns in revenue and spends on programs, is growing more quickly. It will be $600 billion this year and is projected to reach $1.46 trillion in a decade, even without additional policy actions. …
Harlon Carter transformed the NRA from a rifle club into the take-no-prisoners anti-gun-control powerhouse. But he also had a very dark past.
Harlon Carter, "Mr. NRA," the man who turned America's national rifle club into its formidable gun lobby, knew guns could kill people—including the 15-year-old Mexican kid he blew away with a shotgun when he was 17.
Believe it or not, the National Rifle Association began in 1871 committed to "Firearms Safety Education, Marksmanship Training, Shooting for Recreation"—according to the sign displayed for years at its national headquarters. Its famous lobby sign with the edited version of the militia-less Second Amendment—"…\… the right of the people to keep and bear arms, shall not be infringed"—only came a century later.
Founded by two Civil War veterans embarrassed by Northern soldiers' inferior marksmanship, the NRA helped pass America's first gun control laws in the 1930s. Harlon Carter, a tough, bullet-headed conservative, hijacked this nationwide sporting club in 1977 with convention floor machinations immortalized as The Cincinnati Revolt.
Born in Granbury, Texas, in 1913, Carter was a trained lawyer who also accumulated 44 national shooting records. He led the Border Patrol from 1950 through 1957, before heading the Southwestern Region of the Immigration and Naturalization Service from 1961 through 1970. In 1954, he proclaimed "the biggest drive against illegal aliens in history," calling it, in those politically incorrect times, "Operation Wetback."
As NRA president from 1965 to 1967, Carter stewed as gun control became a pet cause of the '60s radicals he hated. The terrifying urban crime epidemic, along with the John F. Kennedy, Martin Luther King Jr., and Robert F. Kennedy assassinations, helped trigger the Gun Control Act of 1968. The law banned buying guns or ammunition by mail order—as Lee Harvey Oswald had done—stopped the importing of surplus military weapons and prohibited gun purchases by drug addicts and mental patients. When asked about such dangerous individuals wielding guns, Carter deemed it "a price we pay for freedom." …
Being a global-scale asshole with no conscience or regard for human life isn't technically a requirement for running a major corporation, but it sure helps. While most companies will settle for screwing lots of people in little ways across many years, others simply say "Eh, what the hell" and go full supervillain in the name of profit. For example …
#6. Quaker Oats Fed Radioactive Oatmeal To Disabled Kids And Orphans
---
At the turn of the 20th century, during America's creepy eugenics-loving phase, the state of Massachusetts opened Fernald State School, which was less of a school and more of a holding pen for children they deemed "idiots," "morons," or "imbeciles." Its residents / baby prisoners also included orphans and unwanted kids of normal intelligence, because someone had to do all the complicated manual work around there.
The architects smashed that "spooky torture camp for kids" look out of the park.
What does this have to do with Quaker Oats? We're getting there. In the '40s, conditions at Fernald were abysmal. Regular activities included beatings, sexual abuse, isolation, and forced labor. So when some nice men from the Massachusetts Institute of Technology showed up and offered select kids gifts like trips to baseball games and extra rations of breakfast just for being part of a "Science Club for Children," they jumped at the opportunity. Finally, they'd get to experience that fabled concept known as "fun."
What the kids didn't know was that the oatmeal in that breakfast was laced with radioactive iron and calcium tracers. The whole thing was in fact an experiment commissioned by the Quaker Oats Company to find out precisely how nutritious their product was compared to the competition (by tracking the iron in the kids' systems). …
The first African American to sit on the highest court is the subject of a film that retells his relentless and epochal quest to achieve racial justice in America.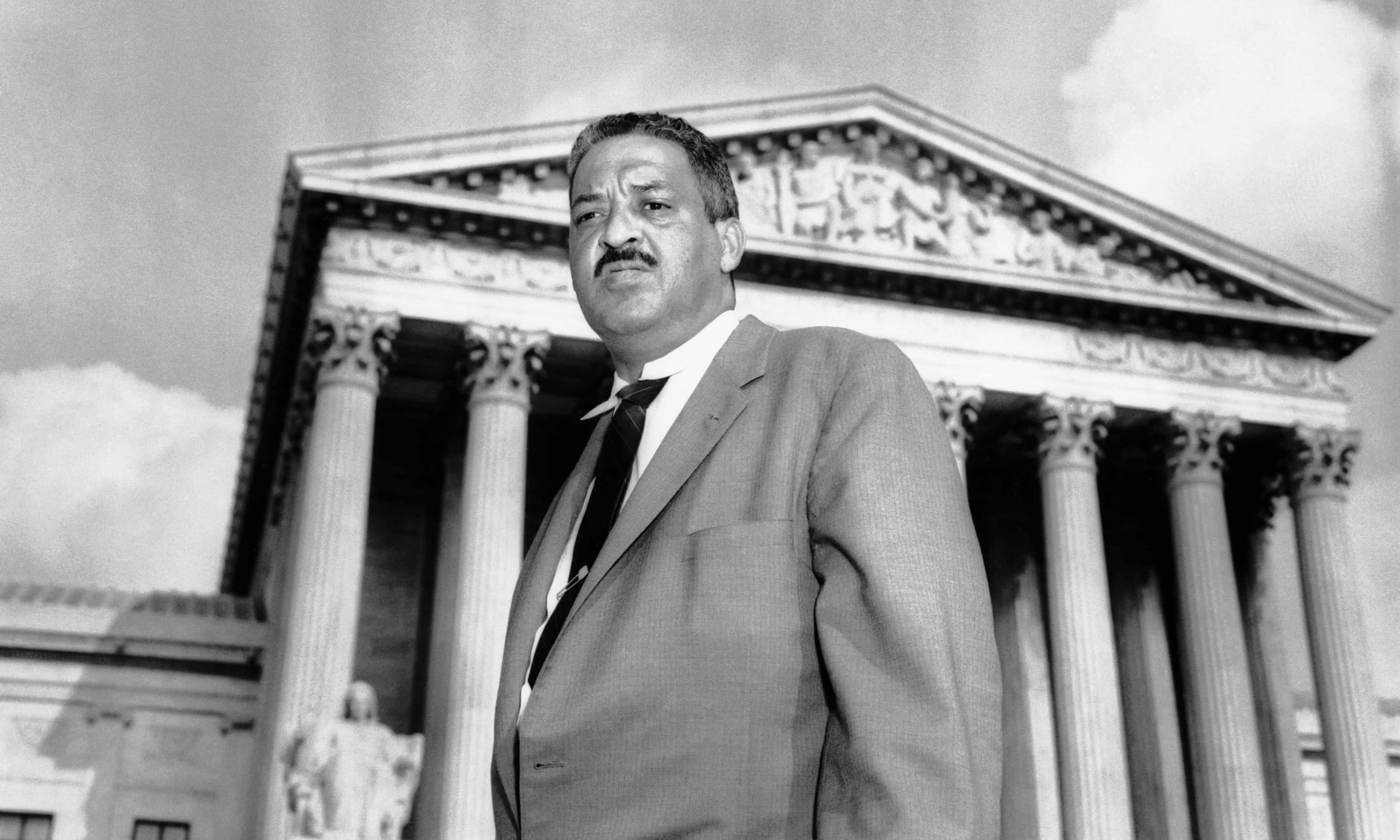 By the time the US supreme court banned the death penalty in cases of adult rape, in 1977, Thurgood Marshall had been a justice on the court for 10 years. He wrote a brief concurrence in the case, Coker v Georgia, citing his opposition to the death penalty, which then as now disproportionately targeted African American men.
Marshall's experiencewith capital rape cases, and specifically with cases of black men accused of raping white women, was uniquely deep. For while the later decades of his career found Marshall enrobed as the country's first African American supreme court justice, in his early years he had virtually lived from a suitcase, crossing the country as an activist lawyer known for defending innocent black men from a system of white justice that craved their freedom and their blood.
Of the 455 men executed for rape between 1930 and 1972, 405 were African American, Marshall had noted in a separate court decision. Were it not for him, the number would have been even higher.
As a lead lawyer for the National Association for the Advancement of Colored People (NAACP), beginning in the late 1930s, Marshall would leave his home in Harlem, get a train from Pennsylvania Station and ride for days into hostile territory:Oklahoma, Florida, Texas, Tennessee. His calling – and the NAACP was flooded with calls – was to defend against criminal charges and to represent plaintiffs in segregation, equal pay and voting rights cases. …
From artificial intelligence to cheap smartphones, Google is on the frontline of technological development. But is it growing too big and moving too fast? A rare interview with Google's boss.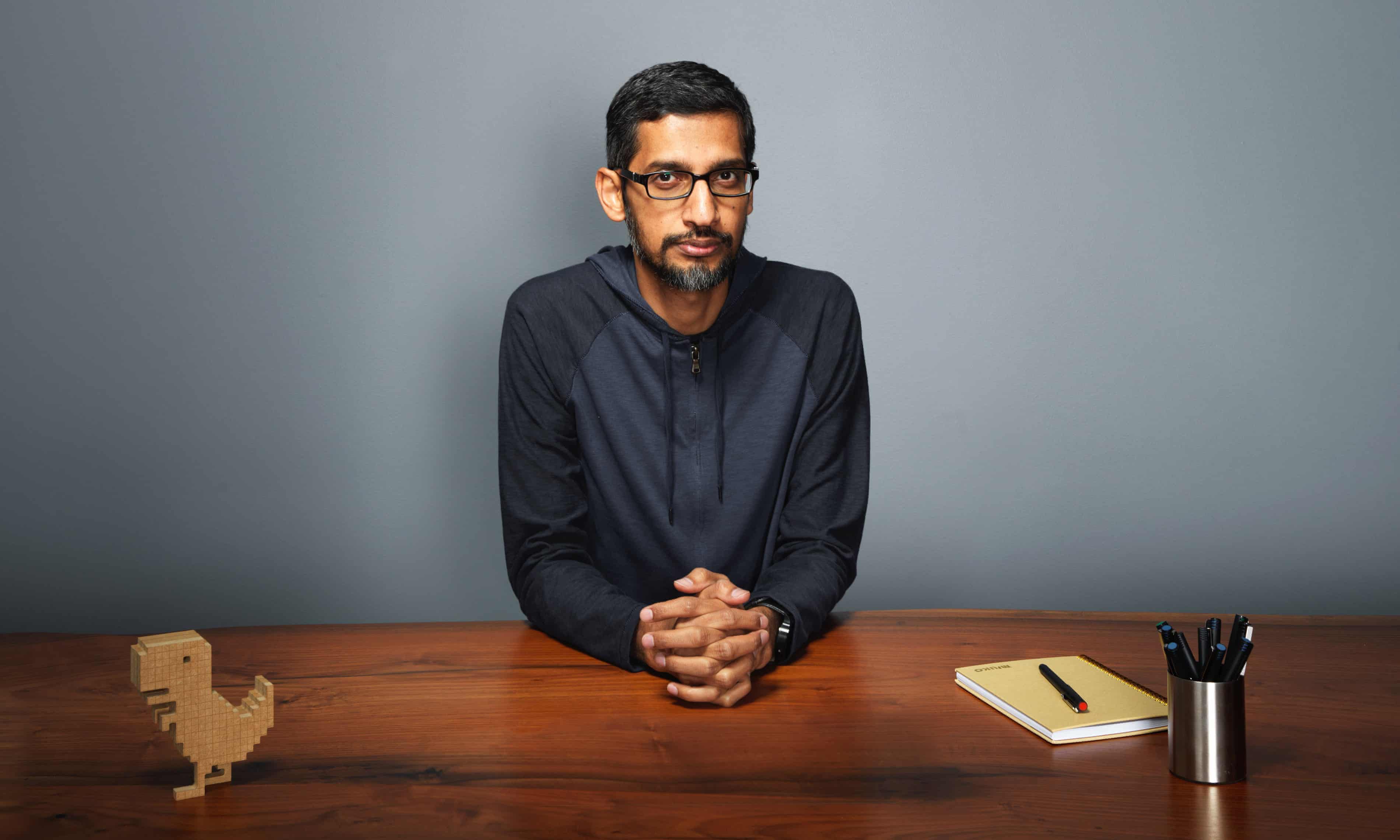 When Sundar Pichai was growing up in Chennai, south-east India, he had to make regular trips to the hospital to pick up his mother's blood-test results. It took an hour and 20 minutes by bus, and when he got there he would have to stand and queue for an hour, often to be told the results weren't ready.
It took five years for his family to get their first rotary telephone, when Pichai was 12. It was a landmark moment. "It would take me 10 minutes to call the hospital, and maybe they'd tell me, 'No, come back tomorrow'," Pichai says. "We waited a long time to get a refrigerator, too, and I saw how my mom's life changed: she didn't need to cook every day, she could spend more time with us. So there is a side of me that has viscerally seen how technology can make a difference, and I still feel it. I feel the optimism and energy, and the moral imperative to accelerate that progress."
Now 45, Pichai is a tall, slight man whose voice is a soft harmony of Indian and American accents. Sitting in his office in a quiet corner of Google's headquarters, in Mountain View, California, he speaks thoughtfully, often pausing to find the right phrase. The room houses a few pieces of designer furniture, and the requisite treadmill desk – the perfect metaphor for the pace Pichai has to keep up with. Yet his is a disarmingly calm presence, a world away from the prevailing stereotype of the macho-genius tech CEO; when Pichai got the job, one Google employee was quoted as saying: "All the assholes have left."
When Google restructured its sprawling business in 2015, it created a parent company, Alphabet, as a home for its more experimental projects – space exploration, anti-mortality – leaving its eye-wateringly lucrative consumer products with Google. Google's founders, Larry Page and Sergey Brin, moved to Alphabet, leaving Pichai as the popular choice for CEO: he had already proved himself with his work on the web browser Chrome and Android, Google's ubiquitous smartphone brand. …
Been enjoying your reasonably-priced home internet connection recently? Don't get too comfortable. US cable companies, led by Comcast, are all set to start increasing broadband prices dramatically, with price hikes of double current rates expected in the future.
That's the conclusion of New Street Research and analyst Jonathan Chaplin, who released a new report that's good news for the cable industry, and bad for anyone who doesn't enjoy giving money to their local monopolist.
"We have argued that broadband is underpriced, given that pricing has barely increased over the past decade while broadband utility has exploded," New Street's report said. "Our analysis suggested a 'utility-adjusted' average revenue per user (ARPU) target of ~$90. Comcast recently increased standalone broadband to $90 (including modem), paving the way for faster ARPU growth as the mix shifts in favor of broadband-only households. Charter will likely follow, once they are through the integration of Time Warner Cable." Those increases could be as much as double the current price, New Street notes.
The read-between-the-lines conclusion here is that cable companies will start leaning more heavily on broadband as a revenue generator, as cable packages start to decline — something's that's happening faster with every passing year. As people start eyeing internet-only cable packages combined with a live streaming service for TV, the cable companies can cut the price of the cable bundle to appear competitive with streaming services, but raise broadband pricing to compensate. …
Did You See The Memo?

A case of the Mondays.
People who are miserable on Monday have lots of company. It's the worst day of the week for millions, according to researchers at the University of Vermont Complex Systems Center who analyze Twitter messages for happiness sentiment. Mood tends to improve during the rest of the week, peaking on Saturday, before beginning to crash again, according to data based tweets since 2008.
Even cartoon cats know Monday sucks, but the sheer (and increasing) amount of data that's available every day, combined with improving techniques for analysis, could offer new insights into society. And while there are many instruments for measuring things like wealth and productivity, ideas like "happiness" for large populations have been more difficult to pin down.
In this analysis, the university's "hedonometer" takes a random sample of about 50 million Twitter posts each day, which is roughly 10% of all the site's message traffic. The researchers have assigned average scores to more than 10,000 commonly used words (from 1 to 9, on a scale of increasing happiness), which are used to measure a particular day's happiness.
The data can also offer some insight into how populations have responded to major events. …
Cafe Tacvba brings hope stateside
At around 11 a.m. local time on Sept. 19, residents of Mexico City methodically filed out of office buildings, homes and restaurants — wherever they happened to be. But it wasn't just happening in the capitol; orderly evacuations took place around the country, in nearly all 31 states. The simulacrum is part memorial, part training.
For 13 years, Mexico's held this national earthquake drill on Sept. 19, the day 32 years ago when an 8.1 magnitude quake pitched Mexico City into one of the country's greatest natural disasters, leaving nearly 10,000 people dead (other estimates skew much higher), 30,000 injured and thousands more homeless.
What no one knew as they filed out into the sunlight was that in just two hours, history would repeat itself.
In the United States, Cafe Tacvba bassist Enrique "Quique" Rangel and his three bandmates were in Marfa, Texas, preparing for a show in Dallas the next day. The beloved Mexican rock band had recently embarked on their longest tour of the U.S. in the band's 27-year history.
The news of the earthquake came immediately. Guitarist Emmanuel del Real was on the phone with his wife when she told him the floor of their home was shaking. …
Smile Score

You are more likely to be smiling in your LinkedIn photo if you work for Disney rather than Verizon.
To smile or not to smile in a professional context? On one hand, a smile signals friendliness and approachability. On the other, a smile could indicate lack of seriousness.
We were curious about whether certain attributes are correlated with propensity to smile. Are some countries "smilier" than other? Do some companies have smilier employees? Which positions tend to smile and what industries is smiling more common?
A few minutes on LinkedIn will reveal that users vary widely in their "smiliness" in their professional photos. Some people look pretty chirper, while others look fairly miserable.
We analyzed data from Priceonomics customer Snappr, who developed a Photo Analyzer tool that algorithmically assesses LinkedIn photo attributes like background, composition, and facial expression. One of the parameters, the smile score, measures tooth visibility and smile curve, and gives users a numeric assessment of how much they're smiling. …
Video Goodnesses
and not-so-goodnesses
For three years, Mario Vergara has ventured regularly into the hills of the southern Mexican state of Guerrero, searching for the remains of his brother Tomás. Although he hasn't located his brother, he's found dozens of buried bodies—but this isn't unusual—in fact, it's only evidence of a much larger problem.
Vergara is part of a loose movement of buscadores, or searchers, who spurred to action after the disappearance of 43 students in Iguala. The students went missing after a confrontation with security forces in September, 2014 and the search for their remains resulted in the discovery of dozens of other bodies buried in mass graves.
The case of the 43 blew the cover off the epidemic of forced disappearances in Mexico, where more than 32,000 people are estimated to be missing. It's only one symptom of a series of deeply entrenched issues.
In Mexico, the vast majority of crimes go unpunished, countless government officials participate in organized crime, and the police and military have been deployed in massive numbers in an ostensible fight against the cartels. The result is a country where thousands of heavily armed men — be they private actors or agents of the state — can kill with impunity.
THANKS to HBO and VICE News for making this program available on YouTube.
Bill sees a pattern emerging after President Trump's visits to Puerto Rico and Las Vegas in his Real Time monologue.
Comedy legend Billy Crystal joins Bill Maher to give his take on American culture in the Trump era.
Bill Maher tells Democrats to stop attempting to childproof the world with regulations, and instead to save their battles for important issues like gun control, bank oversight and climate change.
THANKS to HBO and VICE News for making this program available on YouTube.
Some newS this week: You know what? We aren't going to try to be cute right now. America has a gun problem, and it's time firearm advocates pulled their heads out of their echo chambers so we can actually address and fix it, instead of sending thoughts and prayers, yelling about the Second Amendment, and then sitting on our thumbs waiting for the next record-breaking mass murder to happen.
Max and his window seat.
FINALLY . . .

Enjoy the weekend: Denver could see snow as early as Monday, October 9. And in the meantime, everyone's starting to talk about the white stuff. Snow is the perfect awkward-elevator conversation starter, work-from-home-in-sweatpants creator, periodic hero for children and, of course, the necessary ingredient for Colorado's favorite outdoor winter activities.
How much snow will the Front Range see this winter? We've looked at some clues that Mother Nature is already sprinkling around about Colorado's next snow season, and it starts, of course…in the equatorial Pacific Ocean.
Wait, what?
One of the first things we consider is a possible El Niño or La Niña, the former made famous by Chris Farley back in the 1990s. You've probably heard of it, but what is it, exactly? …
Ed. More tomorrow? Probably. Possibly. Maybe. Not?