What just happened to gas prices in Los Angeles? Your state government is what happened.
The 12-cent gas tax intended for repairing and maintaining California's worst-in-the-nation roads kicked in on Wednesday. Supporters of the tax hoped that it would be offset by the annual, government-mandated switch to cheaper "winter blend" gas. While that might have had some mitigating effect, motorists were hit with a double whammy as wholesale oil prices around the world went up just as the tax hit.
The result for Los Angeles County has been a whopping 21-cent increase in average pump prices since this time last week, according to the Auto Club of Southern California. The average price per gallon in the county was $3.28 on Monday, says local AAA spokeswoman Marie Montgomery.
The spike was the largest consumers have faced in 2017, she says. The last time fuel prices were this high was in September 2015, she added. "It was a perfect storm of the prices going up at the same time as the gas going up," Montgomery says.
Last week GasBuddy.com head of petroleum analysis Patrick DeHaan predicted the steep increase in prices at a time when others believed it wouldn't be so bad. GasBuddy pegs this week's average L.A. pump price at 20.3 cents per gallon above what folks were paying last week. It also posts a per-gallon area average of $3.28. …
Nearly 10% of the world's wealth is held offshore by a few individuals. The rest of us pay the price for this theft.
Out of sight, a powerful industry has been developing since the 1980s in tax havens across the globe. By following the money, we can start to grasp the costs that these territories impose on the economies of other countries.
The data that offshore centres publish is far from comprehensive, and our system for measuring household wealth and multinationals' profits has many weaknesses. But it is improving, and by analysing the data carefully, we can detect consistent patterns and dissipate some of the secrecy that has for decades surrounded the activities of tax havens.
Let's look first at tax avoidance by big multinationals. In principle, these companies are supposed to allocate profits across their various subsidiaries as if these offshoots were independent entities, trading goods and services among themselves at the prevailing market prices. In practice, however, the prices of intragroup transactions are routinely manipulated by offshore accounting firms to make their global profits appear in low-tax jurisdictions. Moreover, a growing number of multinationals locate their algorithms, trademarks and logos in tax havens to strip earnings away from countries, such as Britain, where they are generated.
A case in point – maybe the most spectacular– is Google Alphabet, Google's parent company. In 2003, less than a year before its initial public offering in August 2004, Google US transferred its search and advertising technologies to "Google Holdings", a subsidiary incorporated in Ireland, but which for Irish tax purposes is a resident of Bermuda. …
Bernie Sanders and Sheldon Whitehouse among Democratic lawmakers seeking congressional inquiry and laws to fight offshore investors' strategies.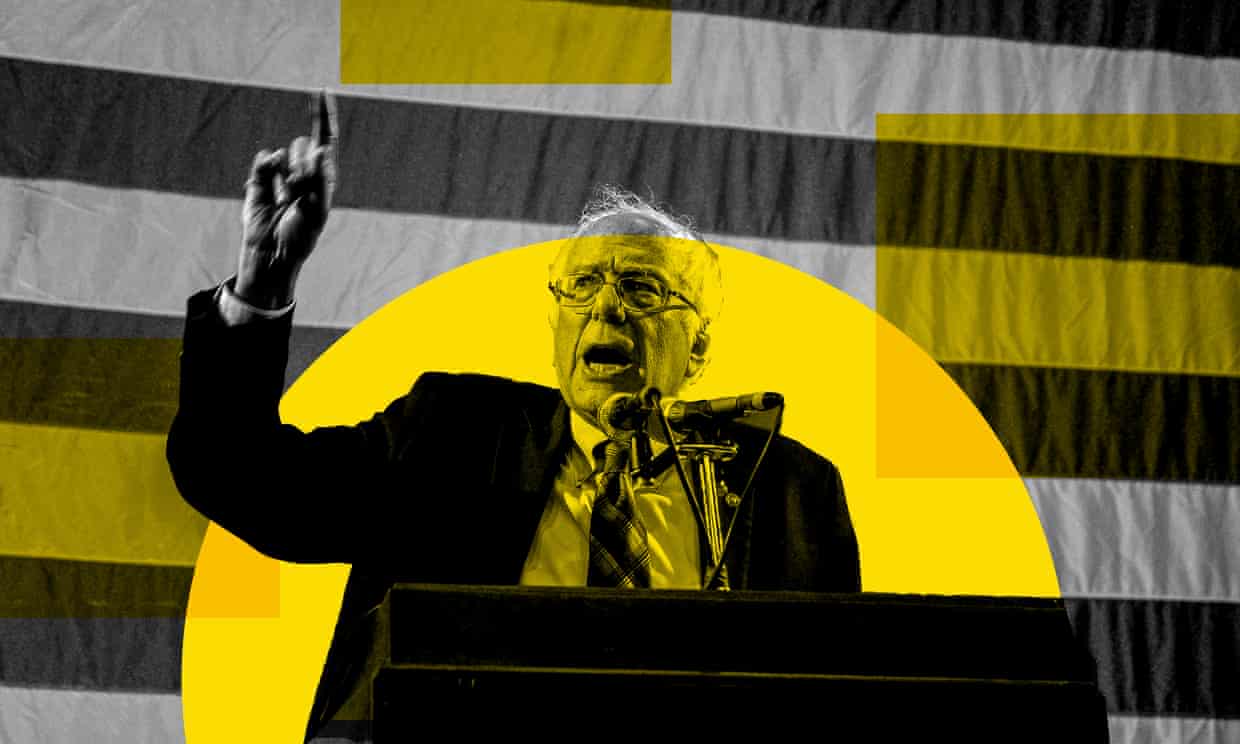 Bernie Sanders wrote a letter to the head of the Senate budget committee calling for an investigation.
Senators have demanded a congressional investigation and new laws to combat tax avoidance after the Paradise Papers exposed the secrets of offshore investors.
Bernie Sanders, ranking member of the Senate budget committee, wrote on Tuesday to its chairman, Senator Mike Enzi of Wyoming, arguing that it had a responsibility to taxpayers to get to the bottom of the issue.
"The offshore tax dodging uncovered by the International Consortium of Investigative Journalists (ICIJ) in the 'Paradise Papers' raise serious questions about the integrity of our tax system and the ability of the top one percent to rig it in order to benefit themselves at the expense of everyone else," the independent senator from Vermont says in the letter.
"I am writing today to urge the Budget Committee to hold a hearing on this issue and to conduct a thorough bi-partisan investigation on how much offshore tax evasion has contributed to our $20 trillion national debt."
Separately on Tuesday, the Democratic senator Sheldon Whitehouse of Rhode Island and the Democratic congressman Lloyd Doggett of Texas urged Republicans to take up legislation to crack down on the use of offshore tax havens. …
Former "Daily Show" host Jon Stewart on Tuesday appeared before a crowd in New York City at the 11th annual Stand Up for Heroes benefit, asking his audience to bring him up to speed after he "blacked out" during last year's election.
"What happened?" Stewart asked, according to the Daily Beast's Matt Wilstein. "Did my candidate win?"
Reflecting on Donald Trump's election upset and the chaotic year that's transpired since, Stewart admitted while he understand "the people that felt like the forgotten man" or who connected with Trump because "this guy talks straight talk," what he really doesn't get are the people who voted for Trump after supporting Barack Obama.
Mimicking the Obama-Trump voters, Stewart joked:
"You know who I want to vote for is that very staid, professorial gentleman from Kenyan birth who has an articulate sense and is a bit standoffish, that's the guy that I really love. But since he's not running this year, I'm gonna check out the 'grab 'em by the pussy' candidate." …
Juli Briskman has been hailed as a hero – and fired from her job – for a spur-of-the moment demonstration that quickly spread around the world.

Juli Briskman says she is 'embarrassed' by Trump: 'He doesn't respect the office.'
Juli Briskman found flowers on her doorstep on Monday night. "Juli: I don't know you and yet I am so proud of you," an accompanying note said. "You're my hero. Truly. Thank you for standing up to this admin. We need more like you. Continue to resist. We're with you all the way. Sally M."
Briskman does not know who Sally M is, but she knows what motivated the message. In the past week, she has received media calls from as far away as Colombia and Sweden as well as her share of hate mail. One told her: "I hope you get used to saying, 'Do you want fries with that?'"
It is all because of a split-second decision that made Juli Briskman a hero of the resistance – and a case study in the wildly unpredictable effects of social media.
It was 3.12pm on Saturday 28 October when Donald Trump, after a round of golf, departed the Trump National Golf Club in Sterling, northern Virginia. His motorcade, which included the Guardian and other journalists, overtook a female cyclist wearing a white top and cycling helmet, who responded by raising the middle finger of her left hand.
The fleet of vehicles swept on imperiously on but then slowed for a red light, and the cyclist caught up. She persisted. She flipped the bird a second time before turning right as the motorcade turned left.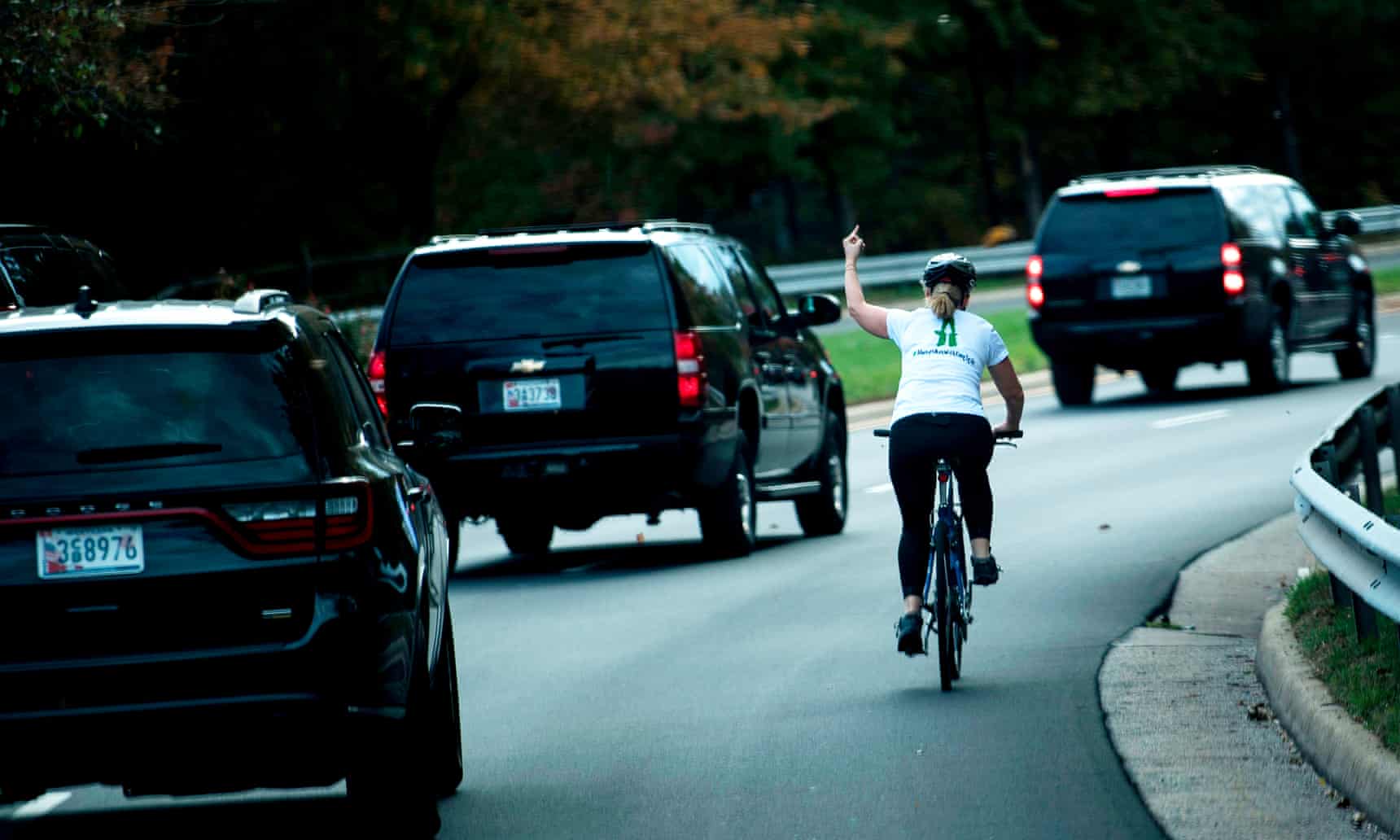 …
Reality television is synonymous with sleaze nowadays. We've read so many terrible stories — about possible sexual assault on The Bachelor, or an entire show which straight-up abandoned its contestants in the woods — that it's hard to imagine a time when the format was viewed as anything but a crotch-kick on a cart ride to Hell. But there was a time when reality TV was, if not respectable, then at least considered innocuous. And then there was a turning point: a little show called Joe Millionaire. Our source today is former cast member Sarah Kozer, and holy shit does she have a tale to tell.
7. We Had No Idea What We Were Getting Into
---
Joe Millionaire Joe Millionaire aired back in the halcyon days of 2003, when none of us knew any better (though we really, really should have). The premise was that a group of young women would go on dates with a young, sexy millionaire at a chateau in France, until he finally picked one of them to marry. The hook was that "Joe" wasn't a millionaire at all. He was a normal guy with pretty good cheekbones named Evan Marriot.
Pretty good. Not great.
If that sounds "incredibly shady" and "what the hell dude, no" to you, good news! You're a human being with a functional moral compass. That puts you above the producers of this show. One of the contestants was Sarah. According to her, the whole "not really a millionaire" thing wasn't where the surprises started. Fox went out of their way to hide the basic structure of the show from the women.
"And they also give you these contracts at the laaaaast minute, and you don't have time to get them reviewed. It's all a trick. Everything was a lie. I remember I had one of the female producers say to me, I kept trying to get information out … we were told it was not a dating show, but you had to be single so that you'd be open — what if you meet someone? Y'know, anything like that, but we were never told it was a dating show."
At one point, Sarah was told it was a cooking show. Sloppy Joe Millionaire! Brilliant! "Y'know, they said everything. Everything but a dating show." Sarah was a law student in Los Angeles. The producers said that, in part, was why they were interested in her. "They said, 'We're only casting professional women. The show was for role models, for little girls, we want really strong women.'" …
Visiting it is like going to a really macabre candy store—except instead of sweets, there are tapeworms.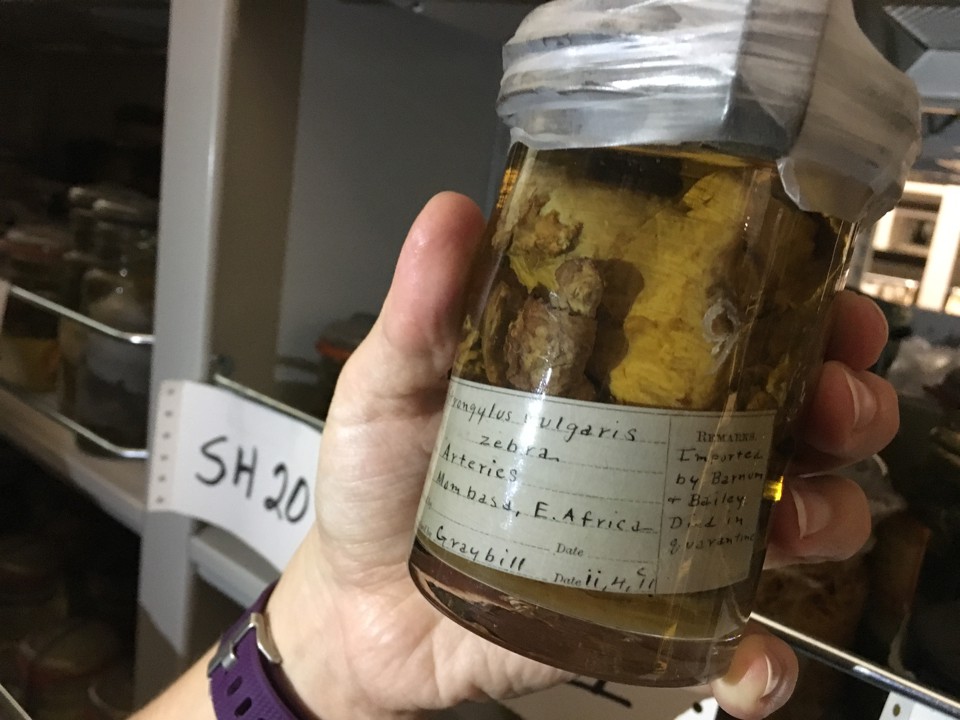 Anna Phillips is delighted because I've just found her favorite parasite, which she had misplaced a year ago.
We are walking through what, at first glance, could be mistaken for an oddly macabre Italian deli. The shelves around us are full of chaotically arrayed jars, which contain what look like formless bits of meat and coiled balls of pasta. But this is actually part of the largest collection of parasites in the country, and on closer inspection, a bundle of tagliatelle is actually a tapeworm. A tangle of capellini is actually a cluster of nematodes. "You can make a lot of food references," says Phillips. "I try to avoid that because it ruins food for people."
But there's one jar that Phillips is especially keen to find, and after 20 minutes of sweeping the dimly lit shelves with the light of our phones, I spot it. It seems to contain nothing more than a lump of grisly, amorphous tissue, preserved in yellow liquid. But its label, in just a few terse and unconnected words, tells a rich story.
A century ago, the lump was once part of a zebra that was captured in Mombasa, Kenya, and imported to the United States for Barnum and Bailey's Circus. During its stay, it fell sick, and eventually died in quarantine. Upon dissecting its arteries, parasitologist H. W. Graybill found bloodworms—a common and occasionally fatal parasite of horses. Those worms—and a part of the zebra they fed upon—are now in the jar that Phillips is gushing over. She is fascinated by the creatures, but she also loves the way their stories thread through history. She picks up another jar containing a fish tapeworm that was pulled from a dog in New York in 1922. "That was someone's pet," Phillips says. "There are so many stories here." …
Behind Gold Bars

Grecian columns are the new metal bars.
The Ritz-Carlton hotel in Riyadh, Saudi Arabia, a five-star accommodation known for its grand indoor pool and gentlemen's-only spa, is currently being used for a decidedly different purpose: housing elite political prisoners.
According to the New York Times (paywall), the hotel was converted over the weekend into "almost certainly the world's most luxurious prison."
On Saturday night, dozens were arrested (paywall) in Saudi Arabia, among them 11 princes and billionaire investor Prince Alwaleed bin Talal. Guests at the hotel were roused at 11pm and told to come down to the lobby with their bags, the Guardian reported.
A shaky video posted on the Times' website showed people lying on mats in the hotel's ballroom, where military-style weapons rested in the corner. …
Master Lesson

Classic Dries.
There are few fashion designers so consistently creative as Dries Van Noten, and fewer still with anywhere near his longevity. In March, the Belgian designer staged his celebratory 100th fashion show, a remarkable milestone in an industry known for its relentless churn through trends and talents. To commemorate the achievement, three decades in the making, a new book that looks at every one of his shows is hitting shops, while a German filmmaker made Dries, a documentary about the designer and his vision.
Recently, at the New Yorker Festival in New York City, Van Noten spoke in his Flemish-tinged accent about why he has kept his business independent, and why gardening is so important to him. He also offered insight on a topic he is particularly well-suited to address, which is how to stay creative over the long term—no simple feat for a designer who thrives on spontaneity.
Van Noten is not a purveyor of creativity "hacks" or magic-bullet solutions. "It's not a strategy," he said. "Strategy would imply that there is kind of a system, and that I was kind of role playing. For me, it is something which is just inside me."
Still, his comments offer plenty of hints that could be useful to creatives in fashion and other fields. …
DEGREE OF OPPORTUNITY: Surround yourself with people who challenge you.
A Toronto pop-up is the first of its kind anywhere, and was born out of a recent poll suggesting many still fear sharing food with someone HIV positive.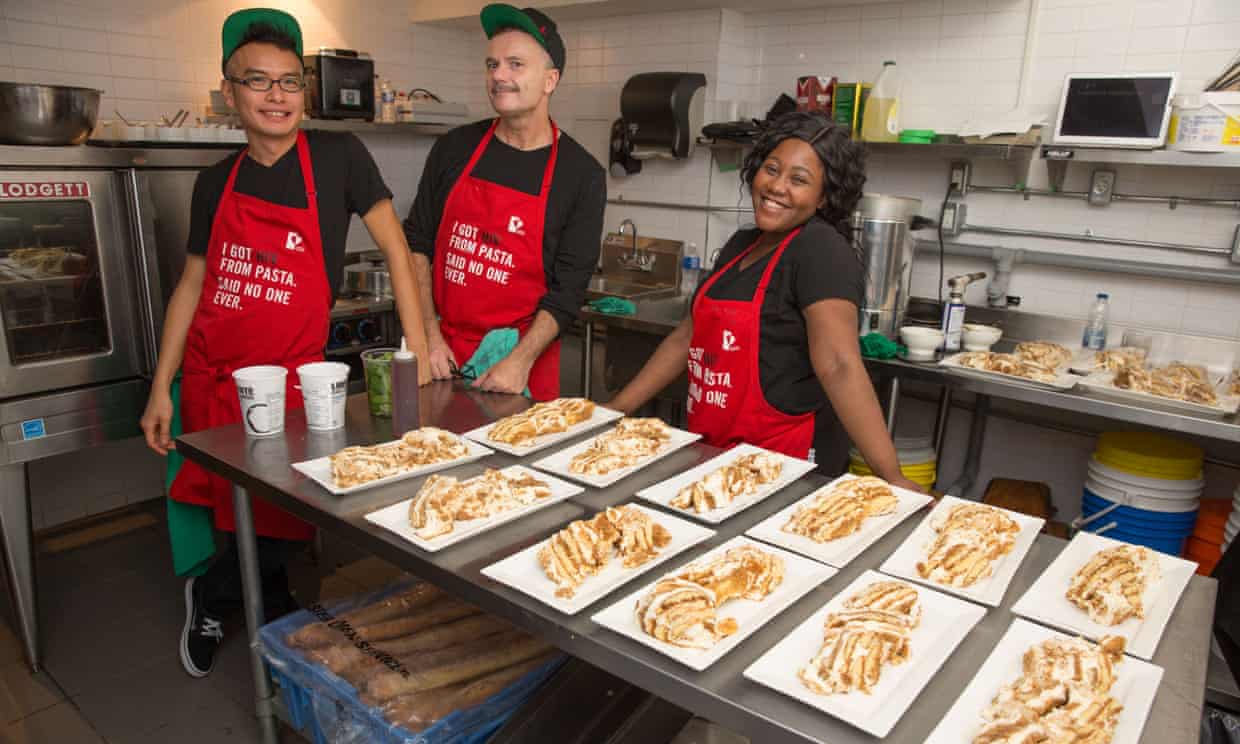 Staff at the restaurant. 'There's still this lingering notion that if I have regular human contact with somebody with HIV, I may contract it.'
Until recently, few of the chefs had ever stepped foot in a restaurant kitchen. Now they were slicing up hunks of skirt steak and gently coaxing pomegranate seeds out of their peels as they readied an elaborate four-course dinner for more than 100 patrons.
The 14-person team was working to open June's, a unique pop-up restaurant in Toronto that is the world's first eatery in which all of the kitchen staff are HIV positive.
"We really wanted to be able to challenge the stigma that still exists around HIV," said Joanne Simons of Casey House, Canada's first and only standalone hospital for people living with HIV/Aids. The idea of a restaurant was born out of a recent poll that suggested only half of Canadians would knowingly share or eat food prepared by someone who is HIV positive.
The event comes as, on average, seven Canadians a day are diagnosed with HIV, a rate that has decreased only slightly since the 1980s. …
Cheap Thrills
There is a scene in the last season of Master of None where Aziz Ansari's Italian love interest goes wild in the aisles of a neon-lit New York City pharmacy. "I love this place. Can we stay here forever?" she beams, scanning shelves full of possibility. "That's my paradise!"
I know this feeling. The local drug store is always my favorite souvenir shop, offering a bounty of affordable and curious gifts (to myself or others) that will likely be used rather than gather dust.
For under $3 in Italy, for instance, you can bring home a bit of history and the best smelling talcum powder around. Packaged in a charming green plastic shaker bottle, Borotalco has been a staple of Italian households since 1904. Seeing the bottle in my medicine cabinet in Brooklyn recalls a day trip to Parma where I resisted the urge to buy a hunk of parmigiano or culatello, and came home with two canisters of the Italian classic instead.
The same warm feelings come to me when I reach for the extra-potent mosquito spray I picked up in Juba, South Sudan; the pleasant gummy throat drops from the Paris airport pharmacy; or some unusually-puffy cotton swabs from Monrovia, Liberia. The product packaging give quick language lessons (wattestäbchen is German for cotton swabs and spray gorge is French for the medicinal sore throat spritz sold as chloraseptic spray in the US). …
How did we go from the most elegant user experience ever created to this mess?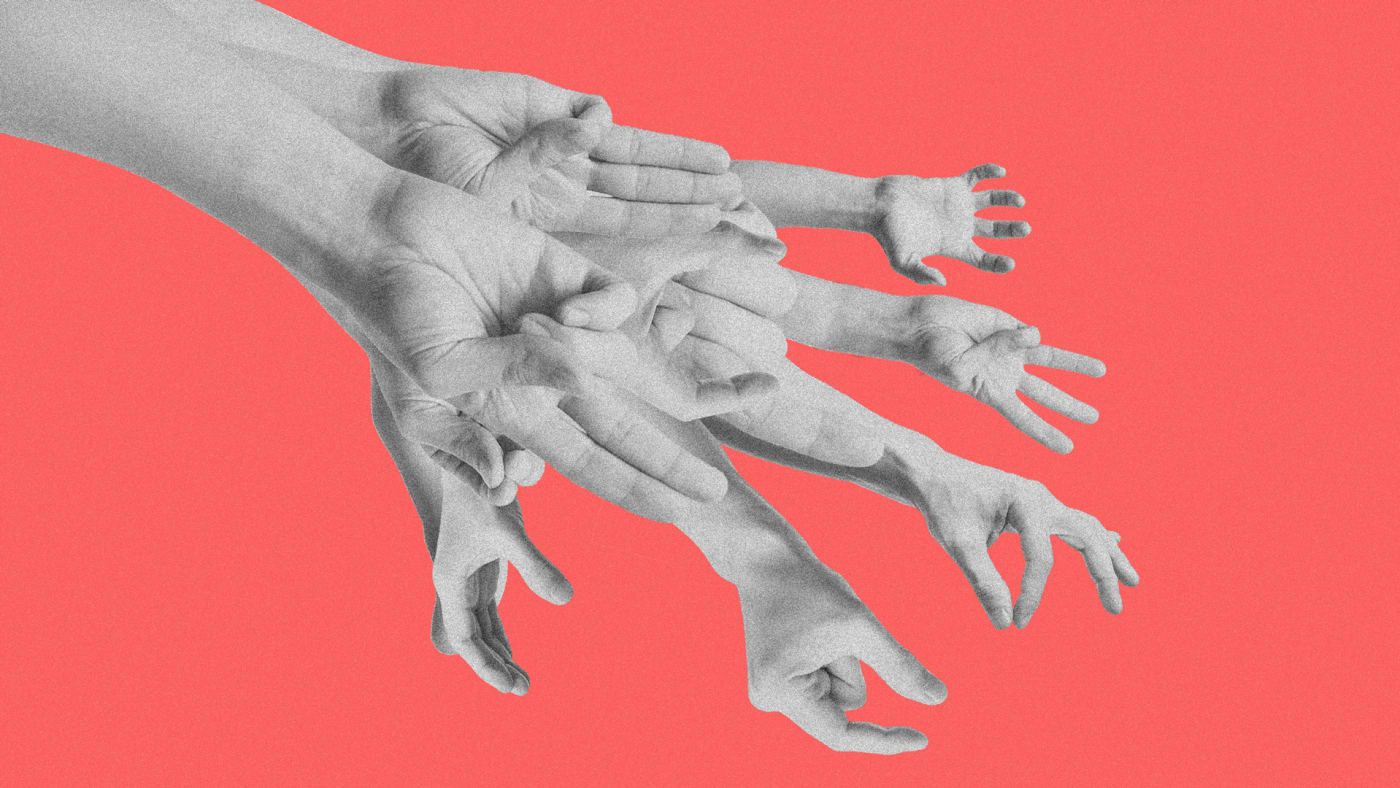 If the iPhone X's hardware features are the epitome of fluff over function, its new navigation gestures are the epitome of needless complexity over intuition.
Need proof? Just take a look at this cheat sheet published alongside the Wall Street Journal's iPhone X review:
The Internet may not need another iPhone X review but it absolutely does need the @JoannaStern iPhone X user manual: https://t.co/tS05fiLSvv pic.twitter.com/Cqi0rF76Vt

— Joanna Stern (@JoannaStern) November 3, 2017
You're looking at a UX disaster, the result of eliminating what is probably the simplest, most intuitive form of navigation ever implemented in consumer electronics: the iPhone's home button. The iPhone X replaces it with the mess above. This is bad news, because this interaction is a fundamental part of the user experience.
Joanna Stern's review for the Wall Street Journal–which still concludes that, "Yes, There Are Reasons to Pay Apple $1,000"–documents what this means in detail: "[T]he lack of a home button means your thumb is about to turn into one of those inflatable waving tube-men outside the car dealership [. . .] you must master a list of thumb wiggles, waves and swipes [. . .] the other gestures, however, are buried. Many moves require almost surgical precision." Heather Kelly, for CNN Money, adds her own experience: "To fill the void left by the Home button, the iPhone X has added new gestures (the different swipes you make with a finger). The process of learning them is a pain, and some of the new options are more work than before." The Verge declared that "there's a whole new system of gestures and swipes to learn and master, and many of them will be annoying to remember and difficult to perform with just one hand."
We knew this was coming, but the reviews and the sudden spike in "how to navigate your iPhone X" tutorials puts a new spotlight on the interaction problems that the elimination of the home button created. …
BÊTE NOIRE

Laying down the law.
Margrethe Vestager, the European commissioner for competition, took the stage of Europe's biggest tech conference this morning (Nov. 7), shod in green Nikes, to explain to tens of thousands of startup founders why she was taking on the world's most powerful technology companies. She has levied record-breaking fines and tax repayment orders on Google and Apple in the last 12 months.
In a speech titled, "Clearing the path for innovation," Vestager made the case for European competition law, arguing that, ultimately, startup founders stand to lose from monopoly abuses by tech giants. "Competition-law enforcement can help to show that no company is above the law," she said. "No company has the right to close down competition to disable the innovation of each and every one of you."
Vestager used her childhood years in the Danish countryside as a metaphor for a fair competitive landscape. "Where I grew up, the countryside was completely flat, there were no hills to be climbed," she said. "But what you got in return was an amazing horizon, the biggest sky imaginable…It showed me and the people I lived with that you can dream. That you can make a difference."
Citing Google as an example, she said, the world's tech giants are hampering entrepreneurial dreams by abusing their dominant positions. "What if the thing that was holding back innovation wasn't our own determination, but the actions of powerful companies? Well, then we would certainly need competition rules. Because competition makes innovation work," Vestager said. …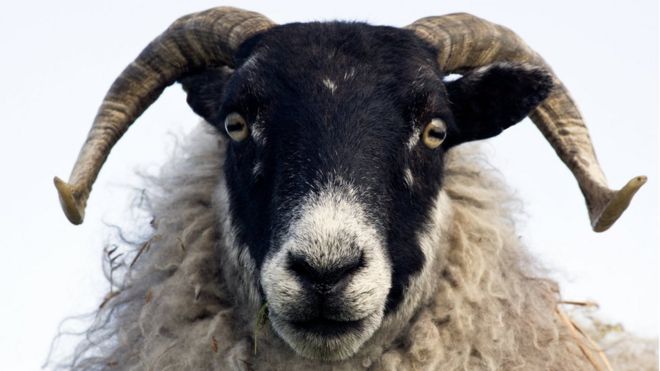 Ewe look familiar: sheep have a human-like ability to recognise faces
Sheep have demonstrated the ability to recognise familiar human faces, according to a study.
Cambridge University researchers were able to train sheep to identify the faces of actors Jake Gyllenhaal and Emma Watson, former US President Barack Obama and BBC newsreader Fiona Bruce.
After training, the sheep chose photos of familiar faces over unfamiliar ones significantly more often than not.
It shows that sheep possess similar face recognition abilities to primates.
Previous studies had shown that sheep could identify other sheep and human handlers that they already knew.
"What we did is ask whether a sheep could learn to recognise someone from a photograph," the study's lead author Prof Jenny Morton said.
"We focused on whether or not an animal was capable of processing a two-dimensional object as a person." …
'Tis The Season

Resistance is futile.
Does it seem like the Christmas shopping season starts earlier every year? It's a common observation, with some justification.
In London, the Christmas lights along Oxford Street, the capital's most famous shopping street, will be switched on Nov. 7, or 48 days before the holiday. In the early 2000s, the ceremony to mark the unofficial start of the shopping season tended to take place closer to the start of December. Two years ago, organizers really pushed the festive envelope and switched on the lights on Nov. 1.
Quartz has fed the latest data into its highly sophisticated Christmas Creep Calculator™, a finely tuned mathematical model that uses cutting-edge artificial intelligence (and Microsoft Excel) to project the path of the Christmas shopping season creeping ever earlier in the calendar.
…
Video Goodnesses
and not-so-goodnesses
Sounds like they had quite a party.
Read the full story about Donald Trump's election night and Felix Sater here:
https://www.gq.com/story/inside-donal…
Monday night, the Department of Homeland Security revoked Temporary Protected Status for close to five thousand Nicaraguans who have been living in the U.S. since 1998, meaning they'll be eligible for deportation in just over a year. More than 80,000 Hondurans protected under the same law find their own legal status in limbo, as DHS did not come to a decision on whether to end their designation. Instead, their protection from deportation was automatically extended for six months while Acting Secretary Elaine Duke deliberates over their fate.
Temporary Protected Status, or T.P.S., is supposed to prevent foreign nationals in the U.S. from being deported when a crisis like a natural disaster or civil war has broken out in their home countries. In some cases, it's allowed people to stay in the U.S. long after the crisis has ended. Hondurans and Nicaraguans, for example, have benefited from the status since 1998, when Hurricane Mitch tore through Central America. That means they've been living here for at least 20 years.
TPS was meant to be a humanitarian response to crisis, but has evolved into a semi-permanent legal limbo for over 400,000 people. Decisions are approaching for over Haitians and Salvadorans also protected under the program. After Monday's decision, many fear these protections won't last much longer.
THANKS to HBO and VICE News for making this program available on YouTube.
Crown Prince Mohammed bin Salman of Saudi Arabia moves to crack down on corruption, but some fear he may be trying to consolidate power.
THANKS to Comedy Central and The Daily Show with Trevor Noah for making this program available on YouTube.
Complaining about Congress practically another national sport here in the U.S. of A, which is really fun and all, but we're gonna step off the sidelines for a bit to offer a few solutions. Weird, right?
Nation races to watch their favourite artists' work before they're revealed to be sexual predators too.
Facebook memories tells Mark Zuckerberg it's been one year since he accidentally helped rig U.S. election.
THANKS to Comedy Network and The Beaverton for making this program available on YouTube.
Max is distracted and working on tucking a sunflower seed into his feathers.
FINALLY . . .

Dear Stoner: I ordered hemp-CBD oil online, but I got a letter in the mail saying it was intercepted by U.S. Customs. What's the deal? Isn't it legal now?
Garry
It is legal to order CBD products delivered to your door if they're derived from hemp and come from an American company licensed to grow or process them, but ordering those same products from a different country isn't the same to Uncle Sam, according to the United States Department of Homeland Security, which oversees U.S. Customs and Border Protection.

CBD oil is legal in America, but it's not that legal.
"The following hemp products, such as clothing hats, shirts, shoes, cosmetics, lotion, paper, rope, twine, yarn, shampoo, and soap (containing sterilized cannabis seeds or oils extracted from the seeds), etc. may be imported into the U.S.," the agency's hemp import policy reads. "Non-sterilized hemp seeds remain a Schedule I controlled substance." All Schedule I substances are federally illegal to possess or consume, so it's likely that your oil came from a foreign company processing non-sterilized hemp, which isn't allowed to enter the country. Stop being such a commie and try ordering from a 'Merican company next time — preferably from your own state, if growing hemp is legal there.
Ed. More tomorrow? Probably. Possibly. Maybe. Not?