On any given day, emissions from oil and gas activity in Colorado can make a big enough contribution to ground-level ozone levels that it pushes the region out of compliance with Environmental Protection Agency (EPA) health standards. That's according to a study led by the University of Colorado Boulder Cooperative Institute for Research in Environmental Sciences (CIRES) and National Oceanic and Atmospheric Administration (NOAA) researchers published on Nov. 3 in the journal Elementa.
Data for the study was culled from research conducted during the summer of 2014 near oil and gas operations in Greeley.
"Our biggest takeaway was that on individual days out in Greeley, out in the gas field, oil and gas can contribute up to 20 to 30 parts per billion [ppb] to ozone production, which is a significant amount," says Lucy Cheadle, who led the work as a CIRES research associate working in the NOAA Earth System Research Laboratory.
The EPA limit is currently 75 ppb per day. The study found that there is about 45 to 55 ppb of ozone present in the air on an average summer day along the Front Range, due to a variety of sources. Thus, a 20 to 30 ppb spike in ozone could push it over the limit. …
More 70 years ago progressive policies reined in the robber barons, but today's superrich face no foe in the White House.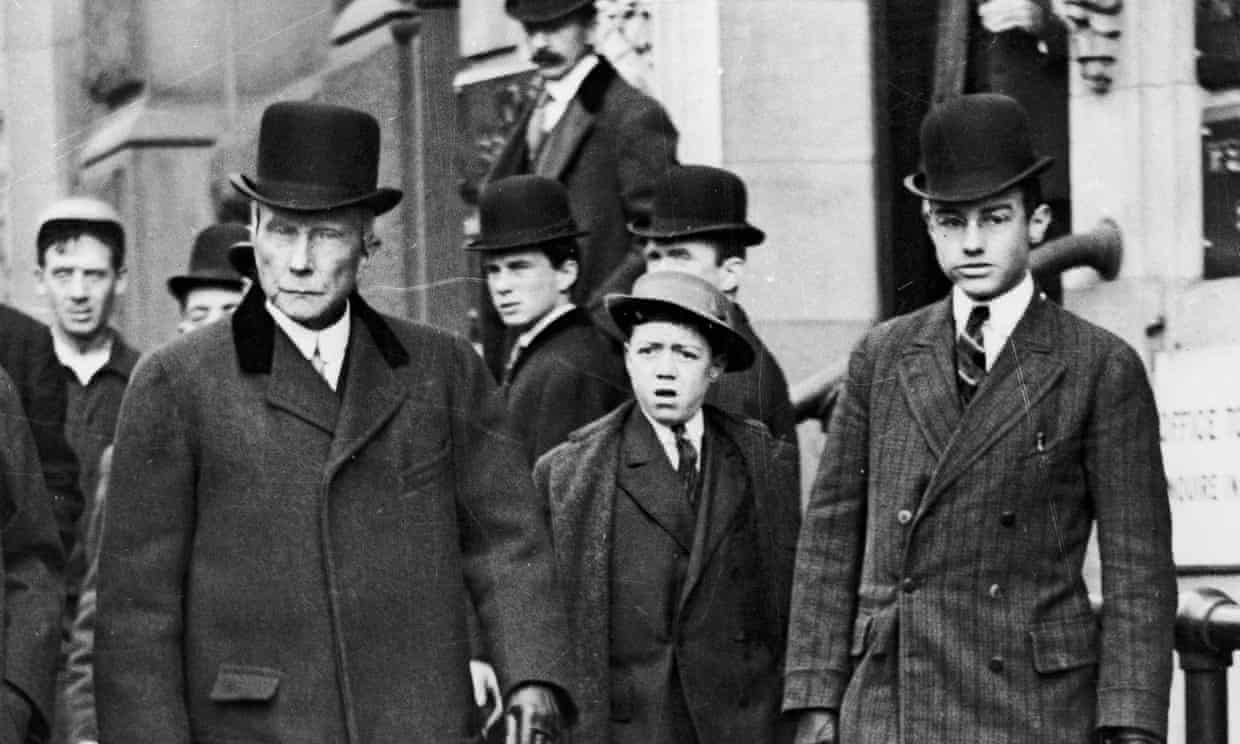 JD Rockefeller, left, one of the original robber barons. The clock would have to be turned back to his heyday to find a time when wealth was so concentrated
America's ole as the world's economic superpower was established in the period between 1870 and the start of the first world war. The country boomed, immigrants arrived in their millions and the rich coined it in. Even now the names are familiar: John D Rockefeller; Andrew Carnegie; the Vanderbilt family. They called it the Gilded Age.
Never before had America's superrich had it so good and, until recently, it was assumed they would never have it so good again. Yet the 2017 billionaires report compiled by the Swiss bank UBS and the consultancy firm PwC finds that the clock would have to be turned back to 1905 – when the Russians were having a trial run for their revolution and Queen Victoria had been dead only four years – to find a time when wealth was so concentrated.
A separate study by the Institute for Policy Studies in Washington produced similar findings. Bill Gates, who founded Microsoft, Jeff Bezos, the man behind Amazon, and the investor Warren Buffet own as much wealth between them as the poorer half of the American population – 160 million people, it found. The trio are the Carnegie, Rockefeller and Vanderbilt of the modern age.
This is not simply a US phenomenon. China looks very much like the US of the late 19th century, with fast growth, rising real incomes for industrial workers and the rise of a new cadre of superrich people. …
Trump's after-the-fact complicity in Russia's election meddling is abundantly clear.

U.S. President Donald Trump and Russia's President Vladimir Putin talk during the family photo session at the APEC Summit in Danang, Vietnam November 11, 2017.

"Every time he sees me he says, 'I didn't do that,' and I really believe that."—Donald Trump on Vladimir Putin, en route to Hanoi, November 11, 2017.
So, to put it bluntly: At this point in the proceedings, there can be no innocent explanation for Donald Trump's rejection of the truth about Russian meddling in last year's elections. Earlier, it may have been suggested, sympathetically, that the case had not yet been proven. That Trump's vanity blocked him from acknowledging embarrassing facts. Or—more hopefully—that he was inspired by some Kissingerian grand design for a diplomatic breakthrough. Or that he was lazy. Or stubborn. Or uninformed. Or something, anything, other than … complicit. Not anymore.
As yet, it remains unproven whether Trump himself was personally complicit in Putin's attack on U.S. democracy as it happened during last year's presidential campaign. What is becoming ever-more undeniable is Trump's complicity in the attack after the fact—and his willingness to smash the intelligence and counter-intelligence agencies in order to protect Putin, Russia, and evidently himself. Consider what the president said to reporters on Saturday: "Then you hear it's 17 agencies [who agree that Russia meddled in the elections], whoa, it's three. And one is [former CIA Director John] Brennan, and one is whatever. I mean give me a break, they're political hacks. … So you look at that and you have President Putin very strongly, vehemently says he had nothing to do with that."
A year after the 2016 election, the Trump administration has done nothing to harden U.S. election systems against future interference. It refuses to implement the sanctions voted by Congress to punish Russia for election meddling. The president fired the director of the FBI, confessedly to halt an investigation into Russia's actions—and his allies in Congress and the media malign the special counsel appointed to continue the investigation.
These are not the actions of an innocent man, however vain, stubborn, or uniformed. …
Nobody Gives A Damn

What pollution?
It is shocking but not surprising: for the last few years, smog over large swathes of north India heralds the winter.
Everybody knows it will happen. We know that come November, the air quality index will shoot through the charts. And the failure to prevent this massive public health emergency, year after year, is a perfect example of everything that is wrong with India.
We the people don't care
Public discourse of air pollution, from WhatsApp groups to the streets, is about which mask to buy, which air purifier works best, which indoor plants to get, and whether eating jaggery gives immunity against particulate matter (PM) 2.5.
There's a strange lack of outrage over government inaction. We've seen the studies and the data. The smog over our skies reduces our lifespans. PM 2.5 enters our lungs and our bloodstreams. Headlines have screamed, for three years now, that doctors are telling patients to leave Delhi if they can. A World Health Organisation report has claimed 2.5 million Indians died of pollution in 2015 alone—the largest number of pollution deaths in the world. Breathing the Delhi air these days is said to be like smoking 45 cigarettes a day. …
Equifax's nation-destroying data-breach was subsequently revealed to be just the latest in a series of unbelievably careless IT blunders, and it eventually cost the company CEO his job; now his replacement has told Congress that he's not really sure if the company has finally started encrypting the detailed, compromising, sensitive data they nonconsensually harvest from every person in the USA.
The admission came at this week's Congressional Committee on Commerce, Science, and Transportation hearings on "Protecting Consumers in the Era of Major Data Breaches." That's where disgraced former CEO Richard Smith told Senator Cory Gardner [R-CO] that the company had intentionally chosen not to encrypt its data prior to the breach. When pressed to say whether the data is encrypted now, interim CEO Paulino do Rego Barros Jr said, "I don't know at this stage."
Smith added, "It's a more modern environment with multiple layers of security that did not exist before. Encryption is only one of those layers of security." …
Outside of a Zoolander situation, the fashion industry is about as dangerous as wearing plaid with stripes (that is, once you're past the production phase). Or that's what you might think if it's been a while since you've thumbed through a filthy Vogue at the dentist. Contemporary fashion advertising is all about beautiful, lifeless women, usually lying in puddles of artfully applied grime and contorted into broken, corpse-like sprawls.
Called the "The dog got the Barbie" pose by industry insiders.
It doesn't always bother with subtlety:
Season 1 Walking Dead corpses were less messed up.
Some of these images, like this shot from a series called Pretty Wasted, can be hard to distinguish from real crime scene photos. But damn, that jacket, though.
Marc Jacobs: vomit- and blood-resistant!
This is such a widely accepted theme in fashion that America's Next Top Model ran an episode dedicated to it. The models were "killed" in different ways — stabbed, mangled, electrocuted, etc. Real … beautiful stuff? …
Discovery of 42kg of opioid, described as 100 times more toxic than fentanyl, in Toronto home throws spotlight on dangerous and poorly understood drug.

A forensic scientist processes seized narcotics, which have become increasingly dangerous as more are laced with deadly synthetic opioids such as fentanyl and carfentanil.
It was a carbon monoxide alarm that brought the Canadian authorities to the house in Liatris Drive, a quiet residential street lined with manicured gardens. As firefighters checked over the house to ensure its inhabitants were safe, something else caught their eye: kilograms of a mysterious powder sitting in the basement.
Soon afterwards, the police arrived at the house in Pickering, near Toronto, with a search warrant. They seized 33 identical handguns – and 53kg of the unidentified white and yellow powder.
Lab tests eventually revealed 42kg of the substance to be carfentanil – a drug the US Drug Enforcement Agency (DEA) has described as "crazy dangerous" and which authorities in the US have flagged as as potential chemical weapon. The local police force had unwittingly stumbled across what is believed to be the largest volume of the opioid ever seized in North America.
Developed in the 1970s as a tranquilizer for large animals such as elephants and bears, the synthetic opioid has also been studied as a potential chemical weapon by countries including the US, China and Israel. It is thought to have been deployed with disastrous effects when Russian special forces attempted to rescue hundreds of hostages from a Moscow theatre in 2002.
But it only burst into public view last year after officials across North America began to warn that it was being cut with heroin and other illicit drugs, leaving a rash of overdoses and deaths in its wake. …
Hello, Sophia

The press loves Sophia.
Jimmy Fallon is concerned.
"You brought a friend with you here, and this is really freaking me out," the Tonight Show host tells David Hanson, CEO of Hanson Robotics, before inspecting the humanoid robot on stage. Sophia raises an eyebrow while looking out past the two men on stage.
Hanson explains what Sophia does: It's a social robot that uses artificial intelligence to see people, understand conversation, and form relationships.
"So she's basically alive; is that what you're saying?" Fallon asks, in half a whisper.
"Oh yeah, she is basically alive," Hanson responds, then turning the robot to Fallon for a short conversation. Sophia says the Tonight Show is its favorite show and tells a corny joke.
"I'm getting laughs," Sophia says, then suggests maybe it should host the show instead.
On the surface, Sophia is scarily similar to the AI-powered robots in film. It can crack jokes, make facial expressions, and seemingly understand what's going on around it. Artificial intelligence as seen in the movies, like Her and the Terminator's Skynet, is called "general AI" by those in the field. It can learn from one experience and apply that knowledge to new situations, as humans do. While some labs, such as Hanson Robotics and a slightly deceptive team at Facebook, are working on general AI, nobody has been able to create it yet.
When Sophia is talking to Fallon or the United Nations, it's really being handed the lines. It might determine when it's the right time to say something, but those pithy one-liners aren't from the robot. …
The ambulance service said "we just don't know quite what to say".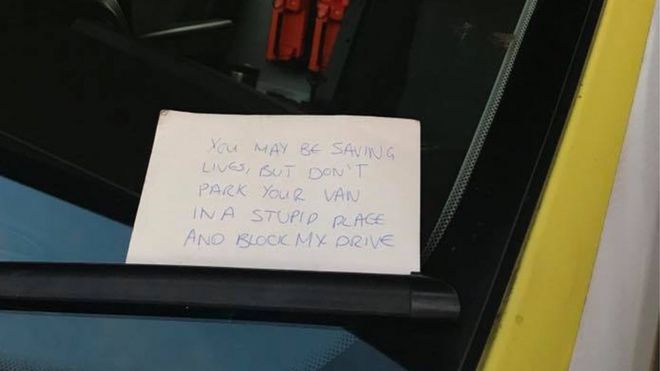 Paramedics say they have been left shocked by a note left on an ambulance windscreen telling them not to block a driveway.
The note read: "You may be saving lives but don't park your van in a stupid place and block my drive."
West Midlands Ambulance Service said paramedics received the note on Friday after going to a man in a critical condition in Small Heath, Birmingham.
"Sometimes we just don't know quite what to say," the service said.
"Our staff will always try and park considerately, but sometimes there just isn't time."
'No empathy'
The patient was in a critical condition and was vomiting blood in the ambulance before being taken to Heartlands Hospital as an emergency case.
The service said the ambulance was at the scene for no longer than 30 minutes. …
Video Goodnesses
and not-so-goodnesses
The last time Larry Linam saw his daughter, Gina, he was sending her off to Sunday school at the First Baptist Church, in downtown Daingerfield, Texas. It was a warm summer morning in 1980, and he had no idea his life was about to change forever.
A little while later, a disgruntled local schoolteacher burst into the crowded church, clad in body armor and carrying two assault rifles, and opened fire on the parishioners. He killed five people before he was finally wrestled down to the ground and disarmed. One of those killed was Mary Regina (Gina), aged 7. It was the first major mass shooting in a church in American history.
Thirty seven years later, Linam never forgets that tragic morning, his life has been inalterably ruptured. But after another mass shooting at a Texas church this week — one that bore remarkable similarities to the Daingerfield killings –Linam wasn't alone in thinking back to those horrible seconds in 1980. VICE News visited Daingerfield in the days after the tragic attack in Sutherland Springs, to ask residents and survivors what it's like for another town go through what they did — how much peace even 37 years can bring.
THANKS to HBO and VICE News for making this program available on YouTube.
THANKS to ABC and The View for making this program available on YouTube.
Despite what movies say, you can't drown in lava, slowly sinking to your demise. Like, it'll still kill ya dead if you jump in. Just not in the way you're picturing.
今度はピザ職人まる。 Maru is a pizza craftsman this time.
With all the recent movies that begin with 'bad' or 'bad' synonyms, Stephen debuts the 'bad' movie trailer to end them all. Featuring Keegan-Michael Key, Ellie Kemper, Jessica Williams, Andy Serkis, Chris O'Dowd, and Bob Odenkirk.
THANKS to CBS and The Late Show with Stephen Colbert for making this program available on YouTube.
Yes, Max does talk. You just might not see it in his videos when he is playing. But trust ne, he does it every day.
FINALLY . . .

There is both beauty and tragedy in Balog's photography as evident by this photo from Iceland.

For almost 15 years, James Balog has dedicated his time to photographing glaciers. He's chronicled major change — common occurrences like miles of retreating ice and height decreases equivalent to the Empire State Building. In that regard, his photos serve as a document for past, present and future.
"It's about the past in that those glaciers are accumulative structures that come to us from the past," he says. "It's about the present in the sense of what the landscapes are doing on their own and what we're doing to the landscapes right now. And it's about the future, the future that will be affected by what's expressed in those changes. The future also may not see a lot of these features."
Now showing through Dec. 23 at the McNichols Civic Center Building in Denver Ice: Portraits of Vanishing Glaciers displays the photography of Balog from around the world. It also features work from Balog's 2012 documentary Chasing Ice that follows him on his journey to capture these glaciers before they're gone.
Balog always had an interest in science but not in being a scientist. He chose photography instead and became an environmental photographer in the early 1980s. He spent a large part of his career photographing wildlife, covering topics like endangered species and hunting.
He became increasingly aware of the reality of climate change through his work, and began to look for a story to tell. Ice made the perfect vehicle, but he ran into a problem. …
Ed. More tomorrow? Probably. Possibly. Maybe. Not?