THANKS to HBO and Last Week Tonight for making this program available on YouTube.

This week on "Last Week Tonight," host John Oliver ran down the last year under President Donald Trump and outlined the many ways that Trump has undermined the norms of governing and how Americans talk about ideas.
Among Trump's favorite techniques, Oliver said, are undermining the media, the practice of "Whataboutism" — i.e., pointing to other people's perceived bad behavior to excuse one's own misdeeds, trolling
But one of Trump's most effective techniques is to speak absolute gibberish, Oliver said. He went on to show a transcript of a Trump speech about Iran as a disembodied voice expressionlessly read the text.
"Look," Trump said, "having nuclear — my uncle was a great professor and scientist and engineer, Dr. John Trump at MIT; good genes, very good genes, okay, very smart, the Wharton School of Finance, very good, very smart — you know, if you're a conservative Republican, if I were a liberal, if, like, okay, if I ran as a liberal Democrat, they would say I'm one of the smartest people anywhere in the world — it's true! — but when you're a conservative Republican they try — oh, do they do a number — that's why I always start off: Went to Wharton, was a good student, went there, went there, did this, built a fortune — you know I have to give my like credentials all the time, because we're a little disadvantaged — but you look at the nuclear deal, the thing that really bothers me — it would have been so easy, and it's not as important as these lives are (nuclear is powerful; my uncle explained that to me many, many years ago, the power and that was 35 years ago; he would explain the power of what's going to happen and he was right — who would have thought?), but when you look at what's going on with the four prisoners — now it used to be three, now it's four — but when it was three and even now, I would have said it's all in the messenger; fellas, and it is fellas because, you know, they don't, they haven't figured that the women are smarter right now than the men, so, you know, it's gonna take them about another 150 years — but the Persians are great negotiators, the Iranians are great negotiators, so, and they, they just killed, they just killed us." …

This is not the photo we mean: President Trump attends the Association of Southeast Asian Nations summit gala dinner in Manila on Nov. 12.
The fight over access between reporters and any White House can sometimes seem more like an exercise in First Amendment theory than practical reality: Is it really that important for the news media to get a glimpse of, say, a carefully choreographed photo op at an international summit before being led back out in a matter of minutes?
Actually, yes, it is, as New York Times photographer Doug Mills illustrated over three days on President Trump's trip to Asia.
On Friday, Mills was part of the small group of traveling "press pool" members shadowing Trump in Danang, Vietnam, when he tweeted a "photo" of a black box to protest the White House's decision to shut out the pool from any coverage of the Asia Pacific Economic Cooperation forum meetings.
"This is what our coverage … looks like today," he wrote in the tweet. "Blank. No coverage."
On Monday, Mills got his revenge at the Association of Southeast Asian Nations summit here with Trump in Manila. Admitted with the pool for a few minutes to observe the annual ritual of the ASEAN leaders' "family photo," Mills snapped a quick frame that spread quickly through social media after he posted it online.
.@realDonaldTrump joins other leaders in a handshake with President Rodrigo Roa Duterte, right, during the opening ceremony of the 31st ASEAN Summit pic.twitter.com/mfqTU8AmUr

— Doug Mills (@dougmillsnyt) November 13, 2017
Political pundits quickly made hay of the photo and poked fun at Trump and the whole tradition of the family photo. …
A conversation with the deputy chair of the Democratic National Committee about how Democrats can win back trust, his high hopes for the party in 2018, and the possibility of impeachment.

Minnesota Representative Keith Ellison listens during a forum on the future of the Democratic Party, in Denver/
Keith Ellison has a prediction. The deputy chair of the Democratic National Committee believes that Democrats will win back not just the House of Representatives in 2018, but the Senate as well.
"We're going to take the House and we're going to take the Senate," the Minnesota congressman told me during a recent interview, following Democratic victories in the New Jersey and Virginia governors' races on Tuesday and down-ballot wins in other states.
It wasn't until June that chairman of the Democratic Congressional Campaign Committee Ben Ray Luján, a Democratic congressman from New Mexico, publicly said that "the House is in play in 2018," or put another way: Democrats have a realistic shot at taking control back from Republicans in the midterm elections.
Winning back the House is a tall order, but winning back the Senate is likely to be even more difficult, which is why most Democrats in Congress aren't confidently predicting it will happen. The Senate map favors Republicans, who only have to defend eight seats while Democrats have to protect 25, including in states President Trump won by double-digit margins like North Dakota, West Virginia, Montana, and Indiana. …
Around 60,000 people marched in Warsaw on Independence Day, some chanting anti-Semitic, anti-Muslim and anti-gay slogans.

Demonstrators burn flares and wave Polish flags during the annual march to commemorate Poland's National Independence Day in Warsaw on November 11, 2017.
Tens of thousands of people marched in Warsaw Saturday at a Polish Independence Day celebration led by three radical-nationalist groups, with banners calling for "White Europe" and "Clean Blood."
Police estimated the crowd at 60,000, and photos of the throngs in the Polish capital, including neo-fascists in balaclavas, marching in a haze of red smoke from firecrackers, provided dramatic images from a country where millions of people died in concentration camps in World War II.
Many people in the crowd told local and international media they were not part of the radical-nationalist groups, but were attending in celebration of Independence Day.
The three main sponsors of the march were All Poland Youth, National Movement and National Radical Camp, which is known by its acronym ONR.
All Poland Youth has organized demonstrations on Polish Independence Day at least since 2010, but in its early years only a few hundred people attended. The event has grown to attract right-wing nationalists from across Europe, and on Saturday it overshadowed other festivities. …
It's minuscule, cumbersome, and easily avoided. It's also a symbol of Washington's approach to dynastic wealth and the American Dream.
The estate tax, which the House GOP bill would repeal and the Senate GOP bill would cut, is a microcosm of a long economic debate in the United States.
One must emphasize here the prefix micro in microcosm. Revenues from the estate tax, which only applies to inheritances worth more than $5.5 million, will account for about $20 billion this year in federal revenues. That's approximately one half of 1 percent of the Treasury's annual haul. Compared to total federal spending, it's nothing.
But compared to nothing, it's $20 billion. And the tax code is more than a ledger. It is a national statement of values. And so this little law inspires a great commotion during each tax debate. To its opponents, it is the ultimate (literally) punishment on success and an affront to the family legacy that each striving individual hopes to leave. To its supporters, it is a necessary bulwark against inherited plutocracy, which offends the national virtue of merit over privilege.
To understand the estate tax's current fragility, start with its history. The practice of taxing upon death is almost as old as recorded history, itself. Nearly 2,000 years ago, the Roman Emperor Augustus imposed the Vicesina Hereditatium, a tax on the wealthiest Roman estates upon the death of their patriarch. What's often considered the first such tax in the U.S. was levied in 1797, when the U.S. required federally taxed stamps for all probates and wills. For the next century it was used off and on as a source of emergency revenue during wars and other times of crisis. …
Journalists fighting spread of fake news raise concerns over possible conflicts of interest and say site has refused to disclose needed data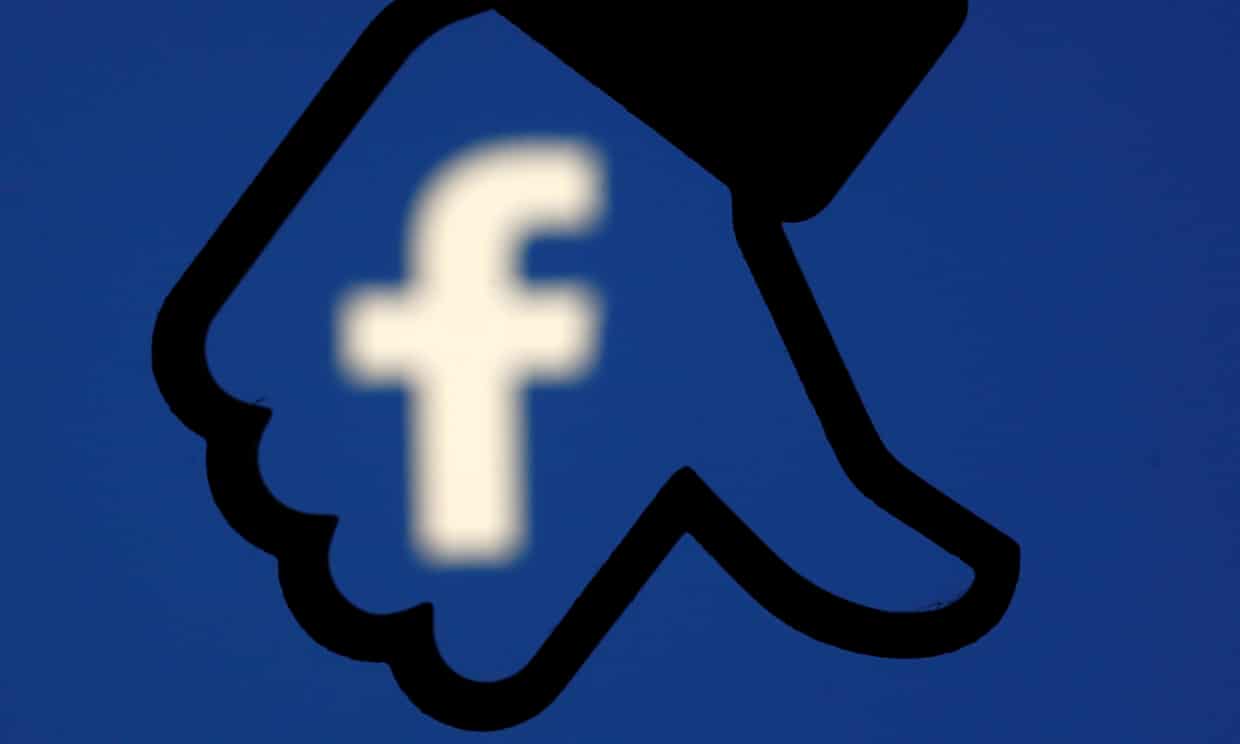 'The fake information is still going viral and spreading rapidly,' said a journalist.
Journalists working for Facebook say the social media site's fact-checking tools have largely failed and that the company has exploited their labor for a PR campaign.
Several fact checkers who work for independent news organizations and partner with Facebook told the Guardian that they feared their relationships with the technology corporation, some of which are paid, have created a conflict of interest, making it harder for the news outlets to scrutinize and criticize Facebook's role in spreading misinformation.
The reporters also lamented that Facebook had refused to disclose data on its efforts to stop the dissemination of fake news. The journalists are speaking out one year after the company launched the collaboration in response to outrage over revelations that social media platforms had widely promoted fake news and propaganda during the US presidential election.
Facebook has since revealed that it facilitated Russia's efforts to interfere with US politics, allowing divisive political ads and propaganda that reached 126 million Americans. …
When it comes to enjoying a good film, the most important sense isn't sight or even hearing — it's smell. More specifically, the fact that you can't smell what's on the screen. If you could, the magic of cinema would instantly be broken, as the noisome stank of rancid foodstuffs ravaged your nose. Yes, believe it or not, some of the most iconic special effects in movie and TV history were achieved not through complex camera techniques or computer animation, but by throwing unlikely (and often gross) combinations of food products together. For starters …
7. The Turds On Game Of Thrones Were Made Out Of Wet Fruitcake
---
Game Of Thrones has so much CGI going on that we wouldn't be too surprised if it turned out the actors shoot every scene in the nude and the clothes are added in post-production to save money. But there are still some things that are accomplished through good old-fashioned practical effects. For instance, the turds.
In Season 7, Samwell Tarly finally makes it to the Citadel, only to get assigned to a bunch of really shitty jobs. As in, they put him on latrine duty. To make the poop nuggets that Sam would be cleaning out of chamber pots look as realistic as possible, the team took fruitcake, dunked it in water, and then molded it into little turds. At this point, we have to question the logic of not using real feces, since their solution sounds even more repulsive.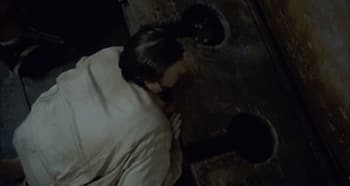 And you thought this show would stop showing you little turds when Joffrey died.
To make matters worse, this required about 50 or 60 hours of shooting to create about a 90-second montage. That meant wet, molding fruitcake was sitting around all week. You know when was a good time to film this? As the rest of the cast was hanging out at the 2016 Emmys. Sucks to be you, Sam. …
The museum in Yogyakarta initially said the waxwork of the Nazi dictator in front of a giant image of Auschwitz was 'fun.'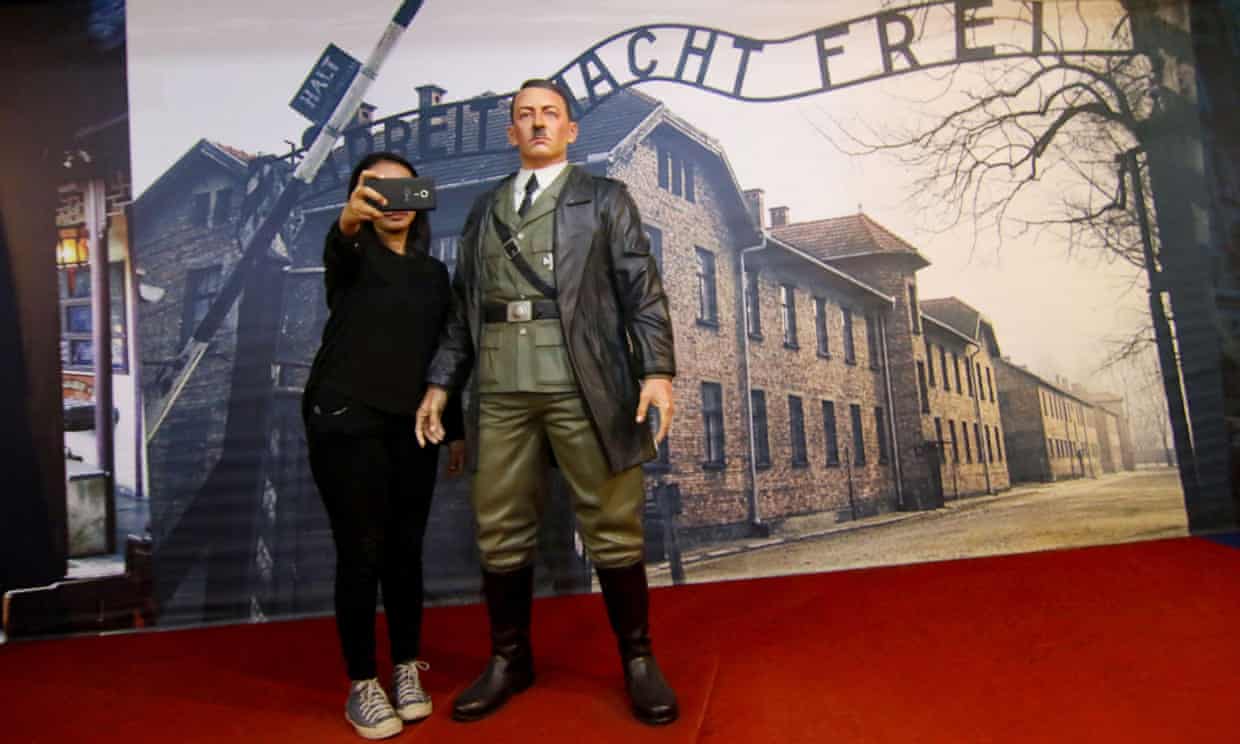 An Indonesian woman takes a selfie at the controversial display in Yogyakarta.
An Indonesian visual effects museum that encouraged visitors to take selfies with a waxwork of Hitler against a giant image of the Auschwitz death camp has removed the exhibit after protests.
The marketing officer of the De Mata Trick Eye museum in Yogyakarta said the statue was removed on Friday night following an Associated Press story highlighting outrage from Jewish and rights groups.
Human Rights Watch had denounced the exhibit as "sickening" and the Los Angeles-based Simon Wiesenthal Center, which campaigns against Holocaust denial and anti-Semitism, had demanded its immediate removal.
The museum, which has waxworks of about 80 famous people, had displayed the Hitler figure since 2014.
It initially defended the exhibit as "fun" and said it was one of the most popular waxworks with visitors to the infotainment-style museum in the central Java city. …

Not for everyone.
The idea that employees must take off work only on holidays sanctioned by Hallmark, Christianity, or the US federal government is outdated and inconsiderate. Especially for those employed by American companies, outside the US.
Or so says Spotify.
As of today, employees of the world's leading music streaming service are no longer required to observe public holidays. Instead, all employees have the option to swap traditional days off like Christmas for alternative days off of their choosing, like Yom Kippur, Easter, or Diwali.
Spotify presently has nearly 3,500 employees, with over 90 nationalities represented across their offices in Sweden and US alone. According to Katarina Berg, Spotify's chief human resources officer, the new holiday policy is tailored to challenge the cultural norms traditionally projected onto each individual, regardless of their observations and lifestyle. …
DEGREE OF POSSIBILITY: "Everyone has the right to celebrate and feel included, regardless of who they are, what they believe, where they come from, and what country they happen to work in at the moment."
Roots
When neighborhood block parties in the Bronx birthed rap and hip-hop in the early 1970s, hardly anyone expected the music style—barely a genre on its own, resonant as it was within some specific communities—to get very big. These days, rappers are the new rock stars and the genre's influence has exploded beyond music itself.
The entertainment world as a whole is obsessed with hip-hop culture, puffing out a number of rap-centric shows in the last few years; Netflix's The Get Down idealized early, formative times in the outer boroughs of New York City and HBO's multipart documentary The Defiant Ones chronicled the rise of producers Dr. Dre and Jimmy Iovine. Dre even got a film made about his rap group's life, Straight Outta Compton, as did Tupac Shakur with All Eyez on Me.
Why all this looking back now? Questlove, the drummer and co-frontman of The Roots who is known for being something of an authority on hip-hop culture from the inside, has a simple enough explanation. In a recent discussion (paywall) with pop culture critics on hip-hop's burgeoning influence on the screen, he said:

For me, I look at music within a 25-year cycle, a way of giving people in their thirties a last go-round of traveling through their childhood memories before they are required to be wise older statesmen and stateswomen. Hip-hop has reached that moment in the life cycle.
…
A change to the urban skyline that could make a big dent in carbon emissions
The first thing you notice when you walk into the office of Lever Architecture, in Portland, Oregon, is the smell: fresh, sweet, and vaguely Christmassy. That's because Albina Yard, the year-old building that houses the office, was built out of fragrant Douglas fir. "It's a space people immediately respond to on an emotional level," says Thomas Robinson [1], Lever's founder and the building's architect.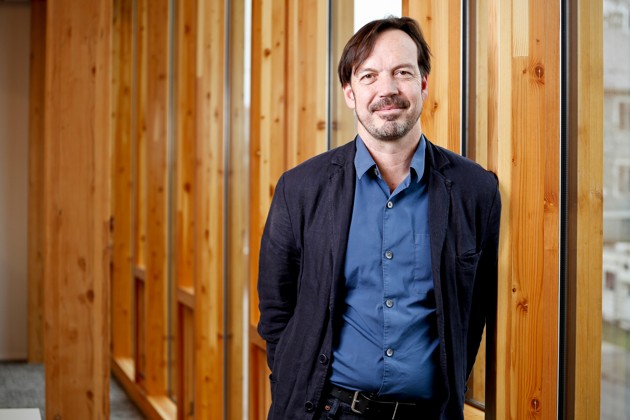 Robinson is a pioneer in designing tall buildings that use wood, not concrete or steel, to bear their weight. Albina Yard is only four stories, but it's the prelude to a more ambitious project: Framework [2], a 12-story mixed-use tower that will soon rise in Portland's Pearl District. When it's finished (likely in 2019), it will be the country's tallest human-occupied all-wooden structure.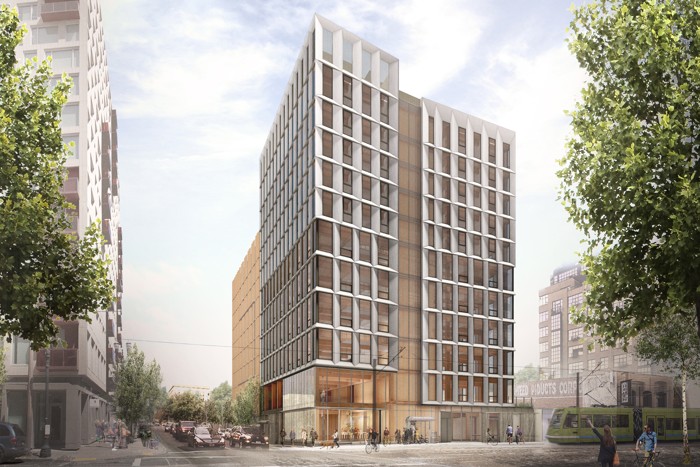 Although we've been building with trees since prehistoric times, they are having a moment, architecturally. Wooden structures similar to those in Portland have recently been built in Sweden, Finland, and the U.K., and a 24-story wooden building is under way in Vienna. Architects are even dreaming up wooden skyscrapers, such as a 35-story tower proposed for Paris [3] by Michael Green Architecture, a Canadian firm that designed an eight-story timber office building in British Columbia and a seven-story one in Minneapolis. (Although U.S. building codes generally bar wooden structures more than 85 feet tall, the federal government has recently promoted research into building with wood, hoping to revive the domestic timber industry.) …

The portrayal of the Kwik-E-Mart owner Apu (here fronting a cover band on "The Simpsons") is the focus of a new documentary wrestling with how a show praised for its smart, incisive humor could resort to a charged stereotype.
"I hate Apu," the actor Kal Penn says in a new documentary about the penny-pinching, Squishee-slinging, thickly accented convenience store owner on one of the most celebrated TV shows in history. "And because of that, I dislike 'The Simpsons.'"
The feelings of South Asian Americans toward the character and the show he inhabits are the focus of "The Problem with Apu," a documentary debuting Nov. 19 on truTV. The brainchild of the actor and standup comic Hari Kondabolu, a lifelong lover of "The Simpsons," the film wrestles with how a show praised for its incisive humor — over the years, it has explored issues like homophobia and political corruption — could resort to such a charged stereotype. Making matters worse is the fact that the Indian character is voiced by a non-Indian (albeit an Emmy-winning) actor, Hank Azaria.
"Everything with Apu is like this running joke," Mr. Kondabolu, 35, said in a phone interview. "And the running joke is that he's Indian."
Mr. Kondabolu, who grew up in Queens, the son of Indian immigrants, knows all about the show's history (the longest-running American sitcom), its many awards (32 Primetime Emmys), its international and adoring fan base. "I'm a comedian going after the biggest comedy show of all time," he said. …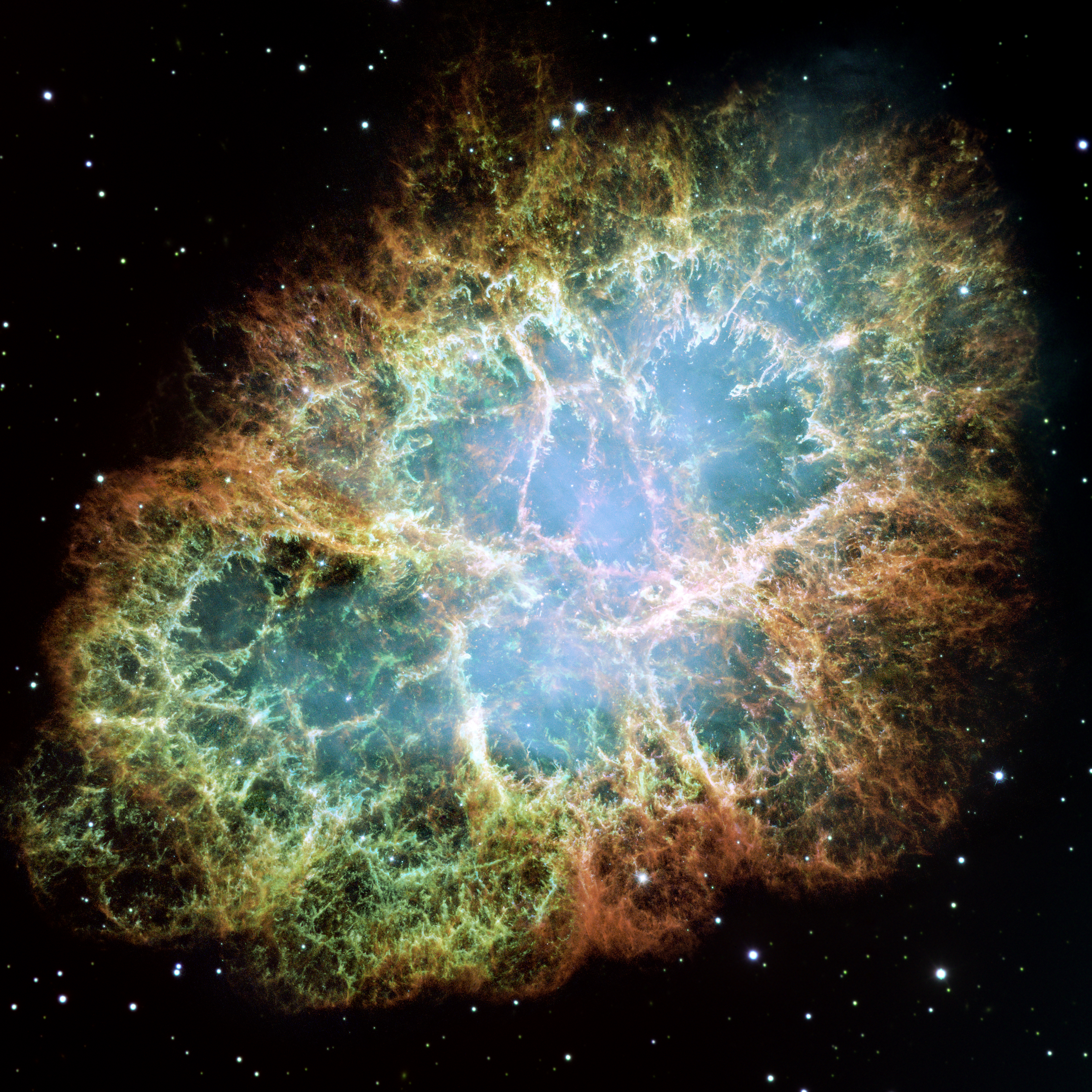 Do you have a ring on your finger? Is it made from gold, silver, platinum, or another natural metal? Then ponder this: The metal in that ring on your finger is older than the planet you're standing on.
WHAT IS "METAL"?
Scientifically speaking, metals are naturally occurring chemical elements that are typically hard, lustrous, and good conductors of both heat and electricity. Examples include iron, gold, silver, copper, zinc, nickel, etc., but also elements we don't normally think of as metals. One is sodium—a metal we regularly eat: Sodium is a soft, silvery white metal that commonly bonds with the element chlorine to form sodium chloride, or common salt.
Another is astatine, which was discovered in 1940 in a lab, where it was created artificially. It wasn't discovered in nature until 1943. Astatine is highly radioactive, and only a single ounce of it is believed to exist—in total—on Earth. Of the 118 known chemical elements in existence, 88 of them are metals.
REAL ALCHEMY
So, where did all these metals come from? Here's a very simplified explanation:
All elements, including metals, are made of the same stuff: atomic material—electrons, neutrons, and protons. Atoms of different elements can be distinguished from one another by the number of protons they contain. (The number of neutrons and electrons can vary even among atoms of the same element.) For example, a hydrogen atom contains just one proton. A gold atom has 79. This is true of every one of the countless hydrogen and gold atoms in the universe. …
Video Goodnesses
and not-so-goodnesses
Politics aside, Donald Trump's ability to hold the attention of an audience and indeed a nation is undeniable. It's a quality that anyone who has done public speaking, be it to a stadium or to a boardroom, would be envious of.
To figure out what makes Trump so hard to ignore, VICE News spoke to Dr. Jennifer Mercieca, a professor and historian of political rhetoric, and Mark Liberman, a professor of linguistics and computer science. Both have studied Trump's speech extensively and together they provided us seven signatures moves Trump uses to engage an audience.
THANKS to HBO and VICE News for making this program available on YouTube.
Caller ponders how the cards would fall if President Trump were to be impeached.
THANKS to the David Packman Show for making this program available on YouTube.
Comedian Randy Rainbow on Impact.
THANKS to BBC News for making this program available on YouTube.
Milo the Munchkin Cat.
In this episode of On Location, Coyote meets Daisy the Armadillo! These bizarre looking animals are not native to the southwestern portion of Arizona, however, we couldn't pass up the chance to feature such a unique creature. Daisy was rescued after her mother was hit by a car and has been lovingly cared for and raised in captivity, where she has gotten used to interacting with humans.
Famous for their ability to dig, Coyote will need to be extra careful while handling her as they have incredibly sharp claws. So without further adieu get ready to get up close for an afternoon snack of worms and meet Daisy the Armadillo!
HUGE THANKS to Wildman Phil and his family for bringing Daisy for a visit while we were in Arizona.
THANKS to Brave Wilderness for making this program available on YouTube.
We had a busy weekend. Lots of events for daddy to go to. But it's always nice to sit and relax when Sunday evening comes around.
FINALLY . . .

Bingo: a super boring game that only old people play because their hips are too fragile for flag football. Agree? You shouldn't. Bingo is the goddamn Mos Eisley Cantina of the geriatric scene. It's a magnet for crime and violence, and the newest battleground in the war between millennials and the elderly. For some insight into this surprisingly vicious world, we talked with Gil. He's an assistant manager at a Bingo casino, and it sounds like he's lucky to make it out alive every day.
We'll start with the Bingo fights. Gil told us that small fights are pretty common: "They'll whack their neighbor with a purse, or slap them." Most of these altercations go no further, but once or twice a year, his Bingo hall sees an outright brawl. He told us about one recent fight which started because a woman called "Bingo" right as the caller was giving out a new set of numbers:
"The caller said, 'Oh, we have a winner!' but the woman next to her said, 'You started to call the next number. She missed it!' because that's the rule. The caller called me and a few confirmers up, and we agreed the second woman was right and voided the win. As soon as the caller said that, the woman who now lost said 'You bitch' and threw her bingo card like a Frisbee, hitting [the other woman] in the head. And she was on her. It wasn't like a boxing fight … it was more like the losing woman (in her 60s, it should be mentioned) had her wrists held by the second woman (in her 60s/70s) for several seconds. [Then] the losing woman got an arm free and elbowed [the other] in the face … and knocked her over. [Then] they rolled around on the floor, clawing at each other for half a minute until the associates, who we called to be on stage for the ruling, could get to them." …
Ed. More tomorrow? Probably. Possibly. Maybe. Not?