The old adage "a red sky at night is a sailor's delight" has likely gotten more than its fair share of play lately, thanks to a recent string of stunning sunsets around town (that might seem like Mother Nature taunting the Broncos).
There are a couple of reasons that sunsets have been so beautiful, but a certain cloud has been especially helpful in setting Front Range skies on fire in recent weeks.
Since we're lucky enough to live in the shadow of the Rockies, we see mountain wave clouds, also known as lenticular clouds, on a regular basis. These clouds are caused by stable air being forced up and over the mountains, creating turbulent bumps on the lee (downwind) side of the mountains, and it's those bumps that create enough rising motion to cause mountain wave clouds. The mild weather we've experienced lately contributes to this type of cloud development.
Because these clouds are pretty high up, they comprise mostly ice. And like snow, ice reflects most of the light that reaches it (think about how blinding a walk through fresh snow can be); the reflection "scatters" light waves, which distorts colors. That scattering, at least in part, is what you see when skies turn a fiery orange or red. …
Unravelling the central mystery of my childhood taught me the uncomfortable truth about toxic male behavior – and what I, as a man, must do about it.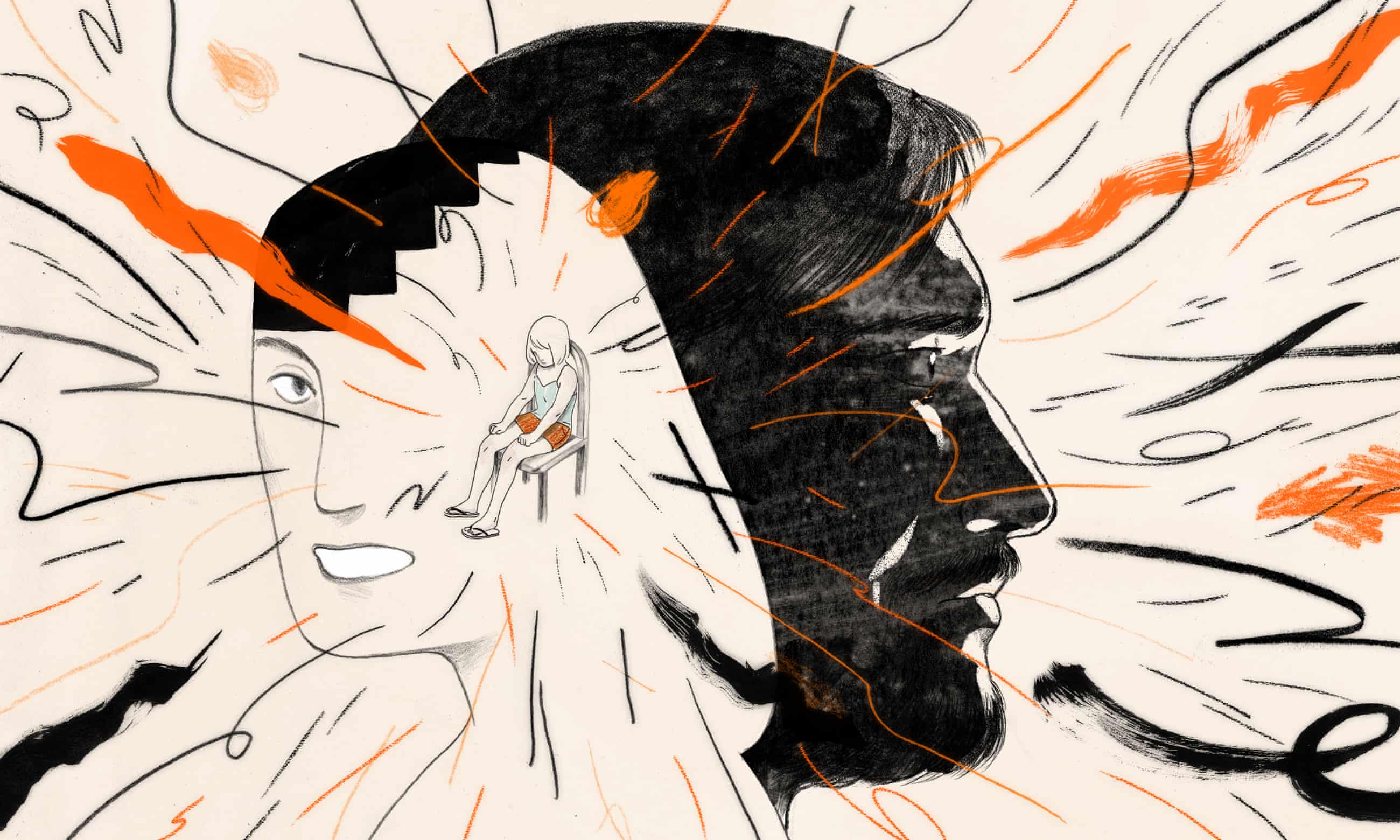 I've fallen out of touch with a lot of childhood friends, but how it happened with my Christie was different – more sudden, and at the time, inexplicable.
Christie was my best friend. Her mother, Suzanne, was my mother's best friend since high school. In adulthood, they would get together for coffee once a week. I can still remember the times I spent listening to both of them hold forth on politics and relationships at the kitchen table while Christie and I would play hide and seek.
But one day, Suzanne stopped returning my mother's calls. Christie stopped coming over too.
My mom struggled with depression and it was a hard blow for her. I was always protective of her growing up, and I remember feeling angry, blindsided and hurt. Christie was my best friend, after all.
After a long decline from early-onset dementia, my mother died two years ago. She and Suzanne had never reconciled.
A year later, my half-brother Todd died at the age of 52 from a heroin overdose.
When I was in town for Todd's funeral, Christie got in touch and soon afterward, her mother invited me over for dinner. And over glasses of beer and wine, Suzanne told me a series of painful truths that helped unravel one of the central mysteries of my childhood.
In the same conversation, I learned that my brother was a sexual predator, and that my mother was a rape victim. …
DEGREE OF DIFFICULTY: There have been women in my life I could have treated better, and missed occasions where I could have stepped up to the plate to be a better man.
Frank Francis

Will he use the R-word in Myanmar?
With Pope Francis in Myanmar on the first papal trip ever to the country, there has been furious speculation over whether or not he will say the R-word: Rohingya.
The pope arrived in Myanmar today (Nov. 27), just days after the government agreed, with conditions, to begin working towards the return of tens of thousands of Rohingyas who fled the Southeast Asian nation for Bangladesh after facing violent military retaliation following a militant attack on security posts in late August. Outside Myanmar, the word is just the name for the country's beleaguered Muslim community. Inside, the use of the word implies the user is siding with the Rohingya, and against the many people in Myanmar who insist the Muslim community are outsiders and "Bengalis," like the people of neighboring Bangladesh.
The pope has used the word in the past. During his Aug. 27 Sunday Angelus address at the Vatican, Francis said he was following the "sad news of the religious persecution of our brother and sister Rohingya" and called for them to have "full rights."
Now he's on Myanmar territory, facing an appeal from the country's first-ever cardinal not to use the word, for fear it could cause fresh violence against Muslims, or Myanmar's tiny Christian population. Cardinal Charles Bo, who in an interview with Vatican Radio appeared reluctant himself to use the word Rohingya, said the group had suffered from great violence, adding that Middle East-based media had exaggerated the situation. …
A review of some of the bids to woo Amazon's HQ2 to other cities and states shows it's not all about the money. In some cases democracy itself is a bargaining chip.

A chalk depiction of the 238 proposals Amazon received for its proposed 50,000-employee HQ2. Cities and states are going to great lengths to get a piece of that high-tech glory.
There's rising worry that corporations are taking over America. But after reviewing a slew of the bids by cities and states wooing Amazon's massive second headquarters, I don't think "takeover" quite captures what's going on.
More like "surrender."
Last month Amazon announced it got 238 offers for its new, proposed 50,000-employee HQ2. I set out to see what's in them, but only about 30 have been released so far under public-record acts.
Those 30, though, amply demonstrate our capitulation to corporate influence in politics. There's a new wave, in which some City Halls seem willing to go beyond just throwing money at Amazon. They're turning over the keys to the democracy.
Coming from the home of the largest corporate tax-break package in U.S. history, which our state gave to Boeing, I figured I was well acquainted with the dark arts of economic-incentive deals.
But still I was surprised to see the lengths to which some cities and states will go to get a piece of that high-tech glory. …
Burning Problem

No more Marlboros.
After two years of recession, Russia's economy finally started growing in 2017, but its people aren't feeling richer. You can tell by looking at their cigarettes.
Russians' real disposable income fell for the fourth month in a row in October—a 1.3% drop compared to the same month last year. In September, real wages were 13% lower than in 2014, before the recession started, according to Moscow's Higher School of Economics. Meanwhile, tax hikes on tobacco have made cigarette prices nearly double since 2013—a challenge to one of Europe's heaviest-smoking populations.
The solution to this smoldering problem? Grow your own tobacco.
"Several governors have told me that last year people started planting tobacco in their dachas and gardens," Sergei Ryabukhin, the head of the Russian Senate's budget and finance committee said last week (link in Russian). "When you go to a region, you realize with horror that people have turned to growing tobacco or shag. According to official statistics [tobacco production] has fallen 21% and people are smoking less. But in reality it's not like that." …
If politics has taught us anything in the past grueling year, it's that it involves a lot more posturing than actual policy. Without a bunch of charisma and some great speeches, a politician could be running on a platform of free ponies and healthcare and still not get elected. But even the greatest political figures can't bat a thousand. Fortunately for us, even their worst-reviewed speeches and weirdest moments have been preserved for posterity. For example …
6. Nixon's "I Am Not A Crook" Speech Was Given At Disney World
---
Of all the things you could say about President Richard Nixon, the most accurate is probably that he was not a very fun person. Disney World, on the other hand, is the absolute pinnacle of fun, especially if you're under the age of nine or over the age of 20 and weird. So how did Nixon end up making one of the most important political speeches in modern history near the Mad Tea Party ride?
In 1973, the Watergate scandal was fully blowing up, and everyone wanted Nixon's head on a pike for authorizing espionage on the Democratic Party. (We know that sounds strange, but there used to a time when we held bad presidents accountable for their misdeeds.) Nixon knew he needed to calm the press down in order to keep his job, and his best chance of doing so was to attend the Associated Press Managing Editors annual national conference and have a nice and friendly chat — two adjectives that have never been used to describe Nixon. There was only one downside: For some reason, the dignified and prestigious conference was being held at Disney's Contemporary Resort in Florida. It seems even the leaders of the mainstream media sometimes want to blow off steam by having their pictures taken with Goofy.
There, in a Mickey Mouse conference hall only a brief stroll away from the Magic Kingdom, Nixon uttered the most famous and damning line of his political career: "I am not a crook."
But for some reason, history tends to leave out the part where he did it surrounded not only by journalists who were pissed that they had to throw on a suit in the Florida humidity, but also their kids, who were pissed that Mom and Dad had to watch the nation fall apart instead of taking them to the Pirates of the Caribbean ride. That's pretty surreal, even by Disney standards. …
Burnt orange glow observed in the crater and in the thick column of ash rising nearly two miles into the air.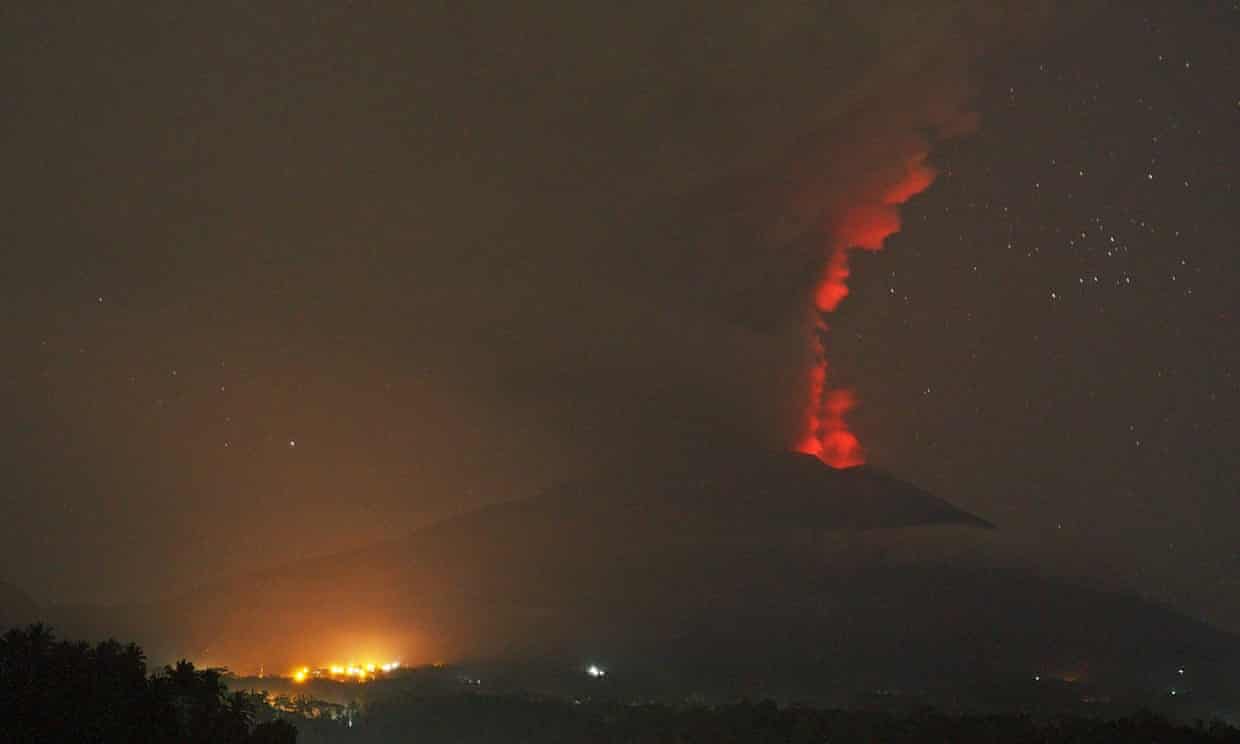 A red glow in the crater of Mount Agung on Bali is seen in the column of ash and smoke rising from the volcano.
The glow from a ring of incandescent red lava in the crater of Bali's Mount Agung is clearly visible, as the likelihood of a large eruption on the popular holiday island continues to grow.
The burnt orange glow atop Mount Agung could be easily seen at night and in the thick ash column that Indonesia's disaster agency said was being sent nearly two miles (3km) into the atmosphere.
"We could see the magma tonight," Nyoman Karyiarsa, a resident of Rendang village, told the Guardian on Monday evening. "From 7pm to 8pm, we could see a bright red colour from the crater, but it hasn't come out yet."
The Rendang monitoring post registered powerful and continuous tremors at about 2pm on Tuesday in Bali, with locals and journalists told to evacuate. The last big eruption in 1963 was preceded by continuous tremors.
The Balinese volcano, the highest point on the island, has grown increasingly restless over the past week, with the alert system raised to its highest level early on Monday, as the nature of the eruptions has shifted from phreatic, or steam-based, to magmatic. …
Caught
Your days of peeking at someone else's text conversations on the train might be numbered.
At the Neural Information Processing Systems conference in Long Beach, California, next week, Google researchers Hee Jung Ryu and Florian Schroff will present a project they're calling an electronic screen protector, where a Google Pixel phone uses its front-facing camera and eye-detecting artificial intelligence to detect whether more than one person is looking at the screen. An unlisted, but public video by Ryu shows the software interrupting a Google messaging app to display a camera view, with the peeking perpetrator identified and given a Snapchat-esque vomit rainbow.
Ryu and Schroff claim the system works with different lighting conditions and poses, and can recognize a person's gaze in 2 milliseconds. Ostensibly, this AI software is able to work so quickly because it's being run on the phone, rather than sent for processing on the company's powerful cloud servers.
Google has recently made a large push to make it easier for developers to integrate artificial intelligence into Android and other mobile devices, releasing a tool called TensorFlow Lite. The AI software library takes much less storage and computing power than Google's standard AI tools released in late 2015, called TensorFlow. Just today, the company released a new API to make it easier for developers to use TensorFlow Lite in their own mobile apps. …
The 36-year-old American actress's engagement to Prince Harry, announced on Monday, shows how much the British monarchy has changed.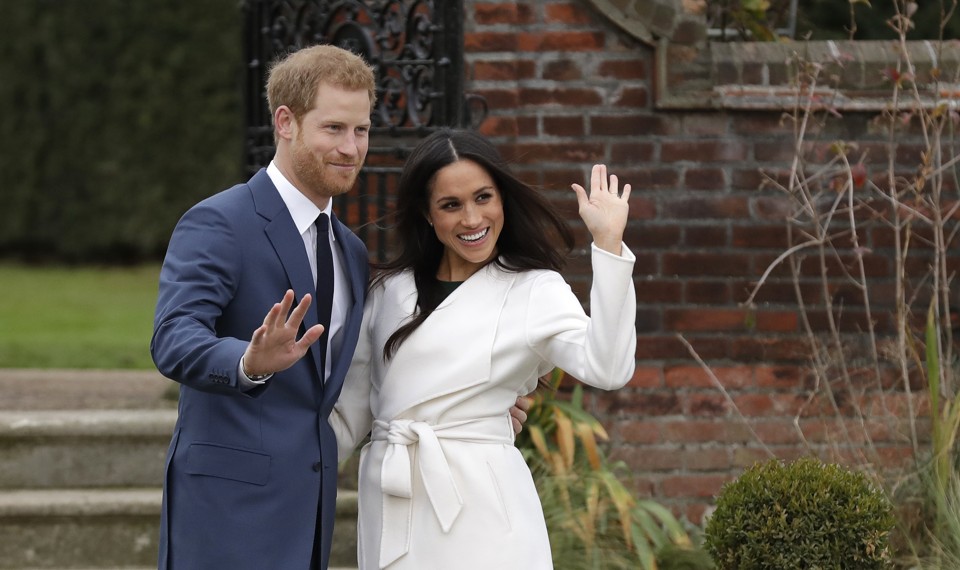 To most families, Meghan Markle might seem like the ideal daughter-in-law. The American actor and humanitarian graduated from Northwestern with a double major in theater and international relations. She's devoted to public service, acting as a global ambassador for World Vision and a United Nations advocate for women. And she has a distinctly entrepreneurial bent—until recently, Markle ran her own food and lifestyle website, thetig.com.
The British monarchy, though, is not most families. So the announcement on Monday morning that Markle was engaged to Prince Harry, the younger son of Prince Charles and the late Princess Diana, signifies more than just a wedding in the spring of 2018 and a surefire media frenzy. It's also a sign that by accepting Markle—a divorced, biracial American who had a Catholic education—the monarchy is ready and willing to change. Markle, 36, is the first American set to marry into its ranks since Wallis Simpson sparked a constitutional crisis in 1936.
Rumors surrounding the impending engagement of Markle and Prince Harry peaked in recent days after Markle was seen accompanied by bodyguards from the Metropolitan Police's protection unit, signifying her upgraded status within the ranks of the royals. (Markle also reportedly listed Prince Harry's address in Kensington Palace on her two dogs' passports.) But the announcement on Monday from the Clarence House Twitter account—the organization representing Prince Charles, Harry's father—made the news official.
The Prince of Wales is delighted to announce the engagement of Prince Harry to Ms. Meghan Markle. pic.twitter.com/zdaHR4mcY6

— Clarence House (@ClarenceHouse) November 27, 2017
…
Critics mock an EPA scheme to create 'healthy salons', but Julia Carrie Wong hears how it is tackling an 'epidemic' of health problems from staff, many of whom are Vietnamese immigrants.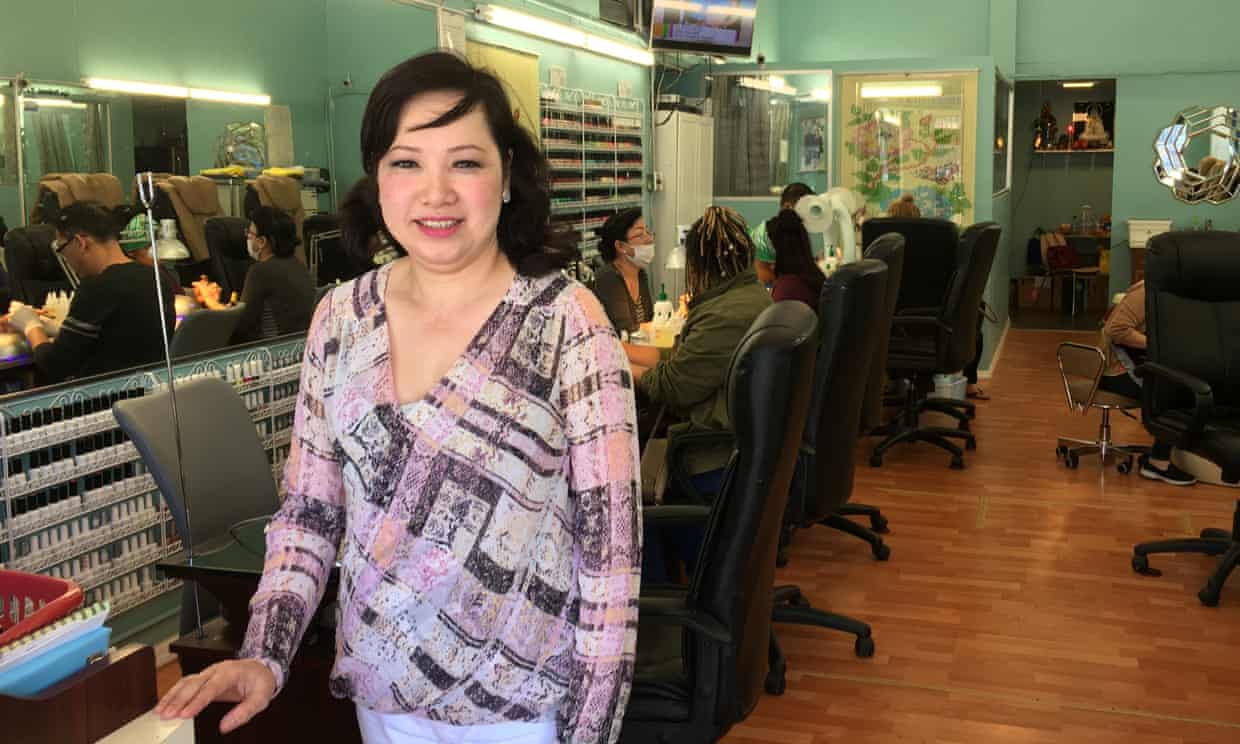 Van Nguyen at her San Francisco nail salon
Each time Van Nguyen got pregnant, her doctor advised her either to stop working at the San Francisco nail salon she owns – or have an abortion.
But Nguyen wanted to keep her babies and couldn't afford to stop working. So she avoided seeing doctors throughout her four pregnancies, despite experiencing significant bleeding during all four, and miscarriages during two.
"It's not their fault, it's my fault," the 46-year-old said through a translator of the doctors whose advice she didn't want to take. "This is what I chose to do for a living, so I have to live with it."
Nguyen is one of thousands of Vietnamese immigrants in California, most of them women, who work 12-hour days in storefront salons providing customers with the quintessential "affordable luxury" – manicures and pedicures.
But unlike workers at many nail salons, Nguyen said she no longer experiences the headaches, respiratory problems, reproductive issues and rashes that some research links to the chemicals found in common nail products. The air at New York Salon on San Francisco's Mission street smells fresh, workers attend to customers' nails while wearing gloves and face masks, and elephant trunk-esque tubes hang over each manicure table, sucking away noxious vapors. …
According to the very latest scientific data, you require food in order to live. But do you know what you've been wolfing down alongside a lifetime of Chipotle burritos, Taco Bell burritos, and questionable gas station burritos? Lies. Heaping helpings of lies, all carefully seasoned to ensure that as much of your money as possible winds up in the grease traps of greedy corporations. For example …
5. We Have Orange Juice With Breakfast Because One Year, California Had Too Many Oranges Lying Around
---
No breakfast is complete without a nice tall glass of orange juice. A single serving of this vitamin-packed wonder liquid gives your immune system the healthy kick in the ass it needs to get through the day. But don't take our word for it. Just look at this 1922 Sunkist ad, in which 3,000 physicians opine that breast milk is a thing for savages and tiny babies who couldn't hold down a job long enough to afford vital, life-giving orange juice.
"It's the brain-frying avalanche of sugar that developing bodies need."
That ad is how the whole American orange juice craze started. In the early 20th century, drinking OJ was nearly unheard of in the U.S. That all changed in 1908, when the over-planting of orange trees in California caused a massive glut in the market. So Sunkist developed a cheap juice extractor, interviewed thousands of totally real doctors who said that orange juice was the best possible thing to give to babies, and soon everybody's mom was shoving OJ down their kids' gullets if they so much as sneezed. Never mind that drinking the equivalent of four oranges in a single serving is about as healthy as kicking off the morning with a Big Gulp. …
Constant bargain hunting makes us value all the wrong things about shopping.

Mindless shopping for deals just makes you less happy in the long-run.
I wasn't supposed to be looking at leather jackets in Macy's. Had I gone in the entrance closest to the online order pick-up desk, I wouldn't have found myself stroking the smooth lambskin sleeves of a black moto jacket placed conveniently in my eyeline. But I did. I tried it on, fell in love, then looked at the price tag: $450. Nevermind.
Less than a week later, I was Googling the jacket for the fifth time when I saw the words I was hoping for: SALE. The online store marked it as 45 percent off, plus I had a 15 percent off coupon for joining their mailing list. I was getting a $450 jacket for $210.
I have spent the last week telling almost everyone I know about this jacket, but I haven't once mentioned how soft its sleeves are or the flattering way it cinches at my waist. I have instead, almost exclusively, told people what an amazing deal I got.
This is a problem. Because the reality is that I didn't get as great a deal as I think I did, and more importantly, because I'm valuing the wrong thing. But this isn't just a problem for me. We all do it.
"Shoppers put way too much emphasis on what they're spending, and not enough emphasis on what they're buying," explains Kit Yarrow, a consultant and consumer psychologist at Golden Gate University. "They'll buy things that don't fit them quite right, or it's not the right color, or they didn't really need that thing in the first place." To understand why, we have to go back in a time a bit to before the Great Recession. …
As America has turned away from searching for extraterrestrial intelligence, China has built the world's largest radio dish for precisely that purpose.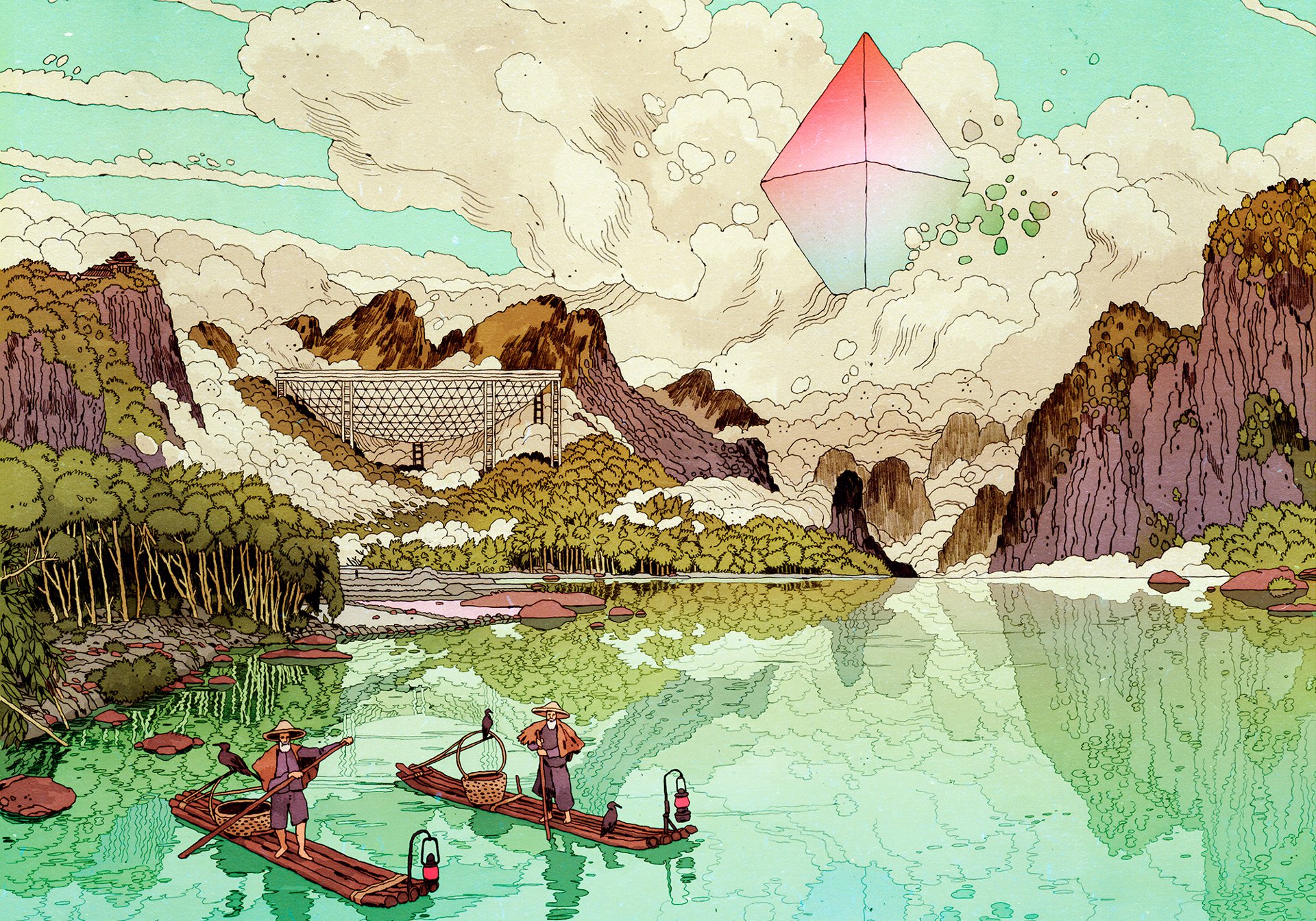 Last January, the Chinese Academy of Sciences invited Liu Cixin, China's preeminent science-fiction writer, to visit its new state-of-the-art radio dish in the country's southwest. Almost twice as wide as the dish at America's Arecibo Observatory, in the Puerto Rican jungle, the new Chinese dish is the largest in the world, if not the universe. Though it is sensitive enough to detect spy satellites even when they're not broadcasting, its main uses will be scientific, including an unusual one: The dish is Earth's first flagship observatory custom-built to listen for a message from an extraterrestrial intelligence. If such a sign comes down from the heavens during the next decade, China may well hear it first.
In some ways, it's no surprise that Liu was invited to see the dish. He has an outsize voice on cosmic affairs in China, and the government's aerospace agency sometimes asks him to consult on science missions. Liu is the patriarch of the country's science-fiction scene. Other Chinese writers I met attached the honorific Da, meaning "Big," to his surname. In years past, the academy's engineers sent Liu illustrated updates on the dish's construction, along with notes saying how he'd inspired their work.
But in other ways Liu is a strange choice to visit the dish. He has written a great deal about the risks of first contact. He has warned that the "appearance of this Other" might be imminent, and that it might result in our extinction. "Perhaps in ten thousand years, the starry sky that humankind gazes upon will remain empty and silent," he writes in the postscript to one of his books. "But perhaps tomorrow we'll wake up and find an alien spaceship the size of the Moon parked in orbit."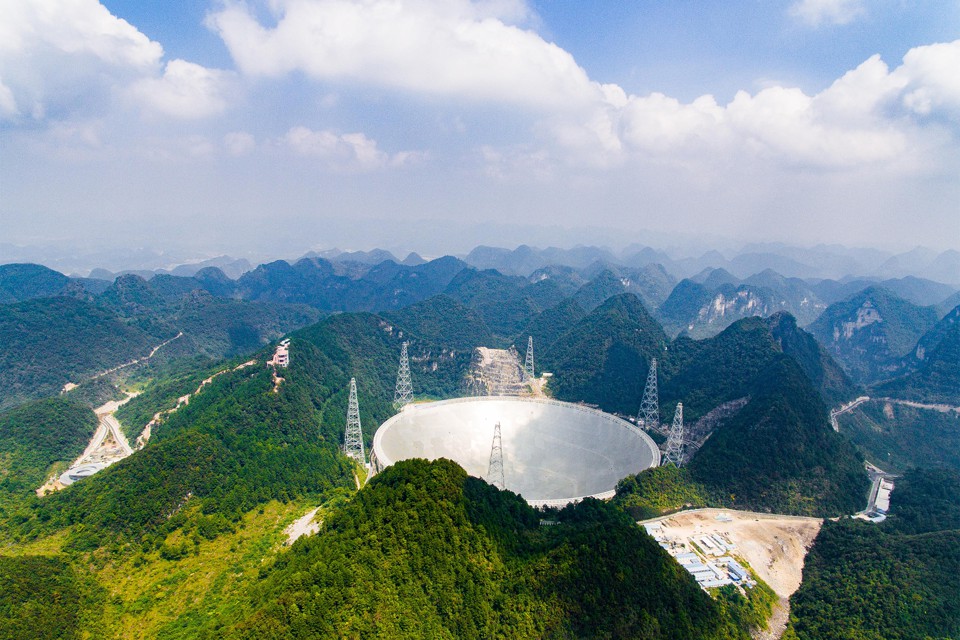 China's new radio dish was custom-built to listen for an extraterrestrial message.
In recent years, Liu has joined the ranks of the global literati. In 2015, his novel The Three-Body Problem became the first work in translation to win the Hugo Award, science fiction's most prestigious prize. Barack Obama told The New York Times that the book—the first in a trilogy—gave him cosmic perspective during the frenzy of his presidency. Liu told me that Obama's staff asked him for an advance copy of the third volume.
At the end of the second volume, one of the main characters lays out the trilogy's animating philosophy. No civilization should ever announce its presence to the cosmos, he says. Any other civilization that learns of its existence will perceive it as a threat to expand—as all civilizations do, eliminating their competitors until they encounter one with superior technology and are themselves eliminated. This grim cosmic outlook is called "dark-forest theory," because it conceives of every civilization in the universe as a hunter hiding in a moonless woodland, listening for the first rustlings of a rival. …
Every night at 1am, thousands of sweatshop workers emerge on to the streets of Brás to sell Minnie Mouse and Nike knockoffs. When 7am strikes, the police break it up. But is this nightly choreography hiding something more dangerous?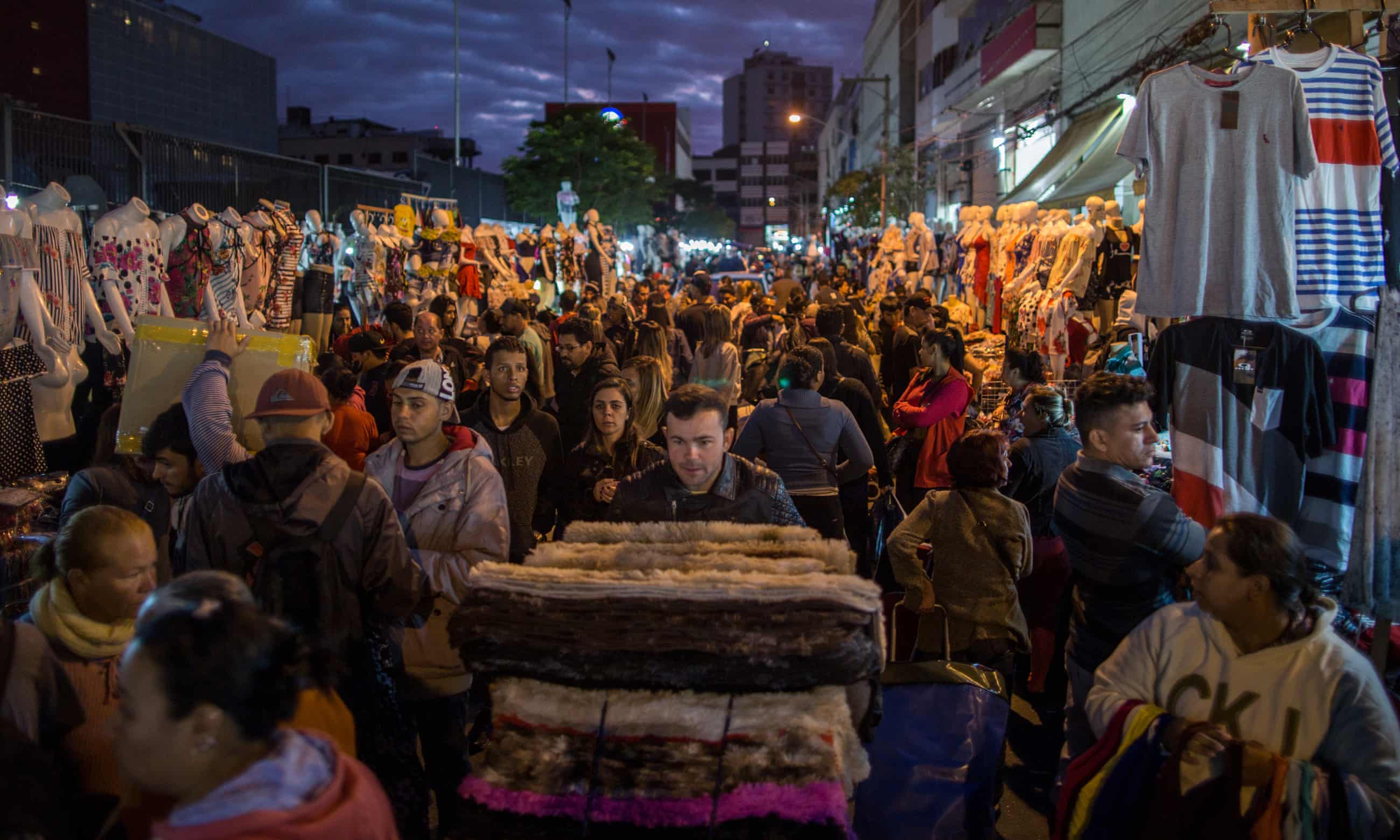 The Feirinha da Madrugada in Brás, São Paulo – said to be the largest informal market in South America.
Every two months, Aziz Abdel Rahman boards a bus in Brasilia. The journey takes all night, 700 miles in total. At 2am he reaches his final stop, disembarking into the dark and crowded – and largely illegal – Feirinha da Madrugada: the secretive "little dawn market", the biggest informal market in South America.
Rahman travels all that way to find the cheapest clothing in the country, and the few hours before the sunrise are the best to browse. Here on the streets of Brás, a downmarket but bustling neighbourhood of Sao Paulo, Rahman scours the seemingly endless racks and piles of clothing, looking for bargains such as sports trousers at R$10 (£2.30), which he will later sell back in Brasília for up to R$55.
The scale is difficult to convey. If you could walk quickly and unimpeded, it would take at least two hours to cover the Feirinha. In practice, however, during peak trading hours – 4am to 6am – it is nearly impossible to plough through the thousands of buyers with their huge bags. Vendors shout out the deals of the night: dresses for R$10; seven pairs of socks for R$5; late-night "lunch" for R$3. The aroma of fried snacks and barbecued meat fill the air.
Business here is strictly under the counter: very few of the thousands of traders have a licence. And yet from 1am-7am, uniformed police officers patrol the market, watching the proceedings and doing nothing.
After 7am, however, the behaviour of the police is suddenly transformed. …
Video Goodnesses
and not-so-goodnesses
And thus my work here is done.
After weeks of stories about Republicans figuring out what to do with Roy Moore, today was the Democrats' day to deal with politicians allegedly behaving badly.
John Conyers, a five decade veteran of Congress, resigned his post as minority leader of the House Judiciary Committee after a BuzzFeed story revealed he settled a sexual harassment claim in secret. Conyers denies wrongdoing.
Al Franken, a Senator from Minnesota, told reporters on Capitol Hill that he won't be resigning after multiple allegations of sexual misconduct. Franken says he doesn't remember the incidents the same way his accusers do.
Progressives have delighted in watching Republicans stumble around how to deal with a president who once bragged about groping and an Alabama Senate candidate who multiple women remember trying to sleep with them when they were teenagers.
Now those same progressives are going to have to watch Democratic leaders perform a similar dance.
THANKS to HBO and VICE News for making this program available on YouTube.
After President Trump called to reform the tax code, Trevor breaks down how a proposed GOP plan will affect low-income Americans.
As the weather turns chilly outside, things heat up at the Ed Sullivan Theater where Stephen Colbert bravely pulls back the curtain on some of the most notorious names in the news.
THANKS to CBS and The Late Show with Stephen Colbert for making this program available on YouTube.
Seth takes a closer look at President Trump going all in on backing the accused sexual predator running for Senate in Alabama.
THANKS to NBC and Late Night with Seth Meyers for making this program available on YouTube.
As always, Daniel O'Brien is here to make you stop and think about the characters so many movies have pushed to the side and forced to the background. We're back with another episode of Obsessive Pop Culture Disorder.
"Hello, citizens of Autodale! You are pretty. Your neighbours, friends and family are also pretty. But sadly, not everyone is pretty. Some are ugly …We, here at Autodale, do not want "uglies."
Max just relaxing with his toy and going into a trance from his toe tapping.
A music video made for a class. No infringement intended. This song was written and recorded by the Primitive Radio Gods. This is not the original video.
Jan lays down and wrestles in her sleep
Moonlight spills on comic books
And superstars in magazines
An old friend calls and tells us where to meet
Her plane takes off from Baltimore
And touches down on Bourbon Street
We sit outside and argue all night long
About a god we've never seen
But never fails to side with me
Sunday comes and all the papers say
Ma Teresa's joined the mob
And happy with her full time job
Am I alive or thoughts that drift away
Does summer come for everyone
Can humans do as prophets say
And if I die before I learn to speak
Can money pay for all the days I lived awake
But half asleep
A life is time, they teach us growing up
The seconds ticking killed us all
A million years before the fall
You ride the waves and don't ask where they go
You swim like lions through the crest
And bathe yourself on zebra flesh
I've been downhearted baby
I've been downhearted baby
Ever since the day we met
FINALLY . . .

"The venue was brimming with attendees. Among the good people, there was a spirit of desperation and ecstasy. Soothsayers predicted that with the coming millennium, computers might "brick," governments and civilizations might collapse, and time might come to its metaphysical end.
I determined the most rational course: I would perform the Rite of Eucharist at the moment of humankind's demise. So while Slim C. and Munly M. counted down from ten to the apocalypse, I began my work — donning the appropriate vestimentary, resplendent with collar of white and chasuble of red. Then brave John Rumley stepped forth with his 'Home Communion Attache 2000,' producing a silver plate that overfloweth with bread and a golden cup that bubbleth over with wine! I turned toward the congregants, who had lined themselves up to the horizon, and one by one did they reverently accept holy communion. Thus was Armageddon sidestepped for a time." …
Ed. More tomorrow? Probably. Possibly. Maybe. Not?