Most people would walk away if the future seemed unclear
and shut you out because they're afraid. But I'm not. I'm right here.
That's what my love is for. My love will be your cure.
— "Your Cure," an original song from season two of Merce
Merce, the web series about a gay New Yorker living with HIV, is a little bonkers. The candy-colored musical comedy, written by and starring the singular Charles Sanchez, has "the low budget appeal of an early John Waters romp," as I wrote when season one hit your computer screens two years ago.
What Merce also has, in great abundance, is heart. The central love story, between HIV positive Merce and his HIV negative boyfriend, doesn't just cover PrEP or being undetectable. In one scene from the upcoming season, the lovebirds consider what a cure would mean. Then, in the kind of romantic gesture that would make any person living with HIV swoon, Merce's boyfriend assures him that, until science straightens out the details, his love will be the cure.
Not love alone, of course. Our HIV positive lead character is dedicated to his treatment regimen. What the boyfriend represents, though, is the non-judgmental support that is so critical to people living with HIV. Theirs is exactly the kind of loving relationship that exists among positive-negative couples the world over.
Cue the music during their conversation. Suddenly, all of the actors in the Merce cast appear in choir formation and sing what might be the most beautiful song written for the series, "Your Cure," by composer Adam J. Rineer. It literally brings HIV positive and negative people together, lifting up those with HIV with a message that, until there is a cure, "that's what my love is for."
On Nov. 20, the Department of Homeland Security (DHS) announced it's terminating Temporary Protected Status (TPS) for approximately 50,000 Haitian immigrants, effective July 2019. Haitians living in the U.S. were granted TPS following the 2010 earthquake that displaced more than 1.5 million people and killed roughly 300,000. According to the announcement, the decision was made with input from Haitian officials, community meetings and interviews with TPS holders, among others. However, many immigration advocacy organizations, Democratic legislators and folks in Haitian communities across the country are dismayed by the decision.
"People are scared and worried because they don't know what's going to happen," says Emmanuel Jean, co-founder of the Colorado Haiti Society. "Some people lost everything, family, everything. When they came here, somebody embraced them and they started a new life. To send them back over there is going to have a psychological impact."
In her announcement, Acting DHS Secretary Elaine Duke said the "extraordinary but temporary conditions caused by the 2010 earthquake no longer exist" in Haiti, and therefore the country is prepared to handle "the return of their nationals." But since the earthquake, Haiti, the poorest country in the Western Hemisphere, has struggled to recover. An ongoing cholera outbreak has killed thousands, affected hundreds of thousands more, and continues to pose health risks for the country's approximately 11 million citizens. In 2016, Hurricane Matthew struck the country, destroying 200,000 homes and triggering a food crisis and an economic loss of $2.8 billion. Hurricanes this year have caused additional damage, flooding and crop loss. …
The former New York Post columnist Susan Mulcahy has been dealing with Trump's lies for decades. What is her advice to the media on handling him?

Donald Trump: 'The way he lied I had never experienced,' says Susan Mulcahy.
When Donald Trump became a presidential candidate, Susan Mulcahy got a call from a former colleague at New York Newsday. "You'd better stock up on valium," the ex-colleague said.
"It's because I hated him so much," said Mulcahy, the veteran gossip columnist who covered Trump for years at the New York Post, describing the call. "I would go ballistic if his name was mentioned in the office."
Trump's reputation as a liar now precedes him, but this week it reached new heights. In addition to reports that he regularly brags about winning the votes of a majority of American women – he did not – other accounts say that he has begun questioning the authenticity of the Access Hollywood tape in which he boasted about grabbing women's genitals.
It's an over-the-top falsehood (the hosts of Access Hollywood have reiterated that the tape is authentic) but to Mulcahy, it is just par for the course with Trump. "Most people have an alibi or a backup plan; Trump doesn't do that," she told the Guardian. "He just says the exact opposite of what he did five minutes ago."
No one can argue that Mulcahy didn't warn them. "He's a pathological liar. I've said that repeatedly and I've been saying it since the 80s. He has two sports, golf and lying, and that's it. He just lies about everything." …
Having Kellyanne Conway, a pollster, take point on the fight against opioids reveals a great deal about the seriousness of the White House's effort.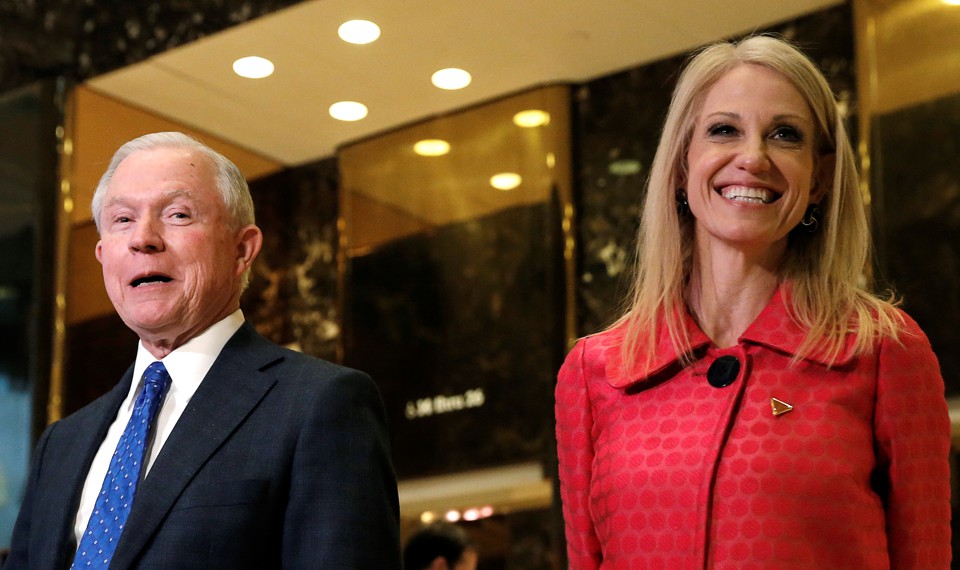 On Wednesday, Attorney General Jeff Sessions announced the Trump administration's latest actions to combat the surge of deaths from opioid addiction.
They did not add up to big news. An additional $12 million in grants to local law enforcement. An internal restructuring of the Drug Enforcement Agency. An order to the 93 U.S. attorneys to designate one staff member as their office's opioid coordinator.
The script for the otherwise ho-hum event contained praise for President Trump's leadership and a thank-you to the senior-most White House aide in attendance. "I want to thank Kellyanne Conway for being here today. The president has made this a top priority for his administration—including every senior official and cabinet member—as her presence here today can attest."
No news there either. Until Sessions decided to insert an apparently on-the-spot improvisation of his own. Trump, Sessions said off-the-cuff, had detailed Conway "to coordinate and lead the [anti-opioid] effort from the White House."
Those words did make news. "Trump's Counselor Kellyanne Conway is now Leading His Opioids Strategy," headlined Buzzfeed at 5:19 p.m. Other media sources quickly followed: "Conway will oversee opioid epidemic response, Sessions said," wrote Axios. "Kellyanne Conway is now America's Opioid Czar," announced New York. "Kellyanne Conway chosen as Trump's 'opioids czar," blared the The Washington Examiner. "Three Things We Know About How Kellyanne Conway Will Handle Being Opioid Czar," offered Quartz. …
The connection between the Mercer family and the controversial activist group recently busted for an undercover sting has not previously been documented.

The Mercers, secretive billionaires who are among President Trump's most powerful donors, also helped to fund Project Veritas, the controversial activist organization, tax filings obtained by BuzzFeed News show.
Gravitas Maximus LLC — a Mercer investment vehicle through which he also funded the conservative outlet Breitbart — gave $25,000 to Project Veritas, according to a nonpublic portion of a 2012 tax form. The family's involvement has not previously been made public.
The Mercer family did not immediately respond to a request for comment.
The filings draw yet another connection in the web of conservative enterprises funded by Robert Mercer, who recently stepped down from his role as co-CEO of hedge fund Renaissance Technologies after a BuzzFeed News exposé revealed the connections among the Mercers, Breitbart, and white nationalists and neo-Nazis.
Project Veritas has come under intense scrutiny this week after one of its operatives, pretending to have been victimized by Alabama Senate candidate Roy Moore, tried to dupe the Washington Post. The scheme was uncovered by the Post on Monday. On Wednesday, BuzzFeed News published the names of two dozen donors to Project Veritas. A spokesperson for the organization responded that inquiries about donors were causing a spike in donations. …
As sexual assault and harassment allegations against powerful men from Harvey Weinstein to Kevin Spacey to Matt Lauer continue to pile up, it has become harder to justify this cultural moment as a simple case of separating the "good" guys from the "bad."
Meanwhile, some men, according to a recent story in the New York Times, are confused about what sexual harassment even is, and whether they've done it. Jonathan Segal, a lawyer from the Equal Employment Opportunity Commission's harassment task force told the Times about some of the "odd" questions he's received from men since the Weinstein allegations:

Mr. Segal, who runs anti-harassment training, is now expanding part of the program called Safe Mentoring, which teaches men how to mentor younger women without harassing them. At a recent session, a male supervisor talked about having an extra ticket to a sporting event and feeling he could invite only a male colleague; Mr. Segal went over how to invite a female colleague without sexually harassing her.
"The answer to harassment cannot be avoiding women," he said.
Of course not, and men who want to enact the "Pence rule" (avoiding socializing alone with any woman who is not one's wife) do so at a potentially enormous cost to their female colleagues, their organizations, and themselves. In fact, the notion that some men are confused as to how to "mentor young women without harassing them" is a troubling comment on masculinity. …
As sexual misconduct makes headlines, caregivers' crisis is marked by thorny questions – as alleged perpetrators may be infirm, facing dementia, or dying.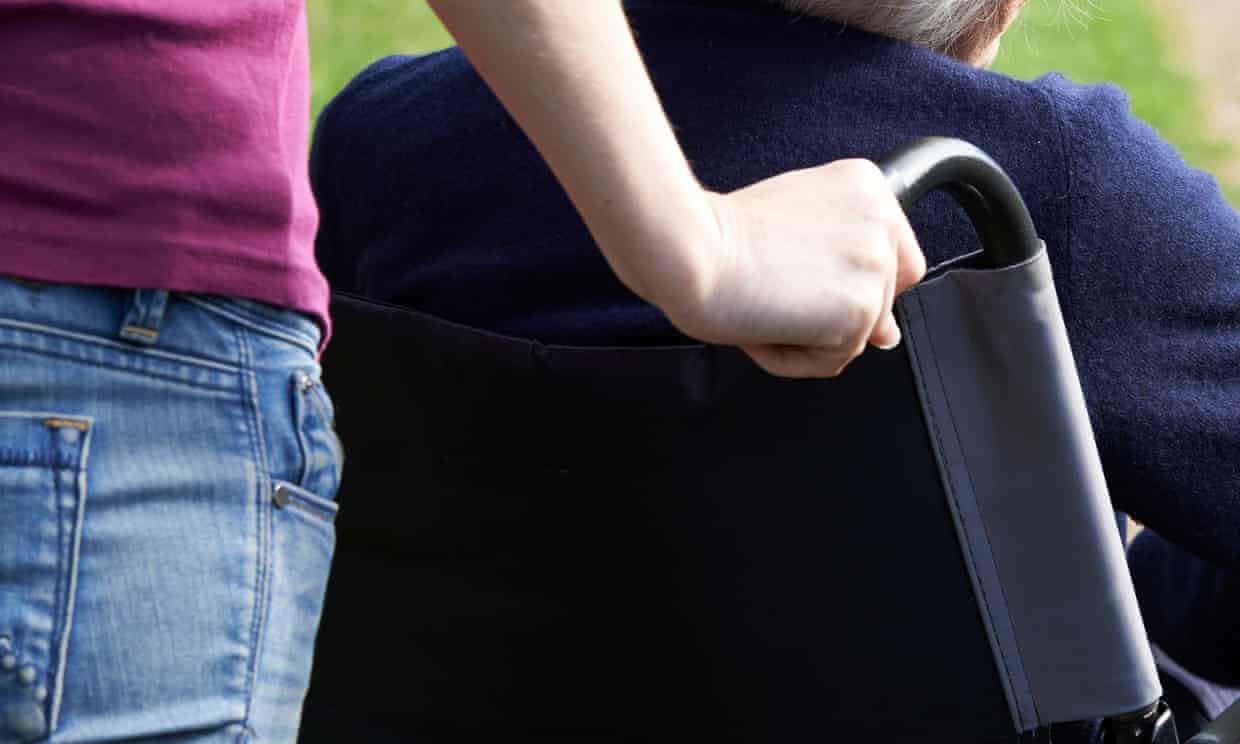 Caregivers describe sexual misconduct allegedly perpetrated by their clients: 'I felt violated.'
The allegations are familiar. Groping. Lewd comments. Cornering and harassing. Demanding sex. Abusing power.
But in this case, the transgressors are not prominent figures in politics, media or entertainment.
They are mostly elderly and frail. Some need help walking, or bathing, or dressing. Some are facing dementia. Some are dying.
And yet some allegedly commit sexual misconduct against the people tasked with caring for them, raising thorny questions about how to respond when a perpetrator lacks full mental or physical capacity.
"When I was cleaning her up she'd ask me to rub her vagina," Myrla Baldonado, a Filipino caregiver, said of a former client in Illinois. "She had multiple sclerosis and told me her husband was no longer intimate with her and so wanted me to masturbate her. I felt violated."
Another Filipino carer who declined to give his name recalled a 74-year-old client, a large man, waking him up one night in his Los Angeles senior care home. "He asked if he could sleep with me. I turned on the light. He was naked." …
Pivot to readers.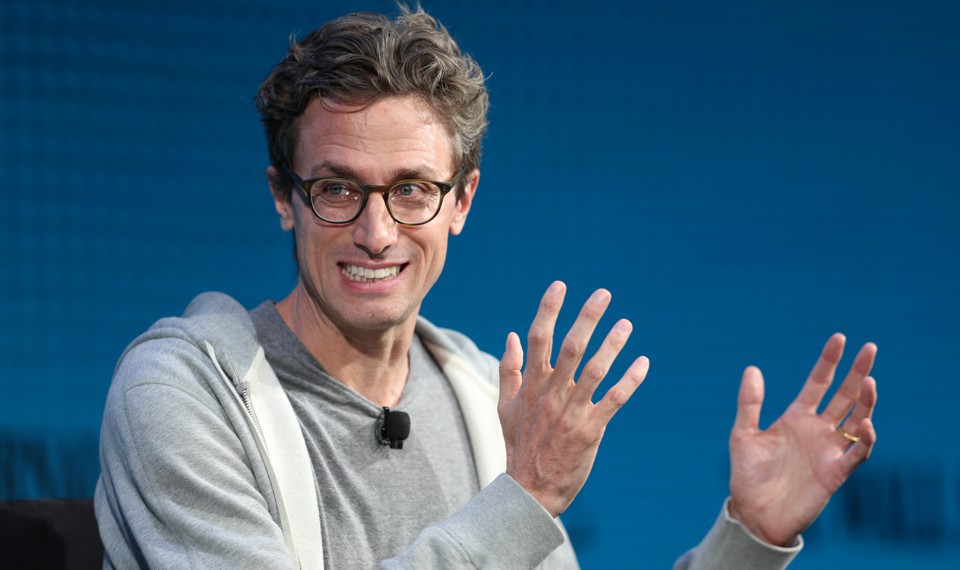 Jonah Peretti, the CEO of Buzzfeed.
Agony is the natural state of the news industry. Newspaper sales per capita peaked before color television was a thing, and magazines have been in decline since the Clinton administration. When it comes to the finances of the Fourth Estate, bad news is, generally speaking, the news.
But 2017 has been a uniquely miserable year in the media business, in which venerable publications and fledging sites, divided by audience age and editorial style, have been united in misery. At Vanity Fair, the editorial budget faces a 30 percent cut. At The New York Times, advertising revenue is down $20 million annually after nine months. Oath, the offspring of Yahoo and AOL's union, is shedding more than 500 positions as it strains to fit inside of its Verizon conglomerate. Meanwhile, almost every digital publisher seems to be struggling, selling, or soliciting, whether it's the media company IAC exploring offers to offload The Daily Beast, Fusion Media Group offering a minority stake in The Onion and former Gawker Media sites, or Mashable selling for a fifth of its former valuation. So many media companies in 2017 have reoriented their budgets around the production of videos that the so-called "pivot to video" has became an industry joke. Today, the pivot seems less like a business strategy and more like end-of-life estate planning.
Even the crown princes of digital upstarts, Vice and BuzzFeed, are projected to miss their revenue targets by 20 percent each, which amounts to a combined shortfall of hundreds of millions of dollars. Finally, this week, Time Inc., the storied publisher of magazines and websites, including People, Sports Illustrated, and Time, announced it had reached an agreement to be sold to the Meredith Corporation, whose focus on lifestyle is inspiring rumors that it may yet offload or even shut down Time, Fortune, and Money.
What on Earth is going on? There are at least three major trends contributing to this dismal media moment. They all point to the same solution, and it's something everyone in journalism should know by now: News publishers have to get better at making money outside of advertising. …
Say, are you worried about the end of the world? Sure you are! It's been scheduled to happen like 30 times in the last 30 days, and you better believe we'll be penciling it in a bunch more times before the week is out. Nuclear war, global warming, sentient sex dolls — shit's going down one day. And you can prepare for it like everyone else, with your canned hams and fallout shelters, or you can do what the truly paranoid and rich are doing.
For example, Steve Huffman, the founder of Reddit, went out and got corrective eye surgery specifically so he'll be better able to see the super mutants hunting him after America collapses into anarchy. He really did that (minus the mutant part, I think). And that's but the tip of the wealthy doomsday prepper iceberg. Other ludicrously rich folks are making …
5. Weaponized Rabbit Poop
---
Science tells us that rabbits can reproduce at a rate of … well, five were born in your yard in the time it took you to read this sentence. The animals are plentiful and fairly adept at adapting to most situations. So when society collapses and only the mohawk'd wastelanders have access to gasoline, what the hell are you supposed to do? You hitch your star to Nick Klein's
Hostile Hare
wagon and ride it to a new world order. Not the "New World Order," with Illuminati and world governments and sliced peaches on your pizza, 'cause that's just crazy shit. Just a new world with rabbit turds
everywhere
.
Nick's rabbit plan is for when society is on its last legs and our only option is to turn to Easter's finest mascot. See, one female rabbit can produce enough offspring to give you 320 pounds (or roughly one Hulk Hogan) of the most adorable meat, and they take fewer resources than a cow to get to that point, because cows are just wicked assholes. And while food in the apocalypse is all fine and dandy, there's more to these rabbits than just Armageddon stew. Klein is using their turds as biofuel. Through a process which both Nick and myself in the first grade named "gasification," the little turds get turned into a gas, which can run anything from engines to post-apocalyptic vibrators to the actual functioning flamethrower he built, which runs exclusively on the stuff. Good luck sending your Warboys to purloin Klein's precious car parts when he's going full Doof Warrior on you with a flaming guitar or whatever the hell else he can invent that runs on bunny shit.
Most apocalypse movies tend to overlook the fact that gasoline has a limited shelf life and will eventually start going bad, oxidizing and screwing up fuel lines. So you can't rely on big tanks of it keeping you going forever. So this poop thing may be a big deal. You know, if the world ends. Of course, if the world does end, you're going to want to eat something on the side of that rabbit, so why not buy …
Pushing Back

They're flying away
First it was the Boeing 747 now it's the Airbus A380. The world's largest airplanes are falling out of favor with passenger airlines.
In 2017, as the slow death march of the 747 continued, the number of A380 flights was stalling. Departure growth of the A380—the rate airlines are flying new flights with the plane—is at its lowest ever. 2018 could be the plane's turning point.
Emirates, the largest operator of the A380 with 100 planes, is in negotiations to order more but is dragging its feet. Amedeo, one of the worlds largest leasers of A380s, recently announced plans to start an A380-only airline rather than continue to face the difficulty of leasing the planes to reticent operators.
Additionally, competition from budget airlines has caused carriers to reassess every expense. With four engines each, both the A380 and Boeing 747 are gas guzzlers. As such, over the last decade, airlines looking to carry high volumes of passengers have turned to two-engine models, like the Boeing 777 and Airbus A330. …
n weekdays residents who live within feet of this folly of Brazil's military dictatorship must put up with pollution and a constant roar – but at other times cars are banned. In a city short on public space, the people take control.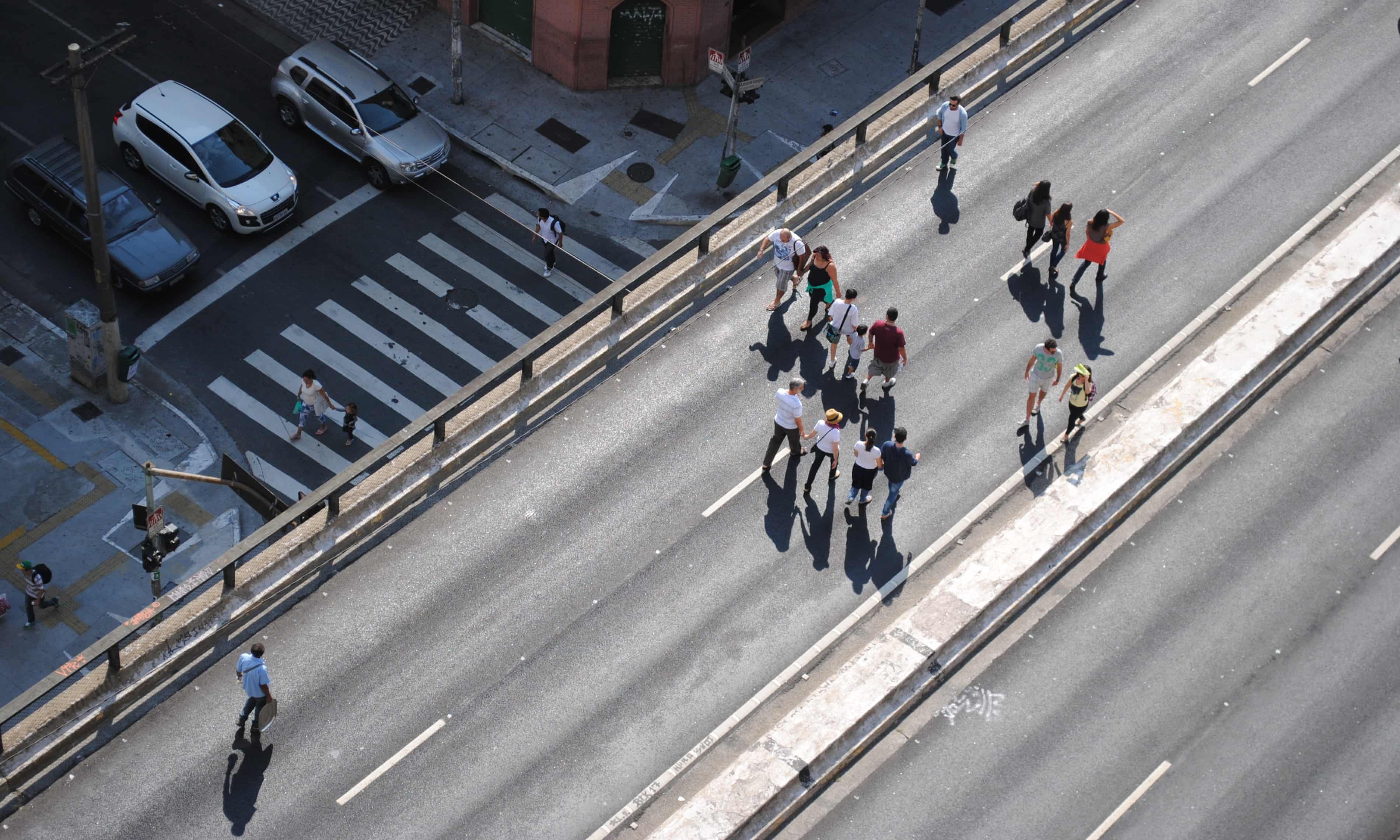 "I remember when our street had trees on it. It was so nice," says 91-year-old Elca Cartum as she sits in her living room, just feet away from the incessant stream of cars and trucks on the elevated highway that passes right outside her window.
Elca has been living on the third floor since 1959. First they widened the street and planted trees to make a boulevard, she recalls. Then in the late 60s Brazil's military dictatorship decided São Paulo needed an elevated highway to help link the east and west of the rapidly growing city.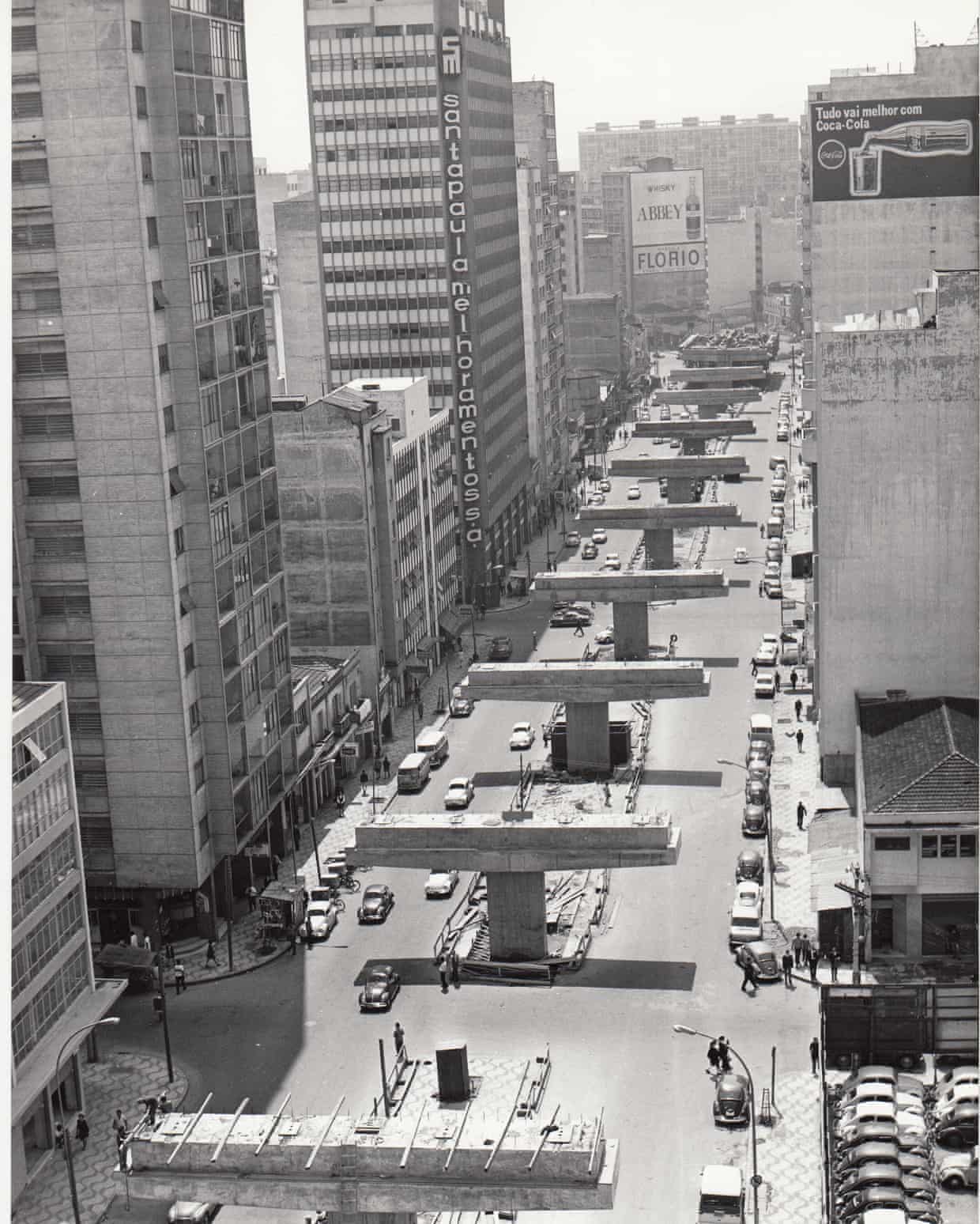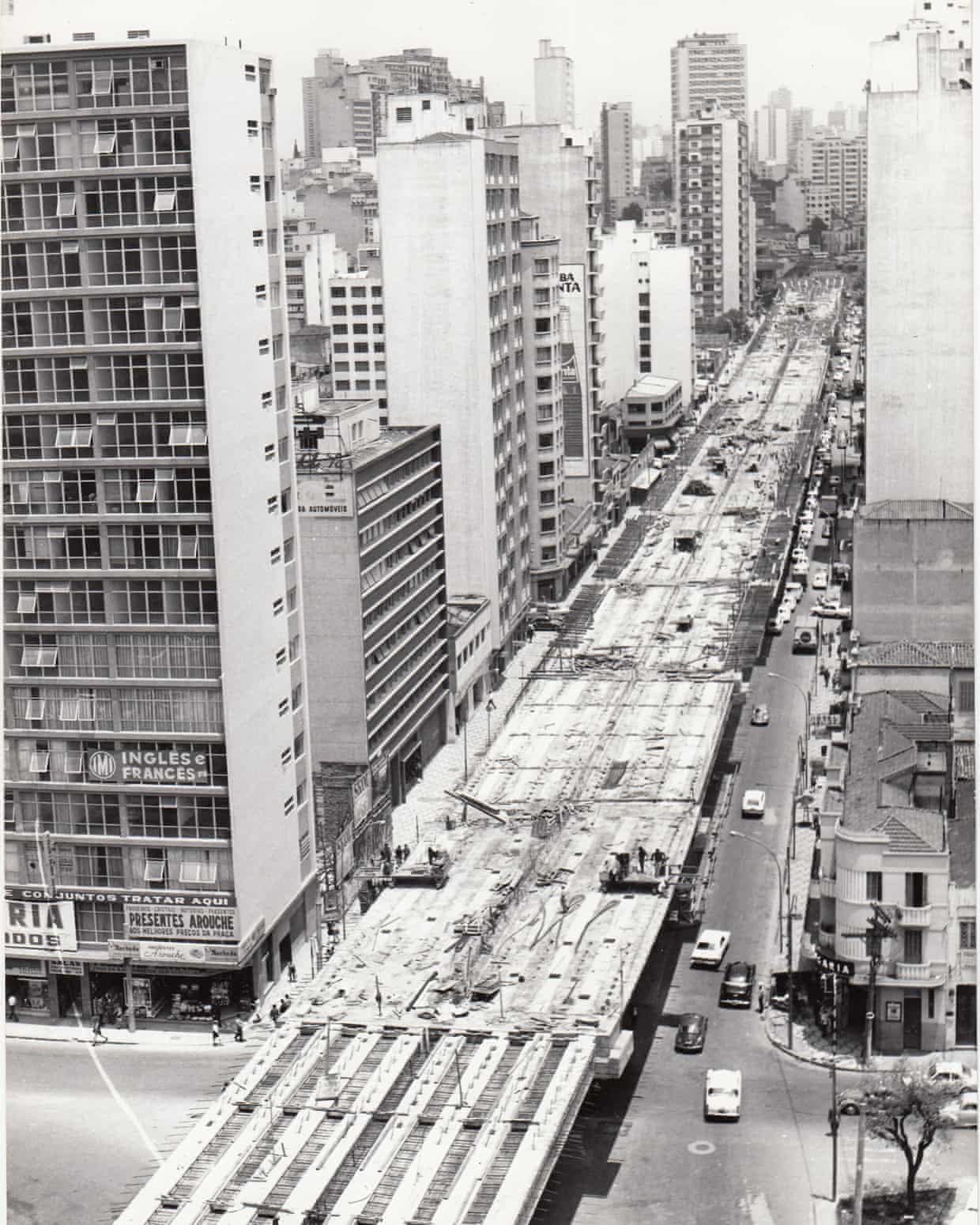 Amaral Gurgel Street – the route of the future Minhocão – in 1969. Resident Elca Cartum says the street was lined with trees before construction started.
So began the largest construction project in South America at the time. The result was the Elevado Presidente Costa e Silva, named after a key figure in the military government. Although it has since been renamed after pre-coup president João Goulart, everyone knows it as the Minhocão anyway – after a giant mythical worm which roams the forests of South and Central America.
"As soon as they built it many of our neighbours moved away," Elca recalls, but her husband wanted to stay near his dental surgery downtown, and the children were settled at school. "Once most of them had left it was too late for us. The price had fallen too far and we couldn't make up the difference if we moved anywhere else. It was a sad time."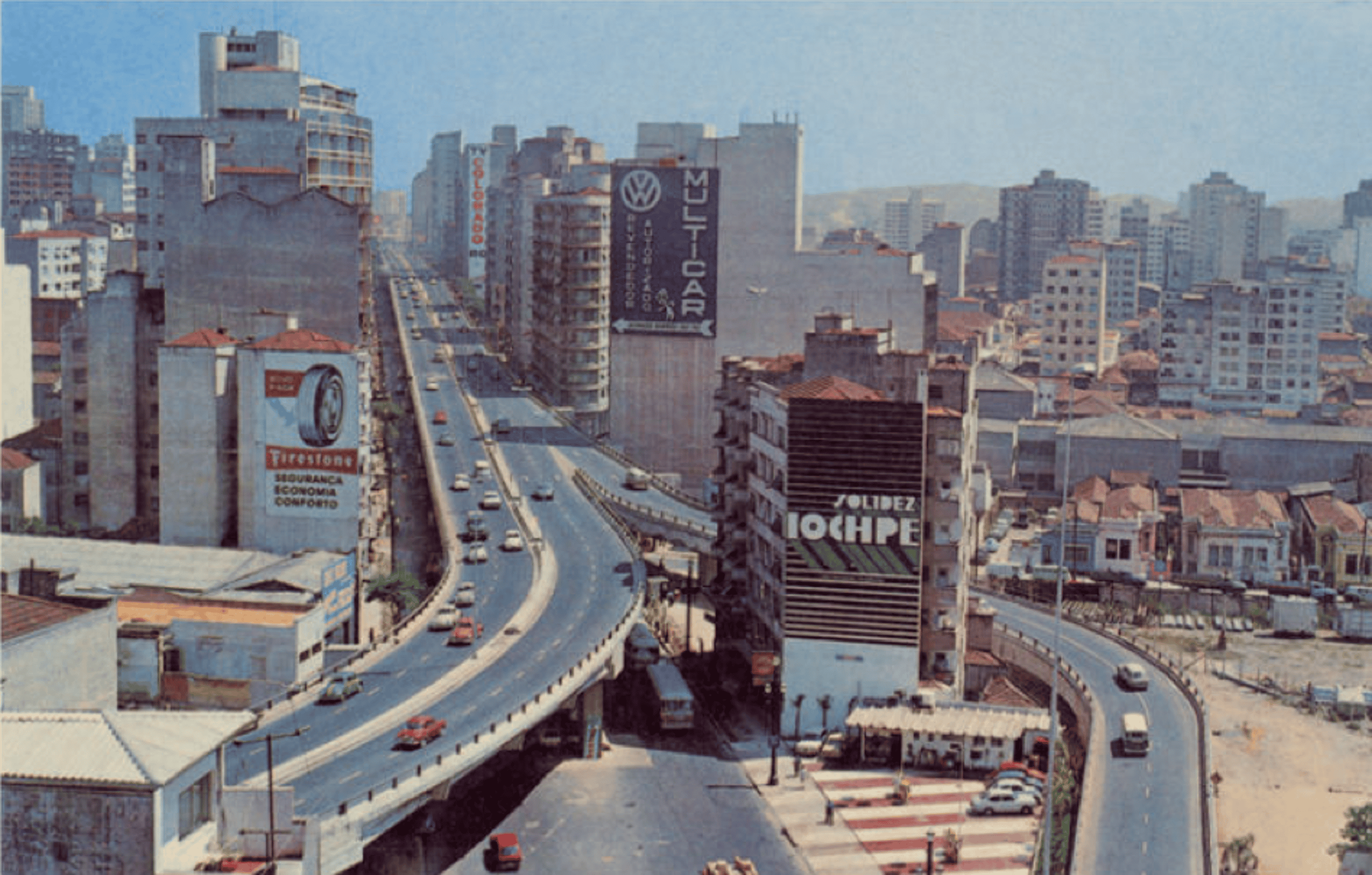 At some points the highway passes just eight feet away from the graffitied apartment blocks and offices that surround it. It had an immediate impact on the once vibrant neighbourhood around Amaral Gurgel Street and São João, which used to be known as São Paulo's Fifth Avenue. …
Living It Up

The new blue tarantula who, like New Yorkers, tolerates shared living spaces.
Herpetology is the study of creepy things—literally. Derived from the Greek word herpein, meaning "to creep," herpetologists go in search of the very creatures most people wish to avoid: amphibians and reptiles like frogs and snakes. Sometimes they also get lucky and discover a totally new creepy species that's not even in their field.
That's what happened when herpetologist-photographer Andrew Snyder wandered around a forest in Guyana at night as a member of the Biodiversity Assessment team for the Global Conservation Fund and World Wildlife Fund. As he shined his flashlight around in the dark, Snyder spotted what he thought was a blue eye peering out of a hole in a tree stump, he explained in a Nov. 20 blog post.
To his surprise, it was not an eye but the hairy blue forelimbs of a never-before-seen type of cobalt blue tarantula. "I have spent years conducting surveys in Guyana and have always paid close attention to the tarantula species," he wrote. "I immediately knew that this one was unlike any species I have encountered before." …
When news of a newly-studied exoplanet with an atmosphere begins to make headlines it's typically because the far-off world is potentially Earth-like, teasing the possibility of extraterrestrial life or even a potential future home for mankind. WASP-18b is not one of those kinds of exoplanets. In fact, it's so incredibly hostile to what we know about life that researchers had a difficult time explaining its existence at all.
WASP-18b is an absolutely huge planet, with a mass on the order of 10 times that of Jupiter, and it's also incredibly hot. The planet orbits its star at a very short distance, which isn't entirely uncommon for exoplanets, but what makes the alien world so strange is that it has a thick atmosphere that left scientists scratching their heads.
After observing the planet several times, that data revealed that WASP-18b's atmosphere is packed with poisonous carbon monoxide. That's not just a rarity among known planets; it's essentially unheard of. "The composition of WASP-18b defies all expectations," Kyle Sheppard of NASA's Goddard Space Flight Center, lead author of the study explains. "We don't know of any other extrasolar planet where carbon monoxide so completely dominates the upper atmosphere."
The research, which was published in Astrophysical Journal Letters, also reveals that the planet's puzzling atmosphere is devoid of any water, and thereby oxygen. The combination of no water, no oxygen, incredible heat, and plenty of carbon monoxide means that WASP-18b isn't the kind of place you'd want to spend a day, or even a few seconds. …
Off World
Shortly after Earth's formation, the planet was barren of life. Then, proteins combined in just the right way, and life appeared. For billions of years, it was simple and uninteresting, oceans full of simple, single-celled organisms floating for millennia after millennia. Suddenly, life got a lot more interesting. Organisms became more complex, with more than one cell. And they got much bigger — 10,000 times bigger by volume, Nick Lane, professor of evolutionary chemistry at University College London, wrote in his 2015 book The Vital Question.
The importance of this step — of this sudden increase in size and complexity — cannot be overstated. Without it, complex life (like humans, for example) would not exist.
How exactly this step happened is one of the big questions in evolutionary biology. There are a number of theories about how, exactly, life got so much more complicated. One of the prevailing theories, from Lane himself, focuses on energy. Here's the thinking: Cells need more energy to build more complex structures. To do that, according to Lane's theory, single-celled organisms merged with bacteria we now know as mitochondria, which have an electrical charge and bring power to the cell. It's possible, though unlikely, for the two bacteria to fit together, and even less probably that the two were able to survive and live symbiotically. This occurrence that made possible all other forms of complex life is rare, to be sure.
But in Lane's opinion, it only happened once. …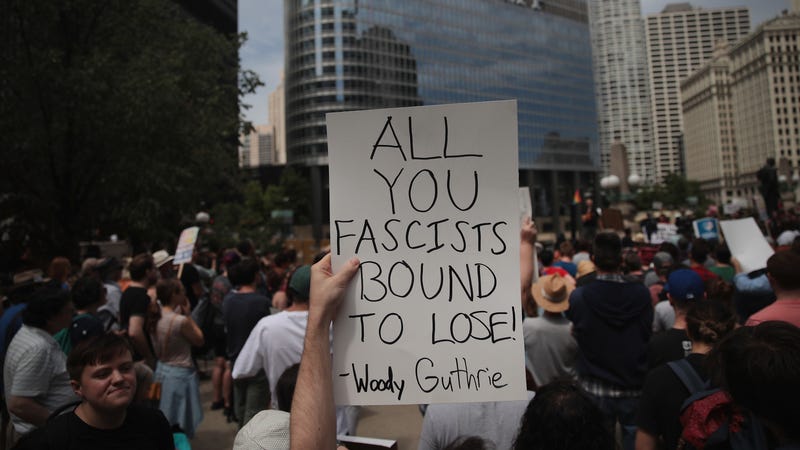 Last Saturday, we reported that a New York Times profile on a polite and well-mannered guy in Ohio who happens to be a "Nazi sympathizer"—a.k.a. a Nazi—was met with an enormous backlash. Apparently, people in general just aren't crazy about normalizing Nazis in high-profile New York Times stories that are ostensibly about the dangers of normalizing Nazis. Unfortunately, in what must be a pretty shocking development to come just days after being the subject of a New York Times profile, the Nazi in question has now lost his job.
The guy, Tony Hovater, had told the Times he was a welder, but he worked part-time with his wife and brother at a place called 571 Grill And Draft House. The original story hadn't named the restaurant, but people online figured out that Hovater worked there and the manager said that he received "dozens of angry, crude, and threatening messages" that scared the other employees. The restaurant says that Hovater voluntarily quit, but he told The New York Times "they decided to can me." …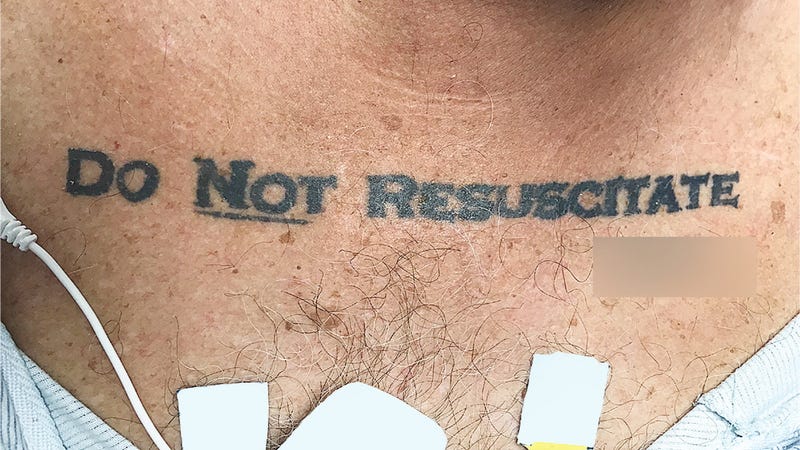 When an unresponsive patient arrived at a Florida hospital ER, the medical staff was taken aback upon discovering the words "DO NOT RESUSCITATE" tattooed onto the man's chest—with the word "NOT" underlined and with his signature beneath it. Confused and alarmed, the medical staff chose to ignore the apparent DNR request—but not without alerting the hospital's ethics team, who had a different take on the matter.
As described in a New England Journal of Medicine case report, the unnamed 70-year-old man was brought to the ER by paramedics in an unconscious state, and with an elevated blood alcohol level. The patient had a history of chronic obstructive pulmonary disease (a type of lung disease), diabetes, and an irregular heart rate. His condition began to deteriorate several hours after being admitted, and dramatic medical interventions were needed to keep the patient alive.
But with the "DO NOT RESUSCITATE" tattoo glaring back at them, the ICU team was suddenly confronted with a serious dilemma. The patient arrived at the hospital without ID, the medical staff was unable to contact next of kin, and efforts to revive or communicate with the patient were futile. The medical staff had no way of knowing if the tattoo was representative of the man's true end-of-life wishes, so they decided to play it safe and ignore it.
"We initially decided not to honor the tattoo, invoking the principle of not choosing an irreversible path when faced with uncertainty," wrote the authors of the case study. "This decision left us conflicted owing to the patient's extraordinary effort to make his presumed advance directive known; therefore, an ethics consultation was requested." …
The structures are so complex that they almost defy belief.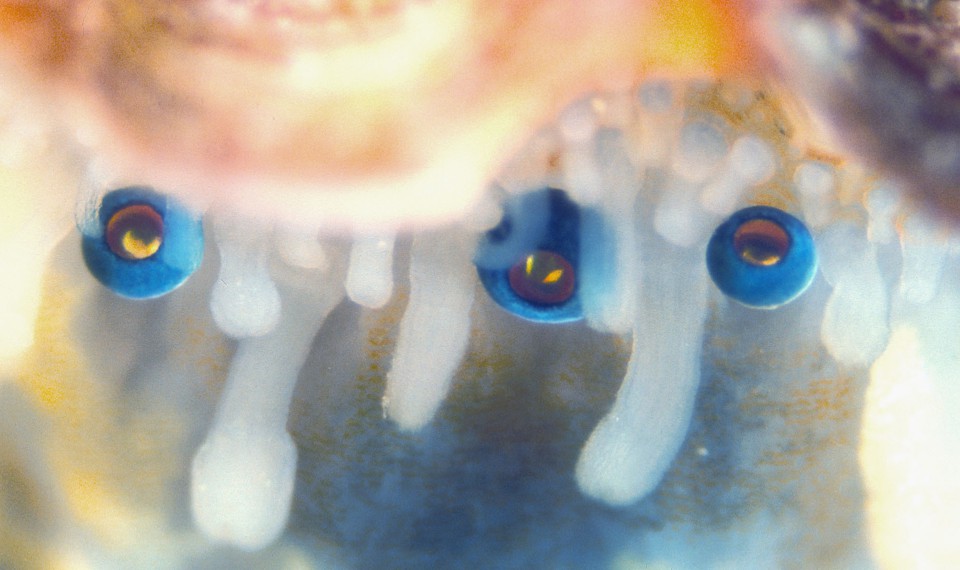 Scallop eyes. They feel the magic between you and I.
In 2019, if everything goes according to plan, the much-delayed James Webb Space Telescope will finally launch into orbit. Once assembled, it will use an array of 18 hexagonal mirrors to collect and focus the light from distant galaxies. This segmented-mirror design was developed in the 1980s, and it has been so successful that it will feature in almost all the large telescopes to be built in the near future.
But as always, nature got there first. For millions of years, scallops have been gazing at the world using dozens of eyes, each of which has a segmented mirror that's uncannily similar to those in our grandest telescopes. And scientists have just gotten a good look at one for the first time.
Yes, those scallops—the pan-seared pucks of white flesh that grace our dinner plates. Those pucks are just the muscles that the animals use to close their beautiful shells. Look at a full, living scallop, and you'll see a very different animal. And that animal will be looking right back at you, using dozens of eyes that line the fleshy mantle on the inner edges of its shell. Some species have up to 200 eyes. Others have electric-blue ones.
Inside the eyes, the weirdness deepens. When light enters a human eye, it passes through a lens, which focuses it onto the retina—a layer of light-sensitive cells. When light enters a scallop eye, it passes through a lenslike structure, which … doesn't seem to do anything. It then passes through two retinas, layered on top of each other. Finally, it hits a curved mirror at the back of the eye, which reflects it back onto the retinas. It's this mirror, and not the lens, which focuses the incoming light, in much the same way that those in segmented telescopes do. …
This man was so fed up with his commute he painted his own road signs.
A Chinese man has been fined after he was captured on surveillance footage painting new road signs in a bid to make his daily commute easier.
The Modern Express reports that a 28-year-old man surnamed Cai, was fined 1,000 yuan (£112; $151) in the eastern city of Lianyungang, Jiangsu province. He was captured on camera on 27 September with a can of white paint painting new arrows onto the road to redirect traffic, and told police it was the result of frustrations over the long delays on his daily bus journey to work.
"I saw that the straight lane was always packed with cars, while the lane that turns left has a lot of space," he told the police.
"I thought changing the signs would make my commute smoother."
Traffic police told Modern Express that they thought Mr Cai's behaviour was "very dangerous" and could have resulted in a collision. They have since deployed workers to repaint the road.
This is not the first time that someone in China has used their arts and crafts skills to invent their own traffic rules. …
Video Goodnesses
and not-so-goodnesses
Yesterday, President Donald Trump went to Missouri to talk up his tax plan, and to dismiss any thoughts that the GOP tax plan might benefit him personally.
"This is going to cost me a fortune, this thing, believe me…This is not good for me," the president said.
That's a stretch, to say the least. While there are some elements in the plan that won't benefit Trump that much, there are a lot of things he and his accountant should be able to take advantage of. One big help will be the change in how so-called pass-through businesses are taxed. Under the current law, pass-throughs are companies that don't pay corporate income taxes, but instead pay at the individual income tax rate of the owner or owners of the company.
Both the Senate and House tax reform packages lower the current tax rate these businesses are taxed at. Well, at least some of those businesses.
If you are a small Main Street, mom-and-pop shop you might get a break under the GOP plan. But there's a good chance it won't make any difference at all. According to the Tax Policy Center, "Nearly 90 percent of pass-through owners already pay a tax rate of 25 percent or less (under current law). Thus, the 25 percent income tax rate cap on pass-through income would not benefit them at all."
People who own pass-through businesses like hedge funds, or real-estate development and property-management entities, though, will almost certainly benefit a lot, since the GOP plan will sharply cut the tax rate they have to pay. Which means that despite Trump's protestations, this tax plan will likely be very good for him.
On December 14, the FCC will consider and vote on Chairman Ajit Pai's "Restoring Internet Freedom" proposal, which would reclassify internet service — now considered a Title II "utility" — as an "information service." The proposal, which is expected to pass on a party-line 3-2 vote, would end a 2015 policy known as "net neutrality," and give internet service providers significantly more power over what their customers do on the internet and how they access it.
Pai, his Republican allies, and the telecom industry promise that this will allow the internet to flourish and stimulate investment in broadband internet infrastructure. Critics and experts argue, however, that this policy change will simply remove the FCC-imposed barriers that prevent telecoms from abusing their power over the content and services delivered over their networks.
The Supreme Court is about to decide if cakes are art. In the most-watched case of the term, the justices will consider if bakers can say no to making cakes they don't agree with. Masterpiece Cakeshop v. Colorado Civil Rights Commission pits a cake-maker's First Amendment rights against a gay couple's right not to be discriminated against. A win for the cake shop could let other kinds of business owners turn people away because of who they are.
We asked other Denver bakers how they handle cakes they don't believe in — and where they draw the line.
THANKS to HBO and VICE News for making this program available on YouTube.
Donald Trump boasts about the GOP tax bill at a campaign rally, and Trevor explains how the president's attacks on journalism have had an impact on slavery in Libya.
THANKS to Comedy Central and The Daily Show with Trevor Noah for making this program available on YouTube.
Seth takes a closer look at how the national reckoning over sexual harassment continued yesterday with the firing of TODAY show host Matt Lauer and how President Trump is becoming increasingly unmoored from reality.
THANKS to NBC and Late Night with Seth Meyers for making this program available on YouTube.
Dom and Adrian set up their own Sydney-themed Artisan Donut shop in Portland, Oregon.
Spending the evening on the kitchen floor with Max.
FINALLY . . .
Oil industry says it's being bullied by you folks

Recently, while perusing the Denver Business Journal, I stumbled over the headline: "We are under attack."
I know, in 2017 those words could mean lots of things, but this was a story about the oil and gas industry so it caught my eye. It seems, according to the article, that the good citizens of Colorado have been picking on the oil and gas industry as of late. No, I'm being serious, that's what it said. The article was chock full of some of the most sanctimonious whining I've ever read. I wasn't sure whether to laugh or get mad.
In the piece, Dan Haley, president and CEO of the Colorado Oil & Gas Association (COGA) was speaking in front of 600 of his fellow industry leaders at COGA's annual meeting. There, in the comfort of Denver's Marriott City Center, Haley proclaimed to his wealthy, politically powerful peers, "We will not be bullied."
And he didn't stop there.
Haley went on to tell his congregation of oil executives that their poor little industry is being picked on. He actually used the words "we are under attack."
And that still wasn't the end of his Bizarro World view. …
Ed. More tomorrow? Probably. Possibly. Maybe. Not?