Look at this GIF. There's no sound, but most people who see it hear a "thudding" in their head each time the bouncing structure hits the ground. Why?
Does anyone in visual perception know why you can hear this gif? pic.twitter.com/mcT22Lzfkp

— Lisa DeBruine 🏳️‍🌈 (@lisadebruine) December 2, 2017
The answer has to do with how our senses work, says Christopher Fassnidge, a doctoral candidate in psychology at City, University of London. This illusion is an example of synesthesia, or when the senses — like hearing and sight — get crossed in the brain, he explained in an email to The Verge.
Going through the world, at every moment we are surrounded by movements that are logically associated with sound: we see a ball bouncing, and we expect to hear the bouncing. Because evidence suggests that so-called synesthetic pairings can be learned when we're small, Fassnidge says, it makes sense that many people can develop synesthesia for very common things. Other examples are a bit more unusual. Take, for instance, the pianist Nikolai Rimsky-Korsakov, who experienced different musical notes as colors. The two are rarely linked in everyday life, and so his ability is notable for that very reason.
Synesthesia is likely what's happening with the "noisy GIF" phenomenon, which Fassnidge's lab calls the "visually-evoked auditory response," or vEAR for short. (His lab is running a survey on vEAR, if you'd like to take part.) …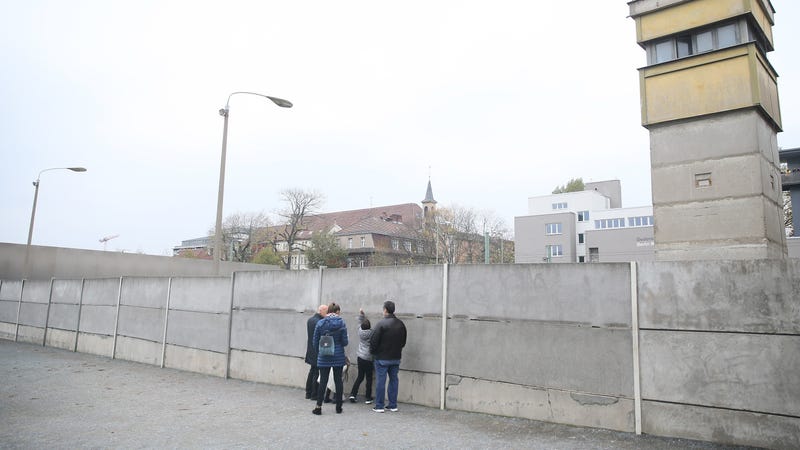 Here's a remnant of the Berlin Wall to remind everyone how kindly history tends to look upon these ideas.
As the majority of Americans sit back in disbelief, watching the legalized form of bribery that is the American political system of donors and elected shills enact some of the worst and most blatant class-war legislation in more than a decade, realizing our repeated phone calls (you have been calling, right?) raging against the dying of the constituent-based light are no match for the cowardice of someone who looks at the U.S. Senate and thinks, "Seems like a chance to make some real money," it's hard to maintain hope that anything will make it out of this case of congressional Tourette's syndrome alive.
Which is why it's nice to get a little Monday morning pick-me-up in the form of Cards Against Humanity's plan to fuck up any plan for a wall along the U.S.-Mexico border. As we reported last month, the company's holiday promotion, "Cards Against Humanity Saves America," rewards subscribers with six surprises over the course of December in exchange for $15 it then would use to purchase a plot of land along the border and retain a law firm specializing in eminent domain in order to make it as difficult as possible for the wall to get built. Day one is now complete, and the land is purchased, there is a lawyer's statement about the plan to fight any efforts to appropriate the plot, and an illustrated map of the land showing the proposed use of the wide-open gap in the wall, complete with a "Bienvenidos A Los Estados Unidos!" greeting any potential immigrants. …
"The economy is continuing to create more of our core customer."
Here's a grim picture of the state of the American economy: The CEO of Dollar General explained to the Wall Street Journal why things are looking up for his company.
Dollar General, with about 14,000 stores across the country and a $22 billion market value, targets customers making $40,000 a year or less. They are expanding, CEO Todd Vasos told the Journal.
Why?
"The economy is continuing to create more of our core customer," Vasos said.
This is how he described the typical Dollar General customer: "Doesn't look at her pantry or her refrigerator and say, 'You know, I'm going to be out of ketchup in the next few days. I'm going to order a few bottles. The core customer uses the last bit of ketchup at the table the night prior, and either on her way to work or on her way home picks up one bottle." …
Republican elites are pushing through their agenda while the president acts a fool.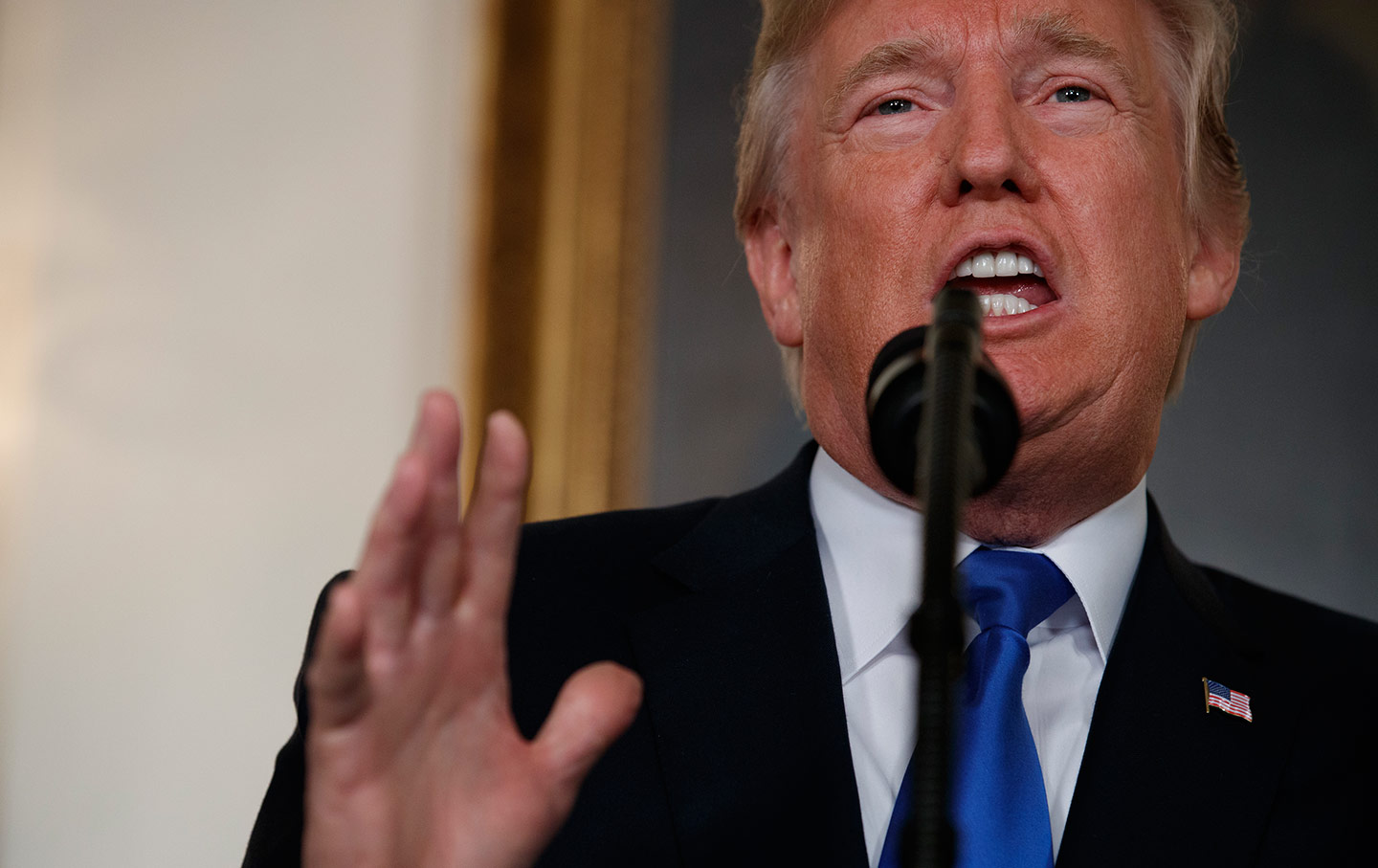 Donald Trump speaks at the White House in October 2017.
In the past few weeks, President Donald Trump has, in no particular order: tweeted out anti-Muslim propaganda, disgraced a ceremony honoring Navajo code talkers with a racist slur of Elizabeth Warren as "Pocahontas," called Kim Jong-Il "little Rocket man," lied about not benefiting from the tax plan that will line his pockets, revived his bizarre birther claims about Obama's birth, and questioned the authenticity of his infamous Access Hollywood bus tapes.
News coverage of this non-stop carnival barking has missed the real story of the past month, however. These antics are a distraction from the pernicious GOP agenda that is moving through Washington with amazing speed.
Virtually unified Republican caucuses in both the House and Senate are on the verge of passing a truly grotesque tax bill that would give more than 60 percent of its benefits to the richest 1 percent of Americans, while those making $75,000 or less will end up paying more in taxes. The GOP is ready to hand global corporations a $500 billion tax bonus for booking profits in foreign tax havens. They're happy to protect the obscene "carried interest" tax deduction that gives billionaire hedge fund managers a lower tax rate than their secretaries, even as they eliminate deductions for student loan interest, and add taxes on to graduate students for tuition waivers.
Republicans are also poised to tax Americans on the income used to pay for state and local taxes while allowing corporations to deduct those same taxes. Trump's major contribution has been to push for measures—elimination of the estate tax, elimination of the alternative minimum tax, lower taxes on "pass through" income—that will fill his own pockets.
The tax bill Republicans are trying to ramrod through the Congress provides a clear reminder of the real threat: the rabidly ideological Republican Party, which is looting the country just as it would under President Rubio or Romney. Trump had no clue about the policy and played little role in selling it. …
Trickled Again

Deja vu all over again.
Will sweeping corporate-tax cuts succeed in juicing the US economy and buoying middle-class wage growth? Most assuredly, says the Trump administration, with Congress poised to pass the Republican tax bill.
History, however, suggests the opposite.
The Trump team's argument goes something like this: Cutting taxes on businesses will free up profits they will invest in new factories, research and development, and new equipment. The resulting investment boom will spur growth, as firms hire and as workers harness new ideas and equipment to produce more than they used to.
Let's look at what happened the last time the US tested this logic. In 1986, Ronald Reagan signed cuts that brought corporate taxes to 35%, down from 48%.
"That's as large a cut as we're talking about today, and investment fell—that was the weakest period of investment in the postwar period," Dean Baker, economist and co-director of the Center for Economic and Policy Research (CEPR), an independent, nonpartisan think tank, tells Quartz. "I'm not going to say that was because we cut the taxes, but it's a little hard to believe that it will boost investment this time."
As a share of GDP, gross business investment peaked in 1982, at more than 15%. That share dropped sharply starting in 1987. …
Republican Sens. Susan Collins and Jeff Flake got assurances for their votes. Someone forgot to clear it with conservatives in the other chamber.
House conservatives are already indicating that they're prepared to block some of the key legislative promises that Senate Republicans demanded in exchange for their votes on tax reform legislation.
Those promises materialized in the frantic final hours of the tax debate last week, as Senate Majority Leader Mitch McConnell (R-KY) gave Sens. Susan Collins (R-ME) and Jeff Flake (R-AZ) assurances that some of their personal legislative priorities would be dealt with in exchange for their votes.
Collins said she received a promise that the Senate would consider two bipartisan pieces of legislation that would ostensibly mitigate the negative effects that could come from the tax bill's repeal of Obamacare's individual mandate. Flake said he received a "firm commitment from Senate Leadership and the administration" to work on a permanent protections for the soon-to-be-ended Obama-era program that shields children of undocumented immigrants.
Both senators ended up voting for the tax bill, giving it the 51 "yes" votes it needed to pass. Within days, however, reality began setting in that those promises might have been flimsy at best. …
Since it decriminalised all drugs in 2001, Portugal has seen dramatic drops in overdoses, HIV infection and drug-related crime.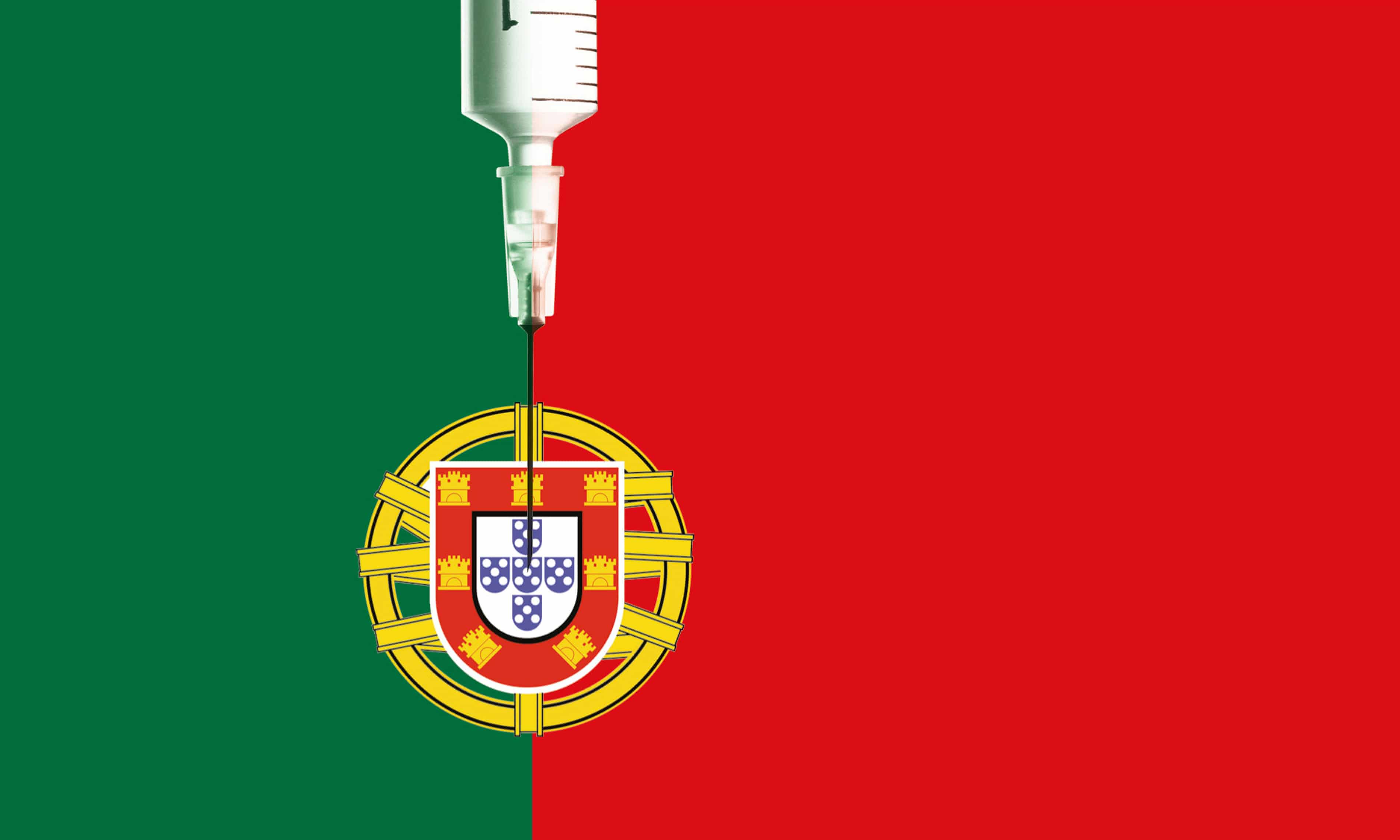 When the drugs came, they hit all at once. It was the 80s, and by the time one in 10 people had slipped into the depths of heroin use – bankers, university students, carpenters, socialites, miners – Portugal was in a state of panic.
Álvaro Pereira was working as a family doctor in Olhão in southern Portugal. "People were injecting themselves in the street, in public squares, in gardens," he told me. "At that time, not a day passed when there wasn't a robbery at a local business, or a mugging."
The crisis began in the south. The 80s were a prosperous time in Olhão, a fishing town 31 miles west of the Spanish border. Coastal waters filled fishermen's nets from the Gulf of Cádiz to Morocco, tourism was growing, and currency flowed throughout the southern Algarve region. But by the end of the decade, heroin began washing up on Olhão's shores. Overnight, Pereira's beloved slice of the Algarve coast became one of the drug capitals of Europe: one in every 100 Portuguese was battling a problematic heroin addiction at that time, but the number was even higher in the south. Headlines in the local press raised the alarm about overdose deaths and rising crime. The rate of HIV infection in Portugal became the highest in the European Union. Pereira recalled desperate patients and families beating a path to his door, terrified, bewildered, begging for help. "I got involved," he said, "only because I was ignorant."
In truth, there was a lot of ignorance back then. Forty years of authoritarian rule under the regime established by António Salazar in 1933 had suppressed education, weakened institutions and lowered the school-leaving age, in a strategy intended to keep the population docile. The country was closed to the outside world; people missed out on the experimentation and mind-expanding culture of the 1960s. When the regime ended abruptly in a military coup in 1974, Portugal was suddenly opened to new markets and influences. Under the old regime, Coca-Cola was banned and owning a cigarette lighter required a licence. When marijuana and then heroin began flooding in, the country was utterly unprepared.
Pereira tackled the growing wave of addiction the only way he knew how: one patient at a time. A student in her 20s who still lived with her parents might have her family involved in her recovery; a middle-aged man, estranged from his wife and living on the street, faced different risks and needed a different kind of support. Pereira improvised, calling on institutions and individuals in the community to lend a hand.
In 2001, nearly two decades into Pereira's accidental specialisation in addiction, Portugal became the first country to decriminalise the possession and consumption of all illicit substances. Rather than being arrested, those caught with a personal supply might be given a warning, a small fine, or told to appear before a local commission – a doctor, a lawyer and a social worker – about treatment, harm reduction, and the support services that were available to them. …
DEGREE OF DIFFICULTY: Prepare to spend a while; it's The Long Read.
'I can't leave certain things unaddressed', says talkshow host, who angrily questioned the actor about his 'dismissal' of harassment claims made against him.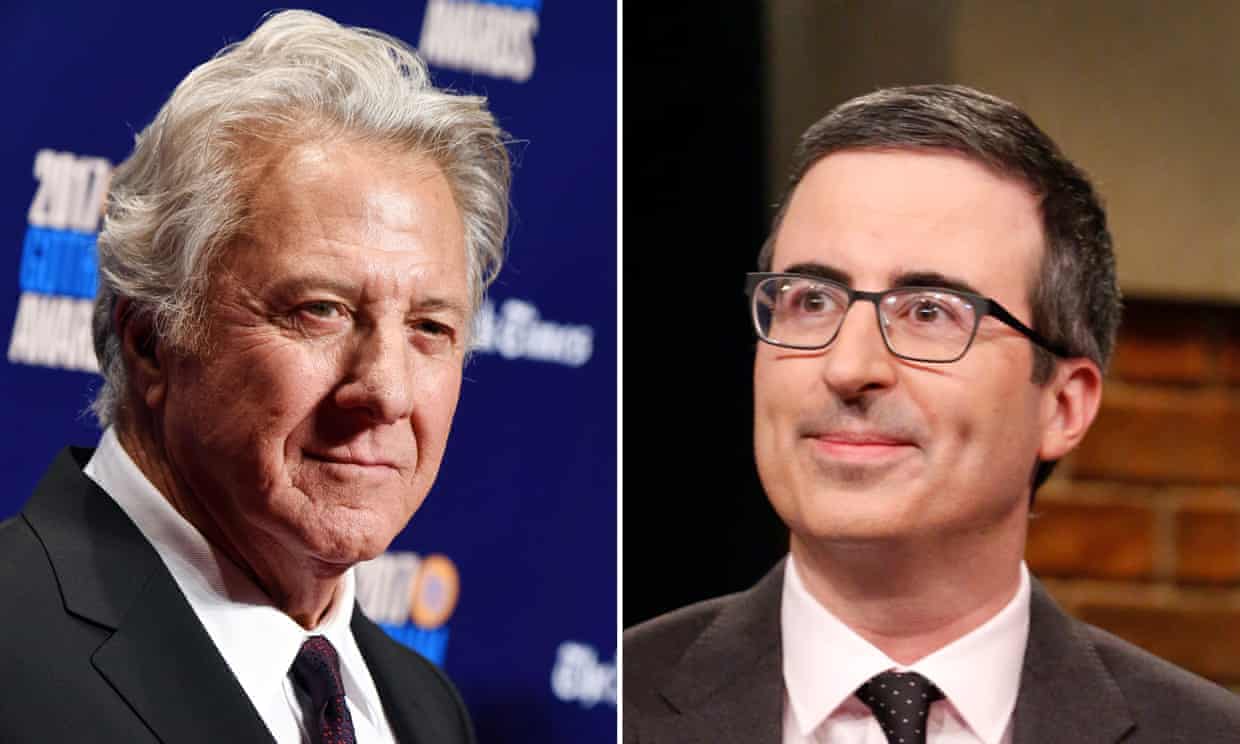 Dustin Hoffman and John Oliver
Dustin Hoffman and John Oliver became embroiled in a heated argument during a public Q&A, after Oliver confronted Hoffman about allegations of sexual harassment made against him.
According to a report in the Washington Post, the pair clashed midway through a 20th anniversary panel for the black comedy Wag the Dog that featured Hoffman and co-star Robert De Niro, as well as the film's director Barry Levinson and producer Jane Rosenthal.
Satirist Oliver, who was hosting the panel, reportedly brought up the subject of sexual misconduct in Hollywood before directly asking Hoffman about historic allegations of harassment made against him by actor Anna Graham Hunter last month. Hunter claims that Hoffman groped her and made inappropriate comments when she was working as a 17-year-old intern on the set of a 1985 TV movie adaptation of Death of a Salesman.
At the time Hoffman responded in a statement in which he expressed remorse "that anything I might have done could have put her in an uncomfortable situation. I am sorry. It is not reflective of who I am."
"This is something we're going to have to talk about because … it's hanging in the air", Oliver reportedly said at the Q&A, before asking the actor whether he felt that the single statement he had made was sufficient.
"First of all, it didn't happen the way she reported," Hoffman replied, before suggesting that the apology he had made in response to the allegations had been misconstrued as an admission of guilt by the press. "I still don't know who this woman is," Hoffman said. "I never met her. If I met her it was in concert with other people." …
Each holiday comes with its own set of traditions. No white after Labor Day, lots of food on Thanksgiving, virgin sacrifice on Easter — you know, the usual. But while you might occasionally wonder how these traditions got started, we'd advise you not to dig too deeply, because you might not like what you find …
5. The First Rockefeller Center Christmas Tree Was Covered In Garbage
---
There are few Christmas events more heavily anticipated than the tree-lighting ceremony in Rockefeller Center in New York City. The massive (and massively expensive) tree is always adorned with beautiful lights and glamour, serving as a shining beacon of prosperity and good old American dick-swinging. But the first Rockefeller tree had a much more depressing message to send: "We're broke."
While the trees today are gigantic 80-90-foot specimens cultivated from around the country, the first Rockefeller tree was a paltry 20 feet — and it wasn't even Rockefeller's to begin with. In 1931, the country was suffering under the Great Depression, a time when not having to catch your food automatically made you a 1 percenter. But not everyone was suffering. John D. Rockefeller Jr. was making good time erecting his wildly expensive Rockefeller Center. Not that anyone was complaining; if he'd spent that money on cocaine and flapper girls, a lot of construction workers' kids would have had bricks for Christmas presents.
So while they were forced to work on Christmas Eve, the builders of Rockefeller Center were acutely aware of how fortunate they were to be earning enough money to last the winter. And so, while waiting in line in the cold for their paycheck, the workers decided to kill time and celebrate their good fortune by erecting a Charlie Brown tree:
If you look closely, you can see a beagle dancing in the background.
The workers didn't have Christmas ornaments in their pockets like we all do nowadays, but they made do with what they could find around the site: tin cans, string, cranberries they had for some reason, and garlands made out of paper. Rockefeller Center officially opened two years later, and decided to adopt the Christmas tree as a new tradition — only bigger and gaudier, because rich people. …
Food For Thought

Brahman cattle graze in a field in Innisfail, Queensland, Australia. Researchers can estimate the greenhouse gas emissions and land used to produce various foods in different parts of the world. They've used that data to calculate the environmental impact of a shift in what people eat.
Telling people what to eat is perilous, whether the advice is aimed at a friend or an entire country. Of course, people and governments do it anyway. Dozens of countries have come up with recommendations for the perfect, most health-promoting diet.
Those recommendations are aimed at improving people's health. But Paul Behrens, a researcher at the University of Leiden, in the Netherlands, wanted to know whether this advice — if people actually followed it — might affect the environment. Producing foods, after all, has profoundly altered the planet, and those impacts can vary a lot, depending on which foods people demand.
Behrens just published his analysis in the Proceedings of the National Academy of Sciences. He looked at what would happen if people in 37 different countries followed the dietary recommendations of their own governments. In general, he says, those shifts would be good for the planet. Greenhouse gas emissions would fall, waterways would suffer less pollution from fertilizer, and less land would be required to feed people.
"We have the perfect tool to analyze this," says Behrens. Scientists have assembled a massive database that allows them to calculate the emissions of greenhouse gases, the demand for land, or the fertilizer pollution caused by growing different kinds of food in different parts of the world. It can even distinguish, for instance, between the greenhouse gas emissions resulting from letting cattle graze on grass in Australia, versus feeding them corn in North American feedlots. …
After Alan Duarte lost nine of his male relatives to violence, he set up a boxing academy to help young people develop their potential. His work is now the subject of an award-winning documentary by British filmmakers, The Good Fight.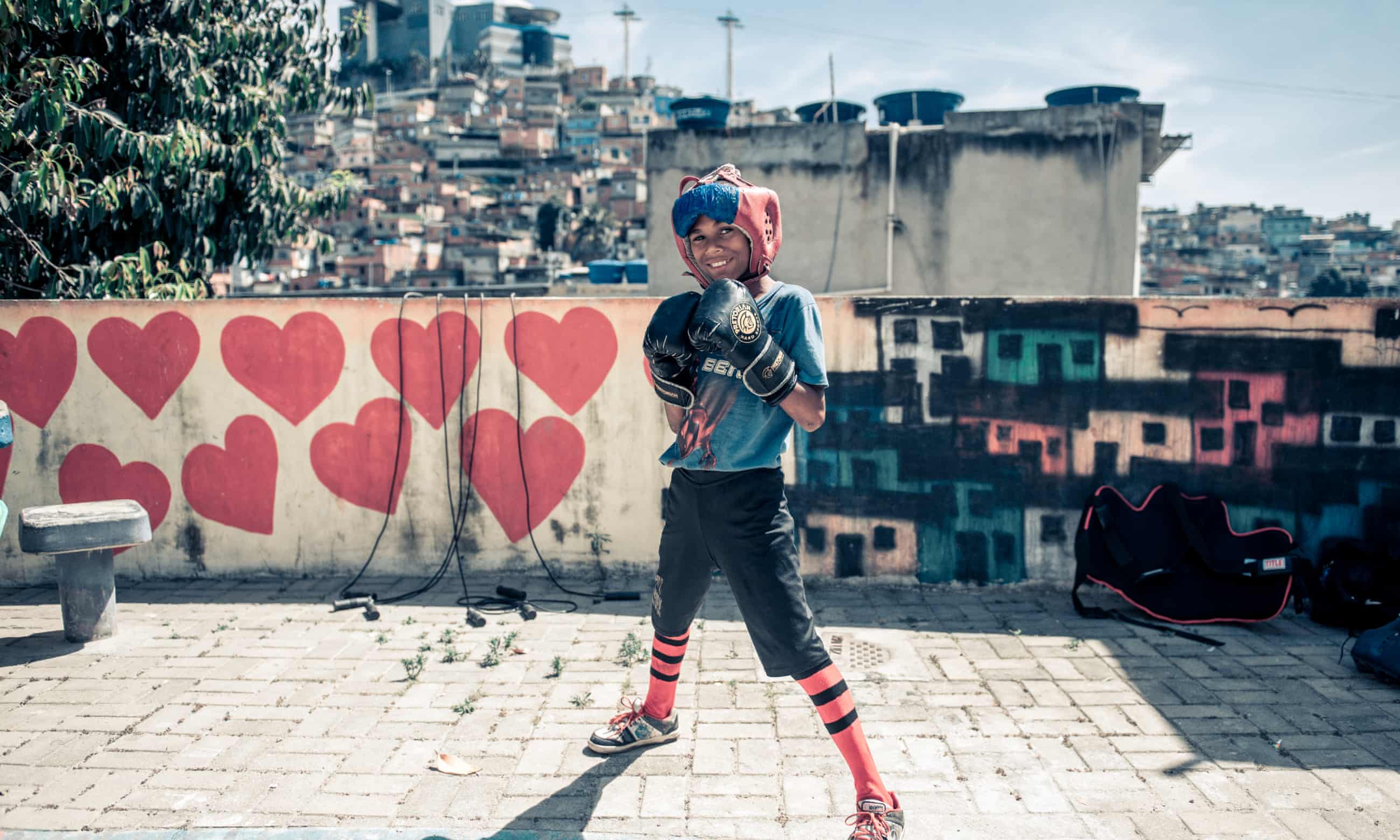 A young fighter at a training session of the Abraço Campeão boxing academy.
The men in Alan Duarte's family do not die from natural causes. Gun violence in the favela complex of Alemão, Rio de Janeiro, has claimed the lives of 10 close male relatives. After the death of his brother, Jackson, Duarte decided to fight back.
With a few borrowed gloves and castoff punchbags, in 2014 Duarte set up the boxing academy Abraço Campeão (Embracing Champions) to help children and young people develop their potential as well as the skills to forge a better future, despite growing up in a community blighted by armed conflict and decades of state neglect.
"Boxing teaches them how to create a new identity and see the possibilities of their lives differently," says Duarte, 29, whose project is aimed at 10- to 29-year-olds, the group most at risk of being drawn into the drugs trade or getting caught in regular shootouts between gangs and military police. "They learn values like loyalty, friendship and resilience, and they discover their own potential."
Situated in northern Rio, Alemão's official population is around 70,000, though the true number is believed to be much higher. The high levels of violence there are well-documented, but less reported is the social exclusion and stigma young people face because they live in an area long regarded as a stronghold of the drugs trade.
"Children in our community are so used to hearing 'No'. No, you can't have that. No, you can't go there. With the project, we say, 'Yes, you can box with us'," says Duarte, whose work as a coach for another boxing non-profit organisation, Luta Pela Paz (Fight for Peace), in the favela complex of Maré, led him to set up the project in Alemão. "Our young people have so much energy and talent. All they lack is the chance to show it." …
But director Hari Kondabolu says he'd rather see Apu developed than removed from the show.
In the documentary The Problem with Apu, comedian Hari Kondabolu made the case that for decades, The Simpsons' Indian caricature was the only form of media representation that South Asians had. Unfortunately, Kondabolu argues, as a yogi, a PhD holder, and convenience store owner, Apu embodies multiple stereotypes about Indians. He's also voiced by Hank Azaria, who Kondabolu points out sounds like "an impression of a white guy making fun of my dad." Through the film, which debuted on November 19th on truTV and is now on VOD, Kondabolu created a larger conversation about the character.
On Sunday, Azaria responded, after a TMZ interviewer ambushed him with a camera at the Los Angeles International Airport. Azaria said he's aware of The Problem with Apu: "I think the documentary made some really interesting points, and gave us a lot at The Simpsons to think about," he said. "And we really are thinking about it."
Azaria continued: "Definitely anybody who was hurt or offended by it, by any character or vocal performance, it's really upsetting that that was hurtful to anybody. And I think it's an important conversation, and one definitely worth having, so thanks for asking."
So what do The Simpsons' writers have planned for Apu? Azaria says nothing has been finalized. "It's a lot to digest," he said. …
Cash Incentive

On the move.
Germany is offering thousands of euros to rejected asylum seekers who voluntarily return home.
The scheme, which the government has dubbed "Your country. Your future. Now!" will run until February next year. Individual migrants can receive up to €1,000 ($1,185) if they voluntarily return home, while families can receive up to €3,000 to do the same. The assistance is meant to help reintegrate rejected asylum seekers in their home countries. The refugees, which were unsuccessful in their applications, could also get subsidized housing for a year—to help pay rent, home renovations, or get basic equipment for a kitchen or a bathroom.
At the height of the refugee crisis in 2015, chancellor Angela Merkel vowed to deport rejected asylum seekers with "a friendly face." In practice, this means promoting voluntary return. As well as cash incentives and subsidized housing, rejected asylum seekers could also receive financial travel assistance and one-time financial start-up help. The government is also pointing rejected asylum seekers to so-called "counseling centers," where they can receive support and advice.
Some 1.6 million people sought asylum in Germany at the end of 2016, according to Federal Statistical Office of Germany. Since 2014, the number of asylum seekers increased by 851,000 (a 113% jump). At the end of 2016, 872,000 asylum seekers (54%) had a humanitarian residence permit and therefore had their asylum application accepted. But for most accepted asylum seekers (600,000), this recognition was only temporary. Germany rejected the asylum claim of 158,000 people in 2016. …
• JAL has option to buy as many as 20 supersonic jets from Boom
• Virgin is already partnering with Boom; debut aimed for 2020s
Boom Technology Inc., seeking to build a supersonic jet for passenger travel, got a $10 million investment from Japan Airlines Co. as the U.S. startup aims to revive ultra-fast travel that ended more than a decade back with the Concorde.
Japan Air also agreed to take an option to purchase up to 20 aircraft, the two companies said in a joint statement posted on the carrier's website. The Asian carrier is the second company to publicly announce an intention to purchase Boom's supersonic jet, after billionaire Richard Branson's Virgin Atlantic.
Boom's idea is to build a 45-to-55 seat aircraft that cruises at Mach 2.2 (1,451 miles per hour), or capable of whisking passengers between New York and London in about three hours. The Concorde, flown by British Airways and Air France at twice the speed of sound, retired in 2003 after almost three decades in service as customers abandoned the jets amid declining economies and maintenance costs to keep them flying soared.
Japan Air, also known as JAL, will provide its knowledge and experience as an airline to support Boom in developing the aircraft, the company said. The aircraft, which aims for an entry into service in mid-2020s, will have a range of 8,334 kilometers, roughly the distance between Beijing and London. …

This photo, edited and posted on China's version of Twitter, shows a single penguin at the Guishan zoo.
A zoo in China with a paltry line-up of animals, including inflatable penguins and a single tortoise, has drawn laughs and derision from Chinese netizens.
The zoo opened recently in China's Yulin city, which is usually in the news for its annual dog meat festival, Chinese news site The Cover reported on Thursday (Nov 30).
The Guishan zoo put out an advertisement saying it had a "penguin invasion", and added that the zoo had activities on Nov 25 and Nov 26, which could "educate visitors about living creatures".
A banner, which shows animals such as an ostrich, a peacock, a crocodile and penguins from the animated film Madagascar, proclaims: "Where to go this weekend? A new zoo has moved in – come visit."
Photos going viral on China's Twitter-like site Sina Weibo show scenes at the zoo.
One shot shows six inflatable penguins in an "enclosure". Another shows a single blow-up penguin in a moat, with children looking on.
Other sights at the zoo include a few roosters in a cage, some geese and a "longevity tortoise" that supposedly invites luck. It was placed in a clear fish tank and several dollar bills and coins had been tossed inside. …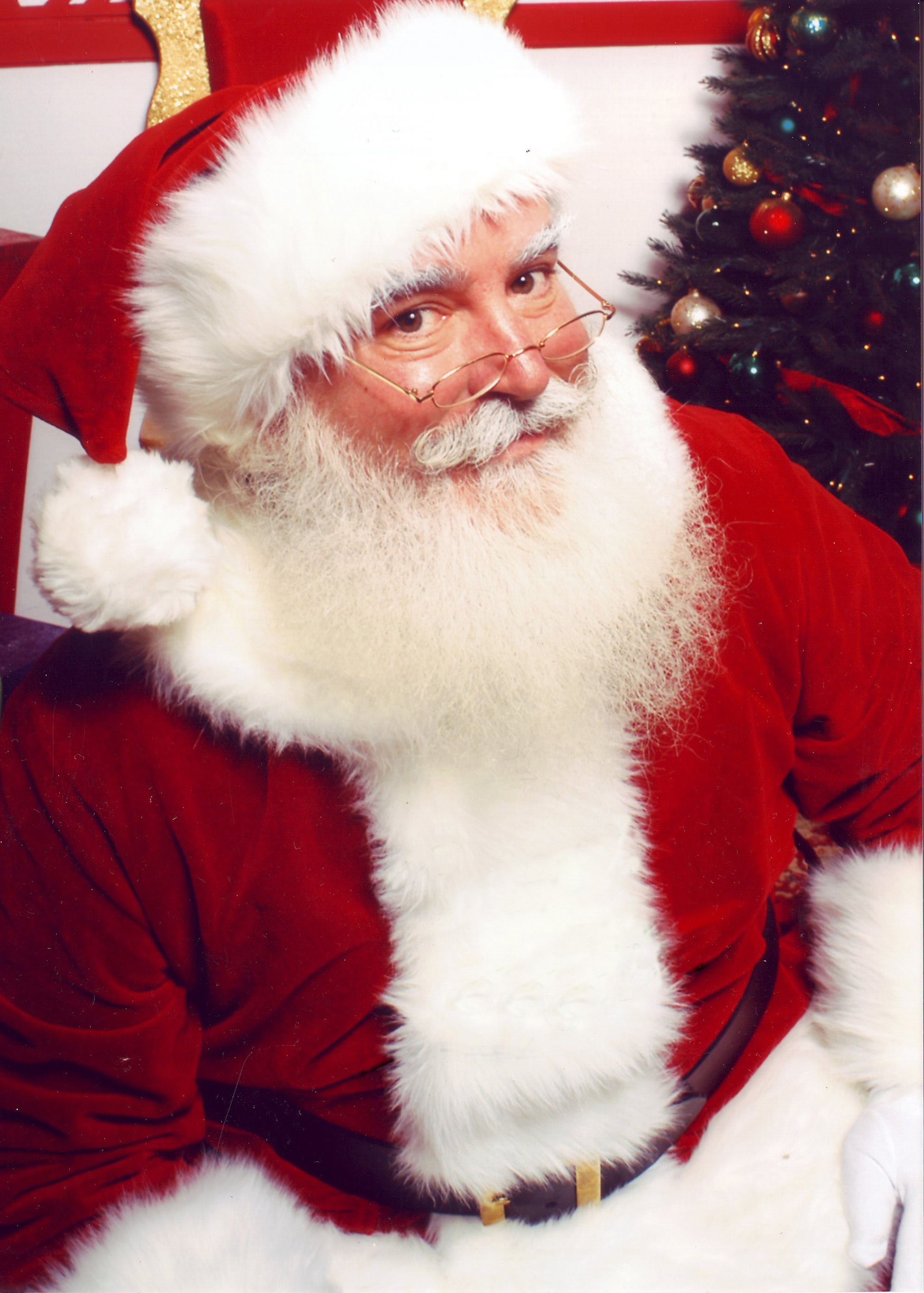 Born in 1955 in Baltimore, Jonathan Meath studied at New York University, graduating with honors in 1979 before embarking on a lucrative career as a children's television producer, with arguably his most famous credit being that of senior producer for almost 300 episodes of Where in the World is Carmen Sandiego? During his career, Meath also worked with The Jim Henson Company producing episodes of The Wubbulous World of Dr. Seuss as well as helping to develop various Nickelodeon and Discovery Kids shows. It's likely that Meath would have continued in television until his retirement if not for the the fact that for almost of his adult life he sported a full beard.
Why does this matter you ask? Well, when Meath entered his late 40s in the early 2000s, his hair and beard began to whiten considerably which made him, like all mildly tubby older men sporting a giant fuzzy beard, kind of look like Santa. As Meath would later recount in an interview with WGBH News, so many kids began mistaking him for Santa that, in 2002, his wife thought it'd be funny to buy him a Santa suit on Ebay for Christmas.
While it was initially something of a joke, not long after trying it on, Meath stated, "I found myself in the bathtub… thinking about how often people have opportunities that stare them in the face — and then slough them off."
So the next year, he dusted off the suit and scored a gig as a mall Santa, something he describes as "one of the most wonderful experiences in the world".
Eager for more of the ultimate Christmas high, Meath decided to try and pursue portraying Kris Kringle full-time.
So how does one go about becoming a year round, premiere Santa Claus? A good bet is to first go to Santa school. Seriously. …
Video Goodnesses
and not-so-goodnesses
Baltimore is often called the "heroin capital" of the U.S., and has been battling the drug for decades. As many one in every 10 residents is addicted. But fatal overdoses are rising sharply, largely because the heroin is often cut with fentanyl, which is 50-100 times more potent, but varies in amount from batch to batch.
Bad batches are killing so many people that one resident, along with his team of young programmers and a grant from the city, created an emergency text alert system for mass overdose events.
This is the fifth installment for our series "World of Hurt," which examines the ways different regions are responding to the nation's opioid crisis.
At the Chernobyl Nuclear Power Plant, workers are tackling the final preparations for a major milestone, slated for next year: handing over full control of the site to Ukraine. Chernobyl still holds the distinction of being the world's worst nuclear disaster. And the job of containing the fallout has required an international cast of players. A year ago, crews finished putting the new sarcophagus in place. It's a massive steel arch — officially called the New Safe Confinement — that covers the destroyed reactor. Now, workers are busy sealing up the space between the new sarcophagus and the old one– which was built in the 80s. And they're facing some of the highest levels of radiation they've encountered so far. Jake Hanrahan got an exclusive look.
THANKS to HBO and VICE News for making this program available on YouTube.
Trevor takes a closer look at the Republican-penned Senate tax bill that gives massive breaks to millionaires and large corporations.
THANKS to Comedy Central and The Daily Show with Trevor Noah for making this program available on YouTube.
Donald Trump's lawyer is taking the blame for a tweet in which the President essentially admitted to obstruction of justice.
Billy Bush confirms the authenticity of the infamous 'Access Hollywood' tape. And then some.
THANKS to CBS and The Late Show with Stephen Colbert for making this program available on YouTube.
The GOP's tax cuts for the wealthy #LafferCurve was a shitty magic trick then and it's a shitty magic trick now. Tada!
THANKS to TBS and Full Frontal with Samantha Bee for making this program available on YouTube.
Seth takes a closer look at how one of President Trump's closest associates pleaded guilty on Friday to lying to the FBI and how Republicans forged ahead with a radical plan to slash taxes for corporations and the wealthy.
THANKS to NBC and Late Night with Seth Meyers for making this program available on YouTube.
Not that we want tampon ads to get all into the graphic details of what their products actually do. But seriously, what's with all the yoga and blue fluids?
Max and his military men and air plane.
FINALLY . . .
The Museum of Failure covers everything from flopped movies to disastrous food products, celebrating the missteps that many have decided to forget.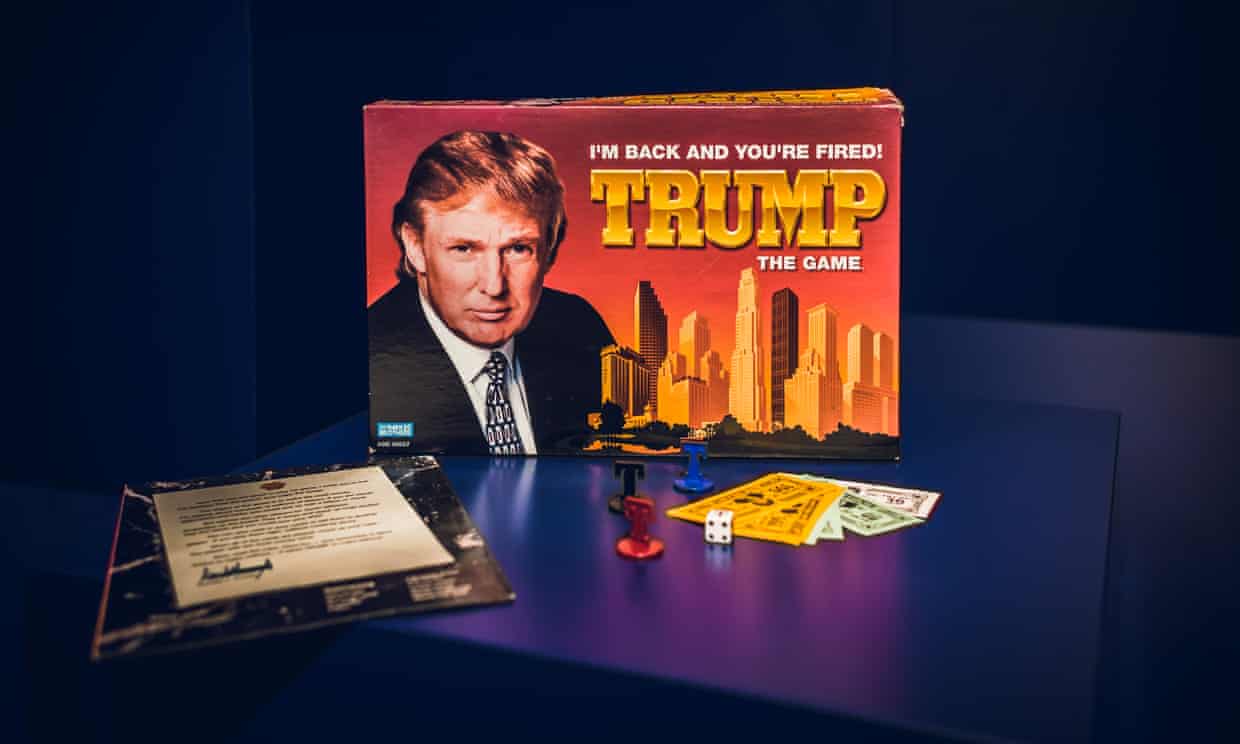 The Trump board game in the Museum of Failure.

For your viewing pleasure, downtown LA's new Museum of Failure has gathered together some of history's most ill-conceived ideas.
There's the Shared Girlfriend, a $45-a-day rental sex doll that the Chinese company Taqu launched in September – and recalled just two days later, due to a government backlash – which sits right across from a small shrine to some of the current president's shortest-lived ventures. There's Success Distilled, AKA a bottle of yellow-tinged Trump Vodka (2006-2011); a box set of Trump: The Game, the only version of Monopoly in which you can actually get fired; and a pair of textbooks from Trump University, including Play to Win in Business and Life and Entrepreneurship 101: How to Turn Your Idea Into a Money Machine.
"The Trump exhibit could have been much bigger," says the clinical psychologist and Museum of Failure founder Samuel West. "There's so many more. What's interesting is that, whatever you think of him, yea or nay, Trump is a phenomenon. He's stumbled from failure to failure in business – not evaded failure, but met it full force. He's a fantastic example that failure is often in our heads, and you can fail extensively without it having to paralyze you."
Although the president's no-fail attitude could be attributed to his endless financial cushion, West founded his museum last summer in Helsingborg, Sweden, with this same inspirational spirit of destigmatizing mistakes, no matter how epic. Operating on a shoestring, Swedish government-funded budget, the museum opened with 60 artifacts of marketing missteps and what West calls "corporate hubris", which attracted 15,000 visitors in its three-month run, no small feat in a town with a population that hovers just under 125,000 people. The Museum of Failure, ironically, was a runaway success. …
Ed. More tomorrow? Probably. Possibly. Maybe. Not?