He Predicted The 2016 Fake News Crisis. Now He's Worried About An Information Apocalypse.

"What happens when anyone can make it appear as if anything has happened, regardless of whether or not it did?" technologist Aviv Ovadya warns."What happens when anyone can make it appear as if anything has happened, regardless of whether or not it did?" technologist Aviv Ovadya warns."What happens when anyone can make it appear as if anything has happened, regardless of whether or not it did?" technologist Aviv Ovadya warns.

In mid-2016, Aviv Ovadya realized there was something fundamentally wrong with the internet — so wrong that he abandoned his work and sounded an alarm. A few weeks before the 2016 election, he presented his concerns to technologists in San Francisco's Bay Area and warned of an impending crisis of misinformation in a presentation he titled "Infocalypse."
The web and the information ecosystem that had developed around it was wildly unhealthy, Ovadya argued. The incentives that governed its biggest platforms were calibrated to reward information that was often misleading and polarizing, or both. Platforms like Facebook, Twitter, and Google prioritized clicks, shares, ads, and money over quality of information, and Ovadya couldn't shake the feeling that it was all building toward something bad — a kind of critical threshold of addictive and toxic misinformation. The presentation was largely ignored by employees from the Big Tech platforms — including a few from Facebook who would later go on to drive the company's NewsFeed integrity effort.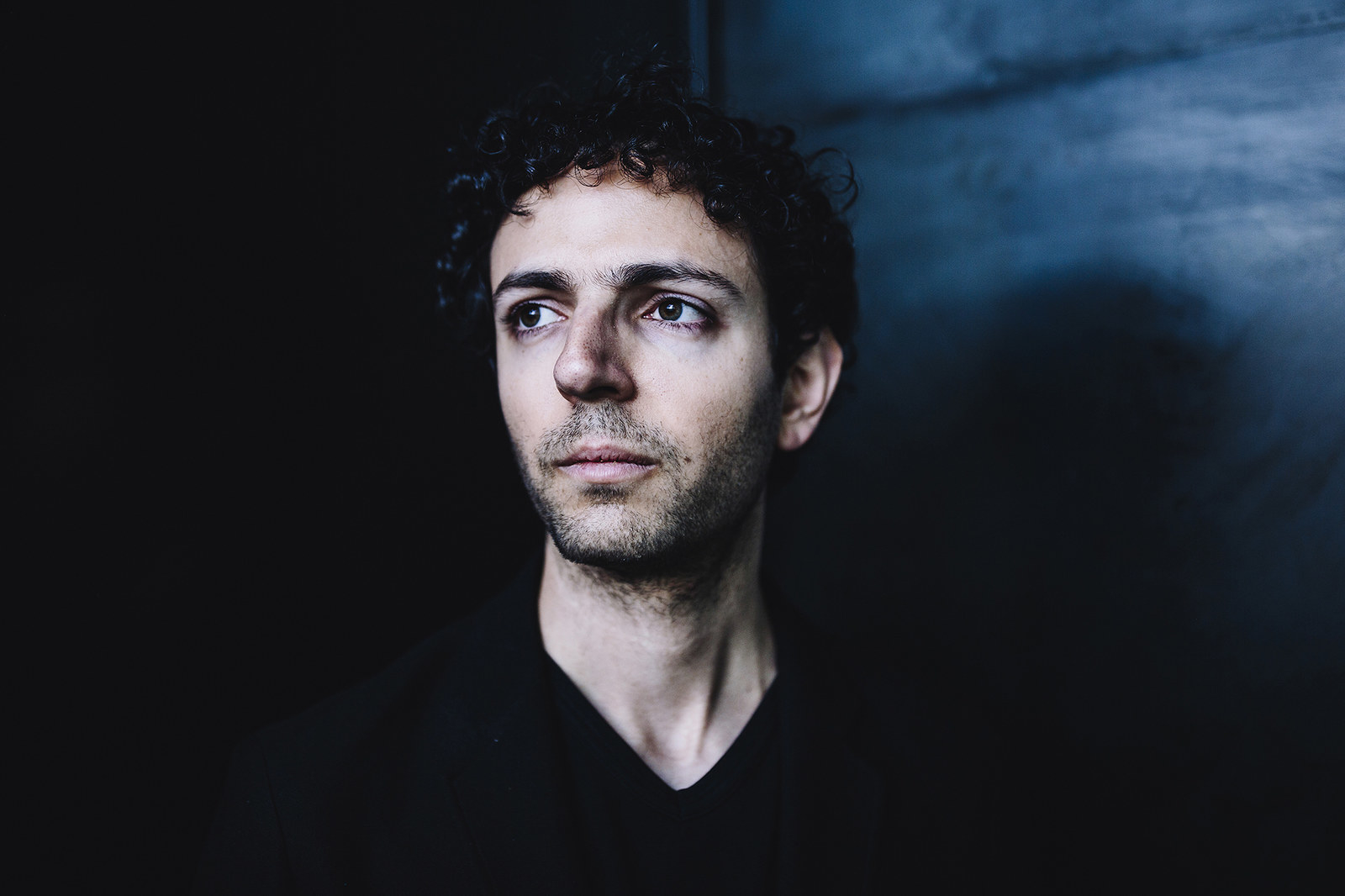 Aviv Ovadya, San Francisco, Calif. Tuesday, February 1, 2018.
"At the time, it felt like we were in a car careening out of control and it wasn't just that everyone was saying, 'we'll be fine' — it's that they didn't even see the car," he said.
Ovadya saw early what many — including lawmakers, journalists, and Big Tech CEOs — wouldn't grasp until months later: Our platformed and algorithmically optimized world is vulnerable — to propaganda, to misinformation, to dark targeted advertising from foreign governments — so much so that it threatens to undermine a cornerstone of human discourse: the credibility of fact.
But it's what he sees coming next that will really scare the shit out of you. …
Jesus Berrones, 30, was first brought to the U.S. without immigration documents in 1989, when he was 1. Since then, he's worked to establish a life here, he married a U.S. citizen, and together they are raising a family of five children in Arizona.
In 2016, his now 5–year–old son was diagnosed with leukemia, for which he is currently undergoing chemotherapy treatment. The couple is pregnant with their sixth child, and Berrones is the family's sole financial provider.
Despite all of this, Immigration and Customs Enforcement ordered Berrones to be deported to Mexico on Monday, HuffPost reported this weekend.
According to that report, Berrones was caught driving with a fake license when he was 19. He was deported to Mexico, and then re–entered the U.S. without immigration documents two more times to be reunited with his family.
When his son was diagnosed with cancer nearly two years ago, ICE granted a stay of removal, which HuffPost says is often ordered when parents must care for their sick children.
But that status has now changed a year into the Trump administration…

Jorge Velasquez is a TPS holder from El Salvador and has lived in Colorado for two decades.
Denver has long had a strong immigrant-rights community, one that conveys information to undocumented residents about how to protect themselves from immigration enforcement. But until recently, people around Denver with Temporary Protected Status — a program offered to people who arrive from specific countries that the Department of Homeland Security deems unsafe for reasons such as violence or natural disasters — were not so visible when it came to community organizing, even though some TPS holders, such as those from El Salvador, have been living in the United States for decades.
Much has changed under President Trump. Over the past year, his administration has announced the expiration of TPS for residents of countries including Haiti, Honduras, Nicaragua and Yemen. In January, the future of 263,000 TPS grantees from El Salvador was made uncertain when DHS announced that it will not renew their protected status, which expires in September 2019.
Now, immigrant-rights groups around Denver are scrambling to reach out to TPS communities in the Centennial State and provide information about the changes coming out of Washington, D.C. — and what to do if they find themselves subject to immigration enforcement. In late January, about fifty people gathered at the faith campus shared by Park Hill United Methodist Church and Temple Micah to discuss the future for TPS holders in Colorado.
"I think for TPS holders, it's even scarier than for the larger undocumented population," says Jenn Piper, an organizer with the American Friends Service Committee. "The reason people were granted TPS in the first place is because their country is unsafe for them. So whether you're talking about Syria — which actually is a war zone — or El Salvador, which has the same murder rate as a war zone, they're not places that are able to reabsorb people economically, but even more importantly, there are much higher risks for violence and extortion. Folks aren't only worried about the interruption of their lives here [in the United States], but also their physical safety if we get to the point of deportation." …
WIN WIN

Let's make a deal.
Donald Trump's "America First" agenda will shrink the US trade deficit and overturn "decades of unfair trade deals that sacrificed our prosperity and shipped away our companies," the president promised at last week's State of the Union address.
But translating that rhetoric into concrete trade policy is a thorny task for Trump's top advisors, who were welcomed at the recent World Economic Forum in Davos for clues to Trump's administration really wants, and how it plans to manage the world's biggest economy. Quartz found their public statements left more questions than answers.
The administration maintains its perplexing focus on trade deficits
The administration's focus on the US trade deficit, which Trump has called "disastrous," continues to perplex outsiders.
Richard Baldwin, a professor at the Graduate Institute in Geneva and president of the Centre for Economic Policy Research, described his conversation with US trade representative Robert Lighthizer to Quartz: Lighthizer described the US trade deficit as a sign that the world's most open economy is being taken advantage of. "That is like trying to gauge whether your broken leg is getting better by asking yourself if you still have a headache—they are not related," Baldwin adds. …

Six Kansas teens are running for governor, following the lead of Jack Bergeson (center). Some of the candidates are seen here participating in a forum at a high school in Lawrence, Kan., in October.
There are a lot of requirements if you want to vote in Kansas. You must be 18 years old. You need to show a photo ID at your polling place and show proof of U.S. citizenship when you register to vote. The U.S. Commission on Civil Rights says the state's voter ID laws are among the strictest in the nation.
But when it comes to the rules about who can run for state office? There are no rules.
"Under Kansas law, there is no law governing the qualifications for governor, not one," Bryan Caskey, director of elections at the Kansas secretary of state's office, told The Kansas City Star last year. "So there's seriously nothing on the books that lays out anything, no age, no residency, no experience. Nothing."
So into the race jumped Jack Bergeson. Calling himself an anti-establishment candidate, 17-year-old Bergeson is pursuing the Democratic nomination, advocating for a $12 minimum wage, legalization of medical marijuana, and high-speed rail for major cities in the region.
"I thought, you know, let's give the people of Kansas a chance," Bergeson told the Star in August. "Let's try something new that has never really been tried anywhere else before." …
taking On Tech

Drain the other swamp.
Unilever is the world's second biggest advertiser. And it will pull its advertising from tech giants like Facebook and Google if they fail to improve transparency about news, protect children from extremist and toxic online content, and move to build public cohesion rather than division, the company's top marketing executive will say in a speech today.
"As one of the largest advertisers in the world, we cannot have an environment where our consumers don't trust what they see online," Keith Weed, chief marketing officer at Unilever, will say to major advertising, media and technology companies at the annual Interactive Advertising Bureau conference in Palm Desert, California. (Unilever provided a copy of the speech to Quartz.) "We cannot continue to prop up a digital supply chain—one that delivers over a quarter of our advertising to our consumers—which at times is little better than a swamp in terms of its transparency."
Trashing tech is gaining steam recently. Governments are fining the Silicon Valley titans, seemingly everyone—including tech executives themselves —want them to be regulated, and a steady stream of insiders are https://qz.com/1201583/how-tristan-harris-an-ex-google-ethicist-wants-to-design-tech-to-make-our-kids-less-addicted-to-it/coming out against them, saying that their products are designed to hijack your attention, keeping you from accomplishing any of your own goals, whether that's getting work done or building actual human relationships. Roger McNamee, an early Facebook investor, said last week that he was speaking out against Facebook because he had "contributed to creating something that created great harm." Speaking at Truth in Tech, a Washington, DC, conference dedicated to examining the effects of technology on kids, McNamee said that he tried to engage Facebook CEO Mark Zuckerberg and COO Sheryl Sandberg privately to fix the problems they helped create, but has made no inroads.
But advertisers have the power of the purse, which means tech companies might actually be inclined to listen to them. …
Commentary: Brick by brick, Amazon has been building itself into a package delivery company to satisfy not only the voracious demands of Amazon shoppers but also anyone else who wanted to move merchandise.

Amazon boxes are shown stacked near a Boeing 767 Amazon "Prime Air" cargo plane in a Boeing hangar in Seattle in 2016.
Amazon's ambition has been in plain sight for years. The company has built its own network of merchandise warehouses and package-sorting centers. It enlisted its own airplanes and truck trailers to transport cargo. It registered to move freight across oceans, and in dozens of cities it tapped couriers to deliver packages directly to shoppers' doors.
Brick by brick, Amazon has been building itself into a package-delivery company to satisfy not only the voracious demands of Amazon shoppers but also anyone else who wanted to move merchandise from one place to another.
None of this has been a secret. Even a hush-hush company like Amazon.com can't keep jet planes under wraps. But Amazon and its delivery partners such as FedEx have had plausible deniability about what's been happening. When Amazon executives are asked whether they're trying to become another FedEx or UPS, they say those Amazon trucks, warehouses, airplanes and delivery drivers are intended to supplement existing shipping providers when needed and improve service for Amazon shoppers.
This explanation wasn't entirely believable, of course, and Amazon can no longer deny it. Amazon is coming for you, FedEx and UPS. Maybe not today or tomorrow. But soon. …
They say the past is a foreign country. (Trust us, it's a saying!) What they leave off in that aphorism is the fact that the foreign land of Past-zakhstan is a foreign country of constant pranks and goofs. From 1950s America to Renaissance Italy to the Norman conquest of England, our ancestors were all about changing the world AND yoink-ing each other every step of the way.
On this week's episode of The Cracked Podcast, Alex Schmidt is LIVE at UCB Sunset with comedians Caitlin Gill, Christine Medrano, and Blake Wexler. They'll run down the all-time silliest nonsense of actual human history. And the audience joins in at the end with some historical pranks and goofs of their own, because our live shows are interactive and fun like that. …
The path from ape to modern human is not a linear one. Hannah Devlin looks at what we know – and what might be next for our species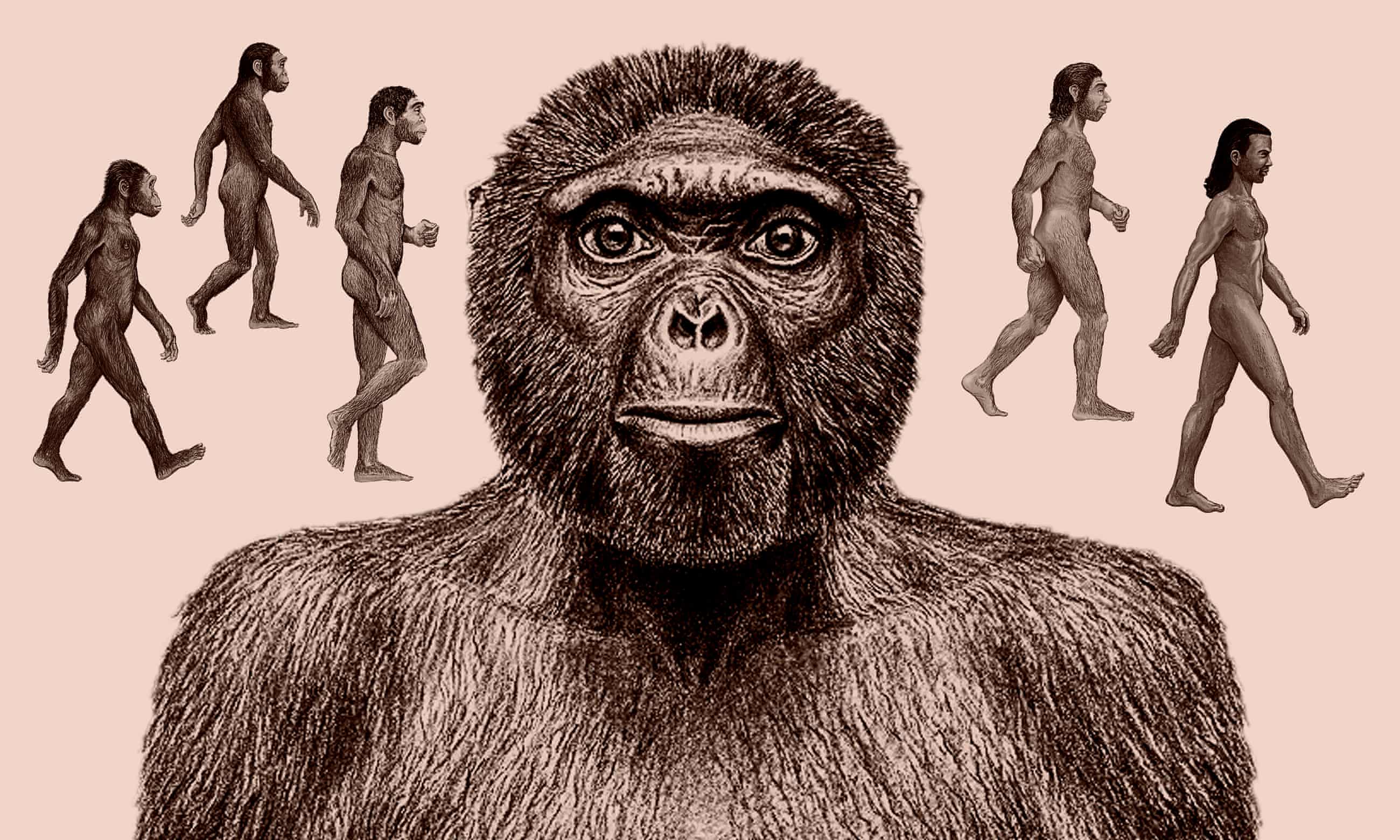 Our ancestry is still not entirely clear, although there is strong evidence for specimens such as Ardipithecus ramidus, centre, being a direct ancestor or very close to our lineage.
Let's go back to the beginning. When did we and our ape cousins part ways?
Scientists are still working on an exact date – or even a date to within a million years. Like many of the big questions in human evolution, the answer itself has evolved over the past few decades as new discoveries, techniques and technology have provided fresh insights.
Genetics has proved one of the most powerful tools for time-stamping the split with our closest living relative, the chimpanzee. When our complete genomes were compared in 2005, the two species were found to share 98% of their DNA. The differences hold important clues to how long our lineages have been diverging. By estimating the rate at which new genetic mutations are acquired over generations, scientists can use the genetic differences as a "molecular clock" to give a rough idea of when the split occurred. Most calculations suggest it was between four to eight million years ago.
This time window is more recent than was originally thought. In the 1960s, fossil evidence led palaeontologists to conclude that a 14m-year-old ape, Ramapithecus, was the earliest ancestor on the human line, based on the shape of its jaw. Subsequent DNA analysis has revealed the split occurred long after that – Ramapithecus is now considered an orangutan ancestor.
So are scientists still looking for the "missing link" between us and other ape species? …
Our diet has a huge effect on our brain and our mental wellbeing, even protecting against dementia. So, what should be on the menu?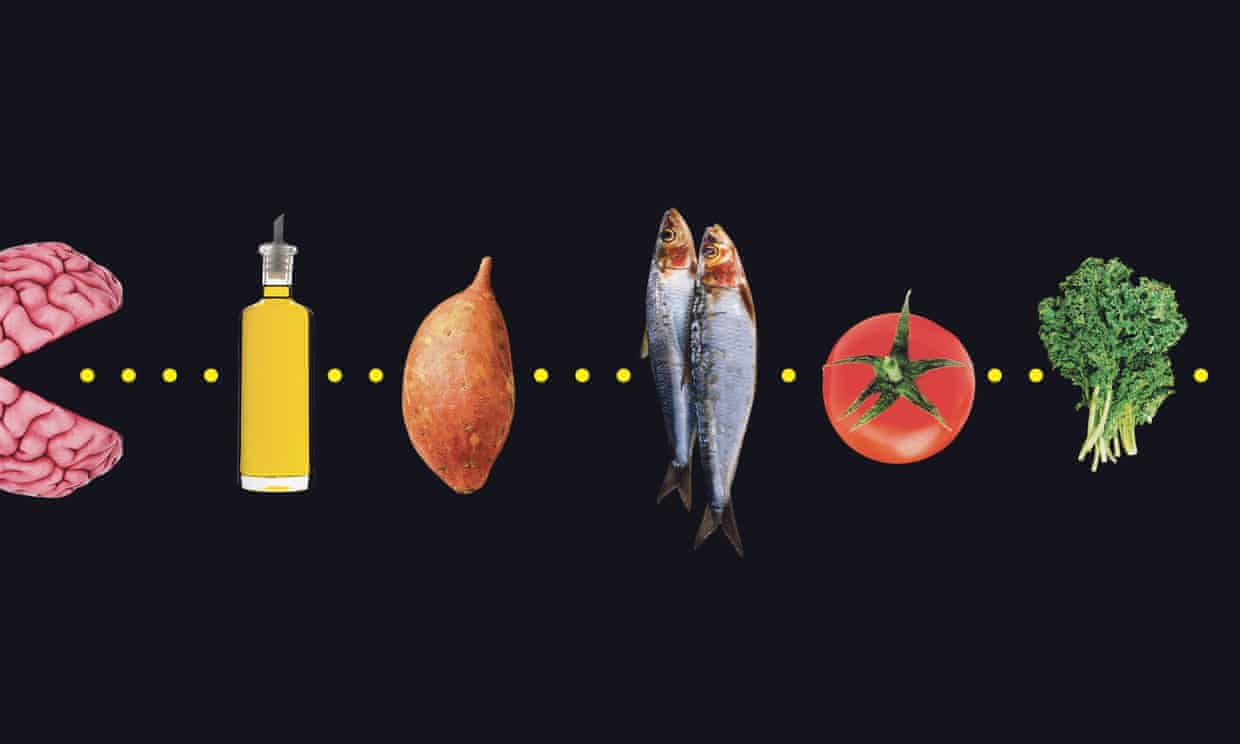 As a society, we are used to the idea that we feed our bodies, and that our diet shapes our waistlines. But many of us forget that the same diet also feeds our brains, and that the food we give our brains shapes our thoughts and actions. I invested many years formally studying neuroscience and neurology, and have spent many more years as a scientist in those fields. Back when I started, most of my time was spent with medical journals. But 15 years into my research, much of my time is spent with cookbooks.
These books are essential to contemporary brain science. The recipes become food, and that food shapes our brains just as surely as it builds our bodies. Day after day, the foods we eat are broken down into nutrients, taken into the bloodstream and carried up into the brain. Once there, they replenish depleted storage, activate cellular reactions and become the very fabric of our brains.
The brain is the hungriest organ in the body, consuming more than 20% of your body's total energy haul. At the same time, our brain cells are irreplaceable. Unlike the rest of the body, where cells are continuously replaced, the vast majority of brain cells stay with us for our entire lives – which means they are in need of extra care and nourishment.
Next-generation medical imaging and genomic sequencing studies, including work from my lab at the Alzheimer's Prevention Clinic at Weill Cornell Medical College, New York, have helped us understand that some foods play a neuro-protective role, shielding the brain from harm. It's no surprise that, conversely, other foods are harmful for the brain, slowing us down and increasing the risk of cognitive decline. So, what does this mean for your daily menu in terms of optimising for brain health? It means lots of the following…
Aging Out

Snapping it.
For the first time in a while, less than half of American internet users between ages 12 and 17 will be using Facebook this year, according to research firm eMarketer.
What's more, usage among 18-24 year-olds is predicted to fall, as well, by 5.8%. The firm also says that growth will keep falling for both groups for the next two years. Facebook will still continue to add users overall, but at a slower pace, predicted to be about 1% in 2018, and the growth will be chiefly among its older demographics.
EMarketer's estimates are based on an analysis of survey and traffic data from other research firms and regulatory agencies, Facebook's own disclosures, historical trends, and demographic and socioeconomic factors, the firm told Quartz. A user is defined as someone who logs onto a platform at least once per month.
During its latest earnings call, Facebook reported that the number of daily active users in the US and Canada fell for the first time ever, by about 700,000. The company says it is not worried about the drop, since the US market is already so saturated, and because it attributes the decrease to its own, purposeful moves to revamp the News Feed algorithm. …
Trolly Problem

Self-driving cars are a myriad ethical quandaries on wheels.
Artificial intelligence experts and roboticists aren't the only ones working on the problem of autonomous vehicles. Philosophers are also paying close attention to the development of what, from their perspective, looks like a myriad of ethical quandaries on wheels.
The field has been particularly focused over the past few years on one particular philosophical problem posed by self-driving cars: They are a real-life enactment of a moral conundrum known as the Trolley Problem. In this classic scenario, a trolley is going down the tracks towards five people. You can pull a lever to redirect the trolley, but there is one person stuck on the only alternative track. The scenario exposes the moral tension between actively doing versus allowing harm: Is it morally acceptable to kill one to save five, or should you allow five to die rather than actively hurt one?
Though the Trolley Problem sounds farfetched, autonomous vehicles will be unable to avoid comparable scenarios. If a car is in a situation where any action will put either the car passenger or someone else in danger—if there's a truck crash ahead and the only options are to swerve into a motorbike or off a cliff—then how should the car be programmed to respond?
Rather than pontificating on this, a group of philosophers have taken a more practical approach, and are building algorithms to solve the problem. Nicholas Evans, philosophy professor at Mass Lowell, is working alongside two other philosophers and an engineer to write algorithms based on various ethical theories. Their work, supported by a $556,000 grant from the National Science Foundation, will allow them to create various Trolley Problem scenarios, and show how an autonomous car would respond according to the ethical theory it follows. …
Heal Thyself

The future is now.
In the future, your robot babysitter will be able to tell if your child has a fever.
Researchers at the University of Colorado Boulder say they've developed the first fully rehealable and recyclable electronic skin, or e-skin. The technology mimics the functions and mechanical properties of human skin, capable of measuring pressure, temperature, and vibration. E-skin dates back to 2011, but this version can be reused, reducing waste and manufacturing costs.
It has a range of applications, from prosthetics to biomedicine, which were detailed in the study published by Science Advances. Imagine a prosthetic arm or leg wrapped in the electronic skin, allowing its wearer to respond to temperature and pressure changes. E-skin is made out of a polymer and silver nanoparticles, which help it conform to intricate, curved spaces like fingers or toes.
Perhaps e-skin's most remarkable application—or its most disconcerting, depending whom you ask—is in robotics. Jianliang Xiao, a mechanical engineer at the University of Colorado Boulder and the leader of the study, said that e-skin could lead to safer interactions between humans and robots in the future. …
There are a lot of theories.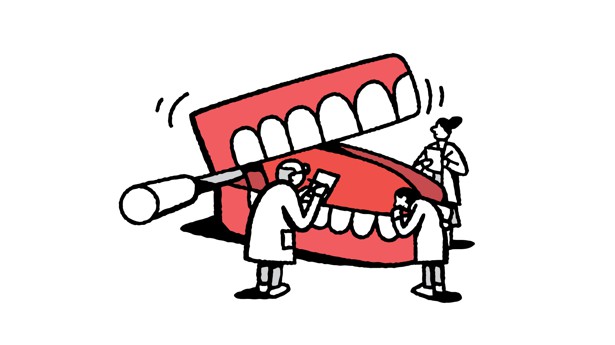 "Humor can be dissected, as a frog can," E. B. White wrote, "but the thing dies in the process and the innards are discouraging to any but the purely scientific mind." True to form, philosophers, scientists, and certain left-brained comedians have been scrutinizing humor's innards for centuries, seeking a serious understanding of what makes things funny.
According to one scholarly definition, something is humorous if people cognitively appraise it as funny, if it creates "the positive emotion of amusement," or if it produces laughter. But while the average adult laughs 18 times a day, [1] laughter isn't a reliable indicator. Researchers found only 10 to 20 percent of remarks that prompted laughter to be remotely funny. [2]
One general theory, put forth by a decidedly non-zany murderers' row of Plato, Aristotle, Hobbes, Descartes, and Baudelaire, holds that we are amused when we are made to feel superior to others. Freud, for his part, suggested that forbidden things are hilarious (because humor is a pressure valve for repressive psychic energy). Yet another approach, pioneered by Kant and Schopenhauer and affirmed by Henny Youngman, sees humor as arising from incongruity: When conventions are undermined by an absurd situation, we're tickled.
But these so-called incongruity, superiority, and relief theories have some holes. As Peter McGraw and Caleb Warren, of the University of Colorado at Boulder's Humor Research Lab (hurl), note, "Unintentionally killing a loved one would be incongruous, assert superiority, and release repressed aggressive tension, but is unlikely to be funny." McGraw and Warren's own "benign-violation theory" suggests that to be funny, "a situation must be appraised as a violation" and also "as benign." They list a range of possibilities, "including violations of personal dignity (e.g., slapstick, physical deformities), linguistic norms (e.g., unusual accents, malapropisms), social norms (e.g., eating from a sterile bedpan, strange behaviors), and even moral norms (e.g., bestiality, disrespectful behaviors)"—all of which have comic potential, provided they don't seem threatening. [3] …
Video Goodnesses
and not-so-goodnesses
As the Dow Jones recovers from its largest single-day dip in history, Hasan Minhaj explains who and what are to blame for stock market instability.
THANKS to Comedy Central and The Daily Show with Trevor Noah for making this program available on YouTube.
This 3D-printed instrument sounds like a violin, but it but doesn't quite resemble one. There's no scroll at the top, so the tuning pegs are at the chinrest. It has six strings, instead of the traditional four, allowing the instrument to reach a deeper range, like a cello. And there are four porcelain cow ribs attached to the left side of the body.
Made of plastic and porcelain, the instrument was the result of a collaboration between a musician, a mechanical engineer, and a sculptor at the University of Texas at Austin. It took them a year, and the design is intended to eventually be modified by other users.
A new equation enables scientists to compare the top speeds of any animals, living or extinct, knowing only their mass. It could have a huge impact on evolutionary research.
Max trying to figure out what toy he should bring up on the chair with him to play with.
FINALLY . . .
Museo de las Americas new exhibition Pachucos y Sirenas looks at 1940s Mexican-American counterculture in the Southwest.

In the 1930s and '40s, being brown in the United States meant being unwelcome here, and in that climate, Chicano men and women known as Pachucos and Pachucas created a subculture that expressed Mexican-American pride. Museo de las Americas' newest exhibit, Pachucos y Sirenas, takes a nostalgic look at that era of Chicano history.
The show includes works about Caló, the slang that has shaped how Chicanos in the Southwest speak Spanish today, as well as rebellion and cultural pride. It explores the boundaries that Latina women push to reclaim their sexuality and individuality. Pachucos y Sirenas,/I.vis also about the zoot suits and other fashion that came with that rebellion.
The show will spotlight artists including Justin Favela, Antonia Fernandez, Carlos Frésquez, Josiah Lopez, Jerry Vigil, and Daniel Salazar who have made works showing the impact that the Pachuco era had on the American experience. Also on the bill: fashion designers Cha Cha Romero and Alejandra Peralta, the Suavecito Car Club and artist Alfredo Cardenas.

"El Codex Pachuco," by Carlos Frésquez.
On a recent mid-winter day, Favela — who hosts the podcast Latinos Who Lunch and has garnered acclaim for his fantasy-like renditions of familiar objects of Latinidad, created with cardboard, paper and glue — is finishing up his signature piece for Pachucos y Sirenas, a lowrider named "Sirena" made entirely out of piñata materials. He and his crew have spent a week constructing it, and as he works, he's talking about "Fridalandia," a recent installation at the Denver Art Museum's Mi Tierra exhibition. That striking piece bears artistic and cultural similarities to his current work at the Museo. …
Ed. More tomorrow? Probably. Possibly. Maybe. Not?