Good morning, America. All your recent talk of gender equality has only shown just how far from woke you really are. Despite best intentions, the current cultural conversation about feminism continues to perpetuate sexism.
From my perspective, I'm already equal and was born that way in 1972. No need to fight about it now. I wasn't waiting around for anyone to wake up or make space. Instead, I crafted an adventurous, independent, and productive existence with gusto, moxie, and swashbuckle.
Men never seemed inherently better at anything but hauling hay. So I'm impatient with discussions about gender premised on the assumption that I'm struggling at an imaginary starting line. Inequalities certainly exist, but women have been getting ahead, and doing great things, for a while, in the workforce and beyond. Yet the overwhelming messaging now is that we don't own our power unless we shout about our woes, and that strong ladies talk a lot about how bad they've got it.
That is one way to be a feminist, but certainly not the sole approach. Another way is to just be powerful. Advancing womankind by emphasizing that we're behind, perpetually viewing our lives, careers, and finances as less than they might be if only we weren't women, seems to me to do a disservice to all women, especially powerful ones. …
As students organize after the Florida school shooting, they are honoring their classmates' lives by building a better future.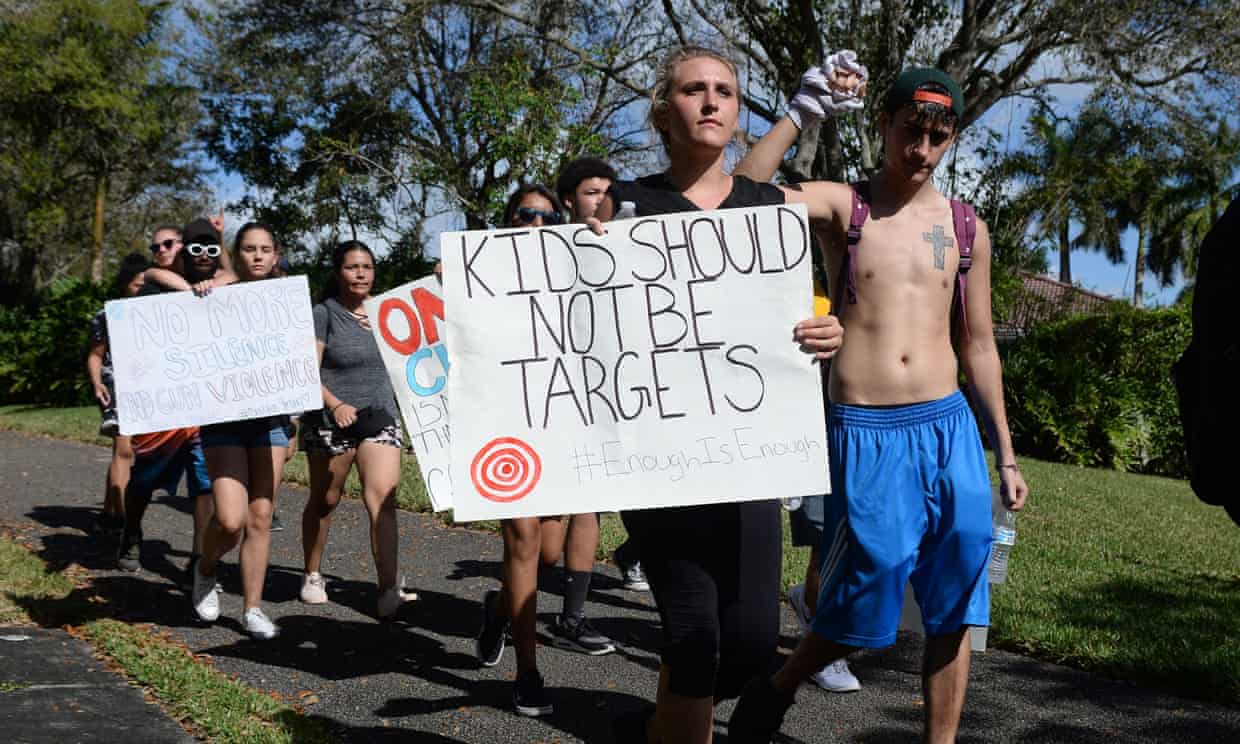 'Mourning through militant protest has a long and noble history in the United States.'
The powerful should never tell relatively powerless people who are protesting for their very lives how they should be behaving.
That's what was happening when a conservative pundit criticized Parkland students for organizing the March for Our Lives. It was, she said, "quite interesting that the children survivors haven't even buried their friends, grieve, get over shock but have had the time to plan for a march, come up with a creative hashtag, get their story to all media outlets all in such a short amount time".
But memorializing the dead through protest doesn't mean denigrating them – it means honoring their lives by making a better future. Mourning through militant protest has a long and noble history in the United States.
It was young people protesting the death of another Florida teenager who died from gun violence six years ago, Trayvon Martin, that led to the Black Lives Matter movement. Their love for that boy killed by George Zimmerman helped spark a movement honoring the value of black life. …

Grounded.
You know things are pretty bad when America's most-hated legacy airline (as measured by a 2017 consumer-satisfaction poll) doesn't even want to associate with you.
Adding its name alongside a growing list of American corporations, United Airlines today announced via social media that it would also be pulling all discount benefits from the National Rifle Association (NRA). The move comes in the wake of a mass shooting at a Florida high school that left 17 people dead and sparked a student-led push for federal gun control that has gain attention nationally.
United is notifying the NRA that we will no longer offer a discounted rate to their annual meeting and we are asking that the NRA remove our information from their website.

— United Airlines (@united) February 24, 2018
That's a lot coming from an airline so unpopular, even Central Intelligence Agency officials have complained about it.
At least 17 companies have now announced publicly that they will no longer offer discounts to NRA members. Those companies include: Alamo Rent a Car, Avis, Allied Van Lines, Best Western, Budget, Chubb Insurance, Delta Airlines, Enterprise Rent-a-Car, First National Bank of Omaha, Hertz, MetLife, North American Van Lines, Paramount Rx, SimpliSafe, Symantec, and TrueCar. Bank of America is also "re-examining" its business relationship. …
Here's how one schoolteacher takes time each week to look out for the lonely.
A few weeks ago, I went into my son Chase's class for tutoring. I'd e-mailed Chase's teacher one evening and said, "Chase keeps telling me that this stuff you're sending home is math—but I'm not sure I believe him. Help, please." She e-mailed right back and said, "No problem! I can tutor Chase after school anytime." And I said, "No, not him. Me. He gets it. Help me."
And that's how I ended up standing at a chalkboard in an empty fifth-grade classroom while Chase's teacher sat behind me, using a soothing voice to try to help me understand the "new way we teach long division." Luckily for me, I didn't have to unlearn much because I'd never really understood the "old way we taught long division." It took me a solid hour to complete one problem, but I could tell that Chase's teacher liked me anyway. She used to work with NASA, so obviously we have a whole lot in common.
Afterward, we sat for a few minutes and talked about teaching children and what a sacred trust and responsibility it is. We agreed that subjects like math and reading are not the most important things that are learned in a classroom. We talked about shaping little hearts to become contributors to a larger community—and we discussed our mutual dream that those communities might be made up of individuals who are kind and brave above all.
And then she told me this.
Every Friday afternoon, she asks her students to take out a piece of paper and write down the names of four children with whom they'd like to sit the following week. The children know that these requests may or may not be honored. She also asks the students to nominate one student who they believe has been an exceptional classroom citizen that week. All ballots are privately submitted to her.
And every single Friday afternoon, after the students go home, she takes out those slips of paper, places them in front of her, and studies them. She looks for patterns.
Who is not getting requested by anyone else?
Who can't think of anyone to request?
Who never gets noticed enough to be nominated?
Who had a million friends last week and none this week?
You see, Chase's teacher is not looking for a new seating chart or "exceptional citizens." Chase's teacher is looking for lonely children. She's looking for children who are struggling to connect with other children. She's identifying the little ones who are falling through the cracks of the class's social life. She is discovering whose gifts are going unnoticed by their peers. And she's pinning down—right away—who's being bullied and who is doing the bullying. …
Social progress is not a series of boxes to check in consecutive order. First we stop enslaving people, then we let women vote, now we work on LGBT rights, and at some point in the future we should probably figure out healthcare or something — it doesn't work like that. It's really more like trying to assemble a series of jigsaw puzzle while some jerk keeps stealing key pieces. That's how some supposedly modern societies end up ridiculously behind the curve in areas others take for granted. For instance …
5. In The U.S., Gay Men Couldn't Donate Blood Until 2015
---
Say you're a healthy man (a stretch, we know), and you're willing to donate blood to those who are in desperate need of a transfusion. You consume pretty much nothing but purified water and air for 24 hours, get a good night's sleep, and then proudly walk into the donation center with your sleeve rolled up, ready to face down your primal fear of needles to save a life and maybe score a free cookie. The doctor asks you some simple questions about what genitals you may have interacted with recently, and suddenly you're being shown the door.
"Am … am I being propositioned?"
What the heck happened?
The FDA has a longstanding restriction that prevents men from donating blood if they've ever had sex with other men. The rule dates back to 1983, when AIDS was still new and scary and called "a gay plague." But we're much more educated on AIDS and same-gender sex these days, so the FDA finally loosened its restrictions … in 2015. All men can now donate blood! Uh, as long as they haven't slept with another man in the last 12 months. Sorry, guy in intensive care with a severe gunshot wound, but if you think about it, a year can really fly by, right?
Given that blood shortages are a continual pressing concern, discriminating against a good chunk of the population seems counterproductive. The FDA's stance is that it's all about safety, that 12 months ensures that if someone were unknowingly HIV positive, it would still show up in screenings. Makes sense, right? But straight people who have slept around all year are still welcome to donate, while gay men in healthy monogamous relationships are turned away. …
DIDN'T GET THE MESSAGE

Adidas' latest Hu NMD with Pharrell aims to reflect a "unifying force."
Limited-edition sneakers can make people do some idiotic things, and one of the most hyped and limited shoes of the moment comes courtesy of Adidas, in collaboration with singer and producer Pharrell Williams. The most sought-after versions are a take on Adidas' NMD sneaker, and on the resale market, they can go for several hundred or even thousands of dollars.
The line, called Hu—short for "human"—is actually meant to represent "Pharrell's founding vision of energy, color, and spirituality as a unifying force between people," according to Adidas. Though the people who have been lining up for the latest release evidently didn't get the message. Not for the first time, fights have been breaking out as crowds of eager shoppers try to get their hands on a pair.
Sneaker and entertainment site The Playbook reports that shoppers got violent in Singapore at the latest drop for the shoes. The crisp white "Blank Canvas" pack, which also includes a few other Adidas styles in addition to the NMD, is meant as a tribute to the Indian festival of Holi, which involves a joyous tossing about of brightly colored powders and celebrates good beating away evil. (Of course it is often marred by sexual assaults and violence.)
At a previous release for various colored editions of the Hu NMD in November, a man in Kuala Lumpur was punched while queueing up for the shoes. There were also reports of brawls taking place in New York and London. …
But will businesses make the choice to try and save it?
In a time when no one agrees on anything, some vague consensus can be found around the idea that more American manufacturing would be good. Rarely does someone say publicly, "Actually, I think there should be less American manufacturing." (Although it happens.)
Politicians, particularly our current president, love to talk about American manufacturing. Donald Trump tried to make the deal he struck to save factory jobs at the Carrier HVAC plant in Indiana a synecdoche for his professed concern over the welfare of the American worker. The deal didn't stop jobs from moving to Mexico, and when a union leader complained that the arrangement hadn't improved the lives of the employees as much as it had garnered positive press for the new president, the commander in chief bashed him on Twitter. Between the election and January of this year, the president made 31 claims of adding or saving jobs by intervening with companies; ProPublica found that 90 percent of those jobs were not saved or never materialized. But while the scale of these claims was questionable and the results were missing and the actual effect was actively pretty bad, nearly everyone was able to agree that, in a vacuum, saving those jobs would be a nice thing. More American manufacturing: good.
And yet, there is less. Twelve-and-a-half million Americans worked in manufacturing in 2017, down from 14.1 million 11 years earlier. There's been some growth since the sector dipped to its lowest point in 2010, as a result of the Great Recession, but American businesses are rarely moved by the common public sentiment to make the change and bring their supply chains (and all the jobs they represent) to the US.
As is often the case when there's agreement that something should change in the United States and still it doesn't, the answer to the obvious question — who wants to keep the status quo? — is "business." Or, more and more of late, "capitalism." If a decision doesn't cut costs, it's understood to be bad for business, in violation of the indomitable will of capitalism. And if a decision were to increase costs, well, who would dream of making a decision like that? Not a business person. Basing a supply chain in the US is more expensive than moving it — or, more likely, much more expensive than moving it back from — abroad, thanks to our rules and regulations and unions and minimum wage and child labor laws. Thus, we conclude, it's impossible to change. …
Eyeballs vs. Pixels

Rubens, filtered.
"Please take your photos as quickly as possible and you can look it up online. Everything is online."
Those were the instructions of a museum guard to visitors at the US National Portrait Gallery last Thursday night. Since the unveiling of Barack and Michelle Obama's official Smithsonian portraits on Feb. 12, hundreds have flocked to the Washington, DC museum—some queueing for hours—to get a few seconds in front of the much-talked-about paintings by Kehinde Wiley and Amy Sherald. In an effort to expedite the lines, the Portrait Gallery has devised a cordoned "photo queue" system for anyone who wants to see the paintings up close.

A moment with Barack.
Once in front of the portraits, most museum goers did one of three things: They held up their mobile phone to take a picture of the painting; they turned around to snap a selfie with the painting as backdrop; or they posed next to the portraits for a companion to take a souvenir shot (making the Obamas' Smithsonian portraits into the world's most expensive life-size cardboard cutouts).
What hardly anyone did was this: Raise their eyes from their mobile phone and use their allotted time to gaze up at the arresting, symbol-laden canvases. …
Video Goodnesses
and not-so-goodnesses
Our Cartoon President Trump speaks today at the Conservative Political Action Conference. Cartoon Wolf Blitzer brings us live where Our Cartoon President talks Wayne LaPierre of the NRA, Devin Nunes, Mitt Romney, and Roy Moore. Catch new episodes of Our Cartoon President Sundays at 8PM ET/PT on SHOWTIME.
THANKS to Showtime and Our Cartoon President for making this program available on YouTube.
"Deportation Nation," a new documentary from The Atlantic, goes behind the scenes of America's sprawling network of detention centers, where 179 people have died awaiting deportation since 2003. Read more: https://www.theatlantic.com/politics/…
Republican pollster Frank Luntz gathered a focus group of current and former NRA members in his California home to discuss the organization, gun regulations and what the country needs to do to keep students safe in their schools.
After the Parkland shooting in Florida which left 17 dead, there has been renewed scrutiny over gun laws in the United States, with many pushing for stricter control.
"These gun regulations are bogus," said one N.R.A member. "The problem is it's a cultural problem. How does that get solved? Values have to be reinstilled."
"I'm saying that there's certain guns that we shouldn't have," another panelist said, adding that mental evaluations were essential.
Almost all panelists agreed on expanding background checks, while one maintained that those are no guarantee against a possible future attack. "You don't know if somebody is mentally unstable until they do something," he said.

In this installment of Verse, Chorus, Bridge, The Go! Team gives us the lowdown on their new single "Mayday" and all the influences that came together for this melodrama.
THANKS to HBO and VICE News for making this program available on YouTube.
Lupita Nyong'o chats about the strong female leads in the movie "Black Panther" and explains how she got the role of Trevor's mom in the adaptation of his memoir "Born a Crime."
THANKS to Comedy Central and The Daily Show with Trevor Noah for making this program available on YouTube.
まるバーレルの最終形態。The last form of Maru Bucket!
Max keeping busy.
FINALLY . . .
A Symbol Of Life.

In praise of patina.

Visitors to Washington, DC's Hirshhorn museum will notice two new impressive sculptures in the lobby today.
Made from the massive root ball of a 700-year old Japanese nutmeg tree, the twin tables are part of an installation designed by the renowned artist-architect Hiroshi Sugimoto, best known for his esoteric black and white photographs. Unlike other artifacts at the Smithsonian's museum of contemporary art, visitors are invited to touch, sit, and even enjoy their coffee and gelato on the art.
Commissioned to design the museum's first-ever lobby café, the 70-year-old artist filled the space with "functional art"—a welcome desk, helicoid-shaped chairs, minimalist trash cans, and a handsome metal barista station for the museum's restaurant vendor Dolcezza. Apart from Olafur Eliasson's prismatic light sculpture, Sugimoto designed every element, even creating custom fonts for the menu.
The centerpiece are the two low tables.
Sugimoto says he spotted the tangle of roots at a Tokyo salvage shop years ago and had been saving it for the right project. Seeing the Hirshhorn's cylindrical building by architect Gordon Bunshaft, he knew he had found the right spot for the rare wood specimen. "I became fascinated by the roots of an enormous tree, which fanned out to form a large circle, and I decided that this was the circle I would install in the Hirshhorn lobby—a symbol of life," said Sugimoto. …
Ed. More tomorrow? Probably. Possibly. Maybe. Not?