Bush 43 on Trump: "Sorta makes me look pretty good, doesn't it?" – per @nationaljournal's Tom DeFrank pic.twitter.com/X0KBDdDQdw

— National Journal (@nationaljournal) March 6, 2018
---
Law enforcement experts say the FBI, local officials and the White House need a new approach to spotting and stopping would-be attackers – and information-sharing is key.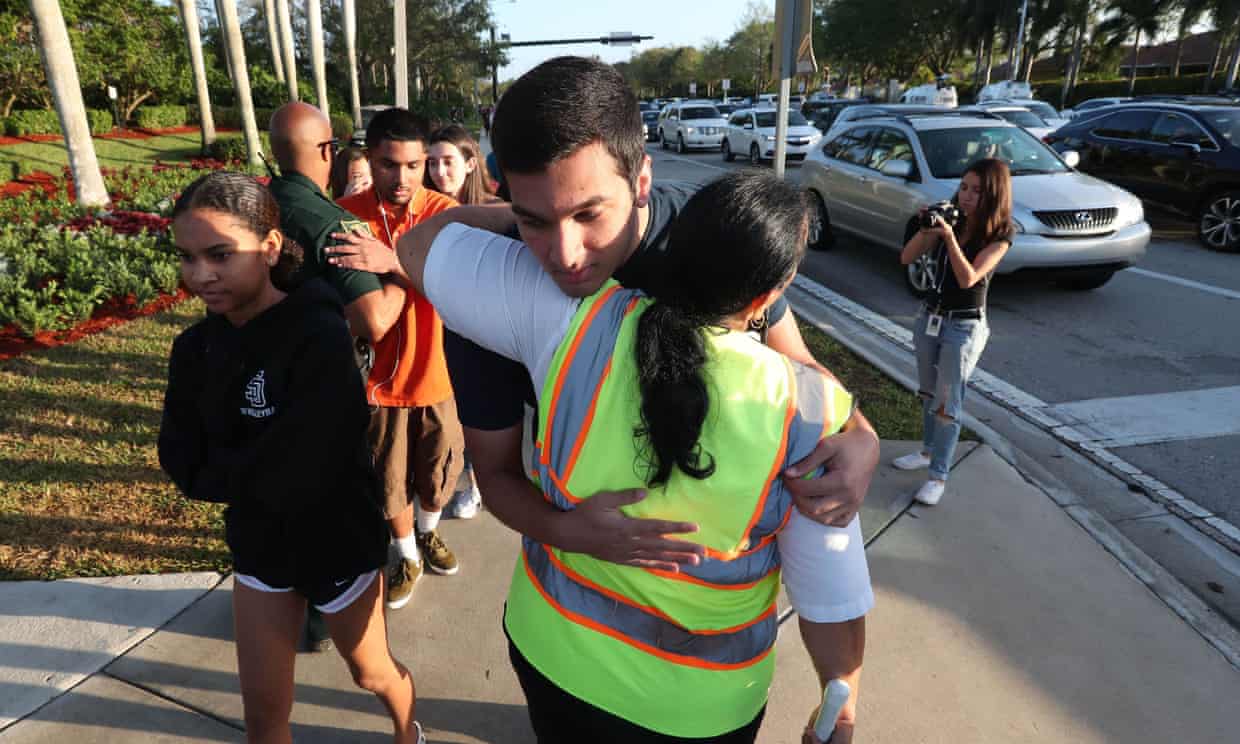 A crossing guard hugs a student as he walks to Marjory Stoneman Douglas high school for the first day of school since the shooting.
While almost all the public passion in the wake of the school shooting in Parkland, Florida, has centered on guns and the proliferation of military-style assault weapons, experts and policy analysts in law enforcement have been haunted by a different but equally troubling question: why do we keep making the same mistakes?
The missed warnings were particularly egregious in the case of Nikolas Cruz, the disaffected former student who returned to Parkland's Marjorie Stoneman Douglas high school on Valentine's Day and gunned down 17 students and teachers. The local sheriff's office was first warned two years ago that Cruz was thinking of shooting up the school, and the FBI twice received specific warnings that it failed to follow up or pass on.
Such failures, however, are hardly unique to the Parkland case.
Omar Mateen, who killed 49 people and wounded 58 others at the Pulse nightclub in Orlando in June 2016, had previously been the subject of a 10-month FBI terrorism investigation.
Esteban Santiago, who killed five people and wounded eight at the Fort Lauderdale airport in January 2017, had walked into an FBI office in Alaska with a loaded handgun magazine two months earlier and reported having "terroristic thoughts". …
WORST-CASE SCENARIO

Trade wars are not as easy to win as Trump America's Shithole thinks.
For the last three decades, Donald Trump has ranted that America is getting stiffed on trade. But as president, he's done little to back up his "America First" slogan—until now.
On Thursday (Mar. 1), the US president announced tariffs of 25% on imported steel and 10% on imported aluminum. The move is aimed at recouping the billions of dollars "lost" each year to other countries as the US imports more than it exports from countries like China and Mexico. Coming on the heels of tariffs on washing machines and solar panels, the new trade barriers may be just the start of a bigger effort to overhaul global trade. Trump is already threatening to slap tariffs on European cars. More ominously still, the president is boasting that his tariffs will ignite a trade war:
When a country (USA) is losing many billions of dollars on trade with virtually every country it does business with, trade wars are good, and easy to win. Example, when we are down $100 billion with a certain country and they get cute, don't trade anymore-we win big. It's easy!

— Donald J. Trump (@realDonaldTrump) March 2, 2018
Trump's tariff is good news for US steel and aluminum producers. A tax on imports makes the domestic equivalent relatively cheaper. But it's bad news for anyone who consumes steel or aluminum, since it makes those metals more expensive. That's just one of the ways that everyday Americans may lose out as a result of Trump's proposed trade action, which poses a threat to the very people whose economic interests he claims to champion. And if he succeeds in launching his longed-for trade war, the entire global economy will suffer as a result. …
• 'We are extremely worried about the consequences of a trade war'
• Trump: Canada and Mexico must redraft Nafta or face metals tariffs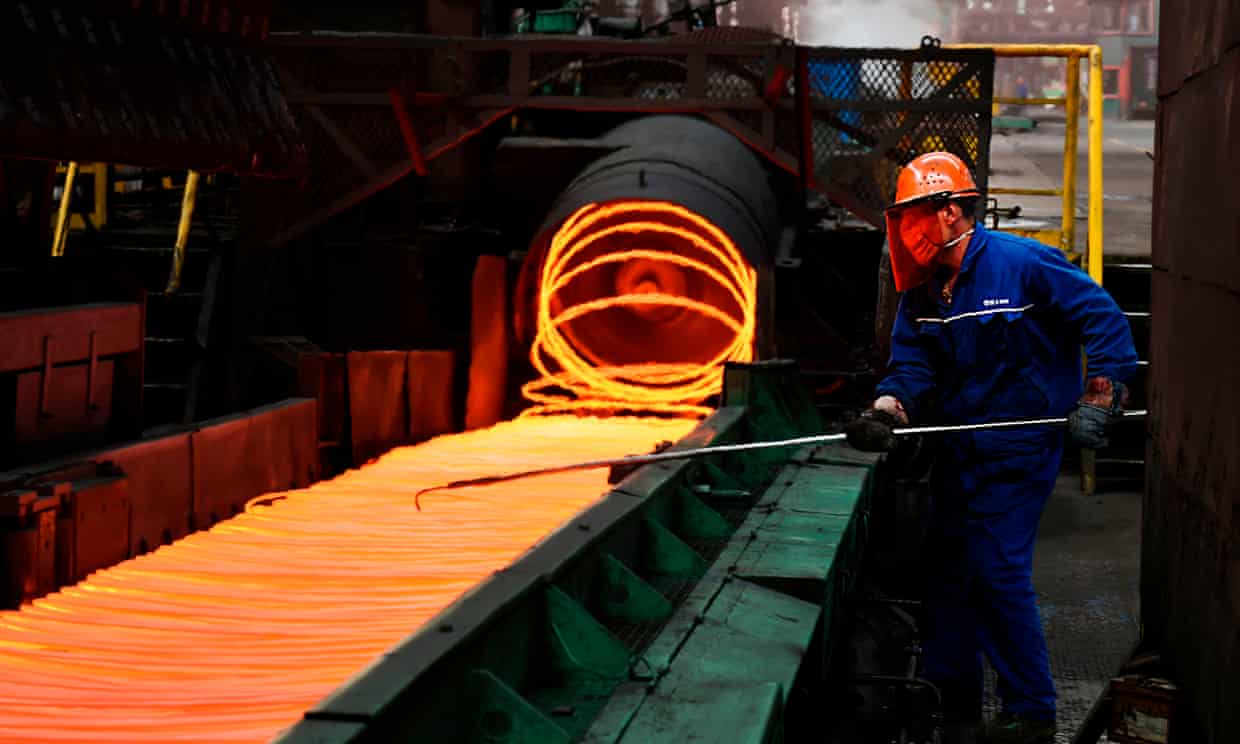 A Chinese employee sorts hot red steel at a plant in Zouping on Monday. Donald Trump's plans for a tariff on steel imports are believed to be motivated by concerns about Chinese production.
Republican leader Paul Ryan publicly split with Donald Trump on Monday over the president's threat to impose tariffs on the US's trading partners on steel and aluminium.
The House speaker became the most senior Republican to publicly distance himself from Trump's tariffs, which have rattled stock markets worldwide and sparked threats of retaliation. "We are extremely worried about the consequences of a trade war and are urging the White House to not advance the plan," AshLee Strong, Ryan's spokeswoman said in a statement.
She said the tariffs plan threatened to jeopardize the impact of Trump's recently introduced $1.5tn tax reforms.
Ryan's split came shortly after Trump had doubled down on the tariff plan in a pair of tweets. The president reiterated his displeasure with trade deficits with Mexico and Canada, two of the US's largest trading partners. Metals duties will only be removed on America's neighbours to the north and south, he said, after a "new and fair" free trade agreement is signed.
Trump followed up with another tweet proclaiming: "To protect our Country we must protect American Steel! #AMERICA FIRST." …
Thanks for the coverage on @LastWeekTonight, @iamjohnoliver. Keep watching #NRATV and you might learn why America has a Second Amendment. #NRA pic.twitter.com/xCuM10Lvwi

— NRATV (@NRATV) March 5, 2018
NRA TV is not going to take John Oliver's treatment of it lying down.
Oh, no. They took to Twitter to give them a piece of their minds after Oliver called them "the dumbest, most transparent thing [the NRA] does" and simply "a vessel to sell America guns."
Incidentally, Oliver used this same video to illustrate the idiocy of the network.
"If NRA members are annoyed with what I'm saying right now they should do the exact same thing and smash their expensive televisions with large sledgehammers," he said. Additionally, at the end of the segment, Oliver parodied the segment wearing a shirt that said, "Antagonistic T-Shirt." …
This year's Oscars have highlighted the dearth of films that get to the heart of poverty and its causes.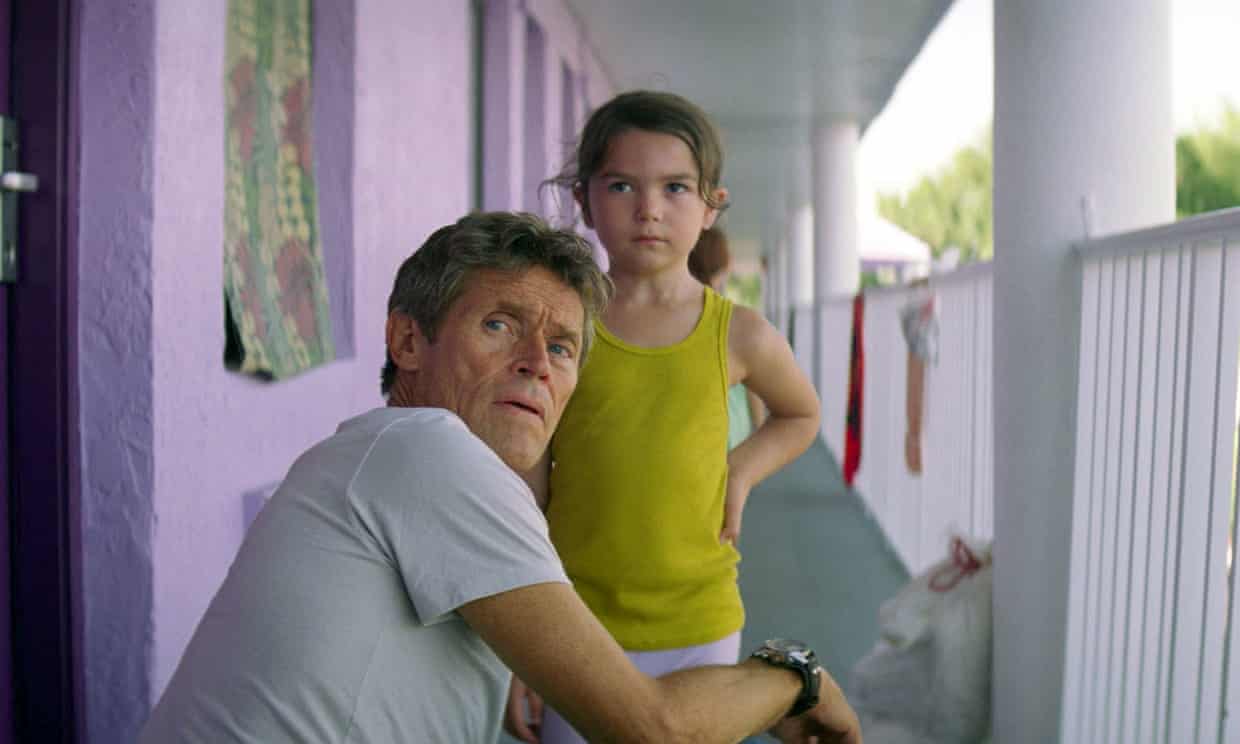 Willem Dafoe, left with Brooklynn Prince, was Oscar-nominated for his performance in The Florida Project.
Buried within the Trump administration's recent budget was a proposal to sharply cut food stamp funding. In its place would be a box of government-provided foods, a scheme sure to be a boondoggle benefiting only the companies who get contracts to produce and deliver these packages. The plan offers yet more evidence of the lack of policy knowledge within the administration, its ignorance of the scale and scope of US hunger and poverty, and its disregard and contempt for the millions who, despite their best efforts, still struggle to get by.
That said, there's nothing especially novel about the administration's attitude – disdain for poor people is a longstanding feature of American political culture.
Hollywood has been among the guilty parties. Thanks to April Reign's #OscarsSoWhite campaign, we are developing the habit of evaluating how well women, people of color and LGBT Americans are represented among the nominees. But the notion that we should also look for better representation of poverty in the movies is still not on our radar. It should be.
Only one of the more than 50 films with a 2018 Oscar nomination dealt in any substantive way with poverty or homelessness in the US: The Florida Project. That film, for which Willem Dafoe received a best supporting actor nomination, tells a largely sympathetic story about the challenges faced by a mother who loses her benefits and the choices she makes – not always good ones, perhaps – to care for her young daughter. But that's the only nominated film to focus clearly on people in precarious economic straits. …
Can we engineer new ones in time?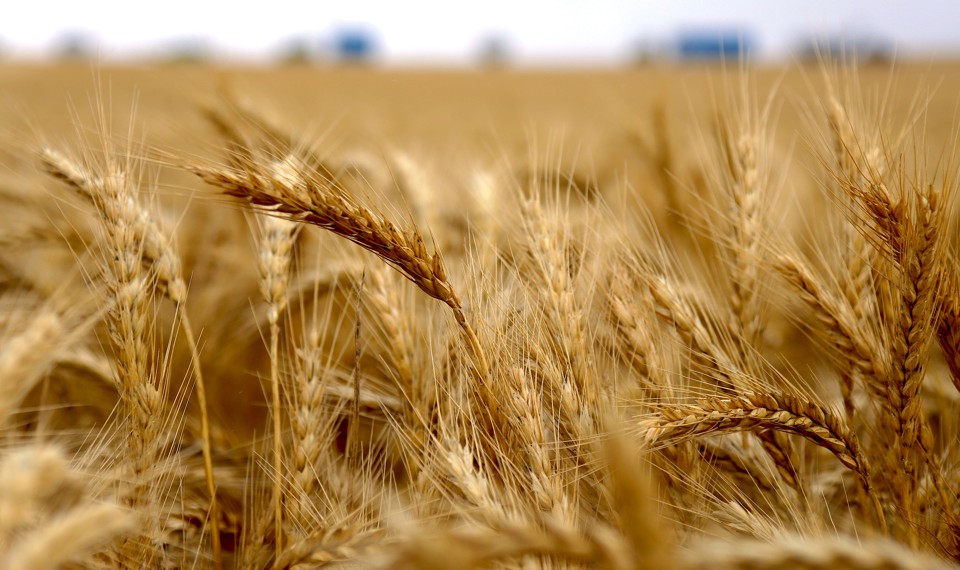 In the spring of 2015, two-thirds of all the world's saiga antelope dropped dead. Around 200,000 of these quizzical, endangered animals perished without any warning, over a 65,000-square-mile stretch of Mongolia. Now, Eleanor Milner-Gulland from the University of Oxford and her colleagues think they know why. As I reported earlier this year, they suspect that an extreme combination of heat and humidity affected a bacterium that normally lives harmlessly in the saiga's body. In the unusual climate, this microbe turned renegade, invading the saigas' bodies and causing fatal cases of blood poisoning.
The saiga's woes offer a glimpse into a troubling future. Every animal and plant exists in partnership with microbes that live in and on its tissues and organs, but these partnerships aren't inherently beneficial or harmonious. They are often held together by fragile sets of circumstances, and many of them could turn sour in a warming world.
When oceans get too hot, for example, corals expel the microscopic algae that live within their tissues and provide them with nutrients. Without these partners, the corals lose their resplendent colors, starve, and eventually die. But Nancy Knowlton from the Smithsonian Museum of Natural History recently showed that even when the algae aren't evicted, they seem to keep the nutrients they produce for themselves, at the expense of their coral hosts. Warming water shoves these beneficial microbes towards a more parasitic way of life. …
It's made using ingredients farmed with a technique called regenerative agriculture, that sequesters more carbon emissions than it makes.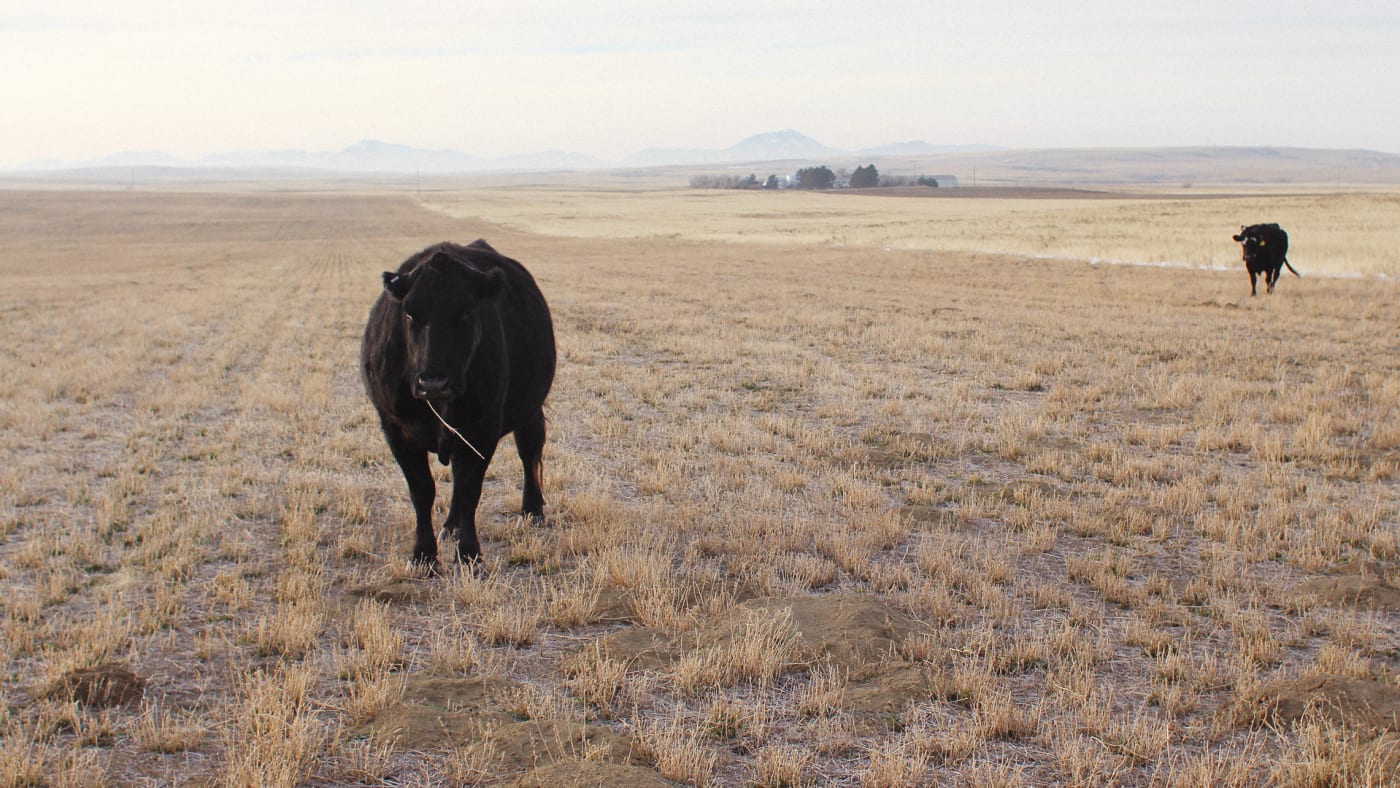 On a box of macaroni and cheese that will launch this month, the name of the farmer who grew the wheat used to make the pasta–Nate Powell-Palm, who has a farm outside Bozeman, Montana–is printed on the front. The manufacturer, Annie's, Inc., wanted to highlight the fact that Powell-Palm is using regenerative farming practices, a series of steps that go farther than what's required for an organic label–and that could help fight climate change by sequestering carbon in the soil.
"I think that's a first in the industry: to offer a product on such wide distribution, available from a major manufacturer in the center of the store, where the family that's about to enjoy the product can name the farmer, name the farm, and know the ingredients that are specific in that product that are using these very Earth-friendly practices," says Carla Vernon, president of Annie's.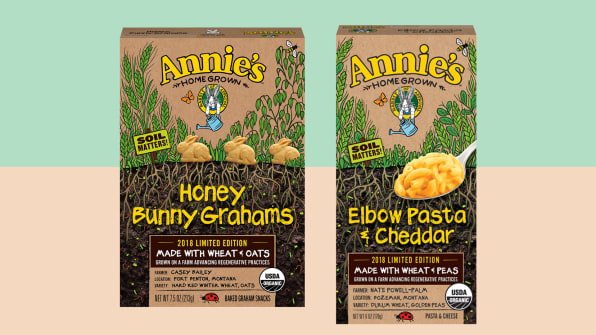 The brand, which was purchased by General Mills in 2014, is already known for using organic ingredients. But it wanted to go further: Regeneratively farmed ingredients are farmed with a more holistic set of practices that can promote soil health, increase biodiversity, and pull carbon from the air.
On the Montana farm, Powell-Palm rotates his wheat crop with golden peas, which are also used to make the flour for the pasta, boosting the protein content. A diversity of crops makes the soil healthier than just growing wheat; wheat takes nitrogen from the soil, and peas help replenish it. Livestock also graze in the field on rotation, adding more nutrients to the soil with manure. The farm also uses cover crops rather than letting the soil sit bare after harvest, so the roots of the plants help hold carbon in the soil. …
NOTE TO SELF: Watch for Annie's limited edition mac and cheese at Sprouts this spring
GLOBAL WARNING

Unpredictable.
Temperatures along the East Coast of the US began fluctuating wildly last month, from winter-like cold one day—which is normal for February—to summer-like hot the next day—which is anything but. This is a portentous harbinger of global climate change, and an irksome turn of events, as it forced people to switch their clothes, thermostats and ceiling fans from one day to another.
As it turns out, such abrupt temperature swings also may be bad for your health. Cardiology researchers in Michigan recently linked extreme day-to-day changes in temperatures to a significant increase in heart attacks, a finding that raises the disturbing possibility of yet another harmful effect of our warming planet on human health.
"Global warming is expected to cause extreme weather events, which may, in turn, result in large day-to-day fluctuations in temperature," said Hedvig Andersson, a cardiology researcher at the University of Michigan. "Our study suggests that such fluctuations in outdoor temperature could potentially lead to an increased number of heart attacks and affect global cardiac health in the future."
Many harmful health effects of climate change are well established, ranging from the worsening of seasonal allergies and the spread of infectious diseases, to the deadly impact of heat waves, floods and drought, among others. …
Silicon Valley is known as a hub of innovation, where tech geniuses create the world of tomorrow. Every kid with some coding knowledge wants to wind up there, hoping to become the next Steve Jobs or Mark Zuckerberg. But though millions of the brightest virgins from all over the world worship these gurus like they're easily winded Greek gods, they ignore that their success comes at a cost. And more often than not, that cost is that these billionaires become really, really, really weird. For example …
6. Mark Zuckerberg And Jack Dorsey Like To Take Their Workers On Surreal Field Trips
---
Typically, interactions with your boss' boss tend to involve you getting run over by their driver on the way to the bus stop. But some CEOs are more interested in their underlings than others. Ironically, in the tech world, it's the titans of social media who place a lot of importance on having some face-to-face time with all of their employees. And leave it to guys like Mark Zuckerberg and Jack Dorsey to find a way to tell someone "You and I are going on a little trip" and make the outcome somehow worse than being murdered in a motel bathtub.
For Facebook employees, Zuckerberg's reign of awkward terror begins even before they get their first paycheck. Potential Facebook recruits are sent a weird email telling them they're wanted by the company. After arriving at Facebook HQ, they're quickly shuttled to a private room, forced to sign a bunch of NDAs, and then poof, Zuckerberg appears. He then takes these headhuntees on a walk up in the woods around Palo Alto, where tells them its history of tech and innovation before he stresses how badly he wants their talent all up in his company. One such recruit described it as "surreal," and like he "was on a date" — two interviewing techniques that are a surefire way of giving your HR department stomach ulcers.
"Hey, did you see that movie about how big a creep I am? Anyway, let's go into the woods alone!"
At least the CEO of Twitter and enabler of dangerously mouthy world leaders Jack Dorsey waits until you're in the door to unleash weird expeditions on his workforce. In his other company, Square, Dorsey rounds up all the new employees every Friday and drives them like cattle down to the statue of Gandhi outside San Francisco's Ferry Building. Then, like a low-rent Aristotle, he walks them through all of San Francisco's most important districts while he explains his "Four Corners of Square" philosophy. Both he and Zuckerberg keep these practices hidden from anyone not working for them. If you're only comfortable talking honestly to people who've signed an NDA, you might be a crazed tech billionaire. …

Representative Tim Ryan, back left in tie, organized a bus tour through the Midwest with about a dozen venture capitalists.
"Oh my god, this is so cute!"
Robin Li, an investor with the San Francisco venture capital firm GGV Capital, was standing in the lobby of the Madison building in downtown Detroit. Built in 1917 as a theater and refurbished several years ago as a tech co-working space, the Madison checks all of the aesthetic boxes of hipsterdom: reclaimed wood, exposed brick walls, pour-over coffee served by tattooed baristas.
"This is nicer than San Francisco," Ms. Li concluded.
Last month, I accompanied Ms. Li and roughly a dozen other venture capitalists on a three-day bus trip through the Midwest, with stops in Youngstown and Akron, Ohio; Detroit and Flint, Mich.; and South Bend, Ind. The trip, which took place on a luxury bus outfitted with a supply of vegan doughnuts and coal-infused kombucha, was known as the "Comeback Cities Tour."
It was pitched as a kind of Rust Belt safari — a chance for Silicon Valley investors to meet local officials and look for promising start-ups in overlooked areas of the country. …
EXPENSE IT

Not your average Sheraton.
"Traveling for business or pleasure?" is increasingly a question of the past. At least that's the case with the much-courted millennial travel demographic, who are driving the trend of mixing the two, giving rise to the inevitable (if slightly cringe-y) portmanteau of "bleisure."
Historically, the travel industry has treated different demographics as distinct entities, with little overlap. There are business travelers checking into a standard Sheraton or Hilton and racking up loyalty points for a blow out summer vacation at a luxury property in Maui. And then there are those experience-obsessed, budget-conscious millennials, who are supposedly seeking more frequent and off-the-beaten-track trips using the likes of Airbnb.
But of course, millennials go on business trips, too. And when they do, they're increasingly planning them in the same way they would a weekend away—which is perhaps why travel companies are adapting to their needs.
Sam Shank is the CEO of HotelTonight. While the app was founded in 2010 on the basis of booking super-last-minute hotels, last year it expanded to offering bookings up to three months in advance. The company says it curates its offerings more than competitors like Booking.com or Expedia, with 90% of its hotel listings falling into what Shank describes as "boutique, independent, and/or distinctive hotels." In 2017, the company saw a roughly 50% spike in annual usage of the app for business travel, with some travelers tacking on weekends away to their business trips. …
For years he used fake identities to charm women out of hundreds of thousands of dollars. Then his victims banded together to take him down.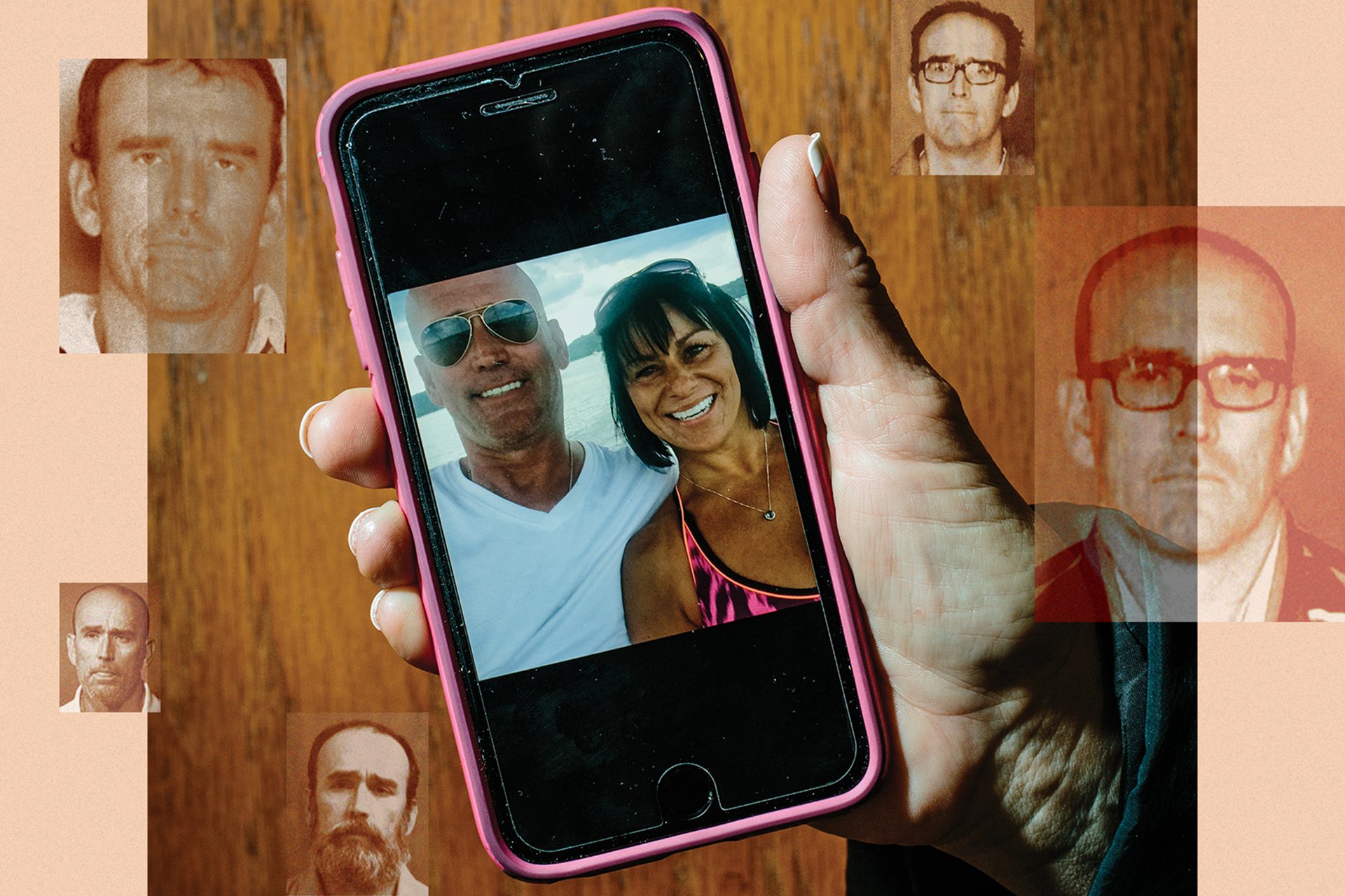 By the spring of 2016, Missi Brandt had emerged from a rough few years with a new sense of solidity. At 45, she was three years sober and on the leeward side of a stormy divorce. She was living with her preteen daughters in the suburbs of St. Paul, Minnesota, and working as a flight attendant. Missi felt ready for a serious relationship again, so she made a profile on OurTime.com, a dating site for people in middle age.
Among all the duds—the desperate and depressed and not-quite-divorced—a 45-year-old man named Richie Peterson stood out. He was a career naval officer, an Afghanistan veteran who was finishing his doctorate in political science at the University of Minnesota. When Missi "liked" his profile, he sent her a message right away and called her that afternoon. They talked about their kids (he had two; she had three), their divorces, their sobriety. Richie told her he was on vacation in Hawaii, but they planned to meet up as soon as he got back.
A few days later, when he was supposed to pick her up for their first date, Richie was nowhere to be found, and he wasn't responding to her texts, either. Missi sat in her living room, alternately furious at him (for letting her down) and at herself (for getting her hopes up enough to be let down). "I'm thinking, What a dumbass I am. He's probably at home, hanging out with his wife and kids," she says.
At 10 p.m., she sent him a final message: This is completely unacceptable. A few minutes later, she got a reply from Richie's friend Chris, who said Richie had been in a car accident. He was okay, thank God, but the doctors wanted to do some extra testing, since he'd suffered head trauma while in Afghanistan. Chris sent Missi a picture of Richie in a hospital bed, looking a little banged up but grinning gamely for the camera. Missi felt a wave of relief, both that Richie was okay and that her suspicions were unwarranted. …
Snake Plastic Robot
Researchers at Harvard University used Kirigami, a Japanese form of paper cutting, to create a snake-like skin for soft robots. The skin was made by making tiny cuts in a plastic sheet, which they wrapped around a small soft actuator—a type of motor that controls a mechanism. When inflated the cuts in the sheet expand, creating friction with the ground, which in turn allows the robot to move forward. …
The AI program invites listeners into a simulated American county with unique characters and stories.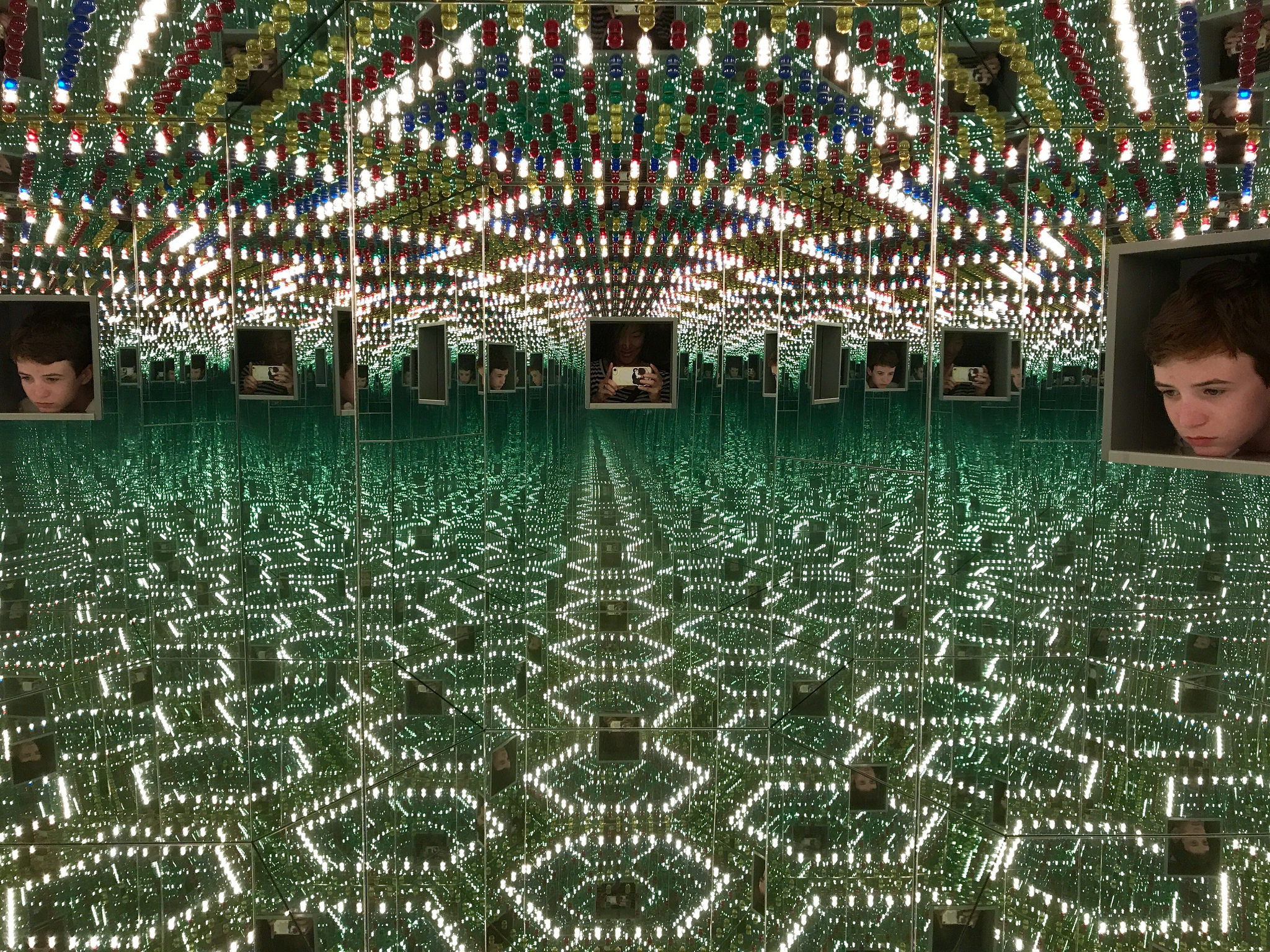 It's the night of September 30, 1840. A light-skinned man with long blond hair and brown eyes lies in a makeshift bed in a distant campsite. A female speech synthesizer tells me that this man has no parents nor any friends or enemies. His name is Jonathan Patience and he is a computer-generated fictional character living in Sheldon County number 1,515,459,035. I am listening to this description of Jonathan's life on a podcast called Sheldon County. Its host and creator is an artificial intelligence named SHELDON.
SHELDON was created by University of California, Santa Cruz PhD student James Ryan as part of his thesis. It sifts through the experiences of characters living within procedurally generated American counties and creates storylines based on their experiences. The characters in these counties have their own lives and make their own decisions. They interact with one another and even possess unique value systems and goals. SHELDON then turns these stories into a narrative driven, Twin Peaks-inspired podcast called Sheldon County.
Eventually, Ryan hopes to create a unique podcast for each listener, so that they will all hear the stories of different Sheldon Counties.
"A major goal of mine is to demonstrate that generative media—with procedural narrative, generated text, and synthesized voices—can actually be compelling," Ryan told me in an email. "I'd be thrilled if Sheldon County lead other designers to consider integrating more generativity into their own work." …
What qualifies as a dumpster fire depends on who's watching, but you tend know it when you see it.
But if forced to define it for someone not prone to hashtagging, you might quote Merriam-Webster:

Dumpster fire (noun, US informal): "an utterly calamitous or mismanaged situation or occurrence: disaster."
The gleefully catastrophic phrase is one of 850 new additions the online dictionary announced today.
Dumpster fire's inclusion marks a crowning moment for the treasured declaration and its oft-tweeted GIF. It's the metaphor we wouldn't want to live without — though the dictionary says the phrase's first-known usage was just ten years ago.
"If a word is frequently used enough by some people, it has to be placed into a reference for all people," Merriam-Webster editor-at-large Peter Sokolowski tells NPR. He says the word has turned up often enough in print — and on social media — to merit its inclusion. …
When artificial sperm and eggs become a reality, the sex of your baby-making partner won't matter.

The cluster on the right is a colony of iPS cells. Each one of them could become a sperm or egg cell under the right conditions, which scientists are trying to uncover.
Renata Moreira's 1-year-old daughter is just beginning to talk. She calls Renata "Mommy," her other mother, Lori, Renata's ex-wife and co-parent, "Mama," and the man who donated the sperm that gave her life, "Duncle," short for donor uncle. The couple's sperm donor is Renata's younger brother.
"I frankly never contemplated having kids because I didn't have any role models," Moreira begins as she tells her daughter's origin story. But when she met Lori at a bar in New York in 2013, the gay marriage movement was in full swing. When the couple decided to marry, they saw many of their friends starting families because of the new legal protections that marriage offered LGBTQ families, and they too began thinking about their options.
After months of research and thinking about the values that were most important to their family, they decided that a genetic connection to their kid was a high priority. "It wasn't that we didn't believe in adoption," says Moreira, who is executive director of Our Family Coalition, a nonprofit that works to advance equity for LGBTQ families. "But the idea was that we wanted a child that was related to our ancestors and the genetic code that carries."
Moreira is Brazilian, of indigenous and Portuguese ancestry, and Lori is Italian. Given that they both wanted to carry on their genetic heritage, they asked Renata's brother to donate his sperm, to be matched with Lori's eggs. The family's fertility doctor used in-vitro fertilization to conceive an embryo in a dish and implanted it into Moreira's uterus, making her into her daughter's "gestational carrier."
Even as the social stigma around gay parenting lessens — the Williams Institute at UCLA estimates that as many as six million Americans have a lesbian, gay, bisexual or transgender parent — LGBTQ families that want a biological connection to their children have a lot to think about. A same-sex couple who make a baby must work through an arduous puzzle of personal values, technologies, and intermediary fertility doctors, egg and sperm donors, or surrogates.
But that could change dramatically before long. …
¡BONK!
911 recordings reveal Apple's problem of employees walking into walls
Apple was warned by a city official about the danger of employees walking into walls.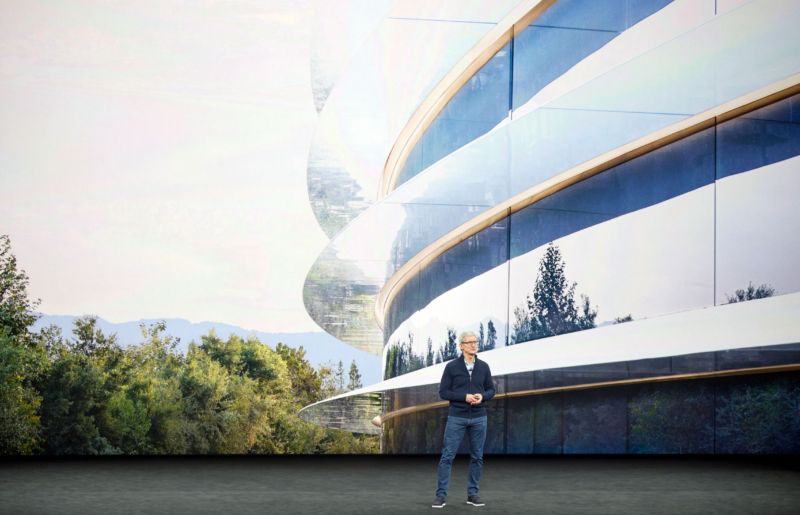 Apple CEO Tim Cook speaks about the new Apple headquarters during a media event in Cupertino, California on September 12, 2017.
Apple Park, the massive donut-shaped Apple headquarters that Apple finished building last year, is an architectural marvel. The building makes extensive use of massive, floor-to-ceiling glass panels, giving the illusion that the building blends seamlessly into the surrounding forest.
But when Apple started letting employees use it in January, they discovered a big problem: they kept running into glass windows and doors. In the first few days, three people suffered injuries serious enough to require calls to 911.
"I walked into a glass door on the first floor of Apple Park when I was trying to go outside," one person said in a January 4 911 call obtained by the San Francisco Chronicle. He said he hit his head but didn't suffer serious bleeding.
Two other emergency calls from Apple's campus were made two days earlier on January 2—which the Chronicle says is the day Apple employees started moving into the new headquarters. "We had an individual who ran into a glass wall pane and they hit their head," an Apple caller said on one of the January 2 calls. "They have a small cut on their head and they are bleeding, slightly disoriented." …
Video Goodnesses
and not-so-goodnesses
Last September, Attorney General Jeff Sessions set March 5th as the end date for DACA — the 2012 program that provided Dreamers with work permits and protection from deportation.
But a series of court injunctions this year has temporarily halted the administration's wind down of the program, leading many to believe that Dreamers are safe. Starting tomorrow, however, roughly 400 people each day will lose their protected status.
DACA recipients whose status expires after March 5 were not allowed to apply for a renewal until a District Judge in California halted President Trump's plan in January. But the relief came too late. U.S. Citizenship and Immigration Services can take up to 120 days to process an application. So even people who applied immediately could face a lapse in their status while they wait for their renewal to be processed. During that time, they could lose their jobs and driver's licenses, and will immediately be subject to deportation.
Hugo, a DACA recipient whose status expires March 9th, is currently waiting for his renewal to be processed. "After my DACA expires, I'm not going to have any protection. I have an eight-year-old daughter [who is a U.S. citizen] and knowing that there might be a period of time where I might be able to be kicked out of the country, it is very scary."
A former YouTube engineer is speaking out against the company's recommendation algorithm, saying that it is programmed in a way that could lead to the promotion of conspiracy theories.
Guillaume Chaslot, who has a Ph.D, in computer science and worked on the YouTube recommendation algorithm in 2010, says that when he worked at the company, YouTube was programming its algorithm to optimize for one key metric: keeping viewers on YouTube for as long as possible, or "watch time."
Chaslot says that conspiracy videos, like those about flat earth or autism and vaccines, were more likely to be recommended in YouTube's recommendation algorithm because of the focus on watch time. In a statement to VICE News, a YouTube spokesperson says the company still considers watch time in its algorithm, but it now also focuses on another metric: user satisfaction.
Chaslot has since created a tool, dubbed AlgoTransparency, that he says shows conspiracy videos on YouTube are some of the most likely to be recommended. VICE News meet with Chaslot to discuss how YouTube's algorithm works and how he plans to create another similar tool for the Facebook and Twitter algorithms.
The National Institutes of Health own 518 research chimpanzees. But since the late nineties, long before biomedical research on chimpanzees was actually banned in 2015, the use of our closest animal relative in science has been declining. And the NIH is still trying to figure out what to do with its aging community of ex-lab chimps.​
Over 200 research chimps are still being housed in labs, instead of sanctuaries. The research chimpanzees and their ancestors, contributed to the eradication of diseases like Hepatitis A and B and polio in many parts of the world. They've helped us better understand the human body and mind.
Any other lab animal would be euthanized — but not chimpanzees. It's a decision that acknowledges just how similar they are to humans, and the CHIMP act, signed by President Clinton in the year 2000, makes it official: The Federal Government guarantees that all research chimps will live out their lives in a federally approved sanctuary.
That sanctuary is Chimp Haven in Louisiana. This month, ten years after the first chimps arrived there and some of them experienced trees and open space for the first time, Chimp Haven is celebrating a milestone. More than half the NIH chimps have made it into the sanctuary system. But to accept more transfers, Chimp Haven will need to expand, and it's struggling to find the funding it needs.
VICE News Tonight visited Chimp Haven to see what retirement looks like for the lucky half of America's research chimps.
THANKS to HBO and VICE News for making this program available on YouTube.
GOP lawmakers are quick to denounce President Trump's plan to put tariffs on steel and aluminum, citing a possible trade war and thousands of job losses.
Even when Trump gets the problem right, his solutions are out of whack.
THANKS to Comedy Central and The Daily Show with Trevor Noah for making this program available on YouTube.
Colbert had a monologue full of perfectly good tariff humor ready to go. Then former Trump aide Sam Nunberg got on TV.
Rep. Devin Nunes told Fox News he wasn't aware of Late Show reaching out for comment during Stephen's trip to Washington. But Stephen has receipts.
THANKS to CBS and The Late Show with Stephen Colbert for making this program available on YouTube.
Seth takes a closer look at the thousands of teachers on strike in West Virginia and how the constant turmoil in his administration is causing President Trump to lash out.
THANKS to NBC and Late Night with Seth Meyers for making this program available on YouTube.
Max saying "huh" and also playing with some toys.
FINALLY . . .
AMAZON

This company built one of the world's most efficient warehouses by embracing chaos
When Dave Alperson got his first job at an Amazon warehouse in 1997, as a temporary hourly employee, it involved walking around the warehouse with a list of where to find products—mostly books—that customers had ordered.
Twenty years later, as a regional director of operations for Amazon in Indiana, he oversees 18 warehouses that barely resemble where he started. Amazon now sells millions of products; each of its 149 warehouses ship tens of thousands of them each day; and those warehouses now look like live-action games of Chutes and Ladders—whizzing with a meticulously coordinated system of conveyor belts, slides, and machines that do everything from attach labels to boxes to check weight for quality control.
In the process of building this elaborate system, Amazon has completely redefined warehouse efficiency and customer convenience. Through its Prime membership, it has promised tens of millions of customers free two-day shipping on more than 100 million products, and, last year, it shipped 5 billion items to them. "That was the major innovation," says Daniel Theobald, who cofounded a warehouse robotics company called Vecna in 1998 and counts major retailers and logistics companies as clients. "As soon as people realized, you can order something and get it tomorrow, that turned the industry upside down."
The core of this disruptive efficiency, though, is not Amazon's automated shelf-moving warehouse robots, which is the innovation that gets the most attention. And it isn't, on its surface, something that you would associate with a well-oiled machine. It's not even a breakthrough technology. In fact, some version of it was already in place when Alperson worked in Amazon's early warehouses.
What makes Amazon's warehouses work is the way they organize inventory: with complete randomness. …
DEGREE OF DIFFICULTY: The random system has been in place since early on in Amazon's 24-year history, and to a casual observer, the result appears chaotic.
Ed. More tomorrow? Probably. Possibly. Maybe. Not?