Blocked by Trump on Twitter – now crusaders take their case to court

Holly Figueroa O'Reilly has joined others in a lawsuit that accuses the president of violating her first amendment rights. Will she succeed?

When Donald Trump took the nuclear option, it seemed funny at first, said Holly Figueroa O'Reilly.
After the 2016 election, Figueroa O'Reilly, who describes herself as a political moderate and the president as an "idiot", became a persistent critic of Trump on Twitter, which allows users to target one another with messages.
But Figueroa O'Reilly, 47, a songwriter and a mother of five from Seattle, apparently crossed an invisible line last spring when she replied to a Trump tweet about the British prime minister with a short video that showed a smile dropping off Pope Francis's face in a meeting with the US president.
"This is pretty much how the whole world sees you," Figueroa O'Reilly wrote to Trump.
This is pretty much how the whole world sees you.#AMJoy#SundayMorning pic.twitter.com/CycqYnKg8b

— Holly Figueroa O'Reilly (@AynRandPaulRyan) May 28, 2017
And with that, the presidential axe fell. Figueroa O'Reilly found herself blocked. Her president had adopted the signature move of infuriated online warriors everywhere by banishing her from his feed.
"The first thing that I did was just laugh, because I thought: this has got to be a mistake," Figueroa O'Reilly told the Guardian. "Why is the most powerful man in the world blocking me on Twitter?"
But Figueroa O'Reilly began to think differently about the episode when she realized she wasn't alone. In fact, the president has blocked hundreds of US citizens on Twitter, meaning they cannot see or reply to messages from the commander-in-chief, or be seen in those interactions by other users.
"That's when it started to sink in, when I realized that it had real-world implications far beyond myself," Figueroa O'Reilly said. "It's not that I'm not being heard. I don't care. I think that having people who don't agree with him have a voice – that's what's important."
Figueroa O'Reilly is now a co-plaintiff in a high-profile free-speech lawsuit that accuses the president of violating her first amendment rights by silencing her in an online forum maintained by him and select aides. …

Trump with steel company CEOs.
Donald Trump's announcement on March 1 that the the US would put a massive, across-the-board tax on imported steel and aluminum jolted markets, alarmed CEOs, and sparked a chaotic scramble in Washington, DC to change his mind, though any means necessary.
That scramble claimed its first victim yesterday, when the White House announced Trump's top economic advisor, Gary Cohn, was resigning. Cohn, who had pushed hard against the tariffs and threatened quit if they were enacted, said Tuesday it was "an honor to serve my country," and wished the president luck.
Meanwhile, captains of industry are phoning the White House, Congressional Republicans are openly criticizing the decision and quietly discussing taking away some presidential powers, and foreign leaders have been ringing Trump directly. Some have promised to retaliate. Tariffs would destroy five US jobs for every one they create and could set off a global trade war, critics warn.
The flurry of activity in Washington has been accompanied by an existential crisis. Some trade experts, advisors, and diplomats here are wondering whether anything they do will matter, given the president ignored his top economic advisor and steel CEOs on the issue. "Even the steel producers have asked Trump to exclude Canada from the tariffs" because that's their biggest export market, said Jorge Guajardo, a former Mexican ambassador to China who now advises companies on Latin America and China issues from DC. "And it didn't matter," he said. …
---
---
Having Jared Kushner and his wife, Ivanka, Trump's daughter, working in the White House is a case study of nepotism gone nuts.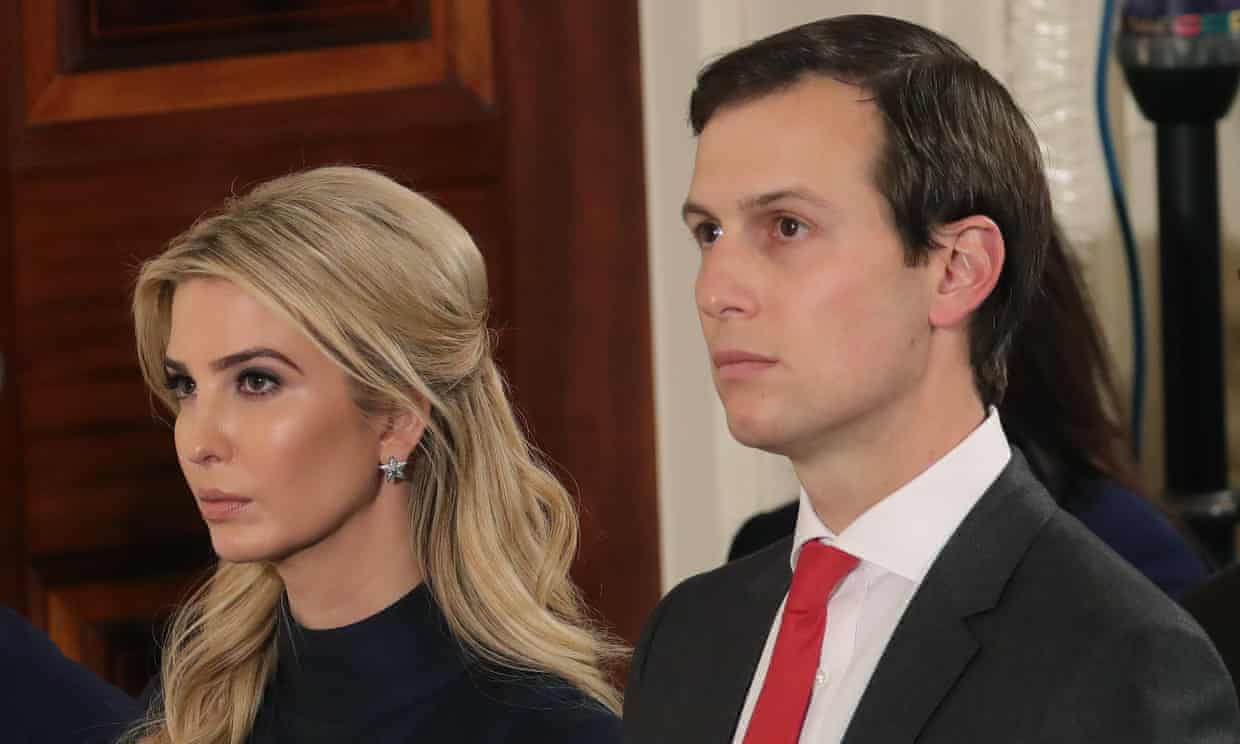 'We've seen this same playbook before – in places like Uganda, the Philippines and other countries where rulers and their families loot the public.'
Despite its fame, The Apprentice is not the reality television show that best explains Donald Trump's presidency. To understand what's going on in the White House, tune into a popular show that had its premiere at about the same time: American Greed.
We learned last week that Jared Kushner met with big-time financial executives in the White House and then hit them up for $500m in loans to his family's troubled real estate empire, a business in which he maintains an active stake. This truly tops most of the financial chicanery featured on American Greed and I can almost hear Stacey Keach, the actor who narrates the show, setting up the dark contours of Jared's latest episode of corrupt Washington deal-making.
While the loans would be a shocking scandal for any other administration, our senses have been dulled. Already, the president set the ethical compass for his presidency low by failing to cut his own ties to the Trump Organization and not, as every recent president has done, releasing his taxes.
The fact that Donald Trump is personally profiting off his presidency is an open secret in Washington as a stroll through the lobby of the new Trump Hotel in the grand Old Post Office proves. Just about anyone who wants a White House favor or a meeting is there, dropping at least $500 per night. Ka-ching for the Trump Organization.
Jared and the Kushner family have been even more brazen. …
TRUMP, INC.
'Trump, Inc.' Podcast: The Desperation, Secrecy and Conflicts of Jared Kushner's Company
This week on "Trump, Inc.," we dive into Son-in-Law Inc.

Jared Kushner listens during a Cabinet meeting at the White House in June.
We've seen headline after headline about Jared Kushner. We've heard that Trump's son-in-law company has been on a global search for cash, that the company got giant loans from two big financial firms after Kushner met with officials from the companies in the White House, and that countries believe they can manipulate Kushner through his "complex" business arrangements.
Just like his father-in-law, Kushner has not fully divested from his family's business. He still owns at least $761 million in assets. Meanwhile, the company has found itself owing hundreds of millions of dollars in debt that comes due in less than a year.
All of this while the company has worked very hard to keep some of its partners a secret.
It all gets back to a familiar question: How can we know whether Kushner is operating in interests of the country or his company?
For our episode, we contacted Kushner Companies, which said it "is financially very strong," and that "Jared Kushner is not in any way involved in the management of the business." Jared Kushner's attorney's spokesman, Peter, Mirijanian told us that Kushner "has followed the ethics advice he has received for all of his work which include the separation from his business and recusals when appropriate." …
---
Find "Trump, Inc." wherever you get your podcasts.
---
ETERNO RITORNO

Quick fixes.
Steve Bannon's "ultimate dream" came true last night in Italy: Anti-establishmentarianism, isolationism, xenophobia and populism won the country's general elections on March 4.
On March 4, populist party Movimento Cinque Stelle (Five Star Movement) won the most votes. Meanwhile, radically xenophobic Lega Nord (Northern League) overtook center-right party Forza Italia. More than half of the parliament is now in the hands of upstart populist groups, with moderates both left and right of center crippled: The center-left Democratic Party received less than 19% of votes—the worst result in its history. Center-right Forza Italia received around 14% of the votes—the worst in leader Silvio Berlusconi's political history.
No single party won enough votes to control the government, which means some combination of groups will have to form a coalition. And whoever's in charge will face a changed Italy, in which voters appear to have swung a hard right.
As Bannon, former Trump advisor and longtime admirer of proto-fascist thinker Julius Evola, knows, Italy is an excellent incubator for conservative trends that eventually spread throughout the world. …
DEGREE OF DIFFICULTY: Italy is the birthplace of fascism…
---
As editorial boards cheer him on, Trump is weighing action against the regime in Syria.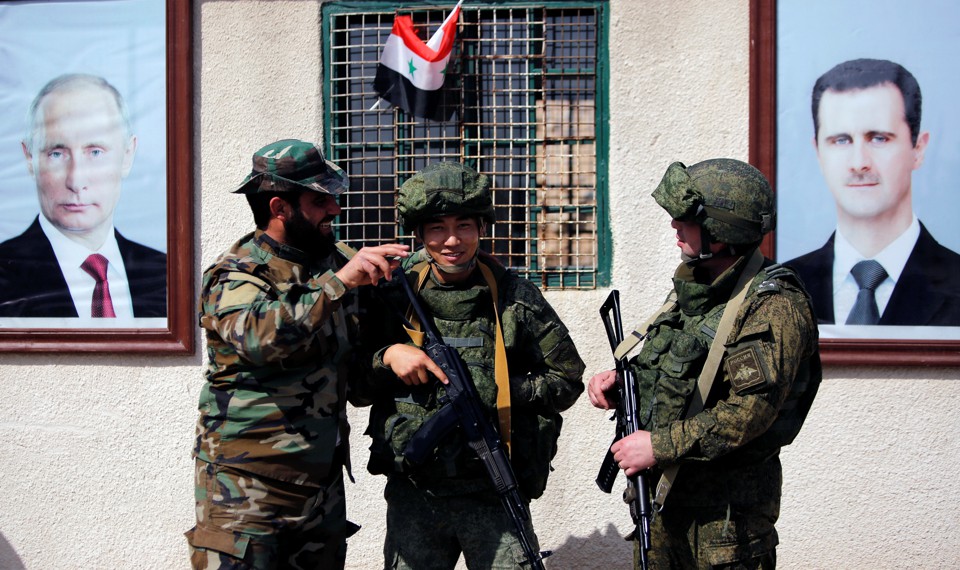 Donald Trump repeatedly called his predecessor dumb for intervening in Syria. Congress has declined to vote to authorize a war in Syria. And the U.S. Armed Forces are now led by a commander in chief who lacks the experience, wisdom, steadfastness, and popular support to prosecute a complex war in a faraway country where a misstep could lead to regional conflagration or even nuclear world war.
Yet even as U.S. forces clash with Russian mercenaries on the ground in Syria, a growing chorus is urging President Trump to intensify America's lawfully dubious presence there—to move on from the fight against ISIS to one against Syria's regime—not because they believe that the symbolic, unlawful cruise-missile strike that Trump launched last April actually stopped Bashar al-Assad from gassing his own people, or that further American intervention will end or even shorten Syria's civil war, but because in their horror they believe that it is unacceptable to do nothing.
"It's time for another red line …" say the editors at Bloomberg. "Trump should tell Assad and his Russian backers that any more proved use of any chemical weapon, including chlorine, will be met with even greater retaliation than what happened in April. It certainly won't end the fighting, in Eastern Ghouta or across the country, but it may take away one of Assad's most unconscionable methods of terrifying his citizens."
Should the U.S. have done more to stop the Rwandan genocide in the '90s? Yes. Should the U.S. pressure its Saudi allies to stop starving Yemenis today? Yes, immediately. …
NEW LEAF

Life after trump.
The scene is at once cathartic and symbolic: A worker uses a crowbar to peel the name TRUMP from a hotel in Panama City, Panama—dumping the flimsy-looking letters in a plastic tub and into the back of a Hyundai. The now-viral video shows the de-Trumping of Donald Trump's Panama City luxury hotel, the third to shed the Trump name since the US president's inauguration.
The Panama tower was one of 12 properties remaining in Trump portfolio of hotels—properties which his firm mostly manages rather than owning the actual real estate involved. Since taking office, the Trump moniker has also been erased from hotels in Toronto and Manhattan, though the Panama "de-flagging" was the most dramatic—with some Trump Organization staff forced to leave the property in handcuffs (paywall).
So how does a hotel, once branded under the president's controversial name, fare once it's no longer Trump?
LIFE AFTER TRUMP
The Adelaide: The cursed Trump Toronto is reborn
Toronto investor Alex Shnaide hoped that Trump's reputation and celebrity would draw in guests and investors when he paid to brand the 65-story Trump International Hotel and Tower. But when it debuted in 2012, the streets around the hotel were shut down due to falling glass debris from the building. Five years later, a majority of the rooms were still empty, and lingering debt payments put the property into receivership (i.e. it went bankrupt). …
---
---
Let's say you go to a restaurant and find human hair in your food. You give the place a second chance, but there's hair that time too, and the next. Yet you keep coming back — not because the rest of the experience is great, but because of the hair. Soon you're inviting your friends to come along, all of you picking out hairs and saying, "Can you believe this shit? It was worth waiting in line!"
This is the exact weird relationship we have with all kinds of media. Take The Walking Dead, which might be the most hate-watched show of all time. My original love ripened into dissatisfaction by Season 3, which then molded into hate by Season 5. Yet I was still watching every week, and loathing every second of it. But why? Logic would say that if you hate a show, you just don't bother with it. I can't stand most reality shows about the lives of vapid strangers like Real Housewives or Kardashians or The Popes Of Vatican Shores, and it turns out that avoiding them is super easy. So why was I addicted to hating The Walking Dead? The answer to this question — what it reveals about our mindset these days — seems important.
Science does not yet know what percentage of media is consumed out of spite. We know that Game Of Thrones has entire forums full of book fans who despise the show and watch it religiously solely so they can explain why they despise it in extreme detail. The same goes for The Simpsons, which has now been on TV for longer than TV has existed, and has entire sites dedicated to recapping new episodes to explain why they're trash compared to the old ones. This phenomenon usually requires a show that was either good at one point or at least should be good, so that you have a reason to be invested in its badness. Then the meta-drama of creators steering a great thing off a cliff becomes more compelling than the show itself. …
---
MORE< MORE, MORE

A spiral of consumption.
Despite composing several famous works, the French philosopher Denis Diderot spent the majority of his life in poverty.
Like many Enlightenment thinkers of his time, Diderot had little concern for material possessions. That changed when he received a new scarlet robe from his friend as a gift.
The robe was so beautiful that Diderot treasured it above all else. But Diderot also quickly realized that the robe was out of his place amongst his other common possessions. He didn't own anything that would match the grandeur of his new robe.
And so Diderot went about replacing his old possessions. He replaced his straw chair with a leather one. A large mirror took over the mantle of his fireplace. He filled up the vacant corner of his house with a writing desk.
Before long, Diderot found himself in debt. As he remarks in his essay titled Regrets For My Old Dressing Gown, "I was the absolute master of my old robe. I have become the slave of the new one".
THE DIDEROT EFFECT
Diderot's story shows how the acquisition of new possessions is never a singular event. Each new purchase often creates a spiral of consumption that leads you to acquire more things.
It's a social phenomenon that explains much of our modern consumption patterns. Savvy marketers often bundle complementary products together and make us offers so compelling we cannot refuse them. One seemingly innocent purchase can lead to many bad decisions. …
Farewell to my stressful, dispiriting, but occasionally awesome life as an internet comment moderator.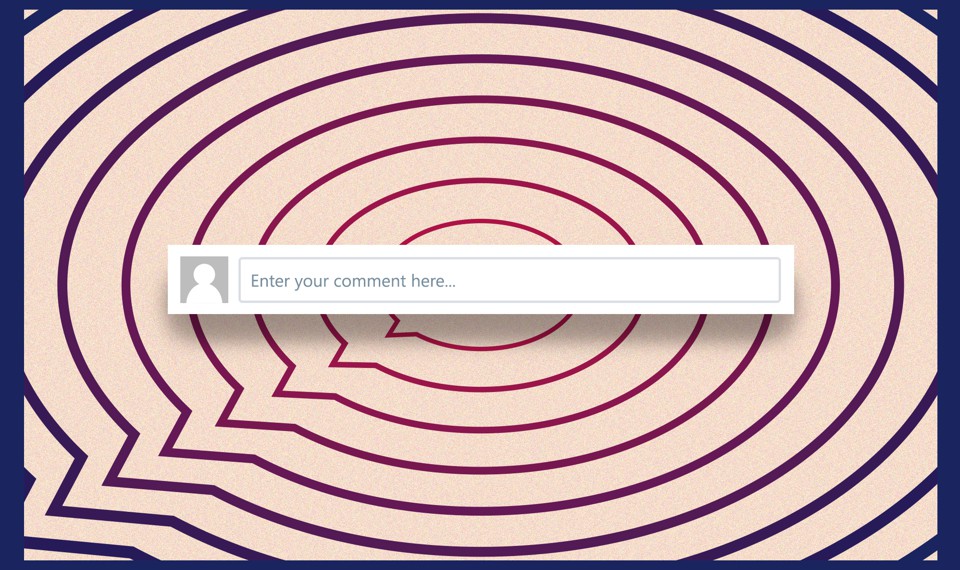 In 2008, I started an experiment that became a career. I began posting photo stories focused on the news that were made up of large images all on a single web page—as opposed to tiny slideshows, which were the standard back then. That first photo blog, "The Big Picture" at the Boston Globe, always included a space for user comments at the bottom of each page. My next photo blog here at The Atlantic continued this tradition. For the past decade, comments have been a part of every photo essay I've published—until The Atlantic closed commenting sitewide last month.
When I first started posting these photo stories, I was aware of the possible downsides of allowing comments. But I was always hopeful that readers would have interesting responses. I wanted the ability to prevent ugly comments from ever appearing, and the only reliable way to do that was using a method called pre-moderation, where all incoming comments are held in a hidden queue to await approval. What that really meant was that somebody (me) would have to read and approve every single comment before it showed up on the page—and delete the bad ones, so that they were never seen by everyone else. This seemed like a good plan to me at the time. I thought maybe I would be checking incoming comments once a day.
I had no idea what hell I was getting myself into.
When comments on The Atlantic shut down, I decided to make a tally of my moderation efforts over the past decade. I've moderated more than 75,000 comments on my photo essays at The Atlantic since my arrival in 2011. At the Globe, we used a different commenting system, that attracted more engagement: A good estimate for my three years there would be 120,000 moderated comments. I'll call that an even total of 200,000 comments moderated over 10 years. That's an average of 55 comments a day, or one new comment to read, evaluate, and approve or delete every 15 to 20 minutes that I've been awake since May of 2008. (They rarely came in evenly, though: Usually it was a few dozen one day, hundreds the next.) …
Social Science

Customer signals.
In a 200-year-old building in the center of Copenhagen, overlooking the Rosenberg Castle, a group of anthropologists, sociologists, and experts in other human sciences stand around a large, white table to discuss the deepest anxieties of the world's best-known companies.
The young, distinctly Scandinavian group—dressed head to toe in patternless grays, blues, and blacks—work at the headquarters of ReD Associates. The Danish firm is, on the surface, a consultancy, but at its core it believes it's much more than that: a group of creative problem solvers who use anthropology and the social sciences to help companies truly understand their customers on a human level. (And, ultimately, design more relevant products for them.)
Since ReD's founding in 2005, companies have turned to it for guidance on their most fundamental, existential issues. In its early days, this was Lego trying to understand why kids play; Adidas looking to expand its brand beyond athletics; and Samsung wanting to become known for high-quality design instead of commoditized, mass-market electronics.
ReD's results speak for themselves. Lego has gone from the brink of bankruptcy to the world's largest toy company, Adidas is now one of the top-selling sneaker brands in the US, and Samsung has become the world's most profitable technology company (paywall). Now, ReD Associates is taking on one of its biggest challenges ever, and without a specific client in mind. It wants to figure out how to get people to trust banks again. …
Super Monster Wolf strikes fear into the hearts of easily-fooled wild boar.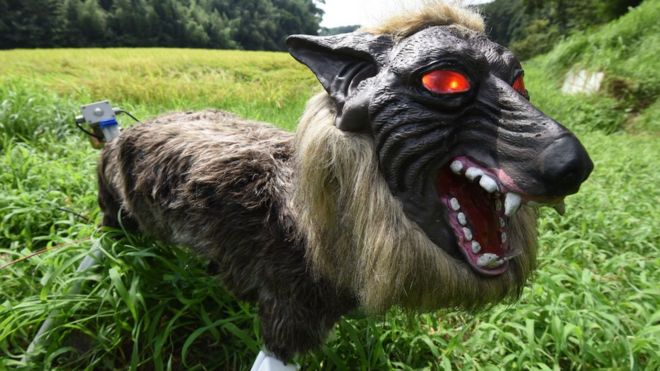 A robot wolf designed to protect farms has proved to be such a success in trials that it is going into mass production next month.
The "Super Monster Wolf" is a 65cm-long, 50cm-tall robot animal covered with realistic-looking fur, featuring huge white fangs and flashing red eyes, Asahi Television reports.
It's been designed to keep wild boar away from rice and chestnut crops, and was deployed on a trial basis near Kisarazu City in Japan's eastern Chiba prefecture last July.
When it detects an approaching animal, its eyes light up and it starts to howl, Asahi TV says. Its manufacturers say the robot wolf uses solar-rechargeable batteries and has a range of howl noises so that animal threats don't get used to it.
The Japan Agricultural Cooperatives say that crop losses have noticeably decreased in areas where the Super Monster Wolf has been present. Beforehand, farmers around Kisarazu were resigned to giving up at least part of their crops to wild boar every year. …
Experts confirmed the bottle was jettisoned as part of a German oceanographic experiment in 1886.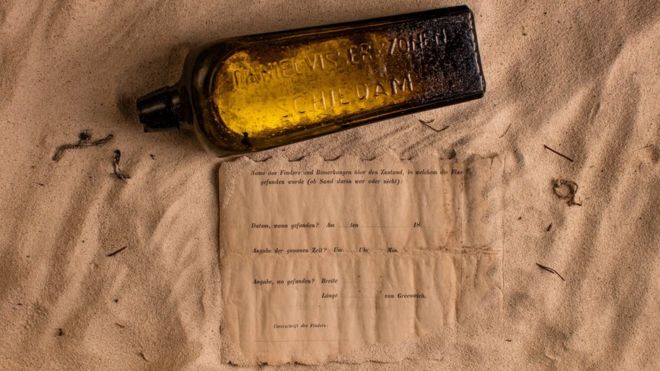 A Perth family has found the world's oldest known message in a bottle, almost 132 years after it was thrown into the sea, Australian experts say.
Tonya Illman picked up the bottle while going for a walk around sand dunes on a remote beach in West Australia.
Her husband Kym Illman told the BBC they found some paper in the bottle but had "no idea" what it was until they took it home and dried it in the oven.
Experts have confirmed it is an authentic message from a German ship.
The note in the bottle, which was dated 12 June 1886, was jettisoned from the German ship Paula, as part of an experiment into ocean and shipping routes by the German Naval Observatory.
Previously, the Guinness world record for the oldest message in a bottle was 108 years, between it being sent and found. …
Build a better filter.

Instead of focusing on what everyone is already talking about, Watson focuses on hunting down unusual knowledge.
You might think someone who gets paid to predict the future would be mad for gadgets and forever spouting off on social media. But you'd be wrong. Writer and futurist Richard Watson may teach London business students and Silicon Valley tech companies how to think about crafting tools for tomorrow, but he's not even on Twitter.
What's more, Watson doesn't really follow the news in any conventional way. He reads Sunday newspapers, in print, retrospectively. He's not trying to catch up but to check and see which of the many headlines turned out to be relevant a few weeks or a month later. In other words, Watson is neutral about current events. He's placing any given moment in a much greater context than the day or the week. Watson's scale is grand and includes all of human history and its possible futures. In this very long view, nothing is such a big deal, although anything may become relevant eventually.
Instead of focusing on what everyone is already talking about, Watson hunts down unusual knowledge. He shared with Quartz his approach to creating a smart information filter—a net that captures what's happening and what really matters without making you a slave to information of fleeting importance. …
DEGREE OF DIFFICULTY: Chill out. "Relax, the important news will find you. It will."
It's about time.

Time to change the clocks.
Unless you happen to be that one person in the office who knows exactly when each holiday, seasonal change, and birthday occurs, it's likely that you'll need a refresher on daylight saving time (DST), so here it is:
In the US, daylight saving time ends this Sunday, March 11, at 2 am, at which point you will set your clocks an hour later.
This is the unhappy half of DST, when the archaic absurdity of the ritual is highlighted by losing a precious hour of sleep. But daylight saving time can also lead to some confusion for those communicating internationally. Only about half of the world's countries gain an hour in the autumn and lose it in the spring—most notably excluding China, Japan, and India.
The US (excluding Arizona and Hawaii), Canada (excluding Saskatchewan), Mexico, Europe (excluding Belarus and Iceland), and some regions of South America, Africa, and Australia observe DST. …
Video Goodnesses
and not-so-goodnesses
As a major stronghold of ISIS in its brutal sweep across Iraq, the city of Mosul has been central in the war to defeat the terror group.
Iraqi forces began their campaign to crush ISIS in October 2016 just outside of Erbil, with a coalition of Kurdish peshmerga forces, and Western advisory allies. It was a long and arduous process of slowly advancing first from town to town along the Nineveh plains toward the city and then from block to block as they worked to liberate sectors of the city.
VICE's Aris Roussinos embedded with Iraqi forces as they began the campaign to retake Mosul.
Texas Democratic Rep. Beto O'Rourke is hoping to defeat Sen. Ted Cruz — and end a 30-year streak of statewide losses for his party — by taking his grassroots-driven campaign to every single one of Texas' 254 counties, including the deep-red ones that Democrats have ignored for decades.
"I don't know if I'm going to win more votes than the last Democrat who ran in those counties, but I know that not enough Democrats have been showing up in those counties in the first place," he told VICE News in an interview on the road in the middle of a seven-stop day on the campaign trail last month.
"And they haven't been reflecting the needs of those counties in what they say on the campaign trail."
But for all he says he's looking to reflect the needs of those voters, when he visits seven Republican-leaning rural counties across West Texas on a Saturday in February, he doesn't moderate his liberal profile on a range of issues. During a stop in Brown County — which voted for Trump by 86 percent — he touts his support for an assault weapons ban. In Parker County, where Trump won 82 percent of the vote, he's unapologetically pro-choice.
Running as a liberal is a tough task in a state Republicans have won statewide every election cycle since 1994.
But Texas' demographic shifts — towards a younger, more diverse electorate — suggest it's just a matter of time until Democrats take back the state. And O'Rourke believes the grassroots energy behind his campaign — which has helped him outraise Cruz over the past four months of the race — coupled with frustration among Republicans with Cruz and Trump's performance in office could make this cycle different for Democrats.
"I think there's some energy around the things that we're concerned about — this idea that we build a wall…this incitement of fear about Muslims," he said.
But O'Rourke added: "There's a lot more energy—I think you saw it tonight around the things that people want to do, that they're excited for," like raising the minimum wage and passing immigration reform.
Classes resume at Marjory Stoneman Douglas High following the February 14th mass shooting. VICE News goes back to Parkland as students return to class.
THANKS to HBO and VICE News for making this program available on YouTube.
After receiving a subpoena, Sam Nunberg takes to cable news to discredit the Mueller investigation, only to offer up his email passwords a few hours later.
THANKS to Comedy Central and The Daily Show with Trevor Noah for making this program available on YouTube.
Trump reacted to optimistic signals toward North Korea's denuclearization the same way he reacts to everything. . . with a half-thought-out tweet.
Speaker of the House Paul Ryan, for once, won't bend for aluminum and steel tariffs proposed by Trump.
THANKS to CBS and The Late Show with Stephen Colbert for making this program available on YouTube.
Seth reminisces about a simpler – albeit recent – time when people weren't losing all their money by investing in Bitcoin.
THANKS to NBC and Late Night wieht Seth Meyers for making this program available on YouTube.
CAUTION: Some language may not be appropriate for work or children.
Here's me commentary on Sloth Bear vs Tiger.
Max keeping busy while making a mess.
FINALLY . . .
MAGIC WORDS

Love in the time of fish creatures.
Four years after his death and a half-century after his One Hundred Years of Solitude introduced much of the world to magical realism, Gabriel García Márquez might be pleased to know that the literary genre he helped popularize is now flourishing on screen.
On what would have been his 91st birthday, Google honored the prolific Colombian author with a Google Doodle depicting the magical city of Macondo, the setting of his most famous novel. In One Hundred Years of Solitude, Marquez imagined an isolated "city of mirrors" somewhere in the Amazon, where otherworldly phenomena—like fish made of gold—were commonplace.
Magical realism does just what it sounds like: It adds an element of magic or fantasy to an otherwise realistic world. Considered a masterpiece and the seminal work of magical realism by modern critics, >o?One Hundred Years of Solitude catapulted Marquez to the top of global literary scene. In 1982, he was awarded the Nobel prize in literature for his work "in which the fantastic and the realistic are combined in a richly composed world of imagination."
Marquez has a rich legacy in literary circles, and lately echoes of his work have made their way into the Hollywood mainstream. That's fitting, as Marquez himself dabbled with the visual medium as both a film critic and a screenwriter. …
Ed. More tomorrow? Probably. Possibly. Maybe. Not?