Pictured above: A color fit for a queen.

Originally, Sir William Henry Perkin set out to cure malaria. Instead, on his would-be 180th birthday, he is memorialized in a Google doodle for his chemical contributions to modern fashion.

Google doodle on March 12, 2018, drawn by UK-based Sonny Ross.
Back in 1853, Perkin, then only 15, started his career as a chemist working under August Wilhelm von Hofmann at the Royal College of Chemistry—now known as the Imperial College London. Their goal was to come up with a cheap, lab-made quinine, which was the best way to treat malaria in the 19th century.
Three years later, while most of his peers (and Hofmann himself) were on spring break, Perkin found himself toiling away in Hofmann's attic. As he cleaned a beaker after another failed attempt to make quinine, he noticed something peculiar. When he scrubbed away a dark sludge on the glass with alcohol, the combination of chemicals made a vibrant, electric purple.
Perkin, who had an eye for color as an amateur photographer and painter, recognized he had stumbled upon something more lucrative than an anti-malarial substance. He quickly relocated his work to his own apartment, where he, his brother, and a friend figured out how to produce the dye in larger quantities. In 1856, when Perkin was only 18, they patented the compound known as mauvine. …
---
YOUNG HEARTS RUN FREE

Youth has been at the heart of nearly every American cultural revolution.
Last month, 18-year-old high school senior Emma Gonzalez became the face of the gun control movement after 17 of her classmates were killed in a mass school shooting in Florida. If baby boomers and Gen Xers think Gonzalez is too young to galvanize the nation behind the cause, they have forgotten their history.
Millions of students are expected to participate in the National School Walkout on Wednesday, March 14, a call on Congress to combat gun violence. Inspired by Gonzalez and her peers at Marjory Stoneman Douglas High School, and organized by the group behind last year's Women's March, the walkout is meant to build momentum behind a movement they're calling "Never Again."
The event echoes successful civil disobedience strategies perfected by boomers and embraced by following generations. When they were in their teens and 20s, boomers and Xers' protests and political actions changed the country. Now between 40 and 70, with a hold on the nation's purse strings and Washington, boomers and Xers' have been stymied by our most pressing problems.
History tells us engaged teens and 20-somethings have always been our antidote to the insurmountable. To solve problems previously-deemed utterly insurmountable—the epidemic of gun violence, systemic racism, and overwhelming gender inequality—older people must look to them to drive change. …
---
NO DEAL

No change after all.
A contentious, long-gestating bid to take over an iconic US tech company has ended—and Washington's wariness of China's tech ambitions is only beginning.
Donald Trump issued an executive order barring Singapore-based chipmaker Broadcom from acquiring Qualcomm, the California-based semiconductor designer that dominates the market for mobile phone processors. Valued at roughly $130 billion, the deal would have been the largest in tech history had it gone through. Its swift fallout highlights how the White House is increasingly worried that China will shadow the US in technology—and how Washington will take unprecedented measures to ensure its leading tech companies don't fall behind.
In the order, issued Monday evening (March 12) in Washington, Trump states there exists "credible evidence" that Broadcom "might take action that threatens to impair the national security of the United States" should it carry forth with its acquisition of Qualcomm. Trump does not elaborate further on what that evidence consists of.
However, the US Treasury Department wrote in a letter (pdf) released last week that the takeover could potentially cause the United States to fall behind China in the development of 5G, the wireless technology set to power major advances in autonomous driving, the internet of things, virtual reality, and other computing trends that are now in their early stages. Specifically, the department added, Broadcom's statements on the acquisition suggested it would manage Qualcomm using a "private equity" playbook that would reduce R&D and emphasize short-term profits. In turn, the department stated, "China would likely compete robustly to fill any void left by Qualcomm as a result of this hostile takeover." …
---
The pontiff's efforts at church reform have stalled, letting down liberal Catholics on issues such as child abuse and the role of women.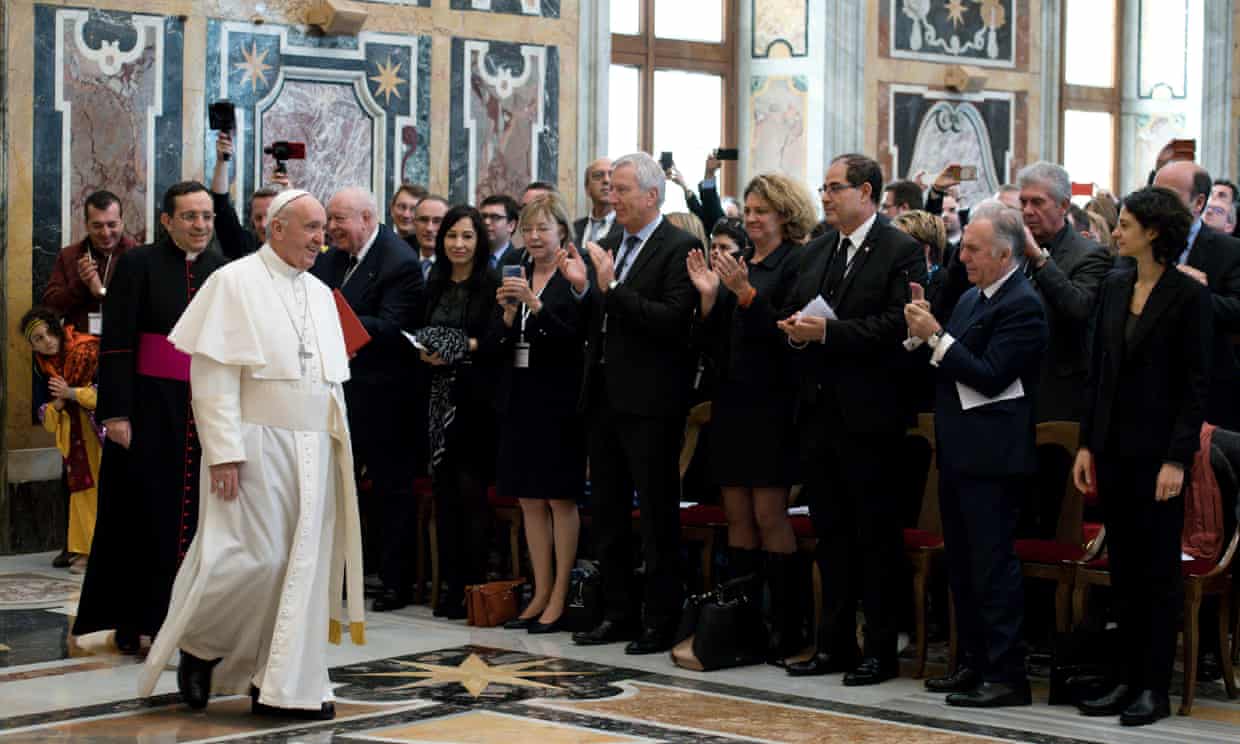 Pope Francis with politicians from Marseille at the Vatican. 'He is a charismatic public figure, a successful one-man PR campaign for Christian values.'
If there is something the Roman Catholic church does supremely well, it is the spectacle of an election. From the cardinals in the Sistine Chapel voting and the white plumes announcing the election of a new pope, to the new man stepping onto the balcony of St Peter's to greet the crowds, it is one moment of high drama after another.
Now such a huge global figure, it is hard to believe that when Cardinal Jorge Bergoglio of Buenos Aires first greeted the crowds on 13 March 2013, and announced he would be called Pope Francis, most of the world – including Catholics – asked, "Who's this?"
As Francis quipped on the day, the cardinals went to the ends of the earth to find a new pope. They made their decision based partly on the troubles the Catholic church faced, troubles that had so overwhelmed Benedict XVI that he had resigned. These troubles included the decline in Catholic numbers in the west, the mess of the church's finances and evidence of money-laundering and corruption, the Vatican's bureaucracy, the child sexual abuse scandals and the fading influence of Catholic sexual morality in the face of more secular influence.
And just as Francis had pleased the cardinals, he quickly won over the world. His modest lifestyle, his ready engagement with ordinary people, his desire for reform of the church's structures and more compassionate attitudes to divorced, remarried and gay people, made him hugely popular. At the Vatican, he quickly took action, setting up a group of progressive cardinals to investigate how to reform it.
Five years on, Francis's efforts at reforms have got stuck. …
---
Lawsuits filed by tech firms, states, and advocates were merged into one suit.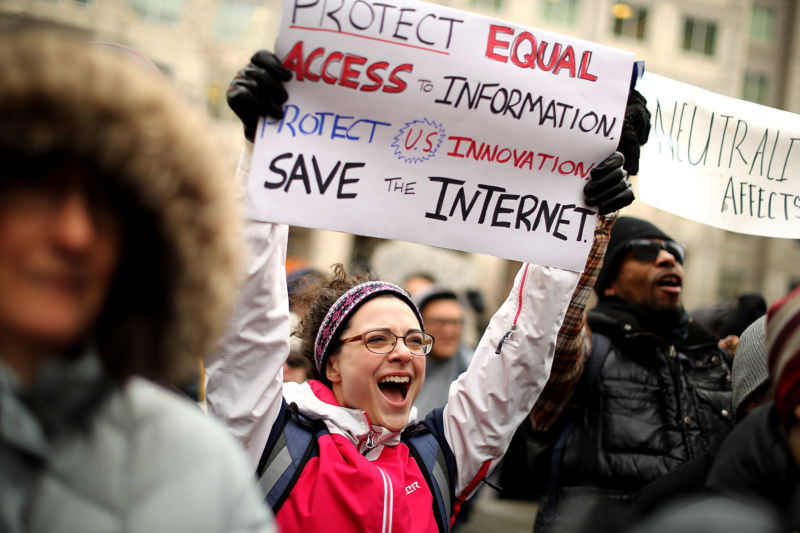 Demonstrators rally outside the Federal Communication Commission building in Washington, DC, to protest the end of net neutrality rules on December 14, 2017.
Twelve lawsuits filed against the Federal Communications Commission over its net neutrality repeal have been consolidated into one suit that will be heard at a federal appeals court in California.
The 12 lawsuits were filed by more than three dozen entities, including state attorneys general, consumer advocacy groups, and tech companies.
Here's a list of who filed the 12 lawsuits against the FCC:
Mozilla Corp.
Vimeo, Inc.
Public Knowledge
Open Technology Institute
New York Attorney General Eric Schneiderman, along with Democratic attorneys general from 21 other states and the District of Columbia
National Hispanic Media Coalition
Benton Foundation
Free Press
Coalition for Internet Openness, representing tech companies Automattic, Foursquare Labs, Etsy, Expa, Kickstarter, and Shutterstock
Etsy (itself)
California Public Utilities Commission
County of Santa Clara, California
FCC could face more legal challenges
The lawsuits were all filed in either the US Court of Appeals for the Ninth Circuit and the US Court of Appeals for the District of Columbia Circuit. As is standard, there was a multi-circuit lottery to determine the venue, and the Ninth Circuit court based in San Francisco was randomly selected to hear the case.
The order announcing consolidation of the cases and the venue selection was issued Thursday. …
---
THANKS to CBS and The Late Show with Stephen Colbert for making this program available on YouTube.
On Sunday night, Education Secretary Betsy DeVos sat down with Lesley Stahl at 60 Minutes, and on Monday night's Late Show, Stephen Colbert sifted through the train wreck of an interview. "DeVos' theory is that if you take money away from public schools and give it to charter schools, that will somehow help the public schools," Colbert said. "It's a system called 'stupid.'" He tore apart her stated hesitation to "talk about all schools in general because schools are made up of individual students." "Your job is to talk about schools 'in general,' not individual students," Colbert noted acerbically. "That's why you run the Department of Education and not the Department of Jennifer."
Colbert also said it's part of DeVos' job to visit underperforming schools, intentionally or not, and her declining to do so is "like a doctor saying, 'I have not intentionally visited sick patients. I give all their medicine to the healthy patients and that gives them an incentive to get better.'" …
---
MOMENT OF TRUTH

"Noble savages"
After 130 years of publication, National Geographic magazine is reckoning with its past, saying its coverage of people of color both and in and outside the United States was for generations "racist."
In an article published by editor Susan Goldberg, the magazine said its examination of its past reporting of black people revealed a collection of "appalling stories" that "did little to push its readers beyond the stereotypes ingrained in white American culture." The archival investigation was conducted by John Edwin Mason, who teaches African history and the history of photography at the University of Virginia.
Goldberg, the first female editor of the magazine, said Aboriginal Australians were called "savages" in a 1916 story; California cotton workers were dubbed offensive slurs like "pickaninny"; and admitted that Haile Selassie's coronation as Ethiopia's king in 1930 wouldn't have been covered if he was a black man in America.

This 1957 AP photo of an Australian aborigine with a weapon was typical of the kind of thing in Nat Geo magazine at the time.
The acknowledgment comes ahead of Nat Geo's April "Race Issue," which was the product of collaboration among historians, journalists, and photographers. Goldberg said that ahead of the issue's publication, they decided to scrutinize their own past before reporting on others…
---
There's a lot of important news out there that definitely deserves your attention. This isn't it. These are the weirdest, what-the-fuckiest headlines that somehow got buried in the sea of rational stories, this week. You're welcome.
12.
Source: Yahoo News
11.
Source: Independent, People
10.
Source: People
…
Police in Indonesia make arrests as Guardian investigation reveals fake Twitter accounts and violent propaganda.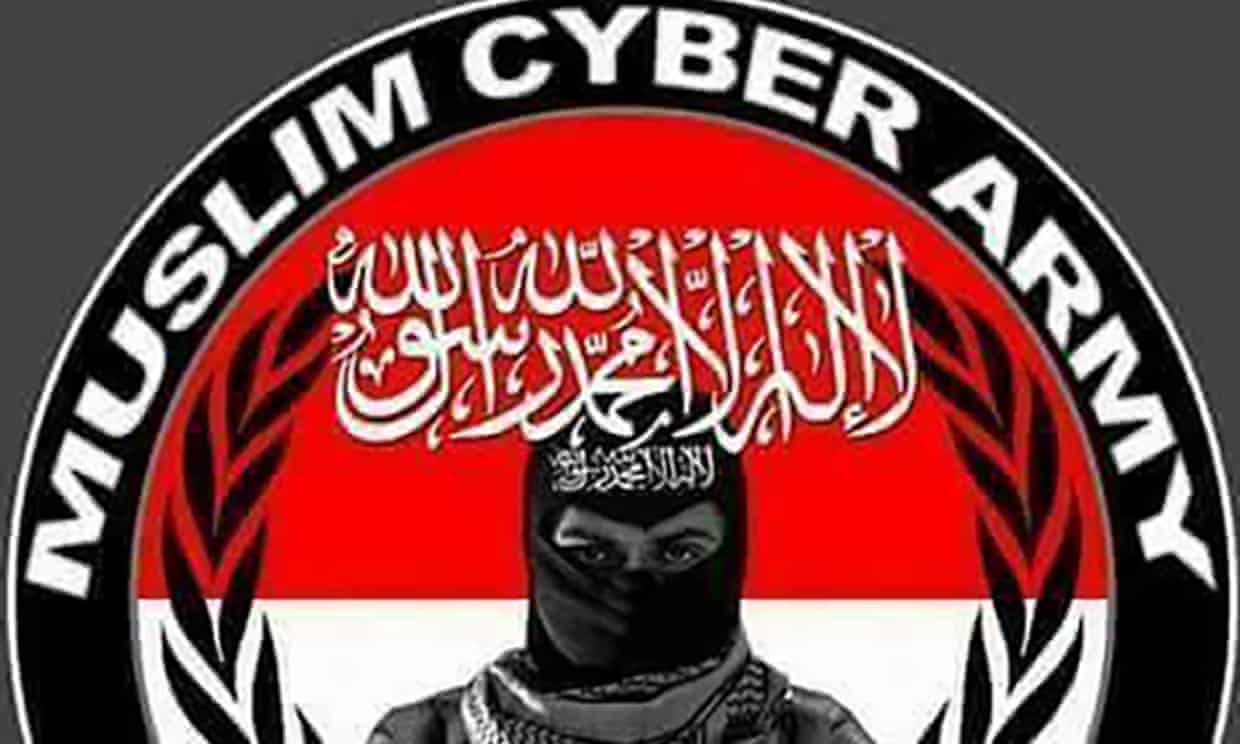 A screengrab from the Muslim Cyber Army Facebook page.
Police in Indonesia believe they have uncovered a clandestine fake news operation designed to corrupt the political process and destabilise the government.
In a string of arrests across the archipelago in recent weeks, authorities have revealed the inner workings of a self-proclaimed cyber-jihadist network known as the Muslim Cyber Army (MCA).
The network is accused of spreading fake news and hate speech to inflame religious and ethnic schisms; fan paranoia around gay men and lesbians, alleged communists and Chinese people; and spread defamatory content to undermine the president.
Police say the network was orchestrated through a central Whatsapp group called the Family MCA.
One wing was tasked with stockpiling divisive content to disseminate, while a separate "sniper" team was employed to hack accounts and spread computer viruses on the electronic devices of their opponents.
The arrest of 14 individuals is the second such syndicate police have busted in the last year – deepening fears around Indonesia's vulnerability to the pernicious spread of fake news. …
---
CTRL + P

This wasn't there the day before.
In the near future, building a new home may be as easy as printing out an airline boarding pass.
At South By Southwest today, New Story, a Y Combinator-backed charity that works to build houses for people in developing nations, and Icon, a robotics construction company in Austin, Texas, unveiled what is believed to be the first 3D-printed house that is fully up to code and permitted for people to inhabit.
The two organizations came together to show that it's feasibly possible to build an easy-to-replicate house in under 24 hours. They plan to take this proof-of-concept and start producing small houses for families in countries like Haiti and El Salvador. The 800-sq-ft house cost around $10,000 to build using Icon's proprietary Vulcan printer, but the company plans to eventually bring that price down to around $4,000. Theoretically, it could soon print one of the houses in about six hours, a representative for New Story told Quartz. But the process is still being ironed out—the house in Austin is the only one built so far.

Icon's house printer, the Vulcan.
The Vulcan printer was also on display, in the yard next to the lot where the house was printed. Massive, but still portable, the printer excretes a custom blend of concrete that hardens as it's printed. The concrete is laid in 100 roughly one-inch-thick strands that hold their shape as they harden. Icon cofounder Evan Loomis told Quartz that the strength of the printed walls is stronger than cinderblocks after a few days of hardening, although the house is entirely habitable after it's been set up. …
---
Slippery Slope

Creative freedom can lead to incredible innovations—and selfishness.
For a certain type of worker, Google sounds like paradise. The company offers on-site gyms, generous 401(k) matches, cafeteria trolleys stocked with chai tea and mango lassis, and even high-tech Japanese toilets. But its most attractive benefit may be the gift of personal autonomy.
As one former Google employee tells it in an email posted on the economics blog Marginal Revolution, during the 10 years that he worked at the Silicon Valley giant, Google granted engineers nearly unlimited creative freedom. He writes:

The official mantra was, "hire the smartest people and they'll figure out the right thing to do." People were generally allowed to sign up for any project that interested them (there was a database where engineers could literally add your name to a project that interested you) … Almost anything would be considered as a new project unless it was considered to be "not ambitious enough."
This freedom made Google a deeply attractive—and inspiring—place to work, according to the anonymouos author. Recruiters lured potential hires with the promise that they could work on "anything they wanted to." But this level of freedom had some surprising downsides for the company, too. …
---
BLAIM DNA

The genes we're born with shape our empathy.
Parents are used to getting the blame for their children's emotional defects. When it comes to empathy, it turns out they are partly responsible. Scientists studied the empathy of 46,861 people who analyzed their DNA through the personalized genetics company 23andMe and found that genetics explains a significant chunk of differences in abilities to understand others' emotions.
While previous studies have discovered that women tend to be more empathetic than men, the researchers found no genetic factors to explain this, suggesting that gender differences are due to social conditioning or possibly the hormonal environment in the womb.
Researchers from the University of Cambridge, the Institut Pasteur, Paris Diderot University in Paris, and genetics company 23andMe evaluated empathy based on participants' Empathy Quotient (EQ) scores. EQ uses self-reporting to evaluate both cognitive empathy (the ability to understand others' thoughts and feelings) and affective empathy (responding to others' emotions with an appropriate emotion.)
In the study, published in Translational Psychiatry on March 12, the researchers ran a statistical analysis known as genome-wide association studies to show that variations in genetics are linked with changes in empathy. …
---
SWEET SWEET FAILURE

This one is actually pretty good.
To look at the world of baking through the lens of Instagram is to gaze upon an unending stream of beautiful birthday cakes, gorgeous pies with complicated latticework crusts, and new ways to make chocolate chip cookies. That's a lot of well-lit perfection. Coupled with Pinterest and YouTube—where there seems to be an equally insatiable demand for ever-more-complicated and ingenious desserts—it's enough to send a home baker screaming from the kitchen without ever cracking an egg.
Nailed It, a new cooking show on Netflix, is here to deliver us from social media-induced perfection phobia—at least as far as baked goods are concerned. More Double Dare than Great British Baking Show, Nailed It invites three not especially accomplished home bakers to make two different tricky cakes for a panel of judges that includes Jacques Torres, haute chocolatier; Nicole Byer, comedian; and a special guest, usually a professional baker, cake designer or YouTube sensation.
This is really a decorating show, not a test of culinary ingenuity. Contestants are presented with a creative, and elaborate, cake design and provided with step-by-step instructions for reproducing it. First season highlights included a giant volcano, cocktail-themed cupcakes and an epic shark cake.
The problem, as anyone who's ever watched a YouTube video of a baker producing a multi-tiered rainbow cake, or a unicorn creation, or a geode cake, can attest, is that techniques that look simple when done by pro are often quite challenging in reality. …
---
Video Goodnesses
and not-so-goodnesses
The Senate is on the verge of passing a bill that will weaken Dodd-Frank, the landmark 2010 banking reform law. If passed, the new bill will exempt midsize banks with less than $250 billion in assets from strict regulatory scrutiny, and loosen some rules on small banks. It's a Republican bill, but it's also being supported by more than a dozen Democratic senators.
VICE News spoke to former congressman Barney Frank, the architect of Dodd-Frank, about what the new bill means, why some Democrats are supporting it, and how the original bill he helped write is holding up almost a decade after it was signed into law.
THANKS to HBO and VICE News for making this program available on YouTube.
---
President Trump discusses his 2020 bid at a rally meant for Pennsylvania's special election and agrees to meet Kim Jong-un to discuss North Korea's denuclearization.
THANKS to Comedy Central and The Daily Show with Trevor Noah for making this program available on YouTube.
---
Seth takes a closer look at Trump's unhinged performance at a campaign rally and Betsy DeVos' train wreck of an interview on 60 Minutes.
THANKS to NBC and Late Night with Seth Meyers for making this program available on YouTube.
---
How do well-meaning, intelligent people end up in a cult?
EnlightenNext was an organization, founded by self-styled guru Andrew Cohen, that aimed to facilitate spiritual awakening. Cohen's most devoted students meditated for hours—at times, months—on end, were often celibate, and lived together. However, what started as an idealistic venture quickly turned into a complicated, sinister world.
---
FINALLY . . .
Isolated, unprotected and scared to speak out – some workers are particularly vulnerable to harassment. Who finds the cases of sexual assault no one else is looking for?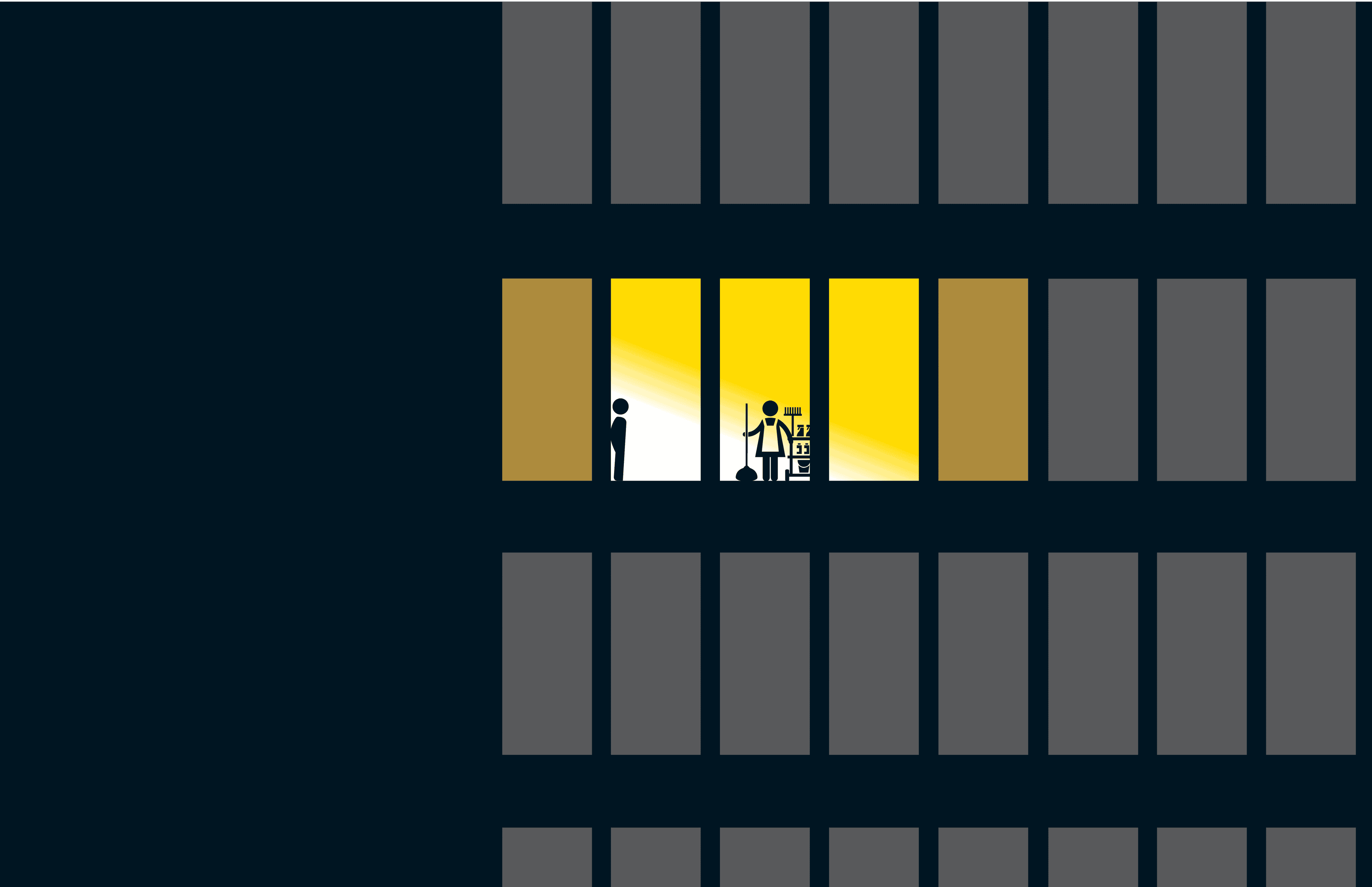 The southern California sky dims as Vicky Márquez zooms south along Interstate 5 in her Honda SUV, with syrupy Spanish-language love songs blasting from her stereo. The satnav on her phone is directing her through a monotonous landscape of Orange County office parks, and Márquez is racing against rush hour, dodging between lanes and swerving with inches to spare. "I'm kind of a crazy driver," she admits.
Márquez works for a little-known non-profit organisation with the pressing goal of fighting labour exploitation among night-shift janitors – an industry that operates in obscurity, with workers sent to anonymous buildings rarely visited by government regulators. With her glasses, curled-under fringe and pastel sweater, Márquez looks more like a retired librarian than a labour rights activist. On tiptoe, she stands under 5ft tall. On this particular late winter evening, Márquez is on the road to the first of half a dozen office parks where she will make surprise visits, making sure that cleaners are being treated fairly by their bosses.
It is a job that few government agencies bother to do, but it is work that Márquez believes in. For 16 years – after moving to the US from El Salvador, where she left her husband and three children behind – she too worked as a janitor. The work was rough, and she had to put in more hours than she was paid for, but she still managed to send money back home.
After 40 frenetic minutes on the road, Márquez arrives at her first destination, near the city of San Clemente. She climbs out of the car carrying a bulging black bag stuffed with papers and tests the front door of the office. Tonight, she has arrived early enough that the door swings open. Márquez has other strategies for when they are locked: she might station herself near the service exits or the dumpsters, where she knows the night-shift cleaners will eventually present themselves. In supermarkets or guarded high-rises, she will sweetly ask for the janitor. If the person she is talking to assumes that she's looking for a job, so be it. …
DEGREE OF DIFFICULTY: Prepare to spend a while; it's The Long Read.
---
Ed. More tomorrow? Probably. Possibly. Maybe. Not?