Pictured aboe: Mae Jamison aboard the space shuttle Endeavor in 1992.

April 12th is the International Day of Human Spaceflight, a day set aside by the United Nations for recognizing the "important contribution of space science and technology in achieving sustainable development goals and increasing the well-being of States and peoples." It is the anniversary of the first human in space, Soviet cosmonaut Yuri Gagarin, who orbited the earth in 1961.
In the more than 50 years since Gagarin's flight, the image of space travel has changed tremendously. The coffin-like module filled with a single man has been replaced by the International Space Station, a massive floating laboratory with upwards of a dozen men and women crew members representing multiple countries. Follow the evolution of human spaceflight in the photos below.

Soviet cosmonaut Major Yuri Gagarin in an undated photo.

Astronaut John Glenn photographed in space by an automatic sequence motion picture camera during his flight on "Friendship 7" in 1962.

Soviet cosmonaut Alexey Leonov does a weightless somersault outside Soviet spacecraft Voskhod 2, Mar. 18, 1965.
…
---
Like his predecessor, Trump appears eager to fire the man investigating the White House—and he seems one false move away from following through.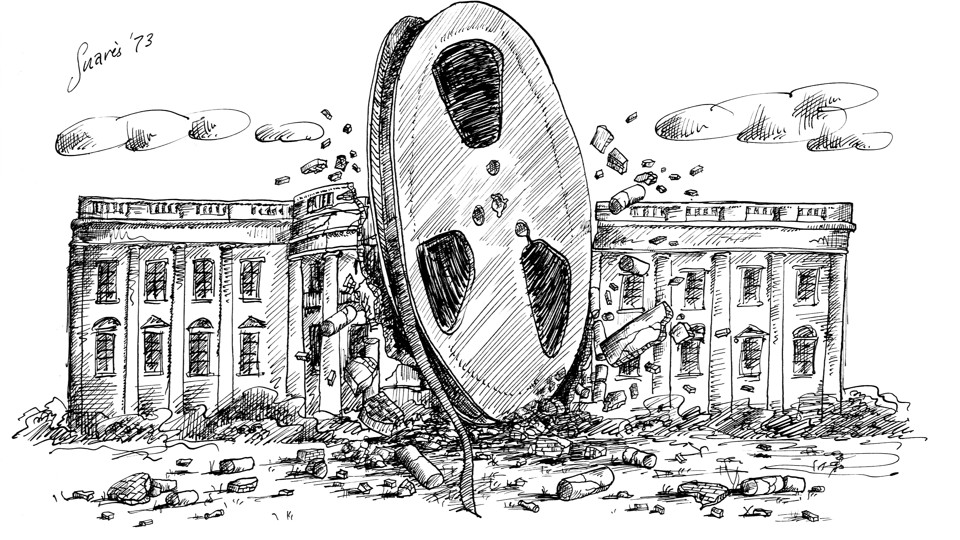 1973 political cartoon by Jean-Claude Suares depicts a huge reel of audio tape crashing into the White House.
Richard Nixon needed a reason.
He'd resolved to fire Archibald Cox, the special prosecutor investigating his involvement in Watergate, more than three months before the Saturday Night Massacre, when Cox was eventually dispatched. It was only a matter of time until Nixon would find a suitable pretext to give him political cover—and soon, Cox gave him one. The investigator refused to accept a so-called compromise on Nixon's secret White House tapes, whereby Cox would receive summaries of the recordings instead of the tapes themselves. The former president quickly moved to remove Cox from his post, and to dissolve the office of the special prosecutor itself.
This fraught period of the Watergate affair—which involved an elaborate, president-sanctioned cover-up in the aftermath of a break-in at the Democratic National Committee headquarters—is the closest historical parallel to the current moment. Like Nixon, President Trump appears eager to fire the man investigating campaign and White House officials' culpability in a high-profile scandal: Robert Mueller, the special counsel examining a broad range of subjects related to Russian interference in the 2016 election. And like Nixon, Trump seems one false move away from following through.
In 1973, I worked as a lawyer on Cox's task force investigating obstruction-of-justice allegations against Nixon. The White House tapes show that, by the summer of 1973, the president had grown increasingly frustrated over Cox's examination of alleged misconduct, which included a conspiracy to obstruct justice by the president's closest aides. Cox's dogged pursuit of nine specific tape recordings was the last straw. The special prosecutor wanted the audio for a reason: Ever since White House Staff Secretary Alexander Butterfield had revealed the existence of Nixon's voice-activated taping system, in July 1973, Cox hoped to use the recordings to resolve disputed facts about who said what in conversations with the president. …
---
• More than 800 'emergency' rallies around the country prepared
• Protests also triggered if Trump replaces deputy attorney general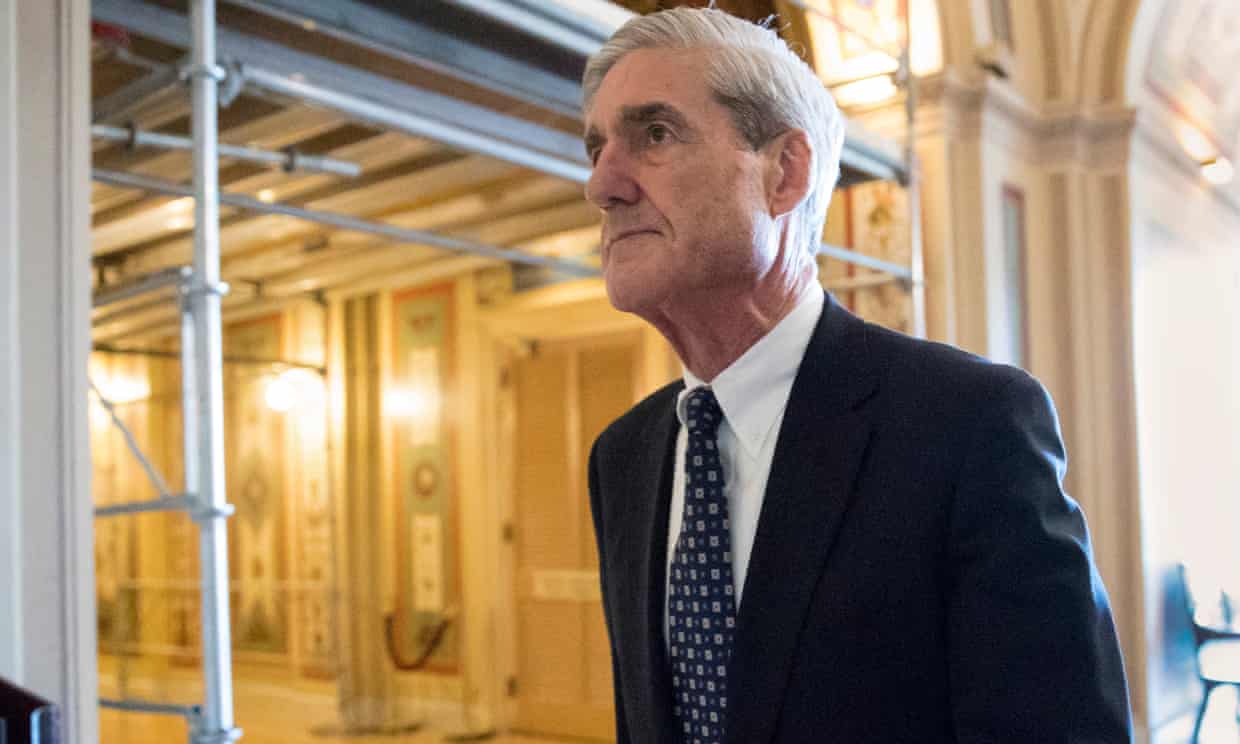 Special counsel Robert Mueller is investigating whether there was collusion between the Trump campaign and Russia.
More than 300,000 people have pledged to attend "rapid response" protests across the US, should Donald Trump fire special counsel Robert Mueller.
The activist website MoveOn said it had more than 800 "emergency" rallies around the country prepared if Trump dismisses Mueller, who is investigating whether there was collusion between the Trump campaign and Russia.
Activists would spring into action within hours, MoveOn said, marching in cities and towns in each of the 50 states. The mass protest would also be triggered if Trump moved to replace the deputy attorney general, Rod Rosenstein – which could clear a path for Mueller to be fired – or if Trump pardoned key witnesses in the Russia investigation.
As Trump has stepped up his criticism of the special counsel in recent weeks, MoveOn said people had flooded to its website to sign up for rapid response rallies.
Since 17 March, when Trump publicly criticized Mueller for the first time, more than 100,000 have pledged to attend events. MoveOn launched the sign-up section of its website in August 2017, and is being supported by a slew of activist organizations including Indivisible and Women's March. …
Reddit's Steve Huffman clarifies his more radical approach to free speech on the internet.
Reddit CEO Steve Huffman has found himself once again embroiled in a controversy surrounding his website's policy on moderation. In a Reddit thread announcing the platform's 2017 transparency report findings, in which Reddit identified and listed close to 1,000 suspected Russia-linked propaganda accounts that have been banned, Huffman replied to a straightforward question about the company's rules around hate speech, which is a verbal attack based on race, religion, or another protected class.
"I need clarification on something: Is obvious open racism, including slurs, against reddits rules or not?" asked Reddit user chlomyster. "It's not," Huffman, who operates on Reddit under his original handle "spez," responded.
Huffman elaborated on his point, adding:

"On Reddit, the way in which we think about speech is to separate behavior from beliefs. This means on Reddit there will be people with beliefs different from your own, sometimes extremely so. When users actions conflict with our content policies, we take action."
Our approach to governance is that communities can set appropriate standards around language for themselves. Many communities have rules around speech that are more restrictive than our own, and we fully support those rules.
…
---
Hassan al-Kontar fears arrest for refusing a military call-up and now survives on airline meals of rice and chicken.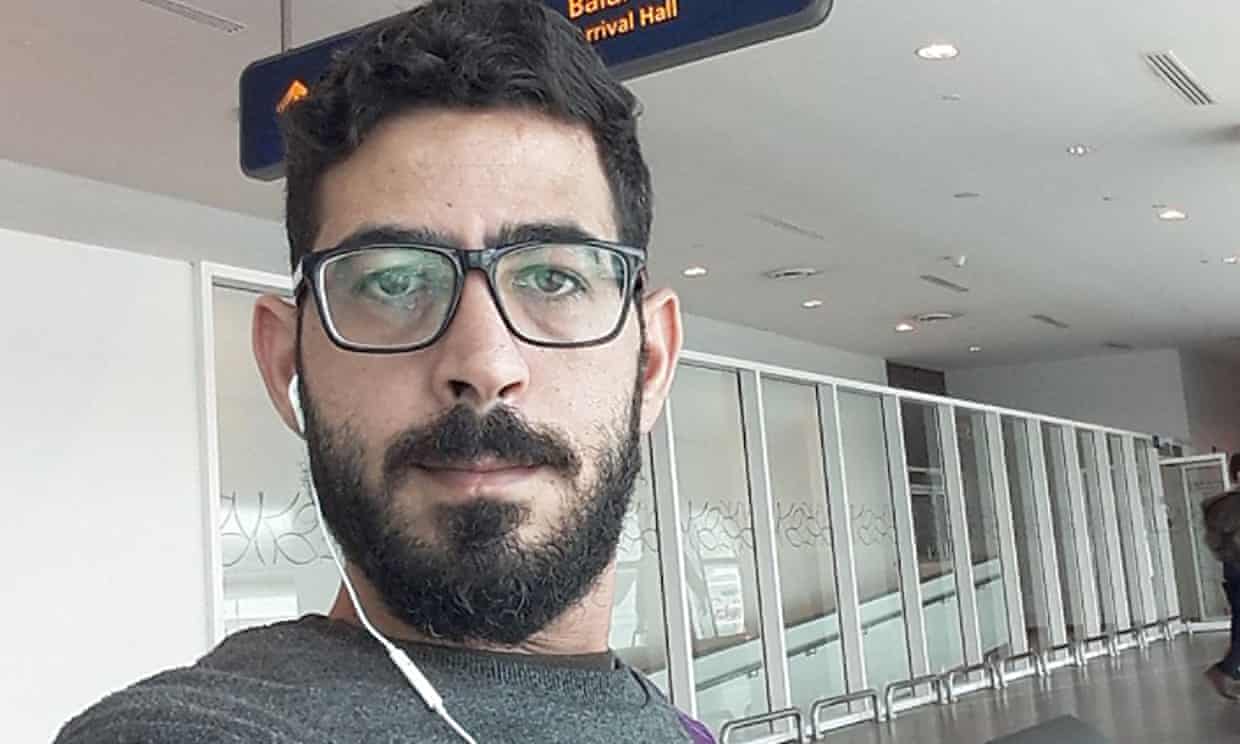 Hassan al-Kontar lives a precarious existence in the arrival corridor at Kuala Lumpur airport in Malaysia.
A Syrian man has spent more than a month living in a corner of a Malaysian airport – sleeping under stairwells and showering in toilets – after being left stranded by airlines and immigration officials.
Hassan al-Kontar, 36, fears being arrested in his home country for refusing a call-up for military service, and has been forced to make the transit section of Kuala Lumpur airport his new home for the past 37 days.
"I don't know what to say or what to do. I need a solution, I need a safe place where I can be legally, with work," he said. "Syria is out of the question, even if I am staying here forever. I don't want to be part of the fight, I don't want to kill anyone. I don't want to be killed as well. It's not my war."
Talking to the Guardian from behind a glass barrier to the airport's arrival corridor, which he cannot leave, Kontar said his priority was working on getting out of the airport by sending emails to rights groups and uploading daily video diaries onto Twitter – but often ends up distracted. "You're worried about your family [and] all these psychological pressures you have but most of the time you're trying to solve your temporary issues," said Kontar.
Kontar cannot wash his clothes properly and showers in a toilet for travellers with disabilities. "I use it after midnight, [when] less people are there." …
---
In a country with one of the lowest murder rates in the world, the killing of a 20-year-old woman upended the nation's sense of itself.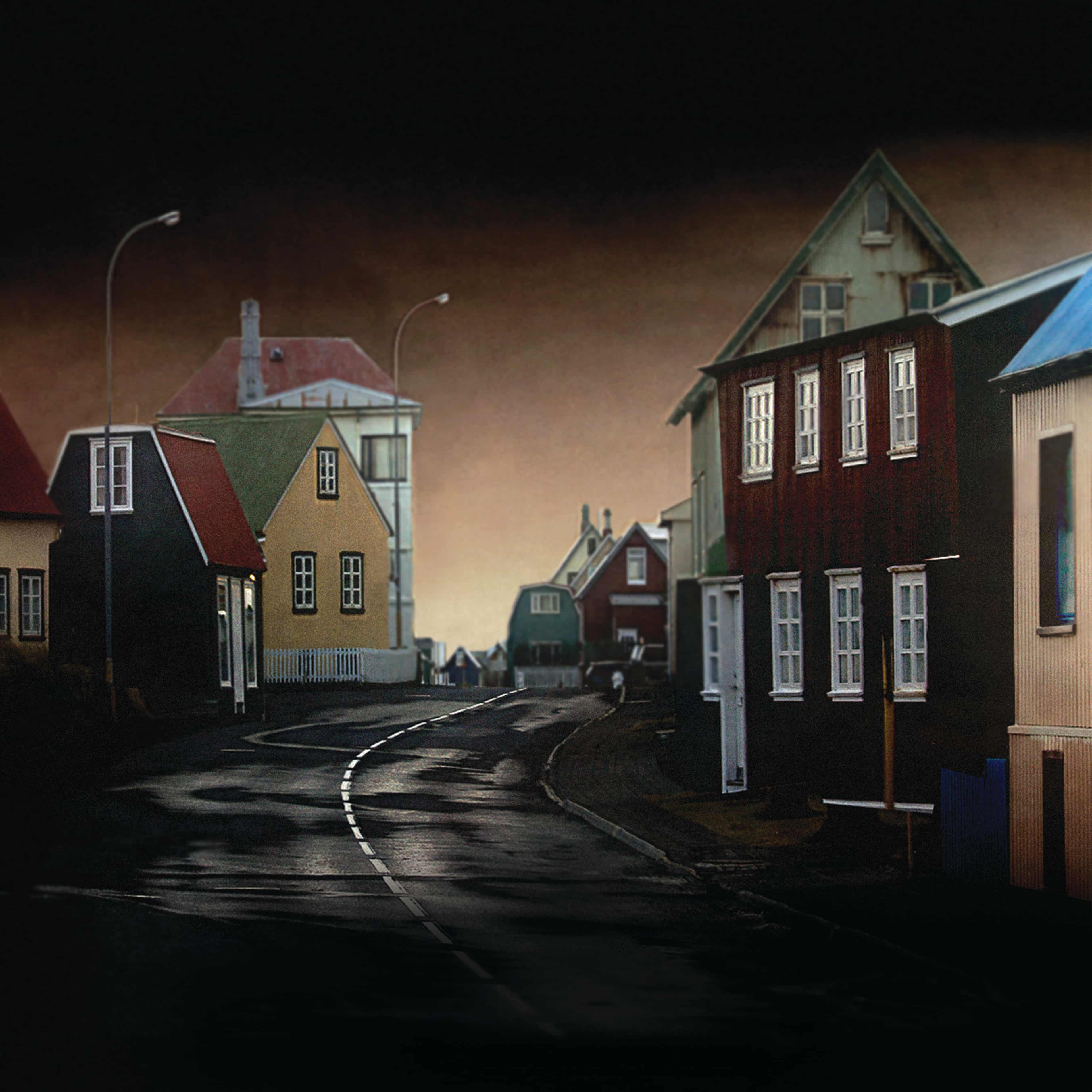 The main shopping street in Reykjavík is called Laugavegur, "the way of hot pools", because it was originally used by women hauling laundry from the town to the thermal springs two miles away. It cuts across Iceland's capital from west to east, with the Atlantic Ocean below and, above, the bone-white Hallgrímskirkja church looming over the city's brightly coloured roofs like a tower from Tolkien's Middle-earth. It was a street that Birna Brjánsdóttir knew well.
A vivacious 20-year-old woman with auburn hair and a sharp sense of humour, Birna grew up in the suburbs, a 30-minute walk away. She liked music – everything from hip-hop to folk – and she liked to drive, and so in the summer of 2016 she embraced the Icelandic pastime of rúntur, cruising slowly down Laugavegur in her father's car with her friends, windows open, speakers blaring, past the boutiques and coffee bars and tourist shops selling soft-toy puffins and knitted jumpers.
That winter, when the sun appeared for only five hours a day and the snow piled deep on the nearby mountains, Birna had been enjoying the nightlife around Laugavegur. After finishing work on a Friday, she would often play cards in a pub with some friends and then, after midnight, when people in Reykjavík finally start to party, they would go dancing, as they did on the evening of 13 January 2017.
Self-assured and carefree, Birna was one of the first people that night to get up and dance on the stage at Húrra, a popular live music venue and club. When her friends decided to leave at 2am, she told them she would stay on. She left the club just before closing time three hours later. She bought a falafel pitta and started slowly walking up Laugavegur, which is brightly lit at night, with glowing storefronts and lampposts every 10 metres or so.
She was walking alone, which was not unusual behaviour in Reykjavík, even for a young woman. More so than in most other countries, Icelanders feel they know their own people; it is a peaceful place where entire years have passed without a single murder.It was -9C with the windchill, but Birna seemed unperturbed. She wore Dr Martens boots – regular black ones, not her knee-high pair with the glow-in-the-dark skeleton foot on the side – black jeans, a grey sweater and a black hoodie draped over her shoulders. Her hair hung loose and a pair of white earbuds dangled around her neck.
She was drunk, dropping coins at one point and bumping into a stranger on the pavement. She ambled past the yellow-and-red awning of the Lebowski Bar, inspired by the Coen brothers film, and a coffee-and-waffle shop on a corner where a narrow lane led down to the sea.
And then, she disappeared. …
DEGREE OF DIFFICULTY: Prepare to spend a while; it's The Long Read.
---
It's hard to imagine that there are any exciting surprises lurking in the U.S. Constitution. It might be the foundation of our democracy and the backbone of our country, but it's not exactly a page-turner. However, while politicians on both sides like to cherry-pick amendments to quote from to serve their purposes, they consistently manage to leave out the wildest, juiciest, and downright crazy parts that could change the country as we know it in a heartbeat. For example …
5. "Godel's Loophole" Could Allow America To Become A Dictatorship (If We Could Find It)
---
Despite our contrasting political views, most of us probably agree that it's a good thing we're not in an actual dictatorship with, like, executions and non-hashtag resistance forces and people ratting their neighbors out to the authorities. The Founding Fathers made damn sure that the Constitution would prevent Americans from ever having to live under the yoke of some asshole king. Except, if you believe one of the greatest minds of the 20th century, it could totally still happen.
In the 1940s, a lot of scholars and other professional thinking types escaped light Nazi interference by moving from Europe to the U.S. Among the refugees was Kurt Godel, a world-famous philosopher, mathematician, and logician. When he arrived in the States, he had to jump through the hoops of obtaining citizenship, like passing tests and presenting character witnesses — for which he chose Albert Einstein, because he was a big believer in the philosophical principle of "go big or go home."
But before Einstein could pimp-slap Godel's paperwork away, he was witness to the philosopher's official citizenship interview. The conversation went perfectly fine, but at the end of the interview, Godel casually remarked to the immigration official that, during his studies, he had found a loophole in the Constitution that could allow the country to become a full-blown dictatorship. With the late '40s not being the greatest time to question America's dedication to freedom and democracy, Einstein had to step in and save Godel's ass. He was given his citizenship, and neither Einstein nor Godel ever revealed what this supposed loophole was. …
---
The Coachella festival, starting this week, showcases music in a dramatic landscape but in – and around – Joshua Tree the arts and culture shine all year round.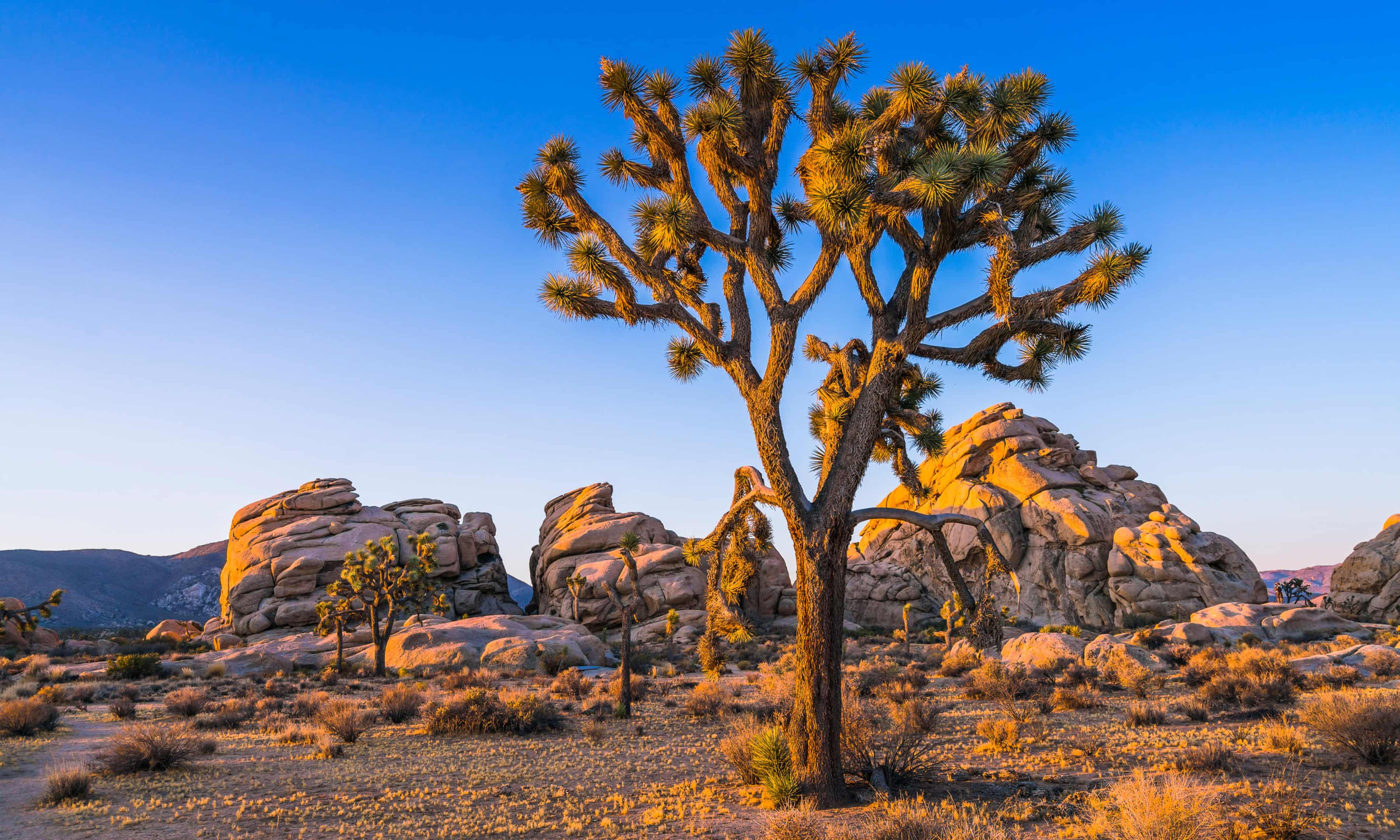 Out in the desert, anything seemed possible. The stark, dry landscape felt like an illusion, a deception that belied the artistic endeavour and creativity around Joshua Tree and the other high desert communities of Yucca Valley, Twentynine Palms and Pioneertown. I got the sense that maybe no idea could be too crazy, no scheme too "out there".
My surroundings made it easy to feel this way: I was looking at the salvaged-material sculptures of Noah Purifoy at a 10-acre open-air gallery a few minutes' drive from the town of Joshua Tree. The Outdoor Desert Art Museum of Assemblage Sculpture is as mesmerising as its name. Amid the cactus and sagebrush, I saw old cathode-ray-tube TVs and VCRs piled against a jumble of scrap metal, and a welcome sign fashioned from tyres. A plot of white crosses hinted at darkness and mortality, while there was humour in bicycle parts and pieces of wood and metal united as unfathomable contraptions.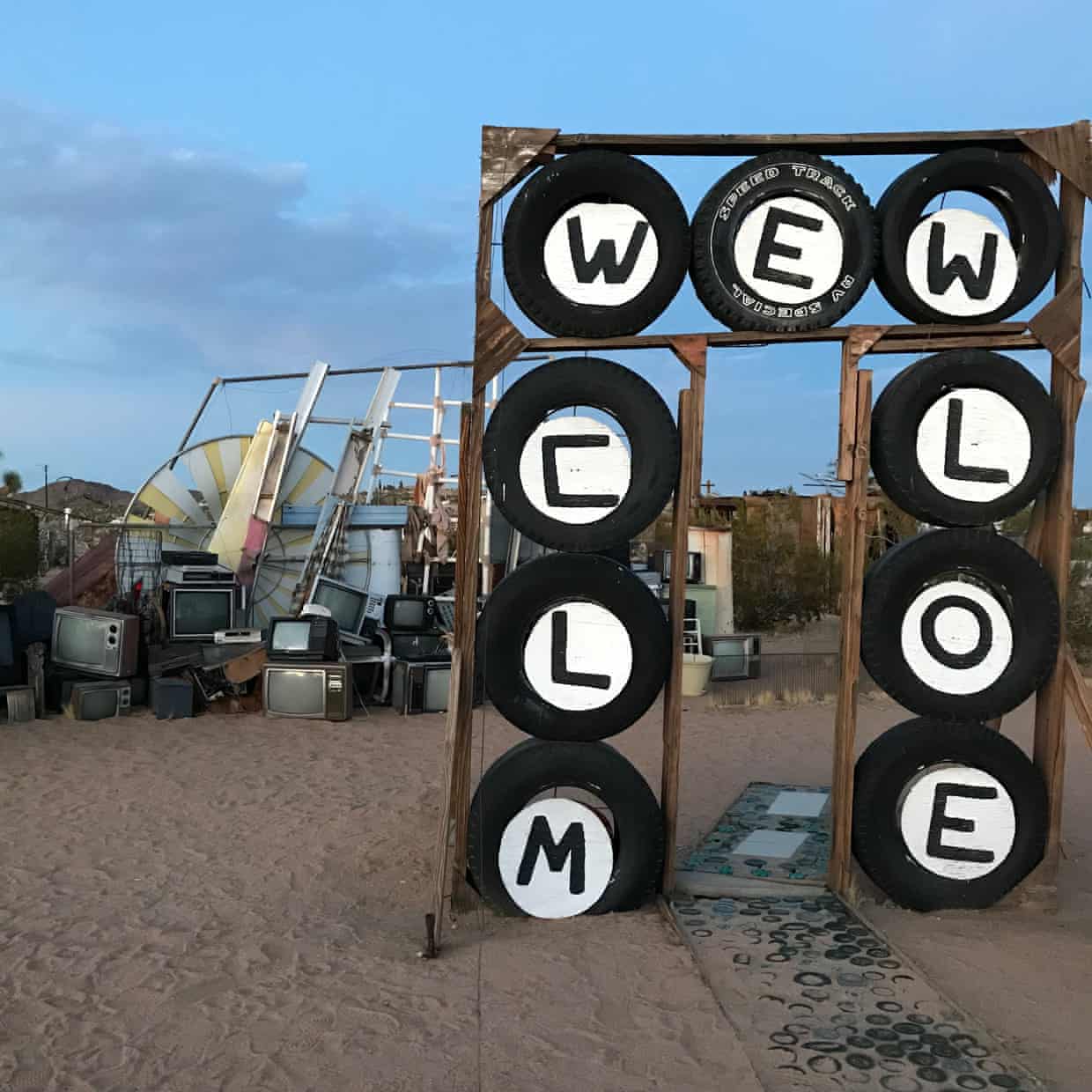 Sculpture at Noah Purifoy's Outdoor Desert Art Museum of Assemblage Sculpture.
Purifoy, who died in 2004, was one of a group of artists famous for 66 Signs of Neon, a travelling exhibition created after the Los Angeles Watts race riots of 1965. He came to Joshua Tree in 1989 to start this free gallery, open from sunrise to sundown. The sculptures, made of discarded and foraged materials, speak of an outsider's spirit and a "can do" ethos that seems to underpin creative life here: do your own thing, and see what happens.
Visitors mainly arrive at Joshua Tree and its national park from Los Angeles, San Diego and Las Vegas, usually on short trips and camping breaks. I had come 140 miles east from LA, via Palm Springs, inspired by the artwork of U2's The Joshua Tree album, released in 1987, and the rock'n'roll myths surrounding the odd "burial" of singer Gram Parsons in 1973 – and also by the ethereal beauty of the trees themselves. As much as I wanted to explore the park, I also wanted to experience the art, music and film culture that surrounds it. …
---
NOT SO FAR OUT

Descriptions of psychedelic trips are making their way into academic journals.
Scientific jargon has the remarkable ability to turn just about anything into pseudo-academic pontification. This month, the prestigious peer-reviewed journal Consciousness and Cognition published a paper titled "Synesthetic hallucinations induced by psychedelic drugs in a congenitally blind man," which sounds impressive. It is, in reality, a lengthy description of a former rock star's hallucinogenic experiences 40 years ago, during the 1970s.
The authors use more scholarly language to describe their work:

BP's personal experience provides us with a unique report on the psychological and sensory alterations induced by hallucinogenic drugs, including an account of the absence of visual hallucinations, and a compelling look at the relationship between LSD induced synesthesia and crossmodal correspondence.
But while the tales recounted by "BP" (an abbreviation of the rock star's pseudonym, Mr. Blue Pentagon) may be "unique" to the scientists, they will be familiar to anyone who's hung out with a stoner before.
The authors pad their paper with references to other academic articles on LSD-induced synesthesia (which is essentially when one sensory experience, such as hearing, triggers another, such as touch.) But most of the original content in the paper is 1,045 words about BP's fun times on drugs. …
---
SWISS HERB
For centuries, Switzerland has led the way when it comes to what we now call "wellness," peddling the healing powers of crisp Alpine air, clear blue skies, and fine Swiss botanicals.
In the 1800s, Alexander Spengler, a German refugee working as a country doctor in the remote hamlet of Davos, developed a spa where victims of tuberculosis were prescribed walks in the brisk mountain air, marmot-fat chest rubs, and frigid showers. At the turn of last century, Maximilian Oskar Bircher-Benner fought disease with a raw-food diet, giving rise to Switzerland's still-popular version of overnight oats, Bircher Muesli. And of course Johanna Spyri's children's book of the same era depicted a little girl, Heidi, whose illness was healed by Swiss herbs and mountain air.
Today, those healing herbs might well include cannabis.
Cannabidiol—the non-psychotropic chemical compound of cannabis that's also known as CBD—is catching on in the now-global wellness community as a treatment for anxiety, joint pain, PTSD, menstrual cramps, insomnia, nausea, seizures, inflammation, and more. In Switzerland's cities, the stuff has quickly become ubiquitous—standard fare in pharmacies, convenience stores, and a new crop of dispensaries. Unlike THC, the most famous of cannabinoids for its ability to get us high, CBD promises mental and physical benefits without the giggles, paranoia, or couch-lock.
WHY THIS IS A BARELY UNINTERESTING AT ALL THING: I use a CBD product every evening. I also often use a THC product; it's legal. Relaxation and sleep is incredible. My next morning mood is blissed.
---

Rumors of the NECCO maker's impending demise have sparked a renewed interest in its products — especially its famous chalky-tasting wafers that some people love to hate.
NECCO wafers are a polarizing candy. Some online haters have compared the brittle sugar disks to chalk, or antacid tablets. But now, the company that makes them could soon close shop — and that's brought out some of the candies' very loyal fans.
At Sugar Heaven in Somerville, Mass., David Sapers points out that there is a lot more NECCO on his shelves than just those controversial wafers. NECCO buttons and NECCO Sky Bars share shelf space with the classic wafers at his store.
"Also NECCO makes things like Squirrel Nut Zippers, Mary Janes, Slap Stix. And obviously during Valentine's they're big with their … conversation hearts," he says.
NECCO is an acronym for the New England Confectionery Co., which is in financial trouble. If its leaders can't find a buyer by early May, the company says it will have to shut down, laying off hundreds of workers at its factory in Revere, Mass. The company didn't respond to requests for an interview. But at Sugar Heaven, Sapers is getting ready.
"I just ordered 10 cases of [NECCO's products] yesterday, which were delivered on Thursday. So I did that because first of all, they don't go bad. They're going to last for a while, and just in case something happens, we have it." …
---
Officers sent boats to island on Loch Leven in major response after false tip-off about campers.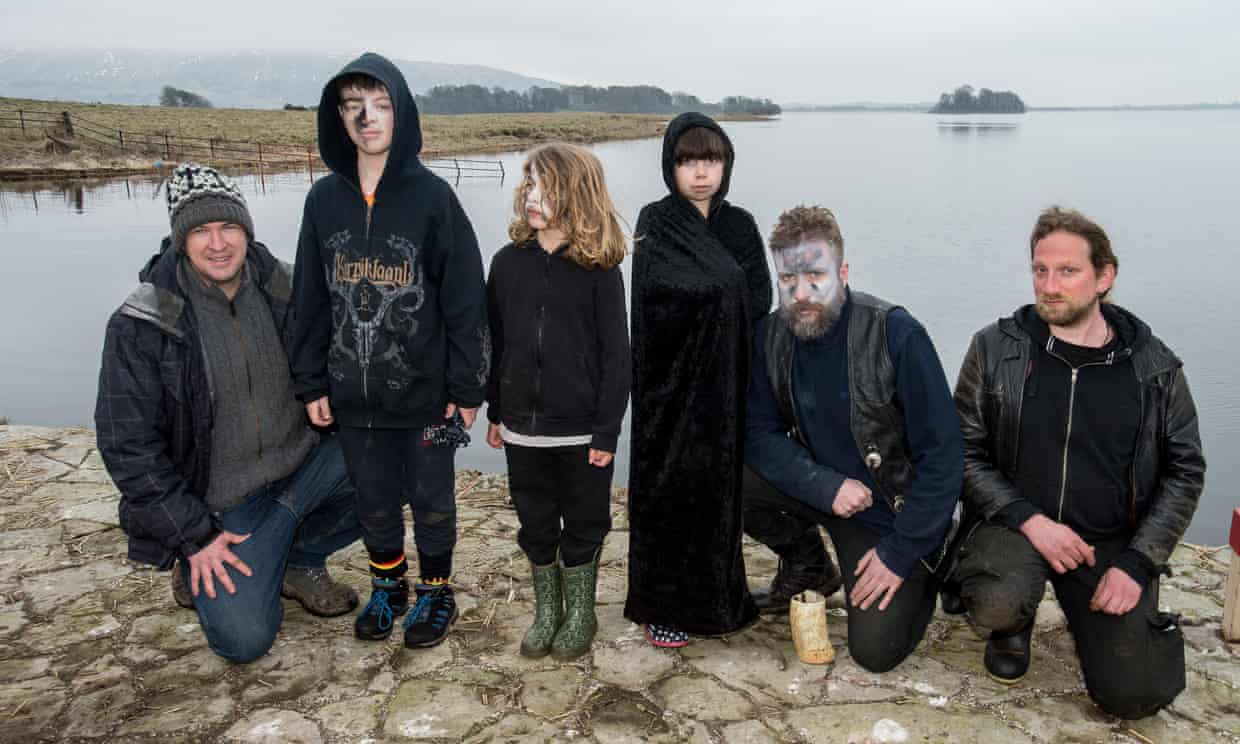 The fathers and their children who were wild camping on an island on Loch Leven, Perthshire. From left: Ross Anderson, Jude Anderson, 10, Andrew Vassiliadis, seven, Natalia Teo, 10, David Henderson and Panagiotis Filis.
Emergency services mounted a full-scale rescue operation, including fire engines, ambulances and lifeboats, after a passerby thought a group of heavy metal fans out camping were involved in a suicide pact.
The three men were enjoying beers around a camp fire on an island in Loch Leven, Perthshire on Sunday night, as their children slept in a tent, when they saw the lights from police boats rushing across the water towards them.
"For some reason the police had received a tip that we might be in grave danger and they came to rescue us," said Panagiotis Filis, a lecturer at Aberdeen University and a founder of the Black Metal Brewery. "They really did a great job of rescuing us, the only issue is that we didn't need rescuing."
Police had smashed the windows of one of the group's cars, which was parked on the mainland, apparently searching for a suicide note. When interviewing the men, they said they had been concerned about a potential kidnapping.
The group was ferried across to dry land, where they reported seeing more than 20 emergency service vehicles and about 50 people waiting for them. "The amount of resources they threw at it was just ridiculous," said Ross Anderson, a civil engineer. …
---
Oh, you've seen them before: those little stickers or tags making clear that if you want your warranty on a product to remain valid, you'd better leave one or more of its parts untouched. The idea, of course, is that consumers are barred from using third-party parts and repair services for the product if they would like to hang on to that guarantee.
Well, as you've probably long suspected — or desperately wished, at least — those warnings are bunk. Worse than that, actually: The Federal Trade Commission says they're illegal.
"Provisions that tie warranty coverage to the use of particular products or services harm both consumers who pay more for them as well as the small businesses who offer competing products and services," Thomas B. Pahl, acting director of the FTC's Bureau of Consumer Protection, said in a statement released Tuesday.
Specifically, the agency explained, those provisions violate the 1975 Magnuson-Moss Warranty Act, which bars companies from conditioning their warranties on demands that consumers use certain articles or services in connection with the original product.
That hasn't stopped companies from doing it anyway — and now, the FTC is fed up. …
---

Police say a man broke into a home and put it up for rent, scamming thousands of dollars from alleged victims.
A 35-year-old Marysville, Washington, man is facing charges after investigators say he broke into a home and created an elaborate scheme to swindle renters out of money.
Matthew Robert Paul is facing several charges including theft and obtaining a signature by deception, according to the Snohomish County Prosecutor's Office. In April 2017, investigators say Paul broke into a home on Hermosa Beach Road near Tulalip Bay knowing the owners were on an extended vacation in Mexico.
Paul hung framed pictures of himself on the walls, lit the fireplace and even checked references in an effort to appear legitimate, according to charging documents. Police say five people became victims of the scheme after responding to Paul's advertisement. Police say the victims paid Paul up to $5,825 to rent and remodel the home.
Matt Dunn's parents own the house. He believes the suspect found his parents' spare key and used it to break in.
"To hear something like that really made me mad," he said. "Just using somebody's house is dirt-baggish to begin with. Going the extra mile and trying to gain from it? It's really crazy." …
---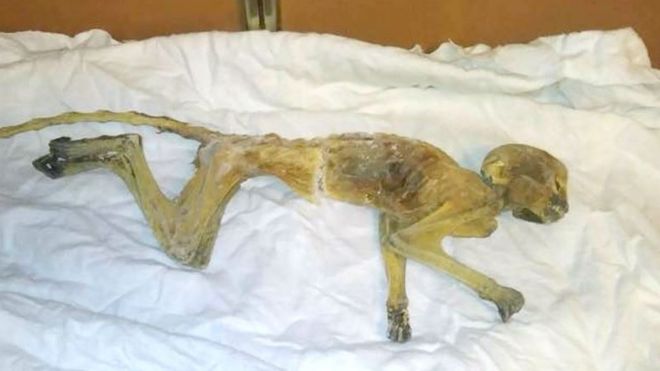 The "perished primate" has been described as "mummified".
The "mummified" remains of a monkey have been discovered by workers redeveloping a former department store in the US state of Minnesota.
The dead creature was found in the ceiling of the old Dayton Department Store building in Minneapolis.
A spokeswoman for the building project said they were working with local museums to trace the origins of the spider monkey, as theories fly.
A nearby town's mayor suspects his dad stole the critter in the 1960s.
The photo was first shared by a construction worker on the Old Minnesota Facebook page
The "'perished primate' revealed itself in a ceiling", according to the post. …
---
You truly haven't lived until you've feared for, or pondered the safety of a baby. This isn't about being a parent, so much as making eye contact with a baby across the room and thinking "wow, that is a small human with no motor skills, is she okay?!?!"
The very clever Twitter user @itskarleytime managed to strike a deep and existential baby-related fear into the heart of a stranger when she received a text from the wrong number.
"When you get home and get the baby settled call me," read the fairly innocuous text.
The response, however, placed the whole interaction into a hypothetical land of forsaken babies.
When the wrong number texts me pic.twitter.com/hClW1yDLdP

— not karley 🍻 (@Itskarleytime) April 9, 2018
Her simple response was likely enough to drive the mystery parent into a FRENZY. Where was the baby now?! Had someone, anyone procured the baby?! …
---
Video Goodnesses
and not-so-goodnesses
There's a lot that's confusing about the Cambridge Analytica Facebook story. But at the heart of it is a really simple motivation. Political campaigns want to advertise to voters in the most efficient way possible. That means they want to find voters at times when they're paying attention and show them an ad that engages them.
---
Donald Trump is coming clean!
He's going to "clean out" and "clean up." It will be "swept up." We can "scrub it." Whatever it takes to be "the cleanest"
THANKS to HBO and VICE News for making this program available on YouTube.
---
Trump responds to the Syrian chemical attack via Twitter, Robert Mueller is on the chopping block, John Boehner flips his stance on legalizing marijuana and Paul Ryan announces that he is not running for re-election.
---
The President's Wednesday morning tweets can be best described as a corkscrew elbow drop to the throat of diplomacy.
---
Speaker of the House Paul Ryan achieved his 'longtime dream' of passing tax reform and now wants to get away from President Trump, his 'longtime nightmare.
---
Mark Zuckerberg's testimony on Capitol Hill proves once and for all that there is such thing as a stupid question.
THANKS to CBS and The Late Show with Stephen Colbert for making this program available on YouTube.
---
Seth Meyers' monologue from Wednesday, April 11.
THANKS to NBC and Late Night with Seth Meyers for making this program available on YouTube.
---
Max is enjoying himself while he clubs me with his cage latch.
---
FINALLY . . .
BOWLED OVER

"Bowl" by Lukas Volger is full of beautiful meals like this farro and vegetable dish.

There were only three uses for the blue and white Pfaltzgraf bowls that filled my family's kitchen cabinets when I was growing up—soup, breakfast cereal, and ice cream. Okay, maybe the occasional chili night. Everything else—pasta, casseroles, roast chicken—we ate off of large dinner plates, offset by smaller salad plates. Today, however, when I serve dinner to my own children the table looks much different. There are no small plates, and more often than not everyone simply eats out of a bowl.
Grain bowls, harvest bowls, Buddha bowls, smoothie bowls, burrito bowls, poke bowls, KFC mashed potato bowls—from obsessively healthy super foods, to "cheat-day" fried chicken, we're eating more food than ever out of bowls. And we're filling them with a new style of layered grains and vegetables—one with less meat and more flavors.
After a century as a supporting player on the American tablescape, bowls are now getting the main attractions of many meals— commonly filled with ingredients that would have raised eyebrows a generation ago, like quinoa, hemp nuts, and massaged kale. It's not surprising that the bowl has been elevated in an era obsessed with culinary authenticity and healthy alternatives—but how exactly did the bowl go from porridge to poke?

Put an egg on it.
BOWLS, A RECENT HISTORY
"For most cuisines of the world, the bowl is the primary vessel for eating," explains Matthew Weingarten, culinary director at Dig Inn, a bowl food-centric fast casual chain, in a recent phone interview. "It evokes a way of eating that for me is more about something of comfort and sustenance." That sentiment probably rings true for many modern diners, with our casual meals and "glocal" focus on flavors and dining styles. But it's a relatively new way of looking at food.
In twentieth century America, plates dominated the dinner table: One for bread, one for salad, one for the main course and another for dessert. In fact, many middle class families had two sets of china, an everyday pattern and the fancier plates for guests and special occasions. Much like in my house, bowls were used mostly for wet foods like soup, or for informal meals like breakfast cereal. …
---
EVERYBODY PANIC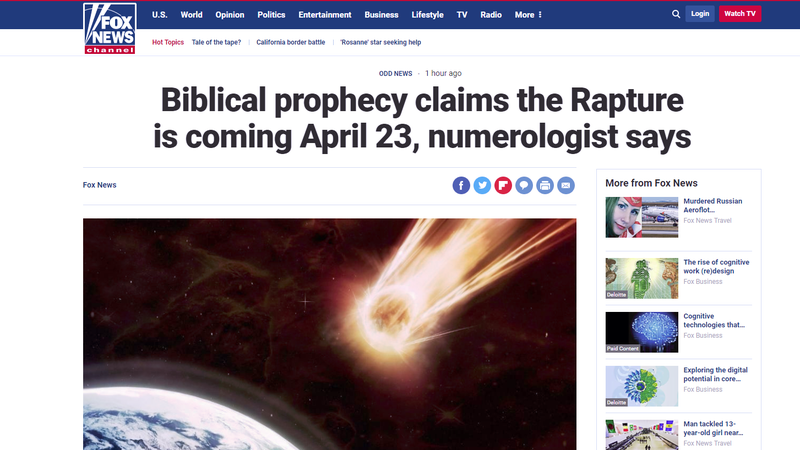 ARTIST'S CONCEPTION … OR FORESIGHT???
Silly fringe theories about Planet X—an imagined planet typically named Nibiru that is on course to hit or pass by Earth with disastrous consequences—are the kind of thing normally relegated to vanity press-published books or those tabloids you browse in the supermarket checkout aisle. On Wednesday, they made it into Fox News, with the added caveat that maybe some other Biblical catastrophe could surprise us instead.
The Planet X theory first emerged in 1995 and is usually evidenced by tortured interpretations of religious texts, with vague suppositions that NASA either hasn't detected this ominous celestial body or is actively covering up its existence to prevent widespread panic. In an article filed to Fox's website on Wednesday, this time the prophesied doomsday comes courtesy of an article in British rag the Daily Express citing numerologist David Meade's interpretation of the Bible's Revelation 12:1-2:

Is The Rapture finally here? One Christian numerologist says a biblical sign strongly suggests it.
…
The passage reads: "And a great sign appeared in heaven: a woman clothed with the sun, with the moon under her feet, and on her head a crown of 12 stars. She was pregnant and was crying out in birth pains and the agony of giving birth."
In the passage, the woman is represented as Virgo.
According to Meade, the alignment represents "the Lion of the tribe of Judah," marking the Rapture, the belief that Christ will bring the faithful into paradise prior to a period of tribulation on earth that precedes the end of time.
…
EVERYBODY PANIC
---
Ed. More tomorrow? Probably. Possibly. Maybe. Not? After the rapture, can I have your stuff?