As Facebook CEO Mark Zuckerberg faced America's top politicians this week, they struck again and again at the question of harmful, malicious, or misleading content on Facebook, and asked: Does Facebook have a plan?
Zuckerberg responded that one is in the works—the company was hiring 20,000 people around the world to moderate the content generated by more than 2 billion Facebook users. And long-term, that job would be handled by artificial intelligence at massive scale.
"We're going to shift increasingly to a method where more of this content is flagged up front by A.I. tools that we develop," he said. "We've prioritized the most important types of content that we can build A.I. tools for today, like terror-related content."
Zuckerberg says that 99% of the terrorism-related content that Facebook takes down is taken down before it's reported. That's a good metric—but Zuckerberg admits this content is some of the easiest to find.
What's more difficult is finding hate speech, bullying, and threats made on Facebook—subjects that rely heavily on context, are often implied, and can be interpreted in multiple ways. …
---
With an ageing, fast-shrinking population, Sutera saw Italy's migrant influx as an opportunity.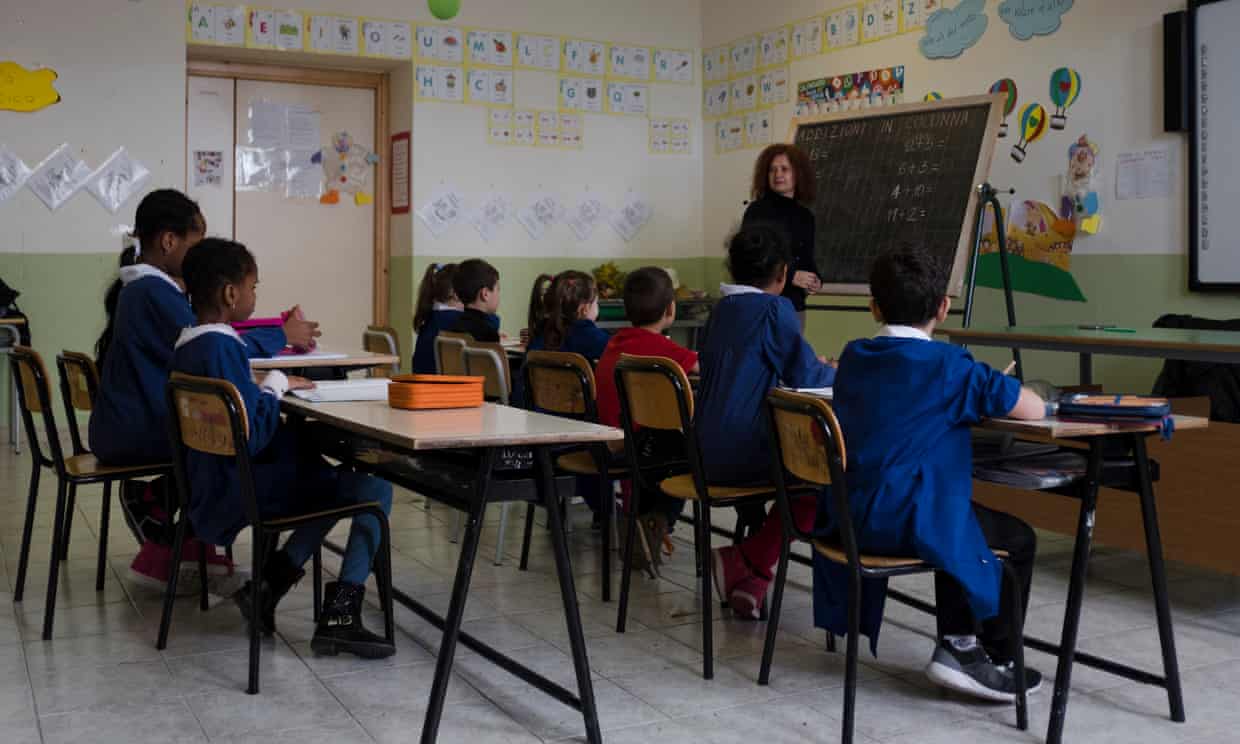 Migration into Sutera has brought a new influx of children to a school that had been earmarked to shut.
When the phone call came asking the Sicilian townspeople if they had any room in their graveyards, the answer was a reluctant no.
A boat full of migrants had sunk in the Mediterranean. Almost 400 people were dead and they had to be buried somewhere. But the Sicilian town of Sutera, almost entirely populated by older people, had long since filled up its cemeteries.
Yet although there was no room for the dead, there was plenty of room for the living. All but a few hundred people had moved out of the town to find work in bigger cities, leaving behind empty houses. Now there was a chance to repopulate.
And so, since 2014, Sutera has augmented its fast-dwindling population with dozens of asylum seekers. The school has been reborn; the butcher and grocer are happy with the growth in turnover; the birthrate has rocketed.
"In the 1970s, Sutera had more than 5,000 inhabitants," the mayor of the town, Giuseppe Grizzanti, tells the Guardian. "By the 1980s we were 4,000, and 3,000 in the 90s. Every year Sutera lost 300 citizens, due to unemployment. The houses emptied, the shops closed and [we] risked becoming a ghost town." …
---
German initiatives are equipping new arrivals with the skills to alleviate the country's worker shortage.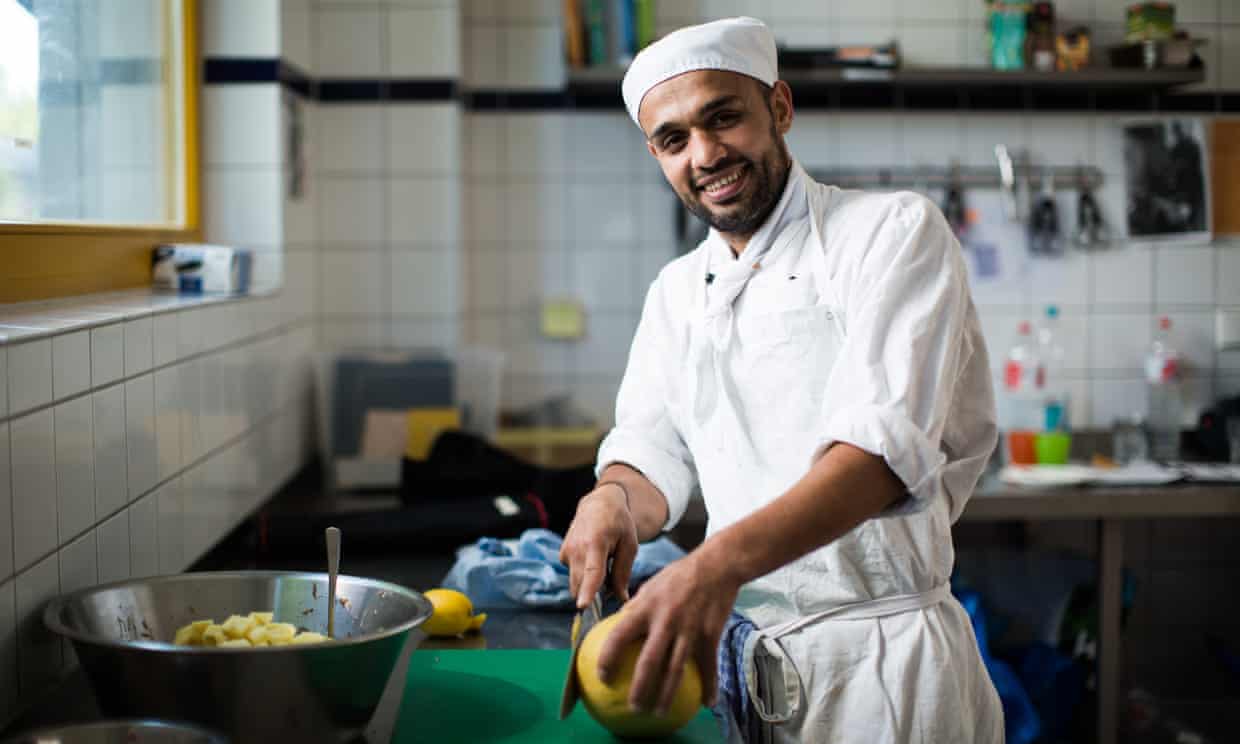 Heshmat Karimi, a trainee at the Refugee Canteen project in Hamburg.
It's breakfast time at a care home in Brandenburg and Zia Hayafi is busy. He is gently moving an elderly woman from her bed into a wheelchair. He should be hurrying – they are waiting for her in the dining room. But he takes his time, moving close to her ear to ask: "Did you sleep well?" She nods.
"I like old people," he says. "When I'm that old, I'm going to want someone nice around to look after me."
Hayafi, 20, has been working here for three months. It is about as different as can be imagined from his former life as an officer in the Afghan police force. There, the big concern was the Taliban (Hayafi, an ethnic Hazara, eventually fled). Here, the concern is whether Germany will let him stay.
Supply and demand
It should give it serious thought. Germany faces skills gaps across its economy that will only widen as the population ages. But it has also welcomed more than 1 million refugees in little more than two years. Programmes have sprung up trying to solve the former with the latter, aided by laws that look more kindly on asylum seekers working, something that is in effect forbidden in France and the UK.
But although 400,000 German companies have employed asylum seekers in one form or another, the majority have been taken on under short-term arrangements such as internships and placements, which do not always have a happy ending. …
---
ackets abandoned on Greek beaches are helping build careers for refugees in the Netherlands.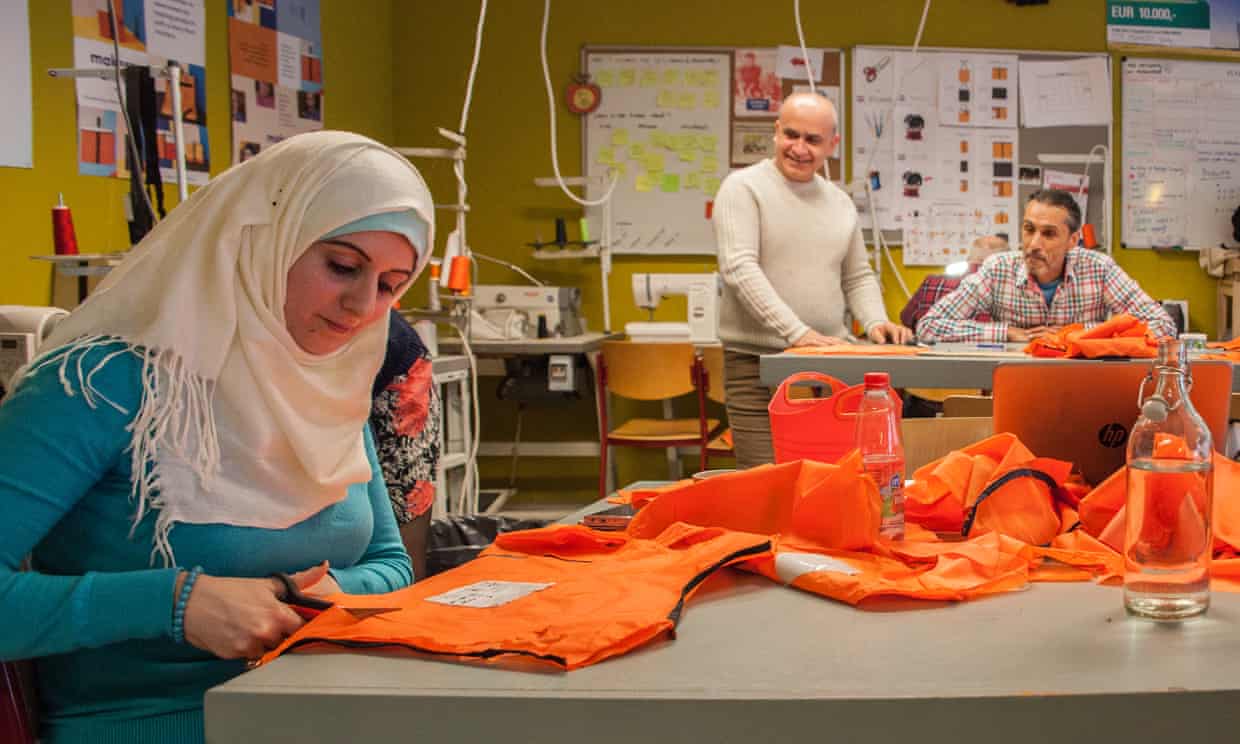 Refugee tailors working on turning lifejackets into bags.
"When I'm working, I think about the people who wore these lifevests," says Ramzi Aloker. "Who were they and what happened to them? I also remember my own journey. The dark sea and the steep Greek mountains."
Back in Damascus, Aloker, 46, designed girls' clothing. Now, he sews together laptop sleeves and tote bags in a workshop on the outskirts of Amsterdam. The bright orange and black bags are made from lifejackets worn by refugees as they crossed the Mediterranean sea.
More than 850,000 people arrived in Greece by sea in 2015 alone, with more than 500,000 of these arriving on the island of Lesbos. As well as dealing with large numbers of refugee arrivals, islanders were also faced with an unusual problem: hundreds of thousands of life vests that were left on Greek shores.
When the people behind the Dutch social enterprise Makers Unite heard about the problem, they decided to bring 5,000 lifejackets to Amsterdam. Over the past year, as part of a six-week coaching programme to help refugees establish careers in the Netherlands, 71 refugees have been involved in making and selling the bags, including 13 who have joined a team of tailors to create the upcycled products. …
---
After plastic waste contributed to deadly floods in Recife, one neighbourhood took action. Now people can earn a living by cleaning up the river in a scheme being imitated around the world.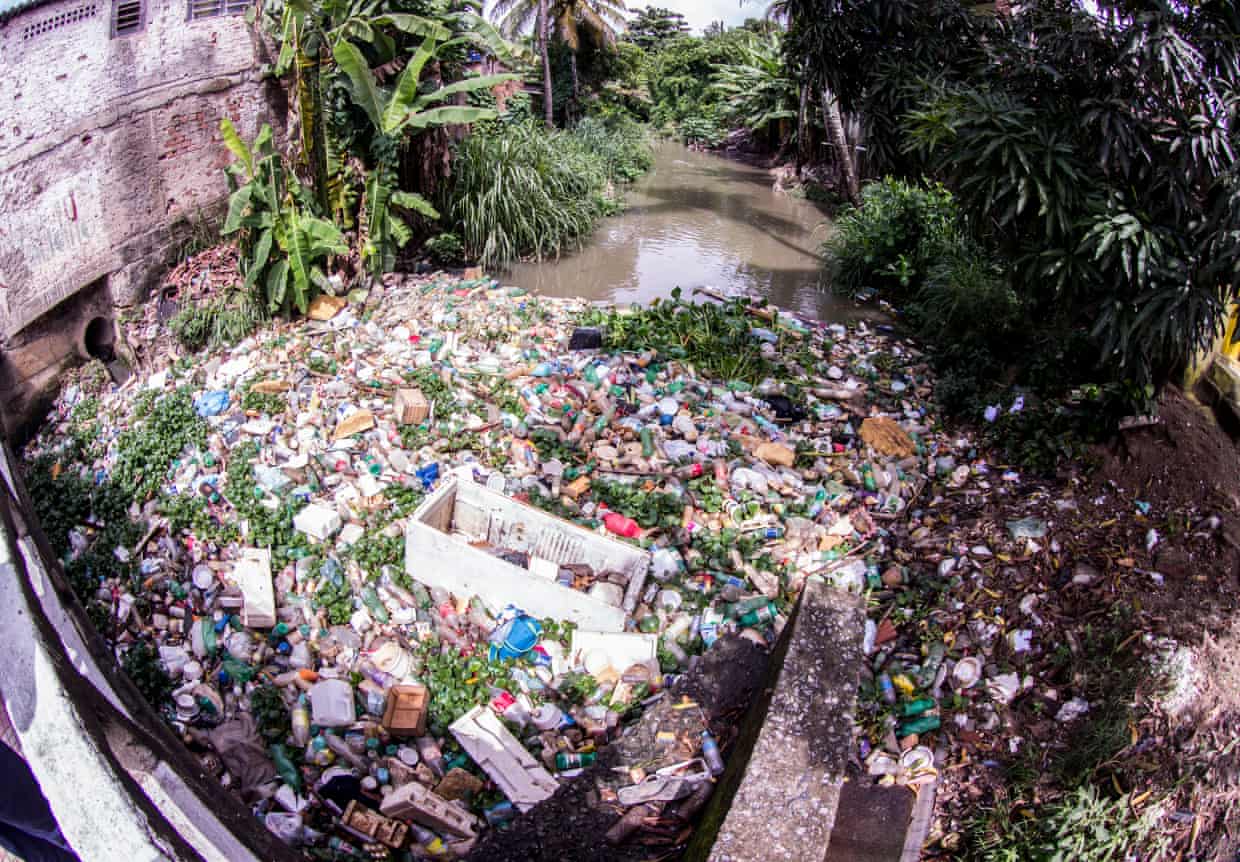 River Tejipio and plastic pollution in Recife, Brazil.
Maria das Gracas started collecting her plastic bottles after she saw the body of her neighbour floating past her house, carried along with the pollution that helped cause the deadly floods.
She stores them by the front door of her one-story home, which sits on the litter-strewn banks of the Tejipió river in north-east Brazil.
When she has enough she will take them to the local storage skip, where a litter collector will pay her two reals for 50 plastic bottles – about 40 pence. She's not just doing it for the money. She's doing it to stop the tide of plastic drowning this community.
Every day Maria and other residents of Coqueiral, a poor neighbourhood in the city of Recife, feel the impact of the world's plastic binge. It is visible in the waters of the river that once flowed freely through the area.
Fifty years ago when Rildo Wandray was a boy, he would jump into the Tejipió and swim, while his friends fished beside him.
Today the river is stagnant, obstructed at every tributary by a tide of plastic waste; Coca-Cola and Fanta bottles, water containers, crisp packets and wrappers. …
DEGREE OF DIFFICULTY: Globally, some 2 billion people live in communities with no rubbish collections.
---
NOTHING TO SEE HERE

Please make sure your news on government corruption is verified by the government.
A month ahead of a general election, Malaysia's new fake-news law has gone into effect—and journalists and rights groups are worried it's going to make it very hard to talk about corruption.
The act, passed by Malaysia's parliament earlier this month, received royal assent on April 9 and was published to a federal register yesterday (April 11) (pdf). The law makes publishing fake news punishable by a fine of more than $100,000 and up to six years in jail. It covers reports published in Malaysia or by foreign nationals overseas, as long as they relate to news about Malaysia or a Malaysian citizen, and defines fake news broadly:

"fake news" includes any news, information, data and reports which is or are wholly or partly false, whether in the form of features, visuals, or audio recordings or in any other form capable of suggesting words or ideas
The issue of fake news has gained prominence globally due to revelations that US voters in the 2016 presidential election may have been swayed by disinformation emanating from Russia—and due to president Donald Trump's frequent lambasting of criticism in the media as "fake news," a trope shared by many leaders in Asia. Malaysian prime minister Najib Razak said the country passed its fake-news law to prevent false information against the government, and to protect upcoming elections slated for May 9. …
---
Some economists say it should be raised. Others say it's already too high. But what if both sides are missing the point?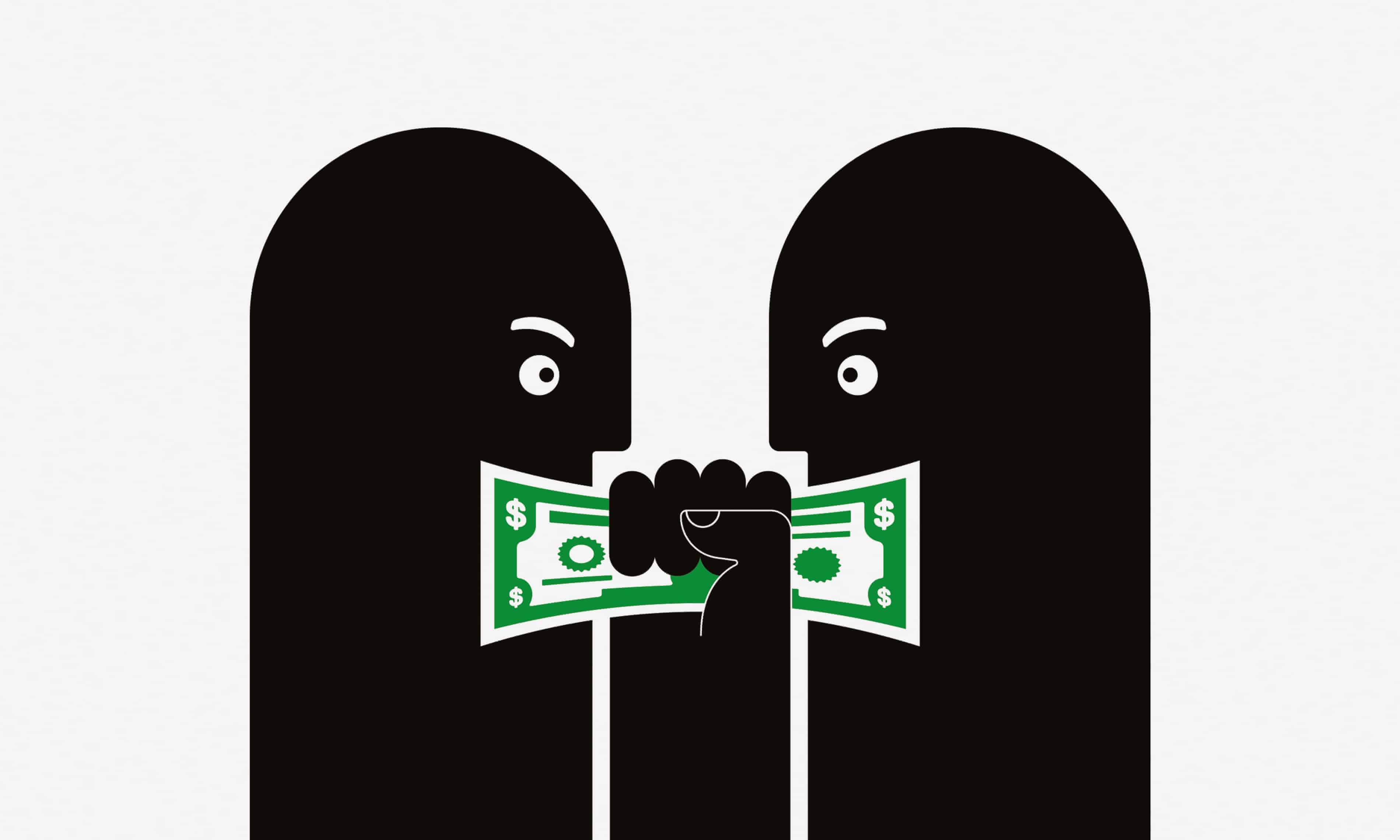 No idea in economics provokes more furious argument than the minimum wage. Every time a government debates whether to raise the lowest amount it is legal to pay for an hour of labour, a bitter and emotional battle is sure to follow – rife with charges of ignorance, cruelty and ideological bias. In order to understand this fight, it is necessary to understand that every minimum-wage law is about more than just money. To dictate how much a company must pay its workers is to tinker with the beating heart of the employer-employee relationship, a central component of life under capitalism. This is why the dispute over these laws and their effects – which has raged for decades – is so acrimonious: it is ultimately a clash between competing visions of politics and economics.
In the media, this debate almost always has two clearly defined sides. Those who support minimum-wage increases argue that when businesses are forced to pay a higher rate to workers on the lowest wages, those workers will earn more and have better lives as a result. Opponents of the minimum wage argue that increasing it will actually hurt low-wage workers: when labour becomes more expensive, they insist, businesses will purchase less of it. If minimum wages go up, some workers will lose their jobs, and others will lose hours in jobs they already have. Thanks to government intervention in the market, according to this argument, the workers struggling most will end up struggling even more.
This debate has flared up with new ferocity over the past year, as both sides have trained their firepower on the city of Seattle – where labour activists have won some of the most dramatic minimum-wage increases in decades, hiking the hourly pay for thousands of workers from $9.47 to $15, with future increases automatically pegged to inflation. Seattle's $15 is the highest minimum wage in the US, and over double the federal minimum of $7.25. This fact alone guaranteed that partisans from both sides of the great minimum-wage debate would be watching closely to see what happened.
But what turned the Seattle minimum wage into national news – and the subject of hundreds of articles – wasn't just the hourly rate. It was a controversial, inconclusive verdict on the impact of the new law – or, really, two verdicts, delivered in two competing academic papers that reached opposite conclusions. One study, by economists at the University of Washington (UW), suggested that the sharp increase in Seattle's minimum wage had reduced employment opportunities and lowered the average pay of the poorest workers, just as its critics had predicted. The other study, by economists at the University of California, Berkeley, claimed that a policy designed to boost worker income had done exactly that. …
DEGREE OF DIFFICULTY: Prepare to spend a while; it's The Long Read.
---
You know what identity theft is. Someone gets your info, somehow uses it to rent a yacht, and boom, your credit is ruined and you never qualify for a Best Buy card again. But it turns out that's hardly the worst thing that can happen when someone impersonates you. Criminal identity theft is regular identify theft's ugly cousin, and involves someone getting caught doing a crime while using your name, and then you get the blame. What happens next? We asked "Karen" about what happened to her. She told us …
5. Out Of Nowhere, The Cops Tell The World You're A Criminal
---
In the summer of 2015, Karen's cousin called her and said, "Hey, so this is weird. My dad swears he saw you on Crime Stoppers last night."
She was talking about a news segment called "Wheel of Fugitives." People from the sheriff's office would spin a wheel with a bunch of pictures of criminals who either had an outstanding warrant or had been charged and had skipped bail. Whichever person the wheel landed on would become "fugitive of the week." That meant that any tips you sent in could earn you a prize of up to $3,000, depending on the crime. With the right production values, we can totally see that as a Black Mirror episode or 1987 dystopian thriller, but this is what it looks like on a local news budget and smiles all around.
Karen's picture was on the wheel. It was her mugshot from a traffic offense in Florida in 2010, for which there was no active warrant. (Legal tip: If you hit a stationary car, do not leave the scene of the accident.) The wheel didn't land on her — if it had, she'd have been featured on the sheriff's social media pages, and even on digital billboards around the city. But even without her becoming an Instagram/overpass star, merely being on the wheel was enough to catch her uncle's eye. …
---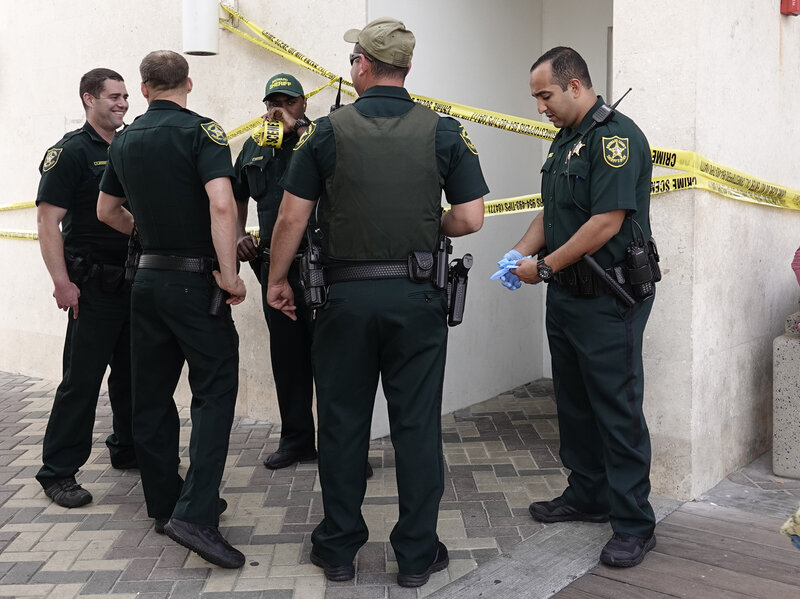 Broward Sheriff's deputies surround a men's bathroom at the Deerfield Beach pier in Florida, where a loaded gun was found — after fired — on Sunday.
Sean Simpson, a teacher at Marjory Stoneman Douglas High School, has spoken in favor of gun control efforts and said he might be open to the idea of carrying a gun in class. Now, he has been arrested after leaving his Glock 9 mm pistol in a bathroom over the weekend.
Simpson told the authorities that he had forgotten the loaded weapon in a stall in the bathroom at the Deerfield Beach pier. But before he could retrieve the pistol, the Sun-Sentinel reports, "a drunk homeless man found it and fired it, according to an arrest report from the Broward Sheriff's Office."
No one was injured in the incident, but Simpson, 43, was arrested and charged with failing to safely store the weapon. He posted $250 bond, according to local media.
Joseph Spataro, the man who picked up the gun, told police that he pulled the trigger to find out whether the weapon was loaded. He has been charged with firing a weapon while intoxicated and trespassing, Local 10 TV news reports. …
---

Julie Holzhauer stands among her family's possessions after being evicted from her home in Centennial, Colo., in 2011.
For many poor families in America, eviction is a real and ongoing threat. Sociologist Matthew Desmond estimates that 2.3 million evictions were filed in the U.S. in 2016 — a rate of four every minute.
"Eviction isn't just a condition of poverty; it's a cause of poverty," Desmond says. "Eviction is a direct cause of homelessness, but it also is a cause of residential instability, school instability [and] community instability."
Desmond won a Pulitzer Prize in 2017 for his book, Evicted: Poverty and Profit in the American City. His latest project is The Eviction Lab, a team of researchers and students at Princeton University dedicated to amassing the nation's first-ever database of eviction. To date, the Lab had collected 83 million records from 48 states and the District of Columbia.
"We're in the middle of a housing crisis, and that means more and more people are giving more and more of their income to rent and utilities," Desmond says. "Our hope is that we can take this problem that's been in the dark and bring it into the light." …
---
Analyst report notes that Gilead's hep C cure will make less than $4 billion this year.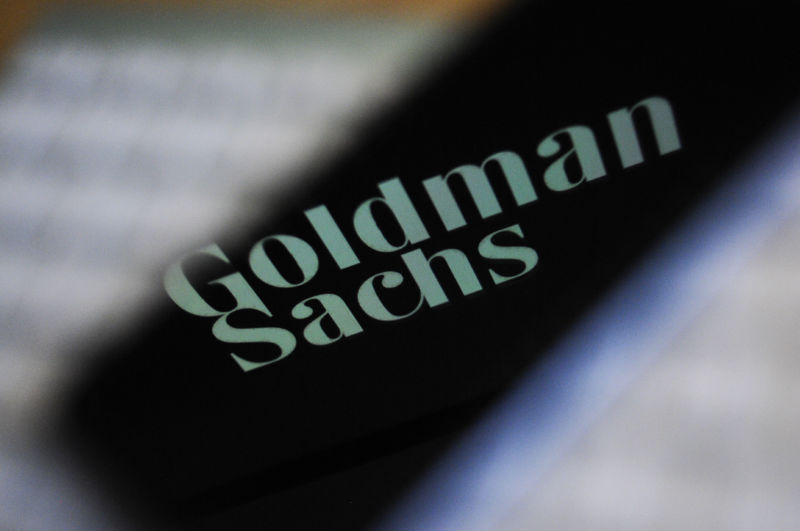 One-shot cures for diseases are not great for business—more specifically, they're bad for longterm profits—Goldman Sachs analysts noted in an April 10 report for biotech clients, first reported by CNBC.
The investment banks' report, titled "The Genome Revolution," asks clients the touchy question: "Is curing patients a sustainable business model?" The answer may be "no," according to follow-up information provided.
Analyst Salveen Richter and colleagues laid it out:

The potential to deliver "one shot cures" is one of the most attractive aspects of gene therapy, genetically engineered cell therapy, and gene editing. However, such treatments offer a very different outlook with regard to recurring revenue versus chronic therapies… While this proposition carries tremendous value for patients and society, it could represent a challenge for genome medicine developers looking for sustained cash flow.
For a real-world example, they pointed to Gilead Sciences, which markets treatments for hepatitis C that have cure rates exceeding 90 percent. In 2015, the company's hepatitis C treatment sales peaked at $12.5 billion. But as more people were cured and there were fewer infected individuals to spread the disease, sales began to languish. Goldman Sachs analysts estimate that the treatments will bring in less than $4 billion this year. …
POINT OF REFLECTION: How many other medical problems would be solved if not for the dynamics of effective drugs that permanently cure disease.
---
'He was very shocked and had a blank face when we caught him'
A Chinese man who was wanted by police for "economic crimes" was arrested at a music concert in China after facial recognition technology spotted him inside the venue, as reported by Abacus.
The man was attending a concert by Hong Kong singer Jacky Cheung in the Nanchang, Jiangxi province when security cameras recognized him. According to the South China Morning Post, the man, only identified by family name Ao, was shocked when police approached him. Ao had driven 56 miles with his wife to attend the concert, telling authorities he felt safe in the crowd, estimated to be over 50,000, and that he would have never gone if he thought there was a chance he would be identified. "Ao was suspected to be involved in an economic crime and was listed on a national online system," police officer Li Jin said. "He was very shocked and had a blank face when we caught him."
This isn't the first time China's facial recognition technology has caught criminals at public events. …
POINT OF REFLECTION: It may not have been necessary to embed two links to the same article.
It certainly wasn't necessary to raise this point of reflection.
---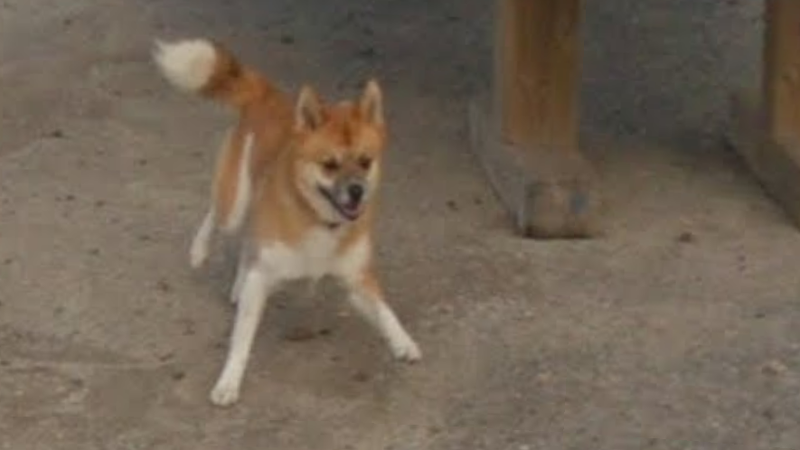 This pup, which appears to be a Shiba Inu ("Doge dog"), was having a pretty regular day hanging out by the boats when a Google Street View car rolled by and absolutely positively had to be chased. The resulting screenshots are pretty excellent.
If you're looking at Google Maps and drop into Street View mode on this little dead-end alley in the Kagoshima prefecture, you can watch this dog's big exciting 15 minutes of fame play out from the moment it spots the Google car to an exciting pursuit leading to the end of the road.
Looking at the dog's face, at least when it's not pixelated out, it looks like it's having the best dang day of its life.
Clearly, I'm not the first person to discover this as it's already popped up on Twitter and been entered by Google as "わんこ猛追 🚗🐕💨" but I'll take any excuse to write a dog blog. …
With best dang day visual goodnesses.
---
BADGE OF HONOR

The badge that made conference goers go "Seriously?"
A month into my first semester as an exchange student in the United States, I was at an inter-city bus stop waiting to get to St. Louis. I only mentioned my surname—Lung, pronounced "loong"—when I checked in with the receptionist. It was a quiet Wednesday noon and I was the only customer there.
Shortly after settling down in the waiting room next door, I heard faint chatter from the office. "She probably knows it's embarrassing," the receptionist told a white-bearded guy standing next to him. He burst out in laughter.
"That's a she? I can't un-see that!" the bearded man bawled, his voice echoing against the bare walls, including the glass panel that stood between their office and where I sat.
I froze. Did they just… Were they laughing at me?
I stared at the bearded guy through the glass. His face dropped, and he slowly backed away to the other end of the room and disappeared. The office was dead quiet.
I was mortified. For the first time in my life, I was made fun of outside the comfort of my own culture. By strangers who were at least twice my age, and before my very eyes and ears. …
DEGREE OF DIFFICULTY: "My name—my given name—is Fuk-yu" (馥瑜).
---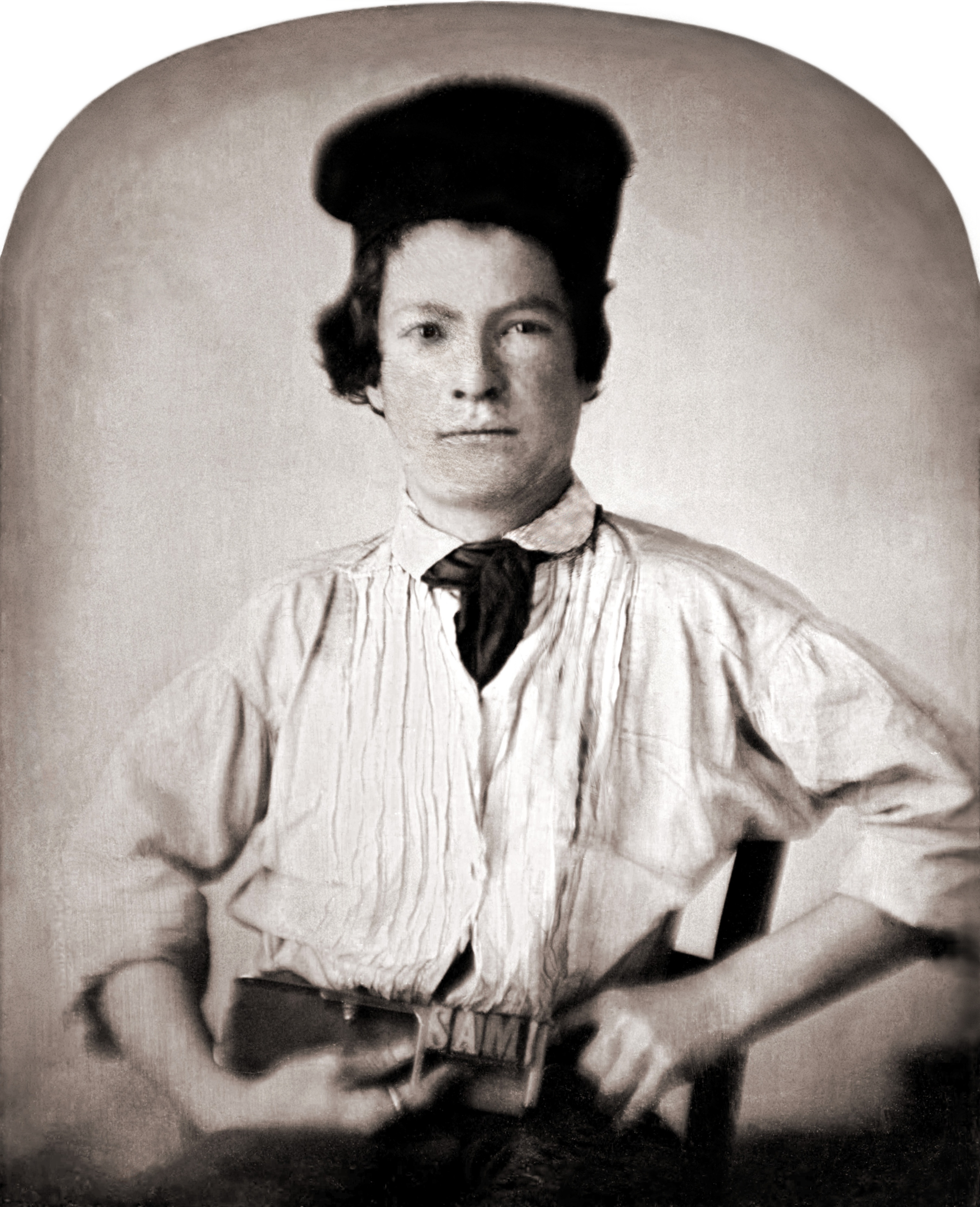 Through the latter half of the 19th century, Mark Twain was on a mission to attack pretense with satire. One of his most hilarious, if completely scandalous and by many standards inappropriate, works was a lecture he gave to The Stomach Club in 1879 about masturbation titled, "Some Thoughts on the Science of Onanism."
During the 19th century, medical practice had been increasingly incorporating scientific thoughts and developments, including how disease spread and the rise of anesthesia. As such, simply calling something a "science" at that time gave it a certain cachet, so the irony of juxtaposing this honorific with the topic of self-abuse (as masturbation used to be called), would not have been lost on the audience.
Nor would any part of Twain's talk go unappreciated, as The Stomach Club was a group of writers and artists who loved to get together over a delicious meal, and a few too many drinks, and enjoy a bawdy tale.
That evening, Twain's topic would not disappoint, as Onanism was well known at the time as a euphemism for masturbation. …
---
Video Goodnesses
and not-so-goodnesses
Facebook executives often talk about their mission as "bringing the world closer together."
With more than 2 billion users, it's true that the platform does connect people. But one thing that Mark Zuckerberg's two days of congressional testimony highlighted is that simply connecting people is not how Facebook reached a market cap of nearly $500 billion.
At its core, Facebook is an advertising company. In 2017, 98 percent of its $40 billion in revenue came from advertising. It's not your data that Facebook is selling, it's your attention.
Facebook's ad platform translates your clicks and posts into "user attributes," and places you in certain categories for advertisers. For example, your activity could suggest an that you recently had a child, that you're a Bernie Sanders fan, or that you have an "affinity" for certain racial groups.
One of the most powerful features is called "Custom Audiences," which allows an advertiser to target individuals based on offline information such as email address or phone numbers. An advertiser can upload that data to Facebook, which will match them with its user base to find who they belong to. Then there are so-called "dark posts," a feature Facebook is in the process of changing, which only show up in the news feeds of specific audiences and are completely hidden to everyone else.
These tools can be used by anyone who wants to advertise on Facebook, and critics say that's an open invitation for malicious actors. Watch this video to learn more about how Facebook's ad targeting works, and why it's so effective.
---
Mark Zuckerberg may have finished up answering lawmakers face-to-face during two days of Capitol Hill testimony — but he and his "team" have a lot to follow up on. They owe responses to Senators and Representatives on at least 44 questions.
Many Facebook users who watched the testimony still have questions, too. In Denver, Pollster Frank Luntz talked a group of 21-to-49-year-olds, who both despise the platform's tactics but at the same time, can't live without it.
"There's nothing else like it," said 26 year-old Erin Finn. "But if you delete it what is there to replace it? How am I going to connect to my family?" She added, "You can meet — or you can reconnect with someone that you went to school with ten years ago."
None of the panelists trust Co-Founder and CEO Mark Zuckerberg, and felt like his answers on Capitol Hill rang hollow and felt insincere.
"You can't have that much power unregulated in the hands of one CEO," said Andrew Bunker, a 23 year-old legislative assistant. "He has, for my mind, little risk of losing his position because the unwillingness of us to change our social-media behavior."
And while most were concerned about how Facebook might be using — or potentially abusing – their personal data, they were even more concerned about the long term impacts on democracy.
"I would ask him if he could stop making these mini propaganda machines," said Jamie Javier, a 39 year old geotechnical engineer from Boulder, CO. "I think that is divisive and — yeah, just in general, bad for society."
THANKS to HBO and VICE News for making this program available on YouTube.
---
A rumor surfaces that President Trump secretly had a child with a Trump Tower housekeeper, and Mark Zuckerberg continues his testimony in Congress following the Cambridge Analytica scandal.
THANKS to Comedy Central and The Daily Show with Trevor Noah for making this program available on YouTube.
---
Asking a sitting FBI Director about Kremlin 'kompromat' or a rumored affair with a housekeeper might be the lead story for some presidencies, but in 2018 it's just Thursday.
---
Whether it's a fire at Trump Tower, Michael Cohen's raid, or bombing Syria, employees at the White House have one unified response.
THANKS to CBS and The Late Show with Stephen Colbert for making this program available on YouTube.
---
Seth takes a closer look at Trump's allies ramping up their attacks on Robert Mueller and Paul Ryan's decision to get out of Washington.
THANKS to NBC and Late Night with Seth Meyers for making this program available on YouTube.
---
Max has a small guest appearing in today's video. Yes, we have been invaded by ants in his room.
---
What if the now classic "Steamed Hams" segment from the Simpsons episode "22 Short Films about Springfield," took place in Twin Peaks..
---
FINALLY . . .
Should law enforcement be able to test them?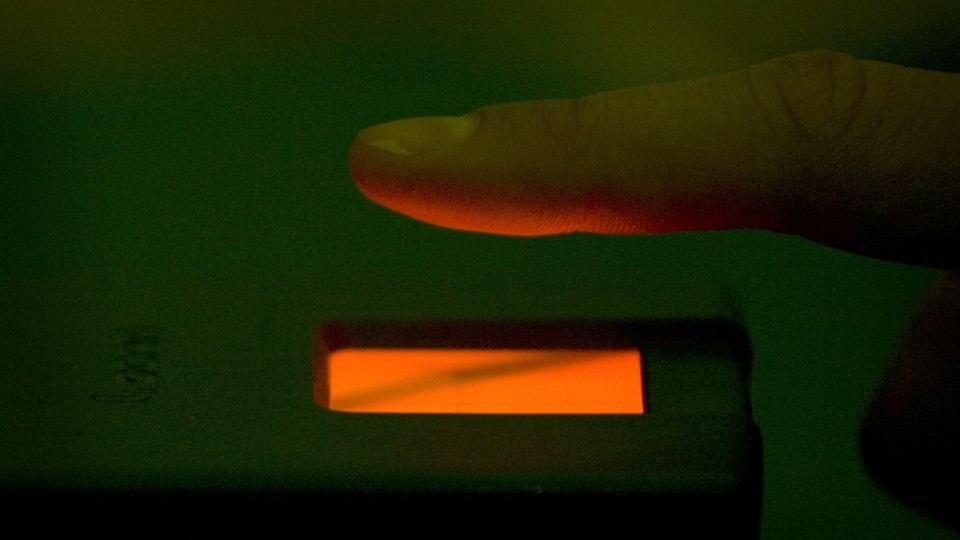 Fingerprints are the oldest and most widely used biometric marker. Artifacts unearthed from ancient Babylon, China, and Persia show that fingerprints were often used on clay tablets and seals for business transactions and official documents. The loops, whorls, and arches that emerge from the "friction ridges" that form on a fetus's developing fingers become unique to each person, and it's no surprise that fingerprint identification has also been the gold standard in law enforcement and forensics since about the early 1900s. More recently, fingerprint verification technology has become almost ubiquitous in our daily lives as an access key for everything from smartphones and computers to bank accounts, offices, and even health records.
For all its utility, however, the image of this distinctive, swirling pattern has been the most information that you could extract from a fingerprint—though that's starting to change. A raft of sensitive new fingerprint-analysis techniques is proving to be a potentially powerful, and in some cases worrying, new avenue for extracting intimate personal information—including what drugs a person has used.
That's right: The new techniques can determine, from a single fingerprint, not whether you have handled these drugs, but whether you have taken them.
The new methods use biometrics to analyze biochemical traces in sweat found along the ridges of a fingerprint. And those trace chemicals can quickly reveal whether you have ingested cocaine, opiates, marijuana, or other drugs. …
---
Ed. More tomorrow? Probably. Possibly. Maybe. Not?