Pictured above: Students from Marjory Stoneman Douglas high school stand on stage with other young victims of gun violence at the end of the March for Our Lives rally in Washington.

Hours after a gunman shot and killed 20 children and six educators at the Sandy Hook elementary school, Barack Obama was visibly struggling with how he would respond to the unspeakable tragedy while huddling with his aides inside the Oval Office.
It was 14 December 2012, the day Obama would later deem the most difficult of his presidency. And although he had largely avoided invoking the issue of guns while addressing the nation on mass shootings before, this time was different – and the president wished to make it known.
As he prepared to address the nation from the White House podium, Obama handed his edits to his speechwriters, Cody Keenan and Jon Favreau, and told them: "So we let the NRA know we're coming after them."
The president was referring to a line he had added to his prepared remarks to signal that thoughts and prayers would no longer be sufficient: "And we're going to have to come together and take meaningful action to prevent more tragedies like this, regardless of the politics," he would say.
The signal quickly evolved into a full-scale campaign by the Obama administration to reform America's gun laws. But five months later, Obama would again appear at the White House to declare a "shameful day" in Washington. …
---
Even in a high-tech era, fears about minority political agency are the most reliable way to destabilize the U.S. political system.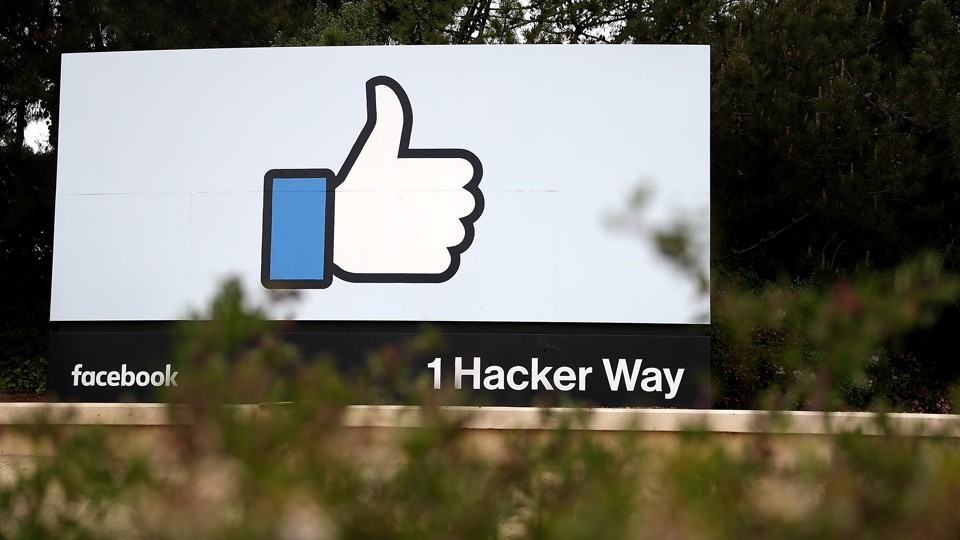 A sign outside Facebook headquarters in Menlo Park, California, during an April 5, 2018 demonstration staged by activist group 'Raging Grannies'.
There are a million and one threads to the chaos currently unspooling about the Trump administration and the 2016 election. One might be forgiven for giving up on trying to navigate the intricacies of congressional Russia inquiries, Special Counsel Robert Mueller's ever-widening probe, news about foreign intrusions into voting systems, investigations about Twitter bots, and the developing story about the manipulation of Facebook data. There are just too many details, too many variables, too many actors, and a hard limit to the amount of nihilism about what really happened in 2016 that can be absorbed with the steady onslaught of updates.
But there's one main thread running through all of these stories, one that should orient readers to the things that truly matter, whether the news is about Cambridge Analytica or the Russian "troll farm" known as the Internet Research Agency. It's the fact that the human brain is eminently exploitable—as are, by extension, the civic and democratic institutions the human brain has built. And in America, a country built from its foundations on white supremacy, where identity is forged in the crucible of a centuries-old "race question," one of the easiest and most effective ways to "hack" those institutions is the use of racism in disinformation and propaganda campaigns. Almost every single American era of widespread racial friction was buttressed by sophisticated psychological manipulation, data gathering, and propaganda, a concoction that when taken together, often helped push whites to the extremes of anti-democratic oppression and violence. It's the oldest American trick in the book.
That vulnerability is on full display in the ongoing Cambridge Analytica scandal, after The New York Times and The Guardian released investigations featuring allegations from whistleblower Chris Wylie that the firm harvested and exploited Facebook data in the service of conservative campaigns, including Brexit in the U.K. and Donald Trump's 2016 campaign in the United States. There are lots of floating variables to this particular story—whether the data manipulation counts as an actual breach or an action enabled by Facebook's own policy, what online privacy really means, the deteriorating public trust in Facebook, and even whether or not the tactics actually helped Trump win—but one vital detail is the seemingly critical role of racial foment in Cambridge Analytica's electoral work. …
---
Our tax code is deliberately designed to reward money over work, and the corporate tax cut financially rewards companies for moving money and jobs overseas.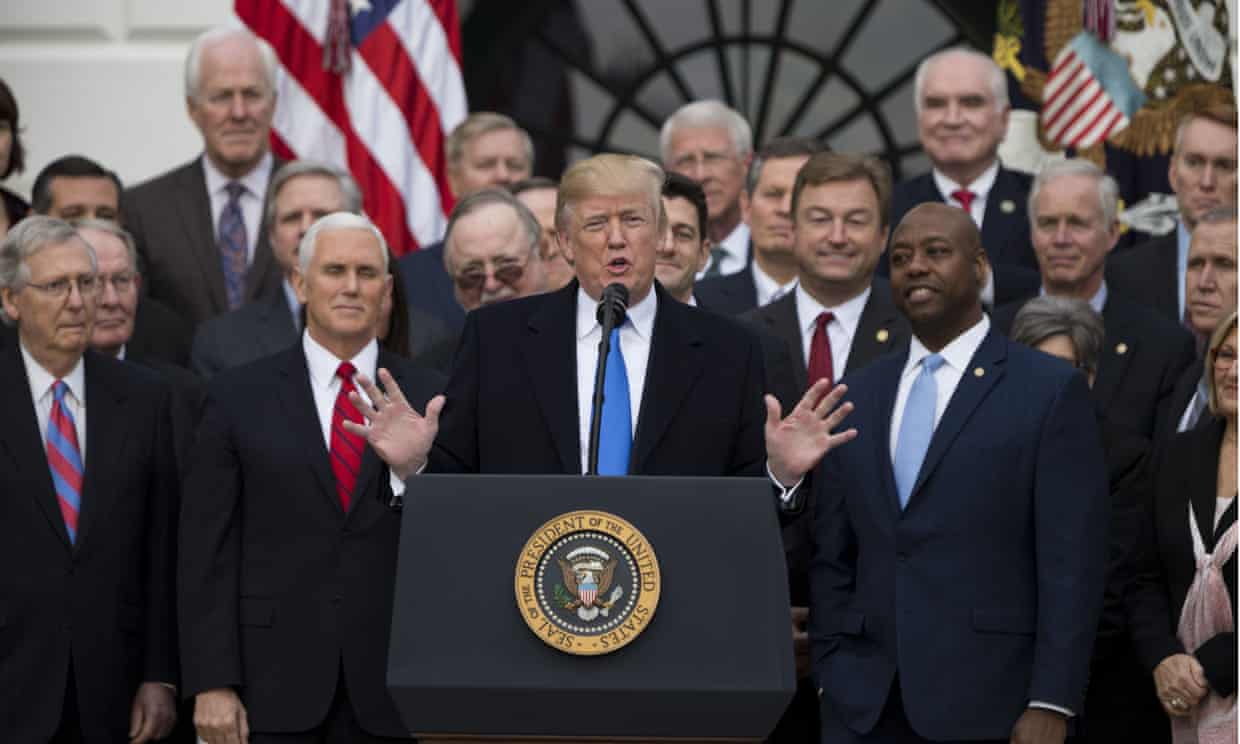 Donald Trump America's Shithole speaks on the south lawn of the White House after Congress passed the Republican sponsored the 'Tax Cuts and Jobs Act' on 20 December 2017.
In 2013, just a few years after the 2008 financial crisis, I was part of BlackRock's Financial Markets Advisory Group working for the Greek Central Bank, assessing the capital requirements of the bailouts of the Greek banks. I was on the top floor of a bank building in Athens with about 20 bank executives taking a lunch break, when I glanced out the window and saw a huge crowd of people on the street.
For a moment I thought it was a parade, and then I realized it was something between a protest and a riot. As I looked out the window to the heated crowd below, and looked behind me to the well–fed bankers at the table, I wondered if I was actually helping anyone beyond the people having lunch with me.
A few months later, I left a 30-year career on Wall Street to work full time as chair of the board of the Patriotic Millionaires. I haven't looked back since.
There's a Greek proverb that goes: "A society grows great when old men plant trees whose shade they know they will never sit in."
Lately, the old men running our country haven't been planting trees, they've been cutting them down to make room for private golf courses. …
---
MONEY ON THE TABLE

Republican-led tax reforms will make paying taxes easier—next year.
The day in mid-April when taxes are due fills most Americans with dread. Filing US taxes is a pain, made even more painful if you itemize deductions—the process of compiling the spending exempt from taxes, like mortgage interest payments and charitable contributions, can be arduous and annoying.
Keeping track of these deductions is such an annoyance that, according to a recent study published by the National Bureau of Economic Research, many taxpayers forgo thousands of dollars to avoid doing it. The study tracks who chooses to itemize their deductions, and who doesn't, to cleverly reveal why taxpayers are willing to leave so much money on the table when it comes time to file.
Last year, only about 30% of US taxpayers itemized deductions. The other 70% chose to take the standard deduction offered by the government of $6,350—a practice introduced so that middle-class taxpayers wouldn't have to go through trouble of itemizing. Most of the people who took the standard deduction did so because, even if they added up all their deductions, they would amount to less than $6,350. But there are others who take the standard deduction but would gain from itemizing, explains UCLA economist Youssef Benzarti, the study's author.
Benzarti knows this by examining historical data. …
---
Donald Trump doles out monikers to all his adversaries and the former FBI director is the newest beneficiary. So who else is in Trump's cast of characters?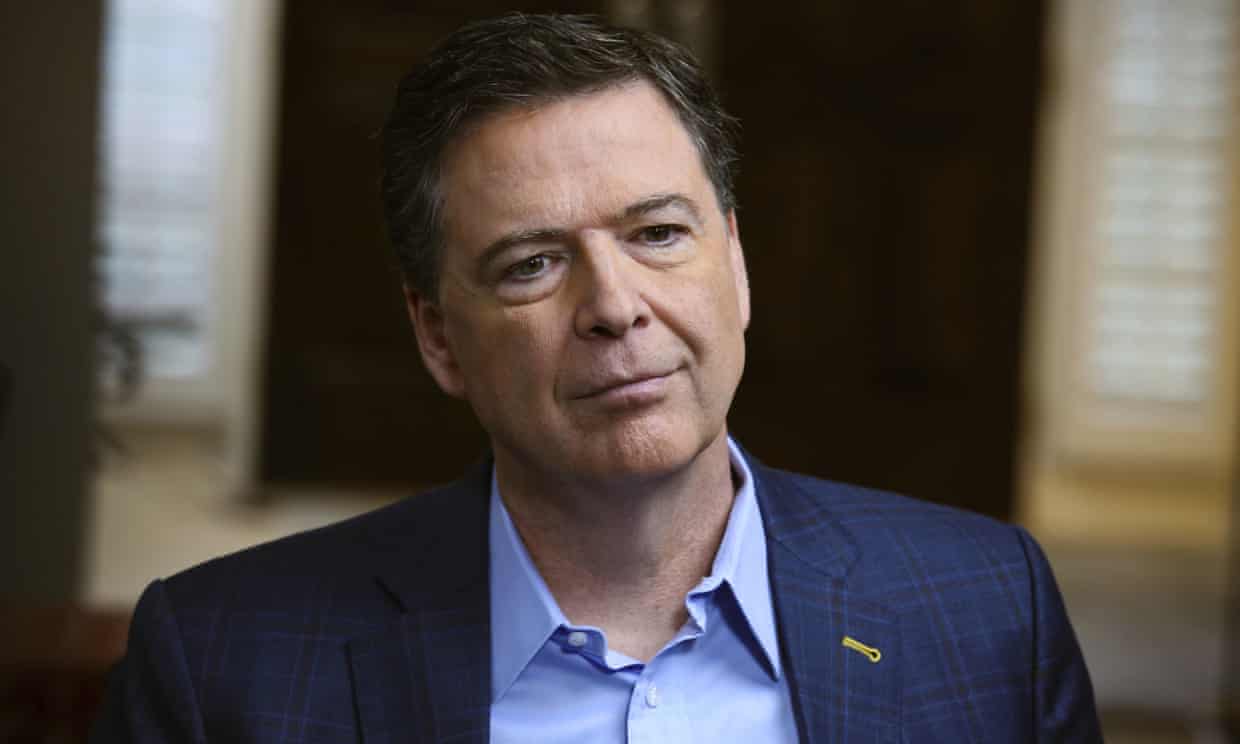 Former FBI director James Comey, branded a 'slimeball' by Trump on Twitter.
Donald Trump has branded the former FBI director James Comey a "slimeball" during another Twitter tirade. The tweets were a reaction to unfavourable excerpts released in advance of Comey's book, A Higher Loyalty, in which Comey likens the president to a mob boss and dismisses "the forest fire that is the Trump presidency". After Trump's tweets, Merriam-Webster dictionary reported a 60,000% spike in searches for the definition of "slimeball", which it defines as "a morally repulsive or odious person".
Just like the mob, Trump likes to dole out nicknames, especially to his opponents. It's a trick he may have learned from professional wrestling and World Wrestling Entertainment, which inducted him into its Hall of Fame in 2013. Its wrestlers go by names such as "Stone Cold Steve Austin" or "The Undertaker" – distinguishing for its predominantly young audience the heroes from the villains.
So who else has Trump rebranded?
'Crooked Hillary'

Hillary Clinton
Throughout the 2016 election campaign Trump would often refer to Hillary Clinton as "Crooked Hillary", usually in reference to her use of a private email server during her time as secretary of state in the Obama White House.
'Little March'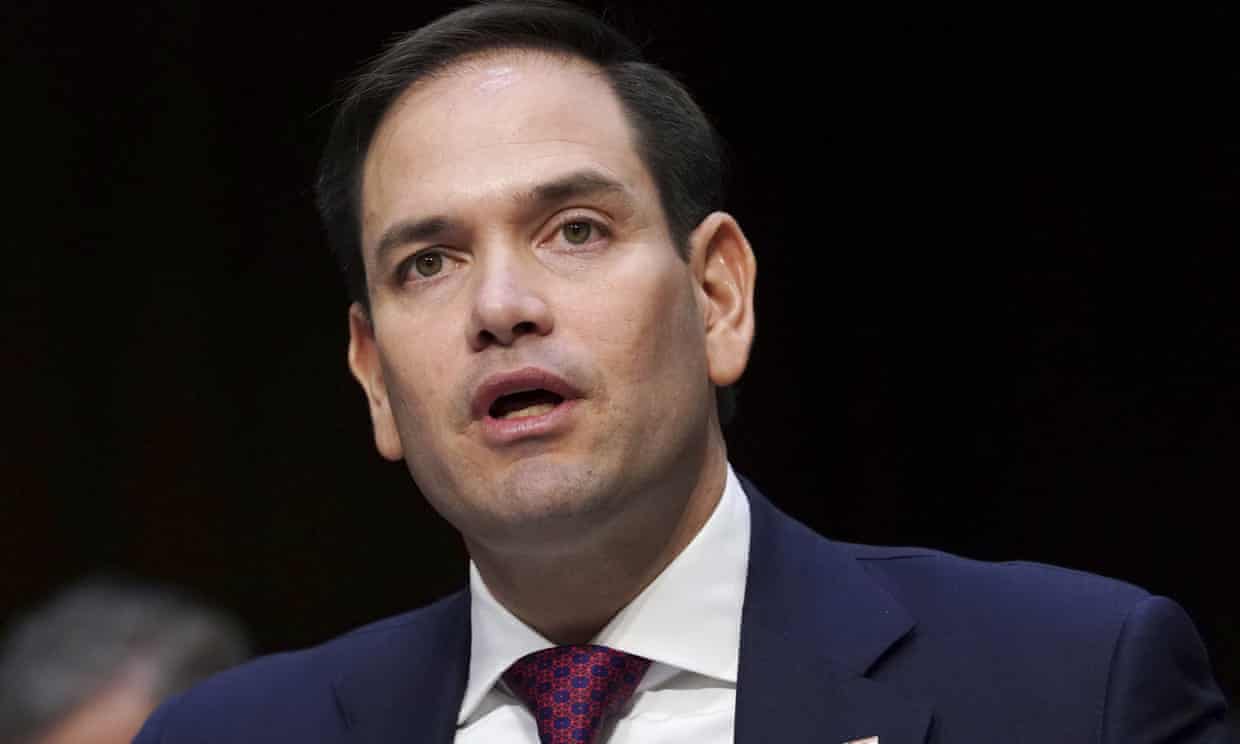 Marco Rubio
Marco Rubio earned his moniker after poking fun at Trump's "small hands" during the 2016 Republican presidential campaign.
…
---
HIDDEN FIGURES

Alternative.
"Life has to go on somehow," a Chicago resident told the Financial Times as he complained that gasoline prices were creeping up. "American households are expected to spend on average $400 more this year on petrol," continued the report.
Before you shed a tear, look at gasoline prices across the world. Americans pay the second-lowest price for gasoline among major world economies. (PS: We're ignoring the fact that the average US household will receive $930 in tax cuts this year.)
In a free market, you could argue that the price of fuel is a reflection of supply and demand. The US, like Russia, is an energy-rich country, so its fuel prices ought to be low.
But markets are never completely free. The price at a petrol—or gasoline, in America—pump varies from country to country for many reasons: domestic oil production, national refinery capacity, subsidies, taxes, and so on. The US continues to spend billions in subsidies for oil exploration, which helps keep fuel costs artificially low. …
---
The United States has cracked down on one of China's biggest tech companies, banning it from buying components from American firms.

The move Monday by the US Commerce Department against ZTE (ZTCOF), which sells smartphones and other telecommunications equipment around the world, comes amid a tense clash between the United States and China over trade and technology.
On the same day, ZTE also received a blow from the UK government, which warned telecom companies against using the Chinese firm's equipment and services.
The US Commerce Department said that ZTE lied to American officials about punishing employees who violated US sanctions against North Korea and Iran. The Chinese company agreed to pay a $1.2 billion fine last year after a US investigation found it had illegally shipped telecommunications equipment to Iran and North Korea.
But instead of punishing those involved, "ZTE paid full bonuses to employees that had engaged in illegal conduct, and failed to issue letters of reprimand," the Commerce Department said in a statement.
As a result, the department said it has imposed a seven-year export ban on ZTE, forbidding American companies from selling parts and providing services to it. …
---
Good news: People are living longer than ever. Bad news: what we just said. It turns out that our world wasn't made to take care of this many old people, leading to unexpected and unfortunate consequences for those foolish enough to stick with this whole "life" thing … Wait, crap! That's us!
5. Nobody Knows What To Do With Geriatric Prisoners And Sex Offenders
---
Although a sector of society would prefer that we simply dumped all criminals in a hole and forgot about them, we still have to make sure they have access to stuff like clothes, food, and toilet paper (or at least old newspapers). Taking care of one prison inmate is already expensive enough. Taking care of one who needs special food and whose hip breaks if they slump awkwardly on a chair? That's four to nine times more expensive, on average. And that's kind of a problem, because inmates over 55 represent the fastest-growing prison population in the U.S.
Also growing: the median length of the hairs coming out of inmates' ears.
It's not that there are suddenly packs of roving grandmas mugging people in the streets — it's that we're living longer, so there are more elderly everything. In 2015, old people accounted for 10 percent of America's prison population, a 400 percent jump compared to 1993. As long as people continue aging and doing crimes, that type of growth is unsustainable. So what can we do about it? One idea is to transfer them to special geriatric units, but that would cost a lot of money in itself. Also, many of the old prisoners are against that, because they would lose their "informal caregivers" within the prison population. Like, maybe Skull-Kicker Pete saved Dicey Carlos from getting shanked 15 years ago, and now Carlos pre-chews his food for him.
Another approach is to release prisoners who are too old and frail to be a threat to society, but the process is such a bureaucratic nightmare that inmates keep dying off before they see freedom. One inmate, a drug dealer serving a life sentence, was passed up for the "compassionate release" program, despite being in a near-vegetative state. Then you have cases like the 83-year-old sex offender who was released to a nursing home because he was deemed "too sick to hurt anyone again," only for him to go and molest a 95-year-old woman and grope a hospital worker. …
---
Millions have watched videos in which an unsuspecting person has their ears blasted in an air horn prank. But it is no innocent fun.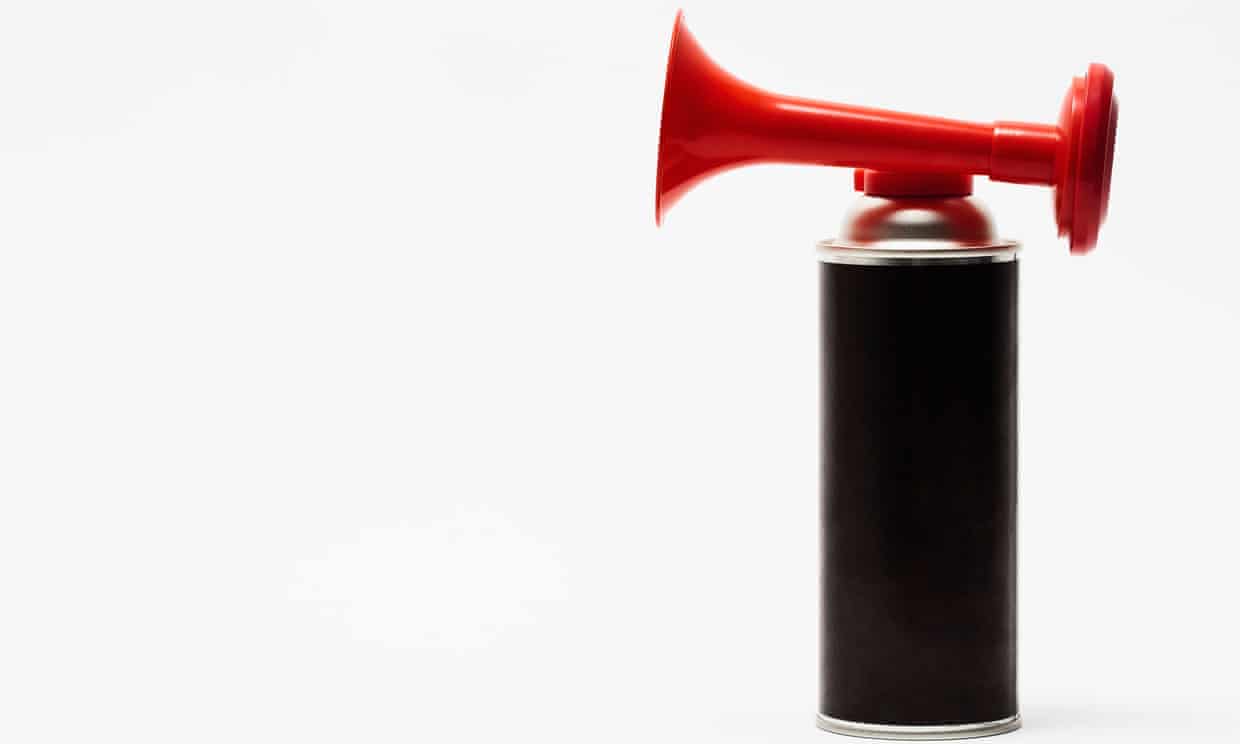 Air horn.
I had never heard of the "trickster" Rick Lax. But an awful lot of people have. A video on one of his Facebook pages, entitled "How to get your girlfriend to put her phone down," has an astounding 246m views. Apparently the video was made by a prankster pal of his named Ryan Hamilton, whose YouTube channel is at Hammy TV.
In six scenarios, Hammy's girlfriend is on her phone – and he sneaks up to blast her with an air horn. Hilarity ensues.
Last year, my teenage daughter was blasted with an air horn to get her to put her phone down. She is now in pain every second of every day.
Here's how Cindy tells the story: dinner was an hour away. Cindy was at her friend's house, sitting alone at the kitchen table, chatting on her phone.
Her friend's ex-stepfather entered the kitchen for a beer.
Her friend and her friend's sister entered the room; the stepfather told them to leave. They did, giggling. Cindy wasn't paying attention, because she didn't know her life was about to be ruined.
The stepfather told her, twice, to hang up. As she did, he blasted the air horn at her head. …
POINT OF REFLECTION: Embedding links to pages that depict pranks that may cause physical harm may not have been the most responsible thing to do.
Here's a sillier link to mea culpa for any mayhem wrought wrought by my transgression(s).
Here's another, complete with language that may not be appropriate for work or children.
---
Poorest are hardest hit with many developing countries falling behind on cleaning up toxic air pollution.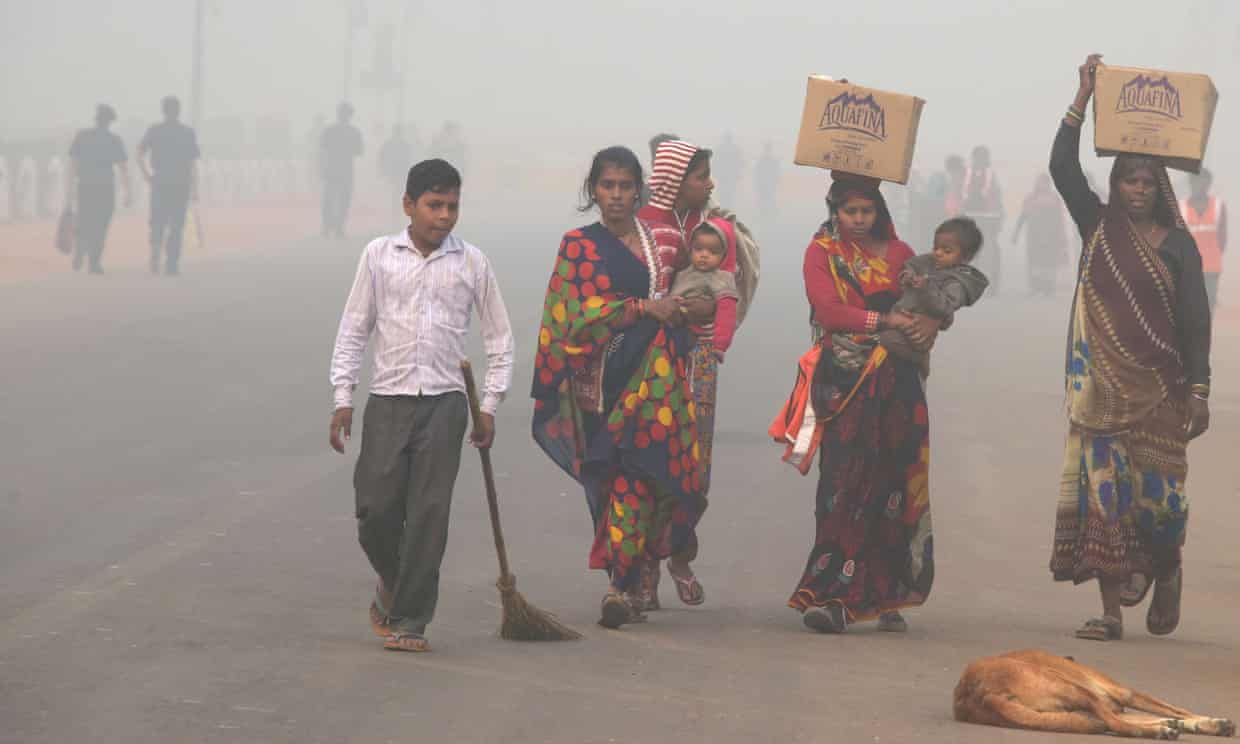 Heavy air pollution in New Delhi, November 2017. Residents in many developing countries are exposed to toxic air both outdoors and inside their homes.
More than 95% of the world's population breathe unsafe air and the burden is falling hardest on the poorest communities, with the gap between the most polluted and least polluted countries rising rapidly, a comprehensive study of global air pollution has found.
Cities are home to an increasing majority of the world's people, exposing billions to unsafe air, particularly in developing countries, but in rural areas the risk of indoor air pollution is often caused by burning solid fuels. One in three people worldwide faces the double whammy of unsafe air both indoors and out.
The report by the Health Effects Institute used new findings such as satellite data and better monitoring to estimate the numbers of people exposed to air polluted above the levels deemed safe by the World Health Organisation. This exposure has made air pollution the fourth highest cause of death globally, after high blood pressure, diet and smoking, and the greatest environmental health risk.
Experts estimate that exposure to air pollution contributed to more than 6m deaths worldwide last year, playing a role in increasing the risk of stroke, heart attack, lung cancer and chronic lung disease. China and India accounted for more than half of the death toll. …
---
COST PER CLICK

Is i worth it?
Some of the most useful things online are free. Facebook is free. Wikipedia is free. Google maps, Gmail, and Google search are all free. If you don't mind some advertisements, basically all the music in the world is free via Spotify and YouTube.
Yet all of these services are worth something. Many people would probably pay directly to use at least one of them. But how much?
In a recently released research paper (paywall), published by the National Bureau of Economic Research, a group of economists sought to figure this out. The economists, from MIT and the University of Groningen, set out to measure the value of these free digital products because GDP, the gauge traditionally used to assess the size of the economy, does a terrible job of assessing them.
In fact, since GDP is based on the value of purchased goods and services, a free product can actually decrease GDP. The researchers cite Wikipedia as an example. The advent of Wikipedia led fewer people to buy the Encyclopedia Britannica, a product with a known dollar value, and thus lowered GDP. (This was the direct effect—Wikipedia might have boosted GDP because it served as a value-enhancing resource to other businesses.) …
---
I remember when, at Harvard, my friends and I heard about a new website that promised to enhance our lives. Fourteen years later I see how wrong we were.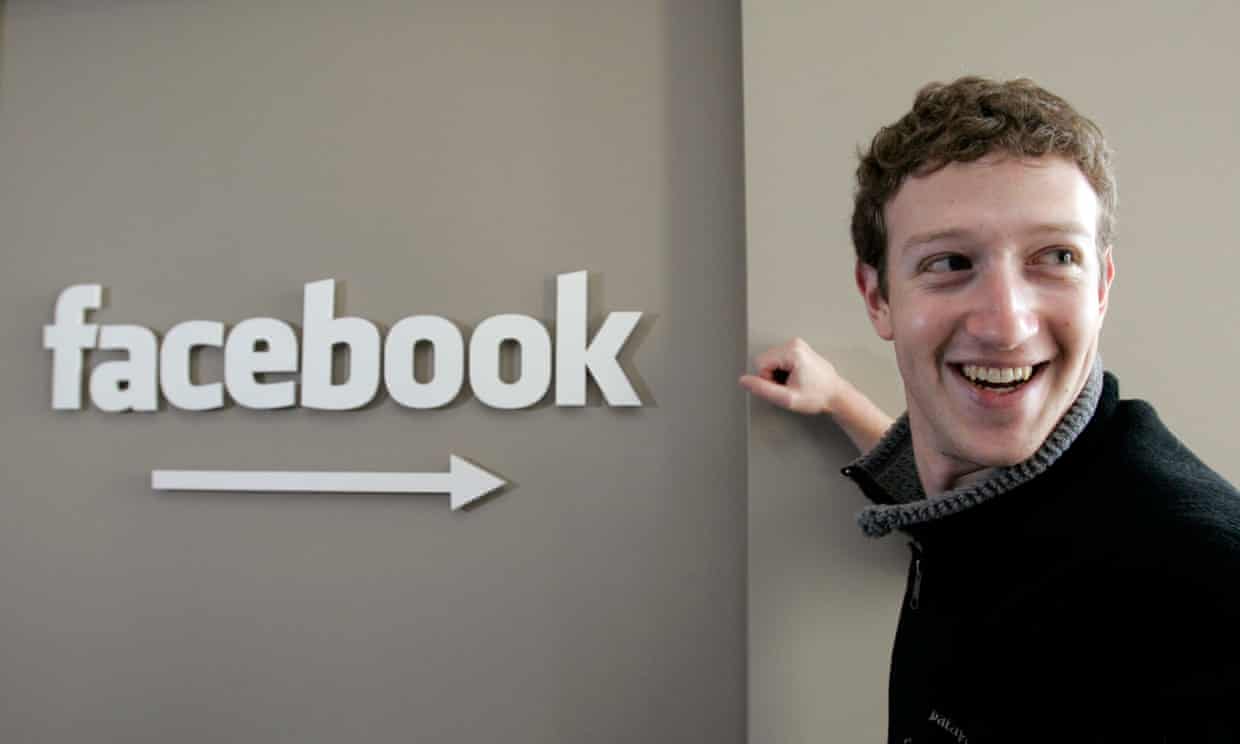 Mark Zuckerberg at Facebook's offices in Palo Alto in 2007, three years after he started the website at Harvard.
Fourteen years, two months, and eight days ago, I made a mistake. Like a lot of mistakes made at the age of 20 inside a college dorm room, it involved trusting a man I shouldn't have, and it still affects me to this day.
No, Mark Zuckerberg didn't give me herpes. But in the wake of the Cambridge Analytica revelations, I have been thinking back to my decision to sign up for thefacebook.com on the site's fifth day in existence, and I am struck by the parallels between Zuckerberg's creation and a pesky (if generally benign) virus. Facebook isn't going to kill me, but it has wormed its way into all of my relationships, caused me to infect other people, and I will never, ever be fully rid of it.
Last week, Zuckerberg was called to answer for himself. Over the course of two days of questioning before Congress, Zuckerberg sought to assure the public that we, not he, are in "complete control" of our relationships with Facebook. He repeated this guarantee dozens of times, returning again and again to the idea that users can control their Facebook data.
But the Zuckerberg of 2018 sounds suspiciously like the "Mark E Zuckerberg '06" who was interviewed by the Harvard Crimson on 9 February 2004 about his brand new website. It was this article that prompted my roommates and I to start entrusting a stranger behind a computer screen with the keys to our identities: names, birthdates, photographs, email addresses, and more. …
---
TRUE COLORS

What colors do you see?
The human eye can physically perceive millions of colors. But we don't all recognise these colors in the same way.
Some people can't see differences in colors—so called color blindness—due to a defect or absence of the cells in the retina that are sensitive to high levels of light: the cones. But the distribution and density of these cells also varies across people with "normal vision" causing us all to experience the same color in slightly different ways.
Besides our individual biological make up, color perception is less about seeing what is actually out there and more about how our brain interprets colors to create something meaningful. The perception of color mainly occurs inside our heads and so is subjective—and prone to personal experience.
Take for instance people with synaesthesia, who are able to experience the perception of color with letters and numbers. Synaesthesia is often described as a joining of the senses—where a person can see sounds or hear colors. But the colors they hear also differ from case to case.
Another example is the classic Alderson's checker-shadow illusion. Here, although two marked squares are exactly the same color, our brains don't perceive them this way. …
---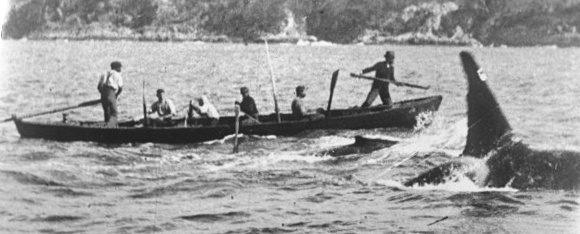 Sporting the third deepest natural harbor in the southern hemisphere and a rich habitat, the waters around Eden, Australia attract a variety of wildlife, including baleen whales and, at least in the fall and winter, orcas.
At some point in the history of the indigenous Yuin people, they and the killer whales seemingly entered into a tacit sort of unspoken agreement, which was called by later whalers the Law of the Tongue.
While most of the contemporary accounts of this peculiar "contract" have been lost, including very unfortunately a 1910 film by C.B. Jenkins and C.E. Wellings that visually recorded the behavior, enough remain, along with some photographic evidence, to give us a general idea of how humans and a particular pod of orcas worked together to bring down baleen whales.
While little is known of when exactly this "agreement," of sorts, came about, and how it may have differed for the Yuin people, after European hunters arrived in the mid-19th century, the provisions of the "contract" became clear – the killer whales would herd in and trap the baleen whales in Twofold Bay and then the hunters would harpoon the whales. In return for their help, the humans would share certain parts of the bounty with the orcas. …
---
Video Goodnesses
and not-so-goodnesses
No one, it seems, wants the poop train.
And not the city of New York, which paid an Alabama landfill company to take it. Not small towns in Pennsylvania, where several sites recently stopped accepting the city's treated human waste. And not the town of West Jefferson, Alabama, where the waste, a product called biosolids, was transferred to dump trucks at the local rail yard — until the city won an injunction to stop the landfill company, Big Sky Environmental, from using their town as a transfer point.
That federal court decision stranded roughly 250 containers full of treated New York sewage one town over, on rail cars in tiny Parrish, Alabama.
The overwhelming smell polluting the air here on warm days underscores how easy it is for something to go wrong in the nation's fragile sewage-disposal system. New York City once sold its biosolids to farmers as fertilizer. But the city decided that method was too expensive, and now ships treated sewage to cost-saving landfills.
Until recently, one of those site was the landfill run by Big Sky Environmental. Then, New York City cancelled its contract with the company after Parrish residents complained about the smell, and the company has begun to move cars out of the area.
So there's a solution in sight for residents of Parrish, but New York has an endless stream of waste that has to be dealt with, without breaking the bank.
THANKS to HBO and VICE News for making this program available on YouTube.
---
After criticizing the FBI raid on Trump's personal attorney, Sean Hannity is outed as Michael Cohen's secret client. Meanwhile, former FBI director James Comey throws grade-school shade at Donald Trump on 20/20 leading up to the release of his memoir, "A Higher Loyalty."
THANKS to Comedy Central and The Daily Show with Trevor Noah for making this program available on YouTube.
---
Late breaking news revealing Sean Hannity as Michael Cohen's secret client literally knocks Stephen off his feet.
---
Ahead of his highly anticipated Late Show appearance on Tuesday, James Comey apparently had a practice interview conducted by George Stephanopoulos.
THANKS to CBS and The Late Show with Stephen Colbert for making this program available on YouTube.
---
CAUTION: Some language may not be appropriate for work or children.
Me commentary on a bunch fellas trying to borrow their mates excavator and chuck it on the back of the boat.
---
Max wanted to see what the old curtains looked like and examine the new ones.
---
FINALLY . . .
WHAT, LIKE IT'S HARD?

A leap not everyone can take.
Once a quirky trend enabled by the sharing economy, digital nomads have grown into a bona fide international subculture. There are an ever growing list of startups that exist to cater to them; tailor-made visas cropping up in nomad-friendly countries; and no shortage of lifestyle advice online aimed at them.
But as this community of internet-enabled, supra-national travelers has grown, a mythology has strengthened around them: The idea that all it takes to eschew citizenship and the 9-to-5 brand of corporate capitalism is an internet connection and a slightly adventurous attitude.
The New York Times style section re-upped the assertion recently in an article about liberal families who've fled Trump's America in favor of "world-schooling" their kids as part of a location-independent, nomadic lifestyle: "All you need to do is have a laptop and be an intelligent person," a source in the article said. "You don't need a specific skill set."
Truth is, there are quite a few prerequisites when it comes to packing up and heading out indefinitely (I know, because I've done it). If you're doing it with children—as the Times article focused on—there are even more factors at play. Here are just a few. …
---
Ed. More tomorrow? Probably. Possibly. Maybe. Not?