Pictured above; Eric T. Schneiderman, New York's attorney general, wants the power to prosecute presidential aides if they are federally pardoned.

Attorney General Eric T. Schneiderman of New York is moving to change New York state law so that he and other local prosecutors would have the power to bring criminal charges against aides to President Trump who have been pardoned, according to a letter Mr. Schneiderman sent to the governor and state lawmakers on Wednesday.
The move, if approved by Gov. Andrew M. Cuomo and the Legislature, would serve notice that the legal troubles of the president and his aides may continue without the efforts of Robert S. Mueller III, the special counsel investigating possible Russian interference in the 2016 presidential election.
Under the plan, Mr. Schneiderman, a Democrat, seeks to exempt New York's double jeopardy law from cases involving presidential pardons, according to the letter, a copy of which was obtained by The New York Times. The current law and the concept of double jeopardy in general mean that a person cannot be tried for the same crime twice.
Right now, New York state law prevents people from being prosecuted more than once for crimes related to the same act, even if the original prosecution was in federal court. There are already a number of exceptions to the law, and the letter says that Mr. Schneiderman is proposing to add a new one that could be used if federal pardons are issued. …
---
BETTER LATE THAN NEVER

First a ceasefire, then a peace deal, OK?
In 1953, an uneasy truce was reached in the Korean War—and things were left there. No peace treaty has ever been signed, and technically, at least, the war is ongoing.
But today, South Korea announced that it's discussing a peace deal with North Korea ahead of the summit next week between president Moon Jae-in and North Korean leader Kim Jong-un. As part of the meeting, the sides could release a joint statement agreeing to end hostile acts between the two nations, an official in Seoul told reporters.
The agreement, if it indeed materializes, will be about 65 years overdue.
The Korean War started in 1950 when the north, backed by the Soviet Union, invaded the south. The US, wanting to stop the spread of communism, led United Nations forces to fight for the south, while Chinese troops helped the north.
In 1953, the truce was made official by an armistice agreement signed by North Korea, China, and the UN Command. South Korea did not sign it.
The armistice was meant to be a temporary document at best. …
---
WHO'S BEING RUDE HERE?

Tesla CEO Elon Musk says stop it with the useless meetings.
Were Elon Musk to write a guide to business etiquette, it would likely be a slim volume, though a lively read, if his recent email to employees is any guide.
Musk, co-founder and CEO of Tesla, is reportedly pushing to double production, beginning in June, of the company's Model 3 compact car, an ambitious goal seen as a response to the money-losing company's current struggle to hit production targets, and to the threat of a cash crunch.
But Musk has a vision of how it can be done, one he outlined to staff in a lengthy memo sent to staff and obtained by the news site Electrek.
Much of the note was devoted to Musk's plans to cut costs and improve efficiency—"I have been disappointed to discover how many contractor companies are interwoven throughout Tesla. Often, it is like a Russian nesting doll of contractor, subcontractor, sub-subcontractor, etc. before you finally find someone doing actual work," he wrote.
In addition to putting suppliers on notice, Musk offered up some productivity tips to help Tesla workers stay focused on their manufacturing goal, but really they could apply to managers and conscientious employees everywhere. …
---
Hey, remember how you never invested in Bitcoin in 2009 because you'd never heard of Bitcoin and didn't really care about magic internet money? Same. And remember how in 2017, everyone and their uncles started talking about how Bitcoin was now worth a shitillion dollars and you totally should've gotten on the train in 2009? Same. So now "cryptocurrency" is everywhere, and barely anyone understands it. ("So it's basically new types of digital money that any jackass can invent, and then other people start treating it as valuable? And tons of assholes are getting rich just by trading it? Really?") Here's what we do know: Almost everything about it is utterly ridiculous.
5. Bizarre Celebrity Endorsements
---
The problem: There are hundreds of these cryptocurrencies now, so how does a new one gain credibility in a skeptical marketplace? The solution: celebrity endorsements, baby. Just ask the people behind Bitcoiin, and note the extra "i," which stands for "I can't believe Steven Seagal is the spokesman for this goddamned thing."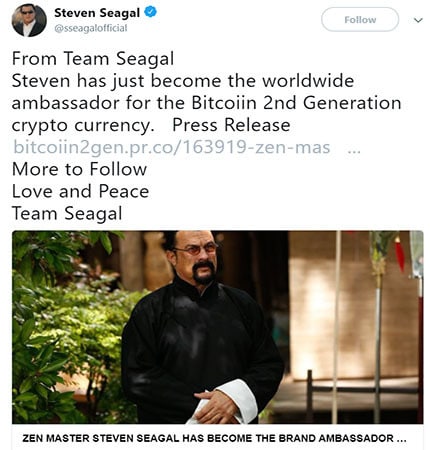 Meanwhile, Ghostface Killah, the Wu Tang Clan's financial advisor, is giving the world CREAM, except this time, the acronym stands for "Crypto Rules Everything Around Me." But that's kind of what you get when a man whose first name is "Ghostface" is working PR for you. Paris Hilton tweeted support for LydianCoin, and then had to backpedal when the CEO was convicted of domestic battery and assault. Also, their launch video looks like it was made by The Onion on an especially cynical day.
And because no one can outdo Floyd Mayweather when it comes to obnoxious bluster about money, he endorsed Centra, a company that made up its CEO. The image on the website was a Canadian professor who had no idea what the company was. A good tip regarding any financial opportunity: If your company made up its CEO, you might want to not go in for more than a double-digit investment. …
---
Heavy winds sent thousands of tumbleweeds into Victorville, blanketing yards and piling up outside homes.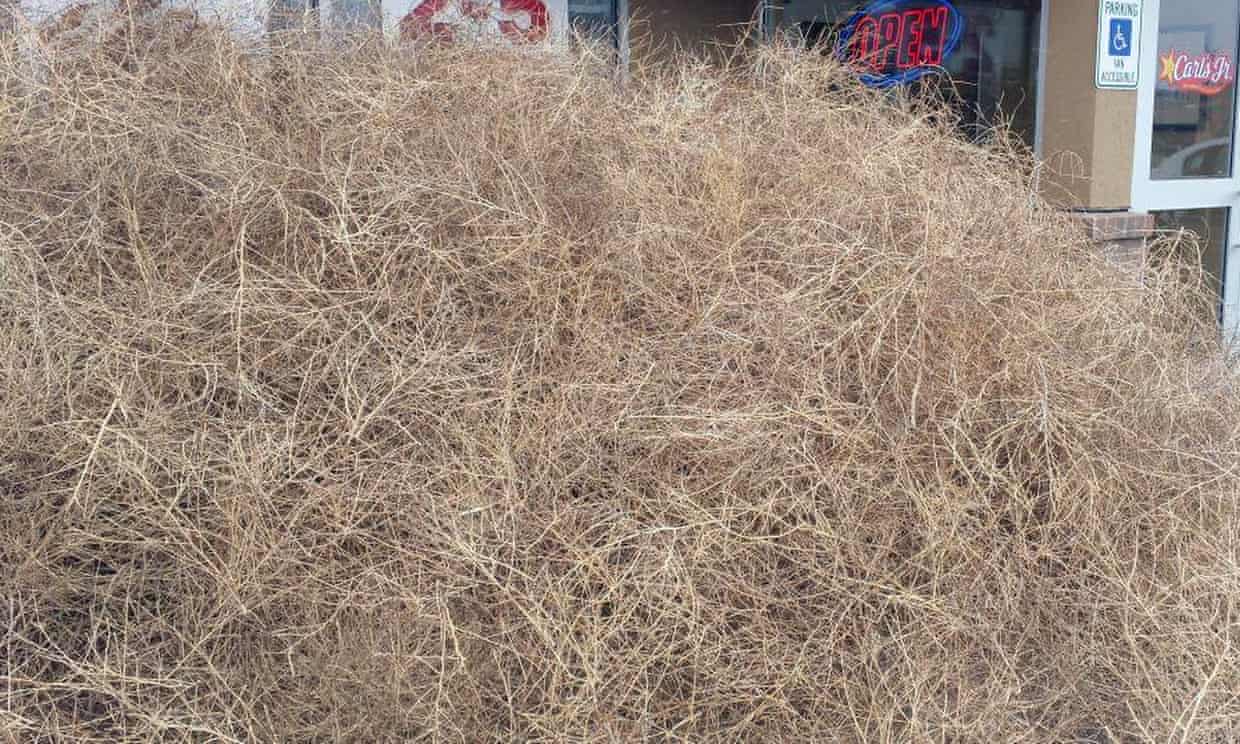 One person was trapped for two hours until work crews could remove the tumbleweed.
They struck Victorville with little warning, rolling and tumbling up streets, barrelling past cars, virtually burying homes and prompting calls to 911 about a mass invasion.
No, not Attack of the Killer Tomatoes, but the tumbleweeds that took over the California desert town this week did evoke the 1978 film and cult horror pastiche.
Heavy winds sent thousands of tumbleweeds into Victorville on Monday in what some residents called an invasion, with the prickly intruders blanketing yards and piling up outside homes.
In the Southern California's high desert, people are calling 911 for help because of an invasion of tumbleweeds. Read the story: https://t.co/LafXGcRPoz pic.twitter.com/X1KSj0VYdn

— AP West Region (@APWestRegion) April 18, 2018
"It was just too much… they were just coming and coming," Ralph Zavale told ABC7.
"It's an invasion, definitely," said Tanya Speight. "Normally you get a few flying down the street or whatnot but never this many. It's never been this bad."
Nav Mangat told the network one of her neighbors was trapped for two hours until work crews could remove the pileup from his front doorway and garage. "There was like a hundred of these bushes. They were just flowing like it was a tornado yesterday," Mangat said.
A city spokeswoman estimated 100 to 150 homes were affected. …
WHY IS THIS A BARELY UNINTERESTING AT ALL THING? The same storm is forecast to affect our weather beginning this evening.
---
America is on the path to legalization, but as pot becomes a big business, lawmakers aren't yet wrestling with how to regulate it effectively.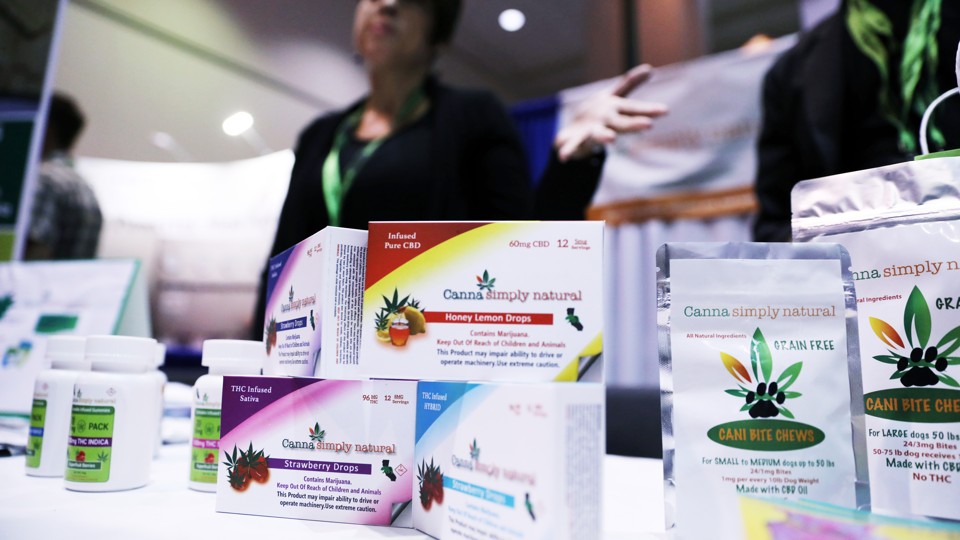 A woman displays marijuana products at the Cannabis World Congress and Business Exposition in Los Angeles.
The marijuana wars are entering a new phase. The first phase, over whether or not to legalize the recreational use of cannabis, is over. The partisans of legalization have won the battle for public opinion. Soon, I suspect, marijuana legalization will be entrenched in federal law. At this point, to fight against legalization is to fight against the inevitable. The only question now is what form America's legal marijuana markets will take. Will they be dominated by for-profit business enterprises with a vested interest in promoting binge consumption? Or will they be designed to minimize the very real harms caused by cannabis dependence, even if that means minting fewer marijuana millionaires? I fear that the burgeoning cannabis industry will win out—but their victory is not yet assured.
Why am I so convinced that legalization is a fait accompli? In short, the industry's opponents have proven spectacularly incompetent. In January, the Justice Department issued new guidance on its marijuana enforcement efforts, reversing an Obama-era policy that, in essence, gave state governments wide berth to regulate marijuana policy as they saw fit. Attorney General Jeff Sessions has long opposed marijuana legalization, so this move was not entirely surprising. What Sessions failed to reckon with, however, is that the legalization of medical marijuana in several U.S. states, and the subsequent legalization of marijuana's recreational use in a handful of others, had already created facts on the ground. He wasn't just targeting a handful of scofflaws. Rather, he had in his sights a large and growing universe of growers and distributors, who had the sympathetic ear of state and local officials. Nor had the attorney general evinced the slightest concern about the role the criminalization of marijuana had played in alienating millions of Americans from the criminal-justice system, a grave threat to its legitimacy. Had Sessions pursued a more measured approach, with a narrower focus on limiting the role of the profit motive, as the drug-policy researcher Jonathan Caulkins recommended in National Review, he would have been on firmer ground, both substantively and politically. Instead, he stumbled into a battle he had no hope of winning, not least because his boss, President Donald Trump, had already made it clear that he had no objection to the legalization of marijuana at the state level.
Sensing that Sessions didn't have a leg to stand on, Cory Gardner, the junior senator from Colorado, responded by declaring that he would block all Justice Department nominees until the Trump administration changed course. And in a phone call last week, Trump assured the senator that he intended to do just that. As if to pour salt on Sessions's wound, according to Gardner, the president also pledged to support federal legislation that would formalize the right of state governments to establish their own marijuana markets, presumably with only minimal federal oversight. Trump is famously unreliable, and I don't doubt that passing such a law would take some doing. Nevertheless, it is hard to deny that Sessions's gambit backfired. Gardner shrewdly played the president against one of his least-favorite lieutenants, and so it seems he will get his way. …
---
Kevin Moran, who works with teens on opioid-hit Staten Island, shows scrolls of death certificates to try to jolt people from using drugs.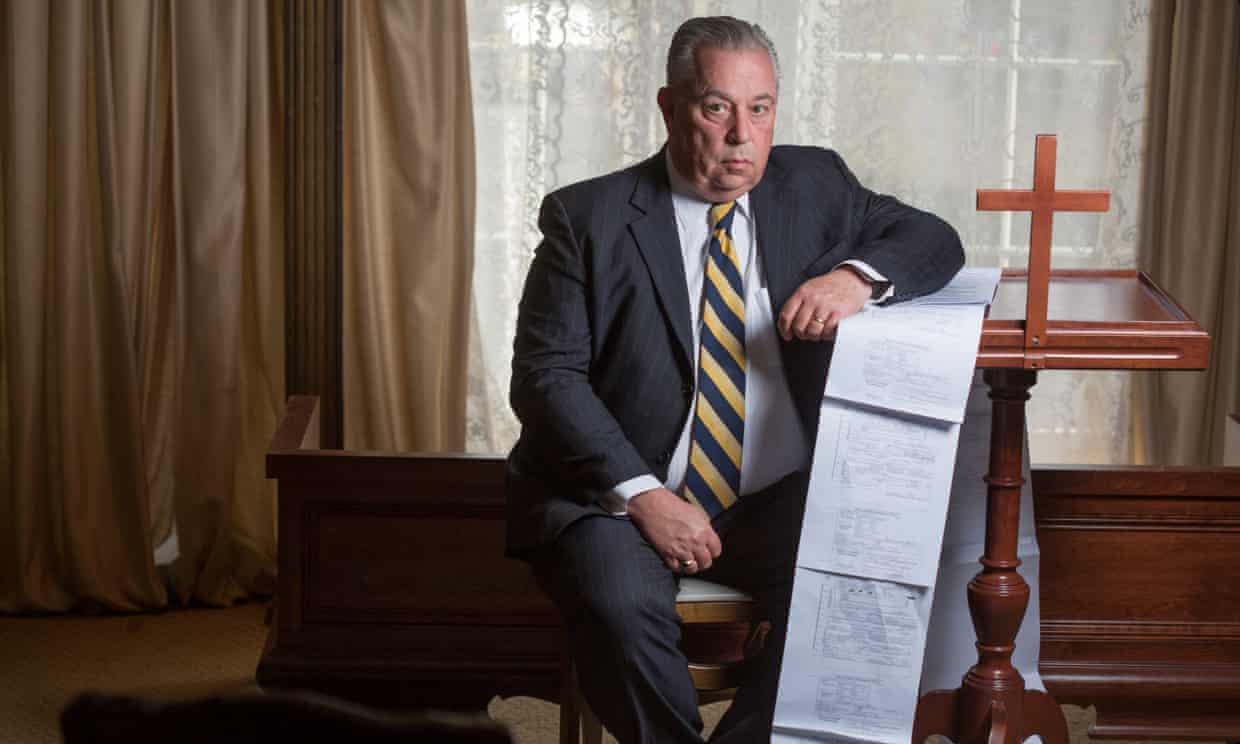 Kevin Moran with copies of death certificates for people who have died from drug overdoses. 'I am the one person you never want to meet.'
"I am the one person you never want to meet," Kevin Moran says quietly into the microphone. He's talking to the adults in the room, about half of the 200 people gathered in the gymnasium of St Peter's boys high school on New York's Staten Island.
After a pause, Moran turns to the other half – teenagers who have been asked to sit apart from their parents – and adds: "You will never meet me when the time comes because you will be dead."
Moran is a funeral director with 30 years' experience and he was speaking at a 'Scared Straight' seminar designed to give teenagers a glimpse into the realities of drug addiction. Modeled after the inmate-juvenile interventions that took off in the late 1970s, the event features local speakers with harrowing personal stories: a heroin addict who lost a leg after weeks in an overdose-related coma; a husband whose young daughter spent the night with her dead mother's body after the mother had overdosed.
When it's Moran's turn to speak, he focuses on details from his work. He asks the teenagers to imagine the horror of watching anguished family members punch the bodies of their dead loved ones during viewings at the funeral home. …
---
Video Goodnesses
and not-so-goodnesses
President Trump has made the mail big news. After a Twitter rant about the Washington Post, Trump launched a presidential commission to look at the finances of the US Postal Service — and the deals it cuts with companies like Amazon, the brand non-newspaper brand owned by Jeff Bezos.
Bernie Sanders has been waiting for this moment. For years he's said Congress needs to take a fresh look at the USPS. His plan: create new revenue for the struggling post office by turning it into a bank.
VICE News sat with Sanders for a long chat about the mail.
THANKS to HBO and VICE News for making this program available on YouTube.
---
CIA Chief Mike Pompeo secretly met with North Korean leader Kim Jong-un, and President Trump couldn't resist letting the world know about it.
---
Philadelphia police arrest two African-American men who were simply waiting to meet a friend at a Starbucks, inspiring Dulce Sloan to perform a valuable public service.
THANKS to Comedy Central and The Daily Show with Trevor Noah for making this program available on YouTube.
---
The not-Secretary of State Mike Pompeo made a secret North Korea trip to meet Kim Jong-un.
---
he White House has made a habit out of contradicting statements from women. But it's usually not ones appointed by Trump to be Ambassador to the United Nations.
THANKS to CBS and The Late Show with Stephen Colbert for making this program available on YouTube.
---
Try as they might, James Comey and Paul Ryan couldn't stop us from covering the number one news story of the week: #Beychella.
THANKS to TBS and Full Frontal with Samantha Bee for making this program available on YouTube.

CAUTION: Some language may not be appropriate for work or children.
Me commentary on a new security team at Bangkok Airport. Should be good.
---
Max is always busy. Looking for trouble to get into.
---
FINALLY . . .
Indonesia's new anti-narcotics chief Heru Winarko called for an expansion of rehabilitation centers across the country on Wednesday, flagging a new approach in contrast to the blood-soaked war on drugs underway in its neighbor, the Philippines.

Chief of the National Narcotics Agency (BNN) Heru Winarko (C) holds drugs before they are destroyed at an event at the agency's headquarters in Jakarta, Indonesia March 26, 2018 in this photo taken by Antara Foto.

More users, addicts and even minor dealers would be diverted into centers run by medical professionals and counselors rather than heading straight into an over-crowded prison system, Winarko told Reuters in an interview.
"With the rehabilitation approach, we cut the demand," he said. "If there is no demand, the supply will not come or reduce."
Winarko took over as head of Indonesia's anti-narcotics agency in March, replacing Budi Waseso, a former top police officer who advocated surrounding prisons with moats filled with crocodiles and piranhas to stop drug convicts escaping.
Rather than wildlife, Winarko said he planned to set up rehabilitation facilities near prisons.
"It is better if there is a rehabilitation center located close to a prison," he said, noting that a former mental hospital near a correctional facility in Bali was being converted into a center for offenders to tackle addiction.
"When we do it like this, it will be amazing. The prison becomes a place for guiding people." …
---
Ed. More tomorrow? Probably. Possibly. Maybe. Not?