Today launched "The Real Mike Pence," a comprehensive campaign — including a scathing report and microsite — exposing the vice president's long history of anti-LGBTQ animus and shining a spotlight on the inordinate influence he and his inner circle wield in the administration. As part of the campaign, HRC will also be launching a series of videos exposing Mike Pence's record; today The Real Mike Pence campaign launches with a look at his career of attacks on LGBTQ people: WATCH.
With Donald Trump mired in lurid scandals and investigations that threaten his presidency, Mike Pence has flown under the radar, amassing enormous power in an administration hobbled by clueless advisors, inexperienced staffers and a revolving cast of lawyers. Pence is exploiting that alarming leadership void by quietly spearheading a charge to radically undermine the rights of LGBTQ people and women, attack voting rights, undercut sound science, and enable the greatest assault on American institutions in modern history.
"Mike Pence has made a career out of attacking the rights and equal dignity of LGBTQ people, women and other marginalized communities. Now as vice president, he poses one of the greatest threats to equality in the history of our movement," said HRC President Chad Griffin. "With the world distracted by Donald Trump's scandal-ridden White House, Mike Pence's nefarious agenda has been allowed to fly under the radar for too long. He has become not only the most powerful vice president in American history, but also the least scrutinized. No more. With this comprehensive new report, HRC is exposing the extent of Pence's extremism, the threat he poses to equality, and all that we're doing to combat his hateful agenda."
With his ready access to the levers of national power, no vice president in history has wielded more influence — and with less scrutiny — than Mike Pence. His deliberate benign anonymity, coupled with the nation's growing alarm at the shocking skulduggery of Trump and his cronies, has largely given Pence an undeserved free ride in the court of public opinion. …
---
---
It takes a really big village
Pictured above: Ingrid Encalada Latorre has been living in sanctuary at the Unitarian Universalist Church of Boulder with her two sons, Anibal and Bryant. Her partner, Eliseo Juardo Fernandez, visits most nights after work.

"If you've come here to help me, you're wasting your time. But if you come because your liberation is bound up with mine, then let's work together." — Lila Watson, aboriginal activist
It was 9 a.m. on a Saturday morning, and the church parking lot was already filling up. It was January, but still warm enough that a young couple rode up on their bikes, towing a toddler in a trailer. A volunteer with a name tag opened the locked door for each person as they arrived. Dozens of people were gathering for another round of volunteer training at the Unitarian Universalist Church of Boulder (UUCB), where Ingrid Encalada Latorre has been in sanctuary since Dec. 16, 2017.
On that day, in the middle of flu season, Ingrid wasn't feeling well. She introduced herself, via an interpreter, giving a brief summary of her journey since leaving Peru in 2000, including a felony charge for using falsified documents in 2010 and the failed attempts to appeal her conviction in both 2016 and 2017. To make matters worse, her partner, Eliseo Juardo Fernandez, was being held in detention at the Immigration and Customs Enforcement (ICE) contract facility in Aurora, and she was in the middle of planning vigils and press events in an effort to get him released on bond.
She seemed exhausted.
As members of UUCB's Sanctuary Now ministry started their training, Ingrid sat onstage looking out at the full pews. Her youngest son, Anibal, 2, sat on her lap, while her oldest, Bryant, 9, leaned on her shoulder. She didn't last long before excusing herself to her room to get some rest before the community potluck that followed the training. She thanked everyone for their support before leaving.
"Our perfection is challenged in this situation," Mary Dineen from UUCB told the crowd. "We can have a tendency to try and fix this. A) we can't and B) we shouldn't. This is Ingrid's journey." …
---
Colorado students held a rally with Parkland survivors on anniversary of 1999 shooting, while nationwide protests are planned at schools.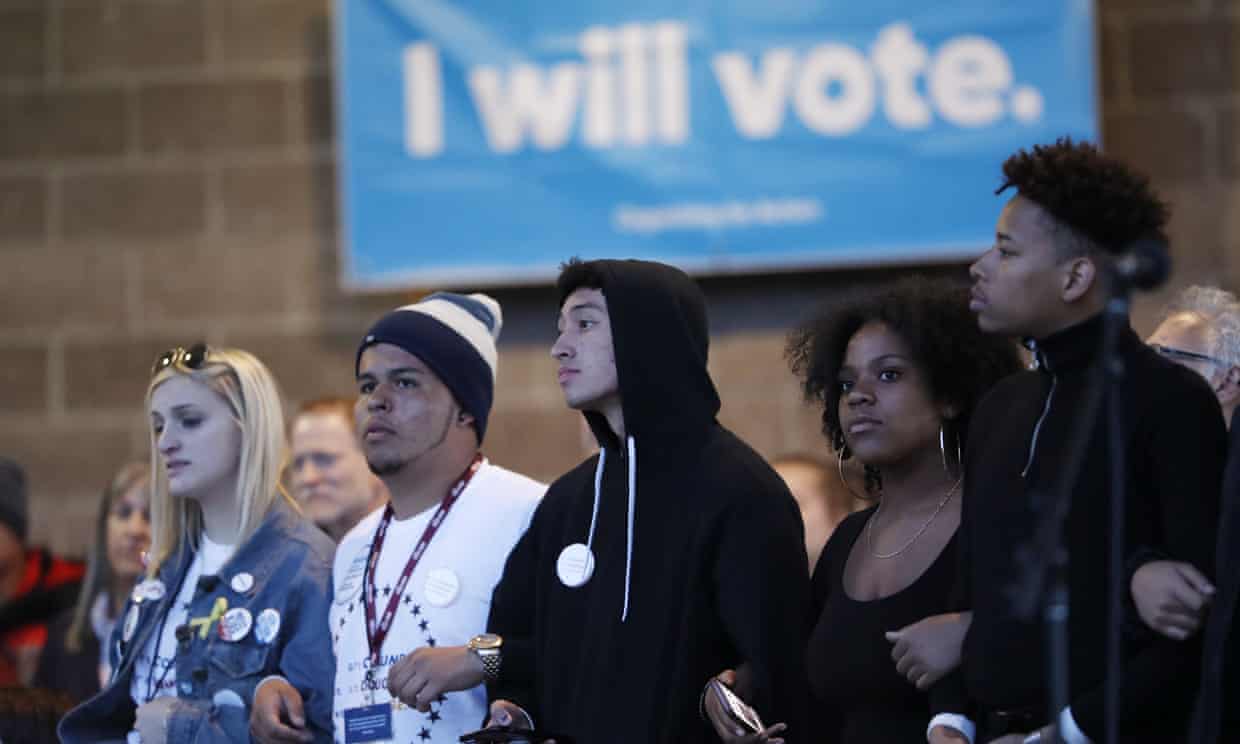 Emmy Adams, Jorge Flores, Carlitos Rodriguez, Nia Arrington, Christian Carter at Clement Park in Littleton, Colorado Thursday.
When Columbine high school teacher Paula Reed does lockdown drills to prepare for an active shooter, she does them in the same classroom where she was during the 1999 Columbine shooting, which left 12 students and one teacher dead.
"There are some people who say I would feel a whole lot safer, and so would my students, if I were armed," the teacher told a crowd of more than 500 people at a joint rally in Colorado Thursday night for survivors of the Parkland, Florida and Columbine school shootings.
Reed lost one of her students, 17-year-old Rachel Joy Scott, in 1999. But she had also taught one of the perpetrators of the shooting, Dylan Klebold, when he was "a sweet, shy sophomore".
"When we talk about arming teachers, you're not just asking me to protect the Rachels of this world, you're asking me to kill the Dylans," she said.
"Do you understand what you're asking of me? You're asking me to kill one of my students," she said, her voice trembling. "It's too much to ask." …
---
THIRD PLACE

Coffee houses were once the foundation of the public sphere.
In Austin Powers: The Spy Who Shagged Me, Dr. Evil's team briefly abandons its traditional hostage-taking tactics and conspires to instead take over the world by investing in Starbucks.
Nineteen years later, it's not quite so funny. Starbucks bills itself as "a third place between work and home." It's a private company that markets itself as a public space, marketing its coffee shops as venues where people can meet, relax, and work for hours on end. Starbucks has integrated itself into our lives, increasingly influencing how we gather in public. As two recent instances of racial discrimination show, though, it doesn't offer its spaces to all equally.
The rise of coffee houses
The influence of coffee shops on society is not a modern phenomenon; the rise of coffee houses in 18th-century Britain has been credited with facilitating democratic discourse and the rise of a bourgeois class. But the coffee-shop landscape in earlier centuries was considerably different. By the first decade of the 1700s, there were 3,000 coffee houses in London alone, German philosopher Jürgen Habermas wrote in his 1962 book The Structural Transformation of the Public Sphere, but there was no single, giant, uniform coffee chain.
Men from the middle and upper classes went to these independent coffee houses to discuss literature and debate politics. Newspapers were passed around—two publications, Tatler and The Spectator, began as coffee-house periodicals—and coffee houses became the bedrock of the public sphere. …
---
Several ships carrying cargoes of sorghum from the United States to China have changed course since Beijing slapped hefty anti-dumping deposits on U.S. imports of the grain, trade sources and a Reuters analysis of export and shipping data showed.

A field of sorghum (milo) grain is seen at a farm outside of Texhoma, Oklahoma, U.S., in this undated photo released to Reuters on April 3, 2018.
Sorghum is a niche animal feed and a tiny slice of the billions of dollars in exports at stake in the trade dispute between the world's two largest economies, which threatens to disrupt the flow of everything from steel to electronics.
The supply-chain pain felt by sorghum suppliers on the Pacific, Atlantic and Indian oceans underscores how quickly the mounting trade tensions between the U.S. and China can impact the global agricultural sector, which has been reeling from low commodity prices amid a global grains glut.
Twenty ships carrying over 1.2 million tonnes of U.S. sorghum are on the water, according to export inspections data from the USDA's Federal Grain Inspection Service. Of the armada, valued at more than $216 million, at least five changed course within hours of China's announcing tariffs on U.S. sorghum imports on Tuesday, Reuters shipping data showed.
The five shipments, all headed for China when they were loaded at Texas Gulf Coast export terminals owned by grain merchants Cargill Inc [CARG.UL] or Archer Daniels Midland Co (ADM.N) would be liable for a hefty deposit to be paid on their value, which could make the loads unprofitable to deliver.
Beijing, which is probing U.S. imports for damage to its domestic industry, announced Tuesday that grains handlers would have to put up a deposit of 178.6 percent of the value of the shipments. …
---

Lyndon B. Johnson takes the presidential oath of office, with Jackie Kennedy to his left, after the assassination of President John F. Kennedy on Nov. 22, 1963.
Television shows are writing the 25th Amendment into their ripped-from-the-headlines storylines. Pundits debate the possibilities of the removal and succession of the president if he is incapacitated. Even former FBI Director James Comey has weighed in on whether Donald Trump is "medically unfit to be president." (He doesn't think so.) In the unlikely — but politically fascinating — event that a Cabinet were to use the power to oust a sitting president, what would come next?
Let's take a deeper look at the 25th Amendment and think about what each section of it has meant in the past — and what it might mean for Trump-era politics.
Section 1. In case of the removal of the President from office or of his death or resignation, the Vice President shall become President.
The amendment's initial section revisits what Article II of the Constitution set up from the beginning — the vice president takes over if the president dies or is unable to serve — but with clearer language to clean up previous constitutional confusion. When William Henry Harrison died shortly after his inauguration in 1841, there were questions about whether John Tyler, nicknamed "His Accidency," was truly the president or just an "acting" president of some kind. Tyler made clear his intent to fully occupy the office and do everything an elected president would have done — and he forged his own path separate from Harrison. Since then, seven presidents have taken office after a presidential death (all before the 25th Amendment was ratified) and one after a resignation. In this way, the amendment codified the status quo.
What this means now: …
---
HOME TRUTHS

It matters where the homes are.
Whichever way you look at it, the wealth inequality gap between black and white Americans is staggering. It's far worse than income inequality, and one of the reasons why racial inequality hasn't improved in the US over the past 50 years, and in some ways has gotten even worse. In the US, the average black family has just one-tenth of the wealth of the average white household.
Black Americans living near the poverty line have, on average, zero net wealth—that is, their debts and other liabilities are about equal to their assets. White Americans near poverty, by contrast, have on average $18,000 of wealth, a much more considerable safety net. At the other end of the spectrum, blacks make up less than 2% of America's wealthiest 1%. The average black family in the top 1% is worth about $1.6 million, but white families in the top 1% are worth on average $12 million. In the US, fewer than 2% of black households are millionaires or better, compared with 15% of white households.
These figures come from a new study published this week (pdf) by William Darity Jr. of Duke University, Darrick Hamilton of The New School, and others, which uses vast amounts of wealth data to dismantle some long-held beliefs about the best ways to address inequality. Conventional ideas include promoting greater educational attainment, hard work, better financial decisions, and "other changes in habits and practices on the part of blacks."
"There are no actions that black Americans can take unilaterally that will have much of an effect on reducing the racial wealth gap," the researchers conclude. Instead, concerted financial intervention by the government is needed. …
---
To address a housing shortage, Spain's second city says bank-owned properties can no longer sit empty.

A street in Barcelona's Old Town District, where one of the apartments due for city takeover is located.
Don't let an apartment you own sit empty, or the city may turn it into affordable housing for someone else. That's the message this month from Barcelona, as it revives a controversial policy to force banks to do something with properties they've repossessed.
Indeed, Barcelona has announced that it will appropriate five empty bank-owned properties that have been unoccupied for more than two years. That's potentially just the start of it—there are more than 2,000 unoccupied homes across the city, much of it still fallout from the 2007 financial crisis.
The homes will, pending appeal, be overseen by the city for between four and 10 years as medium-term residences for people on the public housing list. While the current list contains just five addresses, the city estimates that up to 600 empty apartments in areas of high demand could ultimately be pressed into public service using the law, helping to ease Barcelona's affordable housing shortage.
As test cases, these actions could pressure financial institutions to release their properties into the rental sector—something they can be reluctant to do because, unwilling to set themselves up as landlords, they hold out hopes of selling them properties outright. As you might expect, a policy that forces the banks' hands has already proved controversial, not just within the city, but nationally. …
---
N-001 was designed by a startup to counter pain but avoid the detrimental side effects of opioid use, addiction among them.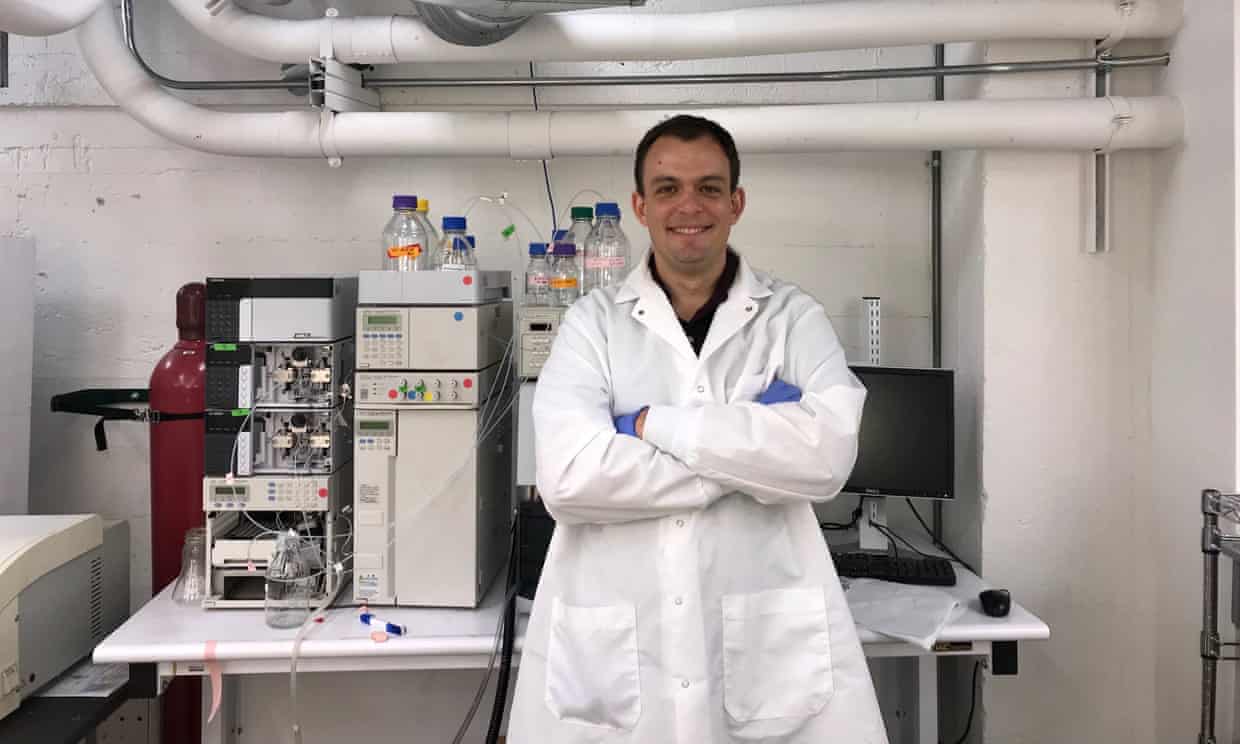 Benjamin Pavlik, the co-founder of biotech company Neurocarrus.
To enter the downtown San Francisco lab space that houses their Nebraska-born biotech startup company, Neurocarrus, Paul Blum and Benjamin Pavlik often pass a collection of people who Blum described as "falling apart from overdose". The lab is located below a methadone clinic.
"We see the effects of drug addiction and mental illness every single day," said Arvind Gupta, the founder of IndieBio, an incubator which has invested $250,000 in seed funding and lab space for Neurocarrus because he believes the co-founders might offer a partial solution to a national crisis.
Over the past seven years, Blum and Pavlik have been developing a drug designed to treat the kind of severe and chronic pain frequently treated with opioids. But their drug is missing something – the high.
"I think what our drug could do is make some significant contributions to [combating] the opioid epidemic, and I think that our drug may do a better job to relieve pain than opioids," said Blum, a University of Nebraska-Lincoln biology professor.
The drug, named N-001 for now, is designed to avoid detrimental side effects of opioid use, addiction among them.
Opioids dull pain in part by binding to opioid receptors found in regions of the brain that not only govern perception of pain, but also pleasure. They also act on receptors found in the brainstem, causing further reduction of pain, but also respiratory depression. For those who become addicted to opioids, and take larger and larger doses to chase the high, that restricted breathing is a key contributor to overdoses. …
Two new studies have found a correlation using data from programs used by millions of older, poor and disabled Americans.
---
It seems like the plot of a very bad, racist old Rob Schneider comedy you'd stumble across on Netflix: A white guy has to go to China and pretend to be an important businessman, getting into a series of wacky adventures as he keeps nearly getting caught. But this dumb screwball comedy plot is an entire industry. Chinese companies will hire random white people to attend meetings, banquets, etc. to create the (false) impression that they have connections in the U.S. We talked to a guy, Donald, who had this stupid, stupid job.
5. In China, Having A White Person — Any White Person — In Your Meeting Grants Immediate Credibility
If you are a somewhat competent-looking white person (note that you only need to look competent), you too can stumble into a job like this. Chinese businesses recruit from everywhere. Your job will be to simply attend meetings with local officials and act like you know what is going on. It doesn't matter if you don't speak the language or have any clue what business is being conducted. The goal is only to make the other attendees think you're a Western investor of some kind … preferably one who is good at deflecting direct questions.
So there aren't a lot of qualifications to function as human window dressing. Says Donald: "One guy I worked with was in China for a wedding … and was offered $500 to take the next morning and afternoon off and accompany a group of Chinese businessmen in Beijing to a meeting. That's how easy it was when this first started, when foreign investment in China boomed." It helps if you wear glasses and don't have a beard.
In Donald's case, he happened to be living in Japan in the early 2010s, and responded to an ad looking for reps to work in China, then realized exactly what they meant by that. "I was at a press conference with city officials once for a ball bearings company, and our contact had given me a short speech about trade. When I sat back down, our contact said to me, 'Good job,' but then he turned to the Chinese official next to him and said, 'We found a good foreigner' … I asked him in the van on the way back, 'Why did you need me here today?' He said, 'Because with you, it makes them look like they're rich. That they have connections. That money can come in with Americans.'" …
---
The spread of humans around the world from Africa thousands of years ago wiped out big mammals in a shrinking trend that could make the cow the biggest mammal on Earth in a few centuries' time, a scientific study said on Thursday.

FILE PHOTO – Cow's walk in for milking on Dairy farmer Mike Gorton's Lower Harebarrow farm in Macclesfield, north west England on August 11, 2015.
Ed. For those who have never seen a cow before.
The spread of hominims – early humans and relatives such as Neanderthals – from Africa coincided with the extinction of mammals such as the mammoths, sabre-toothed tiger and glyptodon, an armadillo-like creature the size of a car.
"There is a very clear pattern of size-biased extinction that follows the migration of hominims out of Africa," lead author Felisa Smith of the University of New Mexico told Reuters of the study published in the journal Science.

FILE PHOTO: A wild elephant grazes on the side of the road near Meru National Park, Kenya, April 5, 2018.
Ed. For those who have never seen an elephant before.
Humans apparently targeted big species for meat, while smaller creatures such as rodents escaped, according the report examining trends over 125,000 years.
In North America, for instance, the mean body mass of land-based mammals has shrunk to 7.6 kg (17 lbs) from 98.0 after humans arrived.
If the trend continues "the largest mammal on Earth in a few hundred years may well be a domestic cow at about 900 kg" (2,000 lbs), the U.S. team wrote.
That would mean the loss of creatures including elephants, giraffes and hippos. In March, the world's last male northern white rhino died in Kenya. …
---
A British group rehomes 50,000 chickens a year and gives them a new life with families across the country.

How half a million hens were saved from slaughter.
With her missing feathers, bald patches and hunched demeanour, Sweet Pea was not what anyone would describe as a healthy chicken.
Fast-forward four months and she is sporting a full set of golden red feathers and happily laying eggs for her new family in Devon.
The remarkable transformation has been made possible by a rehoming project that saves factory-kept chickens from being slaughtered and gives them a new life with families across the country.
The British Hen Welfare Trust has rehomed 629,289 chickens so far – roughly 50,000 hens a year. It's part of a movement driven by increasing concern about animal welfare and also "people wanting a slice of the good life", says Francesca Taffs, a spokeswoman for the charity.
Many of the chickens come from farms where they share cages with up to 90 other birds. They never see daylight or green grass, and at 18 months, when their egg-laying drops off, they are deemed useless to suppliers and sent to slaughter.
The charity works with farms and factories to rescue chickens in batches of around 200 and match them with new families. …
---
Andrey Meshkov, the cofounder of ad-blocker AdGuard, took a look at the script in some popular ad-blocking knockoffs and found some shady business.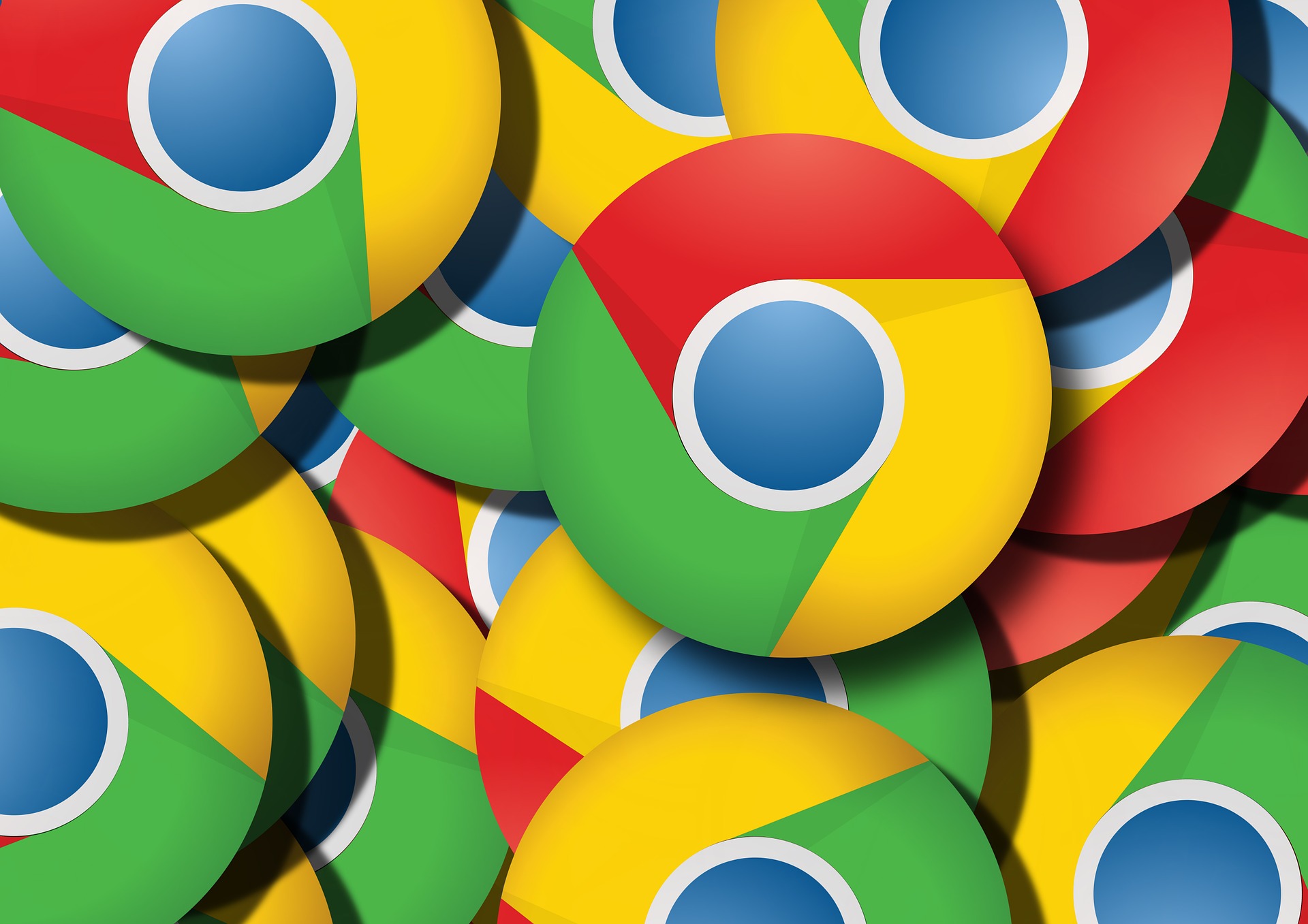 As if trying to navigate your online privacy wasn't complicated enough, it turns out the adblocker you installed on your browser may actually be malware.
Andrey Meshkov, the cofounder of ad-blocker AdGuard, recently got curious about the number of knock-off ad blocking extensions available for Google's popular browser Chrome. These extensions were deliberately styled to look like legitimate, well-known ad blockers, but Meshkov wondered why they existed at all, so he downloaded one and took a look at the code.
"Basically I downloaded it and checked what requests the extension was making," Meshkov told me over the phone. "Some strange requests caught my attention."
Meshkov discovered that the AdRemover extension for Chrome—which had over 10 million users—had code hidden inside an image that was loaded from the remote command server, giving the extension creator the ability to change its functions without updating. This alone is against Google's policy, and after Meshkov wrote about a few examples on AdGuard's blog, many of which had millions of downloads, Chrome removed the extensions from the store. I reached out to Google, and a spokesperson confirmed that these extensions had been removed. …
---
The funeral industry is catering for the growing number of people who want to deal with their mortal remains in an environmentally sound way.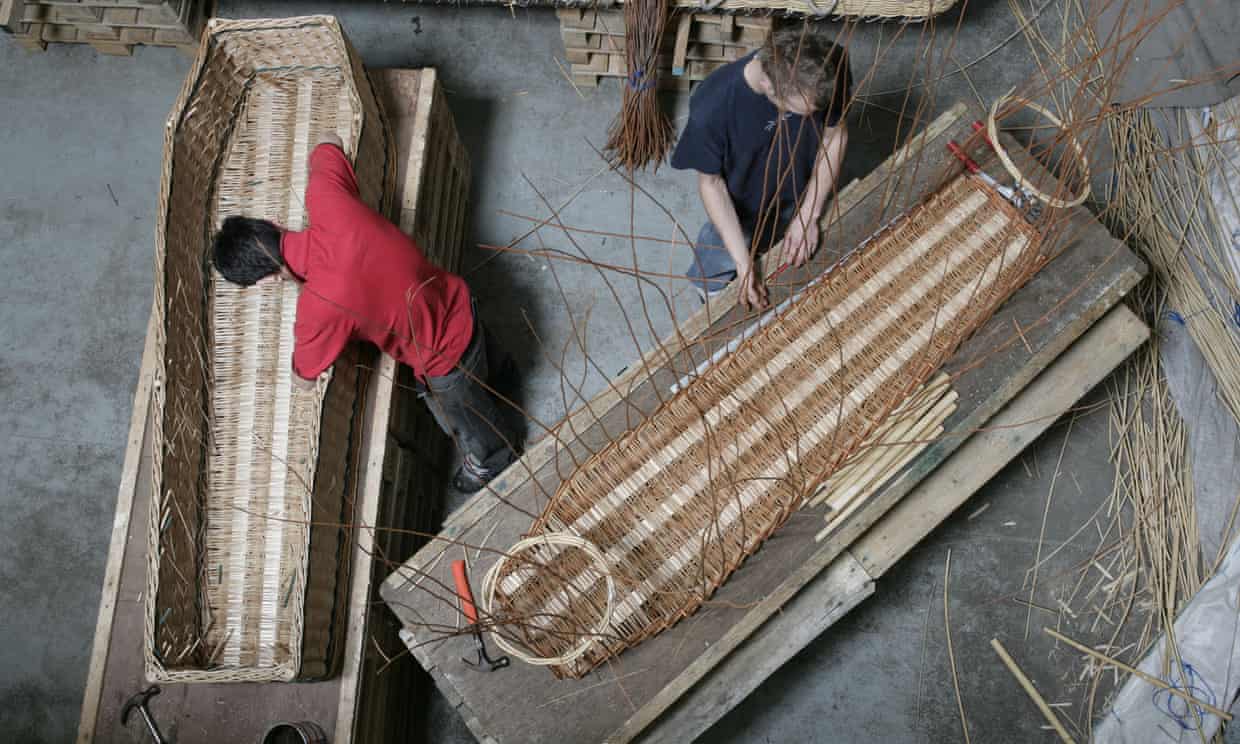 Willow coffins are among the options for a greener burial.
The grass may be greener on the other side – but is death?
Growing numbers of people who spend their lives recycling their plastics and watching their air miles are wondering about the most environmentally sound way to deal with their mortal remains. Now, help is at hand from a funeral industry increasingly tuned in to the varied and exotic last wishes of the "consumer".
At a packed funeral expo in a church in Amsterdam last weekend, exhibitors included a flat-pack coffin that you construct and decorate yourself which has just won the first Dutch "final footprint award" with its designs for a "CO2-neutral" casket.
"Environmental awareness needs to extend to everything we do," says Cor Geijtenbeek, co-owner of the design firm Coffin in a Box Company. "We separate our plastics. We think about the car we drive. We also need to think about the choice of our last journey."
Death is a growth business. More than 100 people die every minute on – 56 million in 2015 according to the World Health Organization, which predicts a 25% increase to 70 million in 2030.
Geijtenbeek reckons burial is better for the environment than cremation. But in the UK, even though three-quarters of people choose cremation, space in graveyards is running out, with almost half of local authorities expecting their cemeteries to be full by 2033.
The Dutch answer has been to allow graves to be reused, with old bones buried much deeper when a new coffin arrives for interment. This presents a problem: many modern coffins are not so biodegradable. …
---
You've heard of it before. You're probably curious about what it is. But chances are, you're still on the edge about the whole thing.
We're talking about the dark web—the mysterious part of the internet that isn't for everyone. At least, that's what you've probably heard.
There are many rumors about what it is and why people go on the dark web. However, it's worth learning a thing or two about it. Who knows, maybe you'll even find some of your new favorite sites there. Stick around and we'll share some of the cool websites we've discovered in the hidden corners of the dark web.
Dark Web vs. Deep Web
Before you learn what exactly dark web is, it's important to know what makes it different from its bigger brother, the deep web.
We've talked about deep web and why it's important before. In a nutshell, deep web and dark web are two terms often confused for one another. When in reality deep web refers to anything on the web that can't be found using a search engine. That includes emails in your Gmail account, direct messages on social networks, and even your Facebook photos that you marked as "private".
Dark web, however, is just a sub-section of the deep web. Unfortunately, the dark web is responsible for the bad reputation the deep web has. Black markets selling illegal substances, grisly images, and even new identities for sale—just about every illegal thing can be found there.
At the same time, the dark web is well worth exploring (with caution). You just need to know what you're doing. …
POINT OF REFLECTION: It may have been somewhat irresponsible to link to a story enticing people to explore the dark web.
---
I, FLATPACK

Thank you, robots!
After years of failed attempts, a research team in Singapore has successfully taught a pair of robots to do something that many humans still can't: build an IKEA chair.
The wooden Stefan chair is not the world's first piece of AI-assembled flatpack furniture: Robots at MIT built a simple Lack table in 2013. A chair is more complicated. And while a robot can be programmed to do a single assembly-line task efficiently, mastering all of the small tasks that IKEA assembly requires is a bigger challenge. Some of the same things humans struggle with, like fiddling with bags of screws, dowels, and doodads while trying to distinguish the slight variations in shape, are also difficult for robots.
Researchers at Singapore's Nanyang Technological University spent three years programming robots to accomplish the specific tasks necessary to build this particular chair. The next stage will be expanding the machines' intelligence to be able to assemble a chair just by looking at a photograph of the final product, Wired reported. …
---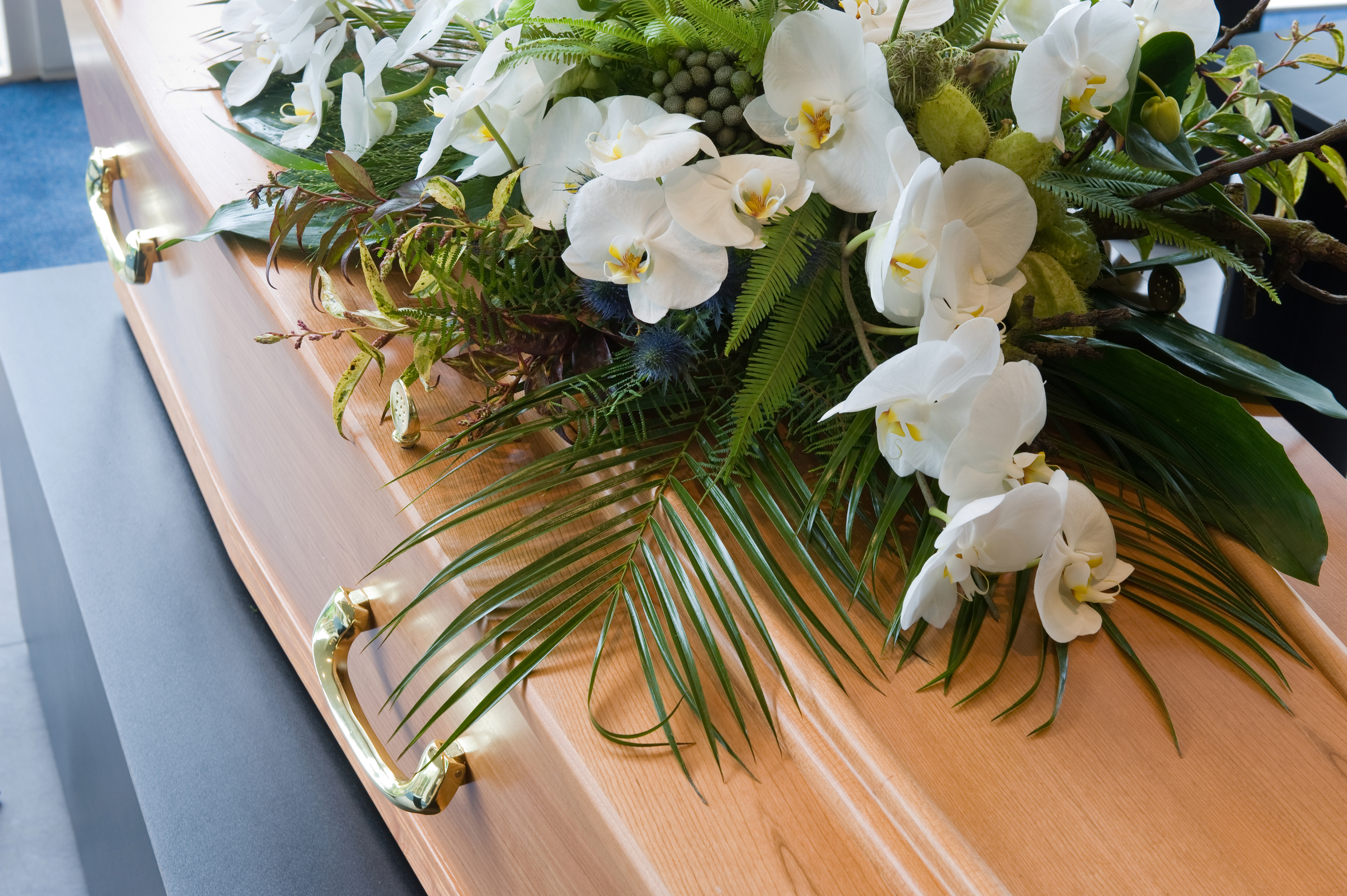 When you die, your body is, in a quite real sense, never more alive. Beyond the amazing number of microbes that already call your body home (more of their cells than your own at any given time), other bacteria and varying fungi and fauna colonize the body with great rapidity after death. As the body becomes biome, flesh undergoes a dreadful pantomime of balloon animal elasticity – swelling, bloating, and distorting. This danse macabre is quite likely not what one has in mind when one hears of life after death. However, these commonplace morbidities of life in death pale in comparison to one of the more unusual, and completely tragic, graveyard phenomena – postmortem fetal extrusion (a.k.a coffin birth – where the dead mother gives birth after the fact to an equally dead baby).
Historical texts bear this gruesome curiosity out with clinical chill. In 1551, one of the earliest known documented cases of coffin birth was recorded: a victim of the Spanish Inquisition, swinging at the gallows, gave birth hours after her execution. In 1633, in Brussels, a woman who died in labor convulsions gave postmortem birth three days later. In 1650, a parish register noted, "April ye 20, 1650, was buried Emme, the wife of Thomas Toplace, who was found delivered of a child after she had lain two hours in the grave." In 1677, another woman died in labor; six hours later abdominal movements were observed and still eighteen hours after that her deceased child was born. In 1861, sixty hours after a woman died in convulsions, she "gave birth" to her eight month old baby.
The idea of postmortem birth has been recognized as both a mythological notion and a medical possibility for centuries. Indeed, the Greek God of medicine, Asklepios, was cut from his mother's womb after she was killed upon Mount Olympus. The earthly heirs of Asklepios, medical professionals of yore, made common practice of opening the bodies of dead pregnant women, aware that live birth was still possible if they were fast enough. Indeed, the Catholic Church, intent upon delivering children from the purgatory of death before baptism, supported this as church doctrine – priests were called upon to perform the postmortem cesarean on pain of excommunication. At times, some physicians didn't even bother to wait for the mother to die if it seemed absolutely certain that she would do so anyway, further helping to ensure the survival of the child. ( …
---
Video Goodnesses
and not-so-goodnesses
The Minority Leader of the Senate is making it official the day before 4/20: He's down with legal weed.
In an exclusive interview with VICE News, Sen. Chuck Schumer (D-NY) confirmed he is putting his name on legislation that he said is aimed at "decriminalizing" marijuana at the federal level.
For Schumer, this is a shift. While he has backed medical marijuana and the rights of states to experiment with legal sales of pot, what he is proposing is a seismic shift in federal drug policy .
"Ultimately, it's the right thing to do. Freedom. If smoking marijuana doesn't hurt anybody else, why shouldn't we allow people to do it and not make it criminal?" Schumer said.
While Schumer's position in the Senate make his support of de-scheduling significant, he's hardly the first high-profile Democrat to back such a move. Sen. Bernie Sanders (D-VT) has long been a proponent of removing marijuana from the federal list of controlled substances, and Sen. Cory Booker (D-NJ) recently introduced the Marijuana Justice Act, which would federally legalize weed. Republicans, who still control Congress, haven't been as open to the idea, though recent polls have shown a majority of party members now favor legalization.
The legislation, which Schumer's office expects will be released within the next week, has six main points. First, it would remove marijuana from Drug Enforcement Administration's list of controlled substances, which would end federal prohibition and leave it up to states to decide how to regulate the drug. Schumer stopped short of calling it legalization, but de-scheduling would essentially make marijuana legal at the federal level.
His bill would also would create some funding for minority and women-owned marijuana businesses, provide money for research into overall effects of marijuana and it's specific effect on driving impairment. And lastly, it would "maintain federal authority to regulate marijuana advertising in the same way it does alcohol and tobacco," which Schumer said is to make sure marijuana businesses aren't targeting children with their ads.
Schumer went further saying that he would support legalization in his home state of New York as well as any other state that wants to move in that direction. "My personal view is legalization is just fine," he said. "The best thing to do is let each state decide on its own."
While this looks like an obvious election year-play, Schumer claimed it wasn't about he looming 2018 or 2020 elections.
"I'm doing it because I think it's the right thing to do. I've seen too many people's lives ruined by the criminalization," he said. "If we benefit, so be it. But that's not my motivation."
When asked if he had ever smoked weed before, Schumer said no, but when pressed on whether he might be willing to try it he said, "Maybe, I'm a little old, but who knows?"
THANKS to HBO and VICE News for making this program available on YouTube.
---
Leading up to another nationwide school walkout to protest gun violence, Trevor recaps all of the news coming from "good guys with guns."
THANKS to Comedy Central and The Daily Show with Trevor Noah for making this program available on YouTube.
---
Trump's personal attorney has bragged that he would take a metaphorical bullet for Donald Trump. He might get his chance.
---
There are countless reasons to be bothered by a Starbucks patron, none of which have to do with skin color.
THANKS to CBS and The Late Show with Stephen Colbert for making this program available on YouTube.
---
CAUTION: Some language may not be appropriate for work or children.
Me commentary on a new security team at Bangkok Airport. Should be good. UPDATE: A couple of investigative journalists via the comments section have been on this case and believe it may in fact have taken place in Korea. We'll keep you posted with developments.
---
Max tries so many things just to see what kind of reaction he can get from me. He acts like I don't pay any attention to him.
Ed. I'm actively ignoring my knuckleheads right now.
---
FINALLY . . .
The state's glut of marijuana – over 1m lb of unsold pot – is in many ways the result of an industry still finding its feet.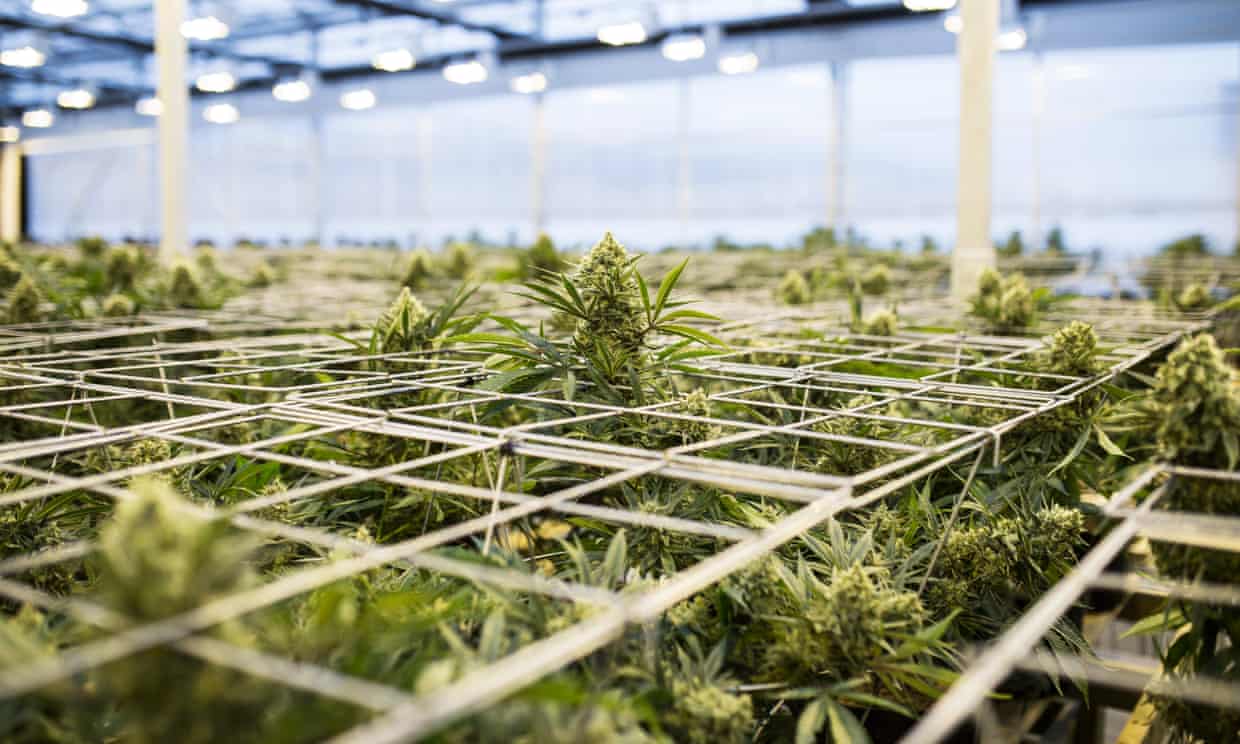 Oregon, which legalized cannabis in 2015, has seen hundreds more marijuana-related businesses issued with licenses than the state originally predicted.

Trey Willison, a cannabis farmer in Eugene, first started worrying last May about there being too much marijuana in Oregon. He had sold all his "clone" plants to other growers, who were using them to cultivate yet more marijuana.
"You start doing the math on that and it just didn't make sense how people could be growing that many plants," Willison said.
Fast-forward nearly a year and Oregon does indeed have a glut of marijuana; there are over 1m lb of usable but unsold marijuana, according to the state tracking system.
That's more than 128m "eighths" of weed, and almost three times the amount of cannabis sold in Oregon in all of last year.
Flooded with supply, prices are dropping so much that some dispensaries in the Portland area are selling the drug for $4 a gram. That's less than half the cost of a bargain-basement batch in other US cities where marijuana is legal, like Denver and Seattle. …
---
Ed. More tomorrow? Probably. Possibly. Maybe. Not?