Pictured above: Donald Trump's personal lawyer Michael Cohen arrives at his hotel in New York City this week.

The fixer is in a fix.
Michael Cohen, the most personal of the president's personal attorneys, has cut an extraordinary figure in this totally abnormal administration.
You might be forgiven for thinking his fixing was confined to mysterious payments to porn actors and Playboy models, in exchange for their silence. These are mind-grabbing, if not body-grabbing, stories involving actual sex, movies about sex, a president and one of his major donors.
But unlike fixers of yore, Cohen has been unable to fix anything without requiring a good deal of cosmetic after-fixing.
This is not a good look for any self-respecting fixer, or for the large corporations that paid him millions for his insights into Trump's inner thoughts. AT&T paid Cohen's firm $600,000 last year, while Novartis paid $1.2m. Columbus Nova, an investment firm linked to the Russian oligarch Viktor Vekselberg, paid Cohen $500,000. Korea Aerospace Industries paid him a measly $150,000.
That's a total of almost $2.5m – as far as we know – paid to the deliciously titled Essential Consultants, the company also used to pay hush money to a porn star and a model on behalf of Donald J Trump and a donor. …
---
California's Republican Party is in crisis. Voters are leaving it in droves, its candidates haven't won a statewide election in more than a decade and its lawmakers are likely to lose several important elections this year. Yet many of the party's leaders and lawmakers seem unwilling to make the kind of substantive changes that would broaden its appeal. Its candidates for governor, for example, are competing on their fealty to President Trump, when more than two-thirds of Californians who are registered to vote disapprove of him.
The G.O.P.'s problems in the state are a symptom of the toxic political extremism that has forced sensible centrists to the margins of the party throughout the country. But in this problem there is an opportunity, one that California Republicans are in a singular position to seize: a chance to build a sustainable third party.
At least some Republicans in the state, chief among them former Gov. Arnold Schwarzenegger, have been trying to push the G.O.P. to adopt more mainstream ideas and policies. This group includes people like Chad Mayes, who was ousted as the party's Assembly leader after working with Democrats to reauthorize a landmark cap-and-trade program, and Kevin Faulconer, the mayor of San Diego.
But they are struggling to make headway against a party establishment that refuses to acknowledge that it is on the wrong track, let alone take action to change. Republicanism, even in California, has become inseparable from Trumpism because most of the party's leaders and lawmakers are more focused on catering to its far-right base and elite donors than on speaking to or for the majority of Americans. …
---
The 'teeth' behind the proposed ban on assault weapons have been questioned.

Anna Segur, with Moms Demand Action, listens to City Council members speak during a reading of the proposed assault weapons ban on May 1 in Boulder.
The Boulder City Council is preparing to adopt a local ban on the sale and possession of assault weapons, bump stocks and high-capacity magazines.
But city attorneys and police officers are under no delusion that the ban will be enforceable on any broad scale.
In fact, Boulder officials have been very open about the limits of the law.
City Attorney Tom Carr, who's been responsible for drafting and redrafting the law in the council's vision, said that the city is not going to go out looking for people who possess the items that Boulder is primed to ban.
That's welcome news for the many gun owners who've already threatened not to comply with the ban.
"I can't imagine a way to do proactive enforcement," Carr said. "Obviously, there's no circumstance where we go door-to-door and ask people if they've violated the law. So, I think it would mostly be responsive." …
---
n the absence of political will to tackle America's growing economic crisis, hi-tech tools can only serve to automate and amplify existing inequalities.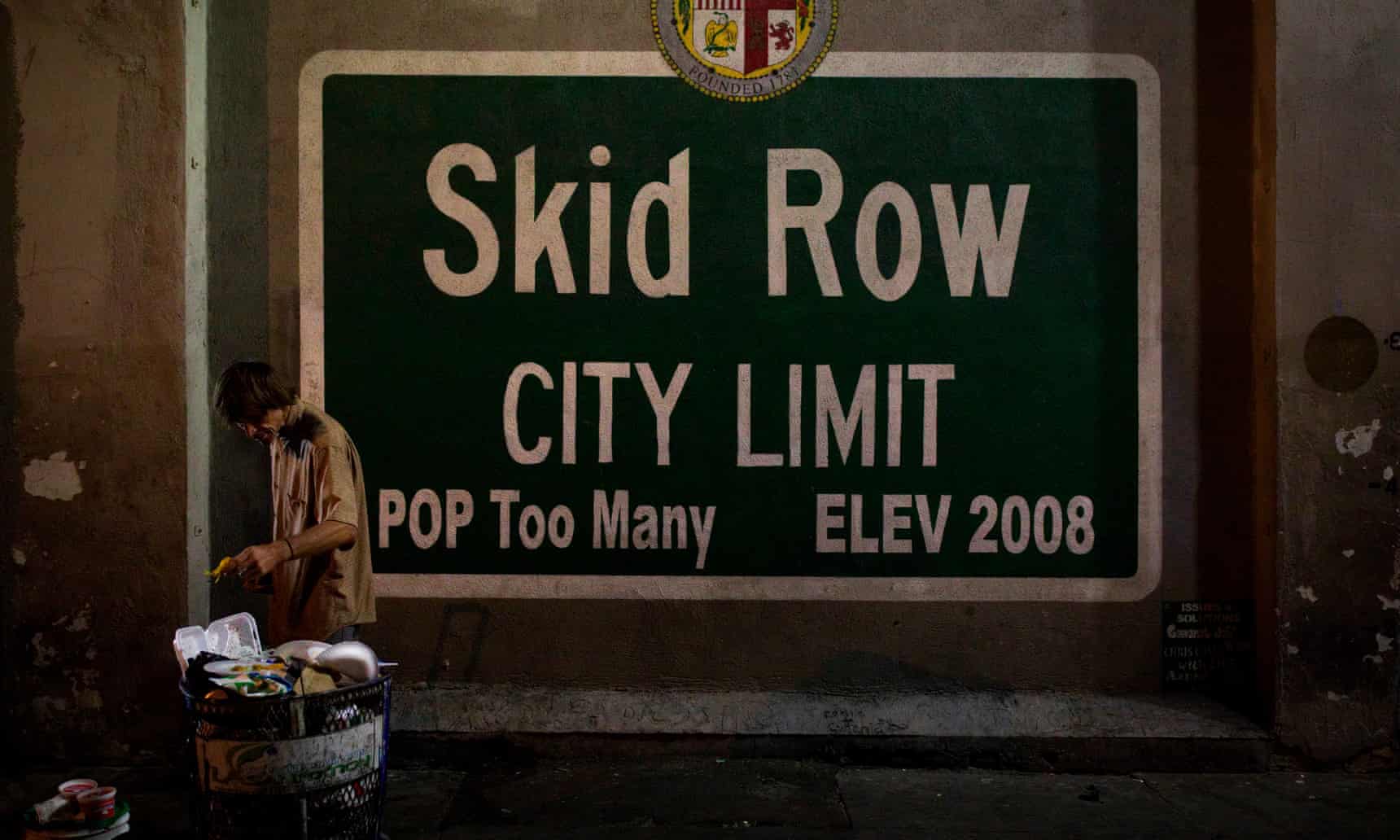 In this 28 October 2017 file photo, a homeless man takes food from a trash can in Los Angeles' Skid Row area, home to the nation's largest concentration of homeless people.
We live in a climate of austerity. In the past few months alone, we have seen a federal budget that proposes rolling back support for low-income housing, an executive order attacking welfare programs, and a plan to create a nationwide electronic registry of poor and working-class people. In the context of shrinking support, which families are able to access their basic human needs – housing, food, and healthcare – and which are not? Increasingly it is algorithms – not humans – making that call.
Since 2010, I've crossed the country studying and writing about the impact of hi-tech tools on public service programs. In Indiana, I investigated an attempt to automate and privatize the state's welfare eligibility processes. In Los Angeles county, I explored the coordinated entry system, a digital tool intended to match the most vulnerable unhoused people with the most appropriate available resources. And in Allegheny county, Pennsylvania, I studied a statistical model that is supposed to be able to predict which children might be victims of abuse or neglect in the future.
In each place I visited, policymakers, data scientists, and social workers told a remarkably consistent story: there is extraordinary need for public programs and not enough help to go around. The goal of automated decision-making, they told me, is to distribute limited resources more equitably, but also to help make the heartbreaking choices of whom among the most exploited and marginalized people in the United States will get help.
"We have extraordinary need [for housing] and can't meet all of that need at once," said Molly Rysman, the housing and homelessness deputy for Los Angeles county's District 3, speaking in 2015 about coordinated entry. "So you've got to figure out: how do we get folks who are going to bleed to death access to a doctor, and folks who have the flu to wait? It's unfortunate to have to do that, but it is the reality of what we're stuck with."
The result has been an explosion of digital tools for managing poverty – and for alleviating the uncomfortable feeling that we're not doing enough to address economic suffering. …
---
click to embiggen
Securus Technologies markets a product to law enforcement that taps into realtime cell-tower data from mobile carriers to produce fine-grained location tracking of anyone carrying a phone; it is nominally marketed to find parolees and wandering Alzheimer's patients, but because it has no checks or balances, cops can query it willy-nilly to find anyone's location.
That's what Cory Hutcheson, ex-Sheriff of Mississippi County, MO, is accused of doing; prosecutors say that for three years, Hutcheson abused Securus's system to track all kinds of people — even a local judge — without a warrant.
Securus claims that it restricts the use of its system to legally permitted surveillance, requiring users to upload warrants or court orders prior to use; but it does not vet or review those orders before granting access. Securus also does not make the alleged court orders visible to carriers before it queries their databases, meaning that the phone companies have to take Securus's word for it.
The carriers, meanwhile, are exploiting a loophole in privacy laws that nominally prohibit selling this kind of data: by burying "consent" to the sale of your location data in their lengthy, never-read agreements, the carriers are able to circumvent the law; primarily to sell your data to marketers, but also to surveillance companies like Securus. …
---
A wave of refugees crosses the U.S. border to seek asylum in Canada, leaving Desi Lydic to wonder if America has lost its status as the land of opportunity.
THANKS to Comedy Central and The Daily Show with Trevor Noah for making this program available on YouTube.
---
After the election of the Trudeau Liberals, Canada swiftly rebranded itself as a tolerant, open-armed society. But as alt-right sentiments seep across the border, how welcoming is the country? Omar Mouallem meets the refugees confronting racism, xenophobia – and the very idea of Canadian-ness.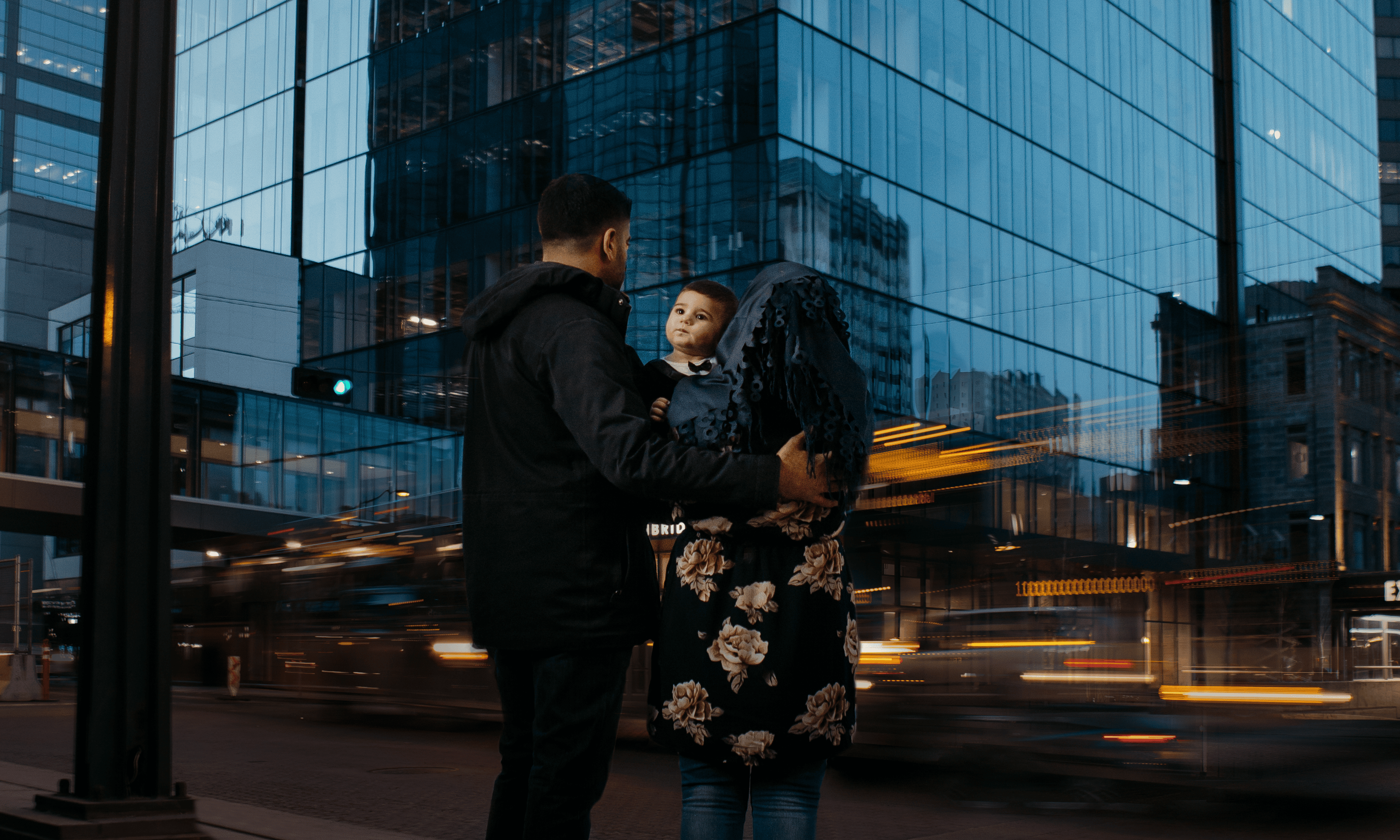 It was never particularly complicated.
All Mohammad El Hindawi wanted for his family was a reprieve from the bedbugs afflicting his children. In the summer of 2015, while dealing with the vermin in their new home of Edmonton, he'd learned through a social worker that Canadians apparently loved camping, and so, as a new Canadian, he thought that perhaps this was something he should try.
Camping was a new concept to this refugee born and raised in Hama, Syria, site of the Hama massacre of 1982, when the military rounded up 10,000 or 20,000 or 40,000 people for execution (nobody really knows). His father and uncles were spared, but El Hindawi, who was six then, never shed the trauma and bitterness.
His whole life has been a struggle, from his early 20s when he lost his firstborn son to measles, right up until 13 November 2014, the day he boarded a plane and flew to Canada – a country he'd never learned about in public school. His life remained a struggle, because he had six kids crying every night, a wife telling him they'd be better off on the streets, and a family panicking over a blood-sucking insect they'd never encountered before. So, yes, camping, whatever camping was, sounded like a great idea.I met El Hindawi on the first sub-zero day of the fall of 2015, at a workshop at Edmonton's Catholic Social Services, sponsored by the government of Canada, to teach new Canadians about the ancient western art of roughing it in the woods. Along with his wife and kids, he was there to learn, and I was there as a reporter to tell a warm story about immigrants. The 43rd Canadian federal election was a month away and it seemed, at least in the moment, that more than global warming, healthcare, trade, taxes and pipelines, the most important issue to Canadians was Canadian-ness itself, and whether someone like El Hindawi, or his hijab-wearing wife, Nisreene, had and/or deserved the right to call themselves Canadian. … …
---
Hilarious mistranslations — they're not just for baffling foreign movie posters. Tools like Google Translate are remarkable accomplishments that can expand the frontiers of human communication, but like all technologies, sometimes they mess up in really goofy ways and we can laugh at them. Way to try to change the world, ya dunderheads! Here are five times translation attempts — and the humans doing them — didn't quite nail it.
5. Google Translate Turns A Broccoli Raab Festival Into The World's First "Clitoris Festival"
---
What does grelo, the leafy-green vegetable native to northwestern Spain, have in common with the human vagina? Unless there are any exotic sex positions we're unaware of, not much. That is, unless you live in the town of As Pontes in Galicia, which holds a yearly festival honoring the vegetable, also known as "rapini," or "broccoli raab" in the U.S. It's the Galician equivalent of Lollapalooza, we're guessing.
When local officials attempted to translate the Galician word "grelo" into Castilian Spanish for their website, Google Translate mistook it for the Portuguese word "grelo." Which, it turns out, is slang for a part of the female anatomy. The resulting translation invited tourists to take part in a "Clitoris Festival" — or to be more exact, "the Fair of the Clitoris Bridges," which sounds like something out of Tolkien's private notebooks.
Hopefully they organize a crossover with Japan's dong festival.
The announcement also contained some VERY interesting info about this local product, claiming "The clitoris is one of the typical products of Galician cuisine. Since 1981 … the festival has made the clitoris one of the star products of its local gastronomy." OK, that sounds way better than seeing Radiohead surrounded by drunken hipsters. Festival-goers were likely a little disappointed when they showed up, unless that town had some dang good leafy greens. …
---
WOKE PUPPET

Seeing color.
With his hand stuck in a simple sock puppet, performer Conrad Koch has rediscovered his favorite part about being on stage: fun.
Few ventriloquists rise to national celebrity, but Koch has done that and more: his puppet is a political phenomenon in South Africa. Chester Missing is a television pundit and analyst who gets to ask politicians the tough questions.
He's also made from foam and plastic and lives in Koch's suitcase when he's not on stage. The puppet is Koch's most famous performance, and as any good comedy, the evolution of this act is a reflection about South Africa's own conversation on race and post-liberation politics and the role of white people in that new power dynamic.
To the average South African, however, Missing is hardly an act—just ask the people and politicians lining up to take a selfie with him (Koch, even while holding Missing, is not always required to be in the photo). Missing shot to fame on the local news satire show Late Nite News With Loyisa Gola in 2010.
He was regular guest who spewed profanities and political analysis about the then Zuma administration and the chaotic opposition movements. Missing's main gig became interviewing politicians who, despite his wisecrack criticisms of them, not only entertained him but gave him candid answers. It's the kind of access and platform that Koch himself was surprised by, but still takes very seriously. …
---
In 1951, a 14-year-old Australian boy named James Harrison awoke from a major chest operation. Doctors had removed one of his lungs in a procedure that had taken several hours — and would keep him hospitalized for three months.
But Harrison was alive, thanks in large part to a vast quantity of transfused blood he had received, his father explained.
"He said that I had 13 units of blood and my life had been saved by unknown people," Harrison told CNN's Sanjay Gupta decades later.
At the time, Australia's laws required blood donors to be at least 18 years old. It would be four years before Harrison was eligible, but he vowed then that he too would become a blood donor when he was old enough.
After turning 18, Harrison made good on his word, donating whole blood regularly with the Australian Red Cross Blood Service. He disliked needles, so he averted his eyes and tried to ignore the pain whenever one was inserted into his arm.
Meanwhile, doctors in Australia were struggling to figure out why thousands of births in the country were resulting in miscarriages, stillbirths or brain defects for the babies.
"In Australia, up until about 1967, there were literally thousands of babies dying each year, doctors didn't know why, and it was awful," Jemma Falkenmire, of the Australian Red Cross Blood Service, told Gupta. "Women were having numerous miscarriages, and babies were being born with brain damage." …
---

On a crisp Denver morning, middle school students were discovering how to develop a green thumb with the help of Kimbal Musk, the brother of Tesla CEO Elon Musk. In the 90s, he helped his older brother launch Zip2 and the company that would become PayPal. These days, the entrepreneur is on an entirely different mission.
"Real food is the new internet means that young entrepreneurs getting into food today, where they're bringing real food that just taste much better. That's food that you trust to nourish your body, trust to nourish the farmer and trust to nourish the planet is the opportunity of our generation," Musk told CBS News' Barry Petersen.
Musk still works with his brother's ventures Tesla and SpaceX. But his personal venture has become a life's work: replacing high-calorie foods with healthier ones. Musk always had an interest in cooking, attending culinary school after making it big in tech. But in 2001, he found purpose in tragedy.
"I graduated from cooking school just before 9/11. I woke up to the sounds of the planes hitting the building. I lived very close to the World Trade Centers and looked out the window, saw the towers fall, escaped that area was really intense and one of the hardest things I'd ever been through. But in that process I got invited to volunteer to cook for the firefighters," Musk said. "It taught me the power of community, taught me how food brings communities together, how real food can revitalize people even in the most traumatic circumstances." …
---
TRUE BLUE MORMON

I remember how much I needed someone to tell me that I was not a sin, or an abomination, or a shameful person.
This story is part of a series called Craigslist Confessional. Writer Helena Bala started meeting people via Craigslist in 2014 and has been documenting their stories ever since. Each story is written as it was told to her. Bala says that by listening to their stories, she hopes to bear witness to her subjects' lives, providing them with an outlet, a judgment-free ear, and a sense of catharsis. By sharing them, she hopes to facilitate acceptance and understanding of issues that are seldom publicly discussed, at the risk of fear, stigma, and ostracism. To share your story with Helena, email her at craigslistconfessionalqz@gmail.com. Read more here. Names and locations have been changed to protect her subjects' anonymity.
Gordon, 40s
We were in his father's tool shed, in the back yard. The door was closed. I was probably 6. He was 9 or 10. We'd been doing this for a while—a few months, maybe almost a year.
My mom came in, and then his mom, and I remember a lot of commotion and shouting as they jumped on us and pulled us apart. My mom rushed me back home and she told my dad. I don't know how he took it, but I was never allowed to go back and my friendship ended. I had no idea that what I was doing—and whom I was doing it with—was a problem. It wasn't until I witnessed my mother's reaction, and then it was impressed upon me by my religion—the Mormon faith—that this was a sin, an abomination, that I realized I had done something bad and that I should be ashamed of myself.
I was so traumatized by what happened that I didn't do anything again until I was about 11 or 12. This time, it was with another childhood friend and it brought my sexuality back to the forefront. At age fourteen, I lost my virginity; I was in a steady sexual relationship with him for two years, and all of these experiences, all together, were positive reinforcements that I was, in fact, gay. But counteracting this period of self-exploration was also a tremendous amount of guilt, shame, and remorse. I was often in tears because I couldn't understand my feelings and to a certain extent, because homosexuality was shunned in the Church and in our community, I felt like I was the only one experiencing them. I was too petrified to talk to anyone else. …
---
Look alive people, as in a couple of months we're going to see the longest total lunar eclipse so far this century, when the Moon will turn a deep red.
A total lunar eclipse is caused when the Moon passes through Earth's shadow, known as the umbra. This occurs when the Sun, Earth, and the Moon are lined up. It's like a total solar eclipse, but this time we're the ones eclipsing the Sun, and we're much bigger, so the whole Moon is draped in shadow.
And on July 27, 2018, we'll be treated to a total lunar eclipse that lasts a whopping one hour and 43 minutes, peaking at 8.22pm UTC. It'll be visible in most of Africa, the Middle East, India, Australia, and parts of Europe too.
This total lunar eclipse is especially long because the Moon will pass almost through the center of the umbra. If it's more to the side, it doesn't last quite as long. If it misses the umbra entirely then we may get a partial lunar eclipse, when it passes through the surrounding penumbral shadow of Earth instead. …
---
Video Goodnesses
and not-so-goodnesses
An international team of scientists have accidentally enhanced a plastic eating enzyme in a discovery that could change our relationship with plastic forever. The breakthrough, if scaled up, could lead to plastic being broken down into its original components and formed into plastic items again, removing the need for making more of the material.
With over 1 million plastic bottles sold a minute and at the current rate plastic set to outweigh fish in the oceans by 2050, plastic pollution is an environmental menace that has been dubbed a 'planetary crisis' by the United Nations. Despite the huge challenge,
Professor John McGeehan who headed the research believes the findings could turn the tide, "I think there's been a huge amount of doom and gloom stories around plastics and justifiably because it's a terrible environmental scourge. But this is a story where we've got some hope that we can actually put together."
The research was based on a 2016 discovery in a waste facility in Japan of a bacterium that had evolved to eat plastic. During the teams attempt to understand the how the enzyme evolved they made alterations which inadvertently led to the enzyme eating plastic 20% faster than before.
VICE News travels to the seaside city of Portsmouth in the UK to meet the man behind the discovery and what it might mean for a world being poisoned by plastic.
THANKS to HBO and VICE News for making this program available on YouTube.
---
A white student at Yale calls the campus police on a black student who was taking a nap in her dorm's common area and Three American prisoners are released from North Korea, prompting President Trump to revel in the potential TV ratings.
THANKS to Comedy Central and The Daily Show with Trevor Noah for making this program available on YouTube.
---
CAUTION: Some language may not be appropriate for work or children.
Me critical analysis of one of the greatest talent show strip dances ever. This video contains sexual humour. Come forth and cast me into the abyss of the web YouTube Heroes. The sheila is Cinthia Fernandez. Fuck knows who the bloke is.
---
***VOLUME ALERT***
Put a new camera in Max's room to watch him and he isn't happy.
Host Amy Schumer shares how getting married has affected her stand-up and the specific way women ask for a tampon.
THANKS to NBC and Saturday Night Live for making this program available on YouTube.
---
FINALLY . . .
Largely volunteer-run community radio station prides itself on offering space for the underrepresented.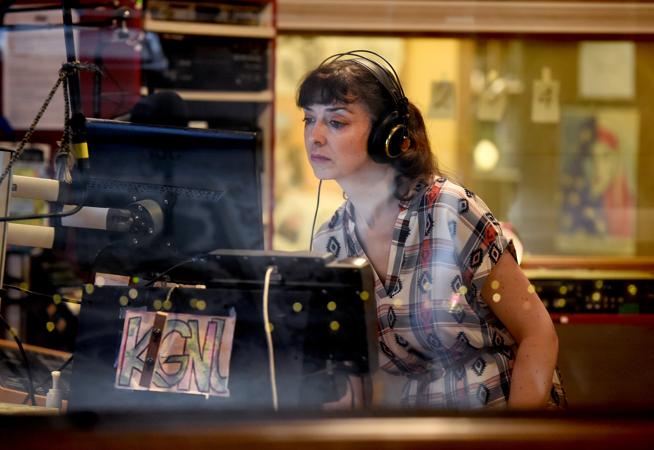 Maeve Conran, KGNU News Director, works on her morning show on Wednesday. Boulder's KGNU community radio station is turning 40 this year and is hosting some events throughout the year to commemorate.

n the KGNU lobby Thursday afternoon, volunteer Arleigh (who preferred to not use her last name) was touching up a life-sized wall mosaic that is artfully packed with stones, tiles, mementos, Scrabble-style letters and even pieces of coffee mugs that all surround slabs of stone fashioned into Flatirons. Each memento represents someone.
Over the past 40 years, volunteers and donors have contributed countless hours and dollars to keep Boulder's community radio on the air. This mosaic is like KGNU's art yearbook.
"I'm trying to make the Flatirons stand out more," she said. "See that grout? I want it to be more blue, like the sky."
Arleigh said she was drawn to volunteer at KGNU to meet "people like me."
"We have so many interesting people who contribute to the station, even in their own special way," said KGNU's community development director Sarah Shirazi. "It's been interesting to retrace KGNU's history and learn the efforts countless people have made and the sincere value of what it means to us today." …
WHY IS THIS a barely uninteresting at all thing? I volunteered as an airshifter at KGNU in the mid-1980's, spinning alternative, underground, and other pressed off center selections.
It might be a barely uninteresting at all thing to read David McIntosh's Our History page at KGNU.ORG.
---
Happy Mother's Day !!!
---
Ed. More tomorrow? Probably. Possibly. Maybe. Not?