Pictured above: Facebook's logo at an internet conference in Beijing in April. The social network has struck data-sharing partnerships with at least four companies in China.

Facebook has data-sharing partnerships with at least four Chinese electronics companies, including a manufacturing giant that has a close relationship with China's government, the social media company said on Tuesday.
The agreements, which date to at least 2010, gave private access to some user data to Huawei, a telecommunications equipment company that has been flagged by American intelligence officials as a national security threat, as well as to Lenovo, Oppo and TCL.
The four partnerships remain in effect, but Facebook officials said in an interview that the company would wind down the Huawei deal by the end of the week.
Facebook gave access to the Chinese device makers along with other manufacturers — including Amazon, Apple, BlackBerry and Samsung — whose agreements were disclosed by The New York Times on Sunday.
The deals were part of an effort to push more mobile users onto the social network starting in 2007, before stand-alone Facebook apps worked well on phones. The agreements allowed device makers to offer some Facebook features, such as address books, "like" buttons and status updates. …
---
Low-carbon technology could get fossil fuel producers' assets "stranded."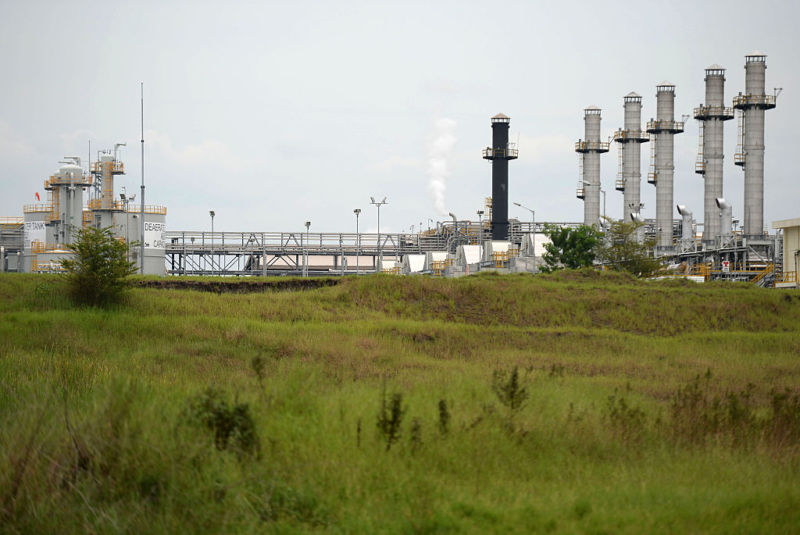 Exxon Mobil oil-processing towers and gas-processing infrastructure.
An economic downturn on the level of the 2008 recession is coming if we keep investing in fossil fuels, researchers say. If fossil fuel-producing countries like the US, Canada, and Russia don't guide their economies away from oil, gas, and coal, then low-carbon technology could render at least some of those investments worthless. According to a paper in Nature Climate Change, approximately $1 trillion to $4 trillion could be lost from the global economy, even taking into account the fact that the Trump administration has hit the brakes on a lot of climate change policy in the US.
With or without the US federal government, countries and regions around the world (including US states) are pursuing policies to meet the 2°C climate change goals from the Paris Agreement. At the same time, investment in fossil fuel assets continues. These assets, like drill rigs and pipelines, generally have long lifetimes, so as the world moves to low-carbon and zero-carbon technologies, we can expect that some fossil fuel assets will become valueless before the end of their projected lifetimes. Investors call these valueless assets "stranded."
"Irrespective of whether or not new climate policies are adopted, global demand growth for fossil fuels is already slowing in the current technological transition," the researchers from Radboud University in the Netherlands write. "The question then is whether, under the current pace of low-carbon technology diffusion, fossil fuel assets are bound to become stranded due to the trajectories in renewable-energy deployment, transport fuel efficiency, and transport electrification."
The researchers used a computer model of the global economy and applied two scenarios: one in which low-carbon technology continues to diffuse at the rate it has been, and a more extreme scenario in which countries really do adhere to their 2°C commitments. They compared this to International Energy Agency (IEA) forecasts of fuel use out to 2040, which generally show continued growth in demand for fossil fuels and reflect how investors formulate ideas about demand.
At current rates of adoption, cleaner technology will strand billions of dollars of assets before they'd normally be retired. And if countries implement additional climate policies, the losses would be amplified. …
---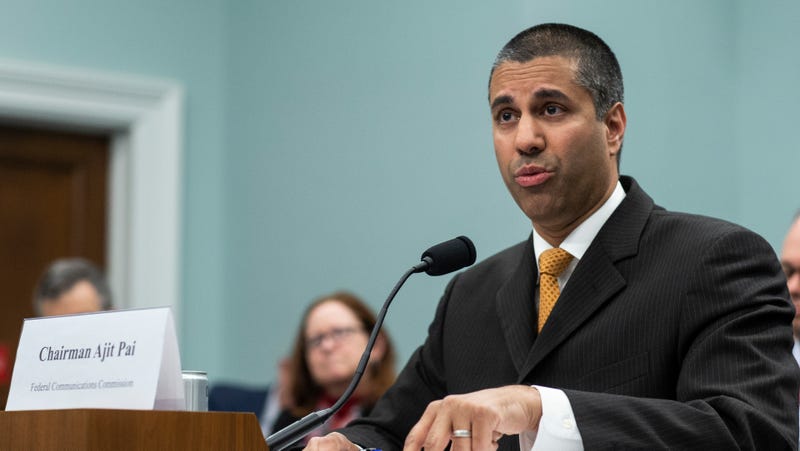 FCC Chairman Ajit Pai testifies on Capitol Hill, April 26, 2018
As it wrestled with accusations about a fake cyberattack last spring, the Federal Communications Commission (FCC) purposely misled several news organizations, choosing to feed journalists false information, while at the same time discouraging them from challenging the agency's official story.
Internal emails reviewed by Gizmodo lay bare the agency's efforts to counter rife speculation that senior officials manufactured a cyberattack, allegedly to explain away technical problems plaguing the FCC's comment system amid its high-profile collection of public comments on a controversial and since-passed proposal to overturn federal net neutrality rules.
The FCC has been unwilling or unable to produce any evidence an attack occurred—not to the reporters who've requested and even sued over it, and not to U.S. lawmakers who've demanded to see it. Instead, the agency conducted a quiet campaign to bolster its cyberattack story with the aid of friendly and easily duped reporters, chiefly by spreading word of an earlier cyberattack that its own security staff say never happened.
The FCC's system was overwhelmed on the night of May 7, 2017, after comedian John Oliver, host of HBO's Last Week Tonight, directed his audience to flood the agency with comments supporting net neutrality. In the immediate aftermath, the agency claimed the comment system had been deliberately impaired due to a series of distributed denial-of-service attacks (DDoS). Net neutrality supporters, however, accused the agency of fabricating the attack to absolve itself from failing to keep the system online. …
In case you missed it…
CAUTION: Some language may not be appropriate for work or children.
Equal access to online information is once again under serious threat. John Oliver encourages internet commenters to voice their displeasure to the FCC by visiting www.gofccyourself.com and clicking "express" to file your comment.
CAUTION: Some language may not be appropriate for work or children.
John Oliver discusses the recent flood of comments posted on the FCC's website.
THANKS to HBO and Last Week Tonight for making this program available on YouTube.
---
From crime to health to business, Canada's decision to legalize marijuana is a grand progressive experiment that promises to answer a host of questions.

Marijuana legalization could affect Canada's crime patterns, health and countless other factors.
When Canopy Growth opened its first cannabis factory in an old chocolate plant near Ottawa four years ago, it did so predicting a bright future. Canada had already legalized medical marijuana, and Canopy predicted full legalization for recreational use to be next.
What the company hadn't predicted, however, was the sudden flood of foreign visitors. Politicians and police authorities from Jamaica, Germany, Denmark, the Netherlands, Greece and Australia have all come knocking, as well as doctors from New Zealand, Brazil and Chile, along with groups of corporate investors and bankers – so many that Canopy now sometimes splits up the groups according to their birthdays.
"We knew we'd have to give a lot of tours, so we just cut a window into the wall," said the company spokesman, Jordan Sinclair. "We put windows in all of the doors."
Canada will be thrust even more directly under the international microscope on Thursday, when a vote in the Senate is expected to ratify Bill C-45, effectively making Canada the first G20 nation to legalize recreational marijuana.
"It's going to be a bit of a science fiction experience for a while," said Benedikt Fischer, an expert on substance use at Toronto's biggest psychiatric hospital. "It's unique in the world, because it's happening for the first time in a wealthy country. It's not like in the US, where there are these state experiments. Most people kind of ignore Uruguay. And so the world is really looking at this." …
---
Close to two-thirds of Americans say they've bought something on Amazon, according to a new NPR/Marist poll. That's more than 90 percent of America's online shoppers.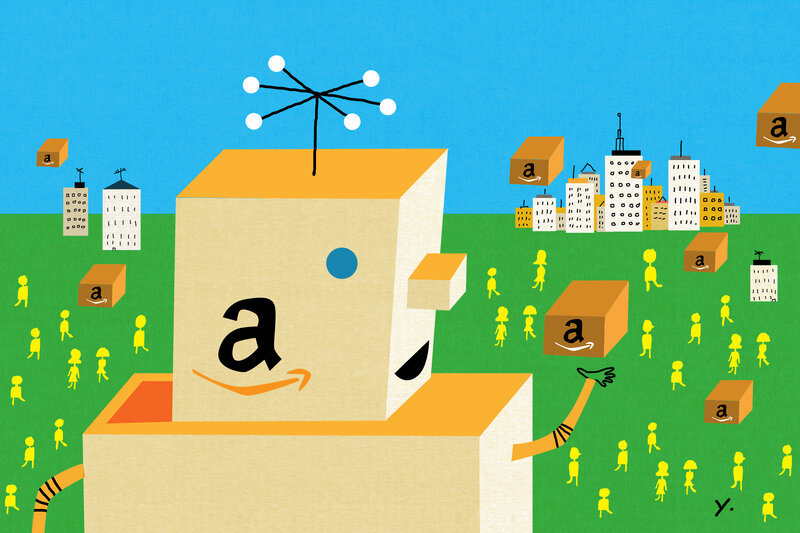 On a cold December night last year, a meeting was called in the lobby of my apartment building. Concerned residents gathered to discuss a matter of great import: what to do about the swarms of packages jamming the lobby closet and overflowing into the entryway.
Unclaimed boxes were an eyesore and a nuisance. Finding the right package was starting to require gymnastic ability. And the boxes kept coming, by the dozens, maybe hundreds. Most of them were from Amazon: brown, with a smile on the side.
On that day, the residents of this downtown Washington building decided to tame the chaos. They voted that the lobby required a redesign. The boxes would get their own new package room, behind a password-activated door. This decision would reshape the building's first floor, but they bet it would raise the value of the property. At least the ungainly stacks would be safe in a separate room.
This is a picture of America, physically adjusting to the success of Amazon.com, the one-stop shop for everything.
In just two decades, founder and CEO Jeff Bezos has transformed from a Honda-driving online salesman of books to the world's richest man. He sits atop one of the most influential American companies at the center of an activity that makes up two-thirds of the U.S. economy: consumer spending. …
---
FLEET BANK

Plugged in.
Government subsidies for businesses, you can love them or you hate them. But quibbling over who takes advantage of them misses the point.
Jalopnik reports that Alphabet's self-driving car unit, Waymo, is positioned to collect up to $465 million in US tax credits if it completes the purchase of 62,000 Chrysler Pacifica-model part-electric minivans. It's the result of a US government policy to offer a tax credit up to $7,500 for each vehicle purchased.
It may feel unsavory to give a subsidiary of one of the richest companies in the world cash handouts, but it's no different than doing the same for individual consumers. Without the credit, Waymo would have been less inclined to commit to such a large purchase of vehicles, which it intends to use as part of a self-driving taxi service.
The tax credit is available to consumers and businesses, and can be collected without limit until an automaker's cap is reached. Any car meeting the clean energy criteria sold in the US since 2010 is eligible until the manufacturer cumulatively sells 200,000 qualifying cars. Fiat Chrystler has about 169,000 cars left under its cap, according to EVAdoption.com. As such, the cost of this program to taxpayers is effectively fixed. The total cost of the subsidies to taxpayers is the same whether Waymo makes the purchase or individual consumers. …
---
Rarely do people cheat the system in fun or interesting ways, as usually it doesn't amount to more than "I used an expired coupon at Denny's, AND THEY TOOK IT." But every once in a while, somebody will bend the rules in a way that is so creative and astounding that you almost wish they'd dedicate their powers to something useful. Like how …
5. Zoning Laws Blocking Your Swinger's Club? Say It's A Church
---
Imagine you want to open a swinger's club with a dungeon and a playroom and, we're presuming, an extremely dedicated janitorial staff. Well, first you need real estate, and that's what the group Freedom for All thought they had when they purchased the building next to a Christian school in Nashville.
In a stunning twist, the community at large did not enjoy the idea of a fuck enthusiast club next to a Jesus-y school, and the city changed the zoning laws to deny the business the right to be there. So Freedom For All said they were going to open a church instead, and bafflingly, they were approved this time. Most people might be suspicious of someone who says they want to open a sex club, only to immediately make a 180 and decide they want a church, but Nashville citizens are apparently a trusting lot.
To qualify as a church, you have to demonstrate that people go there to worship, so when code inspectors showed up and saw that the choir room featured restraint chairs, and other rooms had holes in walls so people could spy on the sexy (yet pious) goings-on, it raised some questions. The inspectors did apparently snap a number of pictures of people having sex, and even some video, but that's not very impressive evidence. If you go to Pornhub right now and search for "ass worshiping," you're going to find a lot of videos. I think it's one of the world's fastest-growing faiths.
It looks like numerous attempts were made to shut the club down, but the government is a little reluctant to tell people what qualifies as a church, so the Temple of Holy Doin' It went strong for a couple of years before the owners packed up shop and sold the place. Probably too many building inspectors filming free porn inside to make it worthwhile. …
---
Meet the people who still use Myspace: 'It's given me so much joy'
Once it was the biggest social network; now it's a ghost town. But for a handful of hardcore users, Myspace remains essential.

For some, the social network Myspace remains a fixture.
Almost every day, Kenneth Scalir takes a trip to the library or a cafe near his home in Sherman Oaks, California, to spend about an hour on his favourite site: Myspace.
Scalir, 48, is one of a dwindling group of people still committed to what was once the most popular social networking platform in the world, with more than 100 million users at its peak. While most people have long abandoned Myspace in favour of Facebook, Twitter and Snapchat, Scalir roams the digital graveyard searching for signs of life.
"Myspace is such a huge part of my life. I've met new people I otherwise wouldn't have met and learned about new fashions and bands," said Scalir, who goes by KROQ Ken online because of his love for the alternative rock station.
"It has given me so much joy," he said. "When I didn't have a girlfriend or lovers, at least I had Myspace."
Scalir joined Myspace in early 2004, about six months after the site launched. "It was real addicting," he said.
He loved how the site allowed users to customise their profiles and discover new music. In the early days, he would regularly chat to other users and in a handful of cases met up with digital friends offline. …
---
When Daniel Goleman published the book Emotional Intelligence in 1995, few had heard of the term. In academic circles, it was a new concept — a theory formed by two psychologists, John D. Mayer and Peter Salovey, that posited that just as people have a wide range of intellectual abilities, they also have a wide range of emotional skills that profoundly affect their thinking and actions.
Fast forward to today. You'll find references to emotional intelligence just about everywhere, most of them positive: how emotional intelligence can make you a better leader, a better employee or even a better spouse or parent.
What you don't see very often are references to the negative aspects of emotional intelligence. But it's important to remember that emotional intelligence, much like "traditional" intelligence, is not inherently virtuous. It's a tool.
In other words, emotional intelligence can be used for good or evil.
This is the dark side of emotional intelligence: using one's knowledge of emotions to strategically achieve self-serving goals. Much as a person possessing a brilliant intellect could become an accomplished detective or a criminal mastermind, one with a superior emotional quotient has a choice between two very different paths: using their influence to help or to harm. …
---
A-TEN-HUT

Peak.
The Army wants you….awake. Since at least WWII, US military scientists have been tinkering with the human brain to keep pilots, soldiers and staff alert despite lack of sleep. Their enemies have as well: The Nazis infamously plied their ranks with methamphetamines (also known as speed).
But how can people stay awake safely (and ethically)? Few substances are as safe as caffeine used daily by 85% of the US population. Researcher Jaques Reifman, who works on high-performance biotechnology software for the US Army, sought to design an algorithm for caffeine-dosing strategies. His research, accepted into the peer-reviewed Journal of Sleep Research, developed software to learn people's unique physiology and determine how best to counter lack of sleep under any conditions.
The Army's plan was to develop a tool that prescribes exactly how much caffeine to consume, and when, to achieve optimal performance, Reifman said in an interview.
Caffeine affects everyone differently. Our bodies have unique metabolisms, while sleep patterns alter caffeine's effects. To account for this, Reifman and his collaborators administered about a dozen brief response time tests, known as a psychomotor vigilance task (PVT), that informed algorithms assessing the optimal caffeine strategy to maximize alertness at precise times. …
---
We need more research.
Proponents of sex robots want us to believe that they're more than toys; they're companions that help us with relationship problems and improve our quality of life. But there's no good evidence that says having sex with robots has health or therapeutic benefits, according to a review of the research published this week. This doesn't mean they're bad. It just means that we need more studies before we fall for claims that sex dolls spell the end of loneliness.
Despite being a $30 billion business, sex robots still don't have the best reputation, so it makes sense that makers are trying to position them as therapeutic aids. Supporters point to three intriguing possibilities: sex robots can lead to safer sex (by getting rid of sex trafficking or tourism), help couples with bad sex lives, or be a good option for pedophiles. Similarly, a recent New York Times column suggested that sex robots might quiet the anger of involuntarily celibate men (or "incels") who believe that women owe them sex.
For an editorial published in the British Medical Journal, Chantal Cox-George of St George's University Hospitals NHS Foundation Trust and Susan Bewley of King's College London combed through hundreds of articles on the relationship between sex robots and health, and they found that the health claims are still just speculative.
Maybe the robots could lead to safer sex, they write, but there's no evidence yet that they will. Maybe the robots could be a solution for couples where one wants a lot more sex than the other, or maybe it'll make someone feel even more isolated. Sex robots for pedophiles could help them with repressed urges, but it's also possible, they write, some won't distinguish between fact and fantasy. …
---
For more than a decade, a muster of around 150 feral peacocks has been ruffling feathers in Surrey, British Columbia. That's because, when the neighborhood of Sullivan Heights was far less developed, a resident there took it upon himself to recreationally farm the animals. Then, some years ago, the farmer moved out of the area, but the birds remained. Ever since, humans who share the neighborhood with the flock have been crying fowl.
First it was noise complaints.
"You couldn't sleep. When my kids were babies and toddlers, they woke them up all the time," a woman named Julie told The Canadian Press in May, after one her frustrated neighbors illegally downed a tree on his property where the peacocks liked to roost. "Even though this tree was down half a block, you had to close the windows at night because of the noise."
Then the birds began disrupting other aspects of daily life. One family in the neighborhood reportedly lost the ability to use their front door when the colorful birds set up a nest on their stoop.
And now the pesky peafowl are taking property damage to a whole new level, attacking dark-colored luxury cars with their strong beaks. The problem seems to be that they catch the sight of their own reflections and mistake them for other peacocks. …
---
Video Goodnesses
and not-so-goodnesses
Ph.D. student-turned-filmmaker Tyler Hulett ventured across the currently erupting volcano Kīlauea to film this short compilation of photographs that, when edited together and sped up, depicts the flow of a lava river. It was a dangerous project, the extent of which Hulett wouldn't become aware until nearly a year later.
---
President Trump rescinds his White House invitation to the Philadelphia Eagles after learning that most team members aren't planning to attend.
THANKS to Comedy Central and The Daily Show with Trevor Noah for making this program available on YouTube.
---
CAUTION: Some language may not be appropriate for work or children.
---
スリムなプラケースを使いこなすまる。Maru uses the slim plastic case thoughtfully.
---
Max finally gets his bottle he wants !
---
FINALLY . . .
Even at the height of his success, the great pop artist never refused private commissions. We meet the man hunting down these gems – including paintings of Trump Tower that Donald rejected.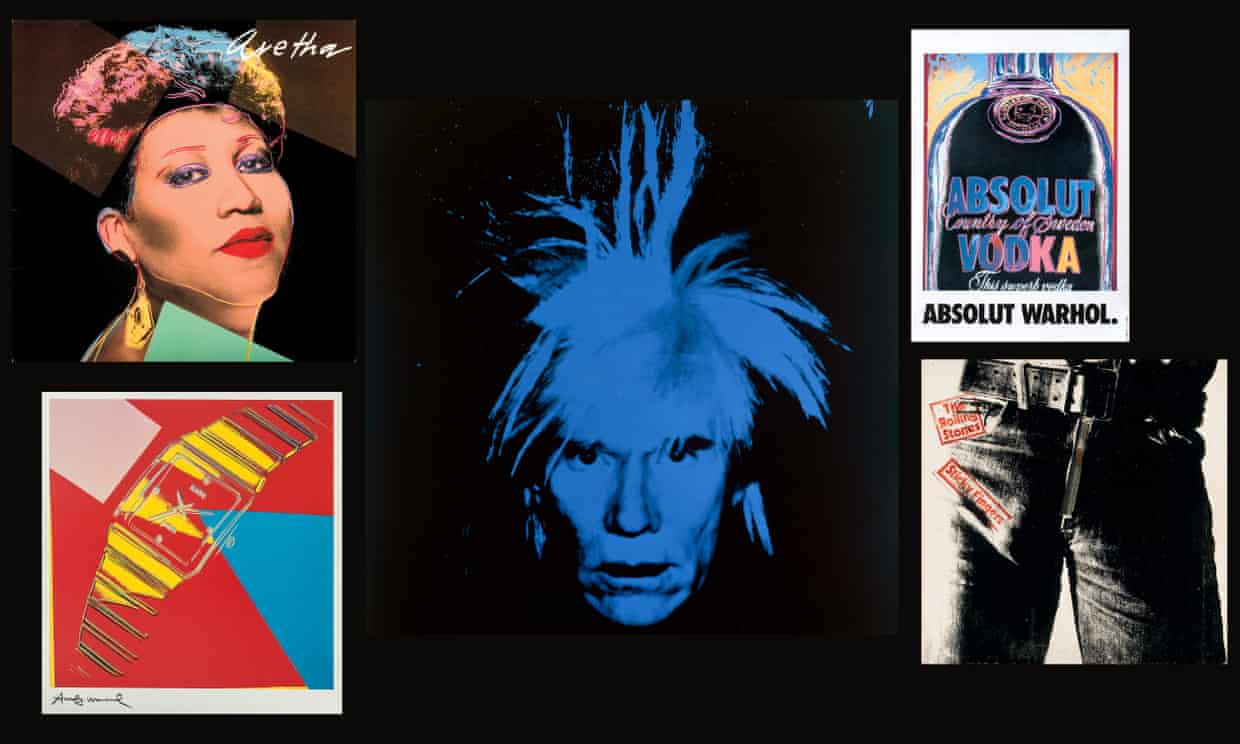 A Warhol self-portrait, albums by Aretha Franklin and the Rolling Stones, and ads for vodka and watches, all collected by Paul Maréchal and appearing in Mechanical Art at the Picasso Museum, Malaga, Spain.
"I can show you my latest acquisition, which I'm very proud of," says Paul Maréchal, the world's foremost collector of what snobs might refer to as Warhol ephemera – copies of illustrations, brochures, posters and album covers commissioned by companies and clients. Maréchal is adamant that they are "works of art". He whips out his phone and shows me a photo of a poster for Mademoiselle, a defunct Condé Nast publication ("The Magazine for Smart Young Women"). It's a red, white and blue map of the US, hand-drawn, with potatoes in Idaho, film reel and grapes in California and a Statue of Liberty in New York.
Maréchal's eyes bulge with enthusiasm as he describes how he found it for sale at a little auction house in Connecticut. "I've known only three examples of this poster. Two of them are in a private collection in Texas," he explains. It was a snip at $4,000 (£3,000), and will shoot up in value once he adds it to the catalogue raisonné of Warhol's commercial work that he has spent the past two decades compiling.
A dapper French Canadian in his early 50s, Maréchal, whose day job is curating art for a corporation in his native Montreal, owns more than 700 such pieces. They include Christmas cards for Tiffany, copies of Interview magazine – which filed for bankruptcy this month after a nearly 50-year run – and a medical booklet on rheumatoid arthritis featuring an ink drawing of a gnarled hand. At the Picasso Museum in Málaga, where we meet, a large Warhol retrospective features more than 150 items from his collection, the largest group ever to go on public display.
Maréchal started collecting in 1996. At the time, he says, Warhol's reputation was in a kind of limbo. "Art historians and collectors didn't know much what to do with his work – was he just a society portrait painter, an artist who created two or three famous artworks, but the rest was uninteresting? So in the early years, I could buy anything, I had no competition." That soon changed, however, after Maréchal began to publish records of what he had acquired, building a market in his wake. …
---
Ed. More tomorrow? Probably. Possibly. Maybe. Not?