New figures reveal almost 2,000 children have been separated from their families in six weeks.

Responsibility for the separation of children from parents at the US border is "on all" Americans, a prominent Texas Democrat said on Sunday, Father's Day, and "not just the Trump administration" which has implemented the controversial policy.
"I'd like to say it's un-American but it's happening right now in America," said Beto O'Rourke, a US representative, who in November will challenge Ted Cruz for his Senate seat. Speaking to CNN's State of the Union, he added: "It is on all of us – not just the Trump administration. This is on all of us."
According to Department of Homeland Security (DHS) figures obtained by media on Friday, almost 2,000 children have been separated from their families at the southern border in six weeks. Amidst outcry, Donald Trump has stuck to the untrue claim that Democrats are to blame.
On Saturday, the president tweeted: "Democrats can fix their forced family breakup at the Border by working with Republicans on new legislation, for a change! This is why we need more Republicans elected in November … "
There is no law mandating the separation of families at the border. But Trump administration policy is to maximize criminal prosecutions of people caught trying to enter the US illegally. That means more adults are jailed, pending trial, so their children are removed from them. …
---
Pictured above: President Donald Trump America's Shithole speaks to the press at the White House in Washington, on June 8.

Can a sitting president be indicted? The public should be skeptical of arguments saying no, which frequently rely on two opinions by the Justice Department's Office of Legal Counsel (OLC). This office, in part through its opinions, provides legal advice to the executive branch. As legal counsel to the executive, OLC is naturally biased in favor of helping its client achieve its goals through legal analysis. Media coverage of this important question concerning presidential immunity, however, has largely failed to question the underlying rationales found in those OLC memos. And when it comes to preserving the rule of law and our constitutional system of checks and balances, OLC does not have the final word, and we should not treat its views as such.
The plain fact is that OLC, responsive to its own institutional incentives, sometimes gets things wrong. Its opinions legitimizing the CIA's torture program were later withdrawn because of errors. Its opinion that federal courts could not hear appeals from prisoners held at Guantánamo Bay was later rejected by a 2008 Supreme Court decision. Its opinion allowing government agencies to ignore requests for information from individual members of Congress was disavowed by the Trump administration at the urging of Sen. Chuck Grassley. Its opinion supporting warrantless mass surveillance absent any congressional or judicial approval was refuted by a later OLC opinion. And its opinion saying Congress cannot give federal employees whistleblower rights to provide the legislative branch with classified information was found unpersuasive by Congress.
(We don't know how many OLC opinions would hold up to scrutiny, given the fact that many are kept secret. Right now, we at the Project on Government Oversight are in the process of challenging the OLC for withholding even the titles and dates of several recent unclassified opinions, which were redacted in response to our Freedom of Information Act request last year.)
There are reasons to believe OLC might be wrong about presidential indictments, too. The office's legal analysis largely relies on the assertion that a criminal indictment is so burdensome that a president subject to one would not be able to fulfill the office's constitutionally assigned duties—and therefore cannot be indicted. To follow the opinion's logic further, one could argue that any legal process that has the potential to substantially distract the president from his duties runs the risk of being unconstitutional. More specifically, as former White House Counsel Bob Bauer recently put it when discussing one of the OLC memos, the mere stigma related to the special counsel's investigation would also harm the president's ability to lead the nation…
Ed. Trump is unable to lead the nation, without any distractions. Perhaps it should be unconstitutional for someone unable to lead the nation… to lead the nation.
Lemmings. We are all.
---
Democrats want to highlight Trump scandals in their push for Congress this fall—just not the one that has dominated headlines and threatens his presidency.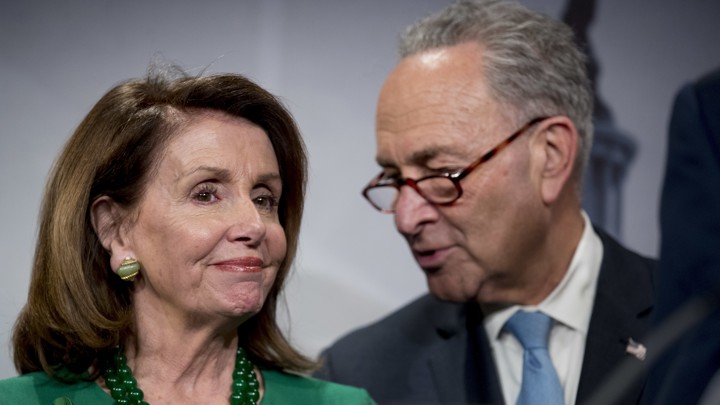 Democrats are planning to make the scandals surrounding President Trump a key part of their pitch to recapture the House majority this fall. But the one that's overshadowed all others—Special Counsel Robert Mueller's investigation into Russian collusion—is the presidential controversy that Democratic leaders view as the least politically potent on the campaign trail.
The party sees corruption, not collusion, as the scandal-related message that will resonate most in the midterm elections—a way to connect the seemingly daily controversies of the Trump administration with the Republican Congress's policies on health care and taxes that polls show are unpopular with the electorate.
"Instead of delivering on his promise to drain the swamp, President Trump has become the swamp," Minority Leader Nancy Pelosi said as she stood alongside other Democratic leaders on the steps of the Capitol last month to unveil a new anti-corruption plank in the party's 2018 platform. "Republicans, the White House, and the Congress are cravenly beholden to big money interests, and the American people are paying the price."
"Drain the swamp" is a familiar refrain not merely because Trump commandeered it on his way to the White House two years ago; it was a rallying cry for Pelosi when Democrats last retook control of Congress in 2006. And in terms of targets for controversy, the Trump administration has given Democrats an embarrassment of riches. Everyday seems to bring a new allegation of graft or other wrongdoing against Scott Pruitt, the embattled administrator of the Environmental Protection Agency. Trump's first health and human services secretary, Tom Price, resigned after acknowledging that he spent hundreds of thousands of dollars in taxpayer money to fly across the country in private planes. And the Department of Housing and Urban Development was found to have spent $31,000 on a new dining room set for Secretary Ben Carson's office. (He later requested for it to be canceled.)
Ethical controversies have also dogged Trump and his family from his first day in office, whether it be his refusal to release his tax returns or his use of the presidency to promote his business and properties around the world. …
---
LAND OF THE STRESSED

The tragic deaths of Kate Spade and Anthony Bourdain, and others like them, has brought new awareness to the rapidly growing public health problem of suicide in the US.
Suicide rates in the US have increased nearly 30% in less than 20 years, the Centers for Disease Control and Prevention reported June 7. These mind-numbing statistics were released the same week two very famous, successful and beloved people committed suicide—Kate Spade, a tremendous entrepreneur, trendsetter and fashion icon, and Anthony Bourdain, a distinguished chef and world traveler who took us on gastronomic journeys to all corners of the world through his TV shows.
Their tragic deaths, and others like them, have brought new awareness to the rapidly growing public health problem of suicide in the US. These deaths have renewed the country's conversation about the scope of the problem. The sad truth is that suicide is the 10th leading cause of death among all Americans, and among youth and young adults, suicide is the third leading cause of death.
I believe it's time for us to pause and to ask the question why? Why are the suicide rates increasing so fast? And, are the increasing suicide rates linked to the seeming increase in demand for drugs such as marijuana, opioids and psychiatric medicine? As a public health researcher and epidemiologist who has studied these issues for a long time, I think there may be deeper issues to explore.
Suicide: more than a mental health issue
Suicide prevention is usually focused on the individual and within the context of mental health illness, which is a very limited approach. Typically, suicide is described as an outcome of depression, anxiety, and other mental health concerns including substance use. And, these should not be trivialized; these conditions can be debilitating and life-threatening and should receive treatment. …
If you or someone you know need help, call the National Suicide Prevention Lifeline at 1-800-273-8255.
---
What if the urban visions of famous architects and planners had actually been built?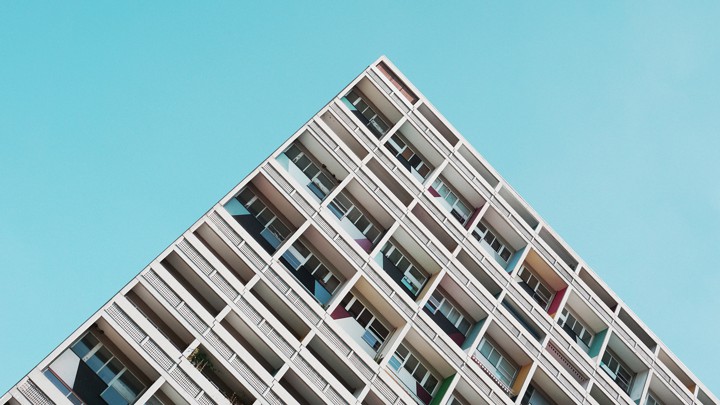 It was a bright summer morning in 1940. As Paris emptied of people, a single panic-stricken thought swept through the chaos of the crowds: Il y a péril en la demeure—there is danger in delay. The thief thought so too, though in a different sense. He watched as the families scrambled onto trains bound for no particular destination, just anywhere south of the capital, out of reach of the advancing Germans. He left the station by another exit, the secret pocket in the lining of his jacket already full. Closing his eyes briefly, he felt the sun on his face. Then he headed for the river and the rows of cross-shaped, residential-tower blocks on the horizon.
He passed over the vast green spaces between the towers. He was old enough to remember when this area had been called Le Marais. It had been full of ramshackle old shopfronts, Russian accents, synagogues. All gone now, bulldozed and dynamited, replaced by Le Corbusier's monumental modernist vision of concrete, steel, and glass. They'd even moved some of the centuries-old churches and palaces elsewhere, among them the Church of Saint-Gervais-et-Saint-Protais and the Hôtel de Beauvais. He paused on a bridge above a highway; one side was stuck fast with traffic and furious terrified runaways, the other deserted. The sound of horns, shouts, and engines faded as he approached the building. The lobby was empty. The corridors were deserted.
He took the elevator to the top. Toys were scattered around the rooftop kindergarten. The swimming pool was empty. He could see, far below, an airdrome already abandoned, littered with passenger stairs. He thought he could hear bombardments in the distance. For one night, he had his pick of virtually anywhere and anything in the towers. He was a king in a disintegrating republic.
These things both did and didn't happen. Paris would indeed fall to invading German forces on June 14, 1940, and thieves surely did prowl that dark confusion. But Le Corbusier's proposal to replace the city's central districts with tracts of high-rise towers was never realized. Those visions of the early 1920s, known as Ville Contemporaine, Plan Voisin, and Ville Radieuse slipped into an alternate time line, one our version of Paris, and the world, will never see.
Citizens would do well to revisit these unbuilt cities, to let their alternate histories roll around in the head. People might return to unbuilt architecture as inspiration for the future, but unrealized cities offer more than just old ideas renewed. They also remind people of how the world, so solid and certain to us now, could easily have been so different. …
---
Scientists are divided on whether it'd be a good idea to contact aliens. Maybe they'll come to cure the common cold, or maybe they'll come to introduce us to the exciting world of space slavery. The argument is kind of moot, however, as we're already flooding space with so many messages that humanity's probably in every intergalactic empire's spam folder. Here are but a few of the far-out ways we've tried to contact the far out …
5. There Are Already Ads In Space (Of Course)
---
How to greet our future extraterrestrial overlords is a question that has puzzled space nerds for ages. But a company called the Deep Space Communications Network, with grand boldness unburdened by responsibility, has already shot out its answer on how to best simulate our everyday culture: By sending aliens tons and tons of internet ads.
For those of you who may not know, Craigslist is essentially an online personals section where users / serial killers can post ads for secondhand cars, weird sex stuff, roommate hunts, weird sex stuff, landscaping, and mostly weird sex stuff. And when, in 2005, the DSCN pulled the stunt of beaming the first ever website to the stars, for some insane reason, they decided to go with the website that's been used as evidence in more criminal investigations than all others combined. The transmission held over a hundred thousand listings from Craigslist, along with an audio recording explaining that all this junk is currently available on earth. DSCN's vice president defended the choice by saying that he felt Craigslist "represents a wide cross-section of society" — and he's right, if the goal were to let aliens know we're an entire species obsessed with getting a good deal on a dubiously stained couch.
Stained from, you know, the weird sex stuff.
Unfortunately, this move opened the previously untapped alien demographic for soulless corporations, so of course others have gotten in on the action. Doritos (yes, Doritos) launched their own interstellar communication project in 2008. …
---
MEEEEE

A study found that meditation doesn't necessarily reduce ego.
According to Buddhist teaching, the self is an illusion. The religion preaches a fundamentally selfless worldview, encouraging followers to renounce individual desires and distance themselves from self-concern. To advance this perspective, millions of people around the world practice yoga and meditation.
But a recently published psychological study directly contradicts that approach, finding that contemporary meditation and yoga practices can actually inflate your ego.
In the paper, published online by University of Southampton and due to be published in the journal Psychological Science, researchers note that Buddhism's teachings that a meditation practice helps overcome the ego conflicts with US psychologist William James's argument that practicing any skill breeds a sense of self-enhancement (the psychological term for inflated self-regard.)
There was already a fair bit of evidence supporting William James's theory, broadly speaking, but a team of researchers from University Mannheim in Germany decided to test it specifically in the context of yoga and meditation. …
---
The Boring Company has tested its private vehicle transit platform.
Someday, The Boring Company's tunnels could become a busy network of passenger-carrying shuttles, private vehicles and bicycles trying to dodge traffic. But right now, its existing tunnel under LA is pretty ahem boring — save for a short moment last week when the company tested its vehicle transportation platform using a Tesla, that is. Sure, the event wasn't nearly as exciting as the time SpaceX sent Elon Musk's cherry-colored Roadster to space, but it still shows how a platform running on the tunnel's tracks would ferry private vehicles from one point to another.
The Boring Company chose to prioritize providing a transportation system for pedestrians, but it will still provide private vehicles a quick way to get to their destinations in the face of unyielding traffic. Just recently, it revealed that Tesla will manufacture the high-speed pods to be used for public transportation. It also announced Chicago's decision to choose the company to build a high-speed transit system between the O'Hare International Airport and downtown. …
---
A 'dream team' of scientists scaled Mount Lico and found a wealth of new species.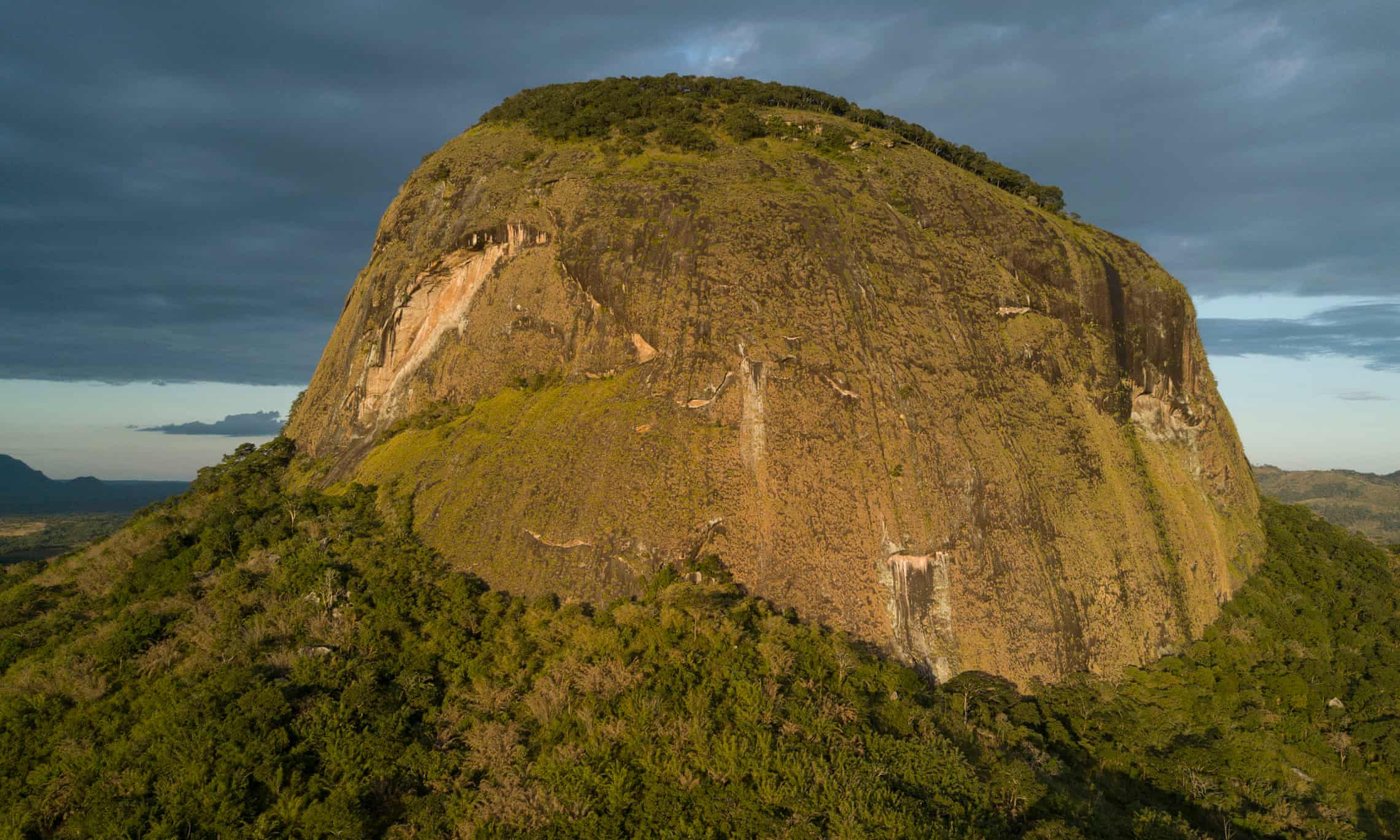 Standing in a pit in the red soil of a mountaintop forest in northern Mozambique, Dr Simon Willcock was dirty but very excited. "Undisturbed forest is incredibly rare," he said. "That is why we scaled a 125-metre-tall cliff with a pickaxe." Willcock, from Bangor University in Wales, knew of no other rainforest in Africa that scientists can confidently say has not been disturbed by humans. "It's a unique site in Africa," he said, plunging the axe down into the chest-deep hole with a whump.
Like a villain's fortress in an old James Bond movie, Mount Lico rises vertically from the land around it, the ancient centre of a volcano with the forest nestled in its crater. It was discovered by Dr Julian Bayliss, who examined satellite imagery looking for an undisturbed tropical rainforest. When he spotted Lico on Google Earth, he said, the forest on top "was isolated and appeared totally undisturbed". With a smile, he added: "That makes it very exciting."
Bayliss, from Oxford Brookes University, had form: he is known for having found Mount Mabu, the largest rainforest in southern Africa, as well as a number of new species of butterflies and other creatures in the area since then.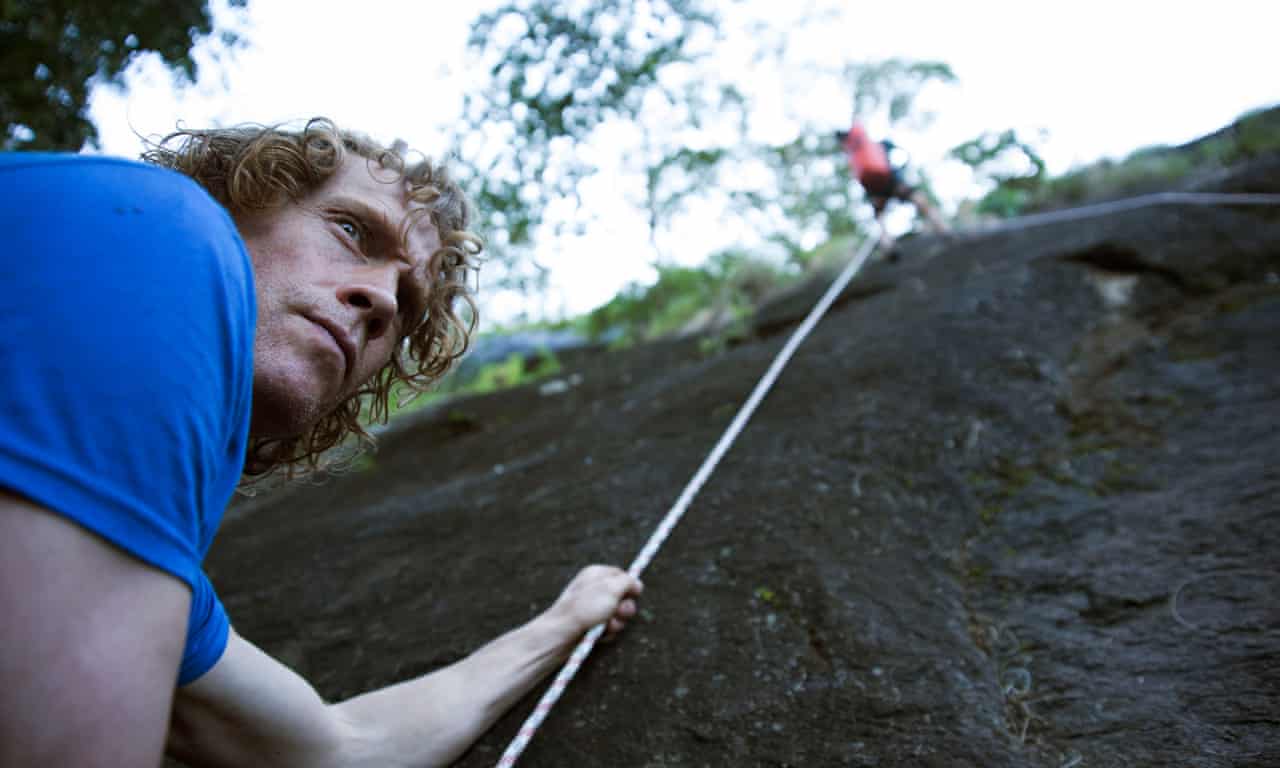 Julian Lines, left, and Mike Robertson, up the rope, prepare the way for the team to move up into Mount Lico's mountaintop forest.
Rainforests are the oldest living biomes on Earth and contain roughly half the known species of life. They also store more carbon for longer than any other living system. Some tropical rainforests date back to the dinosaur age, but virtually all show signs of past human activity. Bayliss wondered if there were mountaintop forests that might be untouched. He remembers thinking: "What would a forest like that look like?" …
---
LockPickingLawyer, a recreational lock picker, was sent a fingerprint padlock for review. He emailed the manufacture to let them know that he'd discovered a security vulnerability: "Upon examining the lock, I found that if you remove the three screws, the lock falls apart. The shackle can be opened and relocked without the owner's fingerprint or knowledge."
The manufacturer replied: "the lock is invincible to the people who do not have a screwdriver." …
---
The company that sent me the pictured fingerprint lock has provided the security quote of the year: "…the lock is invincible to the people who do not have a screwdriver." pic.twitter.com/dmpYHAmMiY

— LockPickingLawyer (@LockPickingLwyr) June 15, 2018
---
Video Goodnesses
and not-so-goodnesses
Roy Wood Jr. goes on a ride-along with a Jersey City officer to find out what policing is really like in a sanctuary city.
THANKS to Comedy Central and The Daily Show with Trevor Noah for making this program available on YouTube.
---
Daily Beast reporter Will Sommer discusses how the Trump presidency has upended traditional conservative media in favor of conspiracy-spouting fringe outlets.
THANKS to Comedy Central and The Oppisition with Jordan Klepper for making this program available on YouTube.
---
Quiet time with Max.
He isn't too sure of my new phone yet.
---
---
FINALLY . . .
QUEER EYES, FULL HEART

Gorg.
When the internet first heard that Netflix was poised to reboot Queer Eye for the Straight Guy, the makeover show in which five effusive gay men transform the appearance, and life, of a hapless straight, it collectively rolled its eyes and sighed. It seemed not just boring, but even a little backward in a post-DACA, trans-aware, gender fluid world. The whole project just seemed very basic—like your dad's idea of what gay identity is like in 2018—wrapped in a materialistic package promising that buying the right things can be truly transformative.

They can't even.
Some of those critiques hold water. All five are indeed, very, very fab. They're all attractive men who seem effortlessly cool and confident. Though Jonathan Van Ness has a playful fluidity to his identity which may make the concept of "gender queer" a household reality, the other four are cis-gendered. Buying new clothes and furniture is a huge part of the show.
To dwell on all those elements is missing the point. It's like coming up with ways that the point of crisis in a drama—faulty crockpot wiring, a car crash—could have been avoided. The show's exterior makeovers are a hook, a plot device, a visual representation of Queer Eye's real work. In a moment that feels defined by conflict—in the news cycle, on social media, even at our own dinner tables—the Fab Five are here to show us that difficult conversations can be transcendent. …
---
Ed. More tomorrow? Probably. Possibly. Maybe. Not?