Does anyone know what's going to happen to America? Does America have a future? Or does it just collapse into…wait, what is it collapsing into, anyways?
Let me ask you that another way. Are they authoritarians? Fascists? Nazis? Religious extremists? "Ethno-nationalist nativists"? Which one of these terms, ideas, which are also explanations, would you pick?
I'd pick all of them.
American collapse is more like a megacollapse. A supercollapse. A hypercollapse. It combines elements of all the previous collapses which we know about in modern history — and then some of its own, too — and melds, combines, and blends them together into something like a a titanic, earth-shattering, historic, once in a millennium implosion. Think of it as a supervolcano that's capable of taking down a whole continent, changing the world's climate, tilting the globe off its axis, and darkening the sun itself for an age, erupting.
All that is precisely what it really is. Let's go through all the elements American collapse combines, and why they matter — and if it frightens you to read this, well, the truth is: you should be scared. Americans continue to underestimate American collapse. They don't really understand the first thing about it, yet. …
---
With Trump's travel ban recently upheld and the fate of Dreamers still in flux, the holiday is an uncertain time for many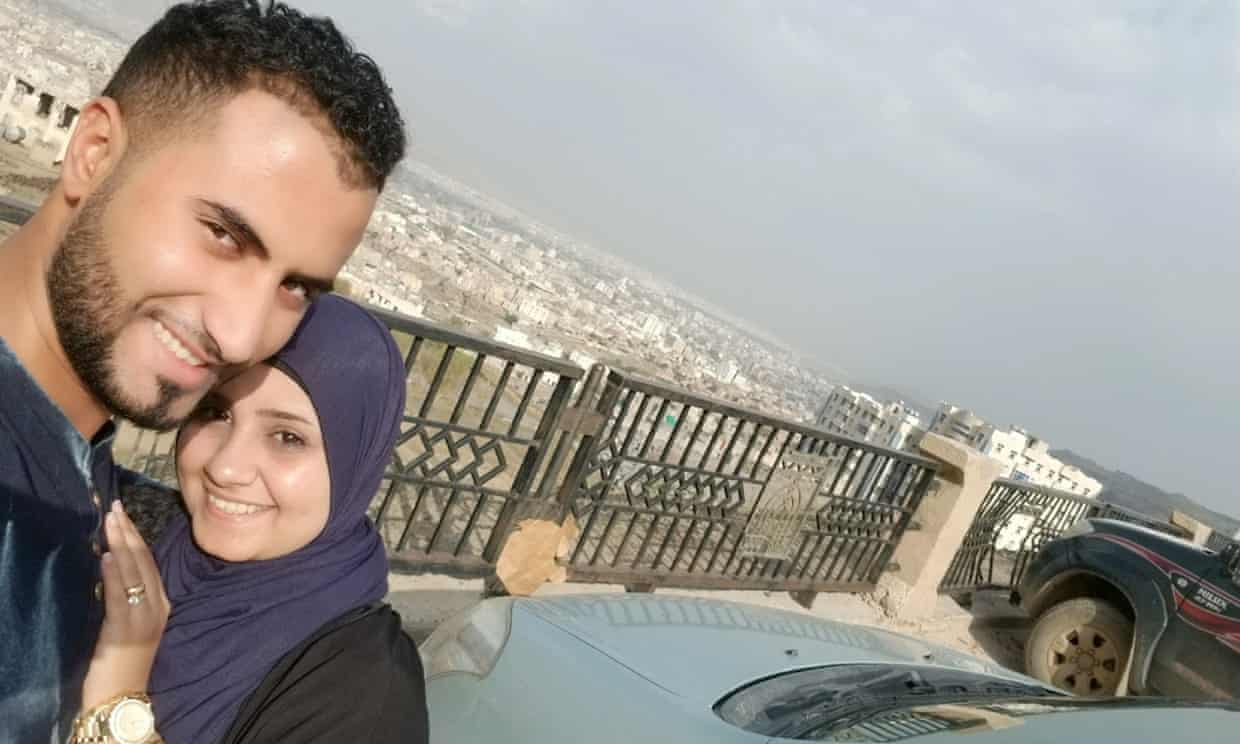 Sondos Alsilwi with her husband.
'I don't feel wanted here': Zuleyma Castrejon-Salina, 24, North Carolina
Zuleyma Castrejon-Salina and her family have celebrated Independence Day in America together for over two decades.
The 24 year-old came to the US, aged two, without paperwork. As a child she would go shopping for patriotic clothing to mark the Fourth of July holiday. But something changed when she reached high school.
"I realized that I wasn't really celebrating my freedom, or the freedom of my people," Castrejon-Salina said. "So now, just because we have the day off, I try to spend it with my family. But it doesn't have that 'I'm proud of my country' feeling any more."
Castrejon-Salina is one of the 800,000 young people in America who received Daca status under the Obama administration, which protects them from deportation. But as the future of Daca remains unstable under Donald Trump, she and her family prepared for 4 July this year with a degree of trepidation and fear they have never experienced before.
Her parents, both undocumented, will still cook a carne asada, as they do every year – barbecuing ribs, flank steak, and fresh chorizo. But Castrejon-Salina also worries about their annual trip to the local park in Monroe, North Carolina, to watch the fireworks with her four younger siblings. …
---
Form gives parents two options, prompting objections from immigration advocates who say families are being misled.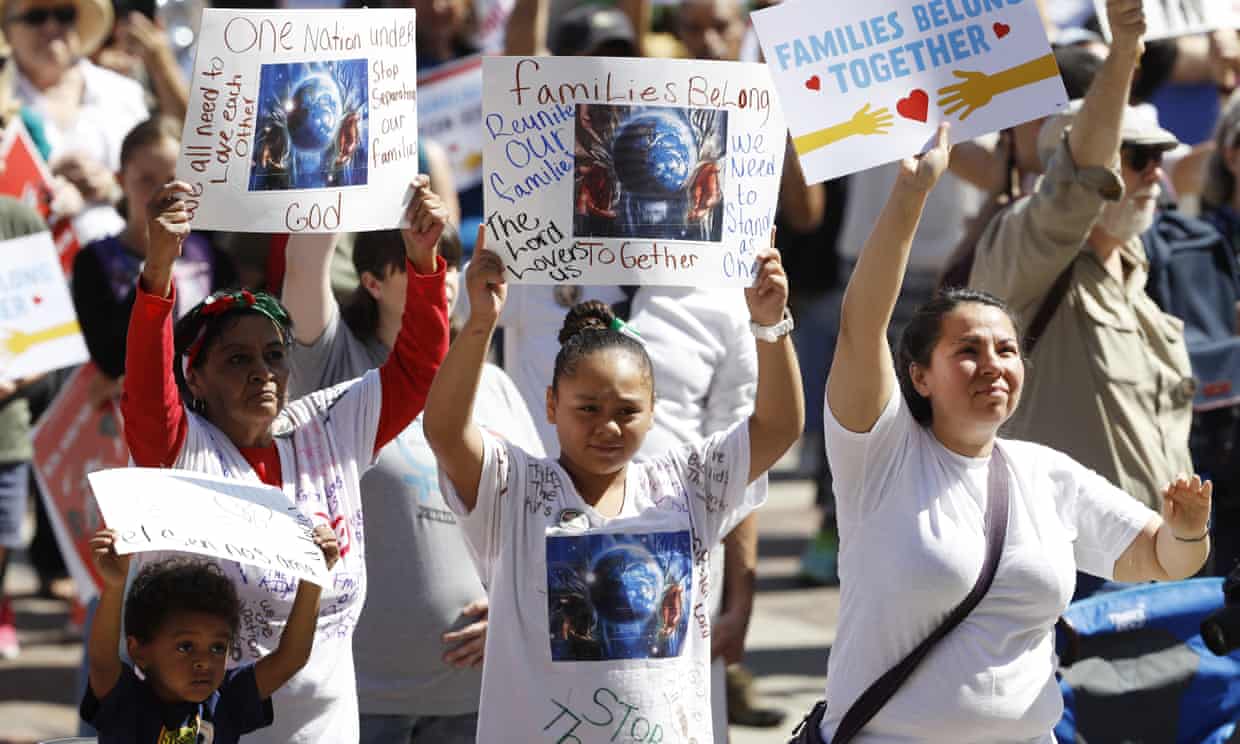 People wave placards during an immigration rally and protest in downtown Denver on Saturday.
US immigration officials have been instructed to ask parents separated from their children under Donald Trump's "zero-tolerance" immigration policy to choose whether to return to their countries with – or without – their offspring.
The instructions, laid out in a government form, come one week after a judge ordered the Trump administration to reunite the roughly 2,300 migrant children who were ripped apart from their parents at the border.
The form, which was first reported by NBC News, presents two options to migrant parents as part of a notice for removal from the United States: "I am requesting to reunite with my child(ren) for the purpose of repatriation to my country of citizenship" or "I am affirmatively, knowingly and voluntarily requesting to return to my country of citizenship without my minor child(ren) who I understand will remain in the United States to pursue available claims of relief".
The Guardian was able to obtain the form and verify its authenticity.
The form stipulates that immigration enforcement agents must read its contents to detained parents in a language they understand. The majority of border crossings in question pertain to migrants fleeing violence in Central America and seeking asylum in the US. …
---
Amazon is looking for a home for its second headquarters. But in its current home, critics say rising house prices and growing inequality have damaged the city.
Image shows Seattle from 2015 to 2017.
However they see Amazon, for good or ill, residents of the fastest-growing city in the US largely agree on the price Seattle has paid to be the home of the megacorporation: surging rents, homelessness, traffic-clogged streets, overburdened public transport, an influx of young men in polo shirts and a creeping uniformity rubbing against the city's counterculture.
But the issue of Jeff Bezos's balls is far from settled. "Have you seen the Bezos balls?" asked Dave Christie, a jewellery maker at a waterfront market who makes no secret of his personal dislike for the man who founded and still runs Amazon. "No one wanted them. They've disfigured downtown. Giant balls say everything about the man. Bezos is holding Seattle hostage."
It's not strictly true to say everyone is against the three huge plant-forested glass spheres at what Amazon calls its "campus" in the heart of the city. The Bezos balls, as the conservatories are popularly known, are modelled on the greenhouses at London's Kew Gardens, feature walkways above fig trees, ferns and rhododendrons, and provide hot-desking for Amazon workers looking for a break from the neighbouring office tower.
"They are absolutely gorgeous. There was nothing in that area 10 years ago," said Jen Reed, selling jerky from another market stall. "I don't hate Amazon the way that a lot of people hate them. Seattle has changed a lot. My rent's gone from $500 to $1,000, but outside of that Amazon have been beneficial. It's give and take, and anyway we invited them here." …
---
No country is perfect, and America is definitely a country. We've got sexual harassers, mass shooters, and even a few Nazis, just to keep things interesting. But while they dominate the news, there's a whole mess of serious issues that aren't making headlines, even though they really should be. Like how …
5. 35 States Have A Legal Loophole That Lets Police Officers Accused Of Sexual Assault Avoid Investigation
---
In 2017, 18-year-old New Yorker Anna and her two friends were confronted by two police detectives while sitting in a parked car. There was some weed in their cup holder, so they were ordered out, and Anna was handcuffed while her friends were told to scram. Then the detectives brought Anna into the back of a police van and took turns raping her. Two weeks later, she was ticketed for possessing weed.
So that's … the worst, but at least Anna's case should be easy to resolve, right? A rape kit confirmed that the men definitely had sex with her, which seems like the end. Onto the one about the rabbit that allegedly killed the gadget inventor with an anvil. But no, thanks to a loophole, there's no law against police having sex with people in their custody … in 35 states, New York included. Rape is still illegal, but accused officers can claim that the encounter was consensual. You know, because nothing says dream romance like two armed men holding all of the power over a teenage girl in the back of a van. It's practically a Nicolas Sparks movie. Oh, and for an extra dose of class, defense attorneys argued that Anna wasn't credible because she couldn't remember which officer ordered her to take her bra off.
This is nuts pic.twitter.com/KpSDIR8Rsx

— Anna Chambers (@annaaachambers) September 30, 2017
It's a loophole that's hard to close, both because it's so ridiculous that many people have no idea it even exists, and because any law intended to lessen the authority of the police, no matter how well-intended, ends up getting slammed as anti-cop. And this was not an isolated incident. In Oklahoma City, an officer pulled a woman over, accused her of erratic driving, ordered her to lift up her shirt and pull down her pants to prove that she wasn't hiding anything, then forced her to perform oral sex on him. The woman reported the incident, and the officer was fired several months later, when an investigation was finally launched into complaints made by 13 other women. Oh no, was there a 13-strike rule? …
---
PLEASE DON'T

Fireworks are best viewed from the ground.
It's that time of the year again in the US, where we celebrate our independence by blowing a small part of it up.
If you own a drone and are thinking about using it to capture some amazing footage of fireworks at July 4 celebrations this year, please think twice. As the US Federal Aviation Administration (FAA) reminded us last week: "Fireworks, drones and airplanes don't mix."
Here are the very simple rules the FAA asks everyone to follow:
Don't fly your drone in or near fireworks
Don't fly over people
Don't fly near airports
Depending on local regulations, flying over people can be a criminal offense. And flying over fireworks really just isn't a great idea. Unless you're a very skilled pilot, it's difficult to navigate around randomly exploding fireworks. If you're not careful, your expensive drone can end up careening to earth as a firework itself. …
POINT OF REFLECTION: It may have been in questionable judgment to post an article about flying drones into fireworks without considering whether a drone-owning reader hadn't thought of it… yet.
---
The loud bangs fireworks produce, similar to gunshots, can trigger symptoms of post-traumatic stress.

Experts from the National Center for PTSD recommend that Americans who want to be sensitive about their fireworks should have a conversation with their neighbors about how the sounds might affect them.
For many mass shooting survivors, Fourth of July fireworks are a challenge, not a sign of celebration. It is an issue that military veterans and survivors of everyday gun violence have dealt with for years: the loud bangs of America's Independence Day fireworks can trigger symptoms of post-traumatic stress.
This year it will be a new experience for the teens who survived school shootings in Parkland, Florida, and Santa Fe, Texas, in the spring.
Experts from the National Center for PTSD recommend that Americans who want to be sensitive about their fireworks should have a conversation with their neighbors about how the sounds might affect them, or at least give them a heads up about what time the fireworks will be set off.
Emma González, the 18-year-old activist from Parkland, Florida, shared a request for this kind of sensitivity earlier in June, with those in the area where her high school there, Marjory Stoneman Douglas, was the scene of a mass shooting on Valentine's Day that took 17 lives. She asked those in Parkland and nearby Coral Springs to be aware of the impact fireworks might have on their neighbors, including "nearly 3,500 students and faculty facing the short and long-term effects" of the school shooting.
"Fireworks produce noises much like gunshots, and unexpected fireworks can/will cause physical and mental distress in those directly affected by the tragedy. Please be careful," an image González shared on Twitter advised. …
---
Please be courteous and respectful every 4th of July ❤️🎉❤️ pic.twitter.com/agv9q6fq2k

— Emma González (@Emma4Change) June 18, 2018
---
FREE FOR ALL

Under fire.
Supporters of Donald Trump are seething after discovering baby clothes with "Impeach 45″—Trump is the 45th US president—up for sale on Walmart's site. (They've since been taken down.)
Many are calling for a boycott of the giant retailer on Twitter with the hashtag #BoycottWalmart, reports Fox News. Furious Trump supporters see the clothes as evidence that Walmart has aligned itself with America's political left, or that it is trying to send a partisan message.
.@walmart why are you selling Impeach 45 baby clothes on your website?????

What kind of message are you trying to send? https://t.co/PwI4nCVAZx

— Ryan Fournier (@RyanAFournier) July 3, 2018
But the accusations miss a crucial fact about how Walmart runs its website, or more specifically, its third-party marketplace, where the items appeared. The reality is that Walmart, like many other companies, doesn't keep track of everything sold through its online marketplace. While it can't entirely deny responsibility, its failing here has nothing to do with partisan politics.
In a statement to Fox News, Walmart pointed out that the "Impeach 45" items were being sold "by third party sellers on our open marketplace, and were not offered directly by Walmart." That marketplace is a sprawling e-commerce free-for-all where you can buy Nike sneakers, Louis Vuitton handbags, Urban Decay eyeshadow, or refurbished Apple computers from countless individual sellers who have no connection to Walmart, other than using its site to peddle their wares. …
---
Video Goodnesses
and not-so-goodnesses
Donald J. Trump reads his book chronicling how America won its independence from Great Britain in honor of the Fourth of July.
THANKS to NBC and Late Night with Seth Meyers for making this program available on YouTube.
---
In honor of the 4th of July, a little reminder that the best way to celebrate America and fight for the things you believe in is to vote!
THANKS to TBS and Full Frontal with Samantha Bee for making this program available on YouTube.
---
Jess is the mother of four beautiful, bouncing, adult comedy writers. Guess which one still wears velcro shoes!
---
はなが引くほど紐で豪快に遊ぶまる。Maru plays boldly with the string.
---
Max's way of celebrating.
Ed. I fell asleep on the couch last night (as I often do). R2 the Meyer's Parrot slept happily on my shoulder. Miguel the Macaw spent most of the night enjoying Netflix's Unsinkable Kimmie Schmidt. Bessie and Knucklehead the African Grey's spent most of the night grooming each other… which meant my living room looked like there'd been a pillow fight.
---
FINALLY . . .
'Blue collar dude with a passion for music,' who is serving life sentence, is 'looking for someone to be with'

Justin Bourque pleaded guilty to three counts of first-degree murder and two counts of attempted murder in the June 4, 2014 Moncton Mountie shootings.
One of Canada's most notorious killers — who murdered three RCMP officers and wounded two others — has taken to an online matchmaking website where he portrays himself as "a blue collar dude with a passion for music."
Justin Bourque — who is serving a life sentence with no chance of parole for 75 years for his 2014 shooting rampage in Moncton, N.B. — posted a profile Tuesday on Canadian Inmates Connect.
"I am single and looking for someone to be with," Bourque wrote on the profile, which lists his expected release date as 2089.
The site aims to hook up lonesome convicts with potential companions on the outside.
Connections can improve lives
Melissa Fazzina, who runs the site, said many of the inmates are just looking for friendships and she hopes the connections can help make them better people.
"I've seen how important this service is, just being able to connect people that are incarcerated with the outside world. It does a lot to change their lives for the better while they're inside prison and often for when they're coming out," she said. …
---
Ed. More tomorrow? Probably. Possibly. Maybe. Not?