Will Red-State Protests Spark Electoral Change?

After nearly a decade of Republican anti-tax "experiments," voters appear fed up with being the guinea pigs.
"We're not leaving": Oklahoma teachers flooded the statehouse in April to demand more money for education and public services.

Growing up in a poor family in northeast Oklahoma, Scott Helton decided what he wanted to be while still in high school. "I had a slew of really, really, really good teachers that loved me and took care of me like I was their own kid," said Helton, whose boyish face could still be mistaken for that of a student. He recalled one English teacher in particular who would stay late and talk to him. "That was the moment when I realized: 'I want to do this—forever. I want to do for kids what she's doing for me right now.'"
He also wanted to teach in his home state. Now, perhaps, that decision seems foolhardy.
When Helton started teaching high-school English 10 years ago, his biggest classes had about 20 students. This year, they had from 30 to 35 students, with one that nearly reached 40. And yet his classroom is designed for only 30 students. "If everybody's there on the same day, they're either sitting in stand-alone chairs, or they're going to lean against the wall, or they're going to sit on the ground," he said. Many of the desks are already broken.
To save money, Helton's school recently opted to use online textbooks instead of buying individual copies. But the school doesn't have enough computers, or even decent Wi-Fi, so he has to print the pages out. Yet there's not enough copy paper. "It's just this constant cycle," he said.
Helton is clear about what started the cycle: Oklahoma's rock-bottom education funding, the result of tax cuts that ate into the state's revenue. "This is year eight of the Fallin regime," he noted, referring to the current Republican governor, Mary Fallin, "and every year it's gotten worse and worse and worse." …
---
TITANIC PLANS

A possible solution.
An improbable idea is being floated to solve Cape Town's water crisis: towing an iceberg from Antarctica over 2,000 kilometers to the South African city.
For much of the past year, Day Zero—when Cape Town, a city of 3.7 million will run out of water—has loomed but with restrictions such as two-minute showers and only using 50 liters of water daily, Day Zero has been temporarily postponed without a date. Officials say Day Zero could still happen in 2019.
But to prevent that reality, Nick Sloane, a marine salvage expert says towing an iceberg from Antarctica could solve the problem. The ideal iceberg would need to be one kilometer in length, 500 meters across and 250 meters deep with a flat surface. If successfully towed, melted water from the iceberg can potentially provide 150 million liters of freshwater every day for a year. While it won't solve all of Cape Town's water problems, it could make a huge dent and supply up to 30% of the city's annual needs, Sloane estimates.
It's not the first major marine project Sloane has been involved in. Back in 2013, Sloane's team salvaged the wrecked Costa Concordia cruise ship in one of the largest maritime salvage operations ever. …
---
The northern white rhino is essentially extinct – just two females remain – but new research paves the way for its resurrection.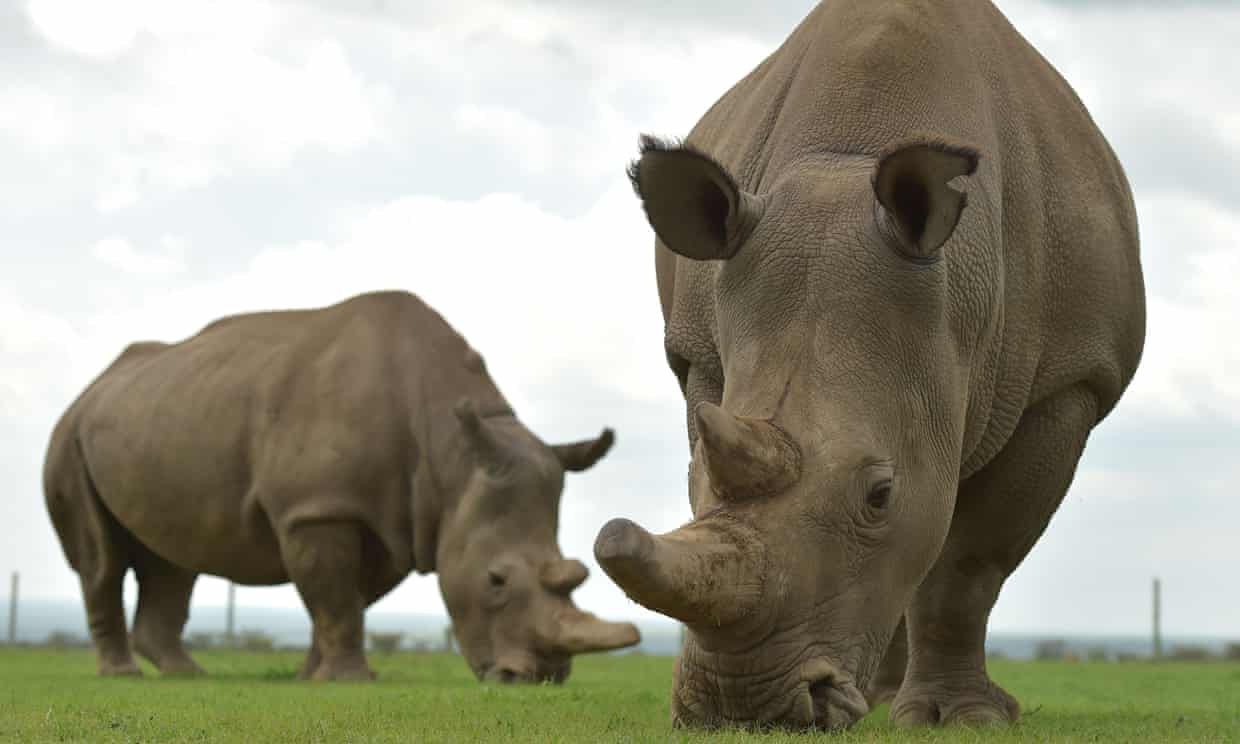 Najin and Fatu, the only remaining female northern white rhinos graze in their paddock at the ol-Pejeta conservancy in Nairobi, Kenya.
The first rhino embryos have been created in a test tube and could help save the northern white rhino, which is essentially extinct.
There are just two northern white rhino (NWR) females left alive. The last male, called Sudan, died in March in Kenya, meaning the subspecies is doomed to die out unless the new IVF techniques bear fruit.
There are 21,000 southern white rhinos (SWR) and these will be used as surrogate mothers. The scientists are planning for the the first NWR calf to be born within three years.
Very few frozen NWR eggs exist, so the scientists started by fertilising SWR eggs with stored NWR sperm to create hybrid embryos and to show the technique works. A critical next step is to take eggs from the last two NWR females and produce pure NWR embryos.
But even if the implantation of the pure NWR embryos does lead to the birth of healthy calves in future, the NWR faces another huge challenge: the lack of genetic diversity needed to build up a healthy population. …
---
THE NEW NEW COLOSSUS

The new "New Colossus" in front of the New York Hotel and Casino in Las Vegas.
The Statue of Liberty is a beloved American symbol. That's why, in 1996, the New York-New York Hotel and Casino in Las Vegas, Nevada, commissioned a replica of the iconic lady. Sculptor Robert Davidson gave the classic statue a fresh look, with softer facial features inspired by a photograph of his mother-in-law. And so when the US Postal Service featured the "mighty woman with a torch" on its 2011 Forever stamp, experts knew that the stamp depicted not the original statue, but Davidson's creation.
Now a federal court has ruled that USPS must pay Davidson $3.5 million for its accidental copyright infringement. The June 29 ruling explains that the postal service mistakenly printed and sold stamps with the replica statue's face on it, having failed to distinguish between the real Lady Liberty and her Las Vegas counterpart. The court ruling offers an important reminder that artistic originality manifests in many subtle ways—not just completely unique takes.
The agency chose the replica's face to feature on its stamp because it was distinctive. It looked like no other image of the Statue of Liberty that the agency was considering for its "workhorse" stamp. "That was its appeal…There are only so many ways to continue to reinterpret an iconic image," a USPS representative testified about his choice. In 2011, the postal service discovered the error. But it didn't issue a clarification or contact the artist to credit him or pay for his contribution to what was turning out to be a popular and lucrative stamp. …
---
Dating apps have many well-known problems — a paralyzing overabundance of choices, an ever-evolving built-in language of flirtation that's tough to keep up with, the fact that most humans are just, like, fine — but like most things to come out of Silicon Valley, they also have a hidden dark side that we only occasionally get glimpses of. As if the act of dating itself weren't already frustrating and draining beyond belief, here are five other, less obvious ways dating apps have failed us.
5. The "Most Eligible" Users Are Super White
Business Insider recently published a press relea- er, "article" about the ten most eligible singles for a bunch of different U.S. cities, as determined by a dating app called Hinge (the only word in the dictionary no one had used to name an app already). For example, here are the ten most eligible singles in Atlanta, apparently:
Or the queue at your nearest Whole Foods.
Huh. There's something … interesting about this cross-section of "ideal dating candidates" in a city that's only 40 percent white. For one thing, there are literally more collies pictured here than black people. The Atlanta list wasn't some exception, though. The lists for other diverse cities, like Los Angeles (52 percent white), Chicago (48 percent), and New York (43 percent), only featured between one and three nonwhite people apiece.
It's the same with other dating sites, even ones that don't market themselves as "Tinder, but boring." The Cut ran a story on "The 4 Most Desired People in New York (According to OKCupid)," profiling one straight woman, one gay woman, one straight man, and one gay man. Guess what they all have in common? …
---
SELF-EVIDENT TRUTHS

Banned.
The Vindicator, a local newspaper in Liberty, Texas, decided to post the US Declaration of Independence on Facebook in small chunks in the days leading up to the July 4 holiday, which celebrates adopting the historical document in 1776. Facebook's content moderation system took issue with part of the Declaration, and took down the paper's post.
Casey Stinnett, The Vindicator's managing editor, speculated that the offending language in a fragment of the document that refers to King George III was a mention of Native Americans:

He has excited domestic insurrections amongst us, and has endeavoured to bring on the inhabitants of our frontiers, the merciless Indian Savages, whose known rule of warfare, is an undistinguished destruction of all ages, sexes and conditions.
A Facebook spokesperson told Quartz that taking down the Declaration was a mistake, and that indeed, it was the phrase "Indian Savages" that could have violated their standards in a different context. "The post was removed by mistake and restored as soon as we looked into it. We process millions of reports each week, and sometimes we get things wrong," a spokesperson said in a statement. The platform has since reinstated the post, and apologized to The Vindicator. …
---
Could a process that uses mycelium to help recycle old buildings into new ones solve the problem of the city's many abandoned homes?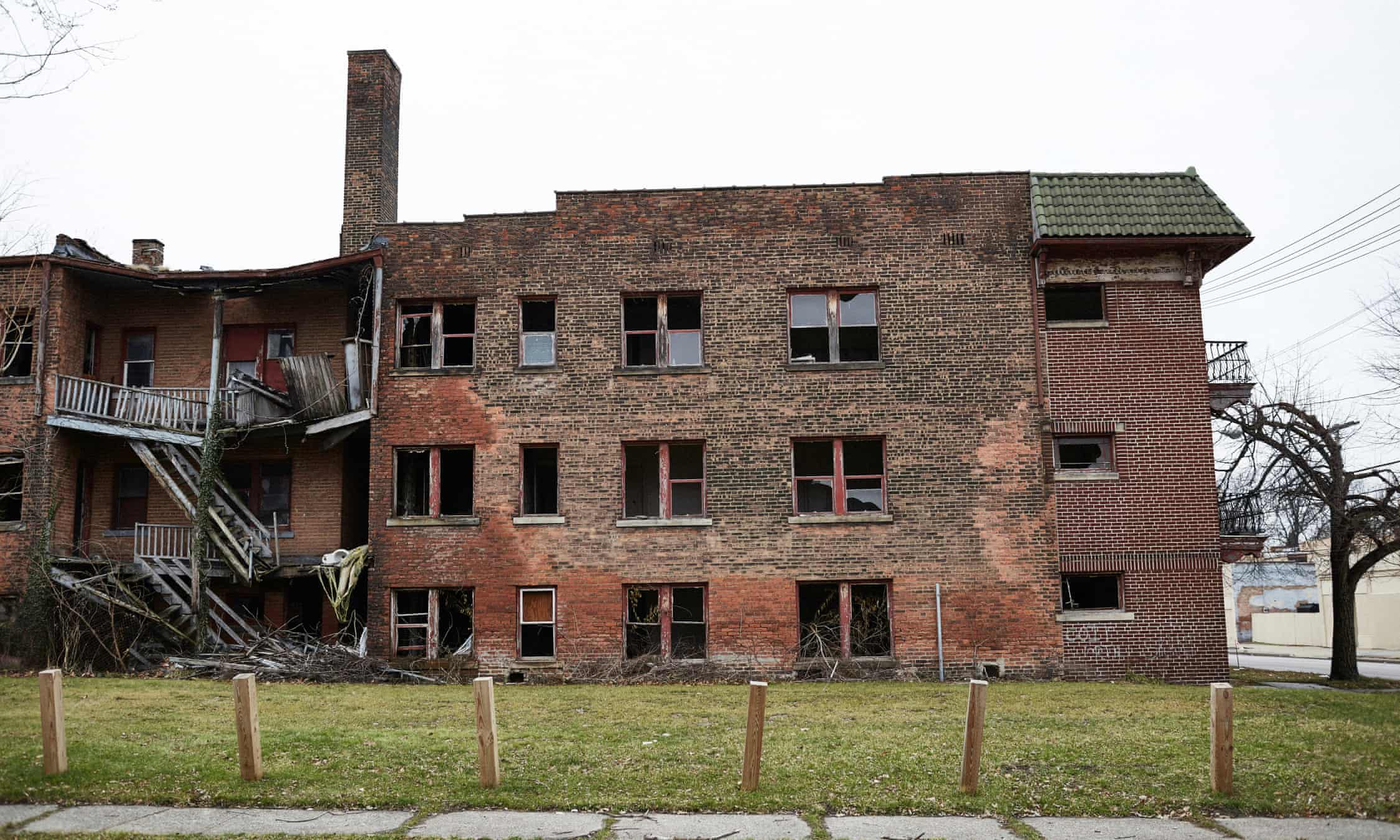 Crumbling Cleveland housing stock. Christopher Maurer hopes to "biocycle" buildings like these into new ones.
Over 7,000 abandoned or condemned homes litter the urban landscape of Cleveland, Ohio, where a stunning population loss of about 100,000 residents in 25 years and widespread foreclosures have sparked a housing crisis marked by growing racial and economic disparities. Posing concerns in terms of economic stability, public health and safety, the abandoned homes that line many of the city's streets are at once symbols of its resilience and ongoing obstacles to growth and prosperity.
Cleveland native Christopher Maurer, founder and principal architect at local humanitarian design firm Redhouse Studio and adjunct professor at Kent State University, has plenty of ideas about how to address the city's complex challenges.
Inspired by the work of inventor Philip Ross and his company MycoWorks, Maurer argues that one of the keys to addressing Cleveland's housing crisis lies in an unlikely source: mushrooms. Specifically, in using mycelium – the vegetative part of a fungus – and Cleveland's other "natural" resource, construction waste, in a process called "biocycling", which essentially recycles old buildings into new ones using plant materials.
"I like to refer to Cleveland as 'ground zero' for biocycling," says Maurer, who believes the city has the perfect conditions and challenges to serve as a prototype for the process. …
---
I SAW THE SIGN
Let me tell you two stories about public, single-occupancy bathrooms.
In the first, I am at my favorite yoga studio, and I need to pee before class starts. The door to the bathroom is closed, and I don't know whether there's anyone inside. I knock lightly — to knock loudly would feel aggressive, given the chill vibes this yoga place is cultivating — and hear no response. But then I second-guess myself: Did I knock loudly enough to be heard? What are the acoustics like inside the bathroom? I decide to try to open the door, but the door is heavy and doesn't open easily, and for a moment I wonder whether the door is locked after all. Then the door finally slides open, and there's no one inside. I breathe a sigh of relief. The perhaps 20-second process of figuring out whether I can enter the bathroom has sent my heart rate and cortisol levels spiking.
In the second story, I'm at a restaurant with friends. I excuse myself from the table to go to the bathroom, and when I find it I discover it has an occupancy indicator lock that clearly indicates that the deadbolt is locked with a small red card, displayed on the outside of the door, that says "Occupied." I kill time on my phone until the indicator turns to "Vacant" and the bathroom's occupant exits, then I go in to take care of my business. My stress levels remain low throughout.
The occupancy indicator lock, as demonstrated in the examples above, has the potential to transform the public-bathroom-going experience from tense to peaceful. And yet most single-occupancy public bathrooms still don't have occupancy indicator locks. This absence of occupancy indicator locks dooms us to nerve-wracking, doubt-ridden attempts to verify whether bathrooms are occupied or not every time we have to go. Americans deserve better. It's past time to put an occupancy indicator lock on the door of every public bathroom in the country. …
---
Video Goodnesses
and not-so-goodnesses
Brennan is there for Rekha, and the best thing for him to do for her during this time of tragedy is not to point out that birds aren't "angel babies" who are carrying "wishes away from the devil."
---
たぶん、はなと遊びたい…?Maybe Maru wants to play with Hana?
---
Max the tapper.
---
FINALLY . . .
A sticky situation
Earlier this year, when Donald Trump threatened to impose tariffs on imports of aluminum and steel, the EU fired back with a list of products it would target in return—among them cranberries, orange juice, and peanut butter.
"At first glance," Amanda Erickson wrote at the Washington Post, the mention of raising the tariff on peanut butter "seems a bit like punishing a toddler by forbidding them to read 'War and Peace.'"
Outside the US, peanut butter is just not a thing: It can be difficult to find and even more difficult to explain. Abroad, it's less a pantry staple and more a symbol of America—hence its status as a tariff target.
Americans (the allergic excepted) love the stuff, especially in the peanut butter and jelly sandwich. Whether they prefer it classic-style between two slices of plain old white bread, grilled on brioche, or painstakingly crafted from hand-ground nuts and artisan jam, it's hard to find an American who's totally immune.
How did a nation become so enamored of this dynamic duo? …
---
Ed. More tomorrow? Probably. Possibly. Maybe. Not?