The only question left is how far, how hard, and how long before a new one begins

In the sepia-tinged gloss of historical hindsight, it is all too easy and commonplace for the privileged among us to run back the Story of Us as an elegiac and sanguine novella; a linear arc of progress pock-marked by escalating tensions involving ever-greater swaths of humanity — mucking up a perfectly sensible narrative. Turning the ship around can often be construed as more a reaction to the rising currents than an attempt to truly change course.
The arc of the moral universe may bend toward justice, but it is not a smooth bend. It is choppy, chaotic, and often fraught with conflict. The things that are right and just arrive when it makes practical sense for them to do so. Often, it takes a clear plurality of support from the populace at large and favorable civil conditions. For a fairly recent example, look at marriage equality. This was at the grassroots level a movement rooted in enduring activism, and unimaginable passion in the face of violence and oppression. At the top of the pyramid, however, the sea-change was far more low-stakes, reactive and hive-mind — shrewd and practical political and business decisions of acquiescence, appealing to the passion and power of the many. Truth doesn't tend to win until enough people are willing to hear it, much less believe it. So it is. And so we are here. These are truth-telling times. And here's the largest, most obvious truth: The Republic has fallen. America is no more.
Critique of the US is unfairly stigmatized as treasonous — but it is always, and especially in these dark hours, necessary. You're born into a country like you're born into a family. You don't get to choose it, but you must choose to hold it accountable. You know how if you see something in your family that's unsavory, you call it out? It doesn't mean you don't love them, it just means you want and demand better out of them. And so I must call a spade a spade, do so today, and do so here in this space. This kind of language needs to be spoken, so let it be said.
• • •
The neo-feudalist economy caused by unchecked, unregulated capitalism that turned at best a winking nod to social welfare, more often a blind eye, and at worst a joyous ax, has facilitated a nationalist, authoritarian rise in pitch, and an abrupt shift right in federal ideology. Donald Trump is both the drooping wilted leaf of this societal rot, and the root. But why? …
---
The little-known history of Alexandria Ocasio-Cortez's victory in a New York primary hints at the coming transformation
• The moment 28-year-old socialist beats top-ranking Democrat in congressional primary – video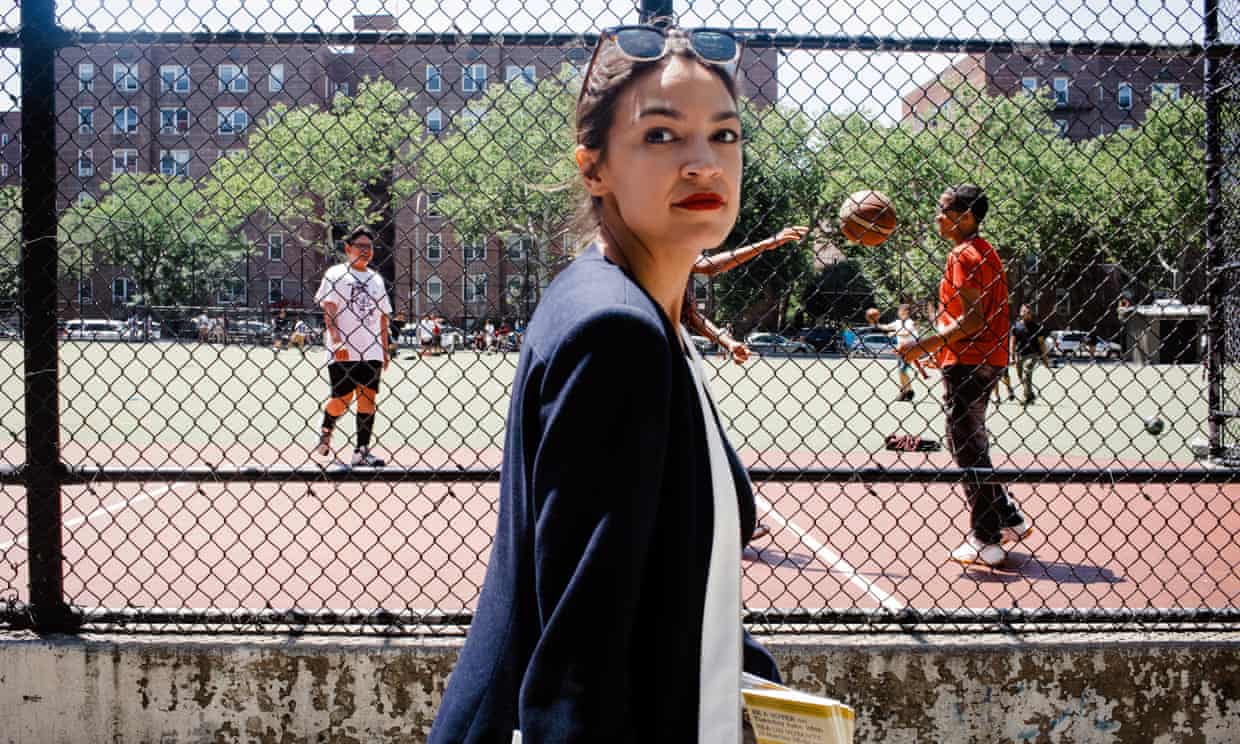 Alexandria Ocasio-Cortez in New York. 'Everyone I spoke to remarked on her grace and stability, and how she calmly absorbed the dramas that surrounded her bid.'
Even at first sight it is exhilarating. The overthrow of one of the most mainstream and senior Democrats in Congress by a 28-year-old Democratic socialist with a radical programme and one tenth of his funding is, you might think, interesting enough.
But since Alexandria Ocasio-Cortez beat Joe Crowley in the Democratic primary in New York's 14th district (meaning she will almost certainly enter Congress in November), I've been interviewing some of the people who lit the fuse that caused this detonation. What has emerged is just how marginal and improbable their movement was when it began, and how quickly it is now gaining momentum. A revolution has begun in America, and it is time we understood what it means.
While the effort to find and run insurgent candidates arose from the Bernie Sanders campaign in 2016, the handful of young people who launched this movement struck out entirely on their own. They had no resources and no political standing. Neither Sanders nor any others in the old guard were prepared to support them or endorse the candidates they found.

'This is the beginning': Alexandria Ocasio-Cortez's victory speech
In a way, this tiny group, Brand New Congress, which evolved into the Justice Democrats, marginalised itself. It wanted nothing to do with a traditional left it saw as being obsessed with positioning. It wanted to escape the shadow of people who seemed stuck in the 1980s, who didn't take environmental issues seriously or understand the need to challenge structural racism and gender inequality, or to reach millennials trapped in terrible housing and miserable non-jobs. They were mocked, ignored and dismissed as well-intentioned but hopeless idealists. One of them told me how he was literally patted on the head by an older Democrat. …
---
Global fish production is at record levels thanks to fish farming, says the UN FAO, but much is wasted and many species are worryingly overfished.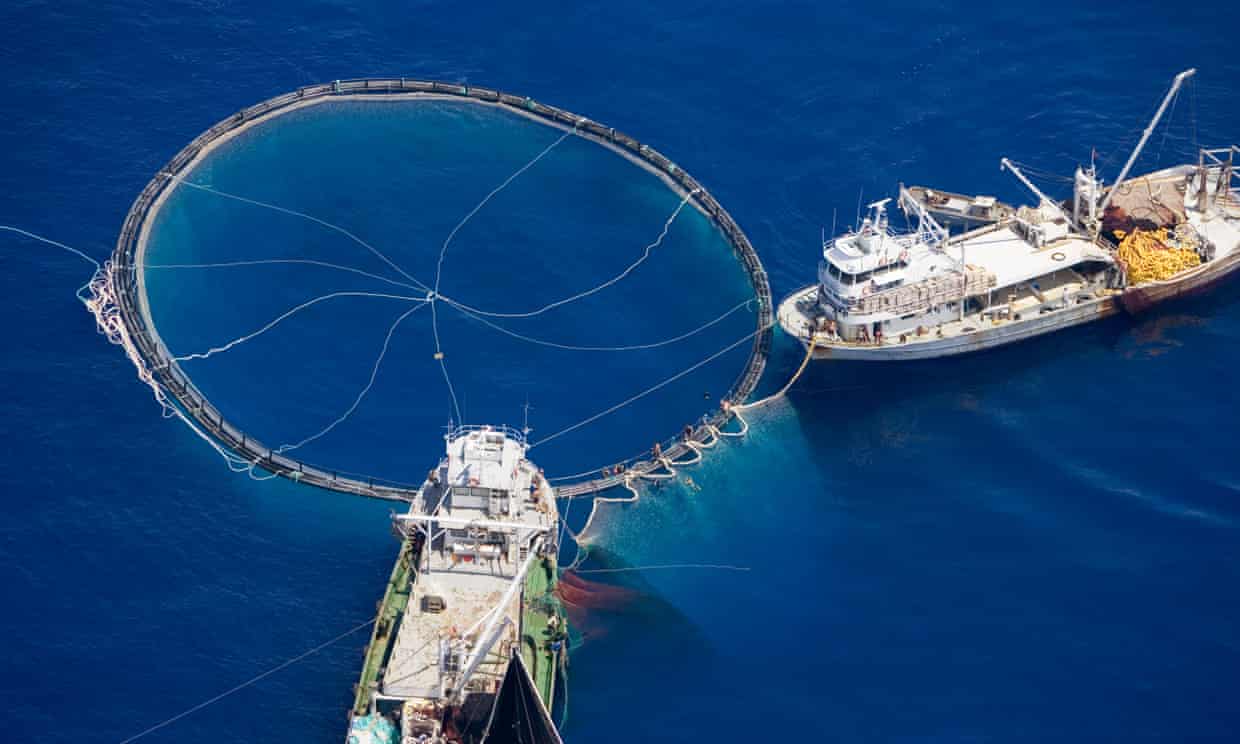 Using purse seine nets to fish for bluefin tuna, Turkey. Two-thirds of species are overexploited in the Mediterranean.
One in three fish caught around the world never makes it to the plate, either being thrown back overboard or rotting before it can be eaten, according to the UN Food and Agriculture Organization.
Its biannual report on the state of the world's fisheries, released on Monday, also shows that total fish production has reached a record high thanks to more fish farming, particularly in China, with over half the fish eaten in the world now coming from aquaculture.
In contrast, the amount of wild caught fish has barely changed since the late 1980s and a third of commercial fish species are overfished, the FAO says. Fish farms will continue to expand and the FAO projects that almost 20% more fish will be eaten by 2030, helping sustain the growing global population. However, farmed fish can harm wild populations because often their feed, made from wild fish such as sardines and anchovies, is caught at sea and they can cause pollution.
Fish are a crucial source of nutrition for billions of people around the globe, but overfishing is rife in some regions, with two-thirds of species overexploited in the Mediterranean and Black Seas and the Southeast Pacific. Previous analyses that include estimates for illegal fishing indicate that wild fish stocks are declining faster than FAO data suggest and that half the world's oceans are now industrially fished. …
---
WHOSE CHOICE IS IT ANYWAY?

The overwhelming perils of the yoghurt aisle.
There's no stopping voice technology. eMarketer forecasts that 57 million US adults will use a smart speaker at least once a month this year, such as Amazon's Echo or Google Home. This figure that rises to 91 million when you count voice assistants embedded into other devices, like Apple's Siri.
It doesn't stop there. Another report says that by 2020, half of all searches will be done by voice. Yet another predicts that voice shopping will grow to $40 billion in 2022. "Not since the smartphone has any tech device been adopted as quickly as the smart speaker," eMarketer's report said.
But what does this mean for us, the consumers? Beyond the undeniable truth that voice technology will change how we shop, it'll also change what we actually buy.
Voice and choice paralysis
Here's how shopping psychology currently works. Walk into a grocery store, and you'll find endless choices in front of you. Different kinds of toilet paper, multitudes of batteries, an entire section devoted to yogurt, an entire aisle filled with cereal. That seemingly unlimited choice only gets magnified when you shop online. For example, a search for "paper towels" will give you 30,000 product results on Amazon and endless pages of information on Google. Unless you have really strong feelings about exactly which paper towels you use (and some people really do), the endless selection can feel a bit overwhelming. …
---
Scared old people are still the lifeblood of most news outlets' ad revenue, and even now, those people are terrified of drugs. That means journalists can still grab some easy ratings and traffic by scraping together the scant evidence of some terrifying new trend that is killing our precious children. Fortunately, we can report that …
5. No, The Kids Aren't Doing The Cocaine Challenge
---
Remember the Ice Bucket Challenge? That was fun — all about dumping ice on people to raise awareness of ALS. And the Cinnamon Challenge? That was about kickboxing in a Starbucks bathroom, I think. But did you catch the cocaine challenge? That was made up, but god bless The Mirror, which in 2015 warned us that youths were doing lines of cocaine on social media and then just challenging someone else to do a line of cocaine. The worst part? NONE of the cocaine proceeds were going to charity.
It was apparently a deadly new fad straight from Mexico, the only country on Earth mad enough to invent the taco! We were all doomed! Wealthy young women around the globe were hoovering that schneef, and it was spreading like crabs on your divorced uncle's toilet seat.
Luckily, Vice decided to look into this deadly trend, and they discovered that, shockingly, The Mirror was using a very broad definition of the word "trend." What actually happened was that one woman on vacation in Mexico saw a video of a dude snorting a line as a challenge, and thus did the same thing. She shared the video on WhatsApp, three friends in total made their own videos, and then it ended up being treated like the Invasion of the Powder Snatchers.
Vice actually spoke to the woman in the video, who said it had been recorded a year earlier. She heard it was being shared, but didn't think anything of it until everyone she knew started telling her about it and it ended up on TV … which then got resurrected a year later when the news decided they were short on moral panics. A local channel in Mexico even interviewed someone who claimed to be in the videos, but was in truth just some random stranger who was a solid decade younger than the actual women. But really, who has time to fact-check when OUR CHILDREN are doing THE DRUGS because of SOCIAL MEDIA? …
---
Bristol Dry Gin Micro Distillery had described its 75% ABV Novichok Edition vodka range as "no laughing matter"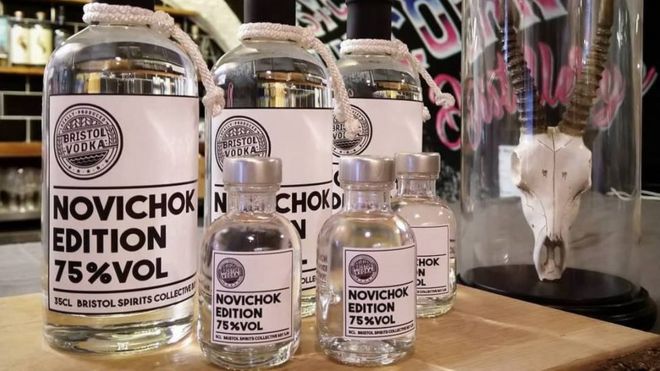 A distillery that released a 75% ABV vodka range named after the toxic nerve agent Novichok has been heavily criticised for its "tasteless" timing.
One person has died and another remains critically ill in hospital after being exposed to the substance in Wiltshire.
Bristol Dry Gin said the release timing of its 75% alcohol by volume (ABV) product "may have lacked sensitivity", the Bristol Post reported.
Members of the public have criticised the company on its Facebook page.
David Gilroy wrote: "Sorry, I think that is in very poor taste naming a gin after something that is still a very serious situation."
And Peter Hooper said: "Pretty poor taste, an innocent woman has died and a man is critically ill, I think you need to rethink your sales strategy."
Mother-of-three Dawn Sturgess, 44, fell ill in Amesbury and died on Sunday after she was exposed to "a large dose" of the substance. …
---
England players seem happier and more grounded – and much of the credit goes to psychologist Pippa Grange. What can the team's approach teach us all about facing fear and failure?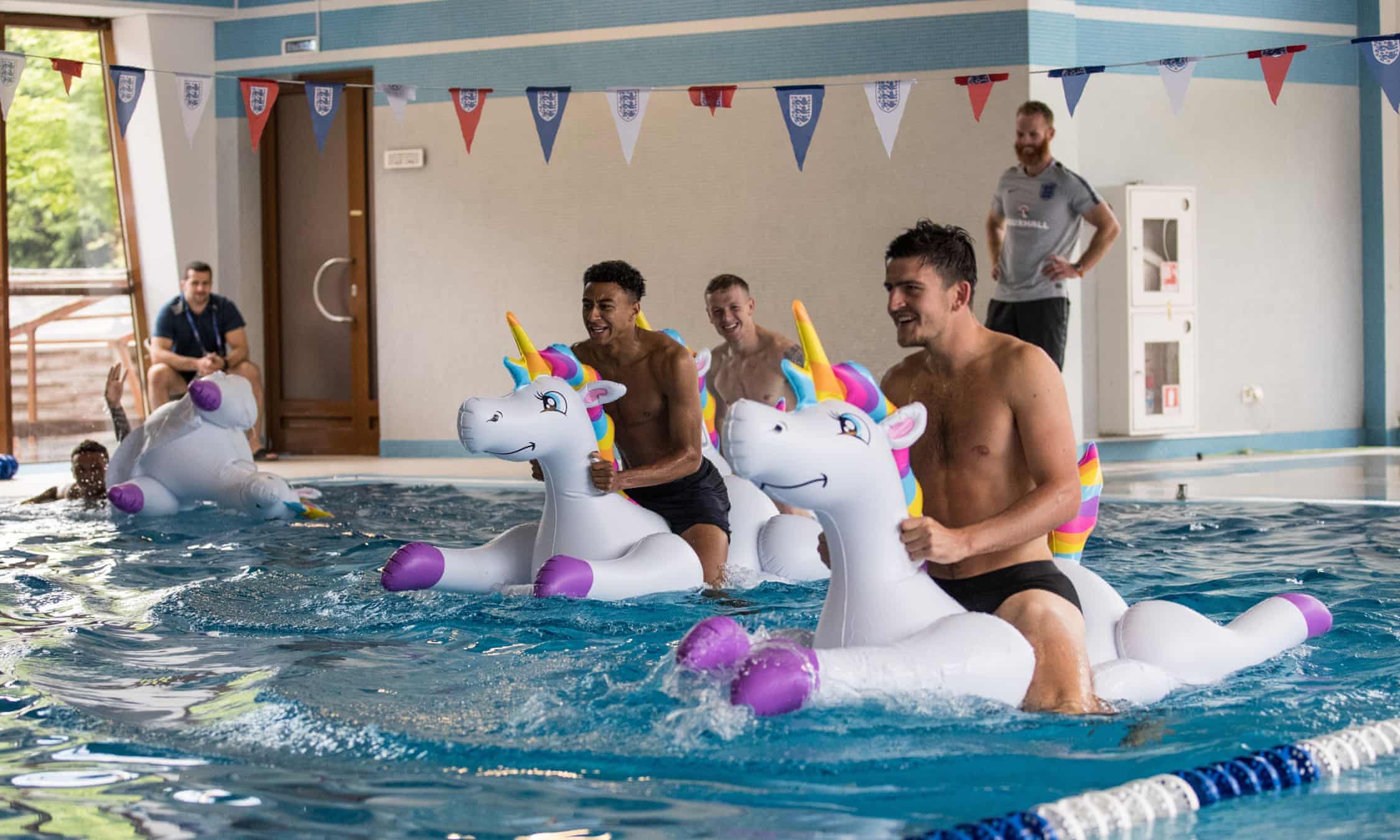 Team bonding … Kieran Trippier, Jesse Lingard, Jordan Pickford and Harry Maguire play with inflatable unicorns.
This week, the England midfielder Dele Alli was asked if he was nervous about the big tests up ahead: first, of course, the team's semi-final against Croatia on Wednesday. "Excited, not nervous," he replied. His apparent happiness and confidence reflected an England team that seems transformed from previous incarnations. Where once it was stuffed with entitled, surly stars, burdened with the weight of history and the pressure of expectations, it now comes across as a hungry, humble team, playing with lightness and joy.
"We've spoken to the players about writing their own stories," said the manager, Gareth Southgate, after the team beat Colombia in an unprecedentedly victorious (for England) penalty shootout. "Tonight they showed they don't have to conform to what's gone before. They have created their own history … We always have to believe in what is possible in life and not be hindered by history or expectations."
The team appears in a better place psychologically than it has for generations. Much of the credit has gone to Southgate, but also to Pippa Grange, the team psychologist, who has been working behind the scenes. "She's an amazing person," Alli said on Monday. "Everyone listens to her when she talks."
Grange was appointed by the FA as its head of people and team development in November last year, given the job of building resilience while confronting the pressures and psychodramas faced by previous England squads. The FA has said it searched globally for the right person for the job, but Grange, like most of the young players, isn't an obvious superstar in her field; there is no self-promoting social media presence or bestselling self-development books. …
---
THE JOY OF FLOSSING

"How much better can it be?"
Cocofloss is no ordinary floss. It comes in flavors including strawberry and mango. It is more fibrous than typical drugstore brands, and at $8 a pop, considerably more expensive. And it is coated in coconut oil, the wellness world's tonic of choice.
I was explaining all this on a recent afternoon to my coworker Marc Bain as I urged him to try a sample. He seemed puzzled, but he agreed to give luxury floss a shot. "I'm curious," he said. "How much better can it be?"
That's the big question when it comes to Cocofloss, a US company founded in 2015 by Chrystle Cu, a dentist based in San Mateo, California, and her sister, Catherine Cu. Getting people excited about buying floss is a tough sell since, in general, people are not super into flossing. A 2015 survey found that roughly a quarter of Americans lie to their dentists about how often they floss, while a 2016 study from the Centers for Disease Control and Prevention found that a third of Americans never floss at all. "Even motivated patients fail" to floss, one 2006 study sadly observes.
But Cocofloss wants to make flossing seem fun—even a little aspirational. The company's goal: To carve out a niche for floss within the flourishing self-care and wellness movements. It's not such an outlandish idea: "Lots of elements of the daily self-care routine have been improved and glamorized," Chrystle points out. …
---
Video Goodnesses
and not-so-goodnesses
Scott Dozier is scheduled to become the first death row inmate in the United States to be executed with the synthetic opioid fentanyl on Wednesday, and he's fine with that.
"I think it's awesome. I mean, it's killing people all over the place," the convicted murderer said of the drug, in an exclusive interview with VICE News from Ely State Prison in Nevada. "You guys get pharmaceutical grade fentanyl and just bang me up man. Use a shit ton."
THANKS to HBO and VICE News for making this program available on YouTube.
---
"The modern world has come for our little island," says Heu Rapu Haoa in Max Lowe's short documentary, Amo. Heu is one of the 800 remaining speakers of his native tongue. His home, Rapa Nui, known widely as Easter Island, is one of the most remote inhabited islands in the world.
Situated more than 2,000 miles in the southeastern Pacific Ocean off the coast of Chile, Easter Island was once home to Polynesia's most advanced megalithic culture. At its peak, from 1100 to 1680 A.D., 20,000 Rapanui people lived on the island. They belonged to a complex society that erected thousands of magnificent stone statues, called moai, to commemorate their ancestors. Then, it all collapsed. By the mid-19th century, fewer than one thousand Rapanui remained. Archaeologists still debate the official cause of Rapa Nui's demise. (Realistically, it was probably a confluence of factors, including resource depletion, disease, civil war, and invasive species.)
Until the 1960s, Easter Island was insulated from the modern world, accessible only by ship. Today, it is a Unesco world heritage site, attracting more than 100,000 tourists a year. Heu and other native inhabitants are left to wrestle with the inexorable force of globalization.
"The moai have opened a path for us to gain abundance," Heu says in the film. "But at what cost?"
---
Angela Rye explains the importance of calling out Donald Trump's racism, suggests ways of giving people spaces to voice their opinions and defines her version of "wokeness."
THANKS to Comedy Central and The Daily Show with Trevor Noah for making this program available on YouTube.
---
Maybe Trump chose Brett Kavanaugh after reading his argument for "exempting a president-while in office-from criminal investigation.'
---
Without reading the stenographer's notes, Stephen imagines what a court appearance by a 1-year-old baby would look like.
THANKS to CBS and The Late Show with Stephen Colbert for making this program available on YouTube.
---
CAUTION: Some language may not be appropriate for work or children.
Here's a few more of me favourite moments from the World Cup in the last couple of weeks. It's close to the final now!
---
Max being a busy bird.
---
FINALLY . . .
Mike Pompeo took disc to Pyongyang but did not get a chance to give it to North Korean leader.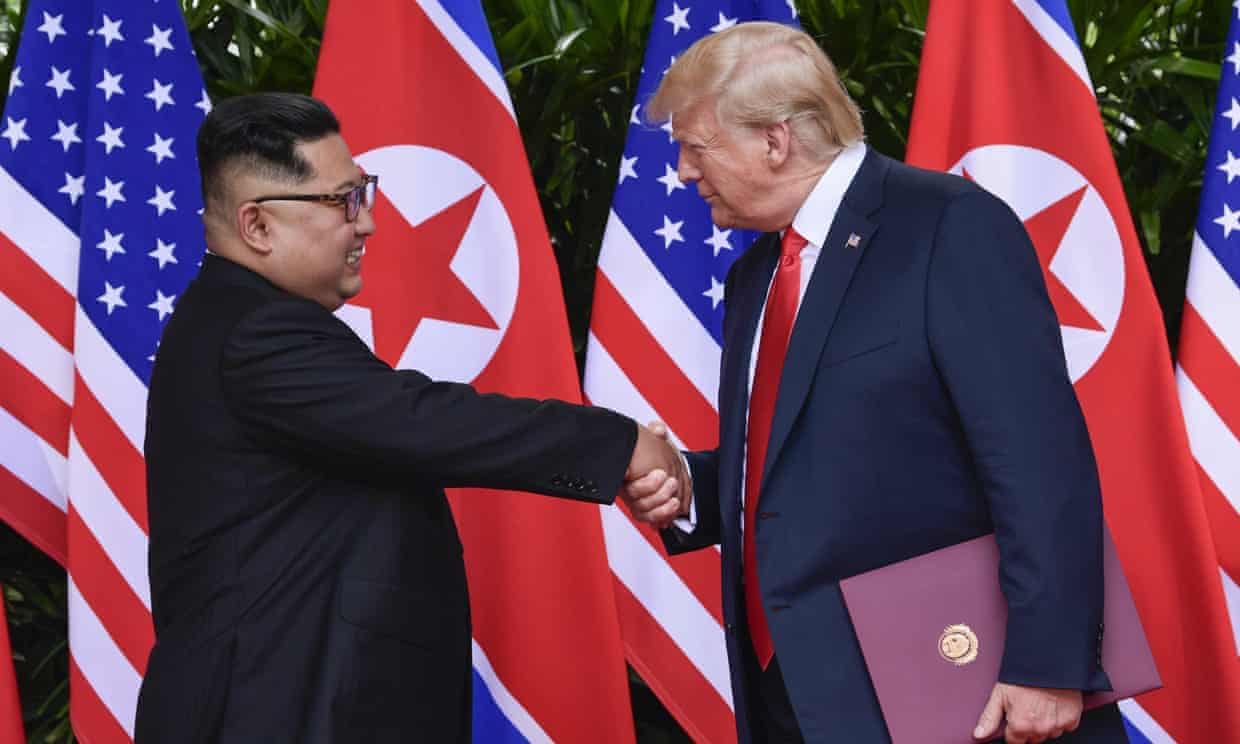 Donald Trump repeatedly referred to Kim Jong-un as "little rocket man" during a war of words last year.

Donald Trump has confirmed he has prepared and autographed a CD of Elton John's Honky Chateau album, featuring the song Rocket Man, to be given as a gift to North Korean leader Kim Jong-un.
Trump derided Kim as "little rocket man" during their 2017 war of words in which Trump also threatened North Korea with "fire and fury".
But amid an atmosphere of rapprochement both sides have taken a softer tone in recent months. During their meeting last month Trump said the two had an "excellent relationship".
The US secretary of state, Mike Pompeo, took a copy of the CD with him to Pyongyang last week. Trump's top diplomat met with North Korean officials in talks where the North described the US attitude as "regrettable". Pompeo was not given an audience with Kim and did not have a chance to present the CD.
"They didn't give it, I have it for him, they didn't give it, but it will be given at a certain time," Trump said. He also hinted there were other presents for the North Korean dictator: "I actually do have a little gift for him, but you'll find out what that gift is when I give it." …
---
Ed. More tomorrow? Probably. Possibly. Maybe. Not?