Pictured above: Brad Smith is asking for it. (It being regulation.)

Microsoft is asking Congress to create a bipartisan, expert-led committee to draft regulations for facial recognition, the company's president Brad Smith wrote in a blog post today.
But the rules aren't just to keep tech companies on the right track. Microsoft argued that regulation is necessary because it also lays foundations for what the US government can and can't do with the technology as well, creating safeguards for citizens against constant surveillance that the technology could facilitate. Smith also wrote that the company had turned down customers that had requested the use of facial recognition on "human rights risks."
"The only effective way to manage the use of technology by a government is for the government proactively to manage this use itself," Smith said.
Smith looks at the auto industry for a model of how tech companies could be incentivized by regulation to make their products better. He references laws requiring seatbelts that saved lives, and stricter fuel economy standards that save consumers money and produce less emissions. …
---
Indian chemistry professor shows that repurposed plastic can be good for the environment.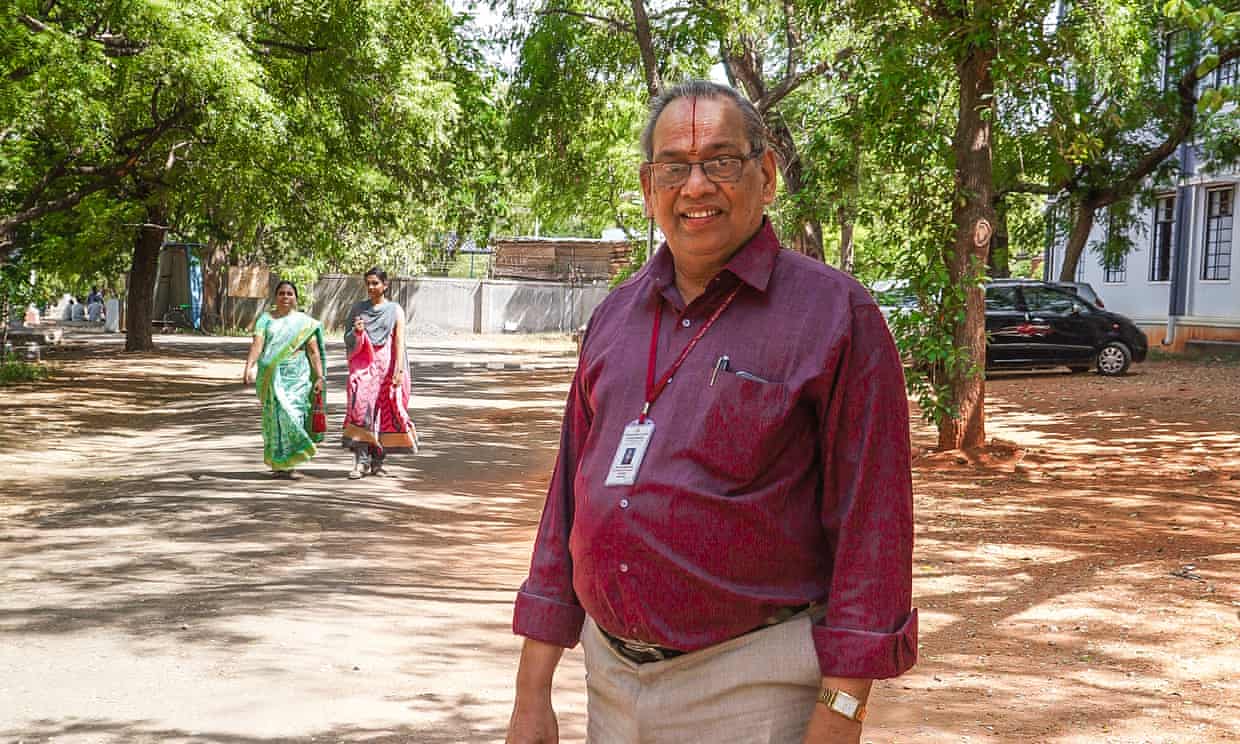 Dr Rajagopalan Vasudevan , dean and professor of chemistry at the the Thiagarajar College of Engineering in the South Indian city of Madurai.
At 73, Dr Rajagopalan Vasudevan is roughly as old as the mass production of plastic. But that is not the reason why the chemistry professor has a soft spot for the much-maligned material.
"Plastic isn't the problem," the venerable scientist says in his office in the southern Indian city of Madurai. "We are. Plastic wouldn't clog our oceans or our landfills if we didn't throw it there in the first place. And there is so much we can do with it instead."
He should know. In January this year, Dr Vasudevan was honoured with one of India's highest civilian awards, the Padma Shri, for his groundbreaking research on re-using waste plastic – in a very unusual way.
The idea emerged from his workshop at the Thiagarajar College of Engineering in Madurai as far back as 2001. Disturbed by calls to ban plastic, which he believed was important to poor people, he wanted to find a solution to the growing environmental challenges it raised. …
---
A bottle deposit hub on the outskirts of Oslo has had a stream of high-level international visitors. Can its success be replicated worldwide?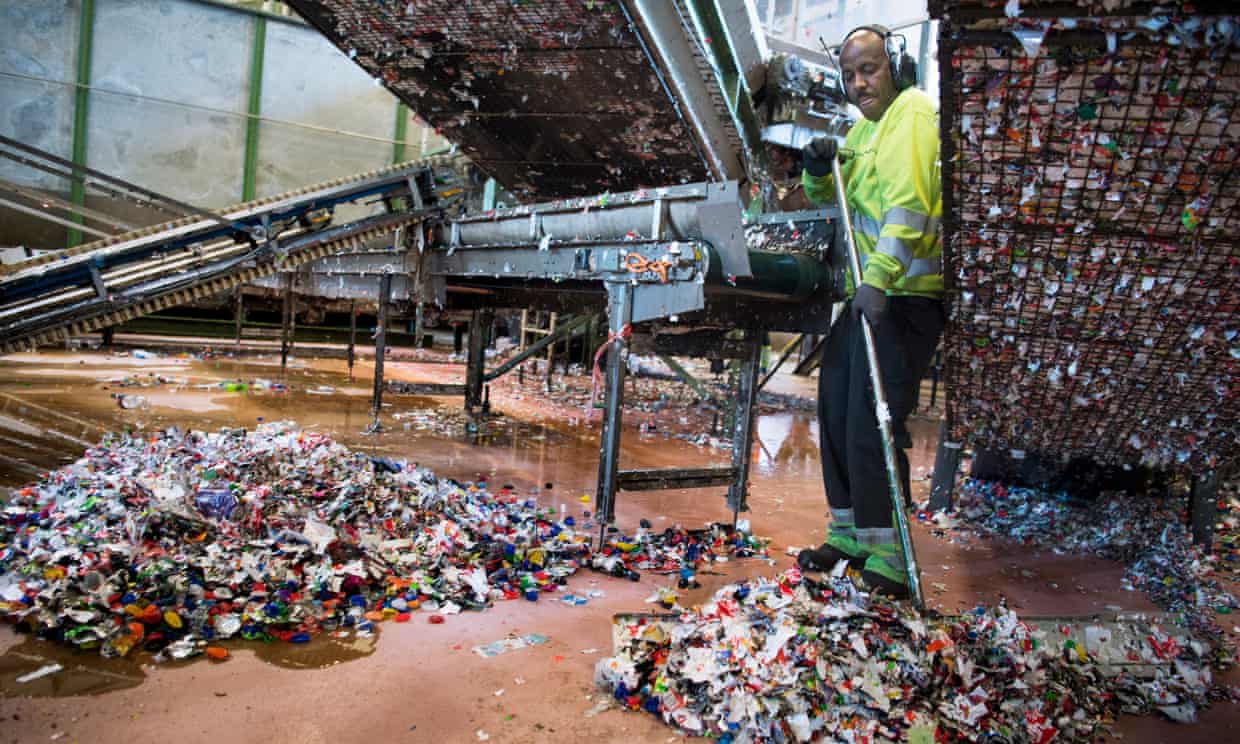 Infinitum recycling plant in Fetsund, Norway. Worker Michael Gebrehiwet is sweeping up paper from the bottles.
Tens of thousands of brightly coloured plastic drinks bottles tumble from the back of a truck on to a conveyor belt before disappearing slowly inside a warehouse on the outskirts of Oslo.
As a workman picks up a few Coke bottles that have escaped, Kjell Olav Maldum looks on. "It is a system that works," he says as another truck rumbles past. "It could be used in the UK, I think lots of countries could learn from it."
Maldum is the chief executive of Infinitum, the organisation which runs Norway's deposit return scheme for plastic bottles and cans. Its success is unarguable – 97% of all plastic drinks bottles in Norway are recycled, 92% to such a high standard that they are turned back into drinks bottles. Maldum says some of the material has been recycled more than 50 times already. Less than 1% of plastic bottles end up in the environment. …
---
MARGIN CALL

Just for show.
In 1991, billionaire hedge fund manager Seth Klarman published a 250-page book about investing. The publisher, HarperCollins, sold just 5,000 copies. With relatively little fanfare, the $25 book faded into obscurity.
Despite its initial flop, the book steadily built a cult following. As far back as 2007, it was selling for $2,000 on eBay. Today, an original copy of Margin of Safety is selling on Amazon and eBay for as low as $650, and as high as $3,300.
Earlier this week, digital copies appeared on Amazon for just $9.99. But as soon as Klarman's fund, Baupost, caught wind of this, it announced these copies were illegal, and Amazon removed them. (Free pirated copies are of course available elsewhere on the internet.)
Klarman's book covers his principles for value investing, the strategy of looking for undervalued stocks advocated by Warren Buffett, among others. He describes the discipline and patience, and the risk-averse mindset focused on long-term fundamentals, required to become a successful value investor. …
---
Have you ever felt the deep shame that comes with discovering a mistake way, way too late? Like when you look in the mirror and see a big stain on your chin from a chili dog you ate three weeks ago? Well, don't feel too bad. People whose job it is to notice things overlook worse shit than that all the time. Like how …
5. Authorities Will Walk Right Past Dead Bodies For Days, Weeks, Or Even Years
---
The public pool is essentially a communal toilet that children will splash in your face, but there are definite limits as to what should be allowed to go in that giant bacterial margarita. One 2011 Sunday, Marie Joseph went to a public pool in Fall River, Massachusetts. After she went down the water slide, the nine-year-old neighbor she was chaperoning told lifeguards that he never saw her come up again. And those super responsible lifeguards hopped right on top of doing both jack and shit about it.
It was Tuesday evening when someone finally found Joseph's body in the pool, which had been open all day Monday and Tuesday, with six lifeguards serving during that time. Health inspectors also came to check out the pool on both Monday and Tuesday to assess the water quality. No one saw her body. She was only discovered Tuesday evening when some teenagers hopped the fence and saw her floating.
And this isn't the only instance of city employees grossly dropping the ball when it comes to errant corpses. In December 2017, a man was shot in his van in Tennessee. Likely this was inconvenient for him, and police were kind enough to show up and ensure he got to the hospital. His van was impounded, because, you know, the guy who owned it was shot.
Seven weeks later, the man got out of the hospital and went to pick up his vehicle. And that's when he discovered a dead dude in the back. A dude who had been shot at the same time as the driver and died, still in the back of the van, where he'd been completely ignored by everyone. …
---
OUT OF AFRICA

On the move.
Can you imagine walking 14,000 kilometers? Trekking across wide savannas, down creek beds, along mountain chains in terrain that is new and home to foreign types of plants and animals? Can I eat this? What is that?
This long excursion—once thought only to have been attempted late in the journey of humankind—has been getting pushed further and further back in time thanks to advancing archaeological research.
Findings published in Nature have extended the start of our worldwide trekking back to beyond 2.1 million years ago.
Previously, we knew that people were wandering around eastern Europe by 1.85 million years ago, as their bones and tools were discovered at a cave site called Dmanisi in Georgia.
Presented in the new paper, evidence for this earlier—and further—human movement comes in the form of flaked stone tools found in sediments at Shangchen, in the southern Chinese Loess Plateau. …
POINT OF REFLECTION: It may have been unnecessary to embed a hyperlink to the same article twice.
---
The future of dining could be healthier, cheaper food made by robots.
Arriving at Creator, a new restaurant located on the ground floor of an office building on downtown San Francisco's Folsom Street, feels like walking into a catalog. Sleek, wooden communal tables with high white stools line one end of the room, with a bookshelf full of hand-picked culinary books against the wall and modern light fixtures overhead. On the other end, however, two large machines each the size of a small car form a 90-degree angle around a center counter, giving the whole space a retro-futurist aesthetic. It's what you would have imagined a restaurant eventually looking like if you watched a lot of The Jetsons.
Those machines, with large transparent glass casings and ingredients in cylindrical tubes, are Creator's burger-making robots. Each 14-foot device contains around 350 sensors and 20 microcomputers to produce the best, freshest, locally sourced cheeseburger that $6 can get you in America's most expensive city. After trying the first one out of the machine that day, I can confidently say the claim holds up; it's the best-tasting burger for the money I've ever had. The machine is also capable of making multiple kinds of burgers, with vastly different flavor, ingredient, and condiment combinations. In a way, it feels like the future of fast casual food.
"We wanted to design a device that meets nature where it is, and not make food conform to a robot," CEO Alex Vardakostas tells The Verge in an interview. "We didn't want something that would make one kind of burger. We look at this like a platform for recipes, and we wanted as much culinary creativity as possible." Right now, Creator is only taking reservations for 30-minute lunchtime slots on Wednesdays and Thursdays through the month of July, and plans to do the same in August while it irons out kinks and improves its software and workflow. But, eventually, Vardakostas says you'll be able to order takeout using the company's mobile app, while workers with iPhones will stroll around the restaurant to take eat-in orders, just like an Apple Store.
Creator, formerly known as Momentum Machines, is one of a rising new type of automated restaurant, mixing the best of the tech industry's software, robotics, and artificial intelligence skills with top-tier culinary expertise. The goal is not to automate away humans entirely, but to automate the portion of the restaurant experience that can be done better, faster, and be more cost efficient with machines. …
---

Speaker Paul Ryan, R-Wis., says he'll get a new Ford F-150 when he retires from the House at the end of this term.
Winter in Wisconsin is tough.
So tough, in fact, that living creatures might go searching for shelter in unlikely places.
House Speaker Paul Ryan explained Thursday that a family of woodchucks moved into his Chevy Suburban recently, eating the wiring and rendering the car useless.
"My car was eaten by animals," Ryan said, to laughs from an audience at an event hosted by The Economic Club of Washington D.C. "It's just dead."
The car was parked at his mother's house in his hometown in Wisconsin, and when she came back from her annual trip to Florida for the winter, it wouldn't start. As a top congressional leader, Ryan has a security detail and hasn't been allowed to drive in three years.
"So I towed it into the dealer, they put it up, and they realized that a family of woodchucks lived in the underbody of my Suburban," Ryan said. …
---
Video Goodnesses
and not-so-goodnesses
Donald Trump has wanted to come to London since he was elected president. Just before setting off on his first official visit on Thursday he even told reporters, "I think they like me a lot in the U.K."
But that was news to the hundreds of people already turned out on the streets to protest the president's visit to the U.K. — and the tens of thousands expected to attend demonstrations in the coming days.
Normally a visiting U.S. president might be expected to address parliament at Westminster. But Trump is staying in London, though his official engagements including a meeting with the Queen — will take place out of the U.K.'s capital. This will help him avoid both the protests and the giant baby Trump blip that's set to fly next to parliament during his visit.
Trump's place of refugee during the trip, Winfield House, resembled a high security prison Thursday with high fences and armed cops surrounding its perimeter as more than 200 protesters stood outside chanting and waving anti-Trump placards.
THANKS to HBO and VICE News for making this program available on YouTube.
---
Describing Peter Strzok's congressional hearing as 'going off the rails' is an insult to defective trains.
---
The president's trip to Europe looks like it will be mutually beneficial to Trump and his closest international allies. But enough about Putin…
THANKS to CBS and The Late Show with Stephen Colbert for making this program available on YouTube.
---
Hey Everyone! I just got a letter from that old dean! He says: everything you're doing is fine.
---
We asked the cast of Netflix's 'Queer Eye' to react to some of our favorite millennials trends. Here is what they had to say.
---
Max just isn't in the mood for a buggy ride today.
---
FINALLY . . .
Life's greatest lesson.
A year ago, this week, I took a trip to Phoenix. It didn't go as planned. I was a beaten man back then, a drunk, a lonely wildfire blazing across America, pillaging my past and the depths of my own misery: attempting to understand why the people I loved kept leaving me, and why I had no interest in keeping the people who loved me.
"I'm a good person," I thought to myself in between endless Fernet shots. "I'm talented. I show up. I work hard. I have everything I want. I do everything I want to. Why am I so miserable? Why do I feel so lonely?" And, for as elemental and elementary as those sentences all sound, strung together like wispy affirmations, couched within them lies a profound lesson — a lesson that starts with an observation.
Reread the bold text. Now, I want you to imagine that you heard me say those things to you in a bar. What would be your first thought? Would it look like this?
Thought so. Those are the words of a very broken human — the kind of shattered mess that finds the shards trying to shank each other. The fundamental flaws in this line of thinking are myriad:
An assumption of intrinsic "good"
A presumption that talent is of value in a vacuum
A karmic philosophy that concludes you get what you work for
An expectation that filling one's space and time with satisfying things and people will lead to happiness
An overwhelming and overarching sense of virtue and entitlement
At the same time, a self-cruelty that undermines the virtues themselves
Why do I share all this with you? Have I really grown as a person since then? After all, the following snippets still feel true: I'm a good person. I'm talented. I show up. I work hard. I have everything I want. I do everything I want to. …
---
Ed. More tomorrow? Probably. Possibly. Maybe. Not?