It's been almost a month since the US-China trade war began in earnest. On July 6, Donald Trump's 25% tariffs on $34 billion worth of Chinese goods went into effect—followed immediately by China's 25% levy on $34 billion worth of US-made products.
The subsequent hit to US soybeans and a few other industries have attracted frenzied media coverage. These aside, it's still a bit early to tell how trade actions will affect the overall economies of both countries. But in China, at least, new data suggest that the effects of the tariffs might not be as bad as some had predicted—thanks in part to the weakening yuan.
The clue comes from the July reading of the Chinese government's purchasing managers index (PMI), a survey-based assessment of business activity for domestic manufacturers—stuff like output, orders, prices, and inventories. A reading above 50 signals expansion; a reading below 50 indicates a contraction.
The headline number isn't heartening, exactly. The official manufacturing PMI fell to 51.2 in July, its softest reading in more than a year, not counting the noisy period around the Chinese New Year holidays. A slight slowdown in both output and new order drove this weakening, said Julian Evans-Pritchard of Capital Economics in a July 31 note.
But weirdly, given the trade war underway, the culprit doesn't seem to have been a sharp drop-off in exports. …
---
A new report finds that big companies could have given their workers thousands of dollars' worth of raises with the money they spent on their own shares.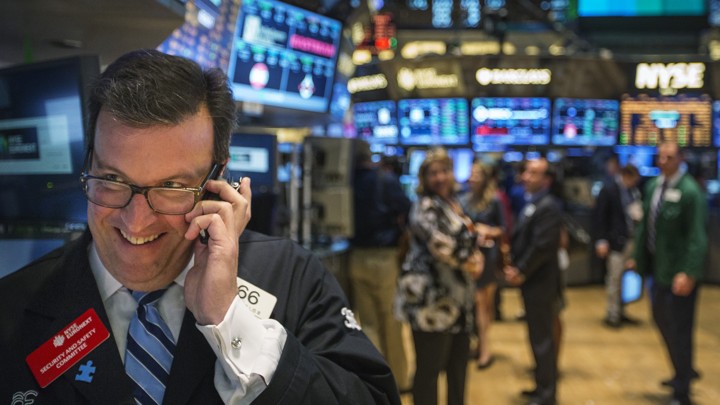 Stock buybacks are eating the world. The once illegal practice of companies purchasing their own shares is pulling money away from employee compensation, research and development, and other corporate priorities—with potentially sweeping effects on business dynamism, income and wealth inequality, working-class economic stagnation, and the country's growth rate. Evidence for that conclusion comes from a new report by Irene Tung of the National Employment Law Project (NELP) and Katy Milani of the Roosevelt Institute, who looked at share buybacks in the restaurant, retail, and food industries from 2015 to 2017.
Their new paper contributes to a growing body of research that might help explain why economic growth is so sluggish, productivity so low, and increases in worker compensation so piddling, even as the stock market is surging and corporate profits are at historical highs. Companies are working overtime to make their owners richer in the short term, more so than to improve their longer-term competitiveness or to invest in their workers.
Buybacks occur when a company takes profits, cash reserves, or borrowed money to purchase its own shares on the public markets, a practice barred until the Ronald Reagan administration. (The regulatory argument against allowing the practice is that it is a way for companies to manipulate the markets; the regulatory argument for it is that companies should be able to spend money how they see fit.) In recent years, with corporate profits high, American firms have bought their own stocks with extraordinary zeal. Federal Reserve data show that buybacks are now equivalent to 4 percent of annual economic output, up from zero percent in the 1990s. Companies spent roughly $7 trillion on their own shares from 2004 to 2014, and have spent hundreds of billions of dollars on buybacks in the past six months alone.
The new Roosevelt Institute and NELP research examines public firms in three major but notoriously low-wage industries— food production, retail, and restaurants—weighing buybacks against worker compensation. Unsurprisingly, Tung and Milani found that companies were aggressive in purchasing their own shares. The restaurant industry spent 140 percent of its profits on buybacks from 2015 to 2017, meaning that it borrowed or dipped into its cash allowances to purchase the shares. The retail industry spent nearly 80 percent of its profits on buybacks, and food-manufacturing firms nearly 60 percent. All in all, public companies across the American economy spent roughly three-fifths of their profits on buybacks in the years studied. "The amount corporations are spending on buybacks is staggering," Milani said. "Then, to look a little deeper and see how this could impact workers in terms of compensation, was staggering." …
---
A Virginia Republican who has been linked to white supremacists now faces accusations of liking Bigfoot erotica.
My opponent Denver Riggleman, running mate of Corey Stewart, was caught on camera campaigning with a white supremacist. Now he has been exposed as a devotee of Bigfoot erotica. This is not what we need on Capitol Hill. pic.twitter.com/0eBvxFd6sG

— Leslie Cockburn (@LeslieCockburn) July 29, 2018
A Democratic candidate in a hotly contested U.S. House race in Virginia has accused her opponent of supporting white supremacists — oh, and also of liking Bigfoot porn.
Democrat Leslie Cockburn sparked a Twitter frenzy on Sunday by sharing a curious drawing, apparently taken from Republican rival Denver Riggleman's Instagram page, showing a Bigfoot-like creature with its genitals obscured by a "censored" sign.
Riggleman was "caught on camera campaigning with a white supremacist," Cockburn wrote in the tweet, referring to video showing her opponent hitting the campaign trail with Isaac Smith, co-founder of the white nationalist group Unity & Security for America.
"Now he has been exposed as a devotee of Bigfoot erotica," Cockburn continued.
Cockburn faces Riggleman on the November ballot for Virginia's 5th Congressional District, which includes Charlottesville, the site of last year's deadly white supremacist rally. …
---
In the embarrassing new film from the far-right provocateur Dinesh D'Souza, he compares Donald Trump to Abraham Lincoln, claims Hitler was LGBT-friendly and calls Antifa the real Nazis.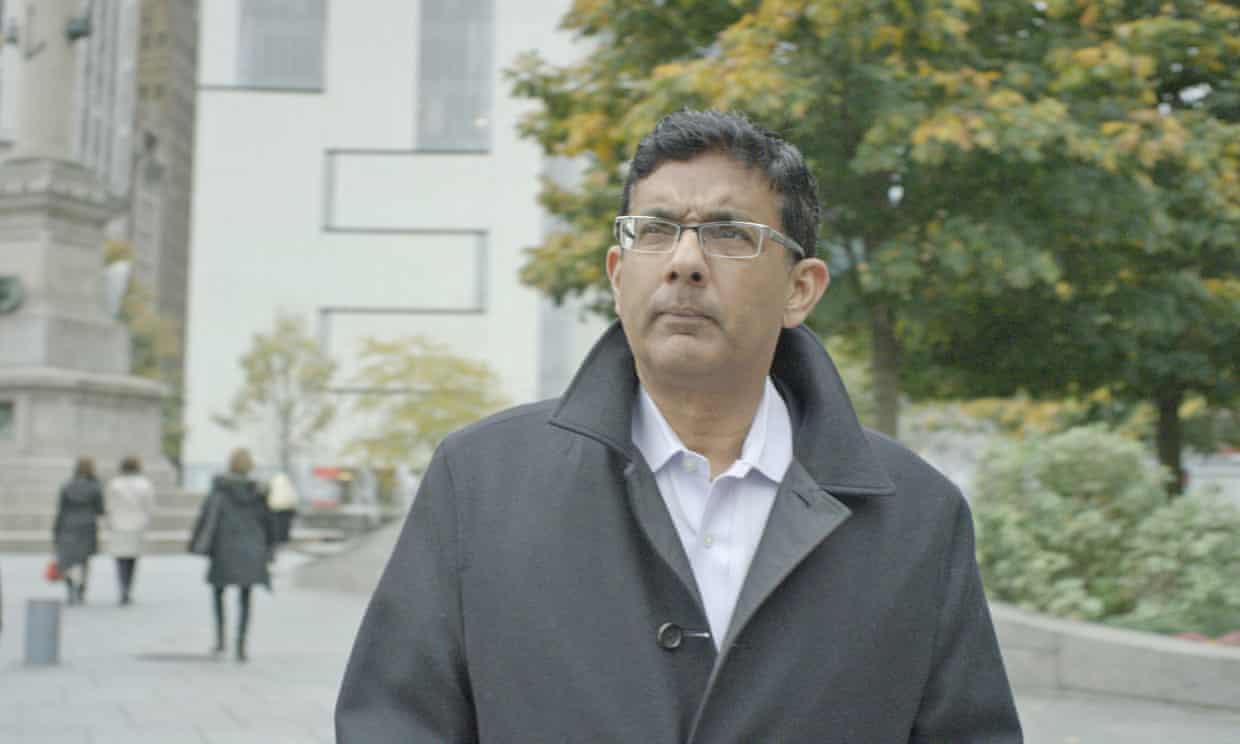 'For D'Souza, the Trump age and its record number of suckers must make him feel like a kid in a candy store.'
Here's a typical Dinesh D'Souza argument. In Death of a Nation – the far-right commentator, film-maker and recently pardoned ex-con's fourth political documentary – he tries to make the case that Hitler was a lefty. That's a tall order, and here's the best D'Souza can muster: he says Adolf wasn't a homophobe. Most historians think he was, and will cite as proof the 100,000 arrested for violating Nazi anti-homosexuality laws and the 15,000 murdered in camps. And yet here's D'Souza claiming there were known gay men peppered about the Nazi top brass. Hitler didn't have them executed or even demoted. Ergo, Hitler was an SJW snowflake. QED. Right?
Let's think this through; D'Souza certainly didn't. Putting aside his typically sloppy historiography, is he really saying that Hitler's alleged LGBTQ tolerance disqualifies him from conservative circles? Has he accidentally let slip that, in 2018, much of the right remains homophobic? And isn't he cherry-picking facts then arriving at a dubious conclusion that does nothing but suit his needs? Who would fall for this except someone who would unironically watch a film by Dinesh D'Souza? (Incidentally, D'Souza's films are reliably lousy with faux-naive rhetorical questions.)
Then again, watching Death of a Nation (a film that tries to compare Donald Trump to Abraham Lincoln), you might not get a chance to think anything through. Throughout D'Souza does what he always does: he drops a bombshell, then before you've had a chance to recover, he hits you with another, over and over and over, for nearly two hours. It's a downright Trumpian move: exhaust your enemies (and your supporters) through the sheer volume of your nonsense. Thing is, D'Souza's been doing this for decades, well before the world was hijacked by the tweeter-in-chief. Confusing through multiplicity has long been one of his favorite tricks. And he has a heaping bag of them.
D'Souza has never had the fame and notoriety of an Ann Coulter (whom he once dated) or even a Laura Ingraham (ditto), but that's not for lack of trying. Born in Bombay, he emigrated to the US as a teen and quickly made a name among the conservative intelligentsia for "going there" – saying anything to get a rise. At Dartmouth College, he was the editor-in-chief of the rightwing Dartmouth Review. Under his watch, the paper cruelly outed liberal campus homosexuals for fun, and it published a notorious piece known as the "jive column" – a takedown of affirmative action written in stereotypical black language. (The hed: "Dis Sho' Ain't No Jive, Bro.") …
---
If you haven't died before, you may want to put off doing it for as long as possible. Not that getting to meet Death and challenge him to a Fornite match for your eternal soul won't be fun, but there are more reasons than ever to stay alive these days. No, not for quality of life — the world is a toilet being uppercutted into a different toilet — but because the stuff that keeps happening to corpses is … unfortunate. And not just a couple of corpses. Like, a lot of corpses. There's a reason zombies hate us.
5. Bodies Can Be Left Lying Around For An Insanely Long Time
---
If you're like me, you've planned to be buried standing upright under an HD camera linked to a display on your tombstone which, when activated, will allow mourners to look at you looking back up at them and pointing in an accusatory manner as you decompose. But there's no guarantee that'll work out, because sumbitches are leaving bodies lying about like the goddamn things were socks.
It's not unheard of for a funeral home to leave a corpse sitting on a table like it was a pizza crust that you promise you'll absolutely toss in the garbage the next time you walk past, if only you remember to. Except you don't. A Florida home had six bodies soaking up that Florida heat, with ten more in a room-temperature cooler. They had all been scheduled for cremation, but instead the owners opted to neither cremate nor even embalm them, and just left them around for the flies. The same basic thing happened in Michigan, Philadelphia, and New York.
What motivates a funeral home to not even bother cremating a body? Trying to save money in the fire budget? That shit's generally pretty cheap, isn't it? Stuff is catching on fire all the time for free. Still, there's a funeral home in South Carolina that left a body for three years in an unrefrigerated room after telling the family it had been cremated. The body was covered with a sheet and surrounded by things to mask the smell. An alternative idea would have been to cremate the body three years in the past if the smell of a three-year-old body is a thing you don't enjoy, but what do I know? I'm an English major, not a corpsologist.
At least hospitals are a place you can trust will care for your loved ones, even if the unthinkable happens, right? Ha ha, of course not! Here's a story about a hospital that left a dead person sitting in bed for seven hours. And not just "pushed in a corner" dead; he was "sitting up in bed, face uncovered and scaring the neighbors" dead. This was while other patients and their families went about their business in the same ward. So yeah, the comparison with dirty socks is even more apt than I thought. You're just going to toss them in the corner and only do something about them when someone starts yelling about it. …
---
VOLATILITY POSITIVES

Your brain adapts to its environment, deciding when learning is necessary.
We may crave stability in life, but the brain benefits from volatility, according to a Yale University study on cognition that shows how uncertainty boosts learning.
The paper, to be published in Neuron (paywall) on Aug. 8, demonstrates that there's more activity in the brain's prefrontal cortex when a situation is difficult to predict, and less activity when the outcome is more certain. "Perhaps the most important insight from our study is that the function of the brain as well as the nature of learning is not 'fixed' but adapts according to the stability of the environment," Yale medical school professor of neuroscience, psychiatry and psychology Daeyeol Lee tells Quartz.
Our brains aren't learning all the time. Instead, Lee explains, the brain determines whether learning is necessary in a given situation, and if so, what kind of learning is most beneficial. When situations are predictable, the brain doesn't need to do as much. When circumstances are changing, it works harder.
One implication of the findings, according to Lee, is that we should seek out new situations to stimulate brain activity and learn more. "When you enter a more novel and volatile environment, this might enhance the tendency for the brain to absorb more information," he suggests. …
---
From setting up his own church to purchasing Russell Crowe's jockstrap to publishing a children's book about Vice President Mike Pence's pet rabbit, Marlon Bundo, the HBO host is never afraid to get creative to prove his point.
John Oliver only has half an hour on his Sunday show, Last Week Tonight, but he makes it count. With five seasons under his belt, Oliver has become known for his over-the-top stunts as he performs intensive examinations of social and political issues.
Whether filming a video featuring cameos from Hollywood stars or secretly creating his own church (Our Lady of Perpetual Exemption), children's book or Trump-inspired hat, the comedian's gags always set out to prove a point. And they often make headlines long after the credits roll.
Recently, he purchased Russell Crowe's jockstrap from the film Cinderella Man for $7,000 in a (futile) bid to save one of the last Blockbusters from closing. Now that the store is going under, it's unknown what will become of the infamous item of clothing.
Oliver has won the best variety talk series Emmy for the past two years and he has a chance to continue his streak this year with Last Week Tonight up for both that award and eight other prizes.
Ahead of this year's Emmys, take a look back at some of Oliver's memorable stunts over the past five years. …
---
Video Goodnesses
and not-so-goodnesses
The U.S. government hit a deadline last week to reunite more than 2,500 children separated from their parents under the Trump Administration's "zero tolerance" immigration policy. VICE News gets rare access to what the torturous experience was like from separation to reunification for one family.
In a powerful half-hour episode, "Zero Tolerance" uncovers the chaos and confusion created by a harsh policy the government was clearly not prepared to manage. From Texas to Alabama to Guatemala, VICE News follows one family trying to find a 7-year-old boy separated from his father.
---
Immigration officials dodged a number of questions during a Senate Judiciary Committee hearing Tuesday focused on the family separation crisis at the border, but they all seemed to agree on one thing: The Trump Administration policy that resulted in the crisis was flawed.
One of the most telling moments of the three and a half hour hearing came when the five witnesses — representing the Department of Health and Human Services, Department of Justice, U.S. Citizenship and Immigration Services, U.S. Immigration and Customs Enforcement and the U.S. Border Patrol — were asked by Sen. Richard Blumenthal (D-CT) whether any thought the policy of separating children from their parents at the border had been a success. All remained silent.
The policy, enacted in May of this year, became a public relations and logistical nightmare for the Trump Administration as immigration officials scrambled to reunite migrant children with their parents in advance of a recent court-ordered deadline. Officials at Tuesday's hearing were at times unable to provide updated or exact numbers for the children that have been reunited with their families, and unable to offer clear explanations on why some still remained in the U.S. government's care.
Jonathan White, the assistant secretary for preparedness and response at the Department of Health and Human Services, said he even cautioned administration officials separating children from their families would be both harmful to the child and logistically burdensome for HHS.
"There's no question that separation of children from their parents entails significant potential for traumatic psychological injury to the child," White said.
Another official, Matthew Albence, head of enforcement and removal operations for ICE, dismissed reports of unsanitary and unsafe conditions for children and migrant women at government facilities, describing the family residence centers as "more like a summer camp."
"These individuals have 24-hour access to food, water. They have educational opportunities. They have recreational opportunities both structured and unstructured," he said.
But while all of the officials acknowledged there were issues with the family separation policy, and challenges in reuniting families, none could offer a specific explanation for what went wrong in the process of implementing the policy, or any clear solutions to fix the problem going forward.
THANKS to HBO and VICE News for making this program available on YouTube.
---
Rudy Giuliani launches a bizarre attack against Michael Cohen after the former Trump attorney signals a willingness to cooperate with Special Counsel Robert Mueller.
THANKS to Comedy Central and The Daily Show with Trevor Noah for making this program available on YouTube.
---
Donald Trump pulled a complete reversal on 'no collusion' to 'no, collusion isn't a crime.' What's he going to flip-flop on next?
---
One Virginia congressional race features two candidates with different views on a hotly contested campaign issue: Bigfoot porn.
THANKS to CBS and The Late Show with Stephen Colbert for making this program available on YouTube.
---
CAUTION: Some language may not be appropriate for work or children.
Here's some commentary on a few sensational travel fails. Cheers to Agoda for sponsoring me work.
Oops…
---
金ダライでまったりしたり。Maru is relaxed in the metal tub.
---
FINALLY . . .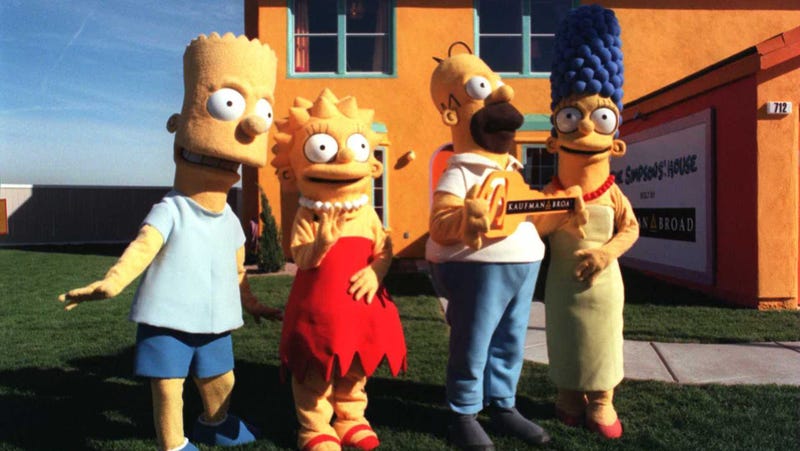 It's one thing to build a real-life Simpsons house as a publicity gimmick. It's another to figure out what to actually do with it afterwards. Mental Floss published a fantastically detailed history all about the infamous "real-life Simpsons house," a perfect replica of 742 Evergreen Terrace that was built for a 1997 promotional giveaway but which now (mostly) functions as a regular home. The cartoonish exterior of the Nevada tract home was repainted to appease the local homeowner's association and the interior has been modified to be as livable as possible. The only downside is that overexcited Simpsons fans still sometimes see the property as their own personal playground. As the house's current owner explains, "We'll be sitting watching a movie and someone will be yanking on the door. We're vigilant about keeping the doors locked."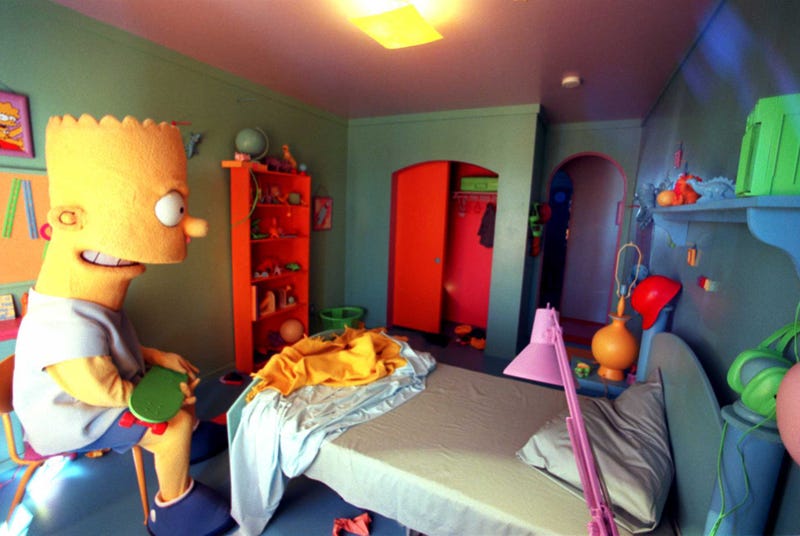 The Mental Floss article digs into the impetus for the project (The Simpsons was in a bit of a publicity slump at the time), the logistics that went into actually building the house, and the weird trajectory the property has had ever since then. The person who technically "won" the house via the Pepsi-sponsored giveaway never actually claimed their prize. The back-up winner was initially thrilled but eventually decided to take a lesser cash prize (still $75,000) rather than the $150,000 house itself. But one thing the Mental Floss article makes clear is just how much loving work went into the initial project: …
---
Ed. More tomorrow? Probably. Possibly. Maybe. Not?