Explosive Details in the Trump-Russia Investigation
In the past week, there have been several startling revelations about the investigations into Donald Trump, his closest allies, and their ties to Russia. Not only has the existence of two investigations, one by the FBI and one by the House Intelligence Committee, been confirmed, but there is increasing information as to just what is being investigated: an alleged deal for Trump to advance Russian interests as President in exchange for a share of the Russian state oil company Rosneft and Russian intelligence assistance in winning the election.
This news has been spread over a tremendous number of articles and even Twitter threads, rather than in a single big headline. So today I would like to pull together all of these reports, and make it clear what things are known for certain, what things have been reported and sourced but not confirmed, and what things are still speculation.
In, and Out, Like Flynn
Why a former three-star general may be turning state's evidence
At the center of today's news is Michael Flynn, a retired three-star U.S. Army general, who later worked on Trump's campaign as a private citizen, and then served for 24 days as National Security Advisor. While he was working for Trump's campaign, he was also a highly-paid agent of the Turkish government, receiving over $500,000 to represent their interests. (He admitted this after it became known online earlier this month, and last week filed the paperwork to retroactively declare himself as a foreign agent as required by law.)

Michael Flynn Was Paid to Represent Turkey's Interests During Trump Campaign
The White House said that Mr. Trump did not know that Mr. Flynn was acting as a foreign agent when Mr. Trump appointed…
He is also under investigation by the Army as to whether he was being paid (illegally) by the Russian government in 2015. (Even though he retired in 2014, military officers may be called back to active duty at any time, and so are not allowed to act as foreign agents without Congressional approval.) It is definitely known that he was paid over $33,000 by Russia Today for a "speaking engagement" back in December 2015; it's a question for the lawyers whether such payments alone would qualify him as a foreign agent, since RT is only a quasi-official arm of the government. The Army investigation is separate and predates this.
Flynn was caught on (legal) FBI wiretaps, illegally discussing U.S. sanctions with the Russian ambassador last December. Worse for him, he lied about it to quite a few people, and when it came out, this forced his resignation as National Security Advisor. …
---

Alex Jones
Alex Jones is having a rough week. The Texas-based conspiracy theorist and head of the disturbingly popular Infowars media empire has been banned in rapid succession from a variety of platforms, including Apple, YouTube, Facebook and Spotify.
To many casual news consumers, the purge seems sudden. Jones has been peddling mean-spirited hoaxes for years, including 9/11 "truther" nonsense, false accusations of pedophilia aimed at a broad set of targets (including special counsel Robert Mueller), and hyping the idea that the bereaved parents of kids killed in the Sandy Hook massacre are fakers — the latter of which has led to a defamation lawsuit that could cost the Infowars host millions of dollars. So why now?
The timing isn't random. In recent weeks, a group of progressive activists has dialed up efforts to pressure these distribution platforms to drop Infowars. That pressure, which comes at a time when court proceedings against Jones have finally begun in earnest, created the momentum that led to this decision. This has been mentioned in passing in much of the coverage, but these folks deserve much more credit and recognition for the work they've been doing in trying to fight right-wing disinformation campaigns.
Salon spoke recently with Jared Holt, a researcher from Right Wing Watch, a project of People for the American Way. Holt's work has been instrumental in getting social media and other internet platforms to give Infowars the boot. This interview has been edited and condensed for clarity. …
---
Jack Dorsey refuses to follow Apple, Facebook and YouTube in banning Jones, saying he will be guided by principles rather than pressure.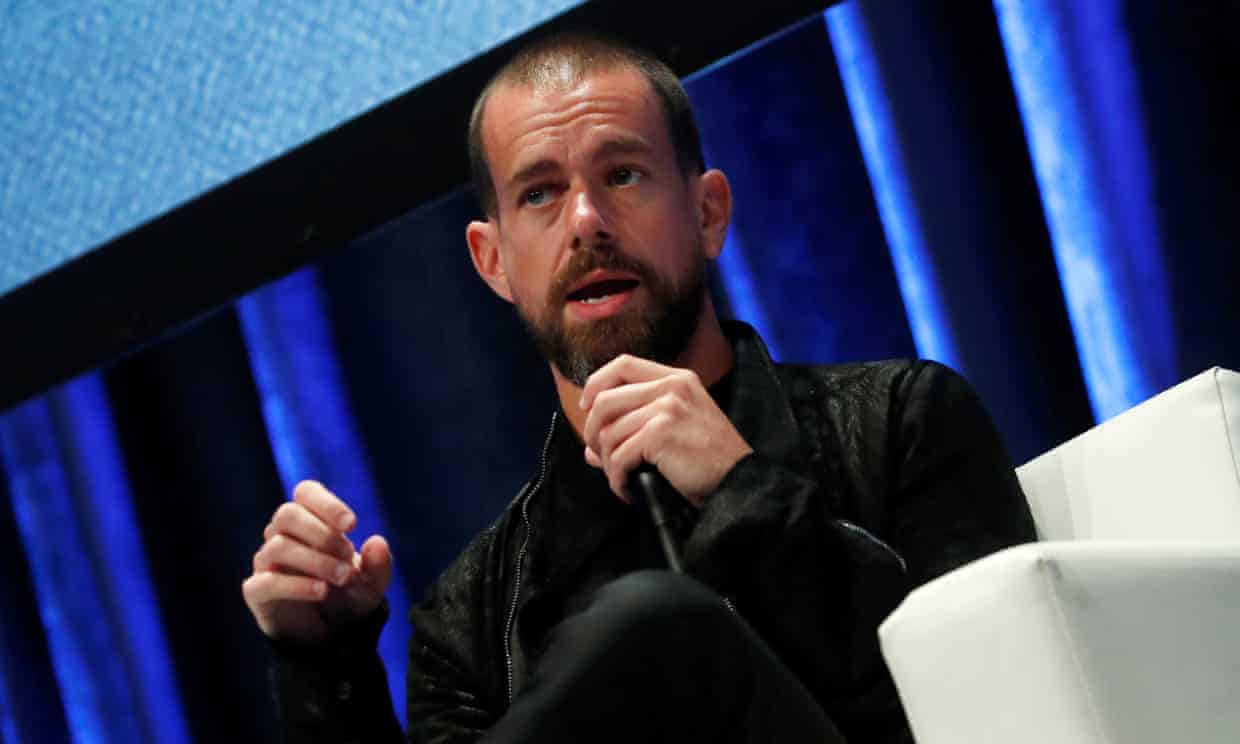 Twitter founder Jack Dorsey has defended allowing Alex Jones to remain on the platform.
Twitter founder Jack Dorsey has defended his company's decision to continue publishing the controversial tweets of the American conspiracy theorist Alex Jones, saying Jones's content "hasn't violated our rules".
Facebook, Apple, YouTube and Spotify have all banned Jones' from their platforms, saying he promoted hate speech and violence, but Twitter had allowed Jones to continue posting on the platform. Dorsey said the company was committed to promoting "a healthy conversational environment" – which included Jones.
"We're going to hold Jones to the same standard we hold to every account, not taking one-off actions to make us feel good in the short term, and adding fuel to new conspiracy theories," he said.
"If we succumb and simply react to outside pressure, rather than straightforward principles we enforce (and evolve) impartially regardless of political viewpoints, we become a service that's constructed by our personal views that can swing in any direction. That's not us."
Jones, who is being sued by the parents of children murdered in the 2012 Sandy Hook shooting for claiming the attack was a hoax, is the host of the daily Alex Jones Show podcast, and his platform Infowars produces another five podcasts. …
---
Out of sight, out of mind — that's how the saying goes. But perhaps we should amend it to "out of our sight into some other poor sap's mind." Just because we as a culture decide we're done with something doesn't mean it goes away. Somewhere in Eastern Europe, they're only now getting Turbo Teen, and they're going nuts for it. We made that example up (probably), but there are plenty of true cases. Like …
4. Sacagawea Dollars Are The Preferred Currency Of Ecuador
---
When they were first announced, Sacagawea golden dollars were heralded as a great step forward for a currency dominated by dead white dudes in wigs. But the coins were heavy, unwieldy pieces of metal in a country that doesn't like change, and people soon tired of jangling down the street like old jalopies. In the end, America opted out of using the Sacagawea dollar. Well, not all of America.
"They love me at strip clubs."
n Ecuador, Sacagawea dollars are the preferred currency. In the year 2000, Ecuador adopted the almighty dollar as their national currency after their own crashed harder than James Dean on race day. So when the U.S. started shipping dollars to Ecuador, they clearly figured it'd be a good time to offload some of those unwanted coins. They have since shipped 149 million dollars' worth of Scagaweas to Ecuador, which is surely more coin than land by now.
Much to the U.S. Mint's surprise, Ecuadorians love their Sacagawea dollars. They vastly prefer them over the typical greenback, as they think paper money is far too easy to counterfeit. One citizen even confessed that for a long time, she thought Sacagawea was from Ecuador instead of the United States because of the coin's ubiquity. Sacagawea probably would've liked that as well. At least somebody appreciates her. …
---
City's divisive decision is largely symbolic and provides a talking point for conservatives angry at the left.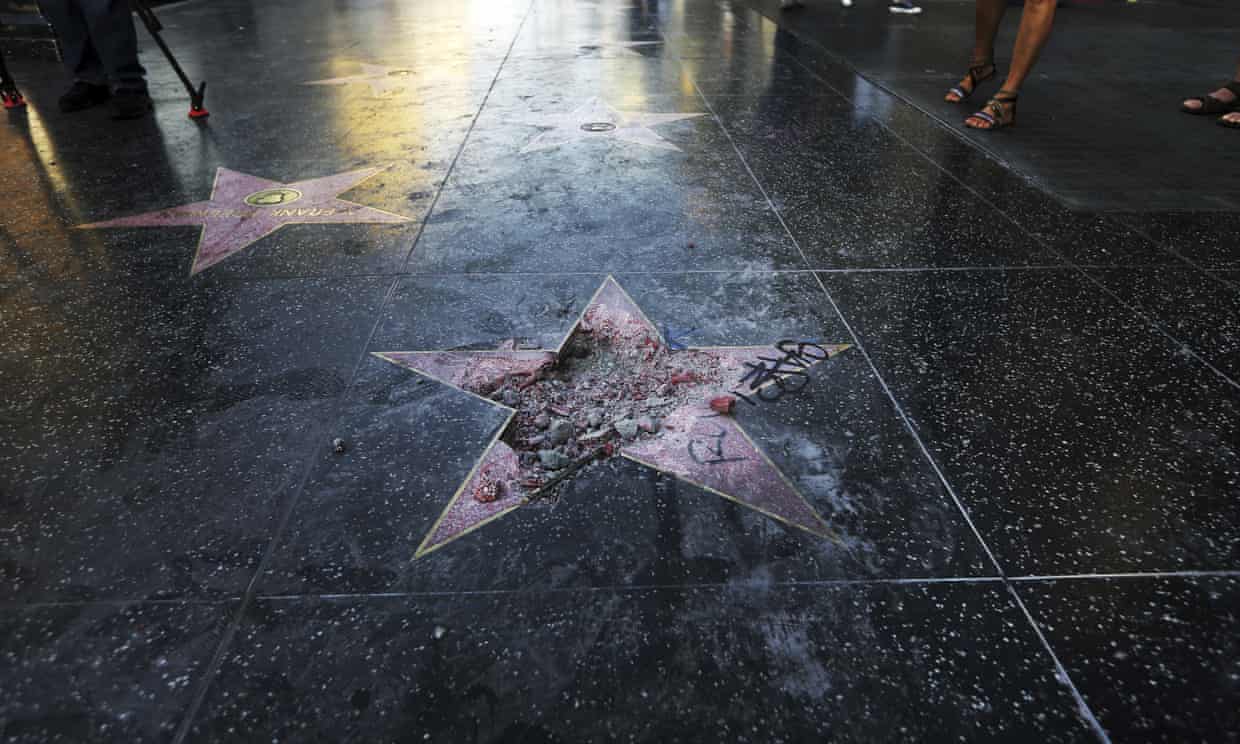 Donald Trump's vandalized star on the Hollywood Walk of Fame last month.
The feisty, impeccably liberal city of West Hollywood struck a resounding, if symbolic, blow against Donald Trump when it voted on Monday night to remove the president's star from the Hollywood Walk of Fame.
There was, however, a snag.
While the star is not far from West Hollywood, it is not in fact in West Hollywood. And the vote – following a rowdy public meeting in which the council's actions were praised by a man now facing a felony vandalism charge for demolishing Trump's star with a pickaxe – unleashed a torrent of invective from the president's fans, as well as anguish about misplaced priorities on both sides of the political aisle.
Liberal hand-wringers pointed out that the resolution said nothing about Bill Cosby, Kevin Spacey and others accused of abusive sexual behavior whose stars remain intact. Conservatives alternately expressed disgust and rubbed their hands with glee at the sight of liberal west coasters doing exactly what conservatives always like to accuse them of doing – seeking to censor, banish and remove material they find offensive despite their nominal adherence to free speech.
"To maintain a level sidewalk," the television personality and Fox News stalwart Geraldo Rivera tweeted acidly, "I assume all the other stars displayed will now be given the same character reviews and background checks to determine if their stars too deserve mutilation and banishment." …
---

The Pentagon is banning deployed personnel from using fitness trackers, smartphones and potentially even dating apps that use geolocating features that could reveal the user's location.
The ban was announced in a Pentagon memorandum issued Friday and signed by Deputy Secretary of Defense Patrick Shanahan.
"Effective immediately, Defense Department personnel are prohibited from using geolocation features and functionality on government and non-government-issued devices, applications and services while in locations designated as operational areas," the policy memo said.
The Pentagon said in January it was reviewing policies regarding such devices after it was revealed that Strava, a fitness tracking app that maps people's exercise habits, may have inadvertently revealed the locations of security forces around the world.
"It goes back to making sure we're not giving the enemy an unfair advantage and we're not showcasing the exact location of our troops worldwide," Pentagon spokesman Col. Rob Manning told reporters Monday. …
---
Video Goodnesses
and not-so-goodnesses
After months of increasing their scrutiny, tech companies have deleted content from the right-wing provocateur Alex Jones.
---
Paul Manafort's right-hand man, Rick Gates, points the finger at his former associate as the Manafort trial heats up.
THANKS to Comedy Central and The Daily Show with Trevor Noah for making this program available on YouTube.
---
Richard Gates was supposed to be the key witness in Paul Manafort's trail. That was before the surprise appearance of 'Secret Richard Gates.'
---
Donald Trump visited Ohio to make a late push for the Republican in the 12th congressional district special election and it's still unclear who invited him.
THANKS to CBS and The Late Show with Stephen Colbert for making this program available on YouTube.
---
CAUTION: Some language may not be appropriate for work or children.
It's a Gordon Ramsay Kitchen Nightmare! Nah, it's an epic rat showdown with a lovely ending.
---
FINALLY . . .
NETFLIX BUT ALSO CHILL

ire and ice.
Among young people, an invitation to "Netflix and chill" is understood as a euphemistic way to get someone into bed. But a lot of couples interpret "Netflix and chill" quite literally—and a new study suggests that watching TV may have a chilling effect on their sex lives.
A new working paper, conducted by two researchers from the University of Delaware and Reed College, found that television ownership is associated with a more than 5% reduction in sexual activity in low- and middle-income countries. (The paper, circulated by the National Bureau for Economic Research (NBER), has not yet been peer-reviewed.) It looked at the self-reported answers of nearly 4 million respondents from 80 countries across five continents to the international Demographic and Health Surveys (DHS), a survey program funded by the United States Agency for International Development and other donors.
Approximately 50% of households in the data sets owned a television. After controlling for factors like household income and sexual health education, the researchers found that individuals in households that owned a television had a 5.7% lower likelihood of having had sex in the past week, leading them to conclude that "while television may not kill your sex life, it is associated with some sex life morbidity." Fun.
By contrast, the researchers found that owning a motorcycle or car is associated with more sexual activity. That makes sense: Having a way to get around (no pun intended) makes sexual activity more accessible. …
---
Ed. More tomorrow? Probably. Possibly. Maybe. Not?