Pictured above: America's Shithole on the South Lawn of the White House.

A television assembly plant in small town South Carolina could prove the graveyard of ambition for Republicans in November's midterm elections.
This week Element Electronics warned that it might be forced to close its factory in Winnsboro and lay off 126 people because of TV parts affected by Donald Trump's tariffs. Republican strategists fear there could be many more casualties in the president's trade war with China.
It is the last thing they need going into the polls in November, where Democrats aim to pick up 23 seats to regain control of the House of Representatives for the first time in eight years. Historically, the party that controls the White House typically finds the pendulum swinging the other way. This year, a uniquely polarising president appears to be firing up Democrats eager to curb his power.
The surge was on display again this week in a special election for a House seat in a reliably conservative district in Ohio that Trump won by more than 11 percentage points and that Republicans have held since 1982. Republican Troy Balderson leads Democrat Danny O'Connor by only about 1,700 votes, or less than 1%, with more than 8,000 provisional and absentee ballots still to be counted. There are dozens of seats currently held by Republicans that have bigger Democratic populations than the Ohio district.
"I think it's a huge red flag warning to the GOP [Grand Old Party] that November is going to be more difficult than their current rhetoric is stating," said Michael Steele, former chairman of the Republican national committee. "You have perhaps one of the top five most conservative districts in the United States and the Democrats are able to basically bring it to a draw almost. …
---
The far right movement may seem all but dead, but a crop of political candidates are introducing ideas into the mainstream.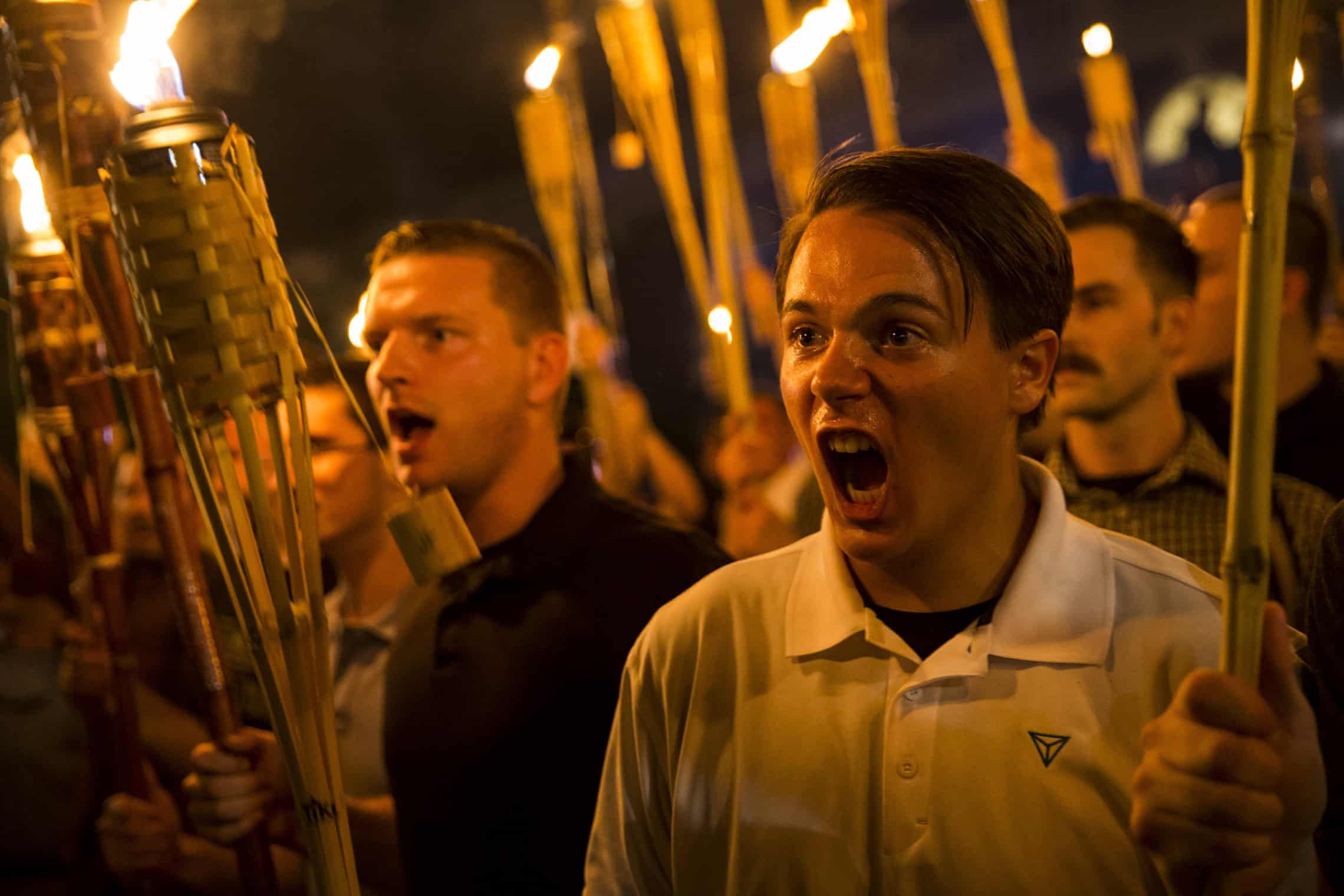 Peter Cvjetanovic along with neo-Nazis and white supremacists at the University of Virginia campus in Charlottesville, Virginia.
No one would argue that the last year hasn't been a rough one for the white nationalist movement in America. In fact, a not insignificant number of column inches has been written about how the movement is all but dead.
The leader of the National Socialist group the Traditionalist Workers party, Matthew Heimbach, has had a disastrous year ever since he was honeypotted into sleeping with his stepfather-in-law's girlfriend while said stepfather-in-law filmed the whole thing through the window from an apple crate. Heimbach then severely beat his stepfather-in-law, shoved his wife and ended up charged with spousal abuse – and bereft of his political party.
Richard Spencer was compelled to abandon his college speaking tour because of relentless hounding by the antifa as well as lackluster crowds.
Andrew Anglin, founder of the white supremacist website the Daily Stormer, found himself the target of a barrage of lawsuits and spent most of the year in hiding.
The Traditionalist Workers party folded, and with it the Nationalist Front, Heimbachs' big tent coalition of skinheads, neo-Confederates, the Ku Klux Klan and neo-Nazis.
Far-right websites and social media accounts were de-platformed and forced into the online netherworlds of the social network Gab and various Russian hosting services. Paypal, GoFundMe and Patreon, all popular vehicles for white supremacist fundraising, kicked many of their most prominent racist users off their service.
Yet this only tells part of the story – one that has little to do with the relative health of the far right in America. …
---
If there is one topic to which most philosophical — 'deep' — conversations I have with friends turn to, it's the question of whether we — humans — can know reality as it is in itself.
For example, many people have come across the idea that 'the observer affects the observed'.
That sounds catchy, but what does it mean?
Something like this: in trying to figure out what is true about the world, we cannot get completely 'outside' ourselves.
First, when observing things, what we observe will always be partially determined by the fact that the observer is a human being.
Second, we cannot check our beliefs about what the world is like directly against reality itself, but only against other beliefs about reality that we already accept as true.
If that's so, then the question of whether we can know how anything is independent of usobjective knowledge of the real world, looms large.
So let's think about the idea of 'knowing reality'. …
---
Inside the anti-Donald-Trump bubble (which, statistically, encloses most of humanity), we're very sure that it's just a matter of time until everyone else sees through this charlatan. "Don't these Evangelical Christians know Trump hasn't even picked up a Bible unless it was to kill a spider? Don't these unemployed rust-belters know his budget cuts are bad for them too?"
The media is more than happy to feed us stories proving we're right about this, that he's finally losing support from his base! So many that at this point, Trump's support should be several points below zero. Something is wrong here …
1. It Started Even Before Election Day
---
In September of 2015, back when most of us thought Trump was a mildly amusing sideshow we'd soon forget, The Washington Times was already telling us how he was losing Evangelical support to Ben "How the Fuck Did I Ever Get a PhD?" Carson. That was more than a year before the election.
Narratives like this continued through the primaries, and then the general election campaign. A month before Election Day, The Economist laid out with graphs and everything "Donald Trump's Dwindling Support."
It's not just that headlines thought he wouldn't win, though I could crash your browser with a list of all the articles and columns saying that. It's that there was a narrative that the Trump party was over. We'd all had our fun, now it was time to get on with the formality of actually retiring this guy to his YouTube show or whatever he had planned for his post-politics life.
And then, of course, he won. …
---
PARENTING ASSISTANTS

"Alexa, can you teach my child to talk?"
Kids love to play with Alexa. Voice-activated assistants are a bottomless source of entertainment, offering knock-knock jokes, bedtimes stories, and animal facts on demand. There's just one problem: Alexa and her smart-speaker ilk don't always know how to come out to play.
Up to around age five, children are still learning how to talk—a complicated process that involves developing the skills they need for clear pronunciation, learning the linguistic patterns of their first language, and expanding their vocabulary. That's why, when young kids try to talk to adults, they often have what's known as "communication breakdowns": The adult isn't sure what the kid is trying to say, or misunderstands one word as something else. But because kids are persistent, they usually try and try again to get their point across, in what's known as "communication repair."
Smart speakers may falter in the face of such communication breakdowns, as highlighted by a new study, conducted by a team of researchers from the University of Washington and published in the proceedings of the 17th ACM Conference on Interaction Design and Children, which took place in June 2018 in Norway. And it's part of a larger pattern with voice assistants, including Amazon's Alexa, Google Home, and Apple's Siri: While all kinds of people are using them, smart speakers sometimes run into trouble with interpretation.
How do smart speakers respond when young kids talk to them?
Smart speakers tend to work best for a certain profile of consumer, as the Washington Post reported in a wide-ranging investigation of smart speakers' bias problem. That consumer, broadly speaking, is white, well-educated, and a native English speaker from the West Coast—in other words, someone quite similar to the majority-white engineers and designers who create the voice assistants. That leaves many people behind, including people with regional accents and Americans whose first language is not English.
It may also exclude young children—sometimes with disastrous results. …
---
ONCE-LER UPON A TIME

Once upon a time in a forest, a well-meaning hardwood-floor professional was under attack, from a misinformed environmentalist.
The Lorax is a beloved 1971 children's book by Dr. Seuss that's a thinly veiled moral lesson on corporate greed. A sage and bossy creature called the Lorax defends trees against the Once-ler, who relentlessly chops them down to make clothes. Truax, published in the 1990s, is a parody of the story (pdf), in which a Once-ler-like character is not the villain but the hero. The book was written by Terri Birkett and illustrated by Orrin Lundgren, and published by the National Wood Flooring Association (NFWA), a US not-for profit group.
The book was written "to encourage children to protect natural resources through responsible forest management," says NFWA by email. It used to be available in print from the NFWA, but today, you can find an electronic version for free on the company's site, or try to nab a used paper copy.
In the book, Truax is a logger whose job it is to "harvest these trees for ballbats and houses and things such as these." He's accosted by Guardbark, a frightening-looking environmental activist-creature who acts on emotions and love of trees rather than truth (…ax). "Sir! … You are grisly with greed. Cutting Hagbarks is MEAN – a horribus deed," says the gnarled troll to the gentle, overall-wearing human. …
---
Video Goodnesses
and not-so-goodnesses
Lewis Black is enraged by the rise of recreational summer camps for adults and summer camps that teach kids finance.
---
Activists Emma Gonzalez and Matt Deitsch explain what drives them to keep fighting for gun control legislation and discuss the importance of voting in the upcoming elections.
THANKS to Comedy Central and The Daily Show with Trevor Noah for making this program available on YouTube.
---
In another installment of VICE News's "Storyboard," writer/actors Daveed Diggs and Rafael Casal talk about the inception and production of their movie, "Blindspotting," out now.
THANKS to HBO and VICE News for making this program available on YouTube.
---
どのくらい小さな箱ならば入ることを諦めるのでしょうか。When Maru found a smaller box, do you think that he gives up entering?
---
Tigers, Lions & Leopards love boxes too! Just like domestic cats!
---
Thaks Pandora for putting a cool vibe into my afternoon.
---
FINALLY . . .
IT WAS NO JOKE

Cantinflas escorts Lyndon Johnson's daughter Luci Baines Johnson at the White House, April 15, 1966.
The Mexican performer known simply as Cantinflas is said to have been rated "the greatest comedian alive" by Charlie Chaplin, the Hollywood icon once accused of being just that himself.
The Google Doodle honors Cantinflas today (Aug. 12) on the 107th anniversary of his birth as Mario Moreno in a Mexico City slum in 1911. He would parlay his comic-acting fortune into a role as a philanthropist, courted in Mexico and across its border with the US by the powerful interests he once satirized. He was associated with US president Lyndon Johnson even before he took office in 1963 and close to Gustavo Díaz Ordaz, Mexico's president from 1964 to 1970. Critics would come describe the entertainer as a propagandist for the PRI, Mexico's longtime ruling party, especially in the later decades of his career.
Nonetheless, Cantinflas's legacy stands as a reminder of a different time in Mexico-US relations, when a Mexican star appeared at the side of an American leader who relied on him to secure votes.

Cantinflas in New York City, 1949.
A powerful symbol of a lost time
Like Chaplin's Little Tramp character, Cantinflas promoted the cause of the poor by adopting an underdog persona, el peladito," who always, in the end, manages to endure his tribulations," as the New York Times wrote upon his death in 1993. Starting in the late 1930s, his films earned him millions and made him a cherished figure in Mexico and across Latin America for much of the next four decades. "Cantinflas represents the humble Mexican who wants to overcome himself and accomplish something in life," he told an interviewer in 1948. "This is the message of the films."
The scope of his celebrity makes Cantinflas a symbol of a bygone era in entertainment, when nations and whole continents were enthralled as one by singular, outsized presences. The level of his fame and influence was never more clear than on Nov. 6, 1961. …
---
Ed. More tomorrow? Probably. Possibly. Maybe. Not?