I Am Part of the Resistance Inside the Trump Administration

I work for the president but like-minded colleagues and I have vowed to thwart parts of his agenda and his worst inclinations
The Times today is taking the rare step of publishing an anonymous Op-Ed essay. We have done so at the request of the author, a senior official in the Trump administration whose identity is known to us and whose job would be jeopardized by its disclosure. We believe publishing this essay anonymously is the only way to deliver an important perspective to our readers. We invite you to submit a question about the essay or our vetting process here.

President Trump is facing a test to his presidency unlike any faced by a modern American leader.
It's not just that the special counsel looms large. Or that the country is bitterly divided over Mr. Trump's leadership. Or even that his party might well lose the House to an opposition hellbent on his downfall.
The dilemma — which he does not fully grasp — is that many of the senior officials in his own administration are working diligently from within to frustrate parts of his agenda and his worst inclinations.
I would know. I am one of them.
To be clear, ours is not the popular "resistance" of the left. We want the administration to succeed and think that many of its policies have already made America safer and more prosperous.
But we believe our first duty is to this country, and the president continues to act in a manner that is detrimental to the health of our republic.
That is why many Trump appointees have vowed to do what we can to preserve our democratic institutions while thwarting Mr. Trump's more misguided impulses until he is out of office. …
DEGREE OF DIFFICULTY: …"we will do what we can to steer the administration in the right direction until — one way or another — it's over."
---

The U.S. economy will grow a bit faster than China.
Huh? That's not a typo. It's one of the projections in a fascinating OECD paper sketching scenarios for the world through 2060. Other developments canvassed: China's share of global output peaks in the 2030s and then declines while India's slice keeps rising. Indonesia's economy catches up to its population.
The forecast for the U.S. to outstrip China is not a prediction of any economic miracle in America — just an acknowledgment that China has set itself up for a brutal demographic collapse. Shortly after China overtakes the U.S. economy in size, all the legacies of the one-child policy coalesce as the society seriously ages, stalling out the Middle Kingdom's expansion. The U.S. will face demographic challenges, too, but nothing like this.
Between 2030 and 2060, this paper projects, gross domestic product in the U.S. will grow at an average of just under 2 percent a year. Not too different from the past decade. China will expand an average of 1.8 percent a year, a smidge behind the U.S., but a vast change from the low double digits we've seen in recent decades.
The most important function of the OECD paper, by Yvan Guillemette and David Turner, is that it obliges us to consider what happens after tomorrow. …
---
'Several attempts at drilling' were made by a 'wavering hand' either on Earth or in orbit, in what could be accident or sabotage.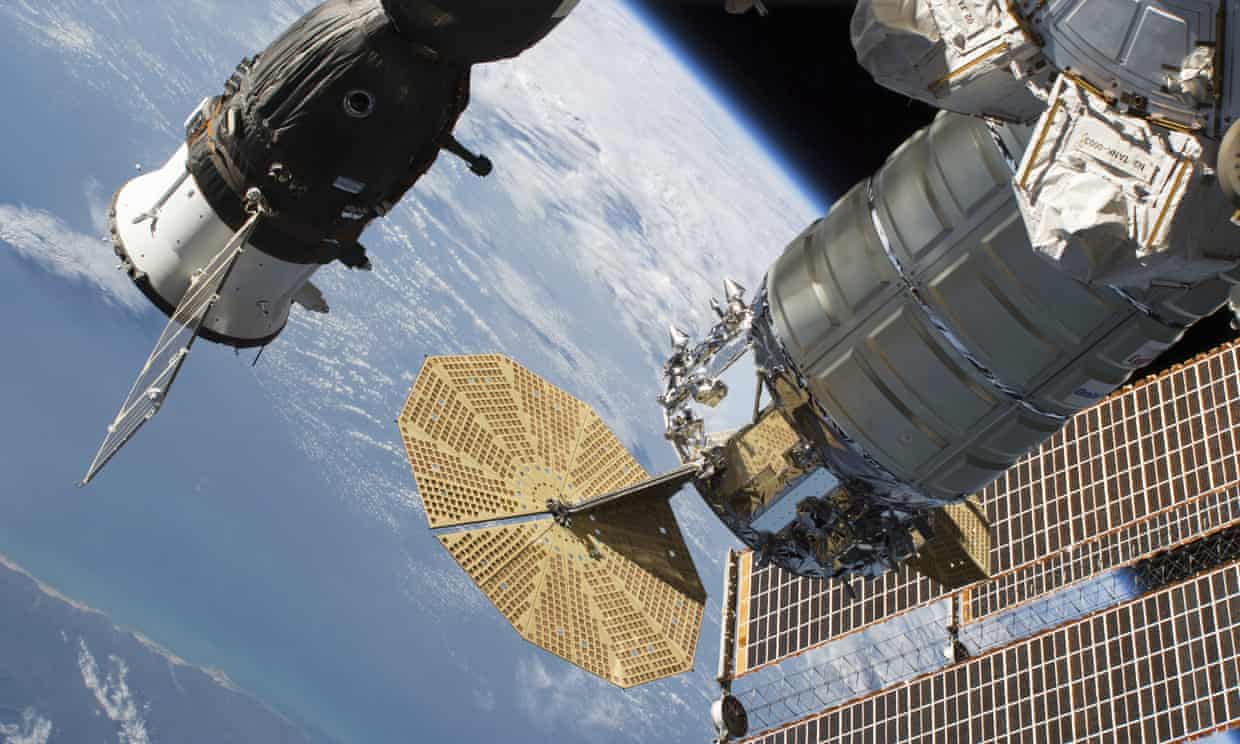 View of the International Space Station with Soyuz module on the left.
An air leak on the International Space Station might have been sabotage, according to the head of Russia's Roscosmos space agency, and an investigation is under way.
Dmitry Rogozin said the hole detected last Thursday in a Russian Soyuz module docked at the ISS was caused by a drill and could have been done deliberately, either back on Earth or by someone in orbit.
"There were several attempts at drilling," Rogozin said late on Monday in televised comments, adding that the drill appeared to have been held by a "wavering hand".
"What is this: a production defect or some premeditated actions?" he asked. "We are checking the Earth version. But there is another version that we do not rule out: deliberate interference in space."
Astronauts used tape to seal the leak after it caused a small loss of pressure that was not life-threatening. …
---
Pavel Stotsko and Yevgeny Voitsekhovsky followed Russian law but their Danish marriage put their lives at risk.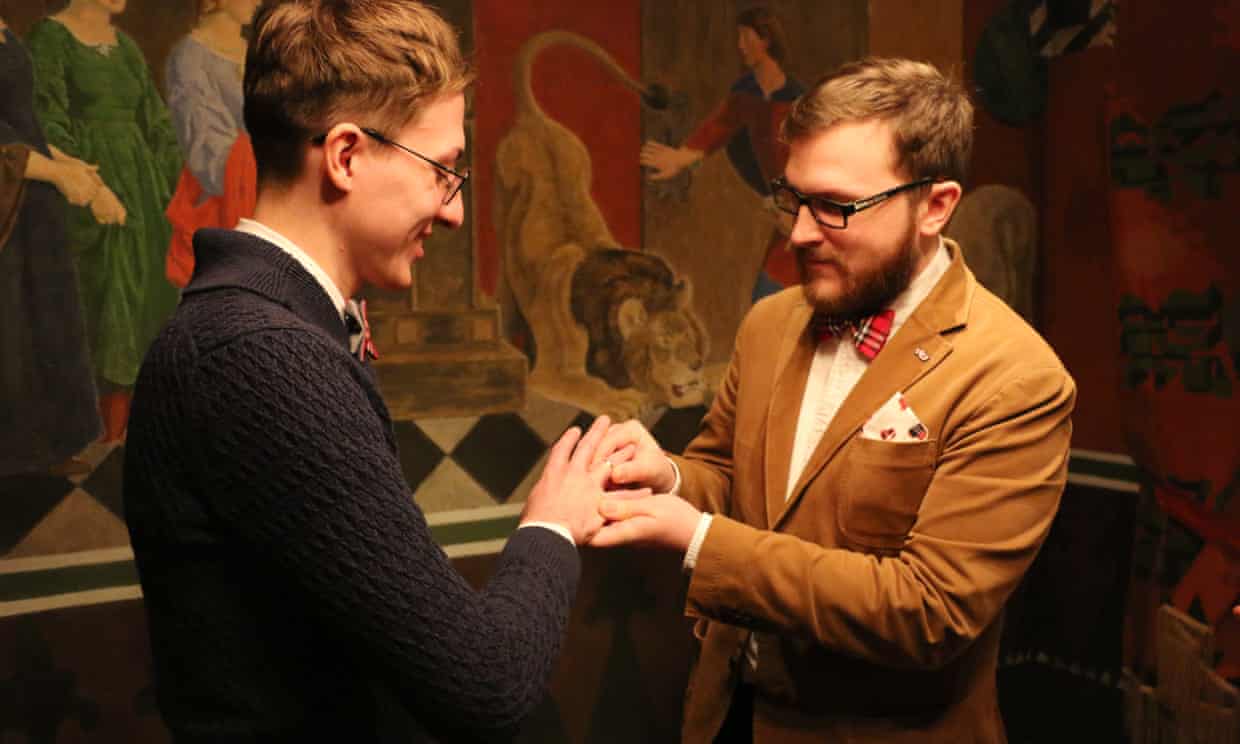 Yevgeny Voitsekhovsky and Pavel Stotsko (right) wed in Denmark, where same-sex marriages have been legal since 2012.
On a cold January evening, as plainclothes police officers hammered relentlessly on the door of their flat near Moscow, newlywed gay couple Pavel Stotsko and Yevgeny Voitsekhovsky began to consider fleeing Russia.
"It was a siege situation. The police were in the entrance to the building, and all around it," Stotsko said this week from the Netherlands, where the couple, who are both 28, were recently granted asylum. "We sat in the flat like in a prison cell, totally alone and in fear," said Voitsekhovsky.
The two men's problems with the Russian authorities began at the start of the year after they wed in Denmark, where same-sex marriages have been legal since 2012.
Although homosexuality is not against the law in Russia, same-sex marriage is. But after studying Russian civil law, Stotsko and Voitsekhovsky realised that the authorities are obliged to recognise marriages that have been registered abroad, even those between same-sex couples. Russian officials, it appears, were unaware of the legal loophole.
Upon their return to Russia in January, the couple submitted their internal passports to a register's office in Moscow, where a clerk "calmly and without any questions" put marriage stamps on the documents. All Russians over 14 must by law possess internal passports that document their place of residence and marital status. They cannot be used for foreign travel. …
---
Everyone's heard the old saying "Ask a stupid question, commission a detailed study until you arrive at a scientifically sound and objectively correct answer." What, you say that's not how it goes? Well then how did I get definitive solutions to all these very stupid questions, smart guy?
6. What Is The Absolute Best American Road Trip?
---
Thanks to researcher Randal Olson and writer Tracy Staedter, you can embark on the most efficient possible road trip through America. Because nothing enhances what's supposed to be a relaxing, carefree adventure like a mathematical solution you must adhere to at all times.
The route hits all 48 continental states and 50 major landmarks, including the Grand Canyon, Yellowstone, the Liberty Bell, and the White House, while also minimizing the traffic you should encounter. With this approach, America can be seen from sea to shining sea in a leisurely two to three months, although the route could theoretically be completed in as few as nine and a third days if you don't mind peeing in jars. Plus, in the true American spirit, this plan ensures that you don't have to learn a single thing about another country or culture. …
---

Female bonds trump apparent common sense in vervet monkeys.
Female monkeys are reluctant to follow the example of males even when they would obviously benefit from doing so, new research has found.
A study by St Andrew's University established that even when males demonstrate superior methods of obtaining food, females would rather mimic each other's techniques because of an innate distrust of the opposite sex.
The behaviour, which the researchers said echoes some human traits, is rooted in the tendency of male vervet monkeys to roam between groups.
This leads females to believe that males have poor local knowledge because they move around so much.
By contrast, male monkeys are happy to learn from whichever sex appears to be the more effective in a given situation, the study found. …
---
Lindsey Stanberry, editor of Refinery29's Money Diaries – a viral series in which contributors lay bare their expenses – explains why we're so fascinated with peering into each other's finances.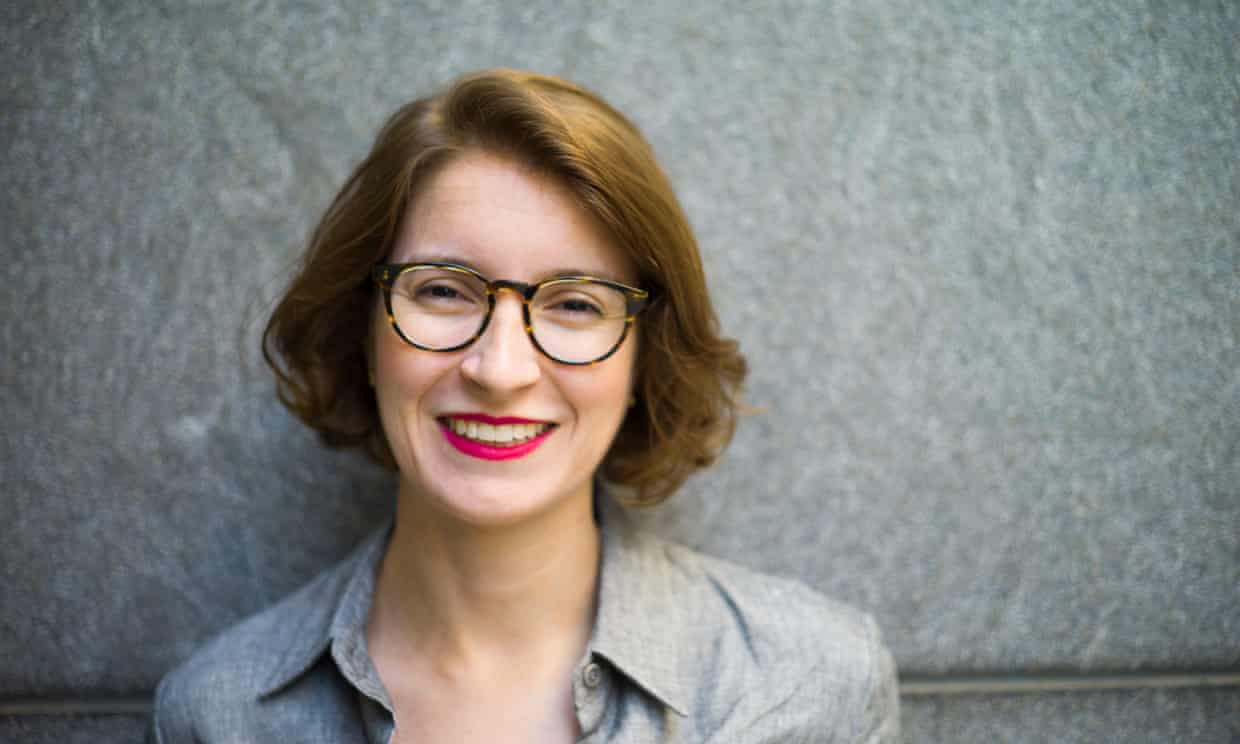 Lindsey Stanberry, the Money Diaries editor at Refinery 29.
It was the viral read of the summer: a 21-year-old intern chronicling her week in NYC on $25 an hour. Despite her modest pay, the intern led a lavish lifestyle – thanks to her family giving her $3,200 every month to cover her living costs. #Blessed, the anonymous intern wrote, when disclosing the funds from her family. She certainly was, but the internet got extremely #angry.
The article, published in July, was part of Refinery29's Diaries, in which an anonymous (and usually millennial) contributor lays bare their finances, detailing everything they spend in the course of a week. Launched in January 2016, the series, which tracks the spending lives of the broke, the loaded and everyone in between, has become something of a modern phenomenon. Indeed, such is its popularity that a is coming out today.
I sat down with Refinery29's Lindsey Stanberry, editor of Money Diaries and author of the forthcoming book, to talk about why millennials are so fascinated with peering into each other's finances. …
---
Video Goodnesses
and not-so-goodnesses
Over the Labor Day weekend, some people chose to exercise their rights as Americans to burn their shoes.
They uploaded videos and images of themselves destroying their own Nike products to protest Nike's new campaign, which features the face of Colin Kaepernick and the caption, "Believe in something. Even if it means sacrificing everything."
The ad references Kaepernick's choice to kneel during the pregame national anthem in protest of police treatment of minorities — a protest that, according to multiple polls, most Americans don't approve of. So why would a company as big as Nike want to sacrifice a big chunk of their customer base for politics?
In short, because it's not politics. It's business. And Nike is gambling that the people who are angry about the ad won't affect their bottom line much.
"I think Nike is very okay with losing those people as customers," says Ian Schafer, founder and former CEO of Deep Focus, which has worked with Nike in the past.
---
Darren Knight is an Alabama comedian who shot to internet fame when his character "Southern Momma" went viral two years ago– but you've probably never heard of him.
Knight was one of ten comics chosen by Variety magazine to perform at "Just For Laughs," the largest — and most prestigious — stand-up comedy festival in the world. He was the only white guy on the bill.
Knight bombed his set–-and was booed off stage when he admonished his fellow comedians for being too focused on subjects like sexual orientation and racism.
Twitter exploded; he was denounced as a racist and homophobe. His detractors were uncompromising: Knight's opinions on comedy—and a variety of other issues—had no place in comedy.
Before the dust had settled, Knight's New York-based talent agent, ICM Partners, had dropped him.
For most up and coming comics, this would be the end of the line. But not for Knight. His videos and stage act have translated into millions of dollars in revenue—taking Knight from a single-wide trailer in the woods to a sprawling antebellum-era plantation–and to the frontlines of the comedy culture wars.
THANKS to HBO and VICE News for making this program available on YouTube.
---
Boycotters are out in full force in response to Nike featuring Colin Kaepernick in an ad campaign, The New Yorker scheduling Steve Bannon as one of its festival headliners, and a new Ryan Gosling movie they say neglects the American flag.
THANKS to Comedy Central and The Daily Show with Trevor Noah for making this program available on YouTube.
---
Bob Woodward's book 'Fear' paints the White House as a dysfunctional, off the rails disaster that Trump's own aides refer to as 'Crazytown.'
---
Stephen catches up on the stories he missed during his summer hiatus, such as Michael Cohen's guilty plea, Paul Manafort's guilty verdict, and Jeff Sessions' miserable existence.
THANKS to CBS and The Late Show with Stephen Colbert for making this program available on YouTube.
---
Seth takes a closer look at Republicans rushing to confirm the Supreme Court nominee of a president who is in so much legal jeopardy even his own lawyers have warned him he could go to jail.
THANKS to NBC and Late Night with Seth Meyers for making this program available on YouTube.
---
Will it be as funny as The Simpsons? Matt Groening certainly thinks so.
---
はなは耳が汚れやすいので、割とこまめにきれいにしています。Hana's ear gets dirty easily. So I clean her ear every 1~2 week.
---
FINALLY . . .

The FBI says it has recovered a pair of ruby slippers worn in The Wizard of Oz that were stolen from a Minnesota museum in 2005. One of several pairs of slippers worn by Judy Garland in the movie are seen here in 1996.
Thirteen years ago, a pair of ruby slippers from the 1939 movie The Wizard of Oz were stolen from a Minnesota museum. Now, the FBI says the search is over.
It was a classic smash-and-grab in August 2005: Some unknown thief or thieves broke in through the back door of the Judy Garland Museum in Grand Rapids, Minn., and swiped the slippers, reportedly leaving nothing but broken glass and a single red sequin in their wake.
One long-running theory held that local kids had stolen the slippers, then got scared and threw them into a nearby abandoned mine pit. A dive team searched the Tioga Mine Pit in 2015, but came up empty.
The missing slippers are two different sizes and may be the mates of a mismatched pair at the Smithsonian's National Museum of American History, The New York Times reports. In 2016, the Smithsonian launched a Kickstarter campaign to fund preservation work on the pair there. The museum notes that five pairs of ruby slippers made for the movie are known to have survived. …
---
Ed. More tomorrow? Probably. Possibly. Maybe. Not?