I'm here today because this is one of those pivotal moments when every one of us, as citizens of the United States, need to determine just who it is that we are, just what it is that we stand for. And as a fellow citizen, not as an ex-president, but as a fellow citizen, I am here to deliver a simple message, and that is that you need to vote because our democracy depends on it.
Now, some of you may think I'm exaggerating when I say this November's elections are more important than any I can remember in my lifetime. I know politicians say that all the time. I have been guilty of saying it a few times, particularly when I was on the ballot.
But just a glance at recent headlines should tell you that this moment really is different. The stakes really are higher. The consequences of any of us sitting on the sidelines are more dire. And it's not as if we haven't had big elections before or big choices to make in our history. The fact is, democracy has never been easy, and our founding fathers argued about everything. We waged a civil war. We overcame depression. We've lurched from eras of great progressive change to periods of retrenchment. Still, most Americans alive today, certainly the students who are here, have operated under some common assumptions about who we are and what we stand for.
That's the story of America, a story of progress. Fitful progress, incomplete progress, but progress. And that progress wasn't achieved by just a handful of famous leaders making speeches. It was won because of countless quiet acts of heroism and dedication by citizens, by ordinary people, many of them not much older than you. It was won because rather than be bystanders to history, ordinary people fought and marched and mobilized and built and, yes, voted to make history. …
---
The postmodern state is under siege from plutocrats and criminals who unknowingly compound each other's insidiousness.
States within the global political economy today face a twin insurgency, one from below, another from above. From below comes a series of interconnected criminal insurgencies in which the global disenfranchised resist, coopt, and route around states as they seek ways to empower and enrich themselves in the shadows of the global economy. Drug cartels, human traffickers, computer hackers, counterfeiters, arms dealers, and others exploit the loopholes, exceptions, and failures of governance institutions to build global commercial empires. These empires then deploy their resources to corrupt, coopt, or challenge incumbent political actors.
From above comes the plutocratic insurgency, in which globalized elites seek to disengage from traditional national obligations and responsibilities. From libertarian activists to tax-haven lawyers to currency speculators to mineral-extraction magnates, the new global super-rich and their hired help are waging a broad-based campaign to limit the reach and capacity of government tax-collectors and regulators, or to manipulate these functions as a tool in their own cut-throat business competition.
Unlike classic 20th-century insurgents, who sought control over the state apparatus in order to implement social reforms, criminal and plutocratic insurgents do not seek to take over the state. Nor do they wish to destroy the state, since they rely parasitically on it to provide the legacy goods of social welfare: health, education, infrastructure, and so on. Rather, their aim is simpler: to carve out de facto zones of autonomy for themselves by crippling the state's ability to constrain their freedom of (economic) action. …
---
The foreign policy establishment has been lamenting its death for half a century. But Atlanticism has long been a convenient myth.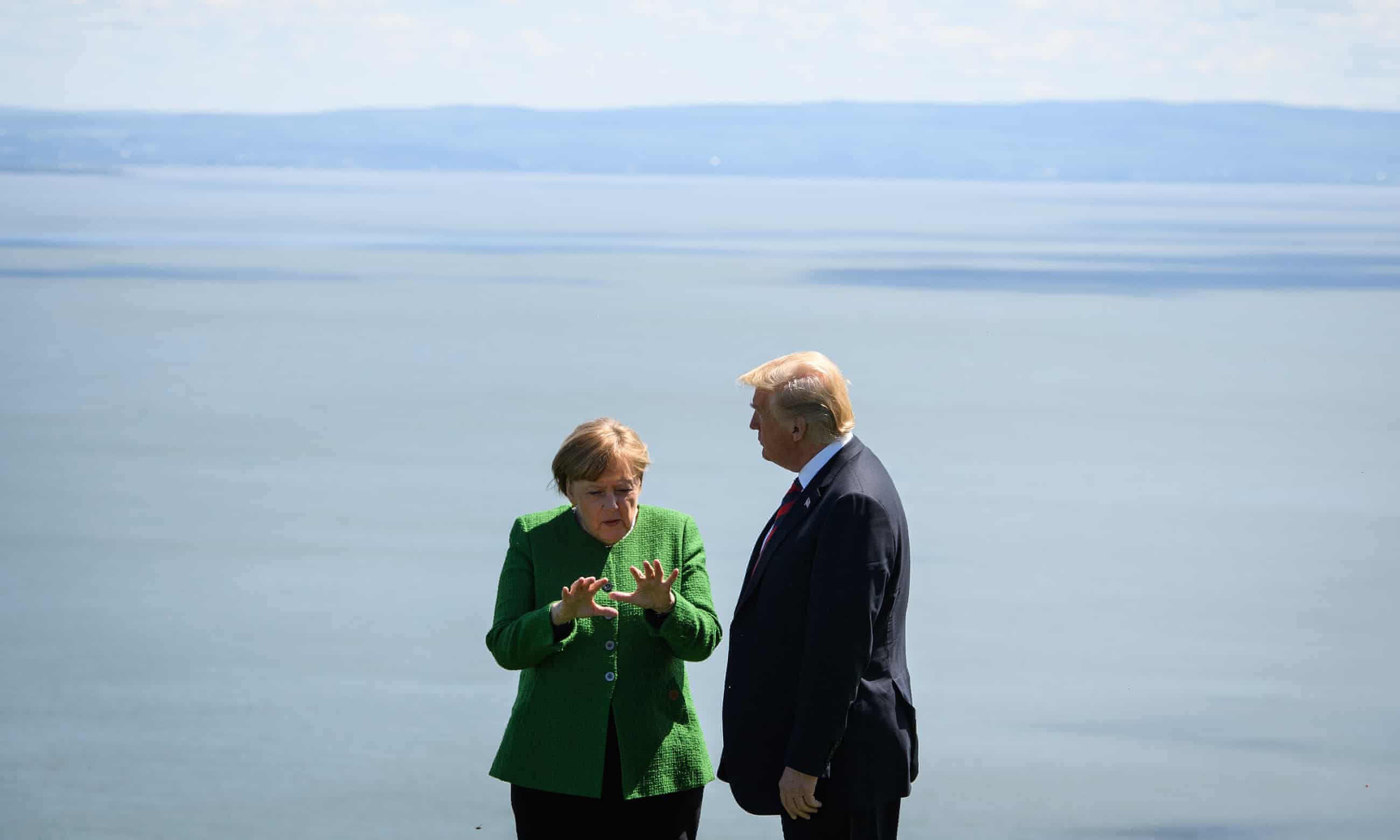 Angela Merkel and Donald Trump at the G7 summit, 2018.
If you took headlines at their word, you would think that the western world is in freefall. As dozens of magazine articles, op-eds and blogposts will tell you, the post-second-world-war order was built – from D-day until yesterday – by Americans and Europeans who shared the ideals of peace, freedom and democracy. The system worked well until Donald Trump came along and knocked it down as if he were laying the foundations for a new casino.
This perceived crisis may be the main thing that unites the press in the United States and Europe. "Is the Trans-Atlantic Relationship Dead?" asked the New York Times in January. A few weeks later, it rang a more definite note: "The Post-World War II Order Is Under Assault From the Powers That Built It." In Germany, the heart of the Europe-US alliance, there is talk of little else when it comes to foreign policy. A recent cover of the German weekly Der Spiegel showed a hand giving the finger, except that the finger was a little Trump. Two editors at the German newspaper Die Zeit argued that politicians had to accept that the relationship was over and move on. Too many, they argued, "refuse to accept this reality. Instead, they take refuge in argumentative acrobatics."
The idea that the world's stability and prosperity is defined primarily by a partnership between Europeans and Americans is called Atlanticism or transatlanticism, and the people who care about it are convinced that Trump is out to tear up the alliance. For the politicians, professors, thinktank pundits and journalists for whom "Atlanticist" is a badge of honour, an end to this partnership is not just a geopolitical issue, but a threat to liberalism and any hopes of political betterment around the world. Democracy, free speech, anti-totalitarianism, constitutionalism and free trade that manages to enrich all of its participants – these ideals, to the Atlanticists, depend on the close relationship between the US and Europe. As goes the transatlantic relationship, so goes the possibility of western progress.
At the heart of the crisis of transatlanticism is the legacy of the American effort to rebuild Europe after the second world war through three institutions: Bretton Woods, the Marshall plan and Nato. These were the foundations of the so-called "post-world order", a programme to stabilise Europe and prevent the emergence of new forms of totalitarianism. ("Transatlanticism" sounded better than "denazification".)
For the Atlanticists, these institutions were not only the means of shaping Europe after 1945, but an expression of the possibilities for idealistic American power. …
We tell kids that if they work hard enough, they can change the world. But maybe we need to add a caveat: If you're on the verge of a groundbreaking innovation, a bunch of bozos will stop at nothing to destroy you because they fundamentally misunderstand what you're trying to accomplish. For example…
5. Florence Banned Arabic Numerals For Fear They'd Be Used For Crime
---
For centuries, Europe did math with Roman numerals, until the Muslim world exposed European merchants to the Hindu-Arabic numeral system. They immediately noticed that it was easier to add 2847 + 728 than MMDCCCXLVII + DCCXXVIII, and that the system also opened up more options in calculus and engineering, thanks to crazy concepts like a notation for zero. The achievements of modern mathematics wouldn't exist without good old zero to nine.
"… carry the M …"
However, the complete switchover took until around the 16th century, and in the early days, the Florentine government firmly rejected any change to Arabic numerals. Their rationale was that the confusing new symbols would lead to people forging financial statements, because a zero could easily be made to look like, say, a six. They also feared the numerals would encourage rampant money-lending, because the system could be used to calculate to more decimal places (and thus more interest) than the mere two points of the Roman one. It was assumed that the only people who'd benefit from Arabic numerals would be criminals suckering idiots into debt and forgeries. So some merchants used them in secret coded messages, marking the only time in history when people wrote "BOOBS," then turned the paper upside down to giggle at the numbers.
An influential cadre of professional abacus wielders also had a hand in the delay: Since the new numbers made math far easier, they worried that they'd lose business, and their union would become obsolete. Abacists and algorists held fierce debates, and for a while abacus users won out, thanks to the support of the Church, and lobbying that would make the NRA jealous. It would be like if Netflix was invented, but no one was allowed to use it until 2173 thanks to the all-powerful White-House-backed Blockbuster lobby. …
---
PAST IS PRESENT

Success at last.
After scrapping a regressive 19th century law that criminalised homosexuality, India has joined the ranks of the few former colonies to abandon a lasting legacy of British rule.
Section 377 of the Indian Penal Code (IPC) was introduced by the British in 1861, inspired by the 1553 Buggery Act that outlawed homosexuality in England. It was reportedly imposed to protect soldiers and colonial administrators from "corruption" out of a fear that these men sent far from home (and their wives) would turn to homosexuality, according to British Colonialism and the Criminalization of Homosexuality, a book by Enze Han and Joseph O'Mahoney.
In the book, Han and Joseph explain that the IPC, along with the Queensland criminal code of 1899, was used as a model for the legal systems in other British colonies around the world. "Thus, through its colonial administration, the British managed to impose and institutionalise a set of laws in its colonies that criminalized homosexual conduct," they write.
Of course, section 377 remained in India long after the British left and decriminalised homosexuality themselves. Following decades of activism and protests, the Indian supreme court on Sept. 06 finally declared the law unconstitutional, following in the footsteps of courts in two other former colonies, Trinidad & Tobago and Belize. …
---
Hal the robot boy is convulsing. His head shakes back and forth so rapidly, it looks like he's vibrating. His eyelids droop over his blue eyes and his mouth is ajar. He makes no sound, other than the faint whirs of his motors.
Hal was built to suffer. He is a medical training robot, the sort of invention that emerges when one of the most stressful jobs on Earth tumbles into the uncanny valley. No longer must nurses train on lifeless mannequins. Hal can shed tears, bleed, and urinate. If you shine a light in his eyes, his pupils shrink. You can wirelessly control him to go into anaphylactic shock or cardiac arrest. You can hook him up to real hospital machines, and even jolt him with a defibrillator. Hal—which is just now coming onto the market—is so realistic, and these scenarios so emotionally charged, that the instructors who run him in medical simulations have to be careful not to push things too far and upset trainees.
"I've seen several nurses be like, 'Whoa it moves!'" says Marc Berg, medical director at the Revive Initiative for Resuscitation Excellence at Stanford. "I think that's kind of similar to the idea that if you've driven a car for 20 years and then you got a brand new car, you're kind of amazed initially."
The company behind this $48,000 robot boy is Gaumard Scientific, which has been developing medical simulators since the 1940s, beginning with synthetic skeletons and anatomical figures. Now, though, the company's tech has become much more interactive with Hal's extended family of humanoid robots. Victoria is a robotic woman who gives birth to a baby robot. And Super Tory is a newborn that can help nurses learn to watch for signs of illness in real babies. …
Video Goodnesses
and not-so-goodnesses
Ian Bremmer: The problem is not Trump. Trump is a symptom.
If the problem were Trump it wouldn't be happening in other places around the world. We actually see all sorts of countries advanced industrial democracies where people are getting angrier and they're voting more and more against the establishment.
We saw that with the Brexit referendum, which was before the U.S. presidential election; We saw it in Germany with the rise of the Alternatives for Deutschland, an actively Euro-skeptic party for the first time since World War II; We have nationalists in the German parliament; We saw it with the recent Italian elections where they threw out all of the establishment parties and instead it's the Five Star Movement and the League, again Euro-skeptic, anti-immigration, populist political forces.
This is very unusual and it's not coincidence. So why is it happening? One reason is because you have lots of members of working and middle classes that feel like they are not doing well economically and no one in the establishment is going to help them. "So let's vote for some change. Let's vote against free trade. Let's vote against the support of the establishment. Let's bring in something new."
Second point. A lot of this is anti-immigration. Demographics have changed an awful lot in the United States, in Canada and in Europe over the past decades and a lot of people feel – people that have come before say "Wait a second! You're not taking care of me, but you're going to bring in these new people and these new people who I don't necessarily like or understand or trust? These new people who are getting benefits—but what about my benefits?! It's going to cost a lot of money to bring them in. Are they going to steal my jobs? Are they going to cause crime?!" —Even though in the United States we know that first generation immigrants don't actually cause more crime than those that have lived here.
Nonetheless the willingness to believe that those "other people are bad and a problem" goes up a lot when you feel like your government's not taking care of you. So that's been a big piece of it.
A third piece has been the military. You know the foreign policy establishment in the United States has been very willing to support the U.S. getting into wars around the world. But most of the sons and daughters of the foreign policy establishment don't actually fight in those wars themselves—That's also true of the political leaders that are responsible. As we know it's the poor people, it's the enlisted men and women. They get sent off, their families are left broken, their communities are hindered. They come back – Iraq, Afghanistan – billions upon billions of dollars wasted on these wars, enormous numbers of people that are killed or wounded or have post traumatic stress disorder. They come back they're not seen as heroes. The Americans and the allies didn't win these wars. The Veterans Administration doesn't take care of them.
So as a consequence you see those people getting really angry and not voting for Hillary or Jeb. They're voting for Bernie Sanders or for Donald Trump.
And then you have technology which is that technology today is increasingly driving people apart. We get most of our information in the United States from advertising companies that view us as commodities, products. They sell our eyeballs and our time on their sites to companies that pay money to ensure that we spend as much time as possible on Facebook and on Twitter and on the rest. That's how we get our information.
We'll spend more time on their sites if we are divided and we are narrower, and only follow the things we like, which means Democrats are watching pro-Democrat sites and conservatives and Republicans are watching pro-Republican sites. And there's virtually no overlap. And so it's fake news for everybody. It's us versus them.
That's happening across Europe. It's happening in Canada. Those four factors are driving us apart.
They're ripping at the fabric of civic nationalism across all of the advanced industrial economies. And by the way, it's happening when the economy is doing really well. The United States today and the UK and Canada and Germany feel more divided than at any time in my lifetime. And yet that's when we can spend a lot of money.
So if that's true, what do you think it's going to feel like when interest rates go up and growth goes down and we start laying people off and we don't have the budgetary space to give everybody a tax break? It's going to get worse.
So it's very clear that this is a structural condition that we have been living with and ignoring for decades and it's getting worse.
---
White House correspondent April Ryan's new book, "Under Fire," describes her time covering the Trump administration and its attempts to undermine her.
THANKS to Comedy Central and The Daily Show with Trevor Noah for making this program available on YouTube.
---
Conservatives believe they are being silenced by Twitter through shadow bans. They learned about the conspiracy to shut them out of Twitter….on Twitter.
THANKS to CBS and The Late Show with Stephen Colbert for making this program available on YouTube.
---
Bill recaps the top stories of the week, including President Trump's hunt for a rogue staff member.
"This is the week that Trump found out that everyone hates him."
---
Actor and comedian Jim Carrey joins Bill and his guests – David Axelrod, Michelle Goldberg, and former Rep. Charlie Dent – on the Real Time panel.
THANKS to HBO and Real Time with Bill Maher for making this program available on YouTube.
---
Scientists are leaping exponentially closer to finding life beyond Earth. Missions to Mars and Saturn's moons are prime candidates for finding the first signs of life and NASA can now identify more than 3,500 planets outside our solar system, many with habitable temperatures. That number is quickly growing as space travel technology improves and probes head deeper into the galaxy. Nuclear physicist Taylor Wilson explores one of our civilization's most perplexing questions: Are we alone?
THANKS to HBO and VICE News for making this program available on YouTube.
---
まるの耳掃除はずっと前にも乗せたことがありますが、反応は今も一緒。I use a safe big cotton swab which is for care.
---
FINALLY . . .
Is CBD oil a promising antidote or another supplement landmine?
For nearly a decade, Danielle Brand-LeMond, 39, dealt with persistent anxiety and trouble falling asleep. "There were nights I barely slept," she says. As someone who prefers natural antidotes to pharmaceuticals, Brand-LeMond began taking herbal remedies and hormones like melatonin, but nothing worked. Then, last year, Brand-LeMond's father, who owns a health food store, suggested she try CBD oil.
Cannabidiol, or CBD, is a nonpsychoactive compound from cannabis touted as a promising therapeutic for a variety of health conditions, including anxiety, insomnia, pain, and epilepsy-related seizures. The market for CBD could surpass $1 billion by 2020, according to one estimate.
These days, Brand-LeMond swallows a dropper of CBD oil once a day, four times a week. She says she's less agitated. "I feel like it's effective," she says.
"Depending on where you look and what you read, CBD will cure all that ails you," says Robert Carson, an assistant professor of pediatric neurology at Vanderbilt University who has studied CBD. There's plenty of solid data that CBD helps with epilepsy, he says. "In the other areas, it's more tricky."
A study published in the Journal of Psychopharmacology in 2011 found that people who took an oral dose of 400 milligrams of CBD experienced reduced anxiety levels, for instance.
Studies show that CBD can reduce the frequency of seizures and improve quality of life for people with epilepsy. In one study from last year, 62 percent of caregivers said their child's epileptic condition improved while taking CBD. In June 2018, the FDA approved a CBD oral drug known as Epidiolex as a treatment for two rare types of epilepsy. It marked the first time the agency approved a marijuana-derived medication. …
FULL DISCLOSURE: I use CBD Oil daily for the most restful sleep I've ever had. I also microdose THC in the form of a sour indica gummy.
---
Ed. More tomorrow? Probably. Possibly. Maybe. Not? Hopefully tomorrow won't be another Groundhog Day of today.