Something to set the mood . . .
---
'We have found hell': trauma runs deep for children at dire Lesbos camp

Violent and unsanitary conditions in Moria refugee settlement are exacerbating the horror of fleeing conflict for the 3,000 children who live there
Pictured above: A drawing by a child living in Moria refugee camp in Lesbos, Greece. The child is one of 18 minors who attempted suicide there between February and June 2018.

The drawings tell of trauma. Stormy seas dotted with terrified faces. Lifeless bodies of children floating among the waves. And planes dropping bombs, down on to homes and on to people. Eyes that weep blood.
The pencil scrawls were made by children who are part of a growing phenomenon in the Moria refugee camp in Lesbos, Greece. All have attempted suicide or serious self-harm since they came to this place.
Approximately 3,000 minors live in the Moria camp, which Médecins Sans Frontières (MSF) calls a giant open-air "mental asylum" owing to the overcrowding and dire sanitary conditions. Last Tuesday an adolescent attempted to hang himself from a pole. In August, a 10-year-old boy only just failed to take his own life.
The camp, among hills dotted with olive trees a few kilometres from the island's capital town of Mytilene, is home to 9,000 asylum seekers living in a centre designed to hold one third of that number. Migrants live in groups of up to 30 people, crammed into tents or metal containers situated just centimetres apart. Rubbish, scattered everywhere, makes the air almost unbreathable.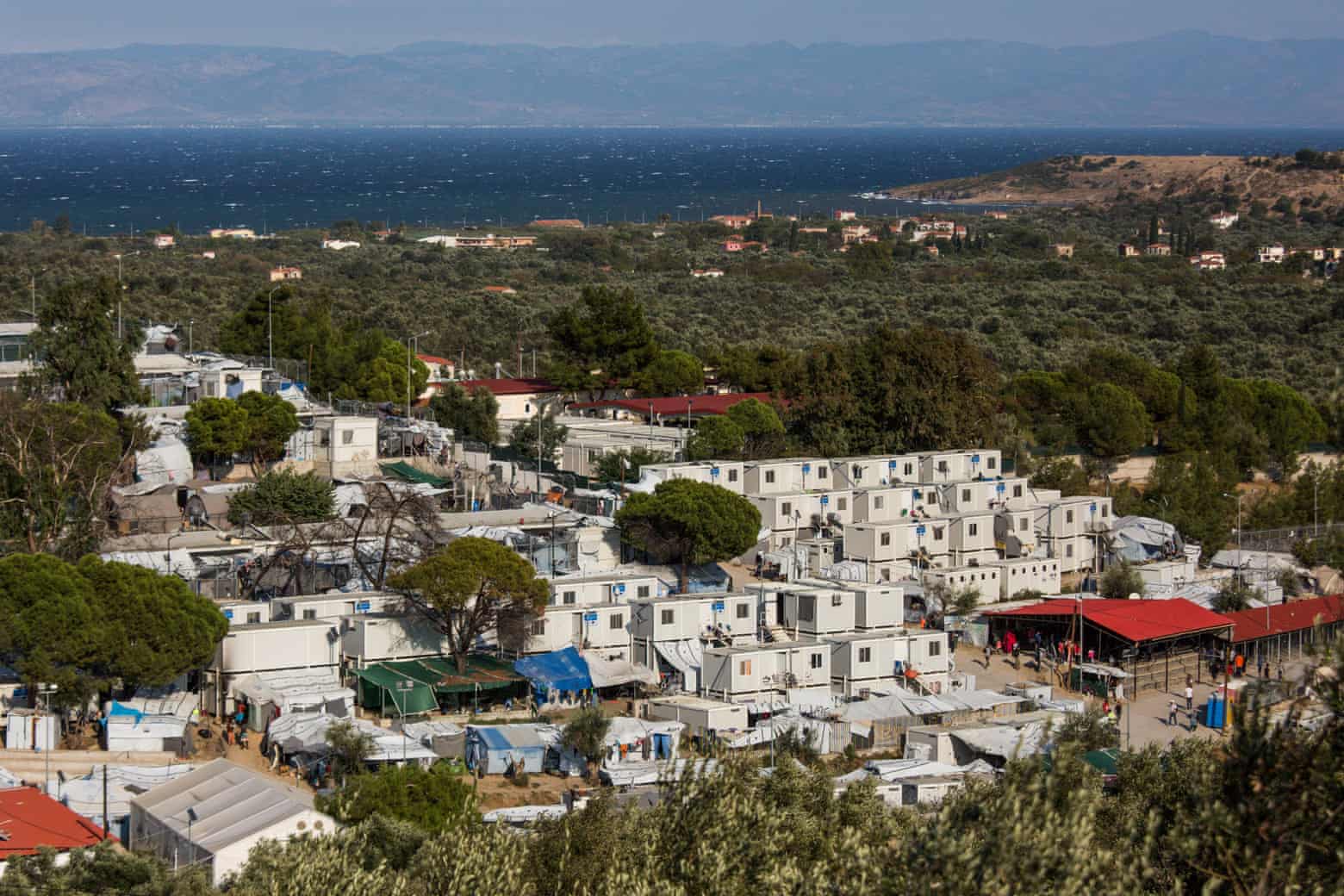 Part of Moria camp, with the Turkish coast in the background. The camp is home to 9,000 people, but is designed to hold only 3,000.
Most come from war-torn countries like Syria, Iraq and Afghanistan. They arrive in dinghies from the Turkish towns of Ayvalik or Canakkale. According to aid agencies, the controversial deal brokered between Brussels and Ankara aimed at stopping the flow of migrants to Europe via Turkey, combined with the refusal on the part of European countries to take in asylum seekers arriving in Greece, have transformed Lesbos into an Alcatraz, leaving people imprisoned on the island with no way out. …
---
For the 71,000 undocumented residents in Gwinett county, Georgia, roundups, raids and fear are a part of everyday life.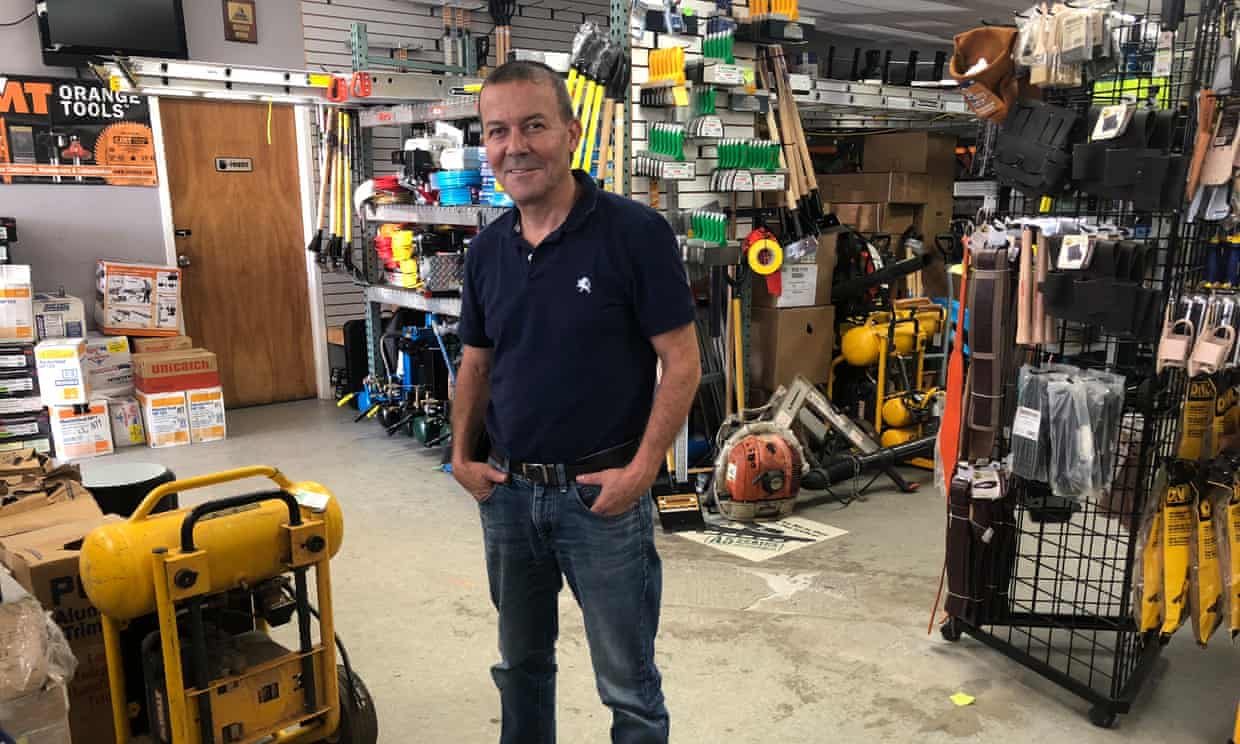 Gustavo Ramirez, 54, who has been living in the US for 25 years, 14 of which he was undocumented, intimately understands the fear of people who are detained.
At 6.10am on a freezing, dark January morning, just moments before he opened Superior Tools & Equipment, Gustavo Ramirez caught a flash of blue light racing towards his shop. Shoppers were lining up outside his Norcross, Georgia, store to pick up nails, ladders and pieces of wood before a day of hard labor. He peered outside, expecting a police car to whiz by the strip mall. Instead, the car stoppedin front of the store entrance and Ramirez whipped out his cellphone camera. He knew who it was: Immigration and Customs Enforcement.
"Get back, sir! Get back. All right?" an Ice agent yelled at Ramirez. In cellphone footage he shot, Ramirez yelled in Spanish to someone who was being searched, telling her, "Don't get out, hey, don't get out [of the car]."
Ramirez had been undocumented for the first 14 years of his life in the United States and he intimately understood the fear spreading through those being detained in front of his eyes.
In this part of America's deep south, he is far from alone in being afraid of Ice. Gwinnett county, just north of Atlanta, where Norcross is located, has an estimated 71,000 undocumented residents, nearly 8% of the county's population.
Norcross's streets are filled with store fronts with names in Spanish, Vietnamese and Korean. A Salvadoran panaderia sits across from a Halal meat grocer's. A law office advertises an attorney-at-law in English and then below in two other languages: luật sư/abogado it reads. …
---
Western US has long been characterized by balmy weather and fresh starts, but some are weary of the unhealthy air and worry about a water shortage.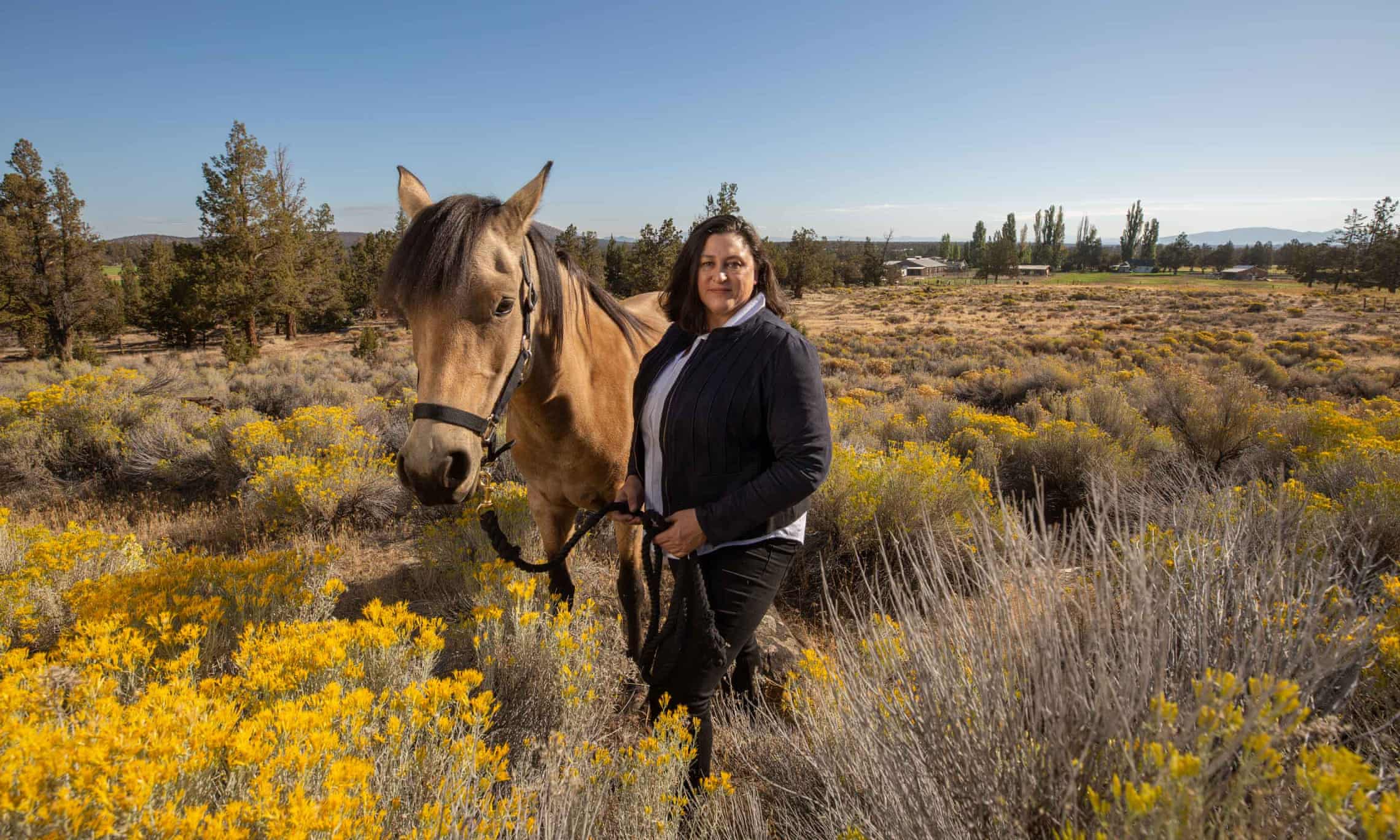 Shelby Edwards, of Bend, Oregon, is considering relocating to escape the smoke and falling ash that has diminished her quality of life.
Maricela Ruelas is a manager at a vineyard in Medford, Oregon. She trims, harvests – whatever needs doing. This year, she has done much of that work in a face mask.
Wildfire smoke has plagued her and her fellow workers nearly continuously for "a couple of months," she said through a translator, leading to pounding headaches. "It was horrible, horrible this year."
For Ruelas, the smoke isn't just a nuisance; it's an economic hardship. She and her co-workers are paid by the hour, so when they have to leave work early because their heads and lungs hurt, they don't get paid. And Ruelas sends less money home to her grown children in Guadalajara.
The west is drier, hotter than ever, frequently on fire. Thanks to reduced snowpacks in the mountains, the soil is parched by early summer and forests are tinder. What firefighters once called a "fire season" is now referred to as a "fire year," since the fires start so early and rage deep into fall.
These extreme phenomena are causing some people to consider leaving the western US, a place long conceptualized in the American imagination as the land of balmy weather and fresh starts. Some have already left. They are sick of wildfire smoke; worried that a lack of water will destroy their communities or about climate migrants from other parts of the country; and struggling with the heat itself. …
---
In the past, Cracked has "gently forced" me to make and eat foods from the Insanity Era of cookbooks, which is roughly the period of time between 1955 and 1985 that the Back To The Future movies completely ignore. Having made and eaten everything from liver sausage pineapple to food that turned powder blue to aquariums made of Jell-O, I was confident I had built up my tolerance enough to try again.
Fellow Cracked writer Isaac Cabe would be along for the ride, mostly so that someone could alert an ambulance/coroner should things go exactly as expected.
5. Cup Steak Puddings
---
Some people say to never judge a book by it's cover, but I'm doing doing that with this recipe.
Yep, that looks like human skin full of chopped-up organ meat. It looks like a dish served in a hallucination a character is having in a David Cronenberg movie. These are apparently "cup steak puddings."
The recipe itself was the product of a corrupted, fragmented mind. It called for water, but never said how much. Some ingredients listed were never used, while others weren't listed but then mentioned as being needed halfway through. It was complicated and ever-changing, with little-to-no direction. It was as if walking through Denver International Airport was a recipe.
And served the same-quality food.
The crux of the recipe was suet (aka cow kidney fat, which I will note is these days primarily used as bird feed), but I still had hope, because some of the ingredients were normal things like flour and baking powder. Then they were combined and poured into cups and … oh no.
Well, maybe they look better after they've cooked-
I don't know exactly what happened next, but my notes gave a pretty good rundown:
I took them out of the oven and- What's that smell? It smells like a bakery covered in beef grease. And oh no, why is the bread rubbery? Why is it leaking? HOW DID GREASE GET HERE?! WHY IS THERE SO MUCH?! DAMN YOU, SUET! DAMN YOU, COOKBOOK!
Then, after having taken a bite:
Did I use dog food?! I INVENTED DOG FOOD! I INVENTED WORSE DOG FOOD! NOTE TO SELF: CALL SHARK TANK GUY RE: HAVE DISCOVERED NEW INVENTION CALLED WORSE DOG FOOD. MARKET TO WORSE DOGS. CORGIS? MY STOMACH IS SECEDING.
It's greasy, fatty pudding that makes you retch when it's within smelling distance. It's true today, and I refuse to believe it wasn't true back when this recipe was written. …
---
BON APETIT

Yes?
Would it be nice to live in a chocolate house?
It's a question I've honestly never considered before. But now the time has come for us all ponder it together, because an all-chocolate cottage in Sèvres, France is available for rent on Booking.com. (At least, it was—other guests appear to have snapped up the two available dates for the bargain price of €50, or $59, a night.)
The 18-square-meter cottage, designed and created by artisan chocolatier Jean-Luc Decluzeau, is located in the glass house L'Orangerie Ephémère at the museum Cité de la Ceramique de Sèvres. Decluzeau went for an après-ski vibe, and it is indeed incredibly cozy-looking, featuring a chocolate fireplace, chocolate bookshelves, a chocolate chandelier, a marbled-chocolate sink, and—wait for it—just outside, a chocolate duck pond and flower bed.
It looks friggin' adorable. But you, like me, may have questions about how this would work. Fortunately, Forbes reporter Eustacia Huen cleverly covered the basics: …
---
Researchers tallied 259 deaths worldwide, with US leading for most firearm-related ones.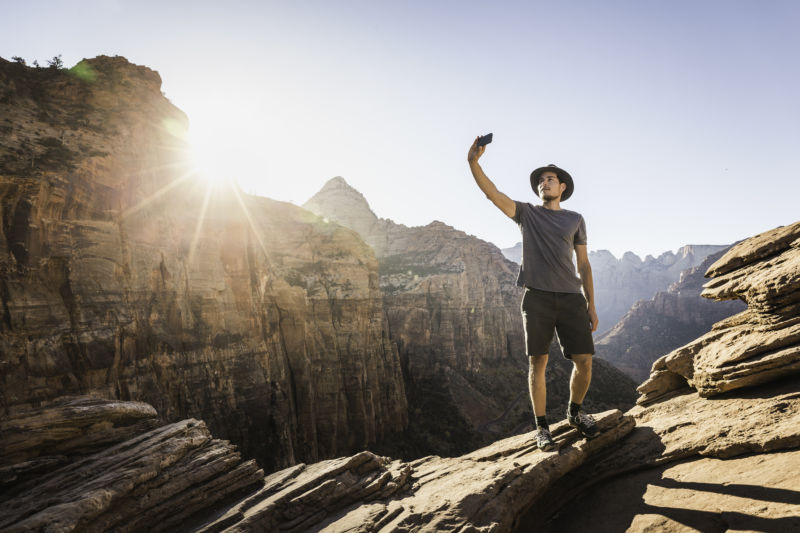 Watch your step.
Say cheese—and watch out for that jagged cliff behind you.
A group of health researchers in India have tried to tally the death toll from selfie taking, counting 259 deaths worldwide from October 2011 to November 2017. In doing so, they also caught a blurry glimpse of the leading ways in which people perish during dicey photo ops. The top three were drowning, transportation related (mostly being hit by trains), and falling off of things, such as cliff edges.
For their snapshot of fatal photography, the researchers used the somewhat shaky method of simple Google searches, scanning the web for media reports on selfie-related deaths. The researchers—a group from All India Institute of Medical Sciences, which is a collective of public medical colleges in the country—published their results recently in the obscure India-based Journal of Family Medicine and Primary Care.
The resulting grim picture shows a developing public health threat, the researchers argue. Yet, the numbers are likely "just the tip of iceberg," they add. Selfies are never recorded as an official cause of death, media reports don't report every death, and the search was limited to English-language news reports.
Still, the researchers were able to catch a reasonable peek into the perilous photo trends. The 259 deaths resulted from 137 ill-fated photo clicks during the time period surveyed. The death rate seemed to increase over that time, with three and two death reports in 2011 and 2013, respectively, and nearly 100 each in 2016 and 2017. …
---
Video Goodnesses
and not-so-goodnesses
The FBI's expanded investigation into 36-year-old sexual assault allegations against Judge Brett Kavanaugh is now in the hands of the Senate. It's locked in a secure reading room available only to Senators and a few key aides, and exists only on a single paper copy.
That might seem odd to some, but it's actually normal practice for background checks — and for people hoping for a final verdict on the Kavanaugh allegations, that's the heart of the problem.
Experts in FBI background investigations told VICE News this week that the reopened investigation was always likely to disappoint the general public. That's because it's a reopened background investigation — at a time when many people are hoping for a criminal investigation.
The biggest difference: a lack of subpoena powers or search warrants. That means investigators are free to interview whomever they can, but have no way to force them to cough up information or papers if they decline to.
Tom Baker, a former FBI special agent who conducted background checks during his time on the job, told VICE the high profile nature of the charges mean this could be a big problem.
"There's a possibility that some parties may want to even have their lawyer present and the agents I know doing the investigation won't like that," Baker says. "That's unusual in a background investigation."
It also means a "finished" report, in a background investigation, doesn't have to draw any conclusions — it's only designed to raise red flags that are meant to help the White House, and Senate confirmers, make their own choices.
It's possible the new report will include new information that wasn't previously known. But it's just as likely by the end of the week we'll be exactly where we were last Friday.
"I don't think we'll get closure in this kind of thing for a long long time," Baker says.
THANKS to HBO and VICE News for making this program available on YouTube.
---
From his basement lab in Boulder, Colorado, physicist Jun Ye and his team have built the world's most precise atomic clock. The clock is so powerful it can measure otherwise imperceptible changes in the physical world. "Have you ever seen the movie called Interstellar? You'll see some of that in our lab, it's not science fiction. You can actually see clocks slow down," explains Ye.
In episode seven of The Most Unknown, geobiologist Victoria Orphan travels to JILA—a physics institute jointly operated by the University of Colorado Boulder and NIST—to untangle questions of space and time with Ye and his otherworldly atomic clock.
---
As the FBI's secretive, limited, five-day investigation of sexual assault allegations against Brett Kavanaugh comes to a close, the future of the Supreme Court lies in the hands of the three moderate Republican senators – Susan Collins, Lisa Murkowski and Jeff Flake.
---
Trump's greatest weapon is his ability to wield victimhood, and he's taking full advantage of it to defend Kavanaugh and undermine the #MeToo movement.
THANKS to Comedy Central and The Daily Show with Trevor Noah for making this program available on YouTube.
---
The FBI's report on Brett Kavanaugh will change the way Americans view Trump's contentious Supreme Court nomination… very little.
THANKS to CBS and The Late Show with Stephen Colbert for making this program available on YouTube.
---
Seth takes a closer look at the FBI's report on the allegations against Supreme Court nominee Brett Kavanaugh.
THANKS to NBC and Late Night with Seth Meyers for making this program available on YouTube.
---
CAUTION: Some language may not be appropriate for work or children.
Here'e me commentary on some Assassin's Creed Odyssey action. Cheers to Ubisoft for sponsoring this video. Have a mint day ya legends!
---
夜寝る前の、はなの丁寧なふみふみ。Hana makes a cookie softly before sleeping.
---
FINALLY . . .

Raccoons v Toronto: how 'trash pandas' conquered the city
The mayor has pledged to defeat the animals as some residents see them as scrappy heroes. But, like everyone else in Toronto, the raccoons are battling for space.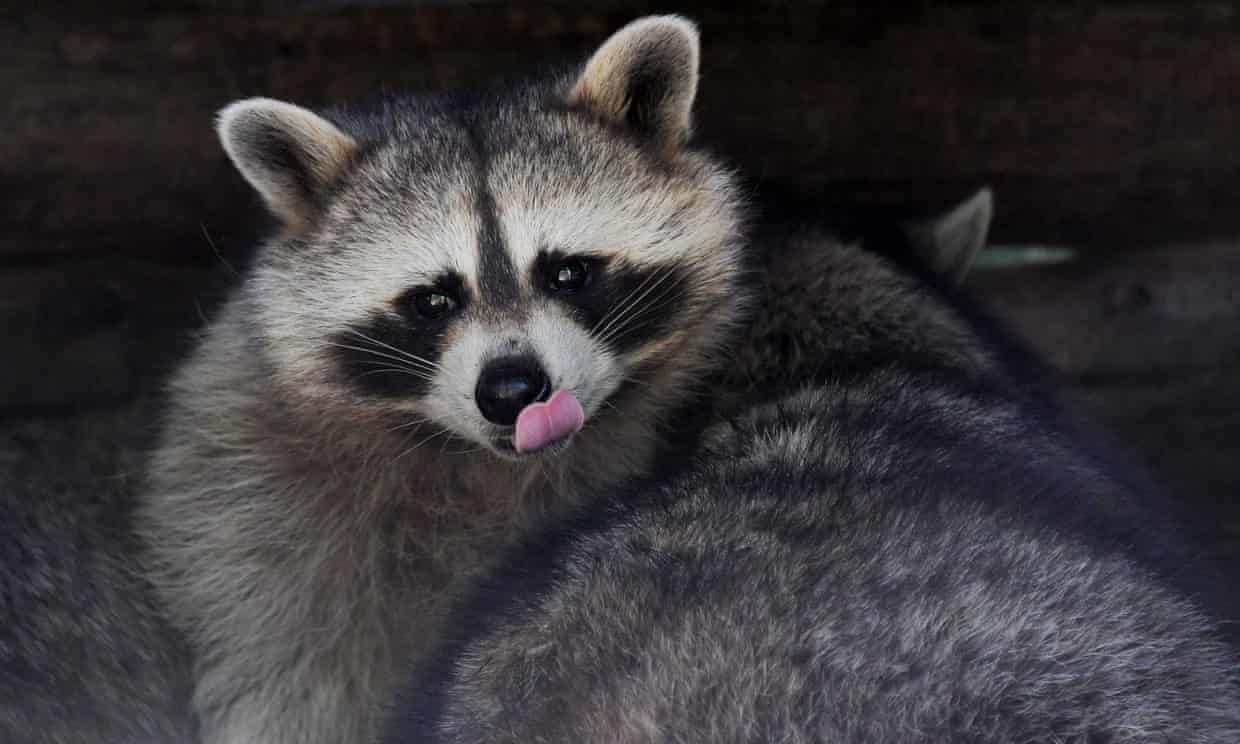 'Raccoons are just like people. Some are calm. Some are curious. And some are just vicious assholes,' said Derick McChesney.
Most Toronto residents have a raccoon story. They steal doughnuts. They ride the subway. They show up at baseball games and airport baggage carousels. They break into banks.
And, in Canada's biggest city, they're getting more brazen.
"Raccoons are just like people. Some are calm. Some are curious," said Derick McChesney, owner of a Toronto-based wildlife control company. "And some are just vicious assholes."
One recent night, Jenny Serwylo awoke to the sound of rustling in her kitchen. Turning on the lights, she found three raccoons helping themselves to bread. Two scurried off, but one refused to budge, holding eye contact with her as it ate.
"He wasn't very polite, but he wasn't aggressive. He was just a guy, looking for food. He was going to eat, no matter what," she said. Each time she poked a broom handle at the raccoon, it would grab it with its paws and yank.
The stalemate continued until the raccoon had had finished, said Serwylo. Then, "he yawned, scratched his belly and just decided to walk out the window".
The break-in – and the subsequent social media flurry it unleashed – underscored the extent to which the tenacious bandits have become enmeshed in the city's culture. …
---
AHEM …
It seems five of the next six days are Groundhog Days. These errant ramblings barely uninteresting at all things will have to take a back seat to a job I love that is taking over my life.
I'll post what I'm reading when I get a chance.
---
Ed. More tomorrow? Possibly. Maybe. Probably not?