---
To set my mood • • •
---
A New Report Shows the White House Is Terrified of Socialism

The Council of Economic Advisers' investigation into the "opportunity costs of socialism" reads like a nervous undergraduate's term paper.
Pictured above: Chairman of the Council of Economic Advisers Kevin Hassett, second from left, with White House economic adviser Larry Kudlow, US trade representative Robert Lighthizer, and commerce secretary Wilbur Ross listening to Donald Trump speak on the economy, Washington, DC, July 27. 2018.

The White House Council of Economic Advisers this week authored a report assessing the "Opportunity Costs of Socialism." Really.
The council may have decided to pull the trigger and release it after polling came out yesterday showing that a majority of Republicans support Medicare for All, which the report spends no small amount of space attempting, unsuccessfully, to debunk.
At 72 pages, though, the report clearly wasn't compiled overnight—no matter how many Heritage Foundation and American Enterprise Institute white papers were used to create it. What, might we imagine, was the moment when they decided to commission it? Was it self-described democratic socialist Alexandria Ocasio-Cortez's primary victory in June? The Democratic Socialists of America's swelling to 50,000 members a short time later? Recurring rumors of another presidential run by democratic socialist Bernie Sanders?
The stated reason is even more interesting: "Marx's 200th birthday."
The reports' authors correctly write that "socialism is making a comeback in American political discourse." And that fact has clearly got at least some subset of the Executive Branch worried, so much so that they decided to spend whole pages litigating such pressing topics as century-old debates among socialists, and highlighting such damning quotes as "from each according to his ability." …
---
Trump's former strategist touts his role in president's success before crowd of 200 in upstate New York.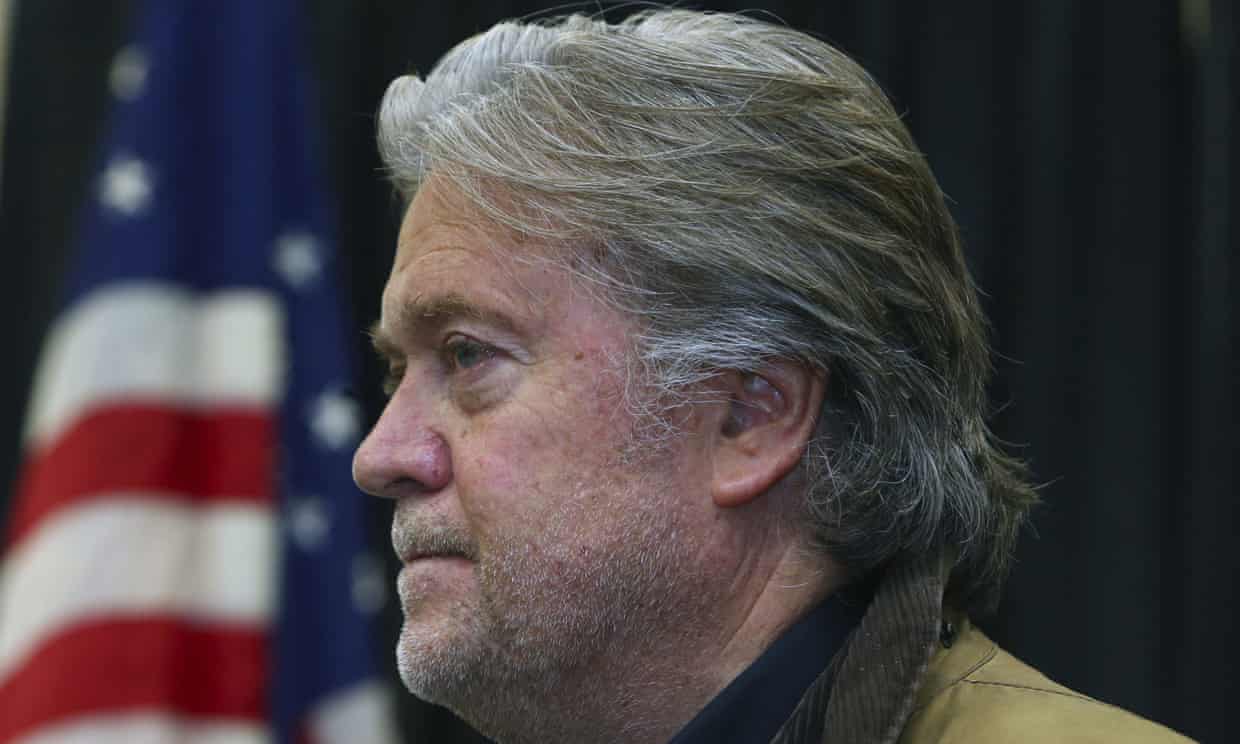 Steve Bannon speaks in Elma, New York.
As Donald Trump held midterm rallies this week in front of thousands, his one-time chief strategist Steve Bannon made his own, rather more low-key return to the campaign trail.
Bannon appeared in front of 200 people at a firehouse outside Buffalo, New York, ostensibly to campaign for Republicans based in the area. But in a visceral demonstration of just how far Bannon's stock has fallen since leaving the White House 14 months ago, none of those Republicans running for office turned up.
Instead – in a move unlikely to please his former boss – Bannon spent the first part of his speech at the Jamison Road volunteer firehouse in Elma talking up his own importance in Trump's 2016 victory, in an apparent attempt to thrust himself back into the national spotlight.
"Let's go back in time," Bannon said, in a potentially revealing turn of phrase.
"When I came into the campaign as CEO in mid-August [2016], we were down, what – eight,10, 12, 16 points – double-digits down in every battleground state. Not a lot of money, not a lot of organization."
There followed a Trump-style riff – a retelling of the obstacles and hardships the Trump campaign overcame to win a thrilling victory on 8 November.
The difference is that in Bannon's version, he is very much front and centre, the power – or, as Saturday Night Live portrayed him, the grim reaper – behind Trump, whispering in the candidate's ear, guiding him to victory. …
---
President Donald Trump (Alec Baldwin) calls Australian Prime Minister Malcolm Turnbull (Beck Bennett), Mexican President Enrique Peña Nieto (Alex Moffat) and German Chancellor Angela Merkel (Kate McKinnon).
THANKS to NBC and Saturday Night Live for making this program available on YouTube.
---
UBS report shows billionaires increased fortunes by $1.4tn, more than the GDP of Spain.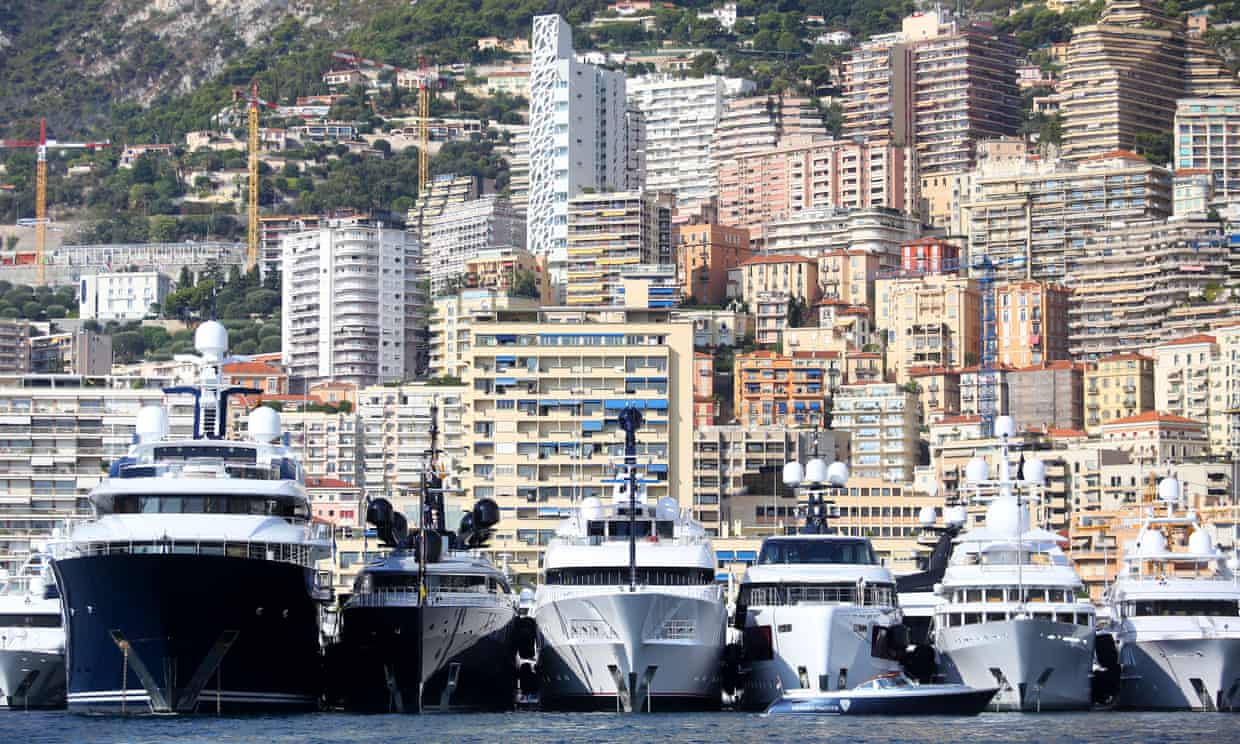 More than 40 of the 179 new billionaires created last year inherited their wealth and the UBS report's authors expect a further $3.4tn to be handed down over the next 20 years.
Billionaires made more money in 2017 than in any year in recorded history. The richest people on Earth increased their wealth by a fifth to $8.9tn (£6.9tn), according to a report by Swiss bank UBS.
The fortunes of today's super-wealthy have risen at a far greater rate than at the turn of the 20th century, when families such as the Rothschilds, Rockefellers and Vanderbilts controlled vast wealth. The report by UBS and accountants PwC said there was so much money in the hands of the ultra-rich that a new wave of rich and powerful multi-generational families was being created.
"The past 30 years have seen far greater wealth creation than the Gilded Age" the UBS Billionaires 2018 report said. "That period bred generations of families in the US and Europe who went on to influence business, banking, politics, philanthropy and the arts for more than 100 years. With wealth set to pass from entrepreneurs to their heirs in the coming years, the 21st century multi-generational families are being created."
The world's 2,158 billionaires grew their combined wealth by $1.4tn last year, more than the GDP of Spain or Australia, as booming stock markets helped the already very wealthy to achieve the "greatest absolute growth ever".
More than 40 of the 179 new billionaires created last year inherited their wealth, and given the number of billionaires over 70 the report's authors expect a further $3.4tn to be handed down over the next 20 years. …
---
The human brain is, in many ways, a piece of shit. Even minor glitches can turn your world into a living nightmare. Take sleep paralysis, for instance, which does so literally. That's the terrifying yet extremely common experience of waking up, being unable to move, and having vivid hallucinations which you're helpless to resist.
We spoke with some people who have suffered from this disorder, including "Sean," "Cory," and "Bill," to see what it's like to have your nightmares follow you into real life. Spoiler: It's not good.
6. It Can Happen To Anyone, Including You
---
Sleep paralysis sounds simple enough. It's the mind continuing to dream when the body is awake. When you dream in REM sleep, your brain releases chemicals to prevent you from moving around. That's why most people won't get out of bed to do some sick nollie kick-flips when they're dreaming about being best friends with Tony Hawk. Some people don't get enough of this chemical, which leads to sleepwalking.
In a way, sleep paralysis is simply the opposite of sleepwalking. You are awake, but your brain is still releasing those chemicals to prevent you from moving around. So if actual Tony Hawk walked into your room to ask you to be his best friend, you wouldn't be able to nod or speak or anything. Sadly, most people won't see Tony Hawk; they'll instead have hallucinations of what our interviewees pleasantly described as "shadow people."
Research suggests that approximately 8 percent of the population suffers from chronic sleep paralysis. That number increases to 28 percent in people who have other disrupted sleep patterns, and it increases even more to 34 percent in people who suffer from psychiatric disorders like depression. However, while chronic cases are rare, some studies suggest up to one out of every four people will experience sleep paralysis at least once. In many cases, they won't know it's a sleep disorder; they'll think they've seen an actual ghost or demon.
In fact, it's theorized that much of humanity's belief in such phenomena stems from this one weird brain misfire. That's how realistic these waking dreams can be. They've motivated generations of people to call for exorcisms or just move out of the damned house altogether. …
---
In August, The Associated Press published an investigation into how Google handles the data it collects, following a curious discovery by a graduate researcher at U.C. Berkeley. For years, the company has allowed users to control their "location history," which stores a detailed record of where they've been, based primarily on their activity in Google Maps. This, the researcher suggested — and The A.P. confirmed — did not work as advertised. "Some Google apps automatically store time-stamped location data without asking," the reporters found. The revelation has since resulted in at least one lawsuit, as well as renewed public criticism from lawmakers.
We're often aware that Google is logging our whereabouts. Google Search, for example, helps us find all sorts of things, and it uses our location to try to supply more relevant information (by guessing the language we speak, for starters). Obviously Google Maps gives us particulars about where we are and where we're going. The more creative, indirect ways in which Google employs our location data can be noticeably helpful, too, or at least technically impressive. (Yes, Google, good guess. That is the restaurant I went to — but I would not like to review it, thanks.) More often, however, the details of place and movement are being processed in the background, where that information is recorded because it can be, and made available to tools we largely take for granted. These tools are good at showing us what Google wants, as well at what it thinks it knows. It is something else to see what Google has.
To its credit, the company has long given users ways to see portions of the data collected from and about them. Google Takeout, a tool for downloading your own Google data, debuted in 2011 and now enables you to export some sort of material from at least 50 different services, including Gmail, Search, chats and payments. The overwhelming volume of this information demonstrates just how deep, and inescapable, our relationships with the company have become. And it can be sneakily transformative. To see months of your own search history repeated back to you in list form is to suffer a strange mixture of your most mundane and anxious — and largely forgotten — moments. …
---

The chick was born on October 19 weighing 91 grams.
Two male penguins who paired up as a "same-sex couple" have successfully incubated a baby chick and are "doting" on their tiny offspring, an Australian aquarium announced Friday.
Gentoo penguins Sphen and Magic are happily "taking turns caring for their baby chick," born on October 19 weighing 91 grams, said Tish Hannan of the Sea Life Sydney Aquarium.
Sphen and Magic had caught the attention of aquarium workers when they were constantly seen waddling around and going for swims together.
They then began to build a collective nest of pebbles, prompting the aquarium to provide a dummy egg for them to look after and, when they proved up to the task, a real egg.
The pair have bonded, Hannan, Sea Life's penguin department supervisor, told AFP. "They recognise each other's signature calls and songs.
"Only bonded penguins will be able to successfully find their partner using their calls when they are separated." …
---
Video Goodnesses
and not-so-goodnesses
Last year, Facebook CEO Mark Zuckerberg said making political advertising more transparent was one of the most important things the company would do after it was revealed Russians used the platform to attempt to manipulate the 2016 presidential election. But according to a small test run by VICE News, one of the new features Facebook rolled out this year is easily subject to manipulation.
In May, Facebook added a mandatory "Paid For" disclosure for every ad that relates to politics or what Facebook calls an "issue of national importance." The idea is to lift the veil on the kind of inflammatory ads placed by anonymous advertisers that plagued Facebook during the 2016 race.
But when VICE News placed ads on behalf of prominent political figures such as Vice President Mike Pence, and Democratic National Committee Chairman Tom Perez, Facebook quickly approved them. We also tried submitting an ad on behalf of "Islamic State," which was also approved by Facebook. We were able to get Facebook's approval for political ads that included these names within the Paid For disclosure.
THANKS to HBO and VICE News for making this program available on YouTube.
---
Republican voter suppression has Trevor longing for the more straight-up racism of South Africa.
---
Julián Castro discusses the role of public service in his upbringing, how to connect with Latino voters and the kinds of tactics that will work against Donald Trump in 2020.
THANKS to Comedy Central and The Daily Show with Trevor Noah for making this program available on YouTube.
---
It's been a terrifying day in America, but if you're Fox News, there's always a reason to poop your pants in fear. Especially when there are — gasp — refugees on the move. The horror!
---
Even as the Trump Administration tries to legislate them out of existence, LGBTQ folx are running for office in droves! Ashley Nicole Black sat down with our hero who insists she's not a hero, Christine Hallquist.
THANKS to TBS and Full Frontal with Samantha Bee for making this program available on YouTube.
---
On a day that his critics were sent explosive devices, Donald Trump attempted to take a civil tone. And it lasted for a couple hours.
---
New reports show that China has been listening in on Donald Trump's personal phone calls, meaning they could have intercepted classified government secrets. But probably mostly lies.
---
The kid gloves came off when the subject of race came up during a debate between the Florida's candidates for the Senate, Andrew Gillum and Ron DeSantis.
THANKS to CBS and The Late Show with Stephen Colbert for making this program available on YouTube.
---
Seth takes a closer look at President Trump's closing argument for the midterms: lying about health care, immigration and a made-up tax cut.
THANKS to NBC and Late Night with Seth Meyers for making this program available on YouTube.
---
CAUTION: Some language may not be appropriate for work or children.
Here's me commentary on a bunch of saucy dance moves.
---
仕方なしにちょっとだけ遊びに付き合ってくれました。Maru was reluctant to play with me.
---
FINALLY . . .

This is a morbid sentiment, but ultimately, it is true.
There is no getting away from the fact that one day we will die. The further time advances past this point, the more we will be forgotten.
Life goes on. It waits for nobody.
No matter how famous you are, how many followers you have on Instagram, you will be forgotten once you leave this planet.
Some may think this is a depressing way of things. It may appear that way, but it isn't. It's a dose of reality.
The modern world is obsessed with celebrity. We have become more and more narcissistic. We are obsessed with selfies, documenting every mundane moment of our lives online.
We have become addicted to gratification. Yet, none of it truly matters. Your ultimate fate will not be denied because you have over 100k followers on Instagram.
We enter this life equal, that equality fluctuates during life when some become successful and others do not, but it returns when we all reach the grave.
It's a humbling thought, and one we would do well to consider, before we get ahead of ourselves.
Fame is fleeting, to chase it is a fool's errand. We need to care about the good we can do while we are alive, and the present moment, because that is all that matters. …
DEGREE OF WONDERMENT: I feel better knowing that I'm not the only person who has pondered the pointlessness of it all.
---
Ed. More tomorrow? Probably. Possibly. Maybe. Not?