---
Something to set my mood • • •
---
Pictured above: Law enforcement officers secure the scene where multiple people were shot, at the Tree of Life Congregation in Pittsburgh on Saturday, October 27, 2018.

We don't yet know everything that motivated the Pittsburgh synagogue shooter Robert Bowers. And, truth be told, we may never know exactly what psychological aberrance led to his deadly rampage this Saturday morning.
Bower's twitter postings, however, give at least a partial window into his soul. The man is a rabid nationalist. He believes that Jews seek to control the world. He is convinced that Jews, via HIAS, the refugee-rights and -resettlement organization formerly known as the Hebrew Immigrant Aid Society, are bringing in "invaders"—such as the caravan of destitute and terrified Central American families walking their way north through Mexico.
Bowers is a Nazi sympathizer. And, unlike Cesar Sayoc, the man suspected of mailing more than a dozen pipe bombs to political and media figures around the country over the past week, he hates Trump, believing that Trump isn't nearly nationalist enough and, in fact, is controlled by a cabal of globalist Jews.
But here's the thing: While Bowers might fashion himself as an anti-Trump figure, the reemergence of deadly anti-Semitic violence perfectly fits the awful political moment Trump himself is presiding over. The viciously nationalist rhetoric Trump now uses at his rallies, his onslaught against "globalists"—the word itself, along with "cosmopolitan" has always been anti-Semitic code for "Jewish"—his demonizing of immigrants, of refugees, of asylum seekers, his accusation that George Soros is somehow behind the caravan of Hondurans and Guatemalans, this is quite simply fodder for anti-Semites. "Soros" to anti-Semites in 2018 is a similar slur to "Rothschild" in the previous century. …
---
Above: 'Stop the words of hate': Pittsburgh rabbi tells political leaders in emotional speech.

The rabbi who led a morning service at Pittsburgh's Tree of Life synagogue where 11 people were shot dead has urged America's political leaders to "stop the words of hate" during an emotional vigil speech on Sunday.
Rabbi Jeffrey Myers, who described himself as a victim, survivor and mourner, drew a standing ovation as he told the crowd: "I want to address for a moment some of our political leaders who were here. Ladies and gentlemen it has to start with you as our leaders … Stop the words of hate … If it comes from you, Americans will listen."
He told how the shooting started minutes after he opened the 9.45am service. "I helped pull out the people that I could from the front but alas I had eight people in the back," he said. "One fortunately survived. Seven of my congregants were shot dead in my sanctuary. My holy place has been defiled."
The 11 victims of the shooting were named on Sunday. The suspected gunman, Robert Bowers, has been charged with 29 federal crimes including 11 counts of murdering victims exercising their religious beliefs on what Mayor Bill Peduto called the "darkest day of Pittsburgh's history". Bowers is being treated for gunshot wounds and is due in court on Monday.
Those who died at the Tree of Life synagogue in Squirrel Hill on Saturday were aged between 54 and 97, and included a husband and wife and two brothers. They came from all three congregations that were meeting at the synagogue that morning.
Myers reminded people they could choose the path of good. "You don't have to follow the prone to evil path. We can also be prone to good. If you decide to take that path. It starts with speech. Words of hate are unwelcome in Pittsburg." …
---
Gab, the controversial social network with a far-right following, has pulled its website offline after domain provider GoDaddy gave it 24 hours to move to another service. The move comes as other companies including PayPal, Medium, Stripe, and Joyent blocked Gab over the weekend. It had emerged that Robert Bowers, who allegedly shot and killed eleven people at a Pittsburgh synagogue on Saturday, had a history of posting anti-Semitic messages on Gab.
GoDaddy confirmed its decision in a statement to The Verge.

"We have informed Gab.com that they have 24 hours to move the domain to another provider, as they have violated our terms of service. In response to complaints received over the weekend, GoDaddy investigated and discovered numerous instances of content on the site that both promotes and encourages violence against people."
Gab is presently inaccessible through its website, with a message stating that the company is "under attack" and "working around the clock to get Gab.com back online" with a new provider. "We have been smeared by the mainstream media for defending free expression and individual liberty for all people and for working with law enforcement to ensure that justice is served for the horrible atrocity committed in Pittsburgh," the statement reads. …
---
ALT-HISTORY

To ignore antisemitism is to pretend that Jews can't be victims.
US president Donald Trump claims to be surprised that anti-Semitism still exists. "This was an anti-Semitic act," he said after the shooting that killed 11 people at a synagogue in Pittsburgh, Pennsylvania. "You wouldn't think this would be possible in this day and age."
Such disbelief, from a man who has long used anti-Semitic code words to fire up his base, defies credibility. It also reflects a widespread tendency to minimize the hatred that Jewish people face.
After neo-Nazis marched on Charlottesville, Virginia, last year, shouting, "Jews will not replace us," there was an unnerving lack of condemnation from many politicians about anti-Semitism in the United States. Some ignored the chants about Jews entirely, instead focusing on those who shouted, "You will not replace us."
In one explicit and bizarre attempt to suggest that Jews were not under attack, Kelly Stout wrote a Jezebel essay in which she criticized Jewish journalist Dana Schwartz (who'd been previously targeted by online white supremacists) for writing her own article in response to the incident, suggesting that Charlottesville wasn't about her. …
---
All of the people you're going to learn about here are honest, hard-working professionals (as far as we know). Some of them are looking for ways to spice up their trade, some are seeking artistic expression, and some simply want to while away their idle hours. But because of their exhaustive dedication to their hobbies, they will now be haunting your dreams for the foreseeable future.
5. Etanis Gonzalez Is A Different Kind Of Doll Collector
---
Every doll collection is a little bit weird. We're sure your grandma is a lovely person, but no one should have that many dead eyes surveying their living room. So if you really want to stand out in this subculture, you need to go out of your way to build a deep, lingering sense of unease. Enter Etanis Gonzalez, a Venezuelan artist who said, "To hell with displaying our grim homunculi in dainty, teacup-laden environments. Let's go full horror!"
Instead he displays his collection in your imagination in the cold, terrifying dead of night.
Gonzalez is so proud of his legions of decapitated terrors that he hangs them from his balcony like battered plastic gargoyles. According to the clean explanation which he shared with the press (you know, the one where he leaves out all the stuff about summoning rituals), this all started after he took some dolls from his daughter's room. Rather than accept that his daughter was growing up before his eyes, he decided to haunt his entire Caracas neighborhood for decades to come. Although to be fair, Caracas is one of the planet's most violent cities, and would you mess with a house that looked like this?
It only gets worse as you get closer.
"The dolls are fun, but my real passion is depressing property values."
Just look at those frozen, dusty smiles. It's like he gave them a soul right before dismembering them. Gonzalez says he's merely expressing himself, but some of his neighbors assumed he worshiped Satan and nicknamed his lair "The Balcony of a Thousand Heads." Rob Zombie is no doubt frantically working to acquire the film rights.
…
---
Exclusive: files reveal Trump was the target of an extensive spying operation in the late 1980s by the country's intelligence service, with 'friends' from the KGB.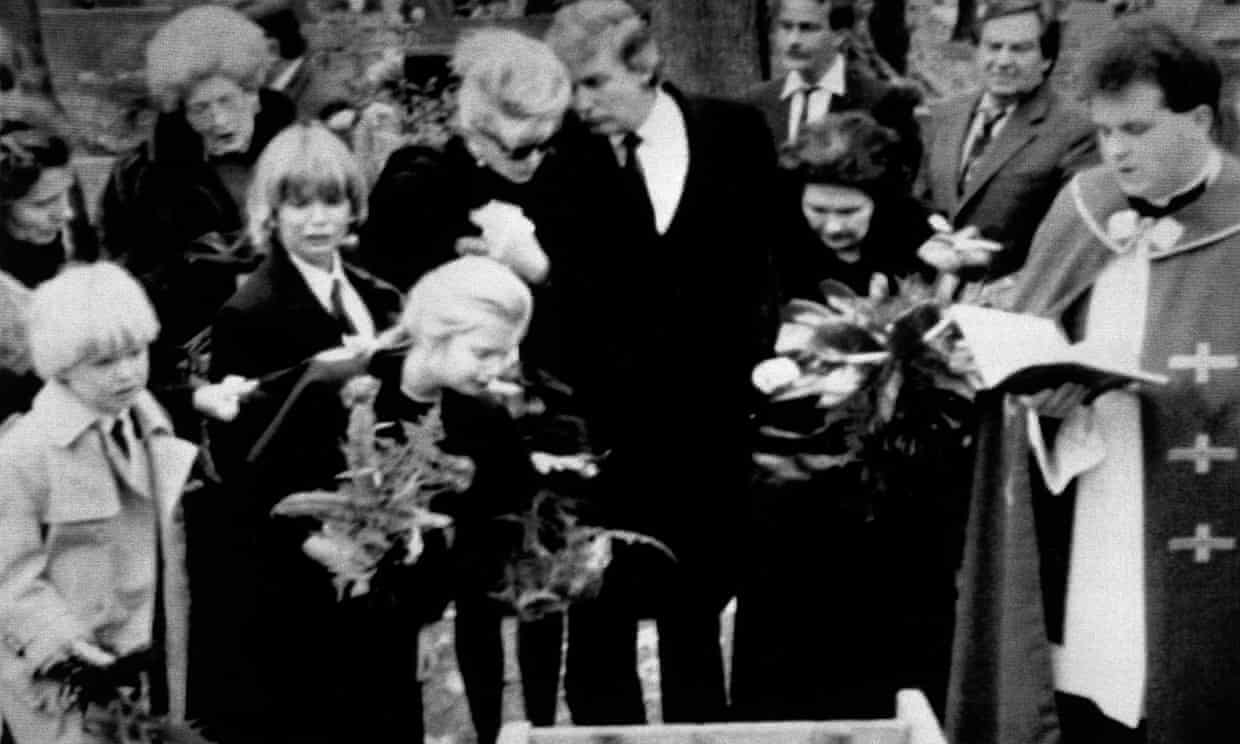 Donald and Ivana Trump during the funeral of her father, Miloš Zelníček, in 1990 in Zlín.
The three visitors from the eastern bloc looked somewhat incongruous as they stood in front of Trump Tower. It was September 1989. Leading the delegation was František Čuba, a bulky and bespectacled figure, the chairman of Czechoslovakia's showcase model farm. With him were his deputy Miroslav Kovařík and the farm's communist party boss, Pavel Čmolík.
The trio walked into the gleaming lobby and took the lift up to the executive floor. Their meeting was with Donald J Trump. For the men from behind the Iron Curtain, Trump was a celebrity capitalist. He was also, we now know, the target of an extensive spying operation conducted by Czechoslovakia's Státní bezpečnost (StB) intelligence service – together with "friends" from the KGB.
The StB had been interested in Trump since 1977, when he married a Czechoslovak-born woman, Ivana Zelníčková. News of the wedding reached the StB bureau in Zlín, the town in Moravia where Ivana grew up and where her parents lived. Ivana's father Miloš regularly gave the StB information on his daughter's visits from the US and his son-in-law's burgeoning career.
The StB's work on Donald and Ivana intensified in the late 1980s, after Trump let it be known he was thinking of running for president. The StB's first foreign department sat up. Inside the Soviet bloc, Czechoslovakia's spies were reputed to be skilled professionals, competent and versatile English-speakers who were a match for the CIA and MI6. …
---
It's almost Halloween, which means it's time for us to take a deep dive into the world of archaeology, in search of terrifying discoveries that don't so much belong in museums as they do in horror movies.
(Here's part one, part two, part three, part four, and part five, because digging up things that unsettle and horrify us is a cute annual tradition of ours.)
5. The Copper-Preserved Corpses
---
It's a given that archaeologists excavating a tomb or graveyard are going to find bodies — it'd be freakier if they didn't, frankly. The only small comfort they have is that those bodies are going to be skeletons. No mushy stuff, no maggots, no red fluids for the internet to drink up, just piles of dusty bones laying around like musty Halloween decorations.
That is, unless those bodies were buried with some kind of copper adornment, in which case you get this:
It's Clonazepam that stops night terrors, by the way. Better hurry, the pharmacy closes at 6.
What you're looking at here is a baby's arm dating back to the 1800s, which was recovered from a graveyard in Hungary. That's not 1800s as in military time, but as in nearly 200 years ago. So what's the deal? Well, copper — for a bunch of complicated science reasons — is great at preserving body parts … but only the body part that it's touching. Which leaves archaeologists in the unenviable position of occasionally stumbling across green-tinged masses of preserved flesh. Like these 1,000-year-old mummies that were buried wearing copper masks, which preserved their faces just enough to scar you for life.
Or how about this lung, which was preserved by a copper belt laid across the body of its owner prior to their burial? And so you don't think we've already run out of steam, take a look at this entire man who died in 550 during a mining collapse. As luck (read: the Universe's grim sense of humor) would have it, this was a copper mine, so his body was semi-preserved until he was found in 1899 by some people whom we're guessing went the rest of their lives without eating anything green. …
---
Video Goodnesses
and not-so-goodnesses
Richard Ojeda, a retired army major, is a Democrat running in a West Virginia district that voted overwhelmingly for Donald Trump in 2016. But how does a leftwing populist with the backing of Silicon Valley billionaires explain his own vote for the president? Two years after his first visit to coal country, Paul Lewis finds out.
---
State AGs have become major partisan players in national politics, so the races to elect them are worth your attention.
THANKS to HBO and Last Week Tonight for making this program available on YouTube.
---
Here's how Trevor's 10-year-old brother once explained his mixed family to other kids.
THANKS to Comedy Central and The Daily Show with Trevor Noah for making this program available on YouTube.
---
まるオーランタン2018。Maru -o'- lantern 2018.
---
FINALLY . . .
😱👻SPOOPY SEASON 👻😱

Spoopy (adj). Something that is funny and scary.

When I first encountered the word "spoopy" on late-2013 Tumblr, I took it for a charming spelling mistake that had been turned into a short-lived meme. Nearly a decade after it was born in 2009, the word Urban Dictionary defines as "something that is funny and spooky at the same time" lives on.
The word itself is both of those things—funny and scary—as is Halloween, the only time of year we can appropriately revisit the term spoopy, since it is not yet in the dictionary (Oxford English Dictionary did not immediately respond to a request for comment on why that is the case).
According to KnowYourMeme.com, spoopy first emerged on October 15, 2009, when Flickr user Mike Woodridge uploaded a photo of what appeared to be a misspelled Halloween sign with the word "spoopy" written in skeleton bones (pictured above).
Unlike its less popular contemporary, "creppy" (a misspelling of "creepy"), spoopy stuck around. Examples of lowbrow spoopy use include many Halloween memes. For instance, this Halloween-themed "Doge" meme (versions of which usually involve an image of an enigmatic Shiba inu with funny clip art words pasted onto it):
Or this video of a pumpkin head dancing in what is otherwise a very grim cemetery:
Old Disney Channel original Halloween movies like Halloweentown (1998), its two sequels (2001 and 2004), and Don't Look Under the Bed (1998) are historic examples of well-executed 90s spoop. …
---
Despite some news reports, the Centers for Disease Control and Prevention doesn't warn people against dressing up chickens for Halloween.
Actual @CDCgov press release: "Despite news reports to the contrary, the Centers for Disease Control and Prevention has not warned people against dressing chickens in Halloween costumes." https://t.co/T01swrwpnS h/t @jessicaseaman

— Matt Sebastian (@mattsebastian) October 26, 2018
If you're handling any chickens during the spooky holiday, here are some tips:
Always wash your hands after touching chickens or anything in the environment. Use running water and soap, and use alcohol-based sanitizer if you don't have instant access to a sink.
Keep your chickens outside and never let them inside your home.
Don't eat or drink in areas where the chickens live or roam.
Don't kiss or snuggle with your birds, and don't touch your face immediately afterward.
Children under 5 years old should not be in contact with chickens – young children are more likely to get sick because of their developing immune systems, and more likely to put their fingers or pacifiers and other items in their mouths.
Ed. You're welcome.
---
Ed. More tomorrow? Possibly. Maybe. Probably Not?
---