Emmanuel Macron marked the 100th anniversary of the end of World War I, attended by dozens of world leaders, with a warning.
"Old demons are reawakening, ready to sow chaos and death," the French president said. "History sometimes threatens to repeat its tragic patterns, and undermine the legacy of peace we thought we had sealed with the blood of our ancestors."
Speaking on Armistice Day, 100 years after the end of World War I, Macron had pointed words for his counterparts Donald Trump and Vladimir Putin, who have each embraced nationalist policies and, in the case of Trump, explicitly embraced nationalism as a political identity.
"Patriotism is the exact opposite of nationalism: nationalism is a betrayal of patriotism," Macron said. "By pursuing our own interests first, with no regard to others', we erase the very thing that a nation holds most precious, that which gives it life and makes it great: its moral values."
So what's the difference between patriotism and nationalism? The former term is much older, with roots in the ancient Greek word patrios ("of one's father"), and was first used in its modern context in the mid-1600s.
Nationalism, meanwhile, was first used in the late 18th century, and was initially interchangeable with patriotism. That changed in the 20th century, when it became associated with ethnic-supremacy movements in many countries, including Russia, the United States, India, and Myanmar. …
---
Dana Rohrabacher lost his reelection bid after two decades in Congress. Democrats could now dig in to his Kremlin ties.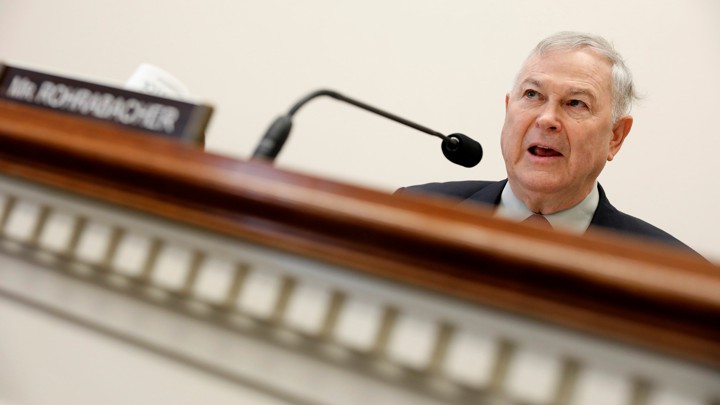 Representative Dana Rohrabacher speaks during a House Foreign Affairs Europe, Eurasia, and Emerging Threats Subcommittee hearing on Capitol Hill on May 25, 2017. Good riddance, asshole.
Russian President Vladimir Putin will now have one less defender in Congress. Republican Representative Dana Rohrabacher of California—who famously arm wrestled with Putin in the 1990s, and who was warned by the FBI in 2012 that Russian spies were trying to recruit him as an "agent of influence"—has lost his reelection bid after two decades in Congress, succumbing to a Democrat who ran ads touting Rohrabacher's curious affection for the Russian autocrat.
While election officials won't certify the results of the race until December 7, the Democrat Harley Rouda declared victory Saturday morning, leading Rohrabacher by about 8,500 votes, according to the Associated Press. Now, with Democrats set to take control of the House in January, Rohrabacher's Kremlin ties could face renewed and intensified scrutiny.
Rohrabacher's loss wasn't necessarily a surprise. He consistently trailed Rouda in polls and was seen as vulnerable heading into Election Night. Locally, Rohrabacher tried to appeal to California voters by playing up his support for reforming marijuana laws, calling states' rights to legalize and regulate the drug "a fundamental issue of federalism and freedom." And he talked about the economy and immigration, the latter in inflammatory terms. Rohrabacher told The New York Times last year that his constituents "couldn't care less" about Russia.
Paul Martin, a Republican who challenged Rohrabacher in the June primary, told me he believes that the congressman's defeat in California's Forty-Eighth District was more a reflection of voters' desire for a moderate candidate than of their frustration with Rohrabacher's coziness to the Kremlin. …
---
Two fires have left 25 people dead in the state. But even insurance companies think blazes will be bigger in just a few decades.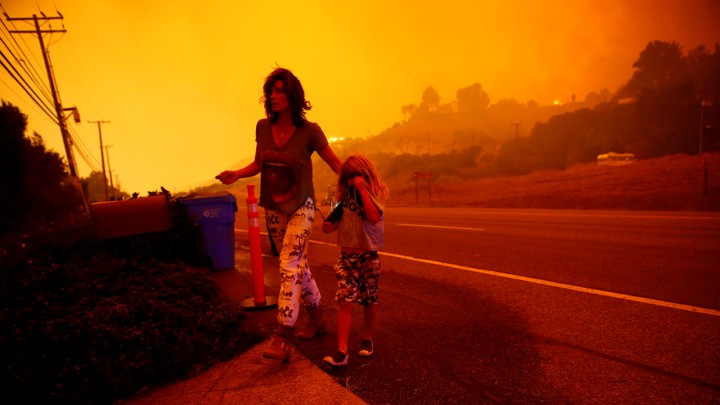 Gabi and Jonah Frank walk on Pacific Coast Highway as the Woolsey Fire threatens their home in Malibu.
At least 25 people have been killed by wildfires raging across California, as the state battles with its deadliest fire season in decades.
Firefighters are warring with blazes on both sides of the state. In the north, the so-called Camp Fire has become the largest and most destructive fire in state history, killing at least 23 people and consuming 109,000 acres. In its trail of ash stand the smoldering ruins of Paradise, California, a city of 26,000 people until this week.
The Camp Fire is only about a quarter contained, and it still threatens the edge of Chico, the largest city in Butte County. The Camp Fire got its jolly name through a fluke: Most Western wildfires are named after where they started, and the Camp Fire began on Camp Creek Road.
In the south, firefighters are battling the Woolsey Fire, which has grown with the help of hot, howling Santa Ana winds. That fire has killed two people and devoured more than 83,000 acres, destroying buildings across Ventura County. It's only 10 percent contained, and the Santa Anas are expected to pick up again on Sunday afternoon. (The Santa Ana winds worsened last year's fires, as well.)
The Woolsey Fire has prompted the evacuation of Thousand Oaks, the same city menaced by a mass shooting on Wednesday that left 12 people dead. …
---
THREAT MULTIPLIER

The Camp Fire burns along a ridgetop near Big Bend in California.
Camp Fire, the devastating blaze raging across the Sierra Nevada foothills, has become the most destructive wildfire in California's history. By the evening of Nov. 10, it had scorched 105,000 acres of land and killed 23 people, with more than 100 people still unaccounted for.
"This event was the worst-case scenario," Butte County Sheriff Kory L. Honea told the Washington Post (paywall). "It's the event that we have feared for a long time."
In all likelihood, it's a scenario that climate change helped to create, according to Daniel Swain, a researcher at University of California-Los Angeles' Center for Climate Science. In a detailed thread on Twitter, Swain walked through the conditions that contributed to the fires now burning across the state, and the research showing how climate change made them possible.
His analysis offers sobering view of the role global warming can play in such disasters—"a calm and comprehensive scientific account of why climate change makes fires like the ones now shrouding California more likely and more hellish," according to renowned environmental activist Bill McKibben.
If Northern California had received anywhere near the typical amount of autumn precipitation this year (around 4-5 in. of rain near #CampFire point of origin), explosive fire behavior & stunning tragedy in #Paradise would almost certainly not have occurred. (1/n) #CAfire #CAwx pic.twitter.com/2LBKjSVBMF

— Daniel Swain (@Weather_West) November 10, 2018
While climate change didn't itself cause the fire, Swain explains, it played a "starring role." Summers in the state have been getting hotter, and autumns have been getting both warmer and drier. "While the exact level of dryness in a particular year is somewhat random, less precipitation in autumn & spring—California's 'shoulder seasons'—has long been a projected outcome of climate change," he adds. …
---
The conspiracy theory genre has a lot of "greatest hits." The Earth is flat, 9/11 was an inside job, Democrats are secretly lizard people, etc. However, new ones are created every day, and at this point it's getting hard to sift through them all. So if you want to keep up with that dude at the bar telling you that Hillary is an android invented by the Japanese in order to spy on our nation's beef exports, here are five recent conspiracy theories that, as you may have guessed, are completely bonkers.
5. John McCain Was Actually Executed
---
In the years before his recent death, Senator John McCain became known as the guy who would take a massive dump on everything Trump said before going ahead and voting along with the dude anyway. He passed away earlier this year due to brain cancer, but to some on the far, far, far right, that didn't really seem like a plausible way for an, umm, 81-year-old man to die. No, according to certain conspiracy enthusiasts, McCain was secretly executed. FOR TREASON.
Either that or he killed himself because he couldn't bear the shame of being hauled off to Guantanamo Bay — whichever the morally repugnant think is more morally justified. Regardless, the point is the same: McCain was a criminal and a traitor, and because we live in an era in which political discourse can best be described by the old slogan "Either you're with us or IT'S SCORCHED EARTH, MOTHERFUCKER," McCain's words against Trump made him ripe to be dealt with lethally.
If you have kept up with the thousands of screeching goblins who have turned the internet into a weird quicksand pit of "Well, ACTUALLY," you probably guessed that this particular theory is an offshoot of QAnon. If you're not, the idea behind QAnon is that Trump, when he's not ruling America like a drunken fourth-grader in the back of a Denny's, is secretly prosecuting a cabal of traitors and Washington elites that include McCain and the likes of Barack Obama and Hillary Clinton.
What McCain's particular act of treason was supposed to be tends to vary. Either it's complicity in the general cabal or another wildly debunked claim that McCain betrayed his country by being captured, imprisoned, and tortured during the Vietnam War. But the smoking gun here is McCain's use of a medical boot back in November 2017, which he wore after he supposedly injured his Achilles tendon. Those who know the TRUTH know that the boot was obviously meant to hide the tracking bracelet on his ankle.
Sure, McCain claimed that because he was 81, he switched the boot so that one of his legs wasn't doing all the work. You may have to do that when you find that your body is crumbling under you. But to Q fans, this was obvious proof that he'd switched the boot because … he'd switched the bracelet? Or did he switch the boot to distract from the bracelet? I'm not sure what this has to do with anything. But what do I know? I'm clearly just another Illuminati stooge out to undermine the president. …
---
BLUE ZONES

Go ahead and cancel your membership, you already have the tools you need.
If you want to be as healthy as possible, there are no treadmills or weight machines required. Don't just take my word for it—look to the longest-lived people in the world for proof.
People in the world's Blue Zones—the places around the world with the highest life expectancy—don't pump iron, run marathons or join gyms.
Instead, they live in environments that constantly nudge them into moving without even thinking about it. This means that they grow gardens, walk throughout the day, and minimize mechanical conveniences for house and yard work.
In fact, Blue Zones researchers determined that routine natural movement is one of the most impactful ways to increase your life span, and a common habit among the world's longest-lived populations.
Of course this might not seem realistic in our current knowledge economy, where we're often tied to a desk and in front of a computer screen all day. …
---
Video Goodnesses
and not-so-goodnesses
Would you like to spend 30 hours in a coffin?
Apparently, a lot of people would jump at the chance.
When Six Flags in St Louis announced their "Coffin Challenge", in which anyone brave enough to be cooped up in a coffin for 30 hours straight could earn $300 (yes, three hundred, not three thousand) cash, the campaign went viral. You'd think that most people would scoff at the proposition, but Six Flags was inundated with entries.
After wading through over 45,000 applications, Six Flags finally narrowed the list down to six people who would spend a spooky 30 sleepless, coffin-bound hours at the park – being harassed by employees with (fake) chainsaws, subjected to the cold, and gawked at by passersby.
Considering that Six Flags has had some financial difficulties recently, this bizarre viral stunt might have been one of the brighter points in their year thus far.
VICE News hung out with a pro wrestler, an embalmer, a haunted house owner, a vampire enthusiast, a college student, and a Navy vet as they lived out their coffin fantasies, right in the middle of a theme park.
THANKS to HBO and VICE News for making this program available on YouTube.
---
After Nevada pimp Dennis Hof wins a seat in the state assembly despite being dead, Trevor imagines adapting his story for TV.
THANKS to Comedy Central and The Daily Show with Trevor Noah for making this program available on YouTube.
---
CAUTION: Some language may not be appropriate for work or children.
Here's me commentary on instant karma keeping the world in balance. Cheers!
---
INSIDE so8os pres. ZTT: In the studio with Blank & Jones while they work on the reconstruction of "The Power Of Love" by Frankie Goes To Hollywood.
---
猫用のおもちゃに入りたいまる。This is a toy for the cat. However, it is too small for Maru.
---
FINALLY . . .
NOT MY LEADER

Mu Sochua closed her talk by singing a song from the campaign trail.

When a country has a strongman for a ruler, an army at his disposal, and control of the media, how can the people fight back?
You go after the one thing he does not have: legitimacy.
That's the strategy of the Cambodia National Rescue Party (CNRP), an opposition party banned for its threat to Asia's longest-serving prime minister, Hun Sen, said Mu Sochua, one of its leaders in exile.
"We are not just opposition," she said at the Oslo Freedom Forum yesterday (Nov. 10) in Taipei. "We are the hope of Cambodia."
Ahead of Cambodia's elections earlier this year—where the outcome was known well ahead—Hun Sen did what he could to pad his victory. He had the top court disband the CNRP, and jailed human-rights activists, journalists, and critics, including the opposition party's leader Kem Sokha.
To delegitimize the rigged result, the CNRP started a "clean fingers" campaign urging voters to abstain from voting. Hun Sen's Cambodian People's Party responded by threatening voters whose fingers weren't marked with indelible ink, used to signify a ballot was cast. …
---
Ed. More tomorrow? Probably. Possibly. Maybe. Not?