The president of the United States was both a racist and a very difficult man to get along with.
He routinely called blacks inferior. He bluntly stated that no matter how much progress they made, they must remain so. He openly called critics disloyal, even treasonous. He liberally threw insults like candy during public speeches. He rudely ignored answers he didn't like. He regularly put other people into positions they didn't want to be in, then blamed them when things went sour. His own bodyguard later called him "destined to conflict," a man who "found it impossible to conciliate or temporize."
But the nation's politicians simply had to interact with Andrew Johnson, for he had become the legitimate, constitutionally ordained chief executive upon Abraham Lincoln's death by assassination.
Their path for managing this choleric man reveals that a president need not be kicked out of office to be removed from holding a firm grip on the reins of power. It also shows that people around the president, from Congress to the Cabinet, have many more tools at their disposal than, say, writing an anonymous New York Times op-ed to stop a leader they consider reckless or dangerous.
This is true even though Johnson's vice presidency remains historically unique. For his 1864 reelection bid, Lincoln had dumped his first-term vice president, Hannibal Hamlin. To appeal to non-Republicans and show he wasn't just a Northern leader in the middle of the Civil War, the president instead ran on a new "National Union" ticket. He picked Johnson, a lifelong Democrat from Tennessee who had been the only senator out of 11 Southern states to remain with the Union in 1861 instead of walking out of the Senate and leaving a vacant seat in protest.
But Johnson turned out to be a poor choice, and the new vice president couldn't have started his term much worse. Feeling ill, Johnson threw down three glasses of whiskey right before his swearing-in ceremony and inaugural speech. "I need all the strength I can get," he told Hamlin, who was there to hand off the office Johnson would soon assume. …
---
BRACE YOURSELF

Now what?
The world's third- and fourth-largest economies are shrinking. The European Union is battling with the UK and Italy over Brexit and a deficit-boosting budget, respectively. Traders are reeling from a plummet in oil prices that sent shockwaves through the stock market.
Needless to say, it's going to be a busy day. Here's a quick catch-up on what's happening:
🇯🇵 Japan shrinks
In Japan, GDP fell 0.3% in the third quarter, after increasing 0.8% in the three months to June. At an annualized rate, it contracted by 1.2%, with activity severely curtailed by natural disasters. Flooding in June and July killed nearly 200 people and millions had to evacuate their homes. Then, in September, Japan faced its most powerful storm in 25 years, followed by a 6.7-magnitude earthquake. In all, these disasters disrupted consumer spending and exports. Though a rebound is expected at the end of the year, there are still concerns that the US-China trade war will hamper Japanese growth; China is Japan's largest trading partner.
🇩🇪 Germany stumbles
Germany is feeling the effects of the trade war. GDP in Europe's largest economy fell in the third quarter, the first contraction since the start of 2015. Growth declined by 0.2%, more than economists projected and the most since 2014, substantiating fears about a global economic slowdown. The German statistics office said the decline was due in part to a decline in exports, a key driver of the economy. In September alone, German exports declined 0.8%. Analysts at Commerzbank said the German economy was suffering from declining demand from China and lowered its forecast for 2018 GDP growth to 1.5%, from 1.8%. …
---
The 'Fox & Friends' host stunned her own co-hosts with this baffling take on the Florida recounts.
THANKS to Comedy Central and The Daily Show with Trevor Noah for making this program available on YouTube.

"With both the gubernatorial and Senate races still being contested in Florida, it looks like we won't know the winner for at least a few more days," Trevor Noah said on Tuesday night. "And some of our friends on Fox are tired of waiting."
From there, The Daily Show host threw to a clip of Fox & Friends co-host Ainsley Earhardt complaining that the attempts to accurately count all of the votes in those two big races are taking the "fun" out of the election.
"I think part of the fun of voting and having your voice heard is finding out on Election Night," she said on Wednesday morning. "We all stay up really late to see these votes, when they come in and when these races are called. If you're still counting votes after 10 days—and I understand if it's super close… it kind of takes the fun out of Election Night."
With her argument, which would disenfranchise, among others, the votes of military service people who cast their ballots from overseas, Earhardt seemed to be echoing President Trump's declaration that we "Must go with Election Night!" instead of counting every vote. …
---
It would appear that modern politics consists mostly of doing spiteful shit on the internet in hopes of going viral for owning the other side. It's petty, illogical, and incredibly ineffective at changing minds, but there is a silver lining. Sometimes provocateurs will attempt a stunt that backfires so hard that it actually proves their enemies right. When it happens, it almost makes it all worth it …
4. A Scam Artist Accidentally Proves Journalists Have Integrity
---
Remember when, several hundred sordid scandals ago, a candidate for a Senate seat in Alabama was accused of having sexual contact with a 14-year-old girl? In fact, multiple women came forward with accusations against Roy Moore. He, of course, responded by continuing his bid unabated. But for some, that wasn't enough. Conservatives had to prove that all of those "accusers" who went to The Washington Post with their stories were lying. So James O'Keefe, founder of Project Veritas (an organization that's basically devoted to trying to get liberals to admit that they eat babies via deceptive editing) came up with a plan.
O'Keefe would arrange for a fake Moore accuser to go to The Post with a made-up story. The woman, who went by the name Jaime Phillips, would say that Moore got her pregnant when she was 15 and helped pay for her to get an abortion. Once they published said piece, O'Keefe would jump out of the closet and announce that the woman had never met Moore. And if The Post would publish one false story about Moore being an alleged sex fiend, surely that proved that all the other women were making up their stories too! It was a plan as solid as a fart.
But O'Keefe, living in a world in which all journalists are lying shills for one side or another (like him), never counted on someone following up to make sure the story was, you know, true. Journalists from The Washington Post called the place "Jaime" listed as an employer, and the company said they had no record of her, so that's strike one right there. They also discovered a GoFundMe page the woman set up to move to New York in which she claimed, "I've accepted a job to work in the conservative media movement to combat the lies and [deceit] of the liberal MSM." Oh, and they also saw her walking into Project Veritas' New York offices.
While it's clear O'Keefe's goal was to prove The Washington Post was fake news, he instead demonstrated how much work goes into competent journalism. But then he made one final, futile attempt: He claimed he had a video of a Post reporter stating that the publication has a liberal agenda (it turned out to just be a reporter stating the difference between a news report and an editorial). James O'Keefe is like Ed, Edd, and Eddy all rolled into one. No matter what he does, his schemes have a way of blowing up in his face. …
---
BYE, FELICIA

Sorry to interrupt Mr. Trudeau, but you've got that…thing…you need to do.
I'll take "Things we desperately hope are true" for $1,200, Alex.
In a wide-ranging interview with Vulture that touched on everything from politics to the Catholic Church to the #MeToo movement, longtime Jeopardy! host Alex Trebek casually made this odd claim: Canadian prime minister Justin Trudeau wears a hidden "buzzer" in his shirt that alerts his staff when he wants to be discreetly extracted from a meeting.
Trebek, also a native of Canada, told Vulture that he once met with Trudeau (photos from Trudeau's website show the two met in 2016 in the prime minister's Centre Block office) and then something curious happened:

Have you met President Trump? Or Prime Minister Trudeau?
I have not met Donald Trump. I've met Trudeau. I spent almost an hour with him in Ottawa. I'm keenly aware of little nuances, and I noticed at one point, after about 45 minutes, that Justin did something like this [scratches under his shirt], and about ten seconds later, there was a knock on the door and one of his assistants came in and said, "Mr. Prime Minister, you have a meeting."
I don't follow.
He has a buzzer under his shirt that he can use to signal his assistants when it's time to come and get him. But Trudeau did say to me, "Count me in if you ever do a celebrity tournament featuring world political leaders." I said, "I can't think of anybody who would want to take you on."
The Jeopardy! host is famous for his extremely wry sense of humor, so it's entirely possible that he was joking. In any event, Trudeau's office denied Trebek's claim:
The Prime Minister's office has just responded to me, addressing allegations from Alex Trebek that Justin Trudeau wears a buzzer under his shirt he can press to get out of meetings. Their response: "Hi Sean… it's false."

— Sean Craig (@sdbcraig) November 12, 2018
…
---
Jeggings, rebranded.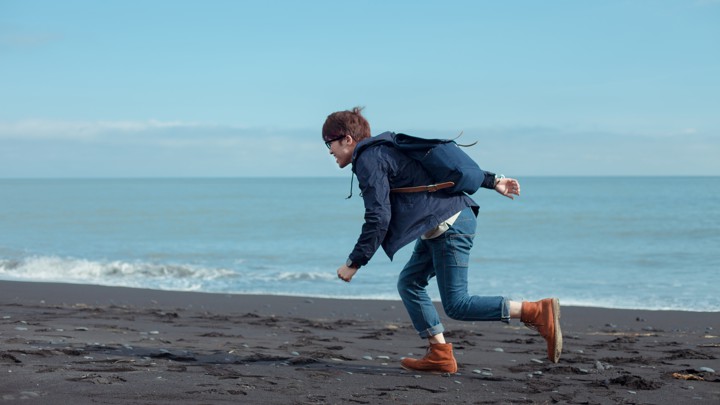 Clothing brands have been smuggling spandex onto the legs of unsuspecting men.
"I definitely didn't explicitly understand what I was buying," Austin Ray, a 36-year-old writer in Atlanta, told me. What he was buying were Gap Soft Wear Jeans in Straight Fit with GapFlex, which is a nine-word phrase to describe a two-word trend: stretch jeans. "Apparently I didn't think too hard about what those words meant," he said.
My friend David Covucci, a 34-year-old Brooklyn editor, also didn't understand exactly what he was getting into when he picked a pair of Banana Republic Rapid Movement Denim jeans off a clearance rack, but the pants immediately felt different to him. "I knew something was up, but I didn't Google until I got home," he said.
If you wear women's clothing, it might come as a surprise that a little bit of stretch is a relatively new concept for most men. Stretchy jeans have been common in women's fashion for at least 20 years, but they've only found traction in the men's mass market in the past five. Now nearly every major menswear brand offers at least one stretch option, and many go beyond the product's tight-fit reputation with looser cuts.
To sell these jeans to men, though, brands face a conundrum common in the fashion and personal-care industries: How do you convince guys to buy something they believe is for women? In the case of stretch denim, brands have found success by obfuscating what their product actually is, allowing them to recast stretch pants as a tool of masculinity. Whether it's GapFlex, Rapid Movement Denim, Wrangler's Advanced Comfort, or just not mentioning the new fabrication at all, the theory seems to be that what men don't know about their jeans can't hurt them. Intentionally or not, these branding decisions have helped change the modern idea of what it means to look like a man. …
---
Video Goodnesses
and not-so-goodnesses
The Rio Grande Valley in Texas is now home to roughly 1,000 active duty US army soldiers. They're part of the more than 5,000 troops Donald Trump deployed to the US-Mexico border ahead of the midterm elections, at an estimated cost of $200 million.
Most of the troop in the Rio Grande Valley are now living on Base Camp Donna, ten miles east of McAllen. In the last week, army engineers have built the camp up to accommodate a long-term deployment: it now has hot showers, laundry facilities, and a kitchen to produce two hot meals a day. Many of the soldiers there have served in Afghanistan and Iraq, and life on Base Camp Donna is much like life on any other base — except here, there's no enemy to fight, and the troops have almost nothing to do.
The migrant caravan they're supposed to be responding to is weeks away and headed to Tijuana, 1,500 miles to the West. The only concrete missions the troops have engaged in so far consist of "hardening" parts of the border with concertina wire. When that's done, said Major Derek Wamsley, a public affairs officer at the base, "we move back here and wait for the next request from Customs and Border Protection."
THANKS to HBO and VICE News for making this program available on YouTube.
---
Years after First Lady Melania Trump took her husband's last name, she's now stealing his catchphrase, too: 'You're fired.'
---
Ivan Drago (Dolph Lundgren) warms up for his upcoming role in 'Creed 2' by taking on a far less experienced boxer: Stephen Colbert.
THANKS to CBS and The Late Show with Stephen Colbert for making this program available on YouTube.
---
CAUTION: Some language may not be appropriate for work or children.
Here's one for all the teachers in the world. Baby penguins going on a school excursion!
---
落ち葉とまるとはな。Fallen leaves and Maru&Hana.
---
FINALLY . . .

Every day there's another article about how all of our retirements are doomed. Public pension promises in the U.S. vastly exceed their ability to pay. We now need nearly $400,000 at age 65 just to cover health care costs. And retirement itself increases your risk of depression by 40%.
For many of us, it's starting to feel like the light at the end of the tunnel of life has been blocked by a triple-bolted steel door. Who's to blame for this mess?
The Germans.
Yes, back in 1889, German Chancellor Otto von Bismarck invented the idea of retirement, establishing the concept for the rest of us. "Those who are disabled from work by age and invalidity have a well-grounded claim to care from the state," he said at the time. He wanted to address high youth unemployment by paying those 70 and older to leave the workforce, and other countries followed suit with retirement ages around 65 or 70.
But there is one big difference between 1889 Germany and the world we live in today: The average lifespan then was 70 years. Now we're all living much, much longer. And many of us would like to retire much earlier. But the scary headlines — and the realities that we see around us — cast doubt on our ability to ever retire. The entire concept of retirement is starting to feel flimsy at best.
So what are we to do, short of working the rest of our days away? …
---
Ed. More tomorrow? Probably. Possibly. Maybe. Not?