On December 17, 2016, during a psychotic episode, Ryan Partridge, an inmate at Boulder County Jail, tore his own eyeballs from his head. Partridge survived this horrifying example of self-harm, and he's now suing Boulder County Sheriff Joe Pelle and more than twenty other named defendants. David Lane, the attorney who filed the lawsuit, accessible below in its entirety, stresses that this shocking incident isn't isolated.
"Jails and prisons treat inmates as subhumans under the best of circumstances generally," Lane allows. "But when you have a mentally ill inmate in your facility, the therapy that frequently exists consists of tasers, clubs and fists. That's how you control these inmates, along with solitary confinement. The jails rarely seek hospitalization for mentally ill inmates, even though the statutes give these jails and prisons the ability to civilly commit inmates who are a danger to themselves and others. But they don't really care if inmates are injuring themselves, as this case shows."
Here's how Lane describes the events detailed in the complaint:
"Ryan Partridge comes from a really sweet, loving, nice family," Lane says. "He is about six-four, 220 pounds, model good-looking. But when he was in his late twenties or early thirties, he began to develop signs of schizophrenia, and his behavior resulted in minor criminal charges being filed. He'd get aggressive with his mom, for example, and the police would come and take him to Boulder jail."
Over time, Lane continues, Partridge "got probation violations for his actions. He was not doing well. And at jail, he was exhibiting bizarre behavior on a consistent basis."
On November 1 of last year, approximately six weeks before he blinded himself, Partridge "got onto the second tier of the Boulder jail and jumped off head first," Lane points out. "They'd stopped him from doing this once before; they'd talked him down. But this time, his head hit a metal table and he broke one of his vertebrae. He was taken to the hospital, and they patched him up and sent him back to Boulder jail."
None of this behavior came as a surprise to jail staffers…
Kansas slashed taxes at the top to try to spur growth – but the plan crippled the state's finances and proved disastrous for its Republican governor.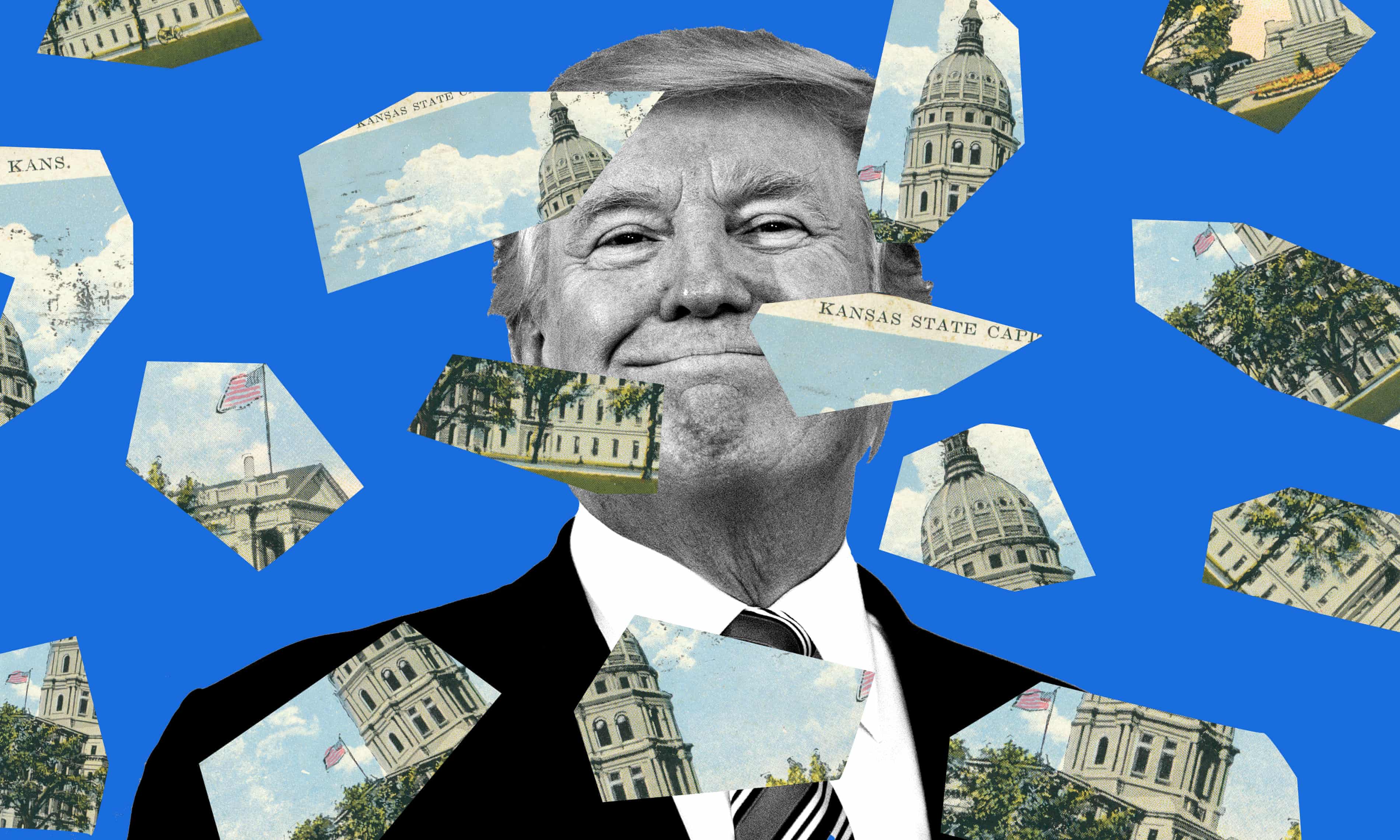 Is Donald Trump about to turn America into Kansas? It's a question some worried people who live in the state are asking as the Republican party pushes through the biggest tax overhaul in a generation – an overhaul that, they claim, bears an uncanny resemblance to a tax plan that left their midwestern home in disarray.
After a failed economic experiment meant to boost economic growth blew a hole in the Kansas budget as big as a prairie sky (a $350m deficit in the current fiscal year and nearly $600m in the next) state jobs and services have been slashed.
Prison guards are sharing stab vests at the El Dorado maximum security prison in southern Kansas. At the end of a shift, the sweat-soaked vests, worn all day in a facility without air conditioning, are passed to the next person by guards, many of whom are coming off 12- or 16-hour shifts.
Jail cells designed to hold one inmate are housing three or four at Ellsworth correctional facility. Riots have broken out at other prisons. The family of one guard who recently killed himself told union reps stress and over-work were to blame.
Next year, the state faces a school shutdown after the supreme court found its educational spending was unconstitutionally low. Some of those schools have already had to shorten the school year in order to save cash.
To make ends meet, money that was earmarked for roads has been diverted to the general fund. A state that used to maintain 1,200 miles of road a year is now repairing 200 miles a year. Even in the capital, Topeka, potholes are everywhere.
The crisis follows the 2012 passage of a tax plan by Kansas governor Sam Brownback that he dubbed "the march to zero". …
DEGREE OF DIFFICULTY: "I just hope the country can listen to us. Don't do what we did."
It used to be that when someone called me an abomination, I was in the presence of a homophobe.
But a recent opinion column in Texas State University's main newspaper damned me for a different reason. I'm abominable because I'm white.
The column wasn't aimed at me personally but at my kind, and the Hispanic student who wrote it began by saying that "of all the white people" he had ever encountered, there were a dozen or so who rose to the level of "decent."
The allowance that 12 of us passed muster was perhaps the most generous passage in a screed that had an unambiguous message for white people, be they "good-hearted liberals" or "right-wing extremists."
"I hate you," he wrote, "because you shouldn't exist. You are both the dominant apparatus on the planet and the void in which all other cultures, upon meeting you, die."
The headline: "Your DNA Is an Abomination."
Yes, this was deliberate provocation. By a college student. And he's obviously right that people of color have been systematically oppressed.
But what college newspaper would have published a column by a white student telling his black peers that they're a wretched lot? What, beyond catharsis, did the column's author accomplish? …
The late-show host devoted a portion of his Friday monologue to the many "juicy nuggets" in The Atlantic's recent profile of the vice president.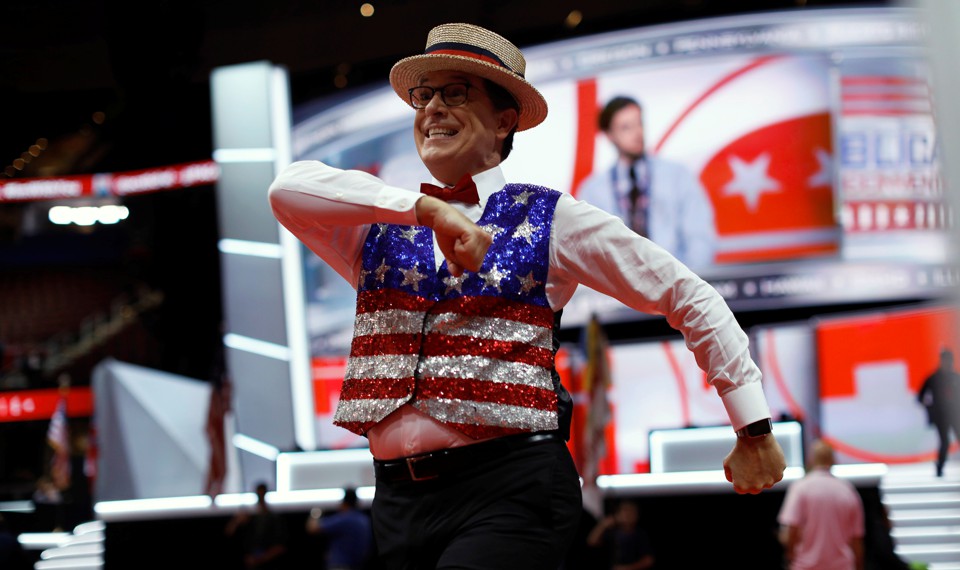 Mike Pence was, by his own account, a terribly unpopular kid. Long before he became vice president of the United States, Pence was a total outcast. He was miserable at football, and he was overweight—"the real pumpkin in a pickle patch," as Pence put it in an interview with The Republic, an Indiana newspaper, during his campaign for Congress in 1988.
That memorable line is one of the many colorful details that The Atlantic's McKay Coppins unearthed in his sprawling profile of Pence, and it's one of several things about the story that caught the comedian Stephen Colbert's attention.
"The real pumpkin in the pickle patch! That is the folksiest way to describe childhood sadness I have ever heard," Colbert told his late-show audience on Friday. "Yep, I was a pumpkin in the pickle patch, a lemon in the ole melon bowl, a real weeping loner at the freshman formal. Whoops! That wasn't a metaphor." Colbert devoted much of his opening monologue to his favorite parts of the Pence profile." …
A profile of Mike Pence revealed that the Vice President believes in God, and that God believes in him. Stephen asks the only guy who would know.
THANKS to CBS and The Late Show with Stephen Colbert for making this program available on YouTube.
Feminism is now being weaponized for right-wing agendas. We must not allow that to happen.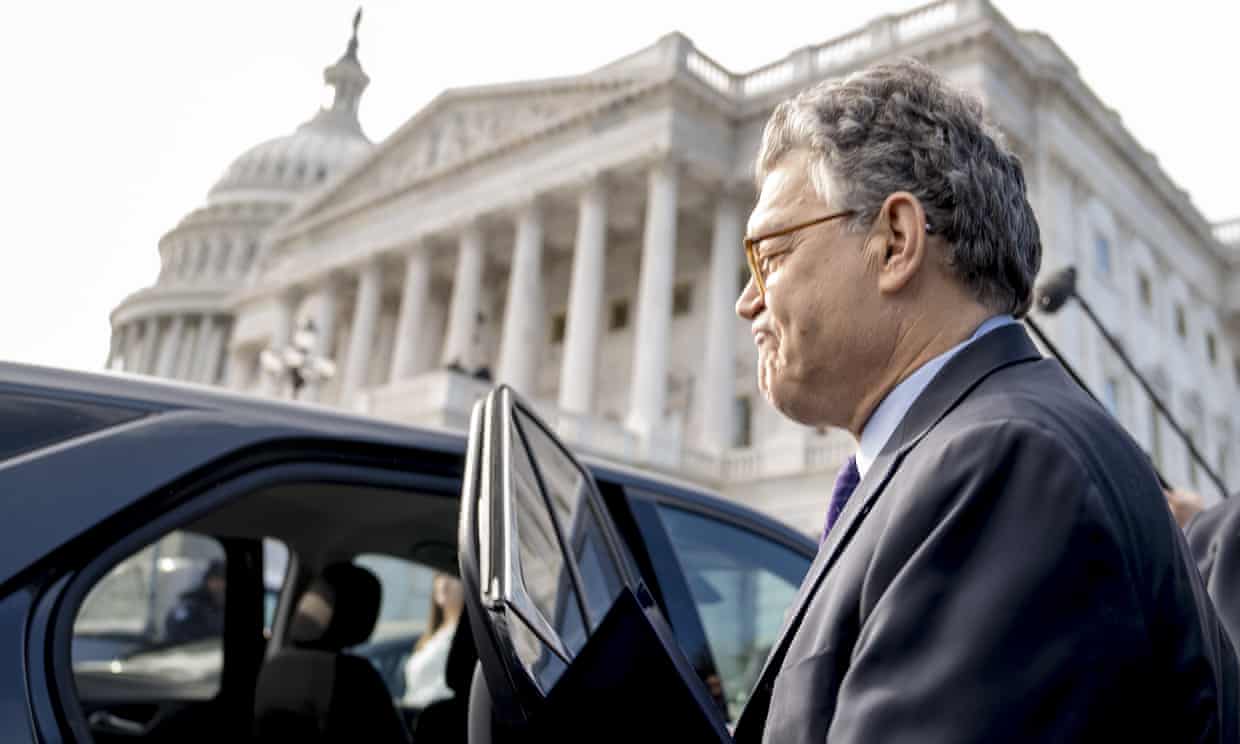 'In this moment, we need to ask better questions. Whose agenda is being served in each case?'
That was fast. In this #MeToo moment, feminism has been coopted by both people who don't understand it and by people who oppose it. Worse: it's now being used against people who are feminists and allies.
The most recent example comes from Mike Cernovich, the alt-right conspiracy theorist who led the way on the Pizzagate hoax that claimed senior Democrats were involved in a child abuse ring in the basement of a Washington DC restaurant. That whole ruckus should've given MSNBC pause when he went after one of their regulars.
Cernovich recently orchestrated a campaign to pressure MSNBC to fire contributor Sam Seder over a joke he made in a 2009 tweet. The network did fire him – only to then rehire him after a backlash against their decision.
If you have ever been exposed to jokes before, you'd know the tweet was sarcastic. It mocked people whose defense of Roman Polanski from child rape accusations rested on the fact that he was a 'great artist'. It was an anti-rapist rape joke, like the kind that Amy Poehler, Tina Fey, Amy Schumer and even Jay Leno later told about Bill Cosby.
We're now at the point where people are being canned for jokes, by people who don't get the jokes, don't get feminism, don't get that maybe there should be some proportion in this thing, and don't get that right-wing men with a public record of misogyny might not be your best guides through all this. …
A conversation about inheritance, philanthropy, and aging with the philosopher Martha Nussbaum and the law professor Saul Levmore.
What is the right way to age? It's a question that isn't explored enough in American society, where, seemingly, people are expected to be forever young, until, suddenly, they are not. Reflecting this binary, any writing about a long life's final decades tends toward extremes. On one hand, there are the accounts of heroic men and women who still put in more than 40 hours a week on the job in their late 60s and early 70s (a genre I like to call "retirement porn"). On the other, there are the articles warning about the dangers of not adapting a home for aging bodies, or the plague of financial scammers targeting lonely or cognitively challenged seniors.
That leaves out a vast middle, the space where many older people actually, you know, live their lives. Luckily, Martha Nussbaum, the renowned philosopher and ethicist at the University of Chicago, and Saul Levmore, the former dean of and a current professor at the university's law school, decided to explore that middle. The result? The recently published Aging Thoughtfully: Conversations About Retirement, Romance, Wrinkles, & Regret.
The book's final chapter, "Giving It Away," discusses what people should do with their money before they die, and how they could arrange for it to be dispersed when they are no longer alive. For The Atlantic's series on philanthropy, "Who Gives?," I spoke to Nussbaum and Levmore about these questions, and our conversation touched on why people give money to charity in the first place as well as the benefits of giving those funds to, among other places, the opera. (Spoiler: They disagree.) The conversation that follows has been edited for length and clarity. …
The South American country's move to full legalisation of cannabis has so far proved a success, especially for its 17,391 users.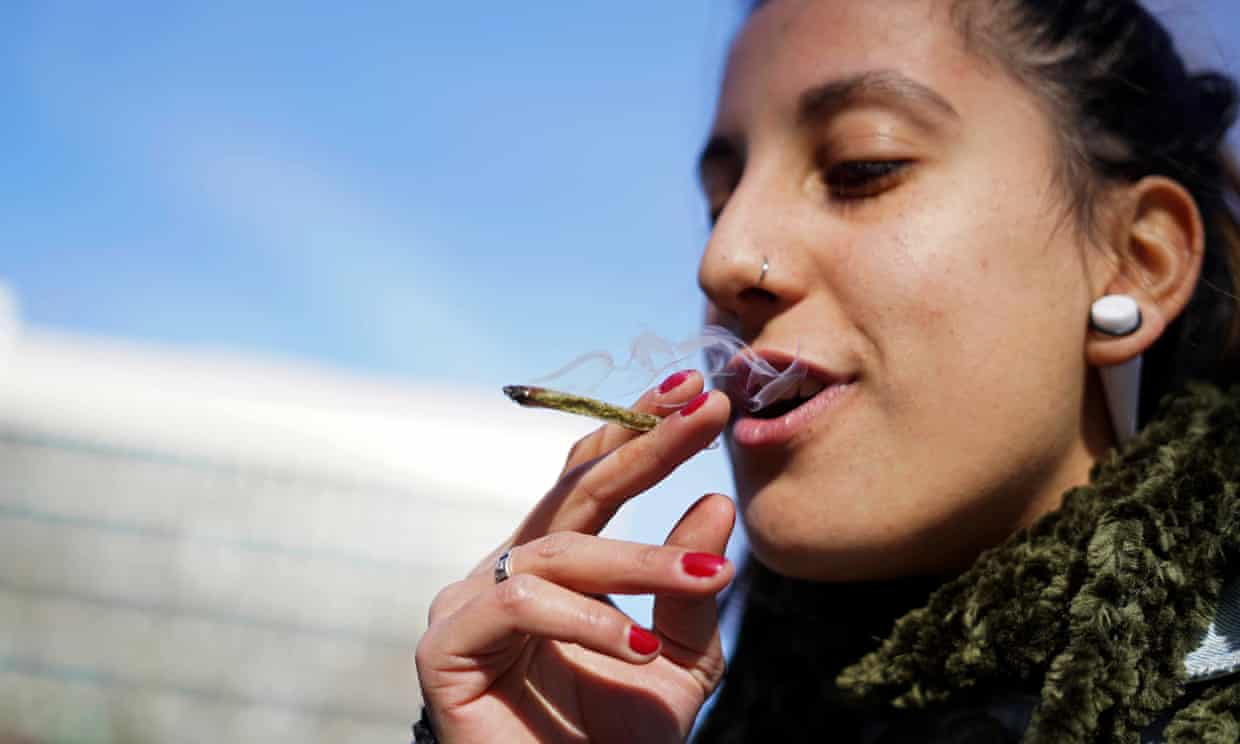 Luisina Mezquita smokes a joint of legal marijuana she bought at a pharmacy in Montevideo, Uruguay.
Every afternoon a long queue of people gathers outside a tiny neighbourhood pharmacy in Montevideo. The shop is so small that they can only be let in one at a time. It's a slow process but the mostly young clients don't seem to mind. They stand outside or sit on doorsteps chatting in groups of twos and threes as they wait their turn in the warm southern spring.
A chemist inside in a green medical coat asks them each to press their thumb on a fingerprint scanner. The electronic device is connected to a central government computer that will either authorise or deny the purchase of their allotted 10 weekly grams of legal marijuana. It is a state-controlled, high quality product guaranteed to provide excellent highs.
"On the street 25 grams of marijuana would cost you 3,000 pesos, that's about $100 for something with probably a large amount of pesticide, seeds and stems," says Luciano, a young buyer who is next in line. "But here the same amount would cost you only $30, and it comes in guaranteed, premium quality, thermosealed 5g packs."
In July this year, tiny Uruguay became the first country in the world to legalise the sale of marijuana across its entire territory.
"The most important thing has been the change of paradigm," says Gastón Rodríguez Lepera, shareholder in Symbiosis, one of the two private firms producing cannabis for the government's Institute for the Regulation and Control of Cannabis. "Uruguay dived in at the deep end without too much international support. They said it wouldn't work. Well, it's working now." …
Being an undocumented immigrant is like playing the world's highest-stakes game of hide and seek. They're already been cut off from entire swaths of society, but under the, ahem, current political climate, things are getting worse. Authorities are now craftier than ever when it comes to nailing those disgusting criminals who dared to try to live a better life. For example …
#5. They Ambush People In Hospitals
---
ICE is back with a brand-new invention — Immigration and Customs Enforcement, that is. Some branches have tried to visit hospitals to "develop potential sources of information," despite the fact that hospitals are considered "sensitive locations" that should be off-limits. Thankfully, hospital staff have been turning them away, but sometimes ICE officers actually need to go to the hospital when a detainee has a medical emergency, like when Sara Beltran-Hernandez got sick while detained in Praireland Detention Center in Alvarado, Texas.
Pictured: Sara, in a sadly ironic T-shirt.
She was taken to the hospital, where her family couldn't seem to find her. According to her lawyer, she wasn't even listed as a patient. Once the attorney finally tracked Sara down — alone, with possible brain damage, and only ICE agents and hospital staff to speak to (or for) her — they still weren't allowed to contact her. This went beyond not having a phone; ICE employed Magneto-level security protocols for a 26-year-old mother of two.
Ultimately, Sara was diagnosed with a brain tumor, though a benign and operable one. That was the last of her good luck. After over a week in the hospital, her doctor told ICE agents that she was in stable condition, but still in need of surgery. They took that as a cue to bring her back to the detention center, where she was held in isolation. She claims that she was basically dumped directly out of her wheelchair, tied up by the hands and ankles, and refused treatment. ICE has denied all of it, but fortunately, she was later released on bond, and ICE learned their lesson.
Just kidding. They recently did the same thing to a ten-year-old girl with cerebral palsy who was on her to way to the hospital for surgery. …
Connected

Rural Eastern Cape.
Mankosi is a remote rural community in South Africa's Eastern Cape province. It is home to almost 6,000 people. The nearest city is Mthatha, about 60 kilometres away, as a bird flies.
Most homes are not connected to the electricity grid; residents charge their cellphones at a local shop or shebeen, for which they must pay. Both data and airtime for those phones also cost a lot: a survey shows that people spend up to 22% of their income on telecommunications. This is money that could be spent on food, education, transport and other needs.
They're not alone. South Africa has some of the highest mobile voice and data costs in the world.
Yet, things are changing in Mankosi. A research team at the University of the Western Cape has worked with residents to develop a solar powered wireless community network.
The Zenzeleni Networks project—Zenzeleni means "do it yourself" in isiXhosa, the Eastern Cape's most prevalent language—is, as far as we're aware, South Africa's first and only Internet Service Provider (ISP) that's owned and run by a rural cooperative. Just like any ISP, Zenzeleni installs and maintains telecommunications infrastructure and also sells telecommunications services like voice and data. …
It seemed like a good idea at the time.
Not so much afterward, when I got driven downtown in handcuffs for spray-painting "Corporate Deathburgers" across a McDonald's.
I earned myself a long night in jail for my lack of judgment. But my family and friends — and perhaps most important, my college, the University of Michigan — never learned about the episode (until now). Because in 1985, a college student could get a little self-righteous, make a bad decision, face consequences and then go home, having learned a "valuable lesson."
These days I work as the senior communications officer at another college, where I spend a healthy fraction of my time dealing with students who've made mistakes of their own. I recognize myself in them: intellectually adventurous, skeptical, newly aware of life's injustices. They're also different from me in many ways: less Grateful Dead and Dead Kennedys, much more technology.
That's the important bit. Because for all of the supposed liberating power of their digital devices, they might as well be wearing ankle monitors. Technological connectedness has made it much harder for them to make mistakes and learn from them. …
Lawmakers pass regulations to cut down on delivery robots as pedestrians tire of sharing sidewalks with 'aggressively entrepreneurial wet dreams.'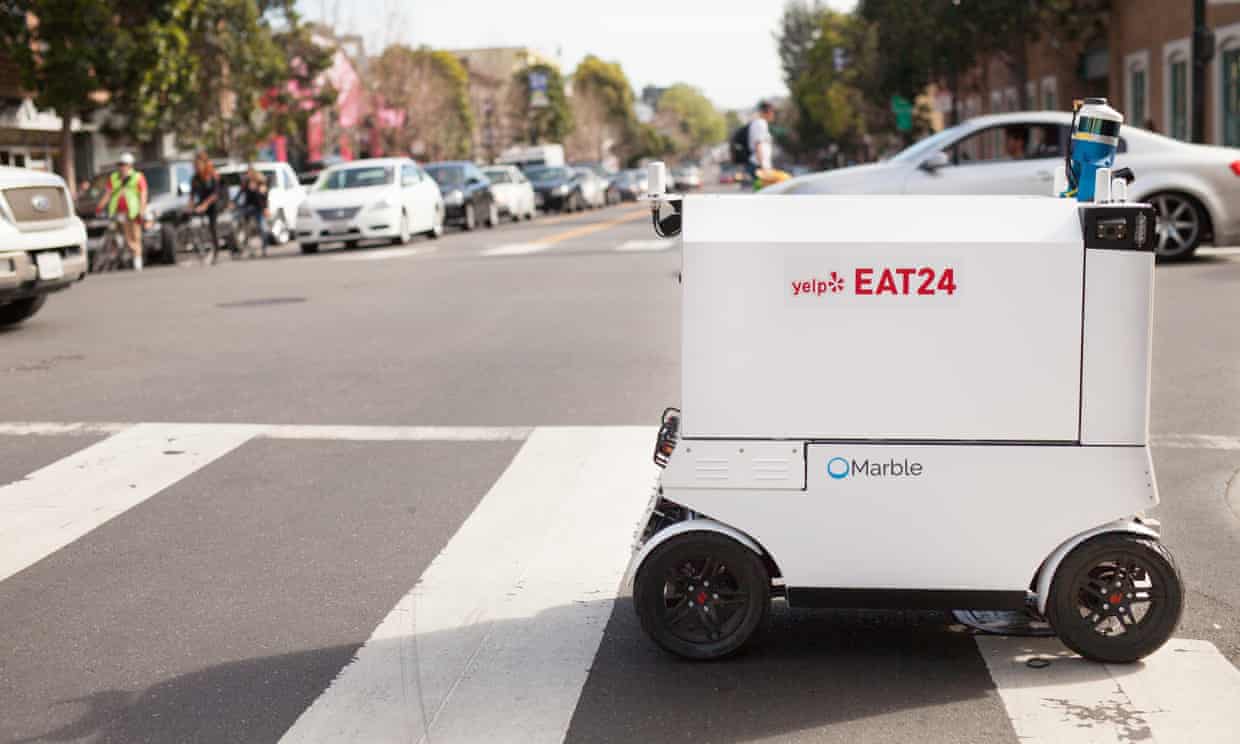 A Yelp Eat24 delivery robot. Pedestrians have complained about sharing the sidewalk with machines in San Francisco.
In something of a reversal for San Francisco, a city that has served as a petri dish for disruptive innovations in recent years, lawmakers this week passed strict regulations to reduce the number of delivery robots that technology startups have introduced to the city's sidewalks.
"Not every innovation is all that great for society," said the San Francisco supervisor Norman Yee, who authored the legislation. "If we don't value our society, if we don't value getting the chance to go the store without being run over by a robot … what is happening?"
Yee believes that his legislation is the "first and most restrictive" of its kind. Robot permits will be capped at three per company, and nine total at any given time for the entire city. The robots will now only be allowed to operate within certain industrial neighborhoods, on streets with 6ft-wide sidewalks, and must be accompanied by a human chaperone at all times.
It's a far cry from other jurisdictions, such as Washington DC, Virginia, Idaho and San Francisco's neighboring Redwood City, where lawmakers have acted to legalize sidewalk robots.
But in San Francisco, delivery robots have quietly taken to the sidewalks of over the past year. Companies including Marble and Starship are developing "robots as a service" business models, whereby food delivery apps contract with the robot companies to perform their deliveries. …
Nothing Abstract About It

Paul Nickelen's video of a starving polar bear is a stark reminder.
The devastating effects of climate change can feel abstract when we talk about carbon-dioxide levels and shifting weather patterns. But they are distressingly real when we see what they're doing to the world's polar bears.
Nature photographer Paul Nicklen recently posted a video to social media that he shot on Somerset Island, in the Canadian territory of the Arctic Circle. The clip shows a dying, emaciated polar bear searching desperately for food, its skin hanging from its bones, its legs so weak it can hardly stand. "The muscles atrophy," he wrote in the caption. "No energy. It's a slow, painful death."
Polar bears have become the poster animals for climate change because they offer a clear, concrete image to convey the harm global warming is already beginning to wreak on the planet. "We are a visual species," Nicklen told the Washington Post (paywall). He had traveled to the remote region where he shot the footage with Sea Legacy, a group that uses visual storytelling to prompt action on climate change. …
Populus Tremuloides

If a trembling giants falls in the forest and no one hears it, does it make a sound?
The largest and oldest living organism on Earth is the Pando clone, a quaking aspen colony of over 47,000 trees in Utah that stretches over 106-acres, weighs 13 million pounds, and is 80,000 years old.
Pando is Latin for spread, or extend, and that's just what Pando does. A single root system connects the trees, which emerged from one seed a millennia ago. An enormous expanse of genetically identical sprouts are linked underground, growing into unfortunately tasty treats for the many mule deer in the region.
The grove has almost as many monikers as tentacles. It's also called "the trembling giant," for the quaking aspen's Latin appellation populus tremuloides. Despite the trees' trembling leaves, Pando isn't that fragile, or it wouldn't have survived so long and spread so far and wide. But it is tired, so foresters are helping the organism relax and rejuvenate.
"If we had a community of 50,000 people and every one of them was over 80 years of age, we wouldn't have a very sustainable community," Paul Rogers, an ecologist at Utah State University and the director of the Western Aspen Alliance, told Live Science. "That is exactly what we're looking at with the Pando clone… The system is not replacing itself; it's highly out of balance."
Unlike other forests, a cloned organism like the trembling giant in Utah can't be replanted. It must be regenerated. …
First, Do No Harm

Become an expert search doctor.
Is googling your symptoms a good idea or a bad idea? One way to find out is to google this question. Type "googling symptoms" into Google's search bar, and you'll be confronted by a slew of headlines like "Doctors really, really want you to stop googling your symptoms" and "Here's why googling your symptoms is a terrible idea" and even "Googling your symptoms is more dangerous than cancer itself." In seconds, you will understand that googling your symptoms is a terrible thing to do and that you should stop immediately. Still, about 1% of all Google searches, which corresponds to millions of searches, are related to medical symptoms.
But it isn't true that there's no upside to googling symptoms and health questions. Google is a powerful information tool, and we should make it work for us when it comes to our health.
The reality is that the harm of googling symptoms has been hyped up so much that we've lost sight of whether there are ways Google can help us. Our concept of how people use Google to answer their health questions might even be somewhat skewed. For example, we tend to think of it as something people do to understand their own symptoms, but research indicates that at least 50% of people who google symptoms and health questions are doing it on behalf of someone else.
Google might be a useful tool to help guide people in their interactions with providers, but if, and only if, we know how to evaluate the information we find and monitor our emotional responses to it. …
Video Goodnesses
and not-so-goodnesses
MIT scientists created a new way to mix oil and water. It costs less money and energy than current industrial processes.
Tiffany Haddish discusses her memoir, "The Last Black Unicorn," which looks back on Richard Pryor's comedy advice, her time in Scientology and her storied dating life.
THANKS to Comedy Central and The Daily Show with Trevor Noah for making this program available on YouTube.
We've all received an unwelcome holiday gift. In fact, around 70 billion dollars' worth of presents are returned every year in the U.S. In this video, The Atlantic writer Derek Thompson explains why many presents amount to what economists call "deadweight loss": the company wasted time making it, the giver wasted time buying it, and the receiver wasted time returning it.
So, how do we design a gift-giving formula that strikes the right balance between efficient, practical, and sentimental?
I decided to put our two babies out together on top of the Macaw playpen after morning feeding, and this was the result. So cute!!
Max listening to Jessica Simpson singing and a few other clips.
FINALLY . . .

Editor's note: On November 30, we published a piece about The Great Love Debate, a self-described "nationally touring series of live Town Hall-style forums on love, dating and relationships," which had just proclaimed Denver the worst town for dating. To get the goods, Michael Roberts interviewed host Brian Howie, who says the problem is mostly the men of this city…but women aren't totally innocent. Katie B., a blogger at whyweswipeleft.com, responded to our story (below). The Great Love Debate will be back in Denver on Wednesday, December 13; find tickets at denver.improv.com.
Dear Denver Westword, Michael Roberts but mostly Brian Howie,
Yesterday, three individuals sent me your recent article "Denver Is USA's Worst City for Dating Because Mile High Bros Are Lazy," assuming that it would support many of the claims I have made on my blog. I was very excited to look it over, but my excitement died in the very first paragraph with: "And while this behavior exasperates plenty of women, most of these potential partners let them get away with it." Once again, women are being blamed for men's crappy behavior.
Please allow me to use the "teach back" method, to verify my comprehension of what I just read. Dating in Denver blows because there is an epidemic where a large percentage of single Denver men are apathetic and lazy (agreed). Dudes don't know how to treat a woman with any sort of enthusiasm or desire to make her feel special (agreed). There's a college mentality of hanging out in groups rather than devoting individual time and attention on women, even when the men are well into their 30s and 40s (agreed). And I absolutely agree with the statement that "Denver women are pretty much as good as you're going to get. But the men in Denver — and I'm generalizing — are as passive as any we've come across considering what they have there and their ability to do better." But after all of that, we scroll down to this old chestnut, "[T]hey're not being trained by the women in Denver. So that's partially on them. Actually, it's a lot on them."
According to you, it is my job as a woman to train you, so let the training commence. It is not a woman's fault, not now, not ever, that a man doesn't treat her well. You [men], are not puppies. I don't need to rub your nose in all of your terrible behavior. Humans should be decent to each other; all genders, all races, all sexualities. We should all hold ourselves accountable.
"Denver women are pretty much as good as you're going to get." This makes me curious, if Denver women are good, and it's our job to make Denver men good, then how did we get this way without anyone training us? Was there some ancient third gender that came down from the distant planet of Basic Human Decency? Unfortunately, there was not. No demographic trained us to become "as good as you're going to get." This leads me to believe it is possible for men to become decent on their own. …
Ed. More tomorrow? Probably. Possibly. Maybe. Not?