Pictured above: People fill out paperwork while waiting to cast ballots in Georgia, a state at the center of concerns over voting security.

Sixteen months ago, Marilyn Marks was just another political junkie watching a high-profile congressional election on her laptop when she saw something she found abnormal and alarming.
The date was 18 April 2017, and the election was in Georgia's sixth congressional district, where the Democrats were hoping to pull off an upset victory against a crowded Republican field in the wake of Tom Price's (short-lived) elevation to the Trump cabinet as health and human services secretary.
By mid-evening, Jon Ossoff, the leading Democrat, had 50.3% of the vote, enough to win outright without the need for a run-off against his closest Republican challenger. Then Marks noticed that the number of precincts reporting in Fulton County, encompassing the heart of Atlanta, was going down instead of up. Soon after, the computers crashed.
Election officials later blamed a "rare error" with a memory card that didn't properly upload its vote tallies. When the count resumed more than an hour later, Ossoff was suddenly down to 48.6% and ended up at 48.1%. (He lost in the run-off to Republican Karen Handel.)
Marks was not rooting for Ossoff – she is a registered Republican and lives in North Carolina, two states to the north – but she cared deeply about the integrity of the vote and she knew that Georgia's 15-year-old all-electronic voting system was almost impossible to audit because it produced no independently verifiable paper trail to check against the computer-generated tallies.
Was Ossoff robbed, or did the system right whatever went wrong? The point, Marks felt, was that it was impossible to be sure. …
---
How American Elites Ruined Their Society in a Way the World Hasn't Seen Since Weimar Germany
Take a good, hard look at the chart above. I don't usually write essays about charts— but this one's different. It's American collapse in four lines. It says that American elites mismanaged their economy so badly, so fatally, so totally, the rich world hasn't seen the like since Weimar Germany. They created a capitalist utopia — but the problem is that that's everyone else's dystopia.
To understand the story of this gargantuan, historic failure — not managing a society in any way resembling "well", or even "sanely" — it's probably best to understand what Europe did right — and then come back to what America did wrong. Which, in short, is that it embarked on one of history's greatest fools' quests since alchemy, a utopian mission to turn the lead of capitalism into the gold of prosperity for everyone. But lead doesn't turn into gold.
Why didn't Europe's "labour share of income" — that is, how much regular people receive— decline, like in the States? The simple answer, of course, is "more social democracy, and less capitalism." But what does that mean? It means that European structures and institutions are radically different from American ones — so different, that many Americans have little idea such things even exist.
The first way that Europe differed was in how economics institutions "interact" — deal with one another. In Europe, unions weren't destroyed — they thrived. Deals between unions and companies are brokered formally or informally by governments. But that's just the beginning. In Germany, for example, worker's representatives sit on company boards. In France, collective bargaining is a right, negotiated by sectors, for example, among all waiters and restauranteurs — not individual companies and employers. In Scandinavia, companies have to account for their social costs and benefits. There's much more — but this is just an essay. The point is that Europe developed better mechanisms for economic interaction —fuller ones, if you like, which ensured more stable, opportune, and empowered societies. Average people had genuine power to demand a fairer more of an economy's gains — as they should, not just for moral reasons, but also socio-political ones, which we'll come to. …
---
FINANCIAL REFUGEES

All gone.
One would-be protester skulked on the streets around the Westin Hotel in Beijing's financial district until 3 am, heading back only when police had finished their searches. Another, Alex Li, carpooled part of the way from northern Harbin province to avoid police surveillance on public transport.
The two were among thousands of middle-class Chinese from all over the country who were trying to make it past China's high-tech surveillance to demonstrate in Beijing's financial district on Monday (August 6). It was the latest flare-up of resentment among Chinese people aspiring to live a better life and being thwarted.
In recent years, many in China's middle classes poured their savings into peer-to-peer lending platforms, known as P2P for short, drawn in by promises of high returns. But amid a larger effort to curb financial risk to China's economy, financial regulators tightened rules for these platforms, leading many of them to collapse without returning investor money. In Li's case, the main stakeholders of Yonglibao, which he had put his money into, suddenly disappeared in mid-July (link in Chinese), he told the South China Morning Post. By the time its founders abandoned its offices, the platform had amassed a transaction volume of 7.6 billion yuan ($1.1 billion). The other protester told Quartz he had lost the equivalent of $50,000 on a platform called iqianjin.com—its name is Love Money, though it can also be understood as "Get Ahead" or "Money Coming."
Both hoped a protest in Beijing would compel the government to help people recover their money from the dozens of P2P platforms that stopped allowing fund withdrawals last month. Instead, they were foiled by hundreds of uniformed police who locked down the area, patrolling corners near the offices of the central bank and securities regulators, and checking identity cards. More than 120 buses were brought to the area to take the stealth protesters away, according to a reporter with AFP.
"P2P finally turned from 'peer-to-peer' to 'police-to-people,'" wrote one commenter on Twitter. …
POINT OF REFLECTION: It may not have been very useful to post a hyperlink to an article written in Chinese.
---
Western civilization is hit or miss. Sometimes you get Waffle House, sometimes you get genocide. But once you push aside the white people who are too into their whiteness, there's definitely some stuff to like. In fact, some non-Western countries are into Western traditions waaaay more than we are, and their interpretations can get pretty weird. For example …
5. Butler Cafes, Where Japanese Women Get Served By White Nerds
---
Back in the early 2000s, Yuki Hirohata interviewed 200 Japanese women to see what they'd want in a female-oriented restaurant. Although Hirohata probably expected answers ranging from Hello Kitty napkins to anywhere they could avoid subway gropers, the most common request was a place where women could practice their English with sexy foreign men. You'd assume that meant crab cakes eaten off the abs of Rock lookalikes, but Japanese women have slightly different tastes. When Hirohata opened the Princess-themed Butlers Cafe in 2002, she made sure to exclusively employ only the sexiest foreigners the West had to offer: nerdy white dudes who look like they'd lose a fight to a stiff breeze.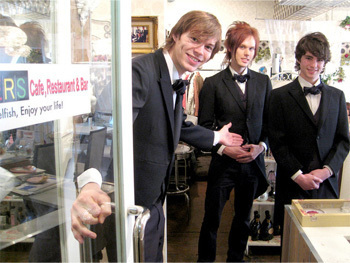 Great, exactly what every dude with an anime body pillow needed: encouragement.
And lest you think this is one of those strange one-off fad restaurants that cater to a niche clientele, several of these have been humming along for years, all staffed by every dude from high school who wouldn't shut up about Sailor Moon. These guys serve cake, flirt, and help edit patrons' English-language diaries for clarity and significantly more instances of the phrase "dope-ass white boys." Women are treated like princesses, which includes the option of wearing a tiara or receiving a little bell to summon their butler.
The question that immediately springs to mind is "Why would anybody want this?" Or if you're currently wearing three pieces of Overwatch merchandise, "Where do I apply?" These customers don't want hyper-masculine men; they want hyper-polite men who will let them unwind from their stress. The interest comes from Japanese women looking for a way to reject Japanese men, or at least the ones they see as "disrespectful, narrow-minded, and unable to care for themselves." Boy are they in for a rude awakening about American nerd culture. …
---
GRIM READING

There's a person behind the prescription.
Sale of prescription opioids in the US quadrupled in the 15 years between 1999 and 2014, peaking with the 255 million opioid prescriptions US doctors wrote in 2012 alone. The nationwide prescription rate has fallen every year since, yet the damage is done.
An estimated 115 people in the US die each day from opioid overdoses, both from prescription drugs and the illicit ones many people turn to after becoming addicted to legal substances. And too many doctors still write way too many opioid prescriptions.About 25% of US counties filled at least as many opioid prescriptions as there were residents in 2016, according to the US Centers for Disease Control.
Reducing prescriptions is just one step toward reducing opioid deaths. To that end, a group of doctors devised an experiment, with results recently published in the journal Science. Over 12 months in 2015 and 2016, researchers looked at a group of 861 doctors who had prescribed opioids to patients who later died from an overdose. Of those, 388 received a letter from the medical examiner's office in southern California's San Diego County to tell them a patient of theirs had died—something many of the doctors would never have otherwise known.
"This is a courtesy communication to inform you that your patient [name, date of birth inserted here] died on [date inserted here]," the letters began. "Prescription drug overdose was either the primary cause of death or contributed to the death."
The letters offered statistics on the county's annual opioid deaths (250 to 270), and five tips for better prescribing practices, such as tapering the dosage and not prescribing combinations of opioids and tranquilizing drugs (a particularly lethal cocktail). …
---
BEAK TO WORK

The cleanup wing.
Crows, often praised for their high intelligence, are being put to work as trash collectors in a theme park in France.
Nicolas de Villiers, head of the Puy du Fou historical theme park in the western Vendée region, told the AFP news agency that a team of six rooks—members of the Corvid family—had been taught how to pick up small bits of trash and cigarette ends and put them in a small box. Each time they deposit a piece of trash, the box delivers them a tasty treat.
"The goal is not just to clear up, because the visitors are generally careful to keep things clean," Villiers told AFP, noting that the birds also "like to communicate with humans and establish a relationship through play."
Research frequently throws up new discoveries of just how smart these birds can be. A study from Cambridge University and the University of Auckland found that New Caledonian crows can design basic tools (liked hooked sticks and barbed ones made out of plant leaves) from memory, just like humans. The researchers said that "mental template matching" allows crow culture to pass on tool-making traditions. …
---
Video Goodnesses
and not-so-goodnesses
Organizations can hire fake advocates who create the illusion of real support for their message. It's a shady practice called astroturfing that can warp the public perception of anything…even astroturfing.
THANKS to HBO and Last Week Tonight for making this program available on YouTube.
---
Every day, John Correia combs through dozens of violent attacks caught on mobile phones, security cameras, CCTV, and police body cameras. The videos are sent to him by a legion of fans across the globe who seek his advice. After carefully analyzing each one, he breaks down lessons in self-defense videos he posts to his YouTube channel.
A former evangelical minister, Correia is on a mission to teach his followers how to avoid, survive, and "win" any violent altercation they may encounter. "If you can't be safe, be dangerous," says Correia in this new documentary from The Atlantic. Read Graeme Wood's full article: https://www.theatlantic.com/magazine/…
---
---
炭酸水が入っていた箱です。There were many soda water of PET bottles in this box.
---
FINALLY . . .
Ruslan Vakhapov says 'desire for revenge in a legal way' led him to expose brutality in prison system.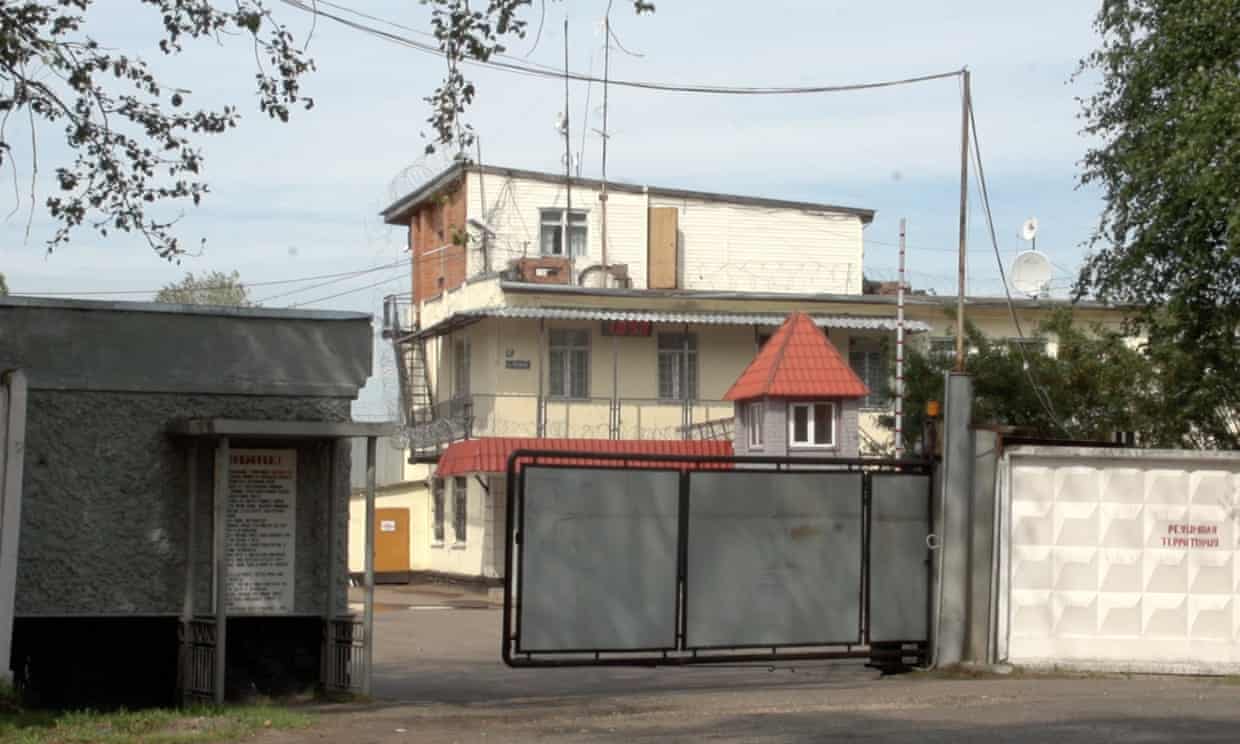 Prison guards from a Yaroslavl prison in Russia are on trial for the torture of an inmate.

Ruslan Vakhapov recognised all the prison guards on trial last month for the brutal torture of an inmate in a Yaroslavl prison. They used to be his jailers too.
Now free, the former inmate has turned activist, and said he had come to report from one of Russia's most important prison torture cases in the past decade.
His testimony to the Public Verdict Foundation, a Russian human rights NGO, about the brutality meted out inside the prison was later backed up by a 10-minute video of an inmate, Evgeny Makarov, being slowly beaten unconsciousness.
"I know all these men, I know them all well," Vakhapov said in a phone interview from Yaroslav, where he is following, as a representative of Public Verdict, the trial of those accused of beating Makarov. "Who did what, who beats prisoners, who doesn't. During five and a half years inside, you learn these things."
Vakhapov had already made a name for himself as a whistleblower against rough treatment before he arrived at Yaroslavl's IK-1, a correctional facility an investigation into which has led to six officers being arrested and further 17 suspended, as well as a senior prison official saying he was "ashamed" of their conduct. …
---
Ed. More tomorrow? Probably. Possibly. Maybe. Not?