Looking ahead from COP22

From across the ocean, I'm imagining the sun still rises and sets on the Front Range, that daily life goes on after the election. As we come to the end of COP22, the U.N. Climate Talks in Marrakesh, Morocco, I prepare to return home at a significant moment in our nation's history. As we hurtle ever-faster toward the brink of climate disaster, a climate-change denier is packing his bags for the White House. My main report back from COP22 is both sobering and hopeful: At this moment, global policy cannot save us. COP22 has shattered any remaining hopes that the global political class can address climate justice goals — it is us, at the grassroots, that must keep fossil fuels in the ground and build life-sustaining systems and solutions.
My time at COP22 has been a whirlwind of meetings, thousands of emails, new connections and late-night strategy conversations. COP22 consists of both a formal negotiating space and a movement space where activists from around the world gather. Beneath the fast pace is a persistent, unanswered question bubbling up amongst U.S. youth and movement leaders — how can we win climate justice campaigns and realize the stated goals of the Paris Agreement in the coming years? The task is daunting. We have been scrambling since the election. The chaos here is palpable, and no one actually knows what will happen next. And yet, as an organizer, I say bring it on. …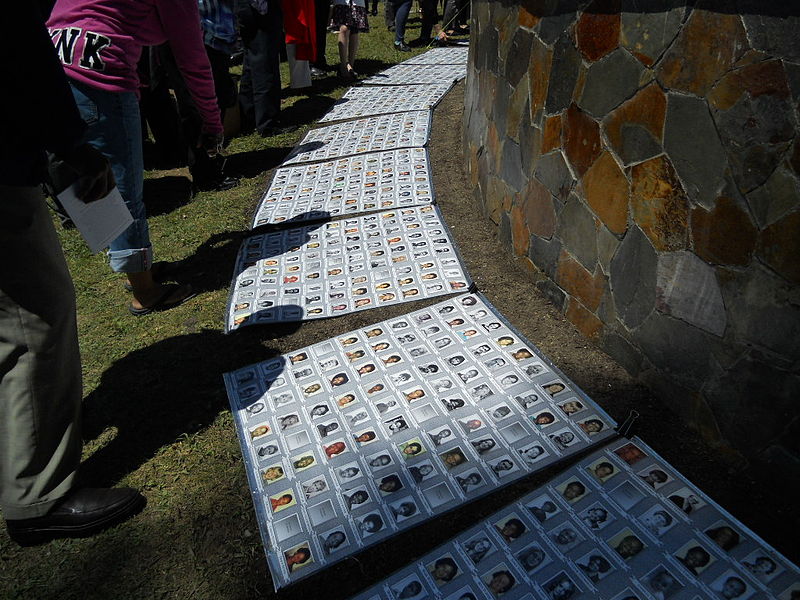 This Day In History: November 18, 1978
On this day in history, 1978, over 900 Americans died in a South American cult commune on the order of Reverend Jim Jones. Many of his followers willingly drank a poisoned concoction that led to their deaths, others were forced to do so at gunpoint. The children of the cult were the first to die; their parents or nurses used syringes to administer a mixture of fruit juice and cyanide down their throats before taking their own lives. Only 33 members of the cult, or the People's Temple as it was also called, managed to escape with their lives.
The history of what led up to that horrible day began in the 1950s, when James Warren Jones started a ministry based heavily on socialist principles. After a move to California in 1965, the church expanded and began more actively supporting left-wing political ideology. With the IRS breathing down his neck and mounting negative attention from the press, Jones convinced his followers that escaping the evils of the American way of life in the jungle of Guyana and creating their own Utopian society was their best bet. In 1977, they made the move to their South American paradise, a small tract of land that became known as Jonestown. …
When Nabanita De scrolled through her Facebook feed recently, she felt afraid. There were so many posts with competing information and accusations about Donald Trump and Hillary Clinton that she didn't know how to begin deciphering the fearmongering from the reality.
The social media site has faced criticism since the presidential election for its role in disseminating fake and misleading stories that are indistinguishable from real news. Because Facebook's algorithm is designed to determine what its individual users want to see, people often see only that which validates their existing beliefs regardless of whether the information being shared is true.
So when De, an international second-year master's student at the University of Massachusetts at Amherst, attended a hackathon at Princeton University this week with a simple prompt to develop a technology project in 36 hours, she suggested to her three teammates that they try to build an algorithm that authenticates what is real and what is fake on Facebook.
And they were able to do it. …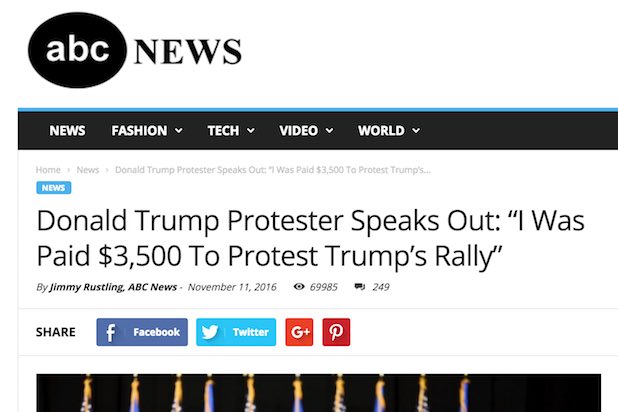 No, this is not an Onion article. This is real life.
Paul Horner, 38, has been writing completely made-up news on his "satire" site abcnews.com.co (which even uses a logo designed to mimic the real ABC News logo) for year. But he is just now realizing the damage fake news disguised as real news can do.
"Honestly, people are definitely dumber. They just keep passing stuff around. Nobody fact-checks anything anymore — I mean, that's how Trump got elected," Horner told the Washington Post in an interview published Thursday. "He just said whatever he wanted, and people believed everything, and when the things he said turned out not to be true, people didn't care because they'd already accepted it. It's real scary. I've never seen anything like it." …
DEGREE OF DIFFICULTY: "My sites were picked up by Trump supporters all the time. I think Trump is in the White House because of me."
If we believe the mainstream media, the US seems to be in a panic right now. We are being told that people are afraid and that we are entering a new dark age.
But it's okay. Everything is going to be fine.
The world is not as terrible a place as you think. Your brain is hardwired to make you think things are much worse than they really are. Life might not be perfect, but it's better than it's ever been before.
10. The Media Tricks Your Brain Into Thinking Things Are Worse Than They Are
There's a psychological reason why you think the world is such a dark place. When we watch or read the news, our brains don't fully realize that we're looking at an artificial screen. They think that the real world we live in is what we see in these horrifying stories—which have been scavenged from every corner of the world.
It's a concept called "Mean World Syndrome." When it was first developed in the 1990s, the man behind it noted that the average child watched 8,000 murders on TV by the age of 12. When we see that much violence, we think that's what life really is. We see terrorist attacks in France, cartels in Mexico, or racist hate crimes in the US, and our brains react like it's all happening outside our window. …
After Donald Trump wins the presidency by peddling predominately false campaign narratives, The Best F#@king News Team gathers to mourn the death of facts.
THANKS to Comedy Central and The Daily Show with Trevor Noah for making this program available to embed.
Rapper Q-Tip from A Tribe Called Quest discusses the group's sixth and final album "We Got It From Here," which looks at the political exploitation of marginalized groups.
Art Sisneros, one of 538 electors with the final say on who becomes the next U.S. president, says he's undecided on how to vote.
The 40-year-old family man from Dayton is among the 38 people chosen to represent Texas in the Electoral College. That group will gather Dec. 19 in 50 state capitols around the country to vote on who wins the election.
If all electors cast their votes in keeping with the winner of each state, then Donald Trump wins, even though Hillary Clinton received more popular votes overall.
Sisneros, an industrial salesman, told Texas Monthly on Wednesday that he was still mulling things over.
"I honestly still have not made my decision yet," he told the magazine. "I've got three options – to vote for Trump, to be faithless and vote for somebody else, or to resign."
His use of the word "faithless" is not melodrama; it's from the technical term, "faithless elector," or someone who goes rogue and does not vote for the candidate who won that elector's state. …
Crypts contain more than just human remains. These subterranean skeleton sanctuaries hold secrets. Artistic masterpieces, relics, and even evidence of disease have been recovered from crypts. These mysterious artifacts tantalize archaeologists with the window they provide into the deceased's world. Many more enigmas await discovery in the shadows of crypts.
10. Siberian Death Masks
In 2015, researchers found 20 death masks in an ancient crypt in Siberia's Kemerovo region. The tomb belonged to the enigmatic Tashtyk people, warriors who controlled large portions of Siberia between 300 BC and AD 500. The crypt was dug into the ground, surrounded by a stone wall, and covered with a log roof. The massive burial pit took two years to excavate.
Archaeologists discovered the remains of 30 people who had been cremated and placed inside dummy bodies made of fabric and leather. "Death masks" of gypsum provided the dummies' faces. Some were surprised to find that the Tashtyk death masks have stereotypically European features. The remains of children were discovered outside the tomb. None of the youngsters had death masks. …

The story is, by now, well-known: In September of 2014, a group of college students traveling by bus were attacked and kidnapped in Iguala, Mexico. The 43 young men, all students from Ayotzinapa Rural Teachers' College haven't been seen since. They Took Them Alive is a new documentary that charts the frustrations of the failed and stifled investigation of the students who vanished, with an intimate focus on the families of the missing. For their friends and loved ones, justice has been out of reach and closure is elusive. "A missing person, as long as they haven't turned up dead, is still missing. With death comes resignation. But this doesn't let you live," says Mayra, the aunt of a student named Christian. "We have hope that we'll find them. Because if we give up or say, 'They must be dead by now,' it's like killing them ourselves."
They Took Them Alive was produced by Field of Vision, and directed by Emily Pederson. …
Spokesman for president-elect's transition team said he 'never advocated for any registry or system that tracks individuals based on their religion', which is false
A spokesman for the Trump transition team has claimed that Donald Trump "never advocated" for a registry tracking individuals based on their religion, despite video evidence showing Trump doing exactly that.
Jason Miller, the communications director for the transition team, released a statement on Thursday in response to reports that the incoming administration has been considering a register for Muslims arriving in the US:
President-elect Trump has never advocated for any registry or system that tracks individuals based on their religion, and to imply otherwise is completely false.
The national registry of foreign visitors from countries with high terrorism activity that was in place during the Bush and Obama administrations gave intelligence and law enforcement communities additional tools to keep our country safe, but the president-elect plans on releasing his own vetting policies after he is sworn in.
Unfortunately for Miller, his statement is directly contradicted by this video of Trump at a campaign event in Newton, Iowa, in November 2015. …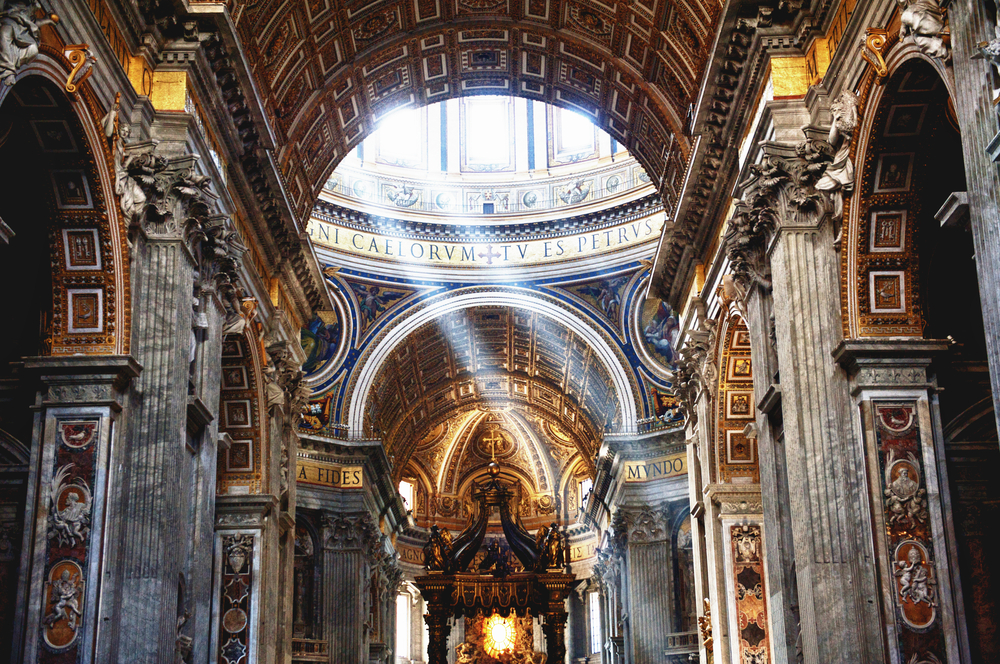 This Day In History: November 18, 326 C.E.
Ever since the apostle Peter was crucified in Rome during the reign of Nero in 65 C.E., Christians have venerated the spot where he was martyred and buried. Peter had only been dead a few decades when Pope Anacletus built an oratory over his tomb to honor the deceased saint.
When Constantine came to power in the fourth century and made Christianity the state religion of the Roman Empire, he ordered a lavish basilica to be built on that spot. The emperor himself laid the foundation for the building in 315 C.E. No expense was spared – the church was bedecked with exquisite marble adornments, mosaics and rare jewels; rich tapestries and draperies adorned the magnificent interior spaces. The flooring covering the tomb of St. Peter was shimmering silver and gold.
Pope Silvester I consecrated the basilica on November 18, 326 C.E. For over 1,000 years, pilgrims flocked to St. Peter's Basilica to venerate the relics of the first pope and to stand in awe of the grandeur of his church. The building eventually became structurally unsound after over a millennium of service, and Pope Julius II ordered a new church to be built in 1506. …
The same technology that helps stores track shoppers may one day replace Wi-Fi.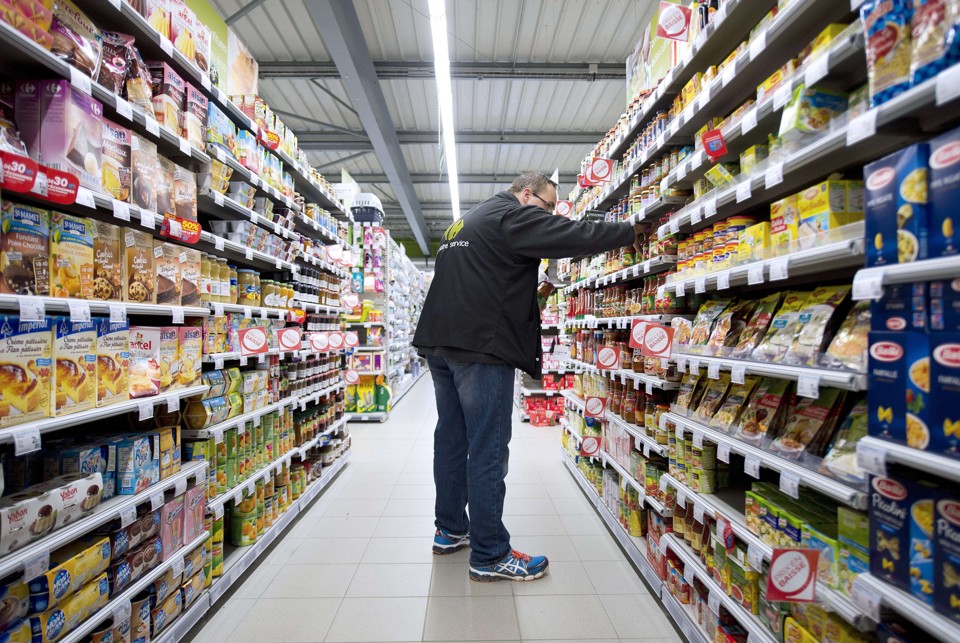 In an enormous grocery store in northern France, the lights above the aisles aren't all they seem to be. They look ordinary—more than a mile and a half of fixtures exuding bright light, folded into a grid overhead—but they're actually flickering faster than the human eye can see. The unique patterns each individual section of lighting emits are a 21st-century twist on Morse code, meant not for people, but for the cameras on their phones.
If shoppers grant the store's app access to their smartphone's front-facing lens, the phone can watch for the lights and use the pulses to pinpoint its location. Doing so allows the app to plot the best routes for shopping lists, tracking people as they travel through the store. (The guidance might come in especially handy for first-time visitors to the 84,000-square foot Carrefour "hypermarket," the French equivalent of a Walmart.)
Location information is one of the most valuable types of data a retailer can gather from its customers, says Joseph Turow, a professor of communications at the University of Pennsylvania. (I interviewed Turow about the future of retail surveillance last month.) If a retailer knows where you spent most of your time inside of a store, it can follow up with discounts for a product you looked at but didn't buy—either after you've left the store, to encourage a return trip, or even right as you're lingering in the aisle, to nudge you to buy it now. In the U.S., Target and Walmart are rumored to use lighting technology to locate smartphone-toting shoppers, but aren't forthcoming about their plans. …
Start with this: When you call us the Rust Belt, you demean our work and diminish who we are.
To create wealth in America, we make it, we grow it or we mine it. In the industrial Midwest, we do all three. Ohio has the largest manufacturing work force in the country aside from California (which has three times our population) and Texas (more than twice our size). And we make things with dignity.
Many years ago, as a state representative, I spent countless hours at United Steelworkers Local 169 in Mansfield, a small industrial city north of Columbus. I would listen to workers who stopped in at the hall before or after their shifts. I learned how they made steel and how they built cars. I learned that strikes are always an act of back-against-the-wall desperation because workers never make up for the wages lost, no matter how good the new contract is or how briefly they are on the picket line.
They worked hard. Most gladly accepted six-day workweeks because of the overtime pay. Most of these workers, especially those lucky enough to carry a union card, had a shot at upward mobility. They owned modest houses, they could buy new cars every four or five years, and they could send their children to the local Ohio State campus or to North Central Technical College. …
Not getting into your dream college is sort of like sending a long, heartfelt love letter to your celebrity crush, only to be served a year-long restraining order in response. It can be a very humiliating and frustrating experience, mainly because you are never told exactly why your application got rejected. We decided to shed some light on that, so we reached out to Kevin Martin and Michael, who work at the admissions offices of some top American and British universities, and we learned that …
#6. The Entire Admissions Process Can Be Arbitrary
There are all sorts of reasons why you might be rejected from your first-choice university: the quality of your grades, your lack of after-school activities, the fact you play the guitar when the 7-stringed guqin would clearly had been the better choice. In some cases, though, it might've been down to the admission officer's lunch.
"College admission often isn't fair," Kevin explains. "One thing that irritates me is some universities give the impression that the review of your application is some exact science. It simply isn't. There is a ton of interesting psychology behind admissions review, similar to judicial leniency in the criminal justice system. Judges are more likely to be lenient immediately after lunch and least lenient just before. It's the same with college. The reviewer's mood, internal biases, and all sorts of arbitrary and unknowable factors come into play. It is a human and thus imperfect process almost entirely outside of your control," and that's really underselling it.
"That burrito bowl just isn't sitting right.
Maybe I'll feel better if I kill some dreams."
…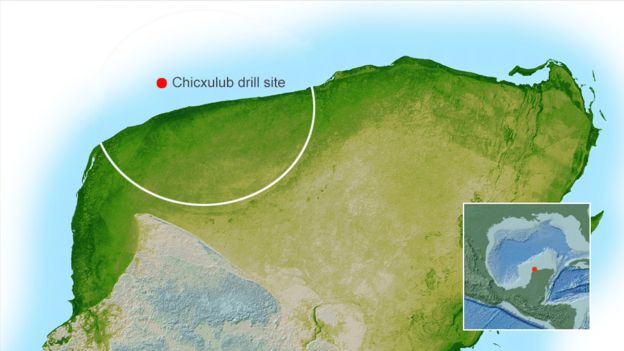 The outer rim (white arc) of the crater lies under the Yucatan Peninsula itself, but the inner peak ring is best accessed offshore
Scientists say they can now describe in detail how the asteroid that wiped out the dinosaurs produced its huge crater.
The reconstruction of the event 66 million years ago was made possible by drilling into the remnant bowl and analysing its rocks.
These show how the space impactor made the hard surface of the planet slosh back and forth like a fluid.
At one stage, a mountain higher than Everest was thrown up before collapsing back into a smaller range of peaks
.
"And this all happens on the scale of minutes, which is quite amazing," Prof Joanna Morgan from Imperial College London, UK, told BBC News. …
Post-truth DOES seem very similar to his word "truthiness."
THANKS to CBS and The Late Show with Stephen Colbert for making this program available on YouTube.

Stephen Colbert has beef with the Oxford Dictionaries' new "Word of the Year."
The "Late Show" host lightheartedly claimed he was "pre-enraged" with the institution's editors for selecting "post-truth" as 2016's most important word.
"First of all, post-truth is not a word of the year, it's the two words of the year, hyphens are for the weak," the comedian said.
His second and more major concern, however, was that "post-truth" was "clearly a rip-off of my 2006 word of the year 'truthiness.'"
…
Swamps aren't just for Hollywood anacondas. They're perfect history pockets. Their general inaccessibility allows artifacts, bodies, and even cities to await discovery without being damaged or looted. The physical conditions of marshlands can sometimes slow down deterioration, taking snapshots of the past that would otherwise have been lost.
10. Swamp Ghost
Months after the Pearl Harbor attack in 1941, US bombers raided the Japanese at Simpson Harbor, Papua New Guinea. One plane made a second run after its bomb bay malfunctioned. Even though it worked the second time, a hot fight ensued between her crew and the enemy. The Flying Fortress managed to not explode in a spectacular fashion, but she never made it back to base. Badly whipped, she belly landed in a deep swamp.
Her crew stumbled to safety a few days later, bringing with them a tale of survival and a fresh dose of malaria. The war bird was only rediscovered in 1972, and its haunting appearance quickly earned her the name "Swamp Ghost." Roughly three more decades would pass before conservation efforts freed the bomber in 2006. Today, Swamp Ghost enjoys a much better home at the Pacific Aviation Museum Pearl Harbor. …
When Jamal Hinton received a Thanksgiving dinner invite text from an unknown number, he was confused.
But now, the misplaced missive has led to a heartwarming cross-generational friendship.
It all began Tuesday when the high school senior from Phoenix, Arizona, received a group text indicating that Thanksgiving dinner would be served at 3 p.m. this year.
"I thought it was either a wrong number or my grandma learned how to use a phone correctly," Hinton told NBC News.
Hinton texted back asking for a photo and received a selfie in return. The woman, Wanda Delch, was of no relation, a stranger to him.
Hinton, 17, jokingly responded: "you not my grandma. Can I still get a plate tho?"
Delch happily obliged. "I said you sure can, that's what grandma's do," Delch told NBC News. …
The Simpsons is full of brightly colored characters cracking jokes and providing goofy sight gags, but as fans are well aware, this is a show that is not afraid to get abstractly dark and disturbing when the time calls for it. For whatever reason, the time came calling for the couch gag airing with this weekend's new episode, and what we have below is one of the most morbid sequences in The Simpsons' long history. Enjoy? …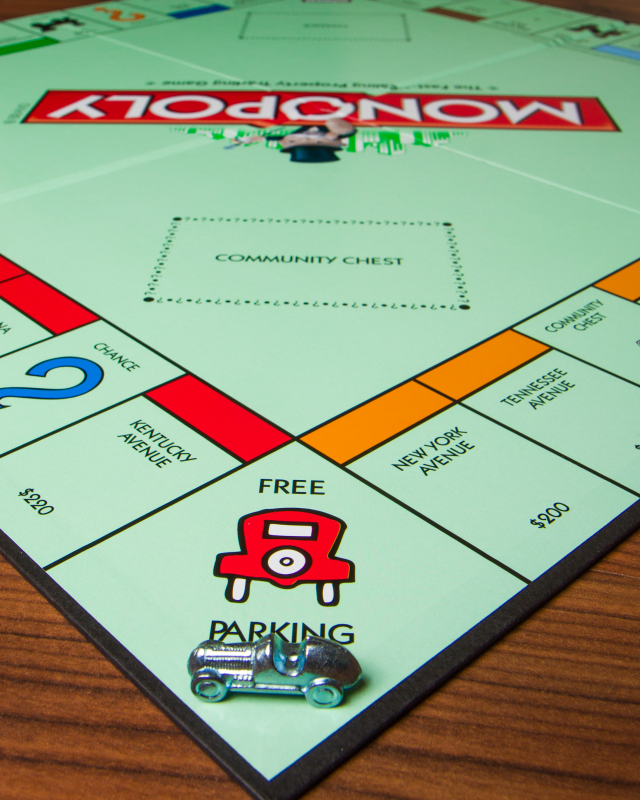 Richard G. asks: I've seen so many different rules for it, but what's actually supposed to happen when you land on free parking in Monopoly?
Few board games have the ability to cause arguments like Monopoly, an unsurprising fact given the object of the game it was based on (see: Who Invented Monopoly?) was to send your opponent to the poor house while you bask in the pleasures of immense wealth and prosperity. In the eight decades or so the game has existed, the rules of Monopoly haven't really changed all that much, but because everyone "knows" how to play, how people actually play the game has slowly diverged from what the actual rule book, which nobody ever bothers to read, says. In anticipation of various family get-togethers coming up this holiday season, in which you'll no doubt be subjected to a game of Monopoly at some point, in this article, we're going to correct the various ways you've probably been playing Monopoly wrong your whole life.
To begin with, according to the copy of the rules slipped into every copy of Monopoly ever sold, Free Parking does nothing. It is quite simply a free space for your tiny car or hotel owning feline avatar to rest while they count their rent money. …
DEGREE OF DIFFICULTY: 68% of respondents to a survey admitted that they'd never actually read the game's rules.
Video Goodnesses
and not-so-goodnesses
THANKS to TBS and Team Coco for making this program available on YouTube.
FINALLY . . .
Mansplaining. By now you've probably had it 'splained to you. But just in case, here's Swedish gender expert Christina Knight on the subject:
"I think often it's experienced as a sort of condescending exercise whereby the woman feels that the man feels a need to explain in perhaps a patronizing or condescending way, where the woman hasn't actually asked to be informed, and perhaps the woman might already be more knowledgeable or more well informed on the subject."
In other words, it's when a man a) assumes a woman knows nothing b) over-explains something obvious or not even worthy of explanation, and/or c) likes the sound of his own voice.
If you're a Swedish woman, and believe you've been mansplained, for this week only you can call a mansplaining hotline to vent. This is no joke. One of Sweden's largest trade unions, Unionen, set up the hotline after hearing one too many mansplaining complaints from its members. …