This Day In History: September 10, 1940
"I am glad we have been bombed. It makes me feel I can look the East End in the face" – Queen Elizabeth
In September of 1940, Londoners were in the midst of a Nazi bombardment that became forever known as the Blitz. On September 10, an air raid completely destroyed the Royal Chapel at Buckingham Palace. It was the third day in a row that the palace had been hit.
King George VI, father of the current Queen, Elizabeth II, wrote a note on a photo depicting some of the damage inflicted by the attack that day: "Bomb exploded 1.25 a.m. Tuesday Sept 10th. Every window broken on all floors. The only exception is swinging lamp under Garden entrance canopy."
And there was more to come. During the Blitz, the Palace was struck by the enemy on sixteen separate occasions – nine of which were direct hits. The British government urged the Royal family to seek safety in Canada, or at the very least to leave London, but the Queen was quoted as saying, "The children won't go without me. I won't leave the King. And the King will never leave." …
Four years ago, Mitt Romney denounced Russia as America's top geopolitical foe. Today, Donald Trump sees Putin's lawlessness and brutality as a feature, not a bug.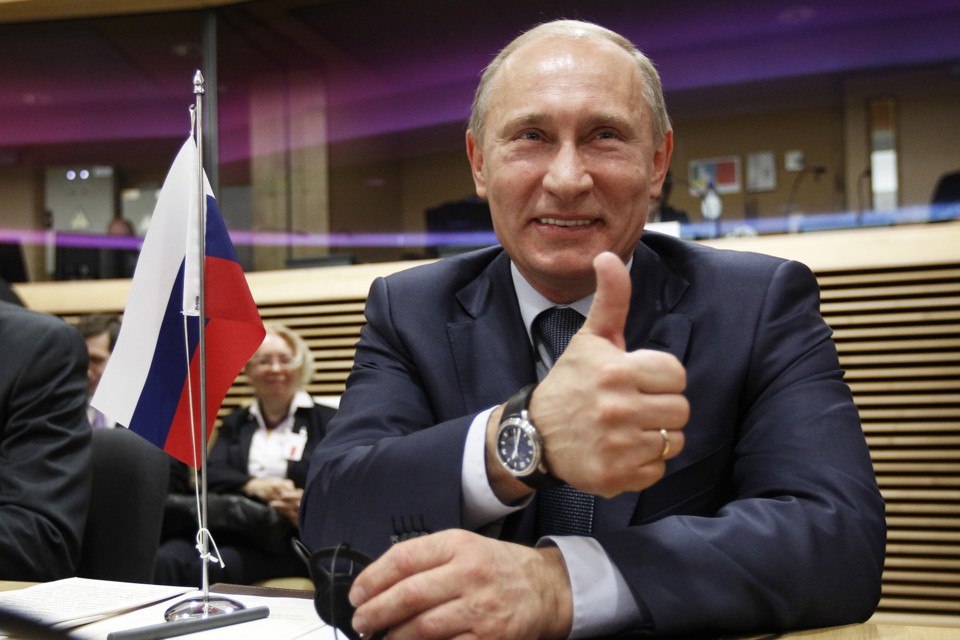 Donald Trump just can't quit Vladimir Putin. For a 24-hour stretch starting Wednesday night, the Republican nominee returned to his praise for the oppressive Russian strongman, throwing his campaign off balance and throwing the Republican Party into disarray.
If there are lessons to be drawn from the stint, there are two: First, Trump can only ever stay on message for so long; and second, his admiration for Putin is not just a strange affectation, way of trolling the left, or product of his former campaign manager Paul Manafort's influence. It's a genuine affinity.
A certain amount of credit has to go to Matt Lauer, in the midst of his much-maligned moderation work at the Commander in Chief Forum on Wednesday. Lauer asked Trump about his past comments about Putin, and Trump happily delivered a strong dose of additional praise. To wit:
• On Putin: "Well, he does have an 82 percent approval rating, according to the different pollsters, who, by the way, some of them are based right here." (Trump's faith in polls to determine rightness remains unshaken.)
• Asked by Lauer, "Do you want to be complimented by that former KGB officer?" Trump relied, "Well, I think when he calls me brilliant, I'll take the compliment, OK?"
• Trump also said of Russia, "Now, it's a very different system, and I don't happen to like the system. But certainly, in that system, he's been a leader, far more than our president has been a leader."
…
Tensions flare between the CIA and the Senate in the fight to release the report on torture – leading the agency to spy on its own legislative overseers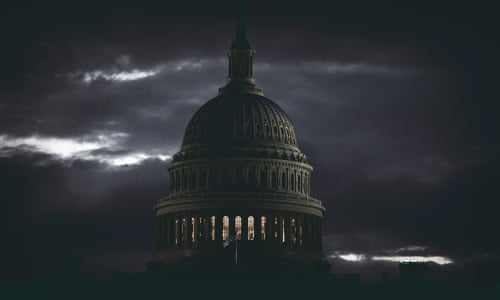 It was 11pm, in the chill of January, but Daniel Jones needed a run around the Capitol.
During the winter of early 2014 Jones's only chance for serenity was these late hours. The CIA was demanding his boss, Senate intelligence committee chairwoman Dianne Feinstein, fire him. Feinstein's Republican colleagues, once supportive of Jones, were demanding he testify.
Testimony was treacherous. Sheldon Whitehouse, a Rhode Island senator and former federal prosecutor, warned Jones that asserting his rights against self-incrimination or seeking a lawyer's counsel could give committee Republicans a political lever against his highly controversial work. The CIA would soon formally insist that the US justice department actually prosecute Jones, the Senate staffer who had devoted over six years of his life to investigating the CIA's infamous post-9/11 torture program.
Jones, a former FBI counter-terrorism analyst, wanted to testify. The CIA had pushed him past the point where he could back down. Its lies, documented in a 6,700-page secret report which Jones was constantly rewriting that winter, were compounding: to Congress, to Barack Obama, to George W Bush, to the press, to the public. The lies were not random misstatements. They were directional, in the service of covering up the brutality of what it did to at least 119 terrorist suspects – some clearly innocent – it held in a global network of secret prisons. Jones was on the verge of exposing the coverup. As he saw it, the personalized intensity of the CIA's attacks on him, and the unprecedented steps they were taking, validated the account he had compiled after combing through over 6m classified CIA documents.
Jones put his Bose earbuds in, cued up a Tragically Hip record, and ran.
It couldn't be that long of a lap, just enough to clear his head and work the frustrations out. …
Climate change is a contentious issue in the world today with many arguments about its cause and how we should deal with it. It wasn't just recently, though, that climate change was important. Much of our history was influenced by it.
10. It Shaped Our Evolution
Numerous findings indicate that great leaps and bounds in human evolution coincided with radical changes in the climate. For instance, three million years ago, the first modern Homo species emerged around the time that Africa began to dry out, changing from a wooded landscape to the grasslands we know today. As the flora of Africa changed, we had to adjust ourselves from primarily climbing trees to walking across vast areas.
Another consequence of Africa drying out is a change in our diet. Before, we didn't have to go very far to find our next meal. But droughts required more cunning on our part to find food, and we had to adjust our palates to whatever we could gather, causing considerable changes to our ancestors over time. …
Democrat tells New York fundraiser some Trump backers 'are irredeemable, but thankfully they are not America'
Hillary Clinton sparked a controversy Friday night after suggesting half of Donald Trump's supporters belonged in "a basket of deplorables" which she described as consisting of "the racist, sexist, homophobic, xenophobic, Islamaphobic – you name it."
She went to note "some of those folks – they are irredeemable, but thankfully they are not America".
In the remarks, at a New York fundraiser featuring Barbra Streisand, Clinton went further than she ever had in the past in suggesting that potentially half of Trump's supporters were bigoted.
She previously said in an interview with Israel's Channel 2 "that you could put Trump's supporters in two big baskets. They're what I call the deplorables. The racists and the haters and the people who are drawn because they think he can somehow restore an America that no longer exists." The Democratic nominee went on to suggest these voters represented "the paranoiac prejudicial element within our politics". …
A Boulder native paid tribute to his hometown with a stunning video capturing the city's beauty from above.
Kjell Redal and his sister spent six days flying Redal's drone over some of Boulder's most popular destinations: Pearl Street, University of Colorado-Boulder and US-36 to name a few. Redal says seeing the Flatirons at sunrise in particular made a memorable impression.
"I also wanted to showcase all the different sports and outdoor activities people do," Redal said.
He figured the video would get a few shares from his friends on Facebook. It's easy to see why it's taken off online, with tens of thousands of views on Vimeo in three days.
Redal's video is as captivating as it is illegal. Unbeknownst to him at the time, Redal broke rules just about everywhere he flew. …
Falling in love might be easy, but maintaining that relationship isn't necessarily simple. It's even harder when the whole world seems to be out to get you. In these cases, that is exactly what these couples were facing.
10. Robert Digby And Claire Dessenne
In August 1914, Robert Digby and a handful of British and Irish soldiers were separated from their unit by enemy lines. Wounded and alone, the soldiers took refuge in the French village of Villeret, where Digby met and fell in love with a farmer's daughter named Claire Dessenne.
Hiding the soldiers from occupying Germans, the villagers brought the soldiers food, disguised them as locals, taught them French, and accepted the soldiers as their own. Three of the soldiers escaped to England. Digby was one of the four who did not. …
Where was the president in the eight hours after the Sept. 11 attacks? The strange, harrowing journey of Air Force One, as told by the people who were on board.
Nearly every American above a certain age remembers precisely where they were on September 11, 2001. But for a tiny handful of people, those memories touch American presidential history. Shortly after the attacks began, the most powerful man in the world, who had been informed of the World Trade Center explosions in a Florida classroom, was escorted to a runway and sent to the safest place his handlers could think of: The open sky.
For the next eight hours, with American airspace completely cleared of jets, a single blue-and-white Boeing-747, tail number 29000—filled with about 65 passengers, crew and press, and the 43rd President, George W. Bush, as well as 70 box lunches and 25 pounds of bananas—traversed the eastern United States. On board, President Bush and his aides argued about two competing interests—the need to return to Washington and reassure a nation and competing need to protect the commander-in-chief. All the while, he and his staff grappled with the aftermath of the worst attack on American soil in their lifetimes, making crucial decisions with only flickering information about the attacks unfolding below. Bush struggled even to contact his family and to reach Vice President Dick Cheney in the White House bunker.
The story of those remarkable hours—and the thoughts and emotions of those aboard—isolated eight miles above America, escorted by three F-16 fighters, flying just below the speed of sound, has never been comprehensively told.
This oral history, based on more than 40 hours of original interviews with more than two dozen of the passengers, crew, and press aboard—including many who have never spoken publicly about what they witnessed that day—traces the story of how an untested president, a sidearm-carrying general, top aides, the Secret Service and the Cipro-wielding White House physician, as well as five reporters, four radio operators, three pilots, two congressmen and a stenographer responded to 9/11. …
Sometimes the workday and world just seems out of hand. Jon Stewart has always helped make sense of the insanity around us.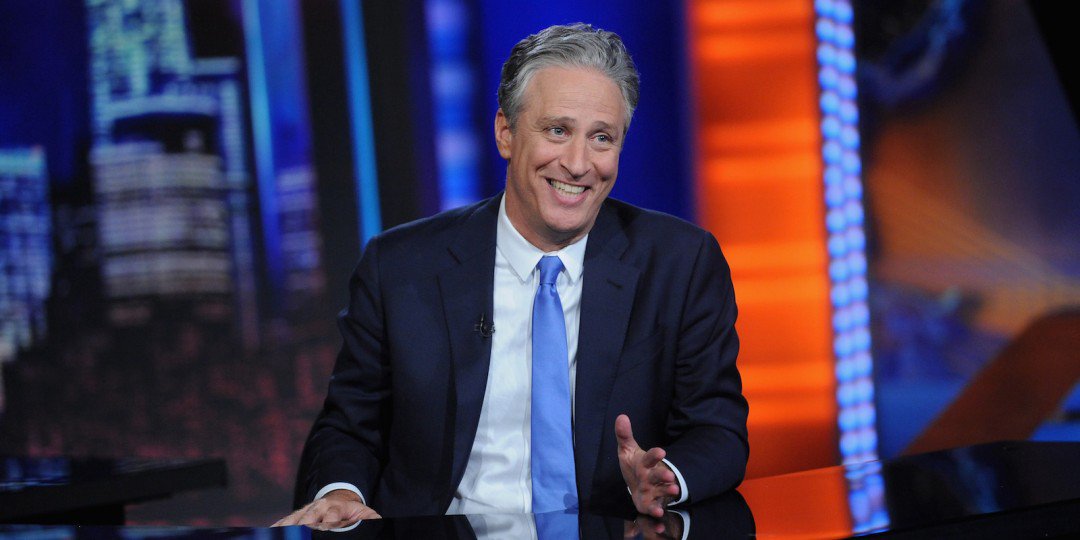 Amazingly, it's already been about a year since Jon Stewart left The Daily Show. Trevor Noah has been a little better than adequate in following a 16-year icon, but it's still just not the same. Stewart's daily commentary embodied the definition of catharsis. He lived in the center of the public zeitgeist and exposed it for both its ridiculousness and often uncomfortable truth.
Stewart has kept his hand in the action by producing roles with the now ended "Nightly Show" and "The Late Show with Stephen Colbert." Yet that taste of Stewart is not enough for many, including me. His new animated HBO show is still a few months away and while the expanded internet format may be innovative, it remains to be seen if people were hooked to a timeless talent or simply a perfect melding of news and comedy in the moment.
In the meantime, here is a taste of the brilliance that is Jon Stewart to brighten your day, inspire you or help you feel a bit less helpless in the insanity called life.
1. "Love what you do. Get good at it. Competence is a rare commodity in this day and age."
2. …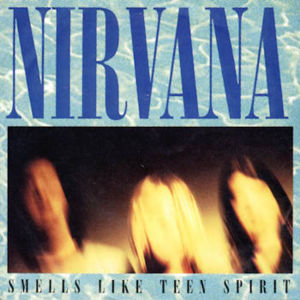 Nobody suspected it at the time, but on September 10, 1991, a three-piece alternative band out of Seattle released a single that sparked a cultural revolution and changed the sound, look and vibe of rock music in ways unimaginable. Within a few months the band Nirvana, thanks to the song "Smells Like Teen Spirit," went from being complete unknowns to the newly reigning rock gods.
Kurt Cobain, singer and frontman of the band, had a bit of a deer-caught-in the-headlights thing going on when the song became a hit. "Smells Like Teen Spirit" was released as the alternative rock single from Nirvana's first major label album "Nevermind," and was never expected to be a chart-topper. Kurt was embarrassed because the song was such as blatant homage to the Pixies:
I was trying to write the ultimate pop song. I was basically trying to rip off the Pixies. I have to admit it. When I heard the Pixies for the first time, I connected with that band so heavily that I should have been in that band—or at least a Pixies cover band. We used their sense of dynamics, being soft and quiet and then loud and hard. …
Artificial intelligence and shopping — does that mean robots that'll stock the shelves?
Yes, absolutely. We'll have robots that will use A.I. to check inventory, help customers find the items they're shopping for, ferry supplies from one part of the warehouse to another, aid with shipping, you name it. But the real revolution for A.I. and shopping will be invisible because the technology will create better experiences for consumers while helping employees and shopkeepers run operations more effectively.
Let's take any big department store that sells thousands of home, fashion, and beauty products — more specifically, let's say that there are exactly 100,000 products. Because customers will buy up to 150 percent more and be happier with their purchases if they're shown the items in context, merchants will create outfits, design window displays, and produce splashy catalogs and digital lookbooks to help customers imagine how to wear the latest fashion trend, how to arrange their living rooms to show off their new velvet sectional, or how to install an outdoor shower. …
"The arts" might seem a frill or nicety. In Eastport, Maine, they've been at the center of economic and civic plans and have helped the little city "punch above its weight."

Undertow by Anna Hepler at the Free Will North Baptist Church in Eastport, Maine
We returned to Eastport, Maine in late August, nearly 3 years after our first visit, when we had become smitten with the tiny town of 1300 people. Eastport is officially a city, which may be technically correct, but that term sheds the sense of charm and intimacy that the term town bears, at least to my ear. And indeed, Eastport is charming and intimate. On the other hand, the word city seems to suit when you consider the many ways Eastport "punches above its weight," as my husband Jim often remarks.
We have written about how much is happening in Eastport, and how everyone – yes, nearly everyone — pitches in to make it happen. For instance, after we attended a performance of The Glass Menagerie in 2013, we realized that the ticket taker was also the editor and publisher of the paper, The Quoddy Tides, and that the stage manager Jenie Smith was, by day, the barista at Dastardly Dick's coffee shop. That's not the half of it; we learned on this latest trip that the barista is also the nephrologist at the town's clinic. And that she and her husband, Peter, the owners of Dastardly Dick's, had just added their longtime dream, a dog kennel, to their portfolio of businesses.
This weekend is the 11th season of the highly-anticipated Pirate Festival. Eastport boasts a long list of celebrations, like the Salmon and Seafood Festival and New Year's Eve Maple Leaf and Sardine drop. Eastport is counting on their festivals a lot this year, hoping to make up for some of the changes in tourism caused by a few unusual events: 16 feet of snow and the town's municipal pier collapse during the winter of 2014-2015. The effects spilled over into a slowdown in cruise ship stops and some tourist activities. …
People think science is all tedious testing and complicated calculations, but those only happen after someone points at the Sun God and screams, "I BET I CAN TURN THAT INTO MATH!" (We did!) Or they point at the Moon and shout, "I BET WE CAN JUMP UP AND DOWN ON THAT THING!" (We did!) Science basically points both middle fingers at the infinite wonder of existence, but the first bit always starts with a ridiculous-sounding idea. Behold, five scientific suggestions so spectacularly silly that they'd make The Hitchhiker's Guide to the Galaxy say, "That can't be right."
If you enjoy spectacular science silliness, Luke has launched ZERO POINT COMEDY on Patreon. See the SCIENCE JAEGERS, read about the SCIENTIFIC WONDERS OF THE WORLD, and enjoy EVEN MORE ARTICLES!
#5. Existence Can Ripple
Throw a stone into a pond, and the water ripples. Smash two black holes together at half the speed of light, and existence ripples. They collide so hard that you don't need to hear anything, because space itself is screaming and shaking up and down in a detectable way. But you've got to expect something amazing when 60 octillion tons of spherical singularities slam together like Galactus twerking. Einstein predicted these "gravitational waves" over a century ago, and their banging is so hard that reality is jolted.
Smashing spacetime so powerfully that it wobbles like an old VCR tape sounds like a fresh, steaming plate of hyperbole. But we've already detected itSpacetime so kinky, it's got holes going into other holes.. Two singularities slammed into each other like the ultimate subwoofer, blasting bass notes through the fabric of reality. Three entire solar masses were converted into gravitational wave energy — a process over 50 times more powerful than the entire visible universe. It was so spacetime-staggering that we felt the effects over a billion light years away. On September 14, 2015, every cell in your body was gently squeezed by black holes getting it on.
Spacetime so kinky, it's got holes going into other holes.
…
Researchers at the northern coastal site of Chotuna-Chornancap – a seat of power for three cultures – are studying remains, including two footless children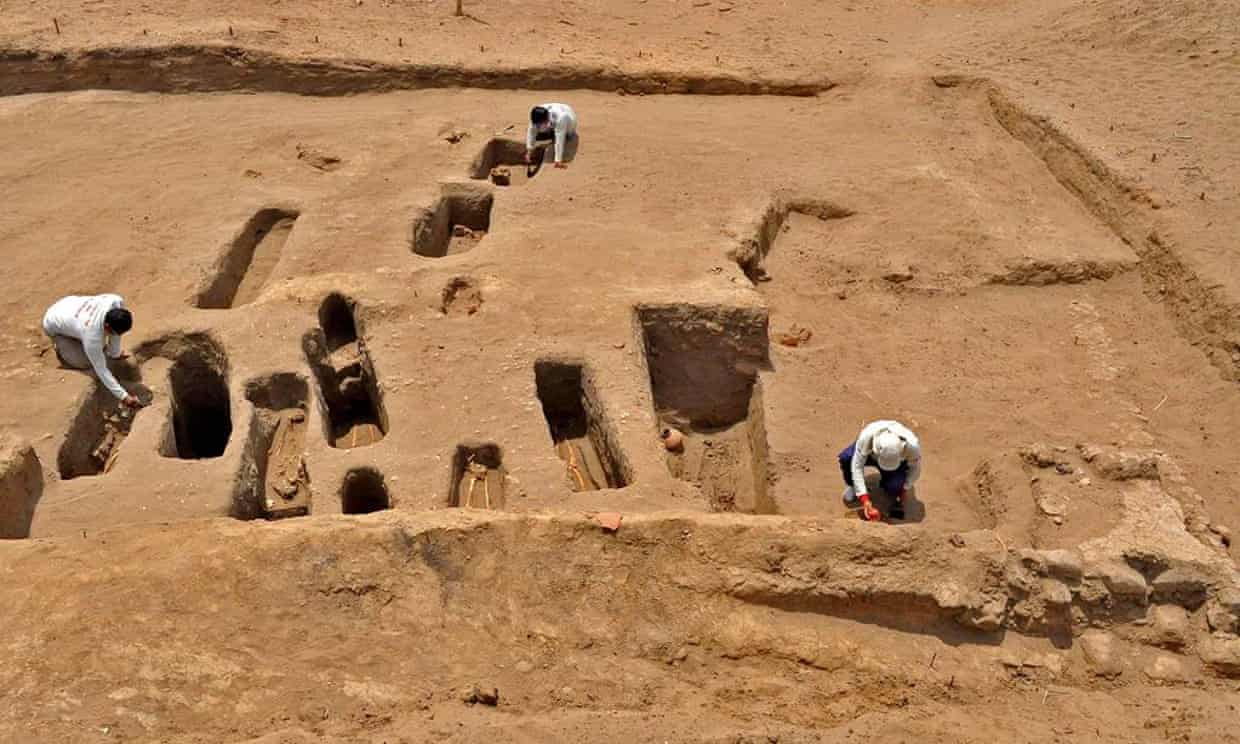 Archaeologists in Peru have found more than a dozen tombs suggesting human sacrifice at sprawling ruins on the northern coast, a seat of power for three ancient cultures and the possible center of a pre-Inca legend.
At Chotuna-Chornancap, a coastal ruin complex in the arid valleys far north of Lima, archaeologists with Peru's ministry of culture found more than 17 graves dating to at least the 15th century.
"There is at least one fairly high-status tomb," said Haagen Klaus, a bioarchaeologist at George Mason University has worked at Chotuna-Chornancap before. Klaus told the Guardian that he hopes to analyze the new finds, discovered by the ruins of a temple, to confirm whether the victims were sacrificed. …
Technical skills are only part of the equation when building your criminal malware empire.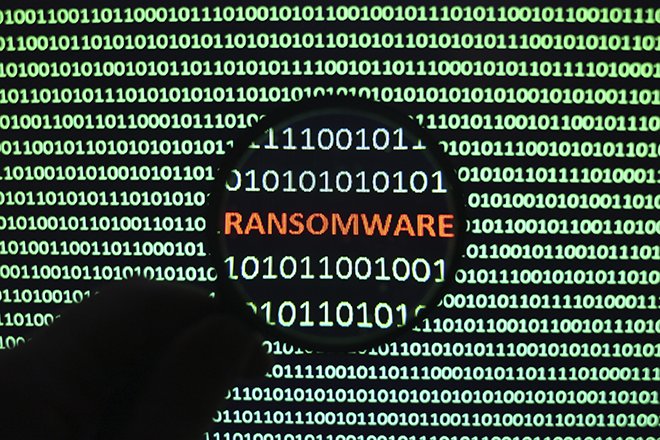 This week we're finding out that Cerber is 2016's biggest name in ransomware.
Cerber didn't get to the top just by being good at infecting computers, locking up people's files, and blackmailing its victims for Bitcoin. The plucky ransomware is on the fast track to fame and fortune thanks to a hard-won reputation for top-notch customer service that wows its victims at every turn. At least, that was the conclusion in security company F-Secure's summer report, Evaluating the Customer Journey of Crypto-Ransomware.
Cerber is infecting people through infected Word documents and malvertising, among other attack vectors. Unwitting victims are downloading it via ads that appear in popup windows, so make sure your ad- and popup-blockers are up to date. In August, Cerber was launching eight new campaigns every day, and successfully infected 150,000 users worldwide in that month alone.
Sounds pretty lucrative, right? Well, if you think raking in the dough as a ransomware writer sounds like the life for you, "being a people person" probably isn't the skill you plan to develop. But, if you're going to succeed in the hectic business of ransomware, great customer service skills are a must to avoid lost revenue and disappointed victims. …
Necropolises, or cities of the dead, appear throughout the world from ancient times to the modern day. Some sprawled due to overcrowding while others were meticulously planned. In some cases, they are exact replicas of the world of the living. Where we choose to be buried, with whom, and with which objects reveals our hopes, fears, and desires.
10. Wadi-Us-Salaam
Wadi-us-Salaam ("Valley of Peace"), which contains five million gravesites, is the largest cemetery in the world. This necropolis dwarfs Najaf, Iraq, the city that surrounds it.
With a population of 600,000, Najaf is the third most sacred city to Shiite Muslims—after Mecca and Medina. There is a Shia belief that all faithful should be buried at Wadi-us-Salaam, no matter where originally interred.
People have been buried in layers there for over 1,500 years in the hopes of being near Ali—first cousin and son-in-law of Muhammad. Wadi-us-Salaam spans more than 8 square kilometers (3 mi2) and is still growing. …
If your mother ever warned you not to eat apple cores, it was with good reason. Yeah OK, so apples don't really have cores, but they do have those rough middle sections full of seeds, and those seeds can harbor concentrations of molecules called cyanogenic glycosides. One of those is amygdalin, and when it gets down into your gut bacteria, it can turn into cyanide, which can do a pretty good job of killing you.
So, it seems like a good idea to steer clear of that crunchy center, right? But here's where that logic is off: A single apple's worth of seeds can't produce nearly enough cyanide in your belly to make you even a little bit sick. So if you're throwing out the rest of your apple, you're not actually saving yourself from anything. You're just wasting half an apple. …
An exhibition of unintended consequences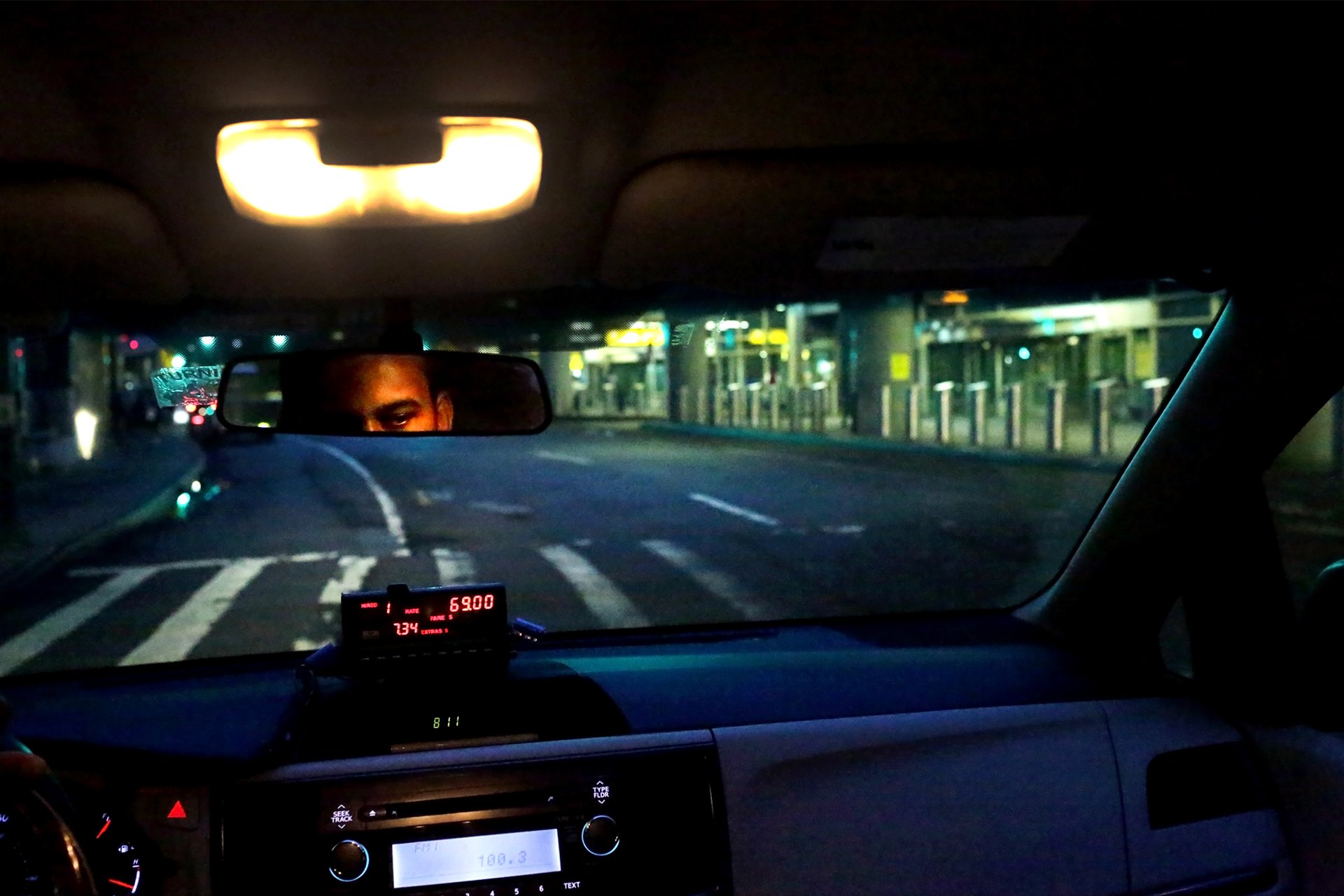 A yellow taxi circles the airport; mist over LaGuardia; rumor of improvised explosive device; a bald Nigerian hack listening to incensed propagandists on WOR, his cab merging with the vortex; and behind the Plexiglas, an entrepreneurial American capitalist half his age, iPhone perpetually to her perfect pink ear, hair dark as a tiger's stripe. "You could cut it with a knife," she says. Having left a message with her lover, she speaks now to her sister. "That much is definite. The bomb is speculation."
To which big sister petulantly replies, "Everything happens to you."
The younger woman's lover, in a Houston high-rise, listens to the message she left, thinking—he cannot help himself—that her flight isn't really delayed but that she no longer loves him, the churning in his gut forcing him to pace the apartment. He ignores the window's glittering panorama for the blank frame of the smartphone in his trembling hand, daring it to ring, demanding that it ring, although her calls do not actually ring now but roar, something she did the last time they were together, replaced the familiar bell with a great cat's growl, a sound he imagines as he inscribes in the buttery carpet a path to speak his suffering: O! O! O! …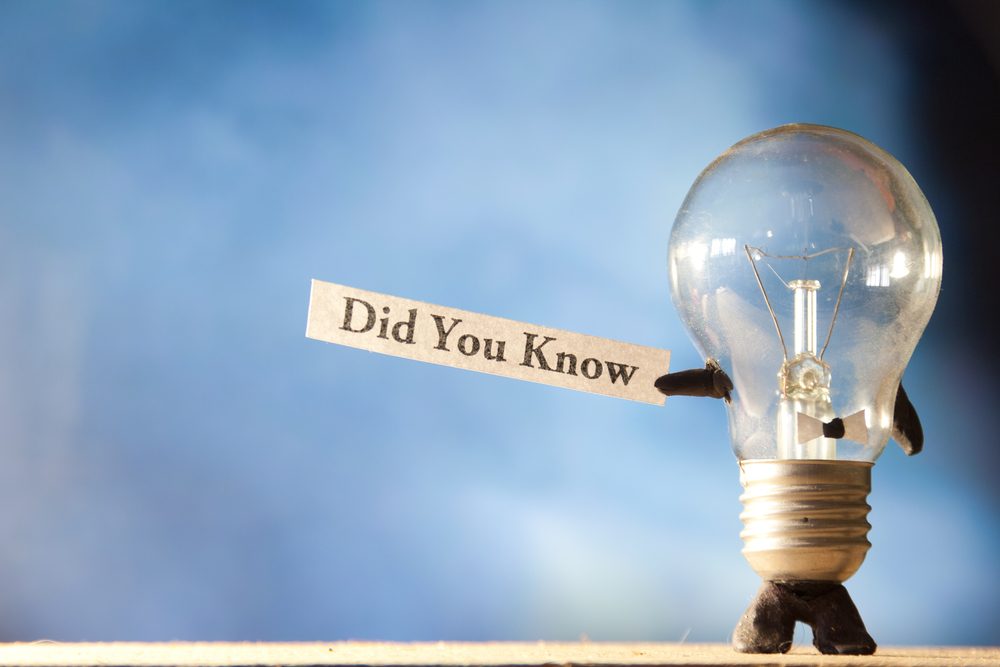 In December 1979, in the depths of a Montreal winter, two Canadian newspapermen created one of the most popular board games the world has ever known.
High school dropout Chris Haney was the photo editor of The Gazette. He had originally dropped out of school at the age of 17 in order to take a copy boy job with the Canadian Press, the company his dad worked for. After his eventual Trivial Pursuit fame and riches, he would state he regretted his decision to drop out of school… at the age of 17; he stated he wished he'd done it at 12. (Incidentally, Dave Thomas, the founder of Wendy's and the man partially responsible for saving KFC, was also a high school dropout.)
In any event, Haney's buddy, Scott Abbott, was the sports editor for The Canadian Press. According to legend, after realizing that a couple of tiles from the Scrabble game they were trying to play over lunch (some versions say dinner at a tavern, after a dozen or so beers downed each) were missing, the pair decided to create a new game. Within a couple of hours, and after becoming further inebriated, they had outlined the basic aspects of Trivial Pursuit. …
Video Goodnesses
(and not-so-goodnesses)
Kim Jong-un, a man brave enough to lead his country into nuclear war, is afraid of the world's deadliest weapon: humor.
THANKS to CBS and The Late Show with Stephen Colbert for making this program available on YouTube.