No Worries, Everything's Going To Be Alright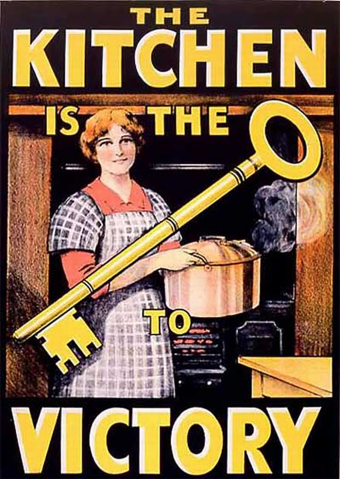 This Day In History: January 12, 1943

On January 12, 1943, the U.S. Office of Price Administration let it be known that for the duration of the war the popular hot dog, also known by the German inspired moniker "frankfurter", would be supplanted by the "Victory Sausage." It was also announced that the Victory Sausage would be even lighter on the meat than frankfurters, substituting soybean meal and "other substitutes" in instead.

Yummy.

Unfortunately for people's taste buds, the patriotism inherent in the newly named Victory Sausage didn't exactly make up for the assault on one's palate. Victory didn't exactly taste sweet in this case. ...
The annual address has become a tired laundry list of presidential objectives. This year, though, might be different.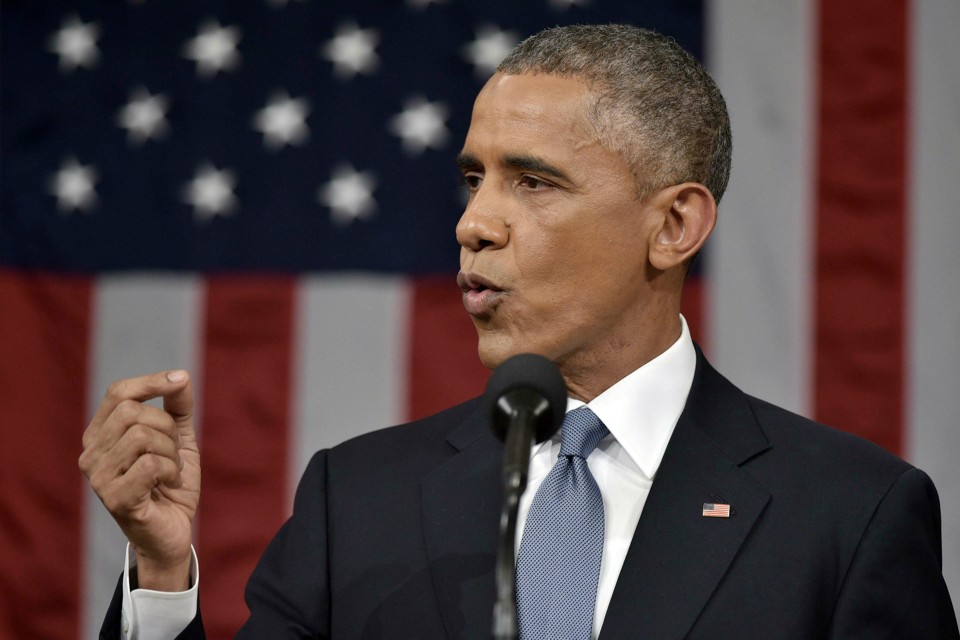 During his presidency, Barack Obama took on health-care reform, helped make gay marriage legal, reopened the diplomatic relationship with Cuba, made a nuclear-arms deal with Iran, rode herd on negotiations on global-climate change, and introduced gun-control measures.

But can he improve the State of the Union speech?

It seems like he's going to try. As it stands, the State of the Union is a stodgy, outdated, annually disappointing rhetorical ritual delivered like a rote checklist of presidential goals. This year, though, "it's not going to be a laundry list of things on the agenda" predicted Norm Ornstein, a scholar at the American Enterprise Institute and a contributing writer at The Atlantic. ...
Analysis of the president's previous annual addresses to Congress and his two inaugurals shows a very mixed success rate for his policy commitments
• Obama's State of the Union addresses: has he kept his promises?
• Taking stock of Obama's promises: speech idealisms fall short of reality
• State of the Union: no let-up for Barack Obama's climate agenda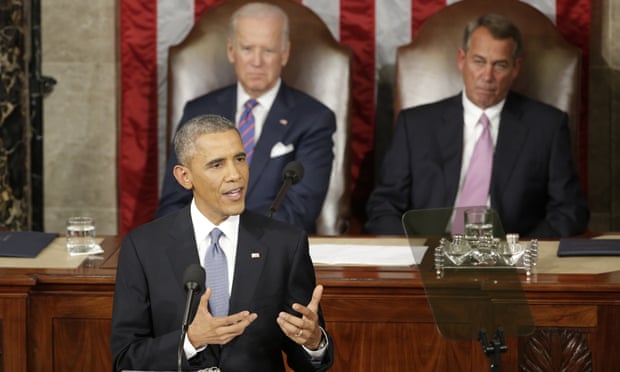 Fewer than half of Barack Obama's biggest promises as president have been kept, according to a Guardian audit published on the eve of his final State of the Union address.

The analysis of six preceding state of the union speeches, two inaugurals and Obama's first address to Congress in 2009 reveals a steady decline in both the number of policy pledges made by him, and their success rate, during an ambitious presidency marred by fierce battles with lawmakers.

The White House chief of staff, Denis McDonough, acknowledged this week that Tuesday's address will be unusual in avoiding many of these concrete proposals for the final year in office and would focus instead on what needs to change in the political climate before his vision for the country can be realised by a successor.

"He gathered us together late last year and he said, look, he doesn't want this to be your traditional policy speech that outlined a series of proposals," McDonough told ABC on Sunday. "Rather, he wanted to step back and take a look at the future of this country, the challenges we're going through." ...
"In eighteenth-century France there lived a man who was one of the most gifted and abominable personages in an era that knew no lack of gifted and abominable personages."

So begins Patrick Suskind's classic novel Perfume: The Story Of A Murderer, which tells the story of Jean-Baptiste Grenouille, an ambiguously human peasant who is driven to kill to satisfy his powerful sense of smell. The novel is considered fantasy, yet a truly gifted and abominable man did live in 18th-century France. He was known as Tarrare, and he was always hungry.

10. Enfant Terrible

In the early 1770s, a monster was born in the lush countryside of the Rhone valley, not too far from the booming silk-weaving town of Lyon. We know little about his early life, save that he left his parents' home at a young age. Perhaps they drove him out, frightened or drained by their strange son and his insatiable appetite. Or perhaps the hunger compelled him to strike out on his own, to seek greater supplies of food than his rural background could provide.

We're not even sure of his real name, although he was later known as Tarrare, from a term for flatulence or from the Rhonish region of Tarare. (Or both. Or neither.)

But we do know that there was something terribly wrong with Tarrare from a young age. Despite eating amounts of food that would have killed a normal man, a hunger Tarrare could never quell gnawed at him constantly. At age 17, he weighed just 48 kilograms (100 lb) and could already consume one-quarter of his body weight in beef during a single meal. He ate wax and corks and offal and worse things. But they did him no harm, and he relished rotting flesh as much as the finest meals. ...
When Jack O'Connor was 19, he was so desperate to beat his addictions to alcohol and opioids that he took a really rash step. He joined the Marines.

"This will fix me," O'Connor thought as he went to boot camp. "It better fix me or I'm screwed."

After 13 weeks of sobriety and exercise and discipline, O'Connor completed basic training, but he started using again immediately.

"Same thing," he says. "Percocet, like, off the street. Pills." ...
The father of the billionaires Charles G. and David H. Koch helped construct a major oil refinery in Nazi Germany that was personally approved by Adolf Hitler, according to a new history of the Kochs and other wealthy families.

The book, "Dark Money," by Jane Mayer, traces the rise of the modern conservative movement through the activism and money of a handful of rich donors: among them Richard Mellon Scaife, an heir to the Mellon banking fortune, and Harry and Lynde Bradley, brothers who became wealthy in part from military contracts but poured millions into anti-government philanthropy.

But the book is largely focused on the Koch family, stretching back to its involvement in the far-right John Birch Society and the political and business activities of the father, Fred C. Koch, who found some of his earliest business success overseas in the years leading up to World War II. One venture was a partnership with the American Nazi sympathizer William Rhodes Davis, who, according to Ms. Mayer, hired Mr. Koch to help build the third-largest oil refinery in the Third Reich, a critical industrial cog in Hitler's war machine. ...
ecently, during a tear-filled address to the nation, President Obama announced a series of executive actions on gun control. You can watch it in full here:

If we're being completely honest, though, if you haven't watched it by now, you probably won't. Especially when you take into account that the video is 36 minutes long and we're on the Internet right now. Still, seeing all the uproar from both sides of your social media timeline following Obama's speech probably left you with a few questions, regardless of where you stand on the issue of gun control. We can help!

Is Obama coming for my guns?

No. The guns you have now are yours to keep!

Can I still buy new guns?

Of course!

Even at Walmart?

As always, you can do just about anything at Wal-Mart. ...
The justices consider a challenge to labor organizations without weighing the practical implications of their decision.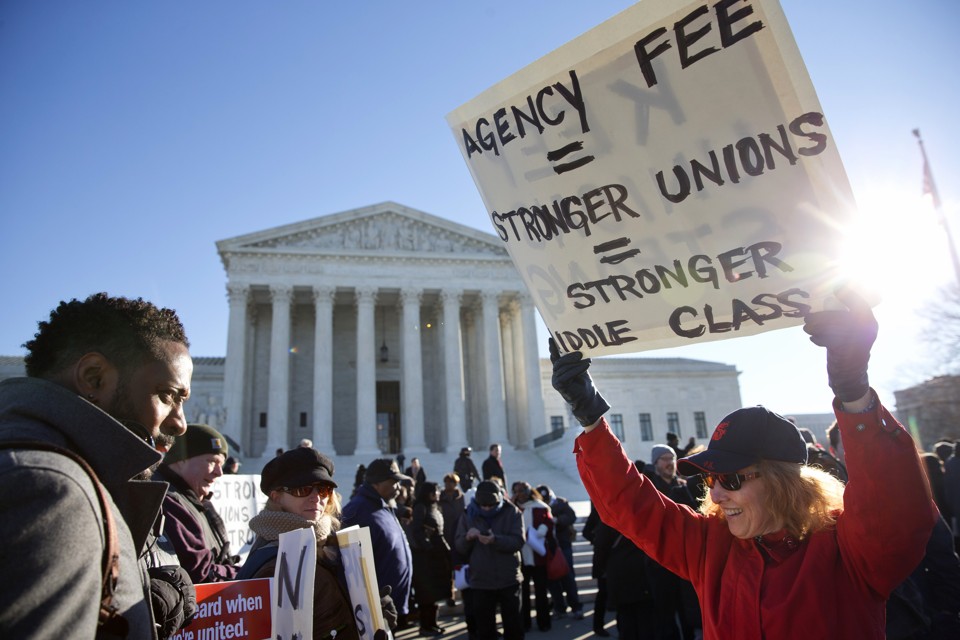 The most important fact about Monday's oral argument before the U.S. Supreme Court in Friedrichs v. California Teachers Association is that this case—one of the most important of the term—will be decided on the basis of no facts at all.

The petitioners in Friedrichs are asking the Court to hobble unions that represent more than 9 million public employees in 23 states and the District of Columbia. That decision will have large consequences for those employees, for the states that employ them, and for the political system. But the Court will decide the case without, apparently, serious consideration of those effects.

Representing the challengers, the conservative lawyer Michael Carvin described a public-employee union as a purely political group that "advocates an ideological viewpoint" his clients "do not approve of." Every single thing a public-employee union does, he said, is a matter of public concern; contract negotiations with teachers' unions, for example, affect class size, teacher promotion policies, and overall state funding—every one of them a hotly contested political issue. In contrast, the union lawyer David Frederick told the Court that many of the union's activities are "mundane matters" without political content. ...
Melioidosis is a disease that strikes fear in those who've heard of it.

Doctors in Southeast Asia and Northern Australia know it as a stubborn, potentially deadly infection that causes pneumonia, abscesses and, in the most severe cases, organ failure. Without treatment, it can kill within 48 hours. Military officials worry it could be converted into an agent of terror.

But for decades, melioidosis seems to have lurked under the radar of global public health organizations. "For everybody, it was a disease of southeastern Asia and Australia," says Dr. Eric Bertherat of the World Health Organization. "But we are discovering that this disease is present in many other regions worldwide." ...
If you commit a crime, you will most likely be caught. However, some criminals have evaded capture, and it was only through the intervention of luck and hard work that they were caught. Sometimes, new technologies or new ideas have resulted in fugitives being caught. Either way, it was through remarkable means that many of these elusive criminals were found and caught by the authorities.

10. Joseph Kimsey ~ Caught By A Family's Pet Goat

n February 2015, an unusual story came from Colorado, where a soldier with an outstanding animal abuse charge was found, ironically, by an animal. Joseph Kimsey, who also went by Joseph Hargett, had fled a traffic stop in El Paso County, where he had been stationed in a combat brigade. Authorities gave chase, and he eventually abandoned his pickup truck. The car chase then became a manhunt.

When the Browning family was informed by the state patrol that there was a wanted fugitive on the run in the area, they were on edge and started to lock their doors just in case. It was then that they noticed that their six-year-old goat, Dwight, was staring at what appeared to be nothing more than bushes. As John Browning put it, "One more time I'll just quickly check all the doors and windows and make sure they're locked, and I just happened to glance down this way [points at his goats], and I said, 'Kathy, Dwight's looking at someone.' " That's when Browning saw that their goat was staring directly at Kimsey, who was hiding in the bushes. Kimsey went to their neighbor's house, but the Brownings called their neighbors, who then talked Kimsey into surrendering to the authorities. ...
• Activists demonstrate at White House on 14th anniversary of offshore prison
• 'You can't blame it on Congress. President Obama, make good on your promise'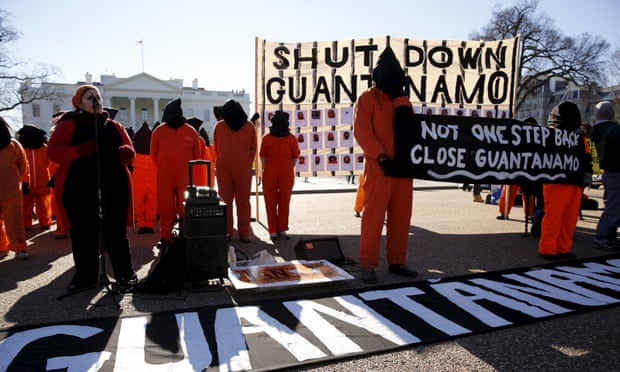 Wearing orange jumpsuits and black hoods, two dozen protesters stood outside the White House on Monday to give short shrift to Barack Obama's claim that the closure of the prison at Guantánamo Bay is beyond his control.

"It's time to be honest," sang Luke Nephew, 33, of the Peace Poets from New York. "You can't blame it on Congress. President Obama, make good on your promise."

The annual demonstration, this year marking the 14th anniversary of Guantánamo Bay's opening, had a new sense of urgency on the eve of Obama's final State of the Union address, with many speakers expressing fear that he represents the last best hope of getting the Cuban-based detention centre shut down. ...
T-Mobile CEO John Legere, who is among the most colorful and expressive CEOs in the tech industry today, has issued an apology for offensive comments that he made last week against the Electronic Frontier Foundation (EFF) over a debate on the carrier's unlimited streaming service Binge On.

Legere made the apology through an open letter that was posted on T-Mobile's official website, though the letter also continued to defend Binge On as a service that follows the principles of net neutrality. ...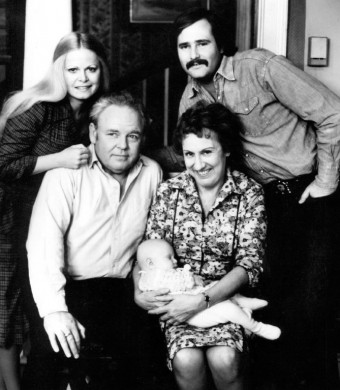 This Day In History: January 12, 1971

When the very first episode of All in the Family aired on January 12, 1971, CBS ran the following disclaimer immediately preceding it:

The program you are about to see is All in the Family. It seeks to throw a humorous spotlight on our frailties, prejudices, and concerns. By making them a source of laughter, we hope to show— in a mature fashion— just how absurd they are.

Although the network obviously believed their new sitcom was going to ruffle a fair amount of feathers, All in the Family was relatively ignored until the summer rerun season. That's when the show began to earn the reputation that made it one of the most talked about and controversial programs in television history. ...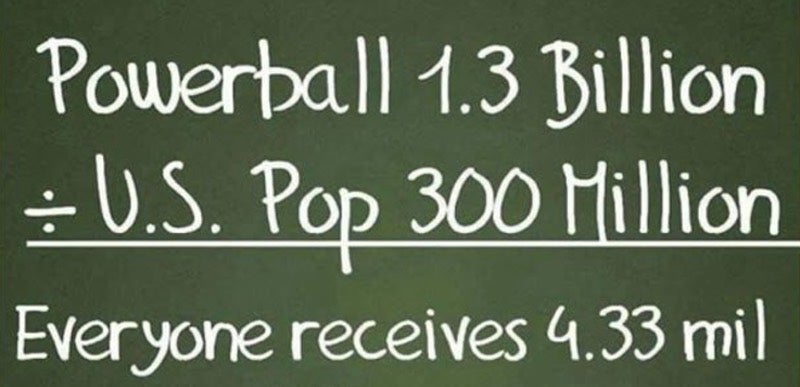 There's a lottery meme on Facebook claiming that if we just divided the current Powerball jackpot evenly, every American would get $4.3 million. But that's not right at all. Why? Simple math:

When we take $1.3 billion and divide by 300 million we get $4.33. As in, four dollars and 33 cents. Not $4.33 million. So while it's a nice dream that the lottery winnings would make every person in the country wealthy, it's not even close to being true. ...
Oops.......
The North American International Auto Show is a place where car industry gathers to celebrate — and in recent years to apologize. At this year's show in Detroit, it was Volkswagen CEO Matthias Mueller's turn to face the media.

In a prepared statement, Mueller said of the emissions-cheat scandal, "We all know that we have let down customers, authorities, regulators and the general public here in America, too." He added, "We are — I am — truly sorry for that. And I would like to apologize once again for what went wrong with Volkswagen."

Following his remarks, Mueller spoke briefly with NPR. He said Volkswagen did not lie to U.S. regulators about emissions problems with its diesel engines but chalked it up to a misunderstanding of U.S. law. ...
Yeah right.......
The whole fun of movies is that these characters' problems are not like our own. Where our biggest adventures involve trying to chase a cat out from under the bed with a broomstick, these people are running from robot explosions or cross-examining flamboyant serial killers. But lots of times, a little closer look at a movie plot reveals that they were making things way harder on themselves than necessary.

#6. X-Men: Days Of Future Past - Xavier Forgot He Controls Minds

Days Of Future Past was the second delicate reboot of the X-Men franchise. In it, Charles Xavier sends Wolverine back in time to stop Mystique from assassinating Bolivar Trask and prevent a human-mutant war that eats the future. Xavier has a gentleman's agreement not to use his mental powers against Mystique, so this involves a lot more dialogue and espionage than you'd expect from a man who can control minds.

"We double pinkie swore. That means something."


...
Social Security is underfunded today because policymakers didn't foresee just how rich today's rich would be.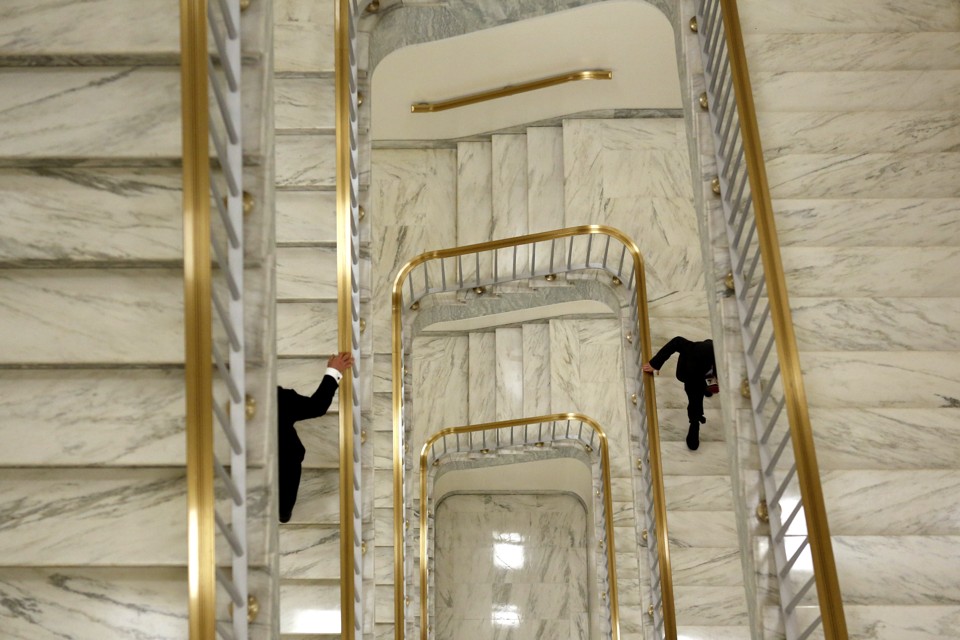 The financial picture for Social Security isn't as dire as some describe: Without any modifications to its funding, Social Security will generate enough revenue to pay for three-quarters of promised benefits.

The main reason it'll fall short, though—the reason that that remaining one-quarter of benefits hasn't yet materialized—is that the method of funding for Social Security was calibrated to an America with much less inequality than the nation currently has.

Since the late '70s, most of the growth in workers' earnings has gone to the people who have made the most money. To be precise, the wages of the top 1 percent of workers have grown 138 percent since 1979, while the wages for the bottom 90 percent grew only 15 percent during that period.

If all of that income growth were taxed evenly, Social Security would have no shortfall. ...
• AI could help with population growth, education, Schmidt says
• Field getting crowded with Facebook, Microsoft also investing
Google's chairman thinks artificial intelligence will let scientists solve some of the world's "hard problems," like population growth, climate change, human development, and education.

Rapid development in the field of AI means the technology can help scientists understand the links between cause and effect by sifting through vast quantities of information, said Eric Schmidt, executive chairman of Alphabet Inc., the holding company that owns Google.

"AI will play this role to navigate through this and help us."

It can also aid companies in designing new, personalized systems. In the future, Schmidt would like to see "Eric and Not-Eric," he said at a conference in New York, where "Eric" is the flesh-and-blood Schmidt and"not-Eric is this digital thing that helps me." ...
Nuclear weapons, although still disastrous and powerful, are a thing of yesteryear. Now, a new type of weapon is growing in popularity. This is exemplified by the increasing number of books, movies, and video games featuring zombies, viral attacks, and fungal weapons. In many of these stories, biological catastrophes always lead to a dystopian future, and these fictional worlds represent a terrifying reality. Bioweapons are the next big thing.

10. Bacillus Anthracis

Among all bacterial bioweapons, there is probably nothing more popular than Bacillus anthracis, the pathogen used in an infamous attack code-named "Amerithrax" by the FBI. In the days following 9/11, several letters containing B. anthracis spores were sent to news media offices and two US senators. Five people were killed in the attack while 17 developed anthrax symptoms. With 10,000 witnesses having participated in the investigation, this was one of the most extensive biological cases in US history.

B. anthracis is a very potent pathogen. In fact, it is an obligate pathogen by nature. This means that acquiring it will almost always lead to disease. To be infected by the bacteria, the victim must ingest the spores. Spores are the dormant derivative of many bacilli bacteria. They are resistant to extreme environmental conditions such as heat, dehydration, and disinfectants. B. anthracis causes anthrax, which manifests in different forms such as blisters, necrosis, abdominal pain, diarrhea, headache, and many more unpleasant symptoms. If left untreated, death usually follows. ...
Welcome to the Anthropocene.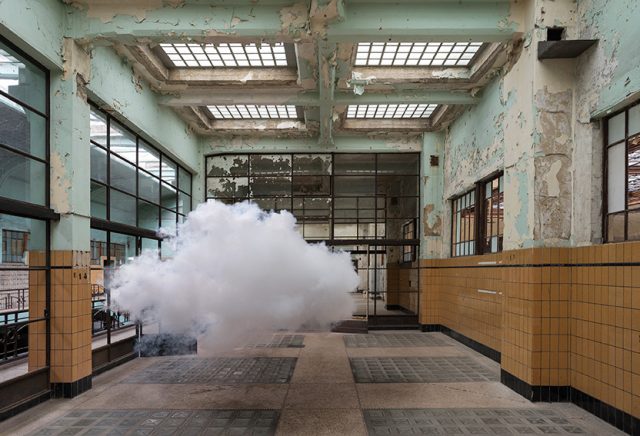 11,700 years ago, the Earth suffered a catastrophic climate change. As the ice age ended, sea levels rose by 120 meters, the days grew warmer, and many kinds of plant and animal life died out. But one animal began to thrive more than ever before. Homo sapiens, which had already spread to every continent except Antarctica, came up with a new survival strategy. Today, we call it farming.

Thanks in part to that innovation, humans survived to witness the dramatic transition from the Pleistocene epoch to the Holocene—it was the first such geological transition in almost 2 million years. But now geologists say we're witnessing another transition, as we move from the Holocene into an epoch called the Anthropocene. Here's what that means. ...
Cosmologist's tweet appears to confirm rumours of discovery that could 'open a new window on the universe'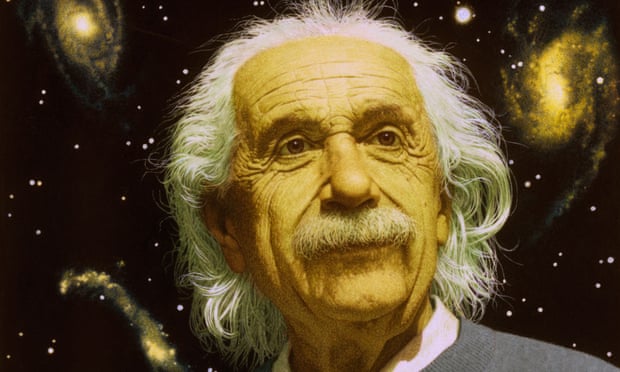 Not for the first time, the world of physics is abuzz with rumours that gravitational waves have been detected by scientists in the US.

Lawrence Krauss, a cosmologist at Arizona State university, tweeted that he had received independent confirmation of a rumour that has been in circulation for months, adding: "Gravitational waves may have been discovered!!" ...
You have to lose one sense: hearing, sight, or smell. What do you choo- wow, you didn't even need to think about it, did you? Everybody ditches smell like it smells funny. This isn't just a hypothetical scenario: Some folks, like Joe, are born with anosmia, which is an inability to smell. Others, like Savannah, lose their sense of smell as a side effect of nasal surgery or a tragic bottle rocket accident. According to them, it changes your life more than you would think. For example, you find out that ...

#5. Farts Change Everything

People who have anosmia dread bringing it up for one very simple, bizarrely consistent reason:

"Without fail, anytime I tell someone about this, what they say is, 'So, if I farted RIGHT in your face, it wouldn't do anything?!'" Joe says. And they fart. They fart right then and there.

"Take THAT, basic social contract!"


...
Shortly before the end of the workday last Friday, an app called Peach suddenly became the hottest social network among a small but influential coterie of digital media industry watchers. It's tough to say precisely what Peach is. It's a social network that lets users post all types of media, but feeds aren't public, nor does it have an aggregate feed similar to a Facebook News Feed — every user is siloed.

Peach is fun to play around with, but mostly what it has going for it as a social network is that it's not Twitter or Facebook. The one interesting thing about Peach is a feature that its makers — which include a co-founder of Vine — call "magic words." Magic words are shortcuts that allow users to access new types of posting features. Typing "GIF," for instance, lets users search for the appropriate media to post; "battery" offers a way for users to post their current charge percentage; "move" lets users access their phone's motion tracking to post the number of steps or distance traveled. ...
Remember that time you took the bus to work instead of your car and you felt really great for helping the environment? Well, you can start feeling less great. The Environmental Defense Fund has created a real-time counter showing just how much damage LA's natural gas leak is causing.

As of the publication of this post, the leak has released 82,464.15 metric tons of methane into the air. That's the same as 779,451,495 gallons of gasoline burned... wait, now it's 779,454,518 gallons.... now it's 779,456,189 gallons.... ...
YIKES !!!
It seems like every year about now, the media decides it is time for yet another Yellowstone scare-mongering session. Over the past few weeks, a number of articles and interviews have made some outlandish claims about the chances of a massive Yellowstone eruption. Yet, all this kerfuffle has come with absolutely no change in the state of Yellowstone itself. Instead, this tempest is purely the product of media "churnalism" that turns very benign source material into panic, doom, and horror.

This time around, the Yellowstone noise is loosely based on a disaster preparedness report from the European Science Foundation. The study, called Extreme Geohazards: Reducing the Disaster Risk and Increasing Resilience, isn't new scientific research but rather a position paper that makes the bold claim that "hey, wouldn't it be great if we even thought about being prepared for a large volcanic eruption?" It isn't even solely focused on volcanoes, but makes the point that large volcanic eruptions—the same size or larger than the 1815 eruption of Tambora—are potentially a larger threat to lives and property than we give them credit.

Yet somehow, this simple study has been distorted. ...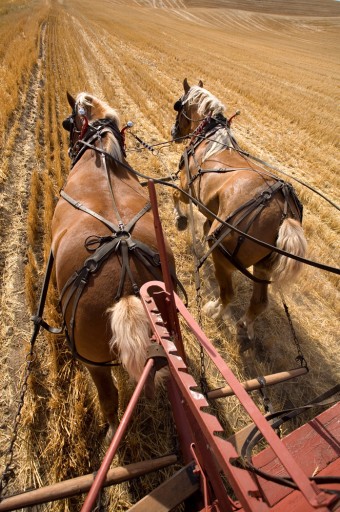 We owe this unit of engine power measurement to Scottish engineer James Watt.

In the early 1780s, after making a vastly superior steam engine to the then classic Newcomen steam engine, Watt was looking for a way to market his invention, advertising the fact that his engine used about 75% less fuel than a similarly powered Newcomen, among many other improvements.

At first, he tried selling his engine on a royalty scheme, where the customers would owe him one-third of the money they saved by using his engine over other steam engines. Of course, many at the time used horses, not steam engines, so it was difficult to compare without them actually buying the engine to see how it would perform for their particular usage. Thus, he scrapped the royalty scheme and decided to try a different tact to convince people to buy his engine. ...
Today's Video Goodnesses (and not-so-goodnesses)
Impression master Ross Marquand nails the tiny moments of A-list actors, including Antonio Banderas forgetting his password, Harrison Ford losing a sneeze, and Brad Pitt forgetting what he was about to say.
Oops.......
Storks are getting a bit confused between their eggs and golf balls!