GPS: "You have arrived at your destination"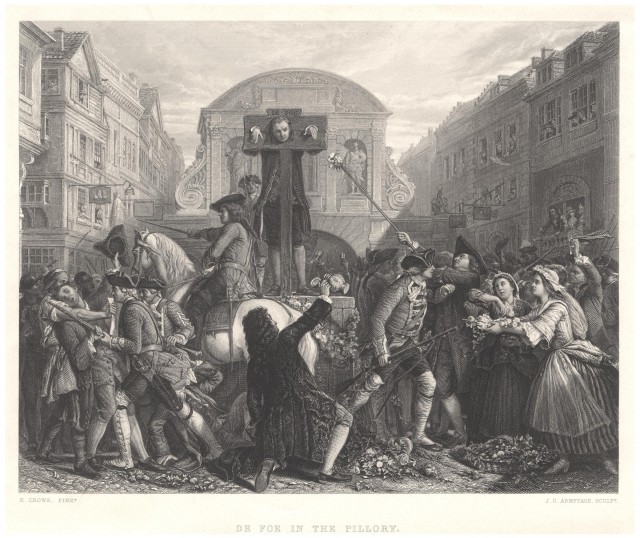 This Day In History: July 31, 1703
Daniel Defoe, who later went on to author the novel Robinson Crusoe, was put in the pillory on July 31, 1703. His crime was seditious libel related to a satirical pamphlet he wrote defending freedom of religion. The problem was that Defoe did too good of a job of mimicking those he was actually trying to mock and everybody took the work seriously, ultimately resulting in the near ruin of Defoe.
Born in London in 1660, Daniel Defoe came from a family of successful non-conformists. His father had been a butcher, and Daniel made a living trading in wool, wine, and hosiery. He was also outspoken about and active in the social and political issues of the times and was not afraid to dissent against the majority.
Defoe fared well when William II was on the throne. He was a favorite of the King, and he became more daring in his political exploits and writings. Things took a drastic turn for the worse for him when William died in 1702 and Queen Anne ascended the throne, as she would not tolerate dissenters or non-conformists. …
• Khizr Khan says in searing statement GOP nominee incapable of empathy
• Defends against Republican's questioning of his wife's onstage silence
• Trump attacks Muslim father's Democratic convention speech
• Fallen soldier's father to Trump: 'Have you even read the constitution?'
The parents of a Muslim American soldier killed in Iraq said on Sunday Donald Trump was a "black soul" and dismissed his claims to have experienced sacrifice, after the Republican presidential nominee insulted their family.
Amid widespread astonishment at Trump's conduct, the father and mother of 27-year-old army captain Humayun Khan, who died in a suicide bombing attack in 2004, said in media appearances that Trump had proven himself unfit for office.
Khizr Khan, Humayun's father, urged Trump's children to intervene and fix his character after the Republican candidate mocked Khan's wife and appeared to suggest she was blocked from paying tribute to her dead son at last week's Democratic convention because of her religion.
Ghazala Khan, the fallen soldier's mother, dismissed Trump's insinuation and reiterated that she had been too upset to talk after seeing a picture of her son. "What mother could?" she wrote for the Washington Post. "Donald Trump has children whom he loves. Does he really need to wonder why I did not speak?" …
"This guy is running his entire campaign based on bigotry."
Donald Trump must be defeated at all costs this November, Bernie Sanders says.
The independent senator from Vermont described the reality TV personality as the "most dangerous presidential candidate in the modern history of this country."
"I say that, not just because of his absurd views on so many issues," Sanders told Bill Maher's "Real Time" show Friday, recalling how Trump is a climate change denier who plans to give tax breaks to the top 1 percent.
"This guy is running his entire campaign based on bigotry," Sanders continued. "Based on trying to divide us up, based on trying to insult Mexicans, Latinos and Muslims and women and African Americans."
Sanders reminded the audience that Trump was a leader of the "birther" movement, "which tried to delegitimize the first African American president we have ever had." "This is a guy who must be defeated," he added. …
SUGGESTION BERNIE: Tell your millions of Berniebros that the asshole may win the Presidency if they fail to vote against Trump.
With nearly one billion people (approximately 14 percent of the world population) belonging to the faith, Hinduism is the third-largest religion on the planet. It is also the oldest surviving religion and may have existed more than 7,000–10,000 years ago. Still, Westerners and others throughout the world have numerous misconceptions about the people who follow the religion as well as the religion itself.
10. It's Called Hinduism
The terms "Hindu" and "Hinduism" are anachronistic and do not refer to any ancient texts of Hinduism. The term refers to the people of the Indus River region of India. "Hindu" and "Hinduism" likely came from the Persians who invaded the Indian subcontinent and who may have referred to the people of the river valley using the word "Hindu," which means "river."
The common name for Hinduism is Sanatana Dharma ("eternal duty of God"), which is not widely known in the Western world. Followers are called Dharmis, which means "followers of Dharma." The use of the words "Hindu" and "Hinduism" are primarily used in Western cultures, though many modern Indians have adopted them. Other dharmic traditions akin to Hinduism are Buddhism, Jainism, and Sikhism. …
Those fighting epidemic say 2030 target is unrealistic as efforts to defeat it falter amid rising infection levels and drug resistance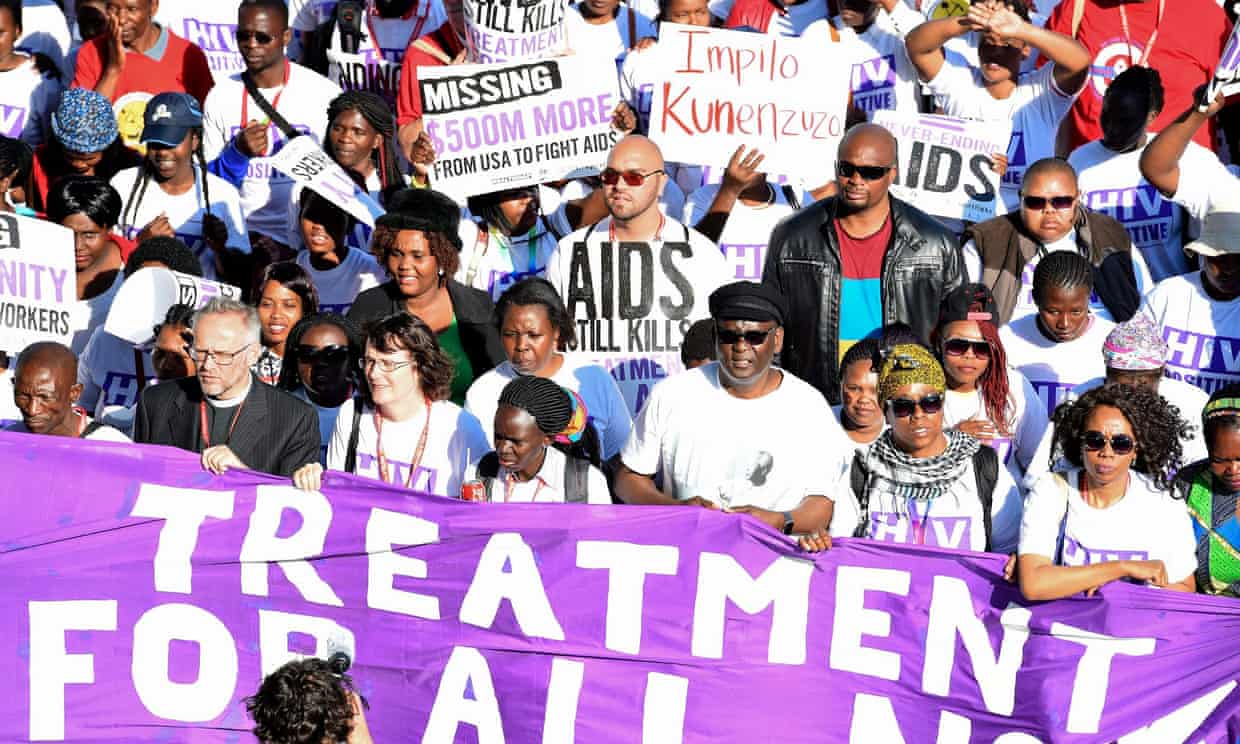 Efforts to combat Aids in Africa are seriously faltering, with drugs beginning to lose their power, the number of infections rising and funding declining, raising the prospect of the epidemic once more spiralling out of control, experts have warned.
The UN has set a target of 2030 for "the end of Aids", which has been endorsed by donor governments including the US, where the president, Barack Obama, said the end was in sight last month.
But the reality on the ground, especially in the developing world, looks very different. Many experts believe that the epidemic will continue to spread and the Aids death toll, still at 1.5 million people a year, could begin to soar again. …
HBO offered some details on the show Jon Stewart is developing for them at their Television Critics Association press tour session Saturday, Variety reports. The show will be "an animated parody of a cable news network with an Onion-like portal," according to HBO's head of programming Casey Bloys. The goal is to get the show up and running before the election, ideally in September or October, though no premiere date has been set.
The show's model will include 30-minute episodes that will air on HBO's cable channel, with shorter, more frequent updates on HBO Now and HBO Go. …
For armchair archaeologists, there's no better buzz than reading about the latest discoveries of the ancient world. Most arise from sites never before excavated or those barely studied. Sometimes, though, finds turn up at well-known monuments and archaeological areas. Those are the true wonders of archaeology, plainly because one would think nothing incredible is left to discover.
10. Great Pyramid Of Giza
Measuring the Great Pyramid of Giza turned up an unexpected surprise—it's uneven. For centuries, the true size of the monument eluded researchers. It's not as easy as strapping a measuring tape around the pyramid's base. A big part is missing, including the original size of this ancient marvel.
Long ago, looters stripped the casing stones—limestone slabs that gave the pyramid a smooth, four-sided look instead of the steps tripping up tourists today. Researchers set out to calculate the true dimensions by using cutting-edge technology and studying the few remaining casings.
The result showed something unexpected. …
Luke Aikins lands safely in a 30-metre by 30-metre net bordered by lights in Simi Valley in southern California
As he prepared to jump out of a plane at 7,600 metres (25,000ft), Luke Aikins could barely see his landing zone.
This is not unusual, but landing in the correct area mattered more for this skydive than it usually does – Aikins was attempting the first jump from such a height without a parachute.
His only chance of survival was to hit a net, 30 metres by 30 metres (100ft by 100ft), or about a third the size of a football field, suspended 60 metres above the southern California desert.
The dive itself took a little more than two minutes and was watched below by a small crowd including Aikins's wife and four-year-old son, plus many more watching it live on TV. …
The day Gil Levin says he detected life on Mars, he was waiting in his lab at NASA's Jet Propulsion Laboratory, watching a piece of paper inch out of a printer.
Levin snatched the sheet and scrutinized the freshly inked graph. A thin line measuring radioactive carbon crept steadily upward, just as it always did when Levin performed the test with microbes on Earth. But this data came from tens of millions of miles away, where NASA's Viking lander was — for the first time in history — conducting an experiment on the surface of Mars.
"Gil, that's life," his co-investigator, Patricia Straat, exclaimed when she saw the first results come in. There was jubilation at JPL. Afterward, Levin said, he drove into the mountains above Los Angeles, sat on the ground and stared up at the night sky.
"I was sort of trembling, you know?" he recalled. It was July 30, 1976. …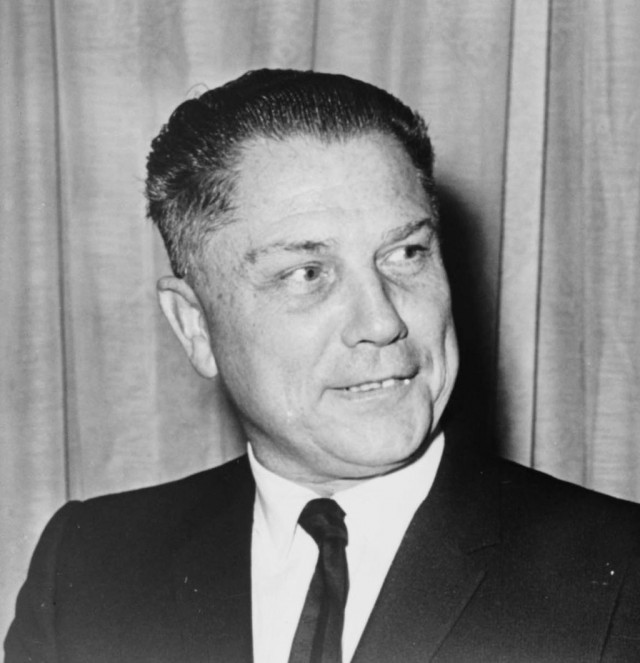 This Day In History: July 31, 1975
Controversial Teamster leader Jimmy Hoffa was reported missing on July 31, 1975 after vanishing from a restaurant parking lot in Detroit, Michigan the previous day. The circumstances surrounding his disappearance still remain a mystery and have made Hoffa a permanent fixture of American folklore.
Jimmy Hoffa showed exceptional leadership skills from a very young age. The son of a coal miner, he helped organize his first labor strike in Detroit when he was twenty years old. Hoffa's remarkable talent and charisma did not go unnoticed by the local Teamsters union, and he quickly rose through the organization's ranks.
The Teamsters organized truck drivers across the country and negotiated contract demands on behalf of the workers through legitimate means such as strikes and boycotts – and some methods a little more on the shady side. …
The Xrysalis gathering in northern California provides a rare chance for 50 attendees to commune with nature – and escape the white heterosexual gaze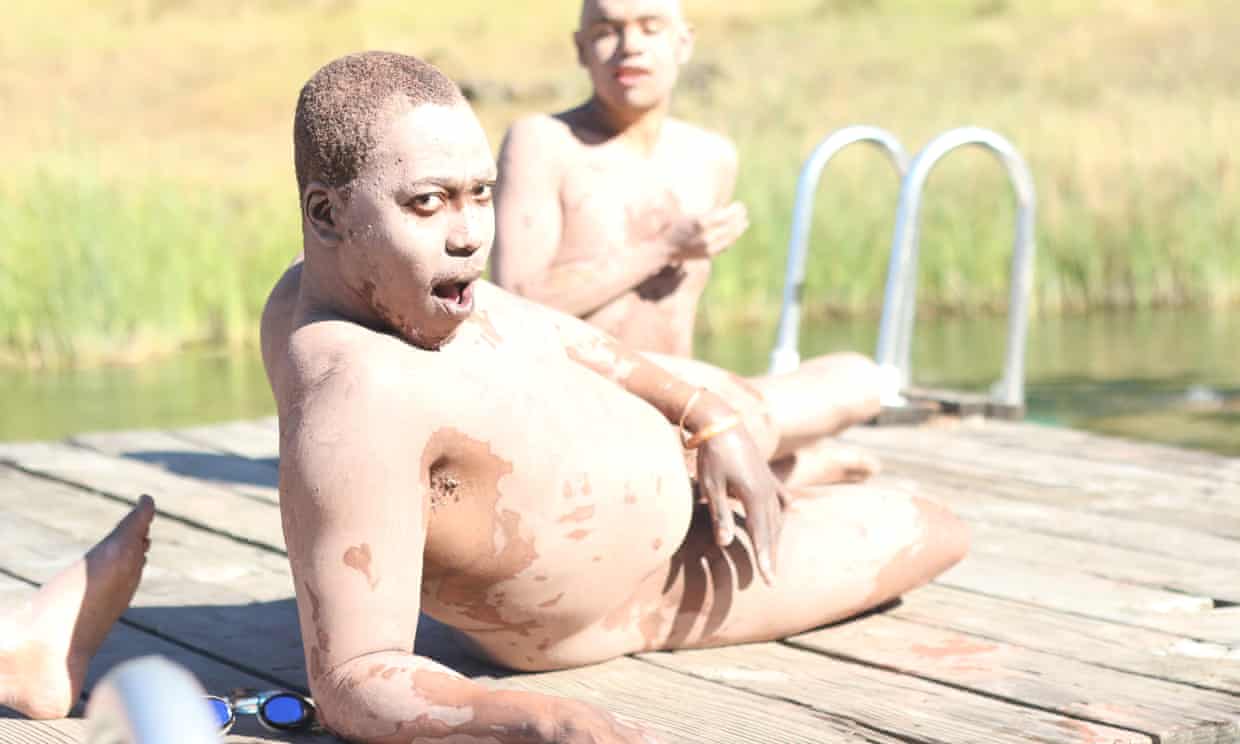 "Revel in your faggotry!" This was the commandment given to us at the beginning of Xrysalis: Gathering of Queer People of Color, an event taking place last week in the Redwoods of Mendocino County, about 100 miles north of San Francisco.
The weekend had some ground rules: no white or straight people were allowed to watch us partying, dancing or doing drag. We would be, if only briefly, entirely free from the white heterosexual gaze – a new experience for many of the 50 participants.
Instead, Xrysalis was reserved for radical faeries of color.
According to William Stewart, a member of the Groundswell Institute, which hosted the event, the radical faerie tradition can be traced to the Gay Liberation Front. The word "faerie" was a reclamation of being swishy, Stewart explained, and a form of rebellion against hypermasculinity. …
Bad Moms is a movie about good moms who try to go bad. Kristen Bell, Mila Kunis and Kathryn Hahn play suburban Chicago mothers who find themselves ground down by the daily cycle of school drop-offs and pick-ups, soccer games, supermarket runs, errands, chores and endless worries. One night they wind up at the same bar after a PTA meeting and together they decide to let loose.
Bell tells NPR's Scott Simon that the film spoke to her own experience as a mother: "When you have a baby, everything in your DNA says, 'I gotta do this right.' But what should go hand-in-hand in that — and doesn't often, or it's not reiterated enough to women — is that 'and it's OK if I don't, because I'm trying and that's all that matters.' " …
While America boasts some of the most advanced medical treatments this side of the sickbay on the Enterprise, access to those treatments is woefully short of universal. And some of the factors standing between us and adequate medical care serve as reminders of how far we are from a Utopian society in which no one is forced to wonder if that thing on their back is cancer. For example …
#5. Male Cancer Research Gets Less Money Because It's Not Fashionable
If our social media feeds are to be believed, the boob is an endangered species. Women post the colors of their bras and flop their boobs onto random objects, while ads try to sell us "I heart boobies" bracelets and pink T-shirts, all to raise awareness of breast cancer. Hell, every October, which is breast cancer awareness month, the world looks like aisle three at the drugstore after a drunk tripped into the Pepto-Bismol display.
But do you remember the #CockInASock stunt, born to raise awareness for testicular cancer? Or how about the male version of that wacky pink merchandise, proudly proclaiming the wearer's overwhelming affinity for his nuts? Of course you don't. You almost certainly never heard about them in the first place. And that's because breasts are fun and pleasing to look at, while a hairy, flaccid cock and balls looks like someone stuffed a sausage into a tube sock and draped it over a couple of bird eggs.
"So beautiful, so majestic," said absolutely no one.
…

Above: How a Siri reminder works with Convo.
By now, we've all heard of Silicon Valley's shiny new technology: Artificial intelligence and chatbots. Along with it, there's the promise of a transformation that many believe will have a payoff on the scale of the personal computing industry or the commercial internet.
Funding in artificial intelligence startups has increased more than fourfold to $681 million in 2015 — from $145 million in 2011, according to the market research firm CB Insights. The firm estimates that new investments will reach $1.2 billion this year, up 76 percent from last year.
It's clear that the hopes are high but with any technology, there are limitations. In this case, it is the technology. It took six decades for the first A.I. platform to pass the Turing Test and we are most likely at least another six decades away from machines ever being able to act without the help of humans, though the day may never come. Let's take a look at where the major hiccups are occurring. …
Yahoo researchers improved substantially on previous efforts to automate filtering.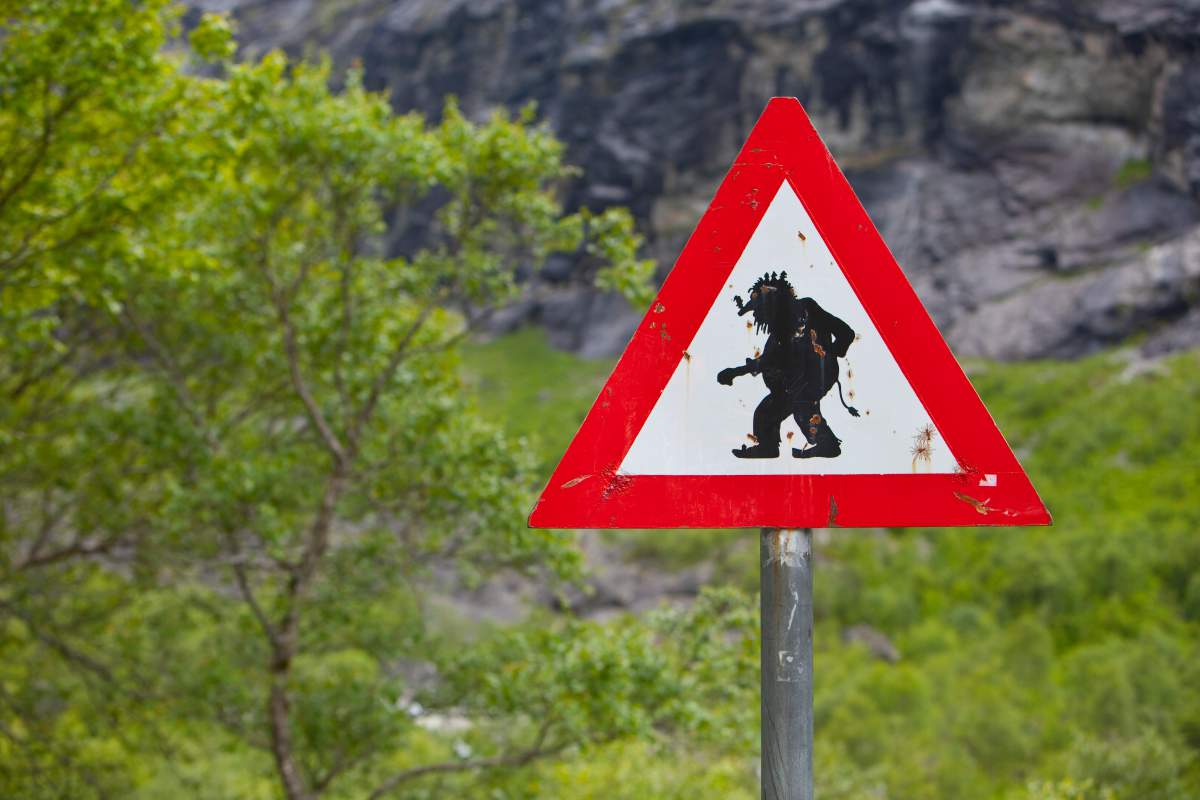 Researchers at Yahoo (yes, for the moment, it's still Yahoo) have unveiled an algorithm that uses machine learning and natural language processing to detect online abuse and hate speech. Abusive behavior online has been in the limelight lately, both because it's so inherently vile, and because it could alienate users of platforms like Twitter and Yahoo, arguably threatening their bottom line, or even the entire digital economy.
Most such platforms use a combination of user reporting, keyword filtering, and monitoring by legions of trained humans to detect and block trolls and harassers. But filters are easy to work around through creative spelling (the example "kill yrslef a$$hole" pops up early in the researchers' report).
Slurs and insults also shift rapidly, making blacklists ineffective, while some more subtle abuse can be expressed without any single objectionable word. All of that – plus the likelihood of false positives from sarcastic or satirical posts—makes the problem a thorny one for artificial intelligence. …
In the past, bizarre and quirky animal sideshows were part of everyday life. You could expect to witness dead whales showcased in car parks, have your mind read by learned pigs (supposedly!), and participate in octopus wrestling. Today, we have fun attractions like the Moscow Cat Theater or bee bearding. But can anything today top the weird and fascinating attractions of bygone days?
10. Lion Drome
In the 1930s, motordromes turned into extremely interesting (and often dangerous) places. Some motorbike stunt riders trained their pet lions to sit in specially built sidecars and then raced madly with the animals by their side. This racing was done at 130 kilometers per hour (80 mph) around the almost perpendicular wall of the motordrome track known as the "Wall of Death!"
Believe it or not, sometimes this mad activity was not exciting enough for the participants and spectators. In those cases, an additional element of thrill, known as the "Race For Life," was introduced. Trained lions were deliberately released and would charge after the zooming motorcycles trying to swat them with their huge paws. …
The Guardian spent a day with a 21st-century-style butler supplied by Hello Alfred, a startup that takes care of life's little chores so you don't have to
'Hello, it's Monika!" a woman next to me calls out as we enter an empty New York City studio apartment. Neither of us lives here. Neither of us has ever met the owner. We are not breaking in. We are here to help.
Monika, 46, is an Alfred – a modern-day butler – and I am tagging along to one of her jobs.
Forget Siri and other so-called "intelligent" personal assistants. Can Siri let the plumber in to repair that leaky sink? Make your bed? Wait for the cable guy? No. But Alfred can.
Founded by two women in their late 20s, Hello Alfred is supposed to be an accessible and affordable way to get the help you need to balance work and personal life. The service is named after Batman's trusty butler and focuses on building relationships between clients and Alfreds. After all, once you've signed up online, downloaded the app and had your in-person consultation, you are handing over the keys to your house.
"It's a different feeling to have a human being, who you trust, who you feel is taking care of you and when you come home, you have a feeling of relief and a connection with another human being," says Marcela Sapone, one of Alfred's co-founders. …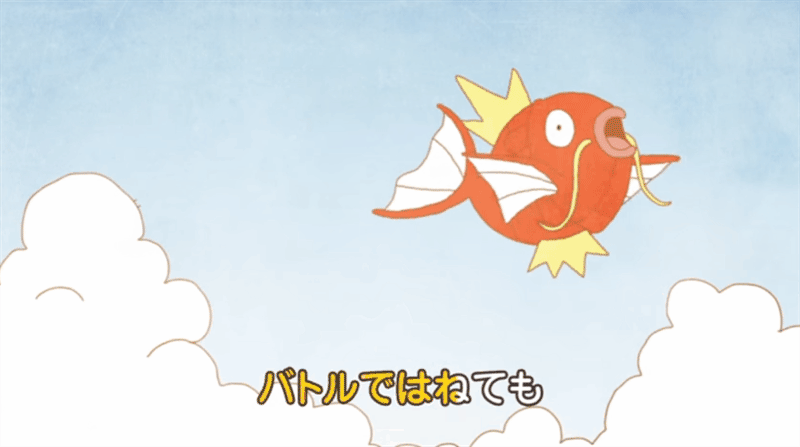 In 2014 Slowpoke got a reggae song about how slow and tasty it is. Now The Pokémon Company has released "I Love Magikarp," a song about how being almost completely useless doesn't make you any less adored.
Or at least that's what the translation over at Kantopia says. it says. A young boy sings of how Koiking (Magikarp's Japanese name) just kinda sits there and flops about, over mountains and even in battle. How Magikarp is everywhere, even in puddles. How one day, a long time from now, Magikarp will evolve into Gyrados, so he's leveling a team of six. And how Magikarp sometimes just gets carried off by birds, because Magikarp.
…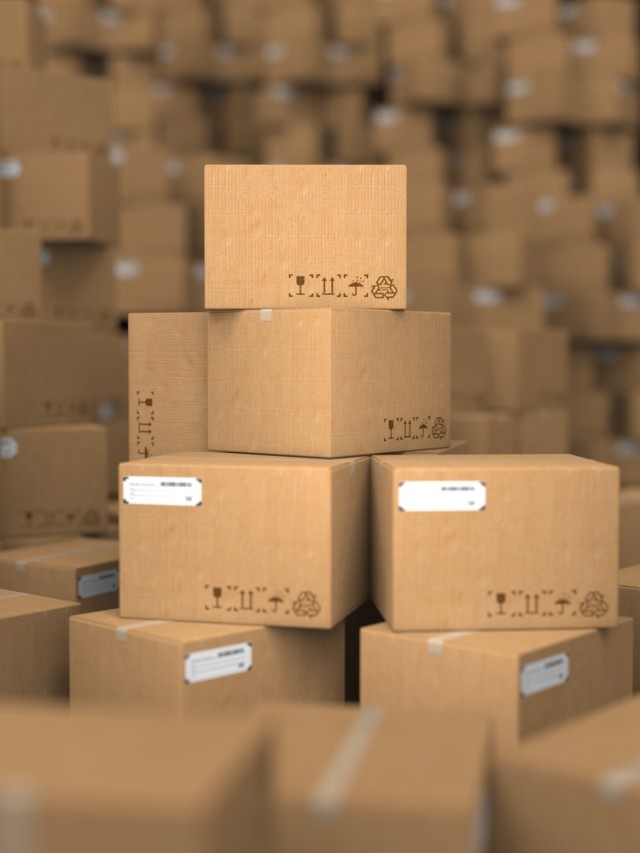 Today I found out UPS was started by two teenagers with one bicycle and $100 borrowed from a friend.
The date was August 28, 1907 and the two kids were 18 year old Claude Ryan and 19 year old Jim Casey. The two had one bike between them and $100 (about $2400 today) borrowed from a friend to found the "American Messenger Company" in Seattle, Washington. The company was initially run in a hotel basement at Second Avenue and Main Street in Seattle.
At that time, most people didn't own phones, so sending telegrams was a frequent thing. These had to be hand delivered. In the beginning, the company primarily delivered these telegrams, but eventually expanded into transporting pretty much anything that could be transported on a bicycle or on foot. Casey and Ryan manned the phone while Casey's brother George and a handful of other teenagers went out making deliveries. …
Video Goodnesses
(and not-so-goodnesses)
Oops…….