"Are we there yet?"

This Day In History: July 21, 365 CE
The impact of a catastrophic earthquake and mega-tsunami on July 21, 365 CE devastated Peloponnesus, the Greek Islands, Sicily, Cyprus, Libya, Palestine and Egypt. It completely leveled major cities and killed thousands of people. It also changed the topography of the Mediterranean region and, to some extent, the course of history.
The epicenter was located close to western Crete, along the Hellenic arc where the African tectonic plate pushes against the Aegean plate. This is near the Ionic Sea Islands – an area prone to strong, frequent earthquakes throughout recorded history. It is thought that this particular earthquake occurred as two tremors, the largest with a magnitude of an astounding 8.3. …
The Republican presidential convention this week has highlighted Donald Trump's view of America — and it sounds like a terrible, terrible place.
In Trump's eyes, the United States is practically a third-world country with crumbling roads, aging bridges and decrepit airports. It's led by "stupid people" — even Mexico has smarter leaders, he says — and the entire world is laughing at America and its "depleted military." Cities have "exploded" with violence; Islamic State fighters posing as refugees might attack at any moment; and the economy is "doing lousy," with a real unemployment rate that could be eight times higher than the official one.
Trump even compared the health of the nation to a friend who is dying of cancer and is barely holding on.
"If we don't get tough, and if we don't get smart, and fast, we're not going to have our country anymore," Trump said in a recent policy speech. "There will be nothing, absolutely nothing, left." …
On the first day of the Republican National Convention, speakers resort to fear mongering and praising the acquittal of the cop who killed black arrestee Freddie Gray.
THANKS to Comedy Central and The Daily Show with Trevor Noah for making this program available on YouTube.
For years, the GOP has lambasted the left for not valuing American exceptionalism. But the real challenge to American exceptionalism has been brewing on the right.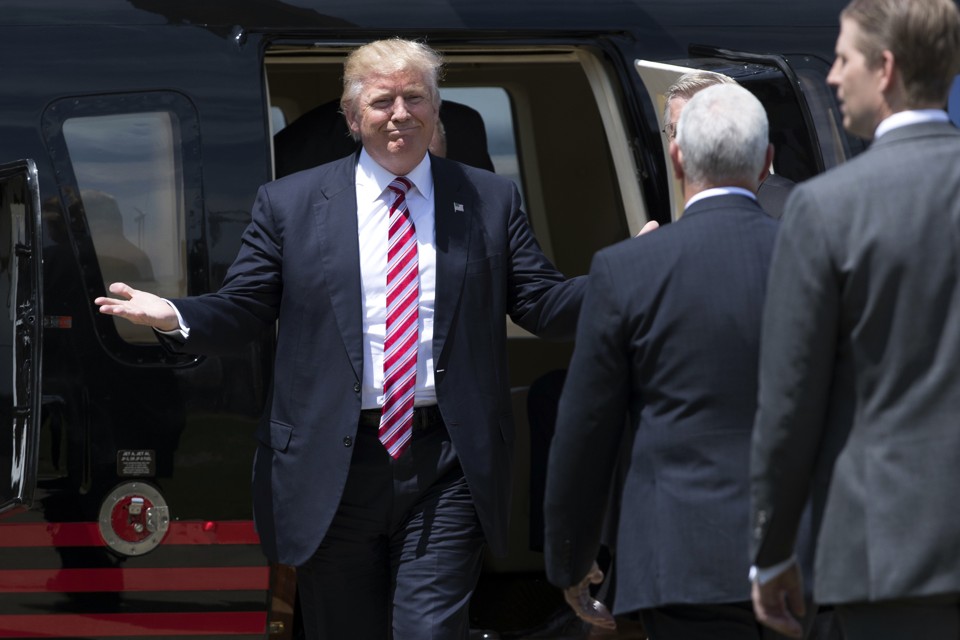 Maybe Donald Trump is lucky that Ted Cruz knifed him on Wednesday night at the Republican National Convention. Otherwise, the big story would be Trump's new interview with The New York Times.
Trump's most astonishing policy statement is his declaration that America would only defend the Baltic states from Russian attack if he concluded that they "have fulfilled their obligations to us." Given that Trump has spent his entire campaign insisting that America's allies are not fulfilling their obligations to us, that's pretty close to saying Lithuania, Latvia, and Estonia are on their own.
It's hard to exaggerate the magnitude of Trump's remarks. NATO, the military alliance that underpins the post-World War II order, rests on the principle that if one member is attacked, the others will come to its aid. Saying that the United States may or may not abide by that principle is the military equivalent of saying that the United States may or may not default on its national debt (which Trump has also said). Were Trump elected, these comments alone would reshape the geopolitics of Eastern Europe, as regional leaders began cozying up to Russia out of fear that the United States wouldn't defend them. (Especially in the wake of Brexit, which has already weakened NATO.) …
Whenever you create something new, patent it as soon as possible, or others might take advantage of your creation. It has happened numerous times throughout history. While the following creators may have received some meager compensation for their creations, most saw little to no profit at all.
10. John Walker ~ Matches
You may have thought that people were lighting fires with matches for hundreds or even thousands of years, but the invention of the friction match came about in 1827.
English inventor and chemist John Walker created the matches we know today and sold them in his hometown of Stockton. He marketed them as "friction lights," but most people called them "lucifers" as slang. Walker was never satisfied with his invention and did not patent it as a result. He later left his business to Sir Isaac Holden, who went on to market and sell matches all over the world. Because of this, Holden is often mistakenly credited as the inventor of matches, and Walker, who died in 1859, only received credit posthumously when his ledger was found. …
Visibly moved by attendees' vitriolic handmade signs and enraged calls for federal prosecution, former House Speaker Newt Gingrich told those at the Republican National Convention Wednesday that it was an honor to address a crowd that shared his extremely bizarre and unhealthy obsession with Hillary Clinton. "I'm grateful to be standing here tonight in front of an arena full of people who, like me, are strangely and excessively possessed by thoughts of Secretary Clinton," said Gingrich, adding that he found it deeply touching to be surrounded by so many Americans also provoked to inarticulate fury by the very mention of the former first lady's name. …
Reacting reflexively to the Indiana governor's speech while watching a live feed backstage at the Republican National Convention, GOP presidential nominee Donald Trump accidentally shot off a "Boring Mike Pence" tweet Wednesday night before he could stop himself. "Boring Mike Pence lacks any charisma or charm," Trump's tweet about his running mate read in part, adding that the Tea Party–aligned conservative was a "total disaster" and "very hard to watch. …
Lead is a versatile, common metal that has been used for many applications throughout history. However, it is also incredibly deadly in even the smallest of amounts. While our ancestors believed that lead was an insignificant part of life, it actually could have ravaged their minds and bodies without their knowledge. Its effects still harm us today.
10. Ancient Rome
Photo credit: BBC
In 1983, Canadian scientist Jerome Nriagu examined the diets of 30 Roman emperors from 30 BC to AD 220 and made an astounding discovery: They were filled with lead. At the time, it was common to boil down grapes into syrups as a flavoring for food. This was done in copper kettles that released huge amounts of lead into the product.
Knowing that emperors were gluttonous in their eating habits, this could have led to chronic lead poisoning and, as Nriagu thought, the fall of Rome. While Nriagu's conclusions have been disputed by various studies, others have backed him up based on the pipes of the Tiber River, long the chief source of water for Rome. This water contained around 100 times as much lead as fresh springwater. …
Donald Trump's apparent rejection of the cornerstone of global security after World War II has stunned U.S. partners in the alliance.
America's NATO allies may be on their own after November if Russia attacks them.
Donald Trump, the GOP presidential nominee, appeared to make U.S. military support for NATO member states conditional on whether those states have met their financial obligations to the bloc, which has served as the cornerstone of global security after World War II. The comments, in an interview with The New York Times, represent a marked departure from the security policy of every presidential nominee from either of the two major parties since NATO's founding in 1949.
The Times asked Trump: "If Russia came over the border into Estonia or Latvia, Lithuania, places that Americans don't think about all that often, would you come to their immediate military aid?" …
Why didn't the most talented, most influential Republican politicians—men like Chris Christie, Tom Cotton, and Paul Ryan—do more to stop Donald Trump?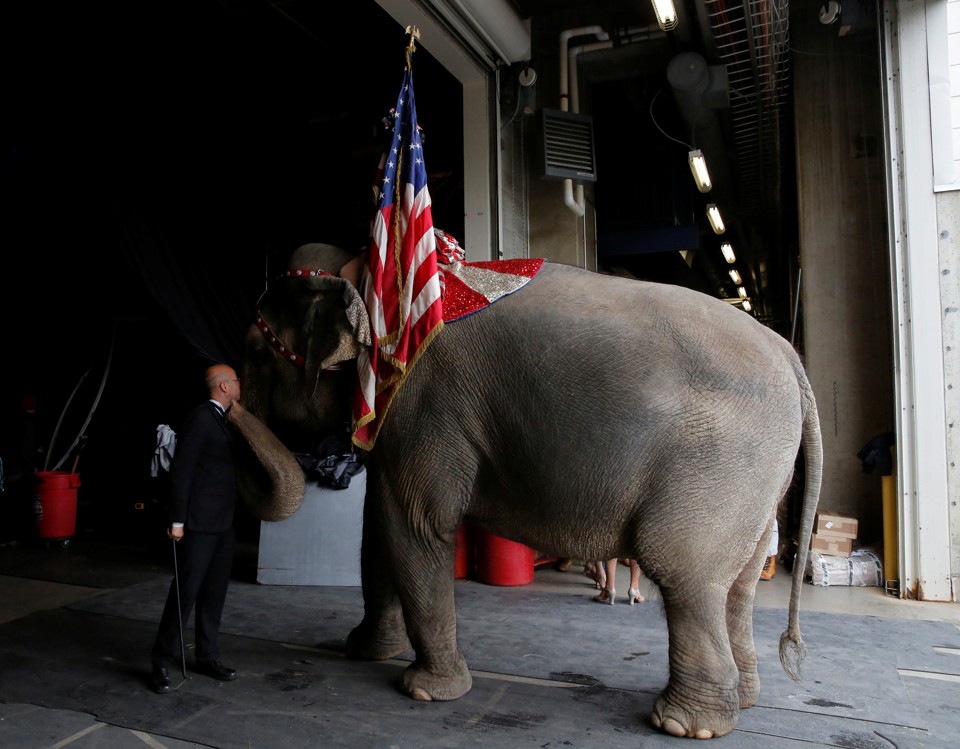 The neediness of politicians has always fascinated me; the pathological desire for relevance; the plasticity of belief in the service of self-aggrandizement; the depths plumbed in order to stave off insignificance, which can be as frightening as non-existence itself. One of my favorite politicians, Chris Christie, the governor of New Jersey, is almost morbidly needy. His desire for attention made him into a brilliant retailer, mainly of himself, but also of his ideas, and intermittently, of his state. His neediness made him greatly entertaining. But it also caused him to betray his own principles.
I recognize that it took millions of Republican primary voters to bring America to this frightening moment, a moment in which a preposterous grifter of authoritarian bent whose mental health is the subject of pervasive and anxious speculation, has become a major-party nominee for president. But it was men like Christie who were indispensable in the creation of this moment. Donald J. Trump could have been stopped. I believe he could have been stopped early, by a concerted effort to unify the party behind a single, viable, non-fraudulent candidate; and he could have been stopped late, if Republicans like Christie had not crumpled before Trump. A handful of honorable men did, in fact, try to stop him. But they were too few in number, and too marginal to make a difference. Collectively, the most influential and smartest Republican elected officials—people who fall into the general category of Them That Knew Better—just might have been able to devise a way to prevent what is happening from happening. But abdication of responsibility and self-debasement in the pursuit of power were the order of the day. …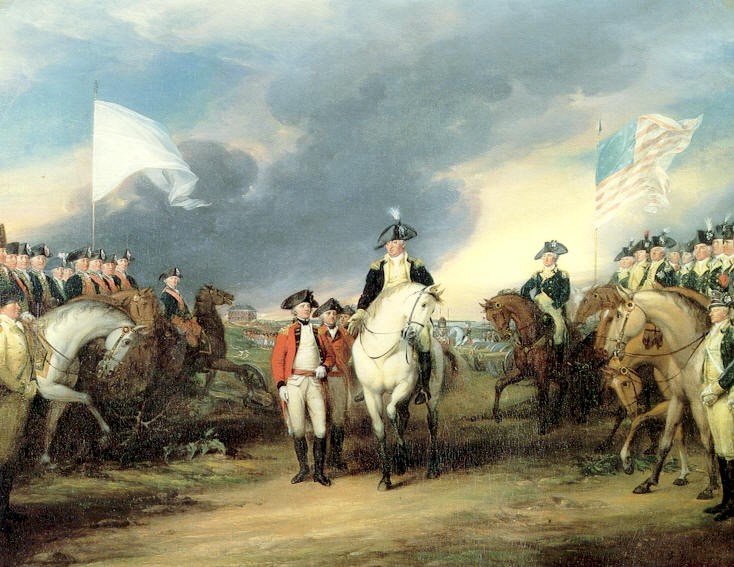 James H. asks: Curious question for you, but something I've always wondered about. Why did Yankee Doodle call the feather in his hat macaroni?
While silly and irreverent, the song "Yankee Doodle" holds a rather patriotic place in many American hearts and is even the official state song of Connecticut. Today, the jingle may bring to mind a proud revolutionary spirit, but the song's origins are really anything but. The tune was originally used by British soldiers to mock Americans for being disorganized, disheveled and, as far as the Brits were concerned, inferior. By the end of the American Revolution, however, the song had been repurposed by the burgeoning new country. Here now is the story behind the song "Yankee Doodle" and the answer to that elusive question – Why did Yankee Doodle stick a feather in his cap and call it macaroni?
As with a lot of older songs, the tune and music that we today associate with "Yankee Doodle" was actually written much earlier than the 18th century. The melody may have been heard as early as the 1500s in Holland, with rather nonsensical lyrics about the harvest and farmers receiving their wage in buttermilk. …
Harth stands by claims of incident described in 1997 lawsuit as 'attempted rape' and wants apology from Donald Trump: 'Don't call me a liar'
A woman at the centre of sexual assault allegations against Donald Trump has spoken for the first time in detail about her personal experience with the billionaire tycoon who this week became the Republican nominee for president.
Jill Harth, a makeup artist, has stayed quiet for almost 20 years about the way Trump pursued her, and – according to a lawsuit she instigated – cornered her and groped her in his daughter's bedroom.
After Trump mounted his campaign for the White House, details emerged of the 1997 complaint, in which Harth accused him of "attempted 'rape'".
She said she was quickly inundated with interview requests from major US television networks, but resolved not to speak about the events – until Trump publicly said in May that her claims were "meritless" and his daughter Ivanka gave an interview in which she said her father was "not a groper". …
Mark Johnson and a colleague allegedly defrauded clients and 'manipulated the foreign exchange market to benefit themselves and their bank'
A senior HSBC banker has been arrested by the FBI as he attempted to board a transatlantic flight and charged him with fraudulently rigging a multibillion-dollar currency exchange deal.
Mark Johnson, a British citizen and HSBC's global head of foreign exchange trading, and a colleague are accused of "defrauding clients" and alleged to have "corruptly manipulated the foreign exchange market to benefit themselves and their bank".
He was arrested on Tuesday night shortly before he was due to fly to London from New York's JFK airport, and was due to be formally charged by a judge at Brooklyn federal court later on Wednesday. He was later released on bail. …
Advertisers are a lot like popular kids high school: They're rich, always hanging out with hot people, and devoting every conscious thought to how to look cool. Here are five attempts to market to young people that are high-key LOL epic #fails to the max.
#5. Microsoft Asks Potential Employees To "Get Lit" With Them
If there's one thing that Microsoft (the creators of Windows NT and Clippy the Helpful Paperclip) makes me think of, it's partying. At least, that's what their recruiters want candidates to think. In an effort to get in good with tomorrow's top talent, they sent out emails to interns in Silicon Valley inviting them to come party the Microsoft way.
The email is addressed to "bae intern," because "bae" is something this recruiter must have heard their niece use once, and parroting youth-speak is life. It's an invite to a party which they insist will be exclusive, despite the fact that they invited every intern working in tech whose email they could find. Undoubtedly, Microsoft set some kind of minimum baeness quotient (MBQ) required for entry. Because that's how you verifiably partayyy! …
We don't call Hollywood a "Dream Factory" for nothing. Have a vision of the sort of place you'd like to live? Tinseltown can bring it to life, whether you're thinking along the lines of Walt Disney's Main Street, Andy Hardy's Carvel, Idaho, or the "Somewhere That's Green" envisioned by skid-row resident Audrey in the satirical musical Little Shop of Horrors:
A matchbox of our own
A fence of real chain link
A grill out on the patio
Disposal in the sink
A washer and a dryer
And an ironing machine
In a tract house that we share
Somewhere that's green
Little Shop, set in the 1960s, used those lyrics to gently mock notions of suburban middle-class bliss that had been a Hollywood staple since the days of silent films.
Remember Charlie Chaplin's Modern Times, for instance, where the Little Tramp and a down-and-out Paulette Goddard looked at a suburban house and imagined themselves inside? In their imagining, street-dwelling ragamuffin Goddard is pert and prosperous, in an apron with hair done smartly, surrounded by chintz curtains, flowered carpet and nice furniture. Charlie is the man of the house, reaching out the window to pluck an orange from a tree, grapes from a vine. …
As the company prepares to bring thousands of new workers to its Menlo Park campus, advocates say it must do more to help lower-income local residents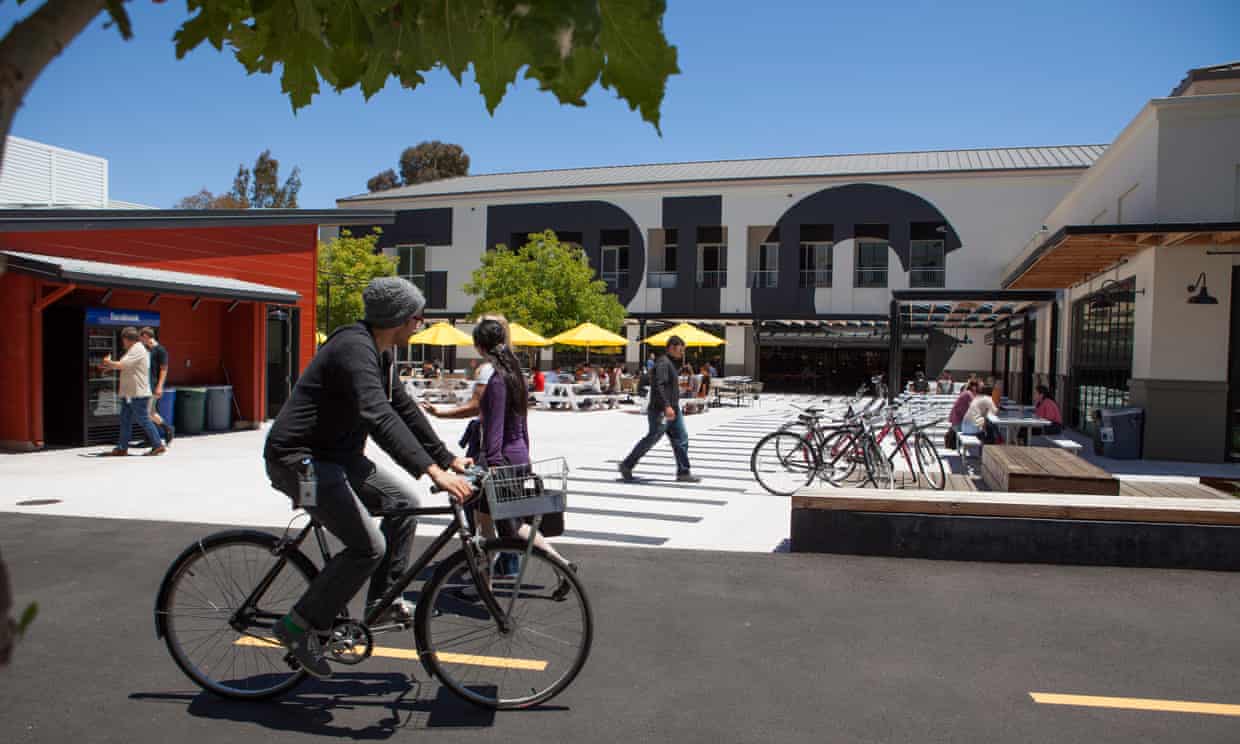 The first time Tameeka Bennett had to drive two hours in traffic to get to her job in East Palo Alto, she broke down in tears in her car. It was October 2014, and Bennett, 29, had never imagined she would have to move away from the Silicon Valley city where she grew up, which is one of the least affluent communities in the region.
But her family had lost their home to foreclosure, and they couldn't find an affordable house to buy in East Palo Alto. So they were forced to move to Oakland, which is 40 miles north and a nightmarish commute away from Bennett's job as executive director of Youth United for Community Action, an East Palo Alto not-for-profit group that fights displacement.
While Bennett recognizes that there are multiple factors driving the region's housing crisis, it's hard for her to ignore the most obvious force less than three miles north of her organization: the Facebook headquarters. …
In the centuries since Rene Descartes said, "I think, therefore I am," philosophy and science have independently pursued a larger understanding of consciousness, with decidedly mixed results. As a processing unit, the brain is still about 30 times more powerful than the fastest supercomputers on the planet, but if there is indeed a process or series of processes that governs our individuality and self-awareness, it has yet to be pinpointed . . . for now.
As with all big questions, very smart people are attempting to answer this one. Here are some theories that have been put forth.
10. We Perceive The World In Slices Of Time
Scientists have been unable to agree whether perception of our surroundings flows unimpeded like water or is perceived incrementally, like images in a flip book. Researchers have developed a model which posits that it is a little of both.
In their aptly named Time Slice Theory, perception is said to be a two-stage process, the first of which is an unconscious processing of our surroundings in broad strokes, like the shape or color of surrounding objects. This first stage occurs in incredibly brief "slices" of time of up to 400 milliseconds. The brain then consolidates and processes the input in the second stage.
While this model focuses heavily on visual processing, the implication is that the feeling of "consciousness" is basically an illusion, a series of snapshots cohered into a whole with the help of other cognitive processes like memory. …
In a bid to increase the security of the Android operating system, Google introduced a new check for malware as part of the boot process in all Android devices. Until Marshmallow, Android devices ran the check as part of the boot process and in Marshmallow, the phone would warn you that your phone was compromised but would continue to let the phone boot up. In Nougat however, Google is taking this security check to the next level.
On the Android Developer's blog, the company explains that Android Nougat strictly enforces that boot check, giving you far more than a warning. The good news is that if your phone is infected with types of malware, your phone will refuse to boot or will boot in a limited capacity mode (presumably akin to safe mode). The bad news however, is that some non-malicious corruption of data could also mean that your phone will refuse to boot up…
Android has alerted about system integrity since Marshmallow, but starting with devices first shipping with Android 7.0, we require verified boot to be strictly enforcing. This means that a device with a corrupt boot image or verified partition will not boot or will boot in a limited capacity with user consent. Such strict checking, though, means that non-malicious data corruption, which previously would be less visible, could now start affecting process functionality more.
…
► Game-playing AI coordinates data center tasks like cooling
► DeepMind efficiencies cover part of cost of 2014 acquisition
Google just paid for part of its acquisition of DeepMind in a surprising way.
The internet giant is using technology from the DeepMind artificial intelligence subsidiary for big savings on the power consumed by its data centers, according to DeepMind Co-Founder Demis Hassabis.
In recent months, the Alphabet Inc. unit put a DeepMind AI system in control of parts of its data centers to reduce power consumption by manipulating computer servers and related equipment like cooling systems. It uses a similar technique to DeepMind software that taught itself to play Atari video games, Hassabis said in an interview at a recent AI conference in New York.
The system cut power usage in the data centers by several percentage points, "which is a huge saving in terms of cost but, also, great for the environment," he said. …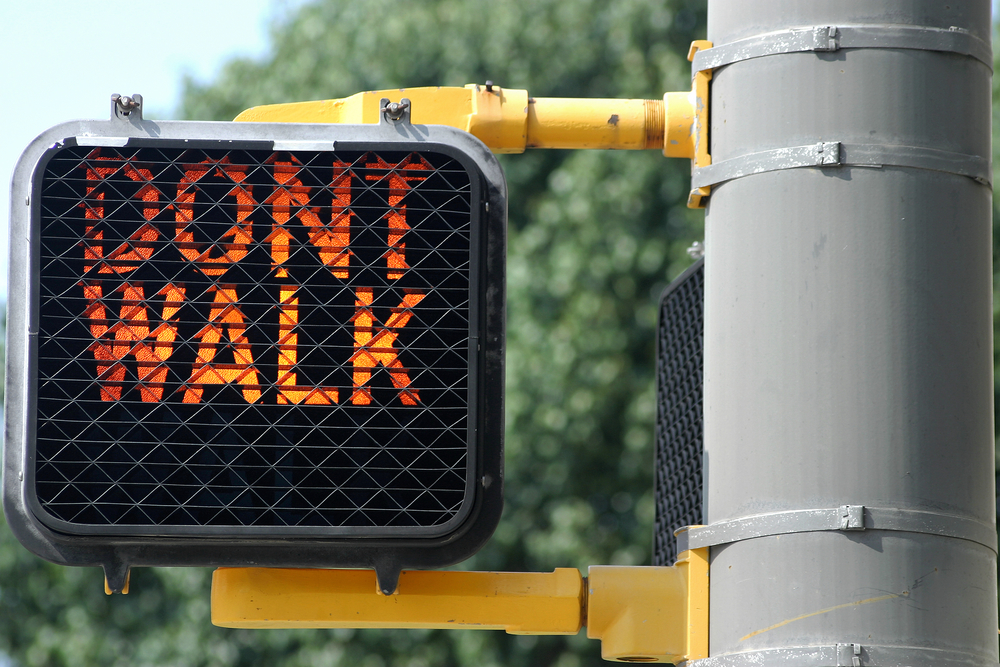 Jared L. asks: Why aren't there apostrophes in the Don't Walk signs by street intersections when it's spelled out rather than using pictures?
No one is sure when exactly the first WALK/DONT WALK style signs were installed. Even the Federal Highway Administration isn't sure, though it is thought that the first such sign was likely installed sometime in the early to mid-1930s.
These signs didn't say "WALK/DONT WALK" at all. Rather, according to the FHA, the earliest signs that signaled when pedestrians could walk used the words "WALK" and "WAIT" or a combination of colored lights not dissimilar from traffic lights today. The first definitive example of a signal that used "WALK/DONT WALK" was a neon sign installed in Washington DC on January 1, 1939 which you can see pictured here. …
Video Goodnesses
(and not-so-goodnesses)
Bill Maher and his guests – Michael Moore, Dan Savage, Joy Reid, and Tony Schwartz – discuss the 2016 Republican National Convention during this special edition of Real Time.
THANKS to HBO and Real Time with Bill Maher for making this program available on YouTube.
NOTE: This is the entire show.
Weekend Update co-anchors Colin Jost and Michael Che report live from the Republican National Convention in Cleveland. Ruth Bader Ginsburg (Kate McKinnon) stops by the Update desk and Che plays Trumpémon GO.
THANKS to NBC and Saturday Night Live for making this program available on YouTube.
The comedian and star of "Back in Black" on Broadway suggests that by choosing between two deeply unpopular presidential candidates, voters are participating in a grand social experiment.
THANKS to CBS and The Late Show with Stephen Colbert for making this program available on YouTube.
Oops…….